How to Record Audio from Computer on Windows 10/11
WorkinTool audio recorder is a 100% free and handy tool that helps you record sounds on a PC. There is no restrictions on the recording time or free using times. It can also export high-resolution audio files. The flowing bar allows you to pause and stop recording easily.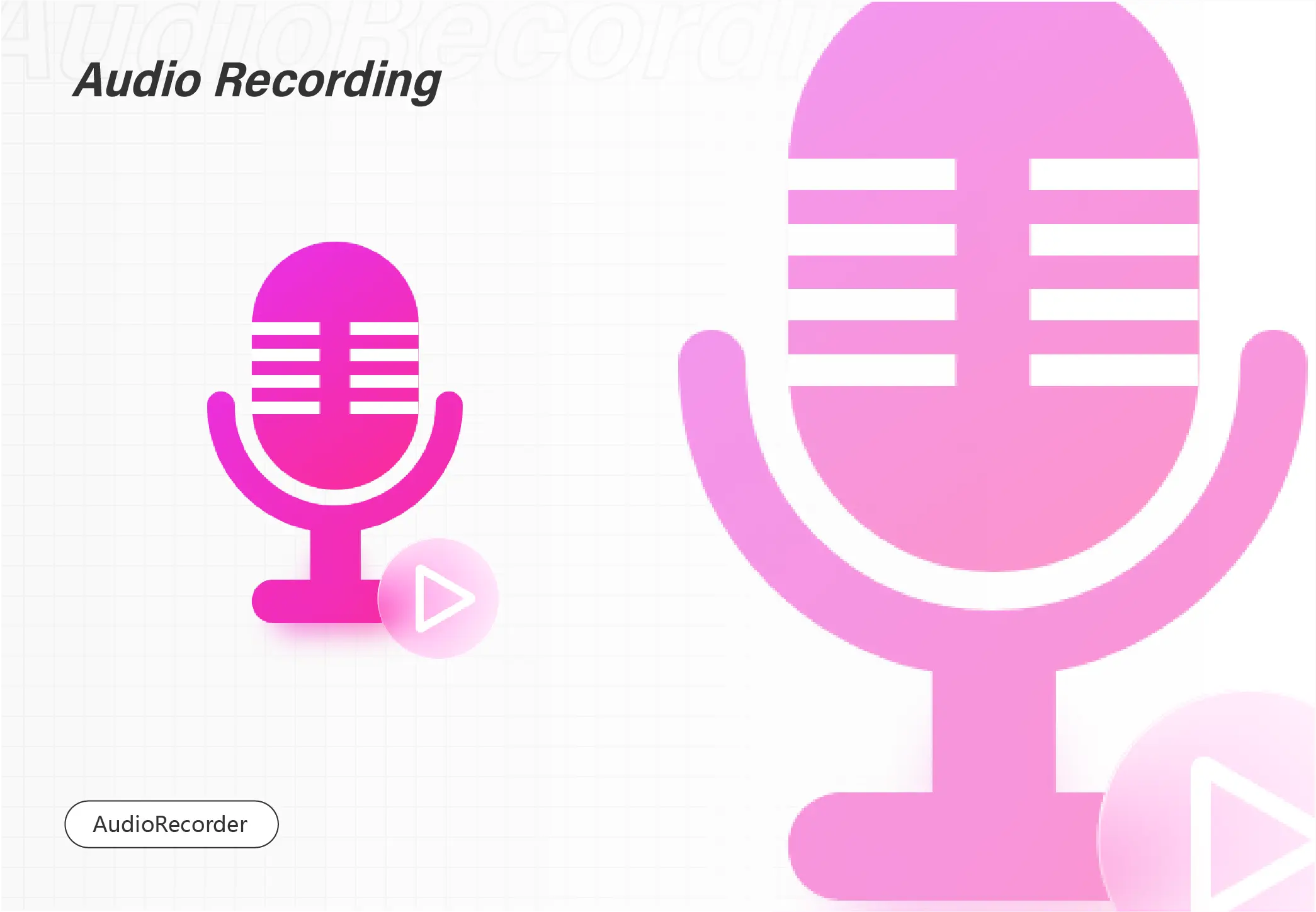 How to Record Audio from Computer on Windows 10/11
Recording audio from a computer seems more complicated than recording sound from a smartphone. And most people who need to record audio on a PC have higher sound quality and working efficiency requirements. That makes recording audio seem more difficult.
But actually, it is an easy task if you use efficient recording software. In the software store, you can see plenty of voice recorders, which vary in features and price. This article will introduce two free audio recorders for Windows – WorkinTool Audio Recorder and Audacity. And detailed guides on how to record audio from computer with them are offered here.
How to Record Computer Audio on Windows Using WorkinTool Audio Recorder
Computer audio includes both external and internal sounds. So if you want to record computer audio, the audio you need might be system sound, microphone sound, or both. Does it seem quite a complex task? In fact, audio recording software like WorkinTool Audio Recorder is one of the best ways to record sound on a PC. For there are various recording mode to select in it. Meanwhile it can output the recorded auido in high resolution.
WorkinTool Audio Recorder is a free all-in-one audio software. It has a straightforward interface and navigation, so you can be aware of how to use it once you open it and see the home page. As a professional audio recorder, WorkinTool Audio Recorder provides flexible options like recording system sound or do not record system sound and more. Besides, it allows you to set volume, source, and output like format, sound quality, noise reduction, and more, meeting your different recording needs. Unlike other free audio and voice recording software, it is free to use without any restrictions on the recording time and usage times. With its long-term free trial, you can make use of it at ease.
🔎How to record computer audio on Windows 11/10 with WorkinTool Audio Recorder?
Step1. Open WorkinTool Audio Recorder. Click the system sound icon and choose to record it as you want.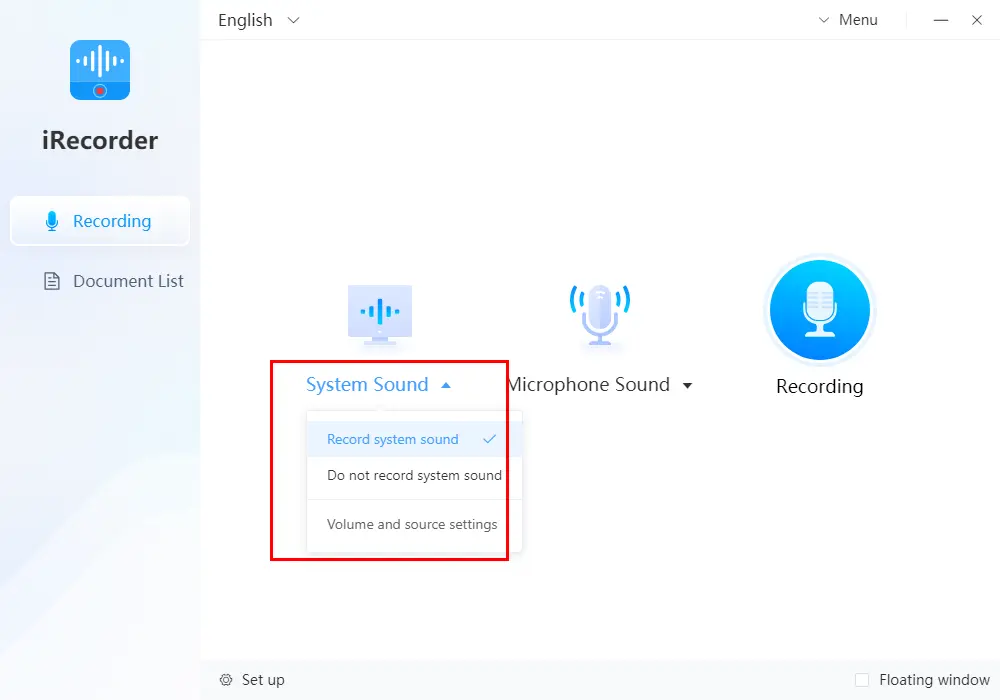 Step2. Click the microphone sound icon and choose to record it as you want.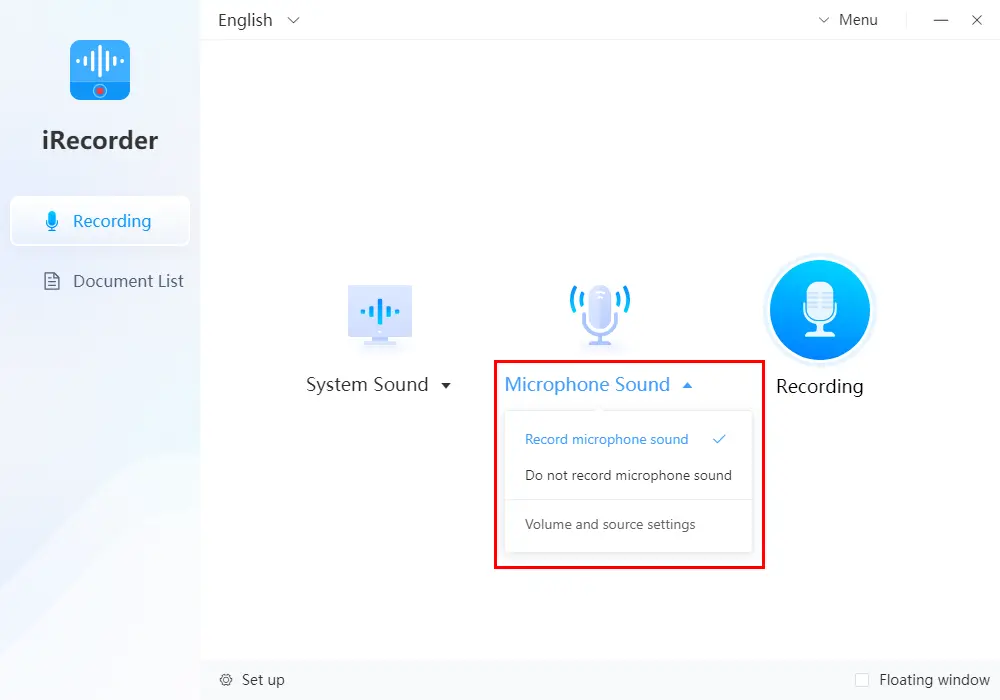 Step3. Click the recording icon, then you can pause or stop when you want to.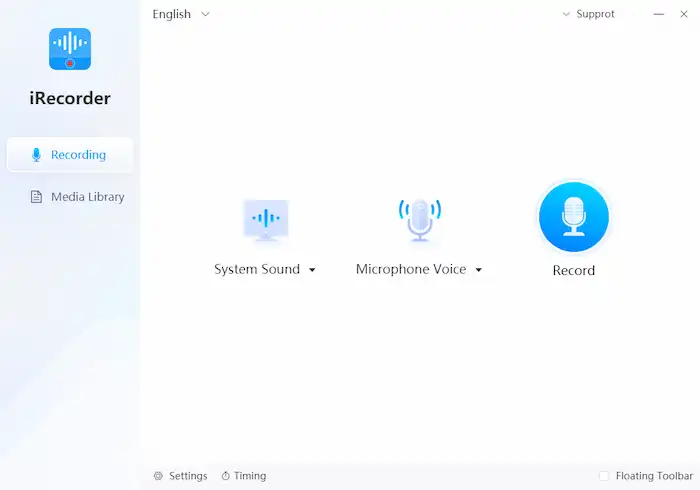 🔔Note: When stop recording, the audio file will automatically appear on the document list. Then you can click "more" to edit the file title or other file information.
📌Advice for New Users:
Because there are functions other than audio recording, you can make some valuable settings before it. Click "Settings" at the bottom left, and then you can utilize these features following your needs. Now, here's a brief introduction to them.
✔Source Sound: Not only can you choose the source sound, but also the proportion of each source. Drag the blue circle to adjust it.
✔Automatic save: It is feasible to record audio from computer as planned and save the recorded files automatically.
✔Hotkey: Set the hotkey that you need.
✔Output settings: Settings like output format, output sound quality, audio noise reduction, and output directory are available.
Why Do I Choose WorkinTool Audio Recorder?
WorkinTool Audio Recorder is professional audio recording software. As an audio recorder, it is full-featured and easy to use. There are several convincing reasons for picking it.
| | |
| --- | --- |
| | It allows you to record audio from computer without time limitations. |
| | All the features of WorkinTool Audio Recorder can be used for free. |
| | System sound and microphone sound are accessible at the same time, and more importantly, you can choose only one of them to record. |
| | Four types of quality are available. |
| | WorkinTool Audio Recorder protects data privacy and guarantees information security. |
| | Simple but distinct navigation helps you quickly grasp how to use it ideally. |
How to Record Audio from Computer with Audacity
Another effective audio record for PC I'd like to recommend is Audacity. It is a powerful audio editor by which you can edit, record, and play sounds. And importantly, it is free. So all of its features are available for users. As a professional audio software, it is full-featured. It has many advanced features, such as mixing audio. It supports several audio formats, such as Wav, AIFF, MP3, and OGG. So it is a helpful audio recorder for users with audio editing needs.
Is there something you don't like in this software? The answer depends on your requirements. Assuming that you merely want to record system sound, Audacity is inappropriate. There's no place for you to close the microphone channel. Moreover, with extensive editing functions, it has a more complex interface. Many icons cost time to learn. For beginners, it will cost time to learn how to use every part of Audacity. Suppose you only need to record audio and save the audio without editing; the advanced features seem unnecessary for you.
A Tutorial on Recording Computer Audio on Windows through Audacity
Step1. Install and open Audacity to record audio from computer.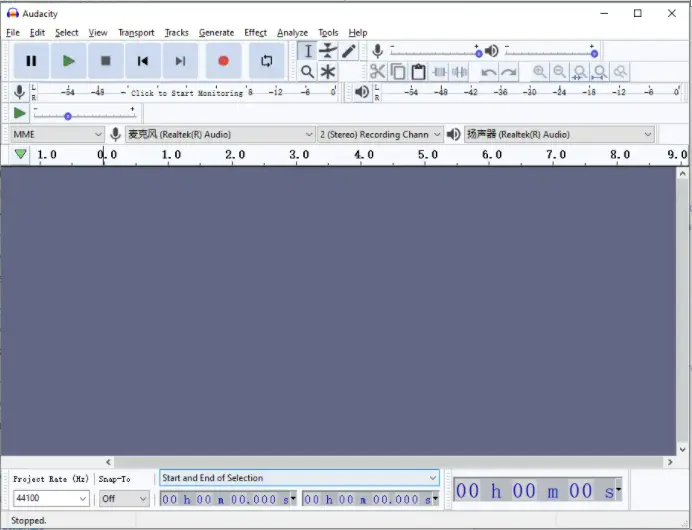 Step2. Click the red button to start recording.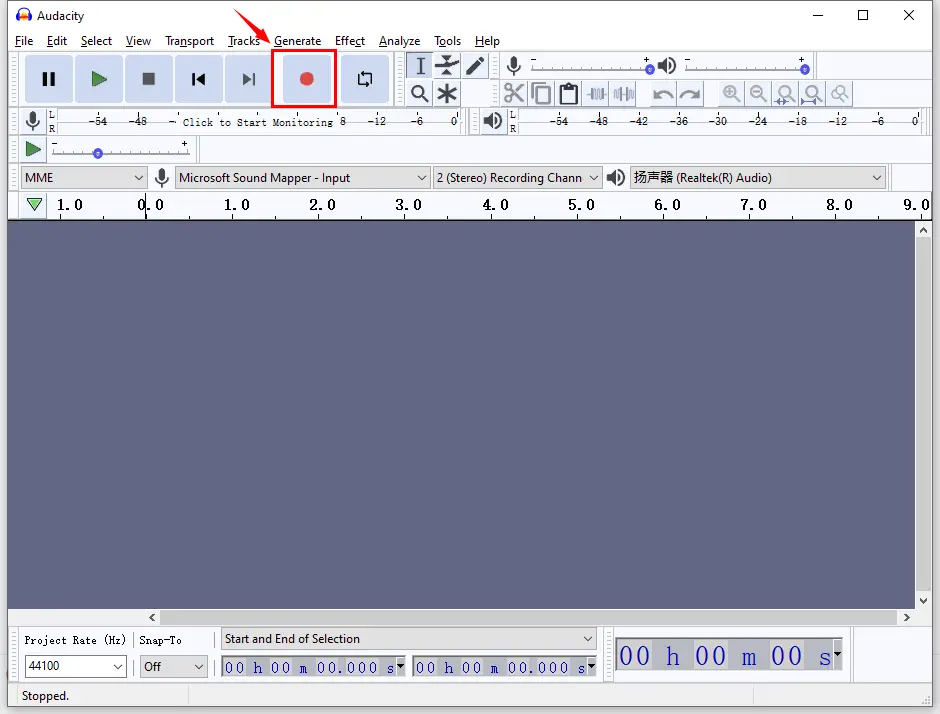 Step3. Pause or stop when you want to. There is no flotaing bar to stop, so you must open the software again to stop recording audio on PC.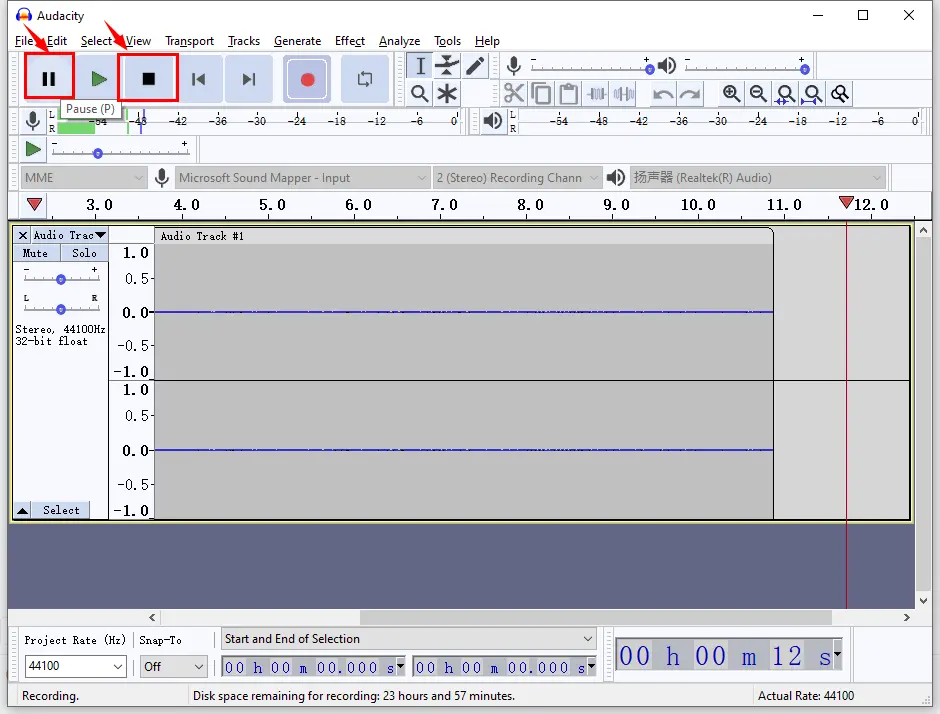 Tip: There are other recommendations for audio recording software here for your reference if you intend to know more.
Wrapping Up 
In this article, I have mainly talked about how to record audio from computer on the Windows system, like Windows 10/11, etc. Some may record audio to preserve critical information, like online conference or courses. Others may record PC audio to post-produce audio works. Out of your preference, you can choose the most suitable one.
There are many audio recorders with various features. Thus finding the proper software is time-consuming work. Undoubtedly, the audio recorders I have introduced here are excellent, no matter for ordinary recording or professional usage. And to choose the appropriate software, the best principle is to follow your needs. Have a free trial and start your recording tasks.
Products Reviews:
TrustScore
4
|
323
reviews