Fix External Hard Drive Not Showing Up Or Recognized on Windows
I know how frustrating it can be if your external hard drive cannot be recognized. Read this article for the very best solutions to fix the problem. Then, use WorkinTool data recovery software to recover your lost data from your external hard drive. Download and enjoy it right now.
😍 1. 100% FREE to use all the features with NO ads.
🤩 2. Easy interface for users to recover in THREE STEPS.
😎 3. Quick scan and recover files the same as the original.
🥳 4. Cover all file types of pictures, documents, videos, audio, etc.
😊 5. Available for all external storage devices like USB flash drives and SD cards.
Fix External Hard Drive Not Showing Up or Recognized on Windows
We both know how frustrating it can be to plug in an external hard drive and find it doesn't boot properly. Whether it's opening your brand-new external hard drive or finding an old external hard drive with valuable memory, if it works, it's okay. But when you insert it and nothing happens, or even worse, there should not be a sound. That is what irritates us. So, how can we fix the external hard drive not showing up or being recognized on Windows?
Fortunately, there are several ways to fix an external hard drive not working. It could be an external cause, or it could be an internal problem. But you should understand that even if you fix the issue and you can display and access it correctly, the internal data will still be recovered along with it. There is still a good chance you are at risk of data loss. Also, you may need data recovery software to help restore data from external hard drives.
So, here's how to get this job done now.
---
Possible Reasons for External Hard Drive Not Showing Up
The not-showing-up concern on your external hard drives might seem random at first, but a more significant potential issue may come out later. Before that happens, make sure to check if your device has suffered the following questions:
---
Six Methods to Fix Unrecognized External Hard Drives
Below we'll give you five easy-to-hard solutions to help you fix an unrecognized external hard drive difficulty and get it working on your computer. Each method is free and effective after our trial. You can try it in our order or pick the one that suits you.
#Method 1: Make Sure It's Plugged In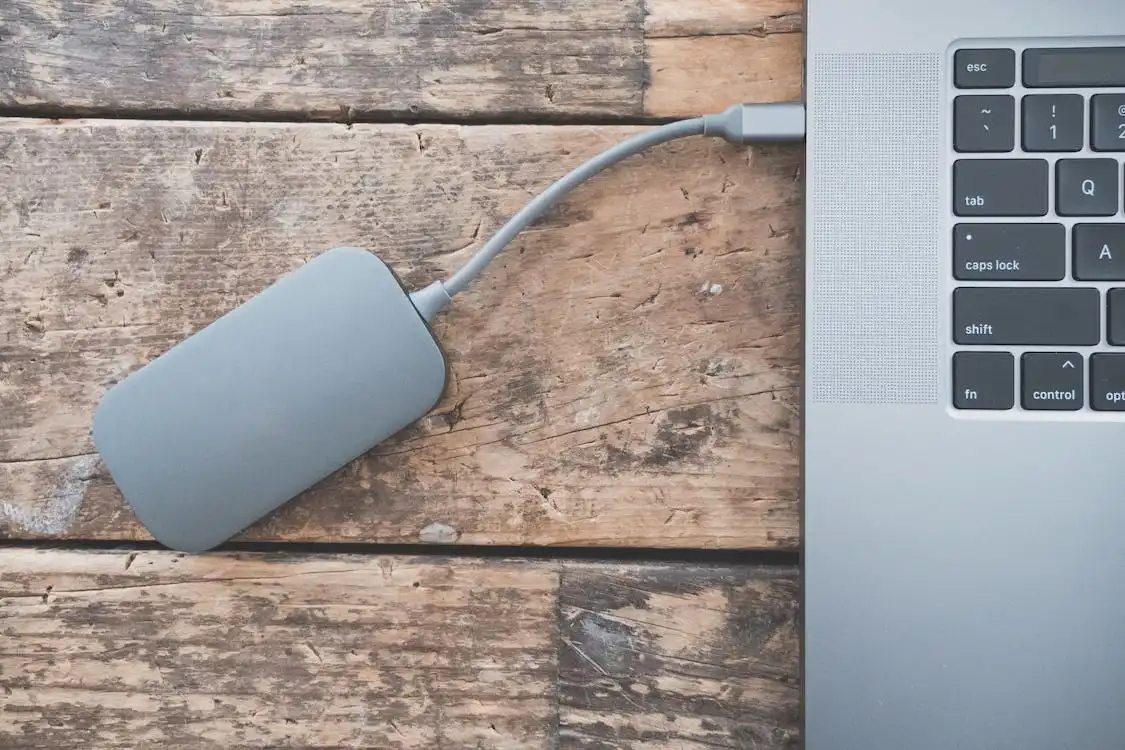 Just because you plug an external drive into your computer doesn't necessarily mean it's connected to the power supply. Now the USB plug is getting more and more upgraded, with 2.0 and 3.0 ports. If you plug the external drive into a mismatched port, it will need more power to display. Also, many USB devices now require the user to fully plug in the socket to function appropriately for security purposes. So many things that don't show up result from the user needing to insert the USB plug fully. You should check on it now.
#Method 2: Reboot the Computer
Have you tried turning the computer off and then on to reconnect it to the external hard drive? I know it sounds stupid, but believe me, it works sometimes. Sometimes when your external hard drive needs to be recognized because of a location problem, rebooting your computer can give your computer a second chance to admit it. Before you restart your computer, Unplug Your Drive and let your computer cool down for a few minutes. Try inserting it again after a complete restart.
#Method 3: Try Another Port or Computer
If your drive still doesn't show up, try unplugging it and switching to a different USB port. As we said, your port power may not match the drive. If you're using a plugged-in USB hub, try plugging it directly into your computer. Of course, it could be the USB cable itself. Try connecting it to the spare cable once to see if it shows up. You can also try it on another computer, preferably one with a different computer system. For example, issues that don't show up on Windows may be resolved on Mac.
#Method 4: Use Data Recovery Tools
Sometimes even if you make the hard drive show up in many ways, such as the Disk Management tool, because of a variety of unknown problems caused by the loss of the file can not be recovered. The disk management tool cannot restore missing partitions, including the files inside. This is when you need to use professional data recovery tools to help. Among all the data recovery tools on the market, WorkinTool Data Recovery Software is one of the best.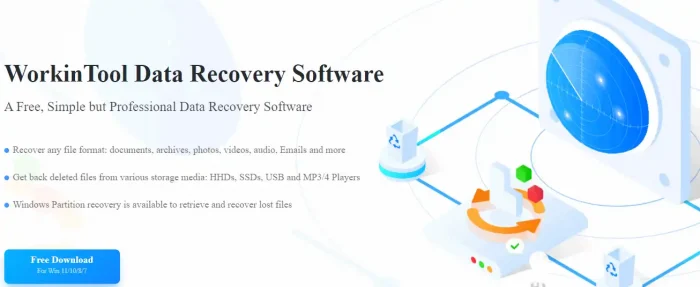 WorkinTool Data Recovery Software is a professional recovery tool that helps users solve data loss problems in several situations. No matter how you lost them, this tool can quickly restore your files to their original location in no time. With the most user-friendly interface, various data and file recovery features, and outstanding scanning and converting speed, users of all ages can use this tool without any hassle. There are six different recovery modes for users to pick according to their condition. Trouble-free. And most importantly, this tool is 100 percent FREE to use with no built-in ads.
See how WorkinTool data recovery software works:
1. Open WorkinTool Data Recovery and select USB/Memory Card Recovery. Find your external hard drive and click Scan Now.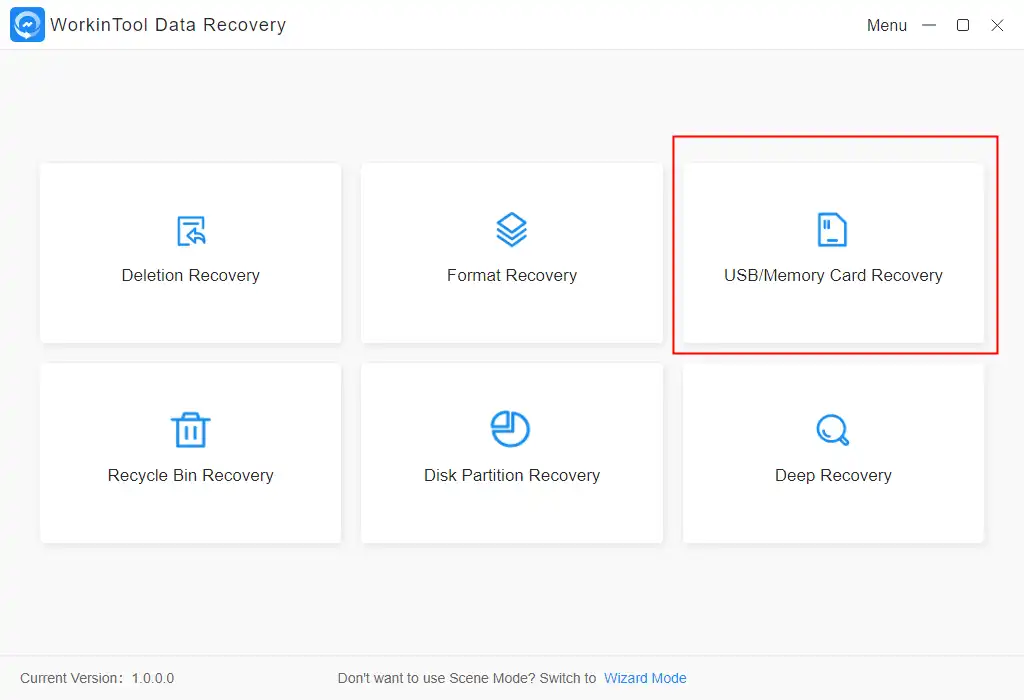 📣 Notice:
If you still need to connect the external hard drive to your computer and recognize it, it will show nothing like the picture below. Please click Refresh after connecting the mobile storage device to a computer with this tool.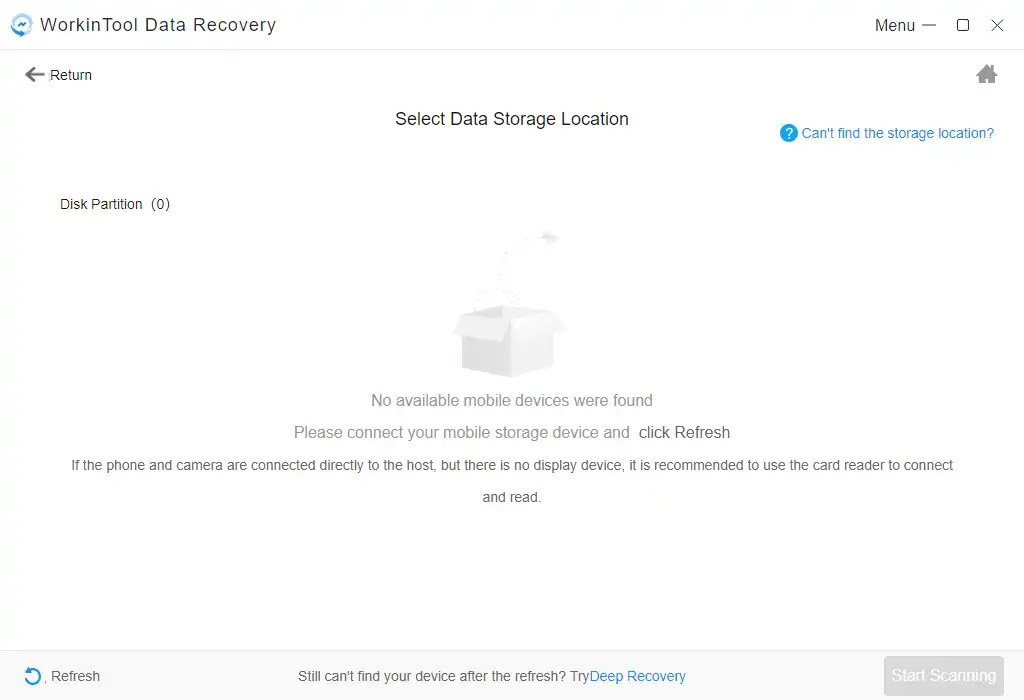 2. After scanning your external hard drive, find the lost data by using the Filter feature and selecting the File Type.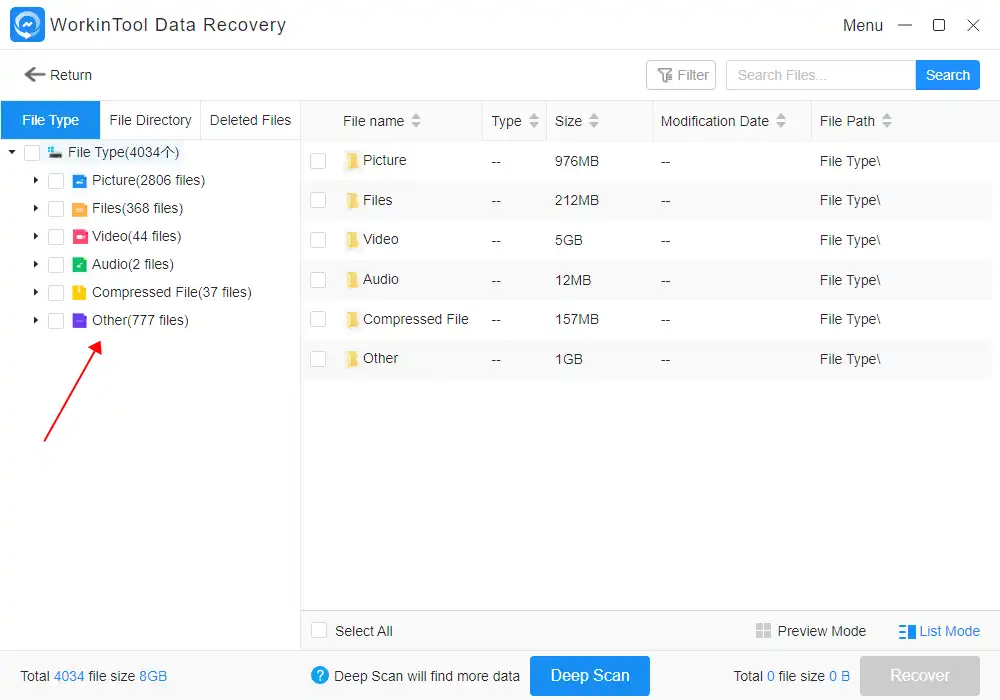 3. The final step: Tap Recover and set the file location where you want to save the recovered data.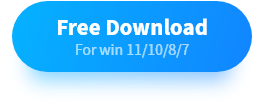 ---
Bottom Line
External hard drives are also essential to today's data storage and transmission. In an age of increasing reliance on data transfer, it can be such a bummer to be unable to access external hard drives for whatever reason. But all of this frustration will be gone by reading the methods outlined in this article. You can fix these problems and recover lost data immediately.
If you have any questions or suggestions, please get in touch with us at any time.