You Need to Format the Disk in Drive | How to Fix? 7 Ways
Many people receive this message when they try to access files on a drive: You need to format the disk in drive #. Do you want to format it? It usually means there are drive or file system errors on their device. If you've encountered the same problem, read the text below to fix this error.
This post explains the possible causes of this error, ways to identify the causes, and FAQs about this problem. More importantly, there are seven reliable solutions to fix this error without formatting the drive or losing data. Read on to know what they are!
You Need to Format the Disk in Drive | How to Fix? 7 Ways
"You need to format the disk in drive D before you can use it. Do you want to format it?"
Have you ever seen this message when opening a storage device and accessing its data? Do you know what exactly the error message means? If you want to access the drive without data loss, read the post, and you will get everything you need.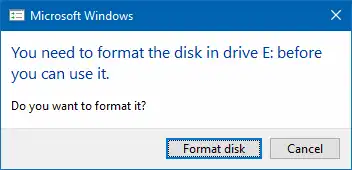 ---
Overview of Disk Format Error
The error message 'You need to format the disk in drive X' is frustrating and perplexing for many users who want to extract data from a storage device. This issue often occurs on USB flash drives, SD memory cards, or external hard drives. It usually means your drive is incompatible with the host device or there are problems like virus infections, file system corruption, and physical damage to your storage device.
Possible Causes of The Error
Here are some possible causes of this error message (Want to know what happens on your drive? Check the methods to identify the cause at the FAQ part of this article.)
📂File System Corruption

🔗Bad Sectors

🎇Virus/Malware Infections

🔌Incorrect Removal of the Disk

❎Physical Damage

🧲Disk Initialization
This message prevents users from accessing the files stored on the drive and transferring new data. However, a huge data loss could happen if you fix this problem by formatting it. Therefore, it is crucial to know how to fix the error without losing data. In this post, we provide a step-by-step guide to help you troubleshoot the error 'You need to format the Disk in Drive before using it' and recover your valuable data safely.
---
How to Fix The Error 'You Need to Format the Disk in Drive'
In general, there are two steps you should follow to fix the error: identify the reason (see FAQ) and use select an appropriate solution. There are seven possible solutions in this section. It is advisable to try the simplest solution before stepping into more advanced fixes. In addition, before stepping into the advanced fixes, remember to recover your data from the inaccessible drive first, or anything wrong during the repairing process can lead to permanent data loss.
Quick Fix. Check the Connection
Connect the drive to a different USB port on your computer. If it still doesn't work, insert it into a different computer and check if you can successfully access it. The disk may have a file system incompatible with the Windows operating system. This method can solve the error in the shortest time.
Recover Data via Software
If it doesn't work, there might be file system or drive errors. It is recommended to recover data from the inaccessible drive using data recovery software first. WorkinTool Data Recovery Software helps to retrieve data from inaccessible drives without formatting. It offers six data recovery scenarios: Deletion Recovery, Formatted Recovery, USB/Memory Card Recovery, Recycle Bin Recovery, Disk & Partition Recovery, and Deep Recovery. This data recovery software is able to solve any data loss situations with a high success rate. Users will find it easy to use for its intuitive interface and easy operation.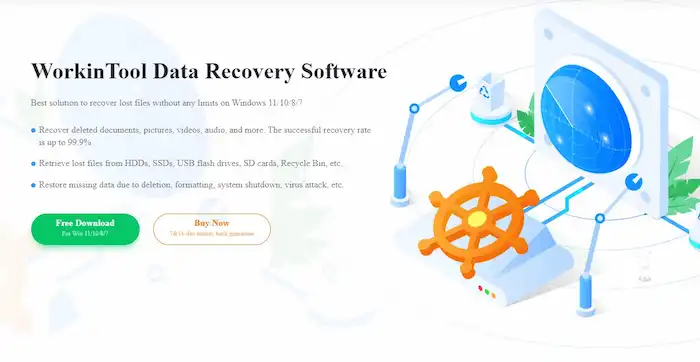 Key Features of Data Recovery Software WorkinTool
Recover data from inaccessible, formatted, or logically corrupted drives without pressure.
Compatible with internal drives, SD cards, USD drives, external hard drives, cameras, and more drives.
Support 2 scan methods, 6 recovery scenarios, 500+ file types, and 500MB of free recovery space.
Pack all-around features like file preview and BitLocker encryption into a tiny program with the lowest price.

Steps to Recover Data from Inaccessible Drives via WorkinTool
Open this program on a Windows computer and click on the malfunctioning drive.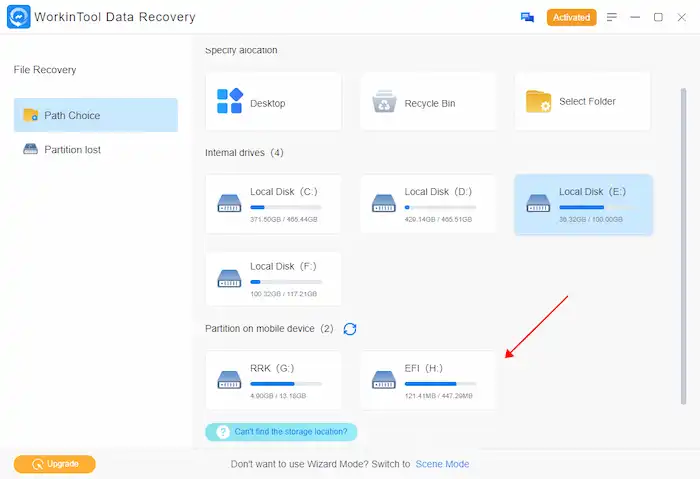 Select the recovery method as 

Quick

, 

Deep

, or 

Formatted Recovery

, as the window shows, and press 

Scan Now 

to get started. There is a brief introduction to each method's suitable scenarios.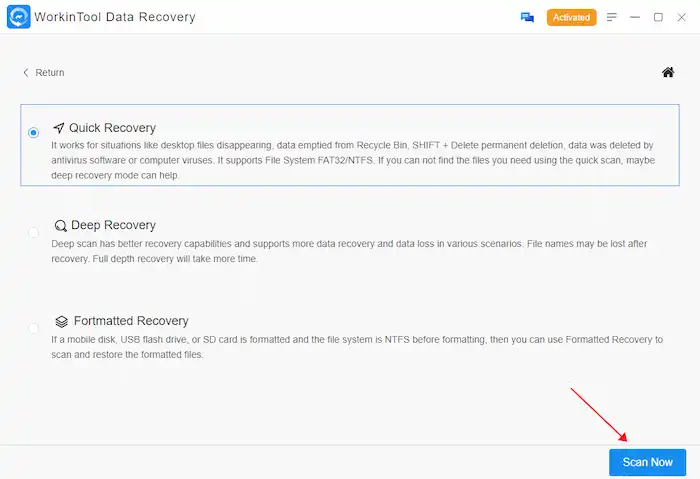 After scanning, find the files you wish to recover via the navigation or the filter feature. Then select them and hit 

Recover

. Remember to save them in a new drive.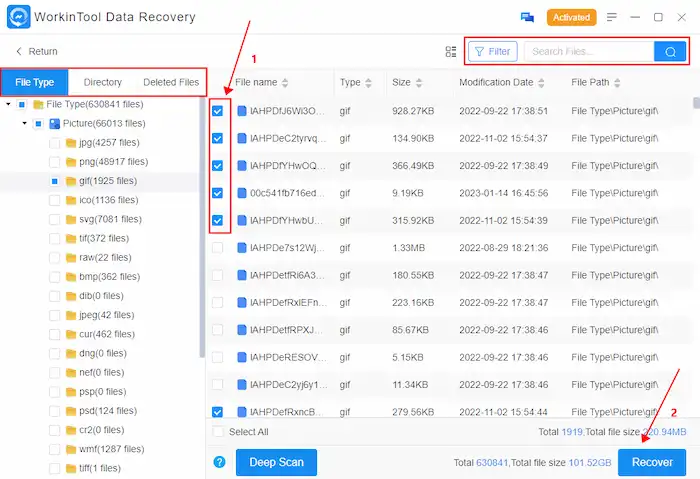 Fix 1. Error Checking
If connecting a drive to a different port or computer doesn't work, run the built-in Windows utility Error Checking to scan and repair potential errors on your drive (internal or external). Perform the following steps.
Click This PC to find and right-click your drive.

Go to

 Properties

 > 

Tools

 > 

Error Checking

 >

 Check

.

Repair the detected error with the wizard. If no error is detected, try the next solution.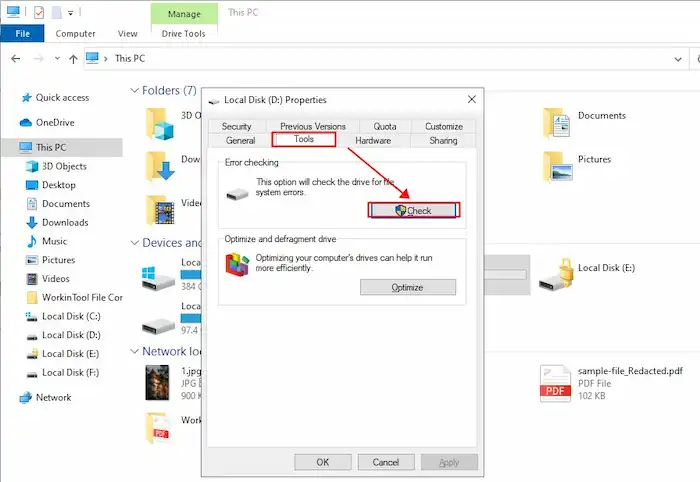 Fix 2. Use Antivirus Tool to Fix The Disk Format Error
The You need to format the disk in drive error message may occur due to virus or malware infections. If viruses or malware exist on your drive, you can run Windows Defender or third-party antivirus tools to scan the affected drive volume and repair the disk format error.
Fix 3. Run CHKDSK in CMD
If your drive contains bad files, sectors, drive corruption, or file system errors, the CHKDSK command may help you scan and fix the drive errors. This tool will scan all the files on the drive and fix drive errors in a batch. It can fix the format disk error without formatting for both internal and external drives in the case of NTFS formatted drive volumes. Therefore, it is possible to fix the You need to format the disk in drive error whether on C, D, E, F drives, SD cards, or USB flash drives. Follow these steps:
Press the Windows key on your keyboard, enter 

CMD

, and run 

Command Prompt

 as an administrator.

Type 

chkdsk X: /f

 and hit 

Enter

 (X represents the letter of the inaccessible drive).

Wait till the command completes and type 

Exit 

to close this program.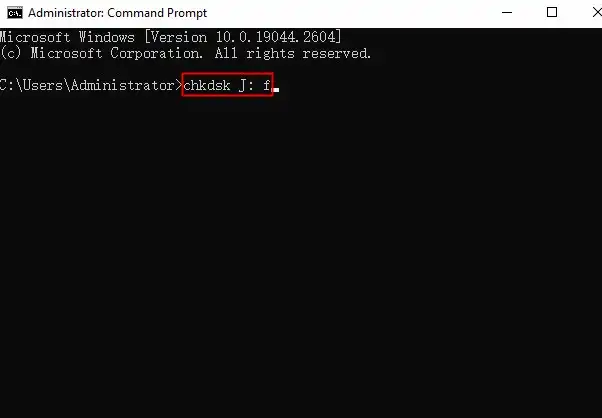 However, the CHKDSK command is not available for RAW drives. It can only check and fix drive errors when there is a recognizable file system.
Fix 4. Update/Reinstall Device Driver
Outdated or faulty device drivers can also lead to the format disk error. In this situation, you can update and install new device drivers on Windows. Follow these steps:
Right-click on the 

Start

 icon and select

 Device Manager

.

Go to 

Disk Drives 

and right-click the drive that shows the error.

Choose 

Update driver 

and follow the wizard to install the latest version of the Windows driver.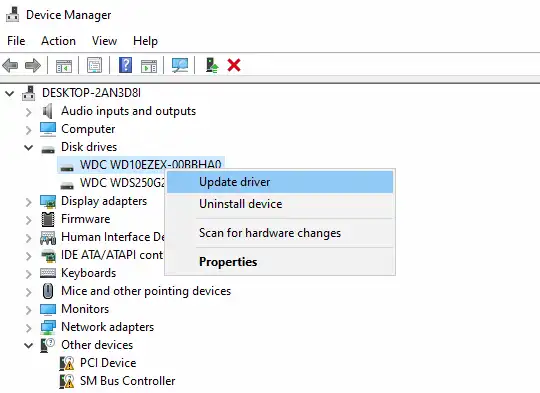 Fix 5. Change Drive Letter
Assigning a new driver letter to your device may get 'You need to format the disk in drive' sorted out.
Right-click on the 

Start 

icon to open 

Disk Management

.

Find your drive, right-click on it, and then choose

Change Drive Letter and Paths

.

Click 

Change 

to assign a different drive letter and press 

OK

.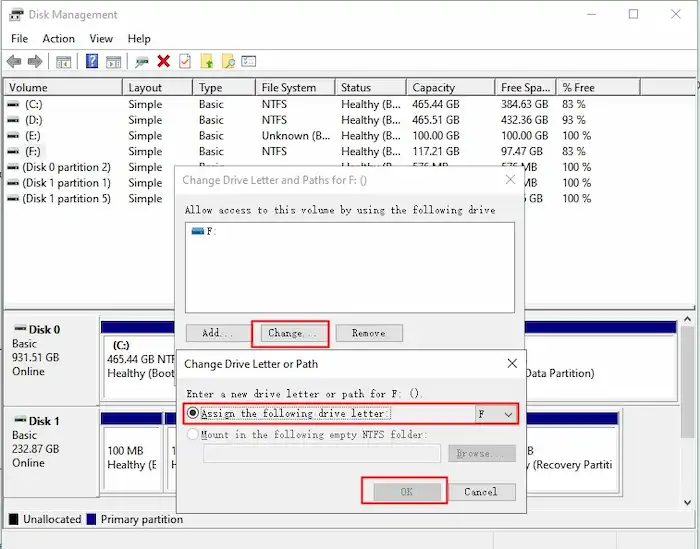 Fix 6. Recover Data and Format the Disk
If none of the solutions works, formatting the disk is the last resort to fix this problem. This method can fix the You need to format the disk in drive error even for RAW drives. You can recover valuable data before the formatting process to avoid data loss.
Click 

This PC 

and find your drive.

Right-click on the drive and select 

Format

.

Select a file system, tick the 

Quick Format 

option, and then click

Start

 to start formatting.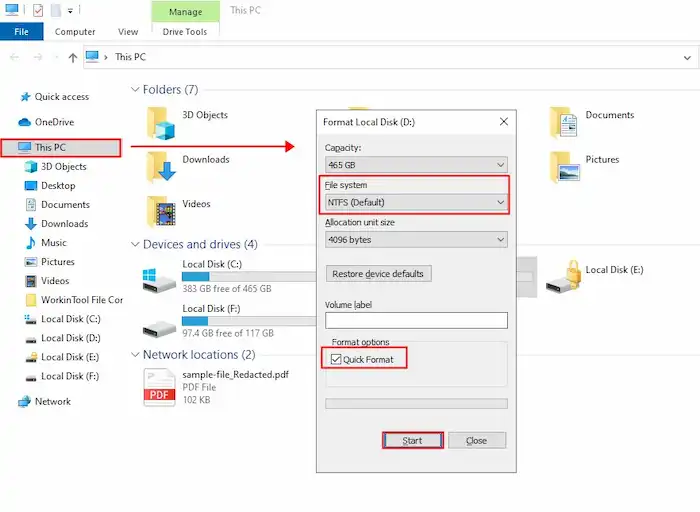 Remember to recover data first using the data recovery software. Otherwise, all existing data on the drive will be erased.
Fix 7. Turn to Drive Repair Service
If none of the above methods can solve the issue, you can only pin your hope on disk repair service. A professional drive repair center can repair most of the logical and physical damages to the drive. At the same time, it is easy to imagine how much you will cost.
---
FAQs on 'You Need to Format the Disk in Drive' Error
Methods to Identify The Cause
Identifying the cause of the 'You need to format the disk in Drive' error can help determine the corresponding troubleshooting methods to fix the issue and safely recover data from your drive.
Check for file system problems:

 Open 

This PC

 on your computer, right-click on your drive, and then select 

Properties 

to check the drive's file system. If the system is RAW, you must fix the file system corruption.

For bad sectors:

 Type 

cmd

 in the search box on Windows and run Command Prompt as an administrator. Type 

chkdsk X: /f /r

 and press 

Enter

 to run the command. It can find bad sectors on your drive and repair possible errors.

For viruses and malware:

 Use an antivirus software tool to run a full-depth scan on your drive. Remove the hidden threats and try accessing your disk again.

For physical damage:

 Look if there is any physical damage to your drive, such as a broken USB connector, scratches on the interface, exposure to overheating or moisture environment, etc. If the drive is physically damaged, only a professional data recovery service can help.

For initialization:

 If your drive is new, open Disk Management and check if the disk is incorrectly initialized. An interruption in power during the initialization process can also lead to the 'disk format error'
What Does Formatting a Hard Drive Do?
Formatting a hard drive means erasing all the data on a drive and assigning a new file system and partition table for future storage use. It can solve many unknown problems and guarantees your data is safe if you need to donate, sell, or dispose of it. Since formatting a drive will erase all the data, it is critical to recover and back up any important data before the formatting process starts.
How to Reformat a Hard Drive?
Reformatting a hard drive means assigning a new file system to it. It usually represents a quick format that can be easily done by users themself. There are multiple solutions to reformat a drive, including:
Right-click your drive in Disk Management and select Format.
Right-click your drive in This PC and click Format.
Run Diskpart command in Command Prompt.
These methods are not only available for internal computer drives but also for external hard drives, USB flash drives, memory cards, etc.
How to Fix The 'You Need to Format the Disk in Drive' Error without Formatting?
Here are some solutions you can use to fix the error without formatting.
Insert the drive into a new port or computer.

Recover valuable data from inaccessible storage devices via WorkinTool Data Recovery Software.

Run a virus scan & repair via antivirus software.

Use the CHKDSK command to fix file system errors.

Check disk errors via the Windows Error Checking tool.

Seek professional help.
---
Conclusion
The error message "You need to format the disk in drive" can is troublesome, especially when you need to access important information on the drive. However, things can be fixed without formatting the drive using the fixes and data recovery software in this post. It is essential to recover data from the drive before you run any risky solution to fix the error, such as formatting, running the check command, updating device drivers, or assigning a new drive letter. Otherwise, your valuable data may disappear permanently if anything wrong happens during fixing.
You May Also Need