How to Fix SD Card Not Showing Up on Windows for FREE
Fixing the SD card not showing up problem cannot be easier with WorkinTool data recovery software. Download and enjoy it right now to know the best way to get the job done in seconds.
😍 1. 100% FREE to use all the features with NO ads.
🤩 2. Easy interface for users to recover in THREE STEPS.
😎 3. Quick scan and recover files the same as the original.
🥳 4. Cover all file types of pictures, documents, videos, audio, etc.
😊 5. Available for all external storage devices like USB flash drives and SD cards.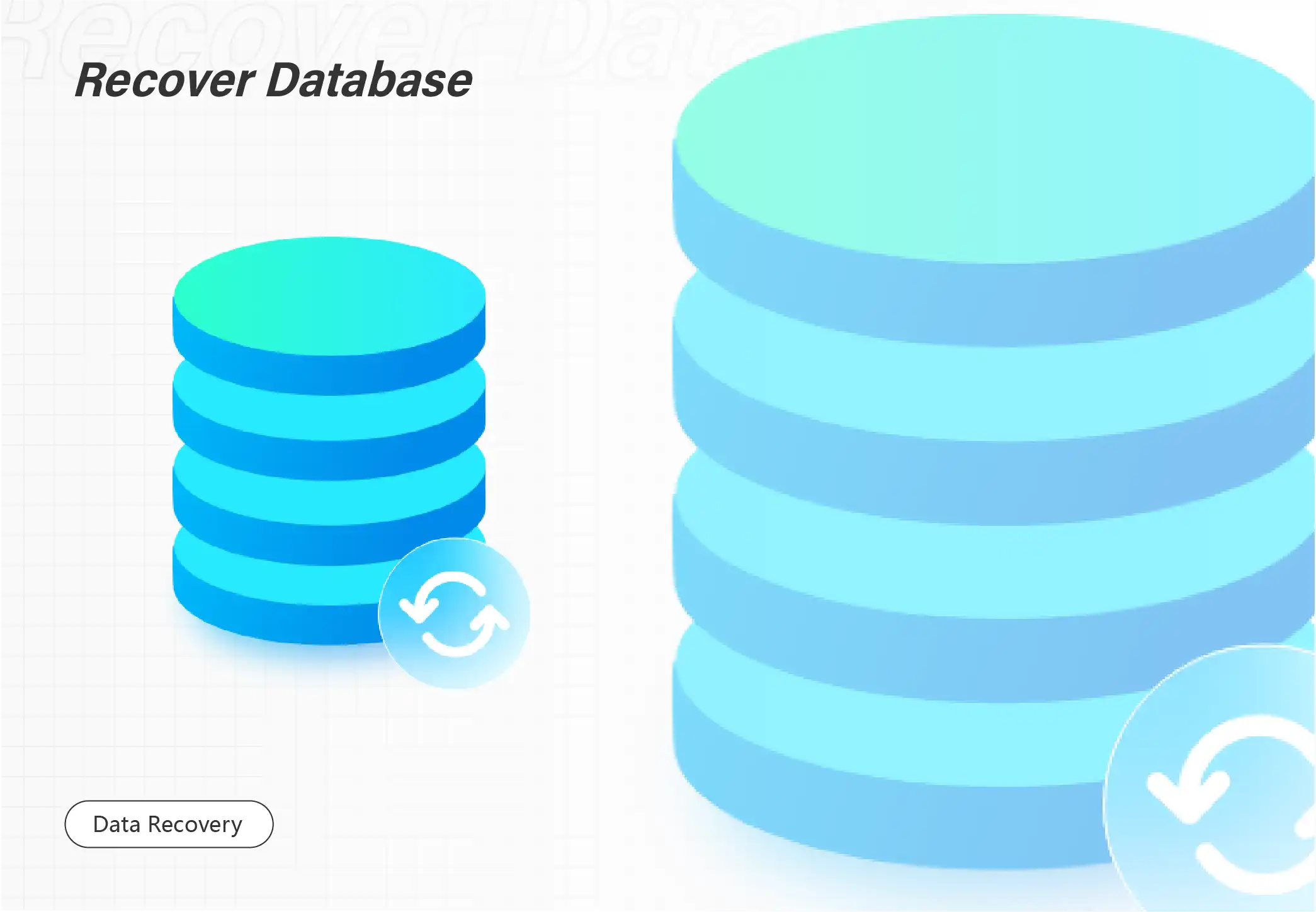 How to Fix an SD Card Not Showing Up on Windows for FREE
Anyone who needs to use an SD card regularly will encounter a problem like this: "I've inserted my micro SD card. Why isn't it showing up on Windows?"? It can even happen when you desperately need an SD card to read or transfer data. Indeed, that SD card not showing up can be very bothersome. If you don't huddle it well, all the data that is saved in it could be lost or damaged with the SD. So, if you meet the issue, do you know how to fix the SD card not showing up on Windows?
You don't need to worry too much if you don't know how to do it. There are several ways to fix the SD card not working. Of course, we're talking about the SD card's internal or plug-in computer reasons. If there is external damage, you may need to send it to a professional repair center to recover. But even if the problem is solved, there is a risk that your data will be lost. You may also need a data recovery tool to recover data from an SD card.
So, here's how to get this job done now.
---
Possible Reasons

for the SD Card Not Showing Up
In fact, the causes of this issue may be so varied that you can't predict it or prevent it. It can even be caused by dust clogging the socket on the device. But there are a couple of main reasons you can go through them one at a time and tailor your repair methods accordingly:
---
How to Recover Data From an SD Card That Is Not Showing Up
Before we show you how to fix an SD card displaying issue, you should prepare data recovery software to prevent data loss in the repair process. Of all the data recovery tools on the market, WorkinTool Data Recovery Software is one of the best.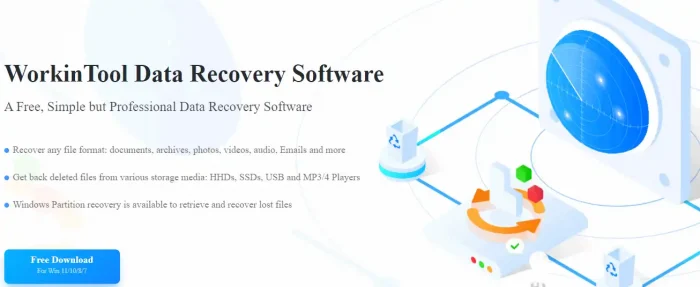 WorkinTool Data Recovery Software is a well-experienced recovery tool that can solve all kinds of data-loss difficulties that users may encounter. It doesn't matter if you've ever used similar data recovery software. With the most user-friendly interface, various file recovery features, and outstanding scanning and converting speed, users of all ages can use this tool without any hassle. Even if your SD card doesn't show up in the file explorer, this tool can still access it. As a user, you can select and pick those files from them and recover them to other locations.
An all-in-one data recovery tool, covers six different recovery modes for users to pick according to their condition. Trouble-free. And most importantly, this tool is 100 percent FREE to use with no built-in ads.
See how WorkinTool Data Recovery Software works:
1. Launch WorkinTool Data Recovery and select USB/Memory Card Recovery. Continue to select the SD card drive and click Scan Now.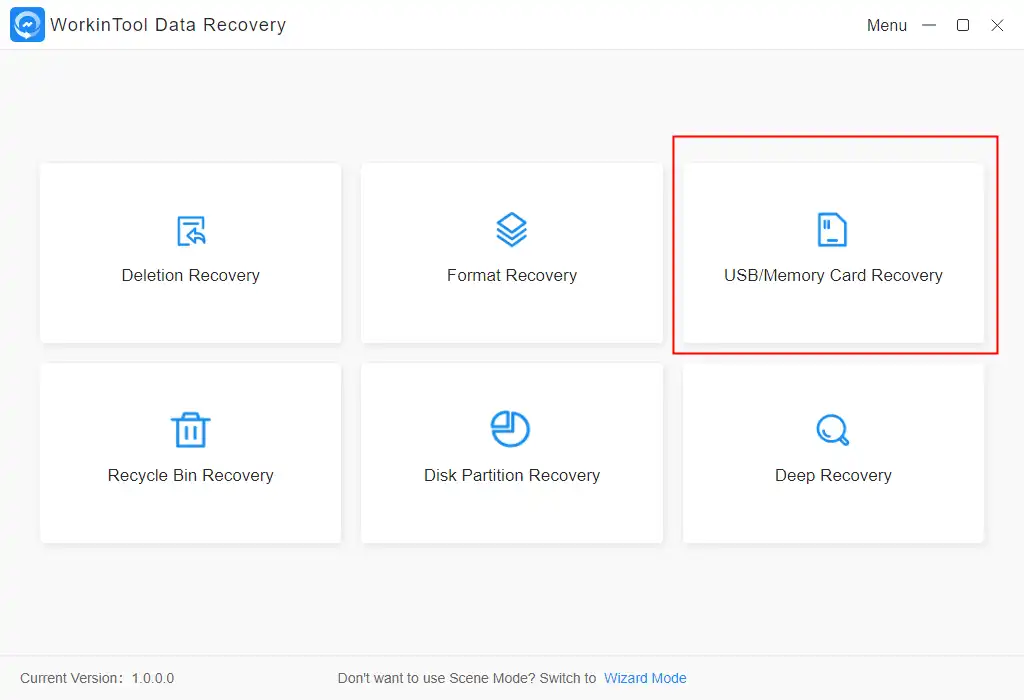 📣 Notice:
If you haven't connected it to the PC, it will show nothing like the picture below. Please click Refresh after connecting the mobile storage device to a computer with this tool.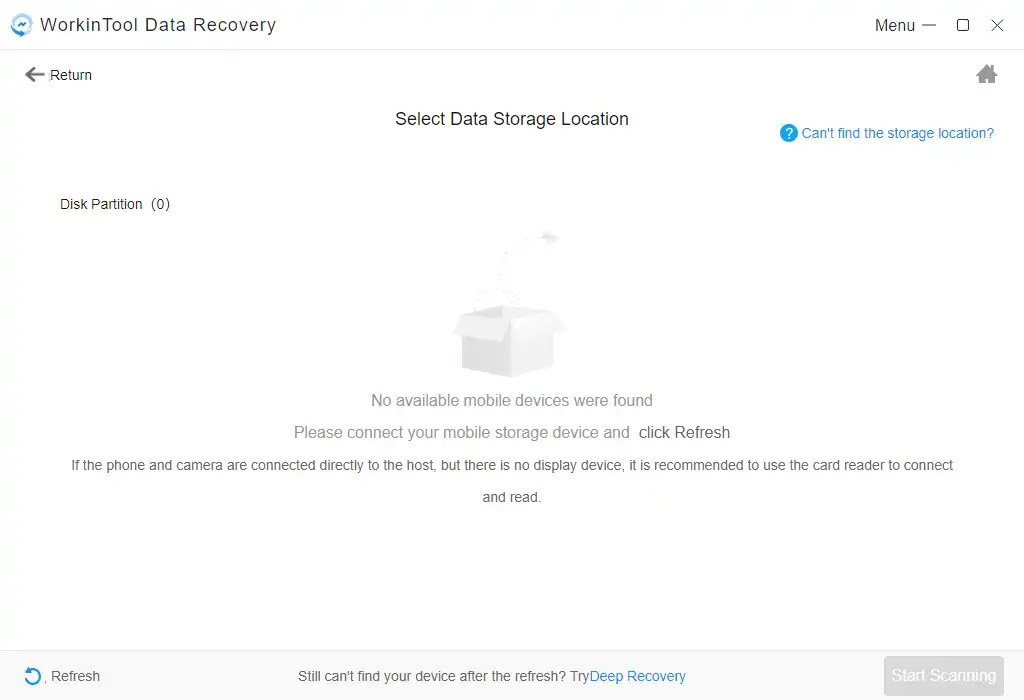 2. After scanning your SD card, find the lost data using the Filter feature and select the File Type.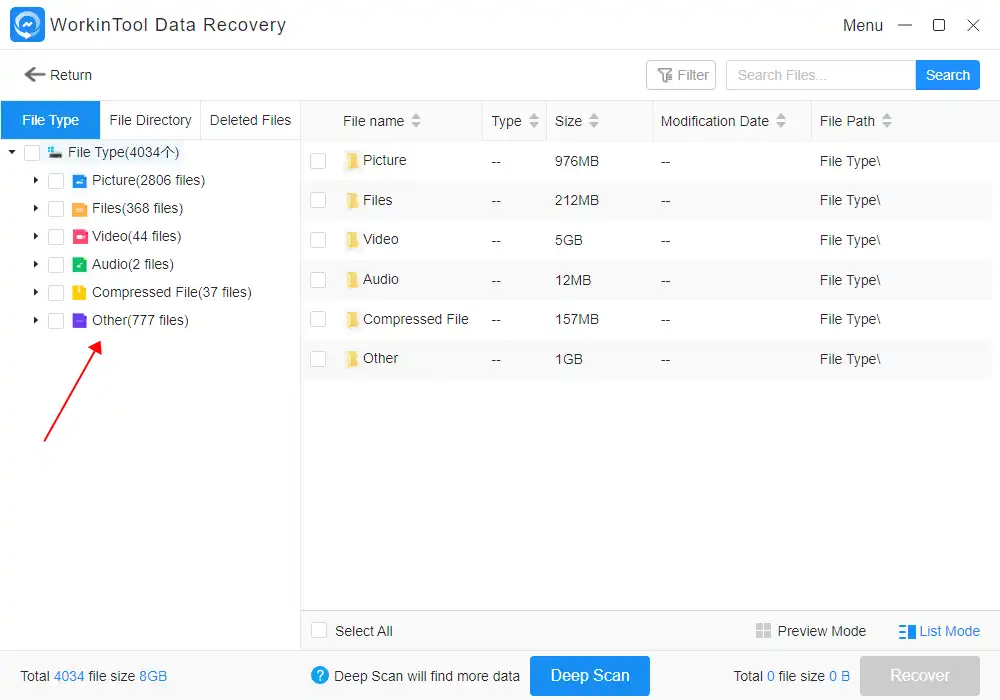 3. The final step: Tap Recover and set the file location where you want to save the recovered data.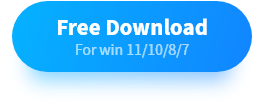 ---
How to Fix an SD Card Not Showing Up on Windows
SD card not showing problems can occur at any time on any device. If we want to solve this problem most effectively, we have to divide the solution into the most common concerns and then distribute the solution. Here are three approaches you might want to try.
Clean the Card and Test it on Another PC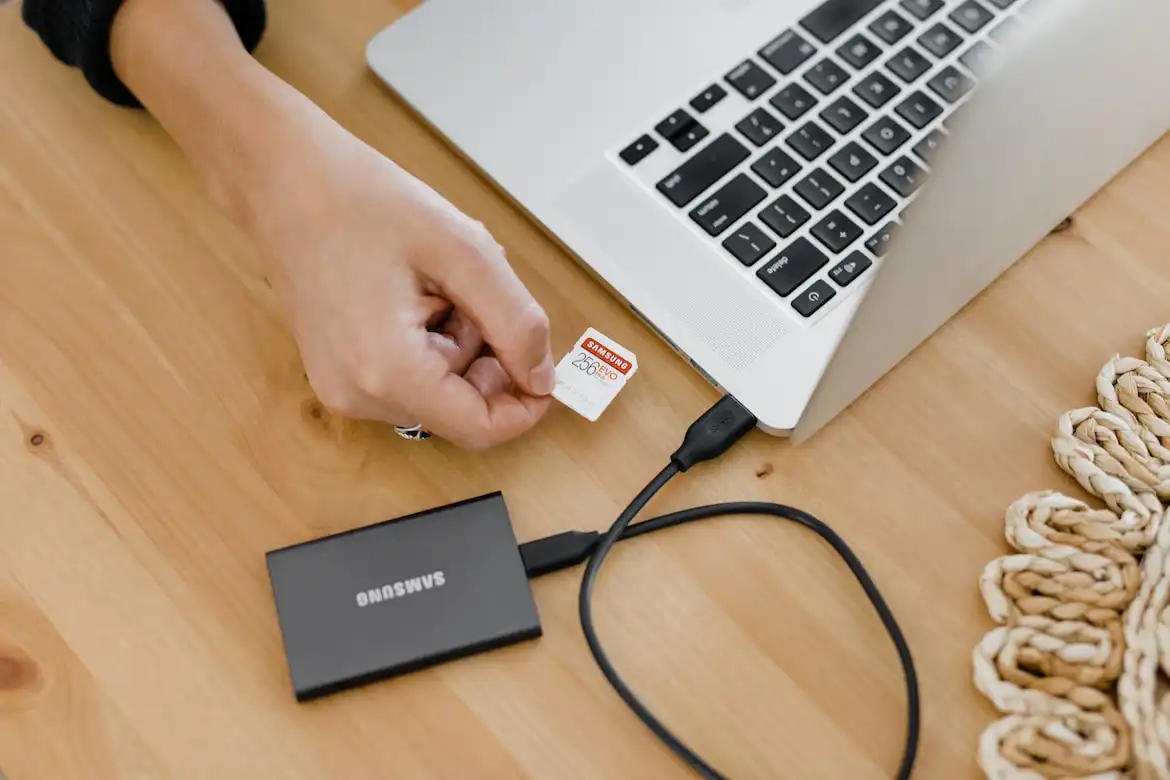 The first thing you need to check when your computer doesn't show that you have a plug-in device is if there is a connection issue with the SD card. If connected to an SD card or port that contains dust, lint, or other foreign matter, this may prevent it from contacting your device. Use a flannelette to clean the contact lenses on it. Do the same for the port, using earplugs to remove any obstructions. Then try to insert it into the original computer to see if it shows. If not, you can test it on another PC. If it still does not show at this time, the card has a high probability of failure.
Change the Drive Letter
If your computer is still File Explorer, but your computer is still connected, maybe you can check to see if the letters on your computer's drive are missing or missing. If so, just reassign the new drive letters. The specific operational steps are as follows: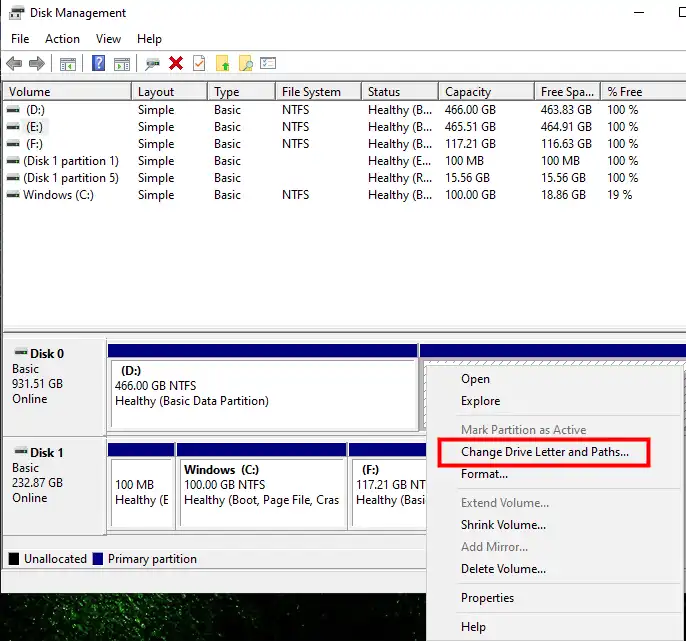 Press 

(the Windows key +X) 

and click 

Disk Management

.

Right-click on the SD drive and select Change Drive Letter and Path…
Fix Using Check Disk
If those methods above cannot fix your problem, you can use the Check Disk command to find and fix it if it is a file system error. Run Check Disk on an SD card to correct any possible errors with the file system using the following instructions: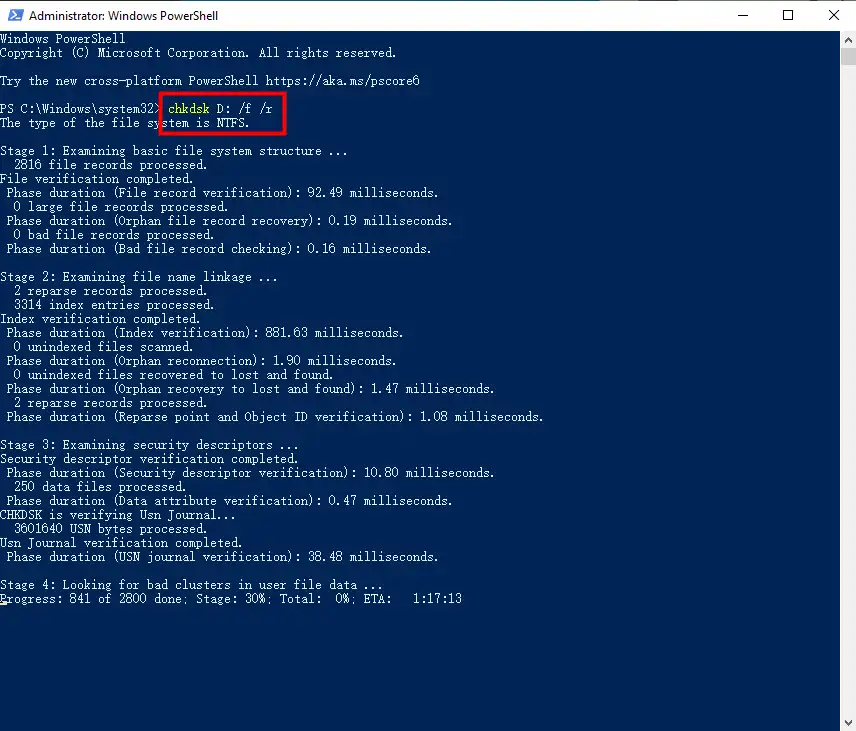 Right-click 

Start 

and select 

Windows PowerShell (Admin)

.

Enter "chkdsk D: /f /r". Replace 

D: 

with your SD drive letter. Press 

Enter

.
---
Bottom Line
In this article, we have provided you with three ways to resolve the SD card not showing up, each of which has been tested and proven effective. You can pick what is best for you according to your situation. We will also provide you with data recovery software to prevent the loss of data during your repair. I hope this article is helpful to you. Please feel free to contact us if you have any questions or better suggestions while you are trying.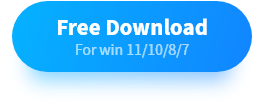 Products Reviews:
TrustScore
4
|
323
reviews