How to Recover Deleted Files from Laptop/PC in Windows 10
If you accidentally deleted important files from your laptop or computer in Windows, try the methods in this blog, and you can recover them quickly. All solutions are free without limitations, including third-party software. It is recommended for the following features.
💛 Free without size or time limitations.
🤍 100% Easy to use.
💙 Various files and devices are supported.
💜 Fast recovery rate and high responding speed.
How to Recover Deleted Files from Laptop/PC for Free in Windows 11/10/8/7
"Last week I went on a trip with my good friends and took many photos. After uploading photos to my laptop, I emptied the camera memory card but accidentally deleted all the photos from my computer. What should I do? Is there any way to recover deleted files on my computer?"
No worries! Accidental deletion is a slip-up that happens to most people. It is one of the most common forms of data loss. For whatever leads to file deletion, human maloperation, power outage, virus/malware attack, software corruption, or system error, you can follow the intuitive tips in this blog to recover deleted data for free from your laptop or PC in Windows 11/10/8/7.
Is It Possible to Recover Deleted Files?
Yes! The deleted files are not permanently gone. Instead, they become invisible and inaccessible, meaning the data is still residing on the computer. Therefore, it is possible to recover those deleted files before new data overwrites them and breaks down the remaining data structure.
❗

But the premise is that you need to STOP USING the storage media immediately and take effective countermeasures. In this article, we will provide you with several free methods on

how to recover deleted files from laptop/PC in Windows 11/10/8/7

. Both computer tools and laptop data recovery software are available.
How to Recover Deleted Files from Laptop/PC in Windows?
This section offers three free file recovery methods to retrieve deleted files on a laptop or PC in Windows 11/10/8/7. Whether using third-party software or not, you can easily receive instant feedback.
How to Restore Deleted Files from Recycle Bin
The first and easiest way—restore deleted items from the computer recycle bin. If you simply deleted files by moving them to the recycle bin and didn't use the Shift+Delete key or press the Empty Recycle Bin button, it is not a big deal to recover those deleted files. Follow the simple method to retrieve deleted files from the Recycle Bin in Windows 11/10/8/7 for free.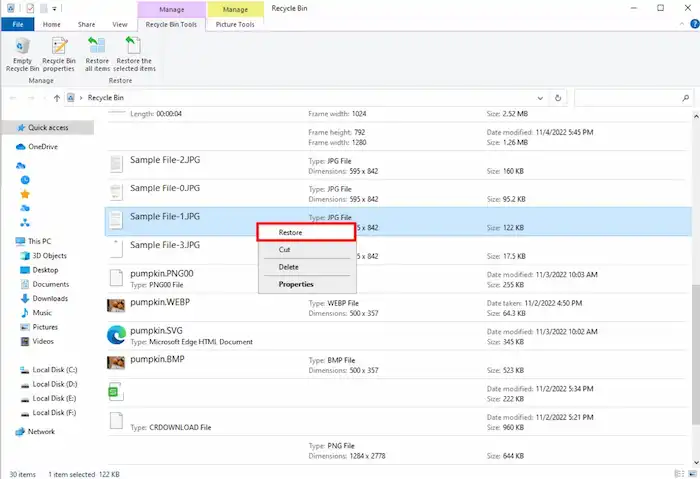 Step 1. Open the Recycle Bin on your computer and locate the files you need to retrieve.
Step 2. Right-click the files and hit Restore. The files will be back in their original location. (If you forget the original location, drag the files and drop them in a designated directory in case you can't find them.)
How to Recover Deleted Files from Laptop/PC using Free Software
This part is suitable for those permanently deleted files. If you want to recover shift-deleted files or those permanently erased items due to formatting and things like that, recycle bin recovery can't achieve that. Instead, if there is a free laptop data recovery program, why not try it?
After researching a large number of data recovery tools, we finally found a completely FREE one—WorkinTool Data Recovery Software. As advertised, WorkinTool Data Recovery offers all the features without charging a penny. So users can get unlimited files back even without registration.
Developed with sophisticated algorithms, this data recovery tool can efficiently perform a deep scan on your computer to search for and recover permanently deleted files. Download and install this data recovery program on your laptop, then follow the intuitive three-step to get your files back in Windows 11/10/8/7.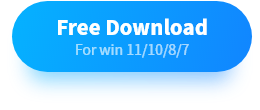 Step 1. Launch WorkinTool Data Recovery
Entering this software, you will see six functionalities. The first five sections, Deletion Recovery, Formatted Recovery, USB/Memory Card Recovery, Recycle Bin Recovery, and Disk & Partition Recovery, offer a deep scan according to the file storage location. You can select a section according to your data deletion situation.
The last one, Deep Recovery, can dig deeper for files that the first five can not achieve. If you fail to find the files you wish to recover using the first mode, you can resort to this one for a complete result.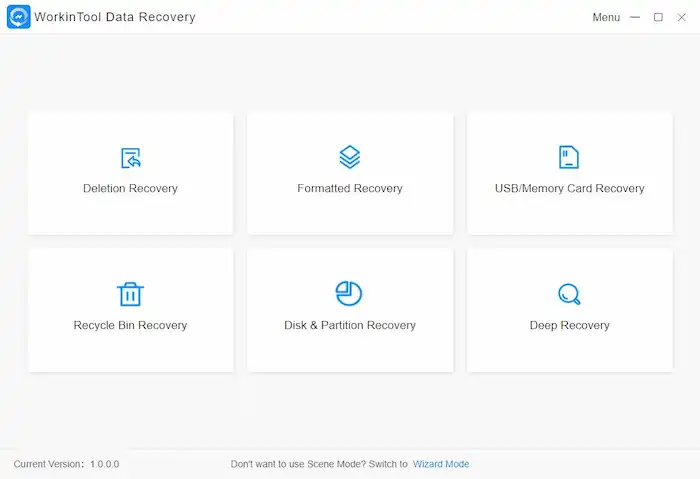 Step 2. Locate the deleted files
After scanning, you will see a panel displaying the scan results. The File Type and File Directory menus show all the files on your computer. The Deleted Files menu presents files that have been deleted or permanently erased. You can use the filter option or the search box to precisely locate the lost files by type, size, and deletion date.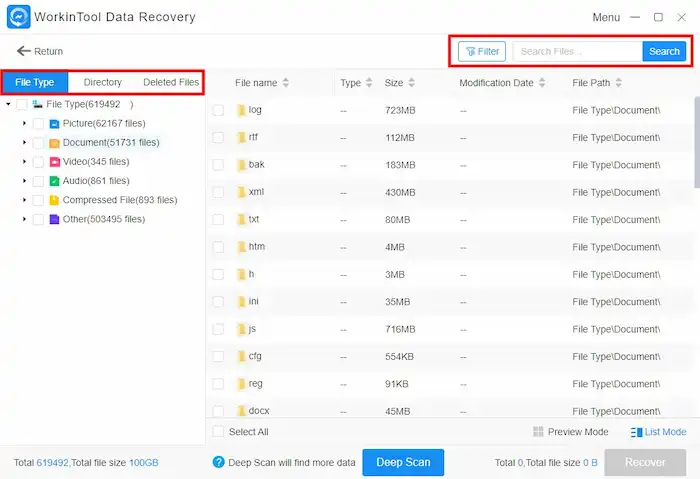 Step 3. Recover deleted files
Tick the checkbox before the target items, hit the Recover button, and then set a directory to store the to-be-recovered files.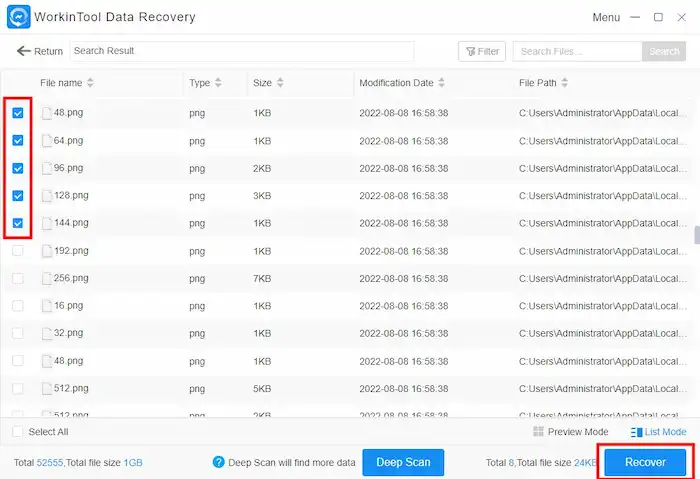 💎More Features of WorkinTool Data Recovery💎
Easy to use

. Without learning, users of all skill levels can perform laptop data recovery using this software.

Cover versatile file formats and storage devices

. WorkinTool Data Recovery supports hundreds of file formats and both internal and external storage media.

Fast recovery speed

. It performs a quick and deep scan, enabling you to recover deleted and lost files in seconds.

Suitable for many scenarios

: WorkinTool Data Recovery can recover permanently deleted, formatted, and corrupted files without obstacles.
How to Retrieve Deleted Files from Computer without Software
If you have enabled the File History option on your computer or prepared a backup in external drives, then it is easy to get the deleted files back from your backup. If not, try WorkinTool Data Recovery to perform Windows file recovery. Here is how to recover deleted files from laptop/computer for free with File History backup files.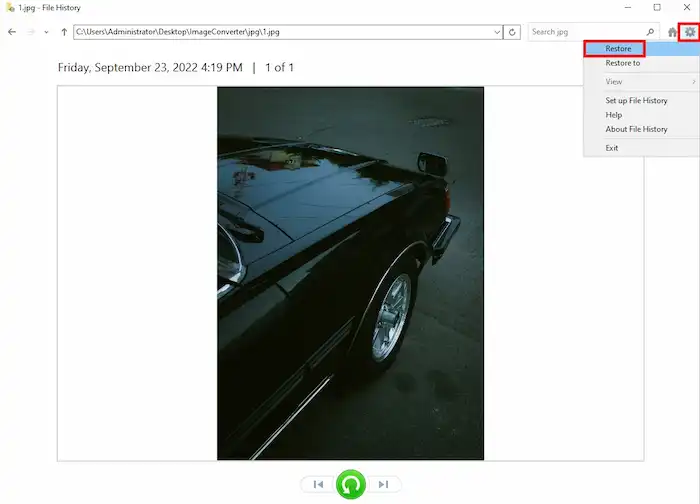 Step 1. In the Windows search field, type File History and press Enter to open it.
Step 2. Search the deleted files by name. You can right-click the searched file to preview it.
Step 3. Select the files you want to recover and then hit the upper right gear button to bring them back.
📢Note: You can also access the File History feature by navigating to the folder that stores the deleted files, right-clicking it, and selecting Restore previous versions to bring them back.
Where Can I Find My Permanently Deleted Files?
Unlike files that are moved to the Recycle Bin, permanently deleted files skip this part. You can't find the trace without the help of 3rd-party software. Instead, you can use the free laptop data recovery software of WorkinTool to restore those files. It will detect all the deleted files in or not in recycle bin in a few minutes.
Conclusion
Here comes the end of this post. All the methods we mentioned, recycle bin, third-party software, and File History backup, are easy and quick to perform. If you know how to recover deleted files from laptop/computer in Windows 11/10/8/7, pick up the most convenient method and give it a try. The sooner you start, the greater the recovery possibility.