How to Recover Deleted Photos from Camera SD Card
Lost important photos from your digital camera or deleted them by accident? Don't worry. You can retrieve the photos using WorkinTool Data Recovery. It is effective in recovering data from a camera's SD card and memory card. It supports various brands and types. Just connect the memory card to your computer and launch the software to restore deleted and missing photos. This software is:
🟢 Free to recover 500 MB of files
🟢 Batch Retrieve photos with one click
🟢 Quick scan and recovery process
🟢 No watermarks on the download photos
How to Recover Deleted Photos from Camera SD Card 
Although the shooting effect of mobile phones is good enough now, digital cameras are still necessary for professional photography. In these cameras, the memory card is responsible for storing data, such as SDHC card, CF card, SD card, etc. Compared with the hard disk, the storage space of the camera card is very limited. When the camera card storage reaches a specific capacity, the user must delete unnecessary photos to store more photos. However, when deleting and browsing files, some critical data may be deleted by mistake, resulting in the loss of photo data. So here comes the question, what should I do if I accidentally delete a photo from the camera? How to recover deleted photos from camera? Don't be anxious. This article will show you step-by-step tutorials to recover digital camera photos.
Is It Possible to Recover Deleted Photos from a Digital Camera?
In fact, the camera card is the same as a storage device, such as a U disk. After the data is deleted, the system only deletes the file record from the file allocation table and does not immediately clear the area where the data is stored. Therefore, as long as no data is written after the photos are deleted, the lost photos can be retrieved. There are three common camera card photo recovery methods: restoring data from backup, using photo recovery software, and purchasing data recovery services.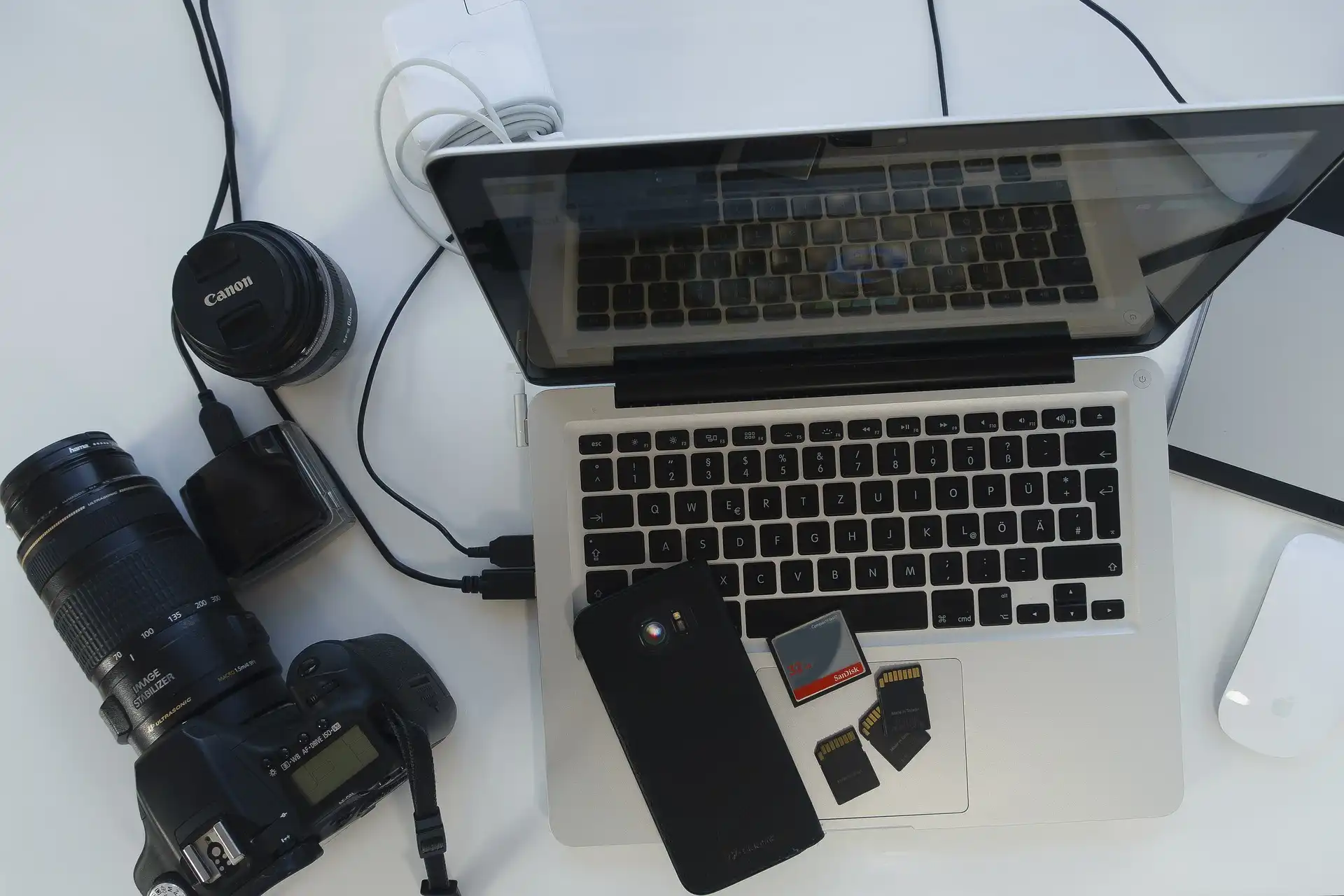 📌 Recover Deleted Photos from the Backup
Restoring data from a backup is the most straightforward method. However, many times, photos are lost before they are backed up. This makes it impossible to extract data from the backup.
📌 Use Photo Recovery Software
Using photo recovery software is a prevalent method at present, and it is also highly recommended by many professionals. Qualified photo data recovery software can ensure data security and success rate and provide a good user experience so that ordinary users can easily operate. Using this kind of software can solve various data loss problems that may be encountered in daily life.
📌 Recover Camera Photos with Data Recovery Service
If the budget is sufficient, data recovery services are also a good choice, especially when the data loss situation is highly complicated. It should be noted that you must choose a formal data recovery organization with reliable technology. You can refer to the best data recovery service here.
🚀 How to Recover Deleted Photos from Camera with Software
WorkinTool Data Recovery is a powerful and reliable data recovery software available on the Windows system. Unlike these expensive data recovery tools and services, WorkinTool is cost-effective and provides a free version for users to have a trial. You can recover up to 500 MB of data for free without any limit. It demonstrates various data loss scenarios in its main user interface so that beginners in data recovery can easily navigate what they need in seconds. As for lost data recovery, it offers two modes. The quick scan allows you to search for deleted or missing files quickly. Deep scan mode helps you find old files from years ago. Both modes take a few seconds, preventing you from endless waiting. You can download it and try to use it to recover deleted photos from your digital camera.
Best Free Canon Photo Recovery/ Other Camera Data Recovery Solution

Free version to recover deleted photos from digital camera
Easily restore deleted, lost, and formatted photo files
Quick and deep scan camera memory card
Supports numerous camera brands and types
Batch Recover deleted photos in the camera with one click
High photo recovery success rate
Free of ads, watermarks, etc.
🔎 How to recover deleted photos from camera SD card with WorkinTool Data Recovery
Step1. Connect the SD card and launch the software
Connect the SD card to your PC, then launch the WorkinTool Data Recovery software. Select USB/Memory Card Recovery on the dashboard.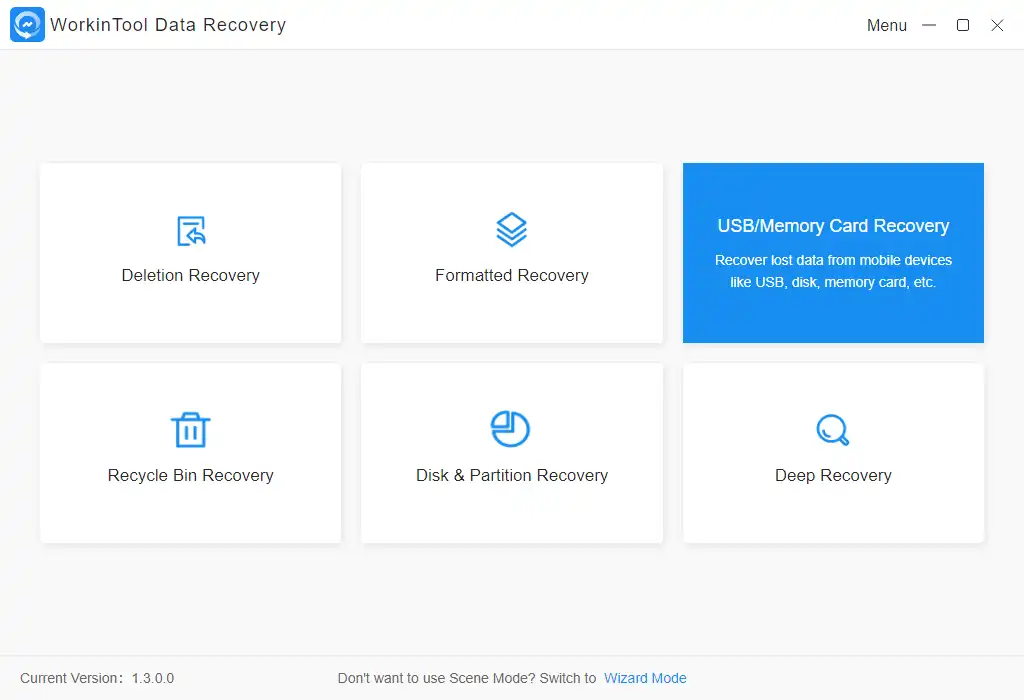 Step2. Scan the Camera Memory Card
Pick the digital camera memory card, then press the scan button to search for files on the SD card.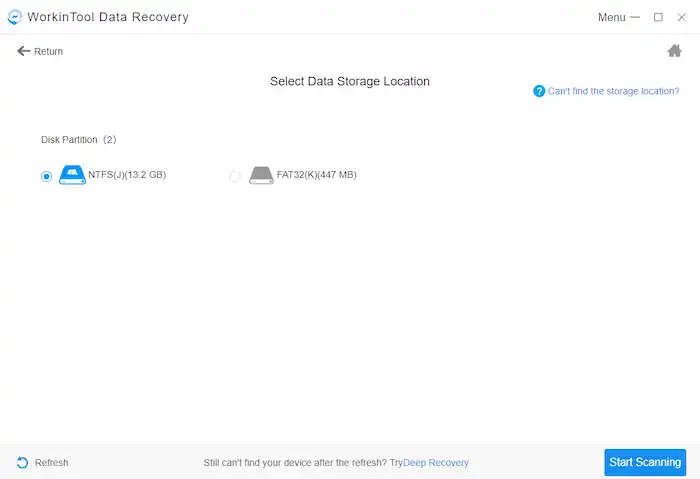 Step3. Recover Photos from Camera Card
Filter the scanned photo files in file format, size, location, deletion time, etc. Then select the photo you need to restore and press the Recover button in the bottom right corner. Choose a new folder to save the recovered photo file.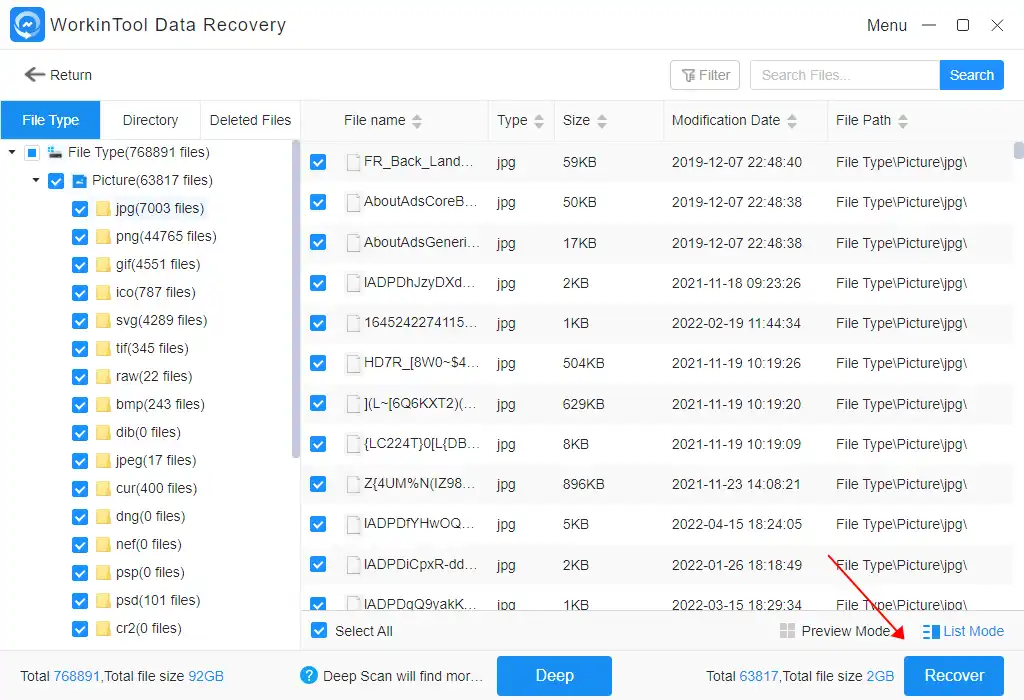 Other Data Recovery Solutions for WorkinTool Data Recovery
What Causes Camera Photos Lost and How to Fix It
🤔 Causes
🧐 How to Avoid
✅ The Best Solution
Accidental Deletion
Back up critical photos on a computer or other storage device

Be careful when deleting photos from the camera

Data Recovery Software
Accidental Formatting
Back up your data before formatting your camera SD card
Data Recovery Software
File transfer error
Properly operate the camera memory card
Data Recovery Software
Virus attacks
Check virus regularly in the daily use
Data Recovery Software
Physical damage to SD card
Use the camera with care and avoid serious bumps
Data Recovery Service
💬 FAQs on Camera Photo Recovery
1️⃣ Can I restore deleted photos from camera?
YES. You can recover deleted photos from the internal memory of your camera. In fact, data recovery software can effortlessly recognize files on the camera SD card and help retrieve deleted photos.
2️⃣ Can permanently deleted photos be recovered without backup?
Of course, you can do that. Don't be disheartened if you don't back up the deleted photos. Use data recovery software to restore permanently deleted photos from your computer and external storage devices. Meanwhile, you can install professional data recovery apps for permanently deleted photos from your phone.
3️⃣ Can you recover deleted photos from a Canon camera?
You are able to recover deleted photos from a Canon camera with data recovery software or services. In short, using data recovery software, you just need to connect the Canon memory card to your computer and launch the data recovery software to scan and recover.
Wrapping Up
After carefully reading, you may have learned how to recover deleted photos from a camera SD card. Data recovery software is the most implementable compared to those possible ways. It requires less data recovery skills and allows you to recover photos at home. WorkinTool Data Recovery can practically recognize camera memory cards and fulfill Canon photo recovery. It offers a free trial version, which has no hidden catches. Give it a try right now.