How to Recover Deleted Photos from SD Card on Android Phone FREE
In this digital storage age, we often use our phones to take photos and store them on Android SD cards. However, some images will be deleted by mistake. How do we recover deleted pictures from SD card on Android phone FREE? No worries. WorkinTool Data Recovery will lend you a hand in solving all your hassles in recovering data with minimal effort. What makes it stand out is the following advantages:
1. 100% FREE and ad-free for all its features.
2. Various recovery features and multiple photo formats are supported.
3. High success rate and fast processing.
4. User-friendly interface and easy to use.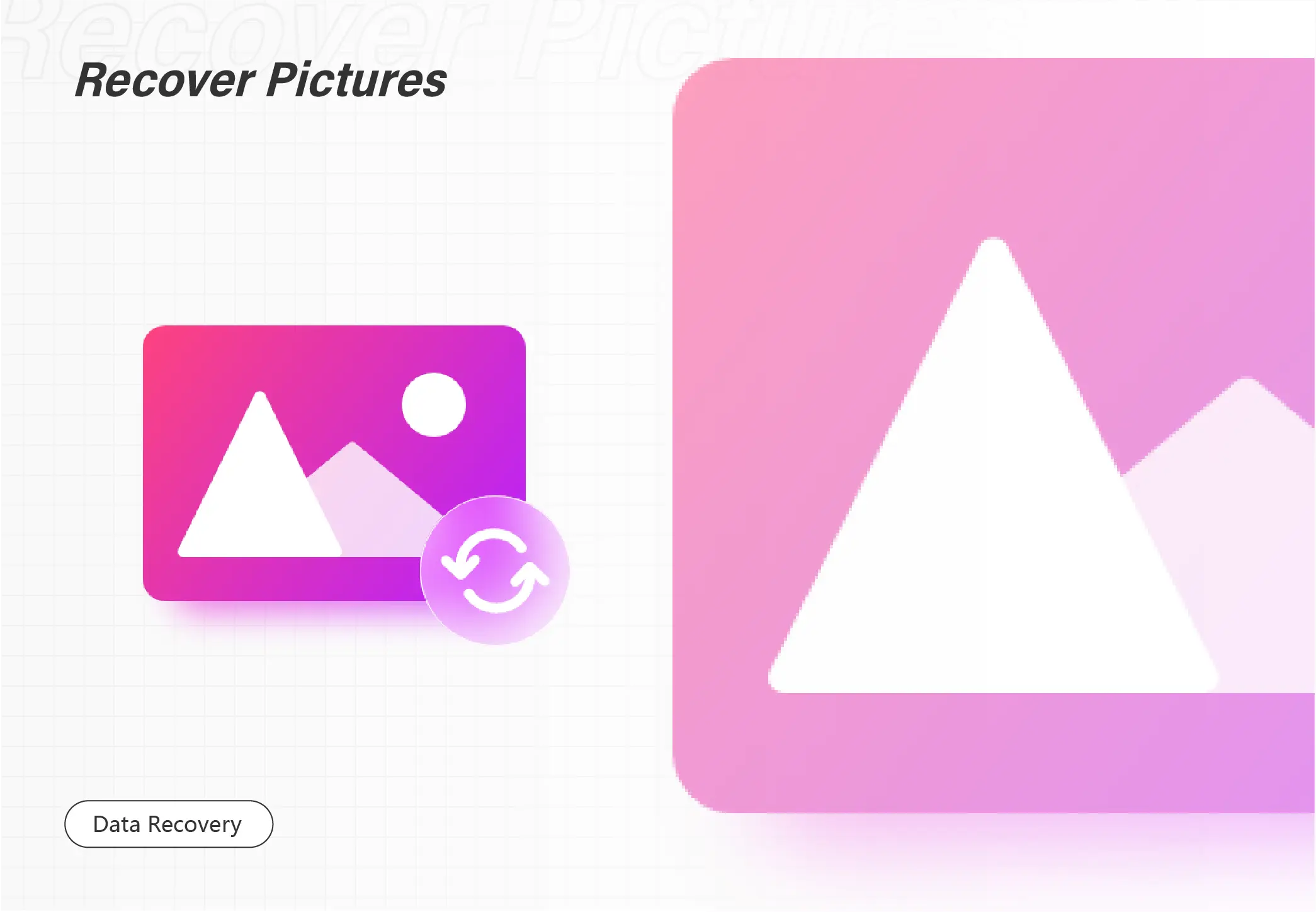 How to Recover Deleted Photos from SD Card on Android Phone FREE
In this digital storage age, mobile phones have gradually replaced cumbersome cameras to take photos and restore our every fantastic moment. Meanwhile, SD cards often play a crucial role in being an extension of your Android phone's internal storage. However, there are frequent occasions when you delete photos full of your cherished memory from the Android SD card by accident. Deleting photos is a one-tap issue while recovering deleted photos is a tricky hassle. Don't worry. This article will tell you three easy methods to solve your problem of how to recover deleted photos from SD card on Android phone FREE.
After reading this article, you will learn about the following methods:
1. WorkinTool Data Recovery [With Computer]
2. EaseUS MobiSaver [Without Computer]
3. Google Photos [Without Computer]
---
How to Recover Deleted Photos from SD Card on Android Phone FREE with Computer
Recovering data is not the same as editing images which can retrieve the step you dislike with built-in features at once. However, we need a professional third-party data recovery app to help. Luckily, some Android phones hold a movable SD card which facilitates the healing of deleted photos with a computer. Using a computer makes the process faster and increases the possibility of success. There are plenty of options for you in recovering photos. Nonetheless, I highly recommend WorkinTool Data Recovery, a totally FREE and comprehensive software. You can magically restore the missing images on your Android SD card with a few clicks. Moreover, it can recover deleted pictures from HDDs, hard drives, and MP3/4 Players.
Why we like it:
100% FREE: There is no hidden cost from downloading to using.
High Success Rate & Fast Processing: With more advanced technology, it can scan and recover data with faster processing and increase the possibility of digging out what you want.
Various Formats Supported: It can recover almost any format of photos, such as JPG, JPEG, GIF, PNG, SVG, BMP, ICO, and so on.
No Need to Repeat Scanning: If you have scanned one partition, it will automatically save the results in Scan results. So you don't need to waste time scanning if you want to find some missing files in the same place next time.
Ad-Free:

No ads provide you with the ultimate and most incredible experience.
📝 Four Simple Steps to Get Your Deleted Photos Back Using WorkinTool Data Recovery:
1. Connect the SD card to your computer and launch this free app. Then touch several scene buttons to help you recover, including Deletion Recovery, Format Recovery, USB/Memory Card Recovery, Disk Partition Recovery, and Deep Recovery. (Take Deletion Recovery as an example below)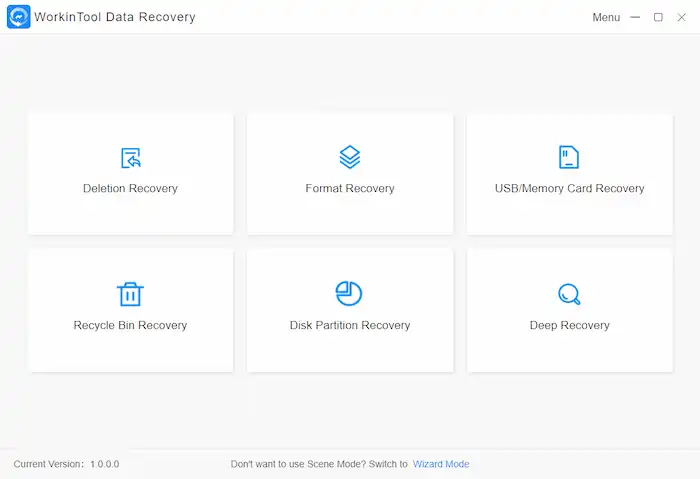 2. Look for and tap the SD card partition and click the Scan Now button.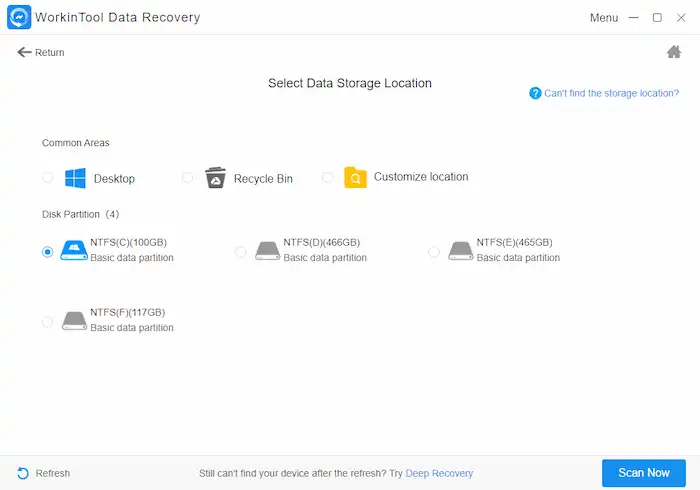 3. Once you start scanning, the scanning results will appear on the screen in seconds. You can then tap on File Type and Filter to choose the type, modification date, and size to fit your preference.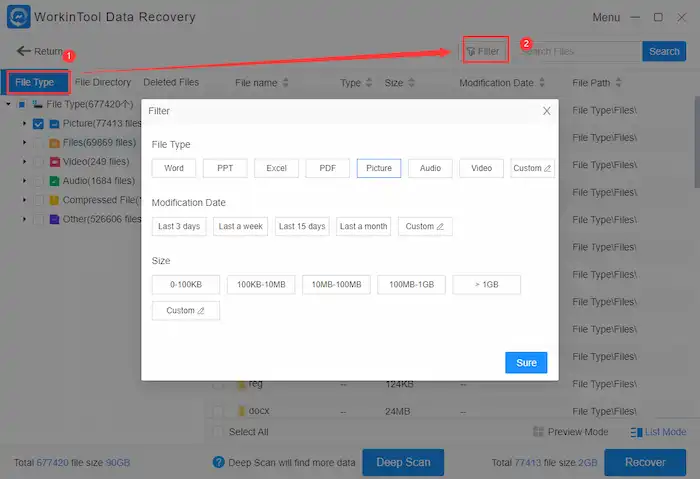 4. Preview and select the photo files you want and click the Recover icon at the bottom. You will get the desired results right away.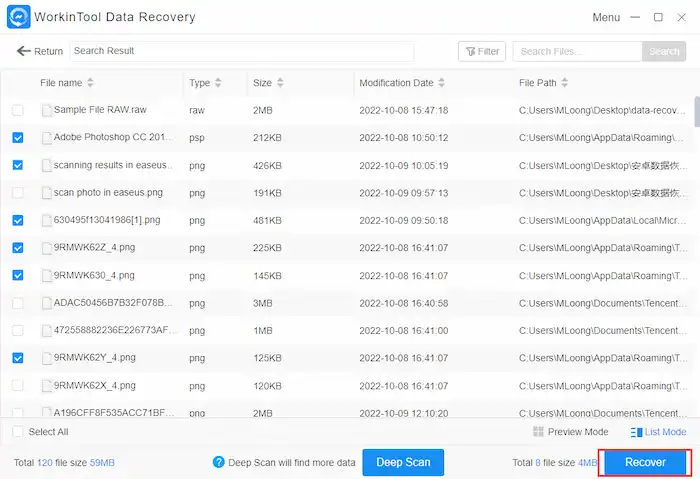 🎯 More Tutorials You Probably Need
How to Recover Deleted Photos from SD Card on Android Phone FREE without Computer
Generally speaking, there are two situations without a computer to recover deleted photos from SD cards on Android phone FREE. One is to retrieve the desired pictures without backup, which means rooting and scanning your photo files to dig out what you have lost. While the other is to restore the lost data with preview backup, which emits the scanning process to get back what you need. The following parts will deal with both situations.
Retrieve Lost SD Card Photos on Android Using EaseUS MobiSaver without Computer
If you don't have computers in your hands or dislike using computers to recover deleted photos, EaseUS MobiSaver will realize what you want. It is a powerful and versatile data recovery app specialized for Android devices. It will quickly scan all your files from your Android SD card. Then all deleted photos will be listed so you can choose and recover what you want without breaking a sweat.
Why we should choose it:
Various Formats Supported: You can quickly restore your deleted photos in JPG/JPEG、PNG、GIF、BMP、TIF/TIFF format.
Various Features: You can restore lost videos, SMS, contacts, call logs, and messages on WhatsApp with minimal effort.

Accessible to Use

: It has a user-friendly interface and easy-to-use steps, so greener also can recover what you want like a pro.
Free:

It's free to download and use its essential features. 
📢 Here's how to recover deleted photos from SD card on Android phone with EaseUS MobiSaver: 
1. Download and open this free app. Then find and click the SD Card icon.
2. Touch the STAR SCAN button. It will scan your deleted photos in seconds, which will pop up on your screen.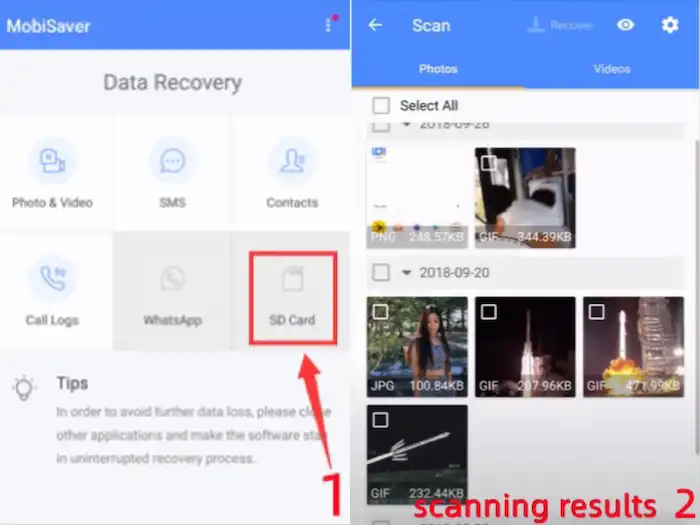 3. Click on Settings in the top right corner to filter photos. You can set the source, size, format, and data period of the images you want to recover.
4. Lastly, tap on the Recovery icon to get your deleted photos back. Then click on the eye-shape icon in the top right corner to see your desired scanning results.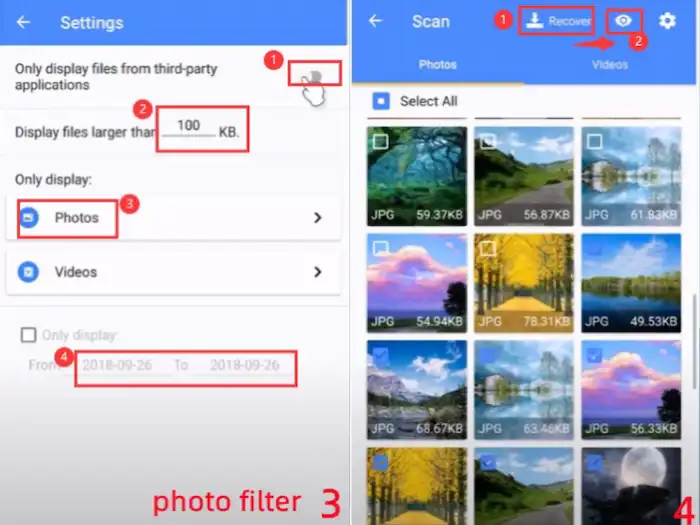 🙋‍♂️ Note: Android phones should be rooted before the recovery process starts.
Retrieve Deleted SD Card Photos on Android from Backup without Computer 
If you are used to backing up your SD card photos on Android with Google Photos, it will surprise you when you delete pictures but want to retrieve them from backup files. Google Photos is a FREE and practical tool to store, organize and share your videos and photos compatible with mobile phones in Android and iOS systems. With your permission, it will be able to sync your SD card photos automatically and create a backup for your files, and then you'll have no fear of losing your photos. You can also enter keywords to quickly find related images and edit your pictures as you like. More surprisingly, the print-photo service is accessible in the app though it is a paid program.
📕 Here's how to recover deleted photos from SD card on Android phone using Google Photos:
Download and launch this great app. Then you can view the album quickly and select the deleted photos you want.
Click on the three vertical dots in the top right corner and hit the Save to device button. You will get the dream results within seconds.
🙋‍♂️ Note: You only have 15GB of storage space. If you want to enlarge the space, you need to buy it.
Tips: Prevent Photos from Losing on Android SD Card again
What we most want to see is to get back the deleted photos. However, things don't always go in orbit as we expected. Failure to restore SD card photos takes place sometimes. So the best way is to take precautions to prevent images from getting lost before deleting pictures by mistake. Here are several valuable tips for you:
Think twice before you delete photos on your Android device.

Make a copy or backup of your essential photo files.

It is better not to install unsafe apps from a third party.

Do not pull out the SD card when photos are transferred to other devices.
Summing up
The photos taken by Android devices carry our happy moments and bring these memories to life. But we often delete these cherished photos from Android SD cards by mistake. As the saying goes, it's no use crying over spilled milk. However, advanced technology makes it possible for "spilled milk" to return to the bottle. So how to recover deleted photos from SD card on Android phone FREE is not a question.
More luckily, this post supplies three free methods to it. You can use WorkinTool Data Recovery on your computer to recover what you want. Suppose you don't want to use a computer. In that case, you can exert EaseUS MobiSaver on your Andriod or get back from backup files on Google Photos effortlessly as long as you have copied one photo file previously. As for me, I highly recommend WorkinTool Data Recovery for its totally free price, various features, and fast recovery processes. However, it's up to you to choose the one that fits your preferences. Just pick one and see the magic by yourself.
Products Reviews:
TrustScore
4
|
323
reviews