How to Recover Deleted Pictures on Computer & Phone
If you accidentally lost your picture files from your local computer or mobile phone, there are still ways to get them back. This post shares:
1. How to recover deleted pictures from computer hard drive – Windows & Mac
2. How to recover deleted pictures on mobile – Android & iPhone
Five ways are available, suitable for any picture loss scenarios. Read on to learn more!
How to Recover Deleted Pictures on Computer & Phone
Picture loss can happen to anyone in our daily life. Not the real, developed ones. I mean the digital photos that are saved on your computers or phones. Many reasons can cause you to lose your pictures and cannot find them back. It could be that you deleted photos to release more space for other content, or it could be for objective reasons such as a power shutdown, a challenging drive formatting, a storage error due to a system crash, etc. Whatever the reason, it is incredibly annoying when you need to recover one already lost. So, what should you do? Do you know how to recover deleted pictures on iPhone, Android, or computer?
Well, don't panic if you are in a hurry about this need right now. There are still many methods and tools that can help you get those lost photos back. Here in this post, we will cover four different ways how to retrieve deleted photos on Windows, Mac, Android, and iPhone. Before going to the central part, you should know that this article will not include the easiest way to recover files from the recycling bin. Please check the Recycle Bin (Windows) or the Trash (Mac) to see if there are chances to restore your pictures there.
---
How to Recover Deleted Pictures from Computer Hard Drive (Windows)
The first method we will discuss is the Windows way to recover deleted pictures. We all know it can be frustrating to see your precious photos disappearing, and you don't have any backups to recover them. In a situation like this, you definitely need a handy photo recovery tool to help you find the lost pictures. However, there are hundreds of data recovery software on the market, so it is rather hard to find one that is convenient and cost-effective at the same time. In order to save your time, here we recommend that you try WorkinTool Data Recovery Software.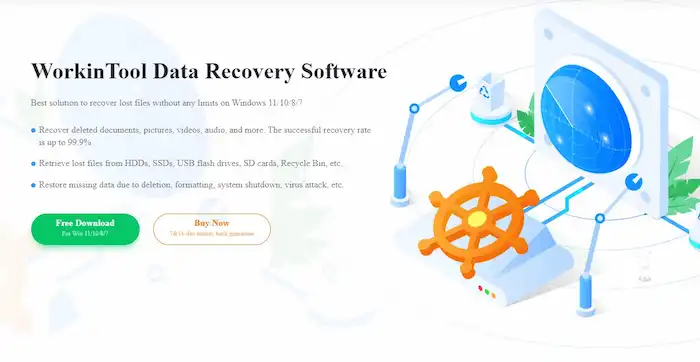 WorkinTool Data Recovery Software is your best solution if your deleted photos are no longer in the Recycle Bin or not have a backup to restore.
It is a professional tool that helps users recover permanently deleted data. It only takes several steps to scan your computer and retrieve lost pictures back to where they belong. Whether you lose images on your computer's hard drive or want to recover deleted pictures from SD card drives, this picture recovery software can get the job done at your fingertips.
It's not just photos. Since it is called Data Recovery, you can do more than restore pictures. It is designed with simple navigation and a straightforward interface, and users can safely find any lost files right back in a flash. It is suitable for data loss recovery due to various factors like virus infection, system meltdown, deletion mistakes, disk formatting, and so on. More importantly, WorkinTool Data Recovery Software is the most cost-effective file recovery software on the market currently. It offers 500MB of free recovery capacity and sets a low starting price for unlimited recovery at $29.99/month. You can even complete all the data recovery in batches.

📝How to Recover Deleted Pictures on Computer in Windows
Step 1. Launch WorkinTool Data Recovery Software and pick a file path where you lost your videos. You can select specific folders, Recycle Bin, desktop, internal computer drives, or partitions on mobile devices to initiate data recovery.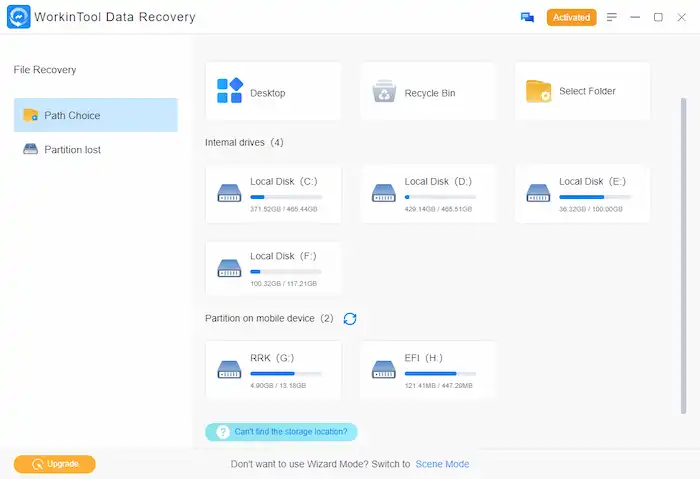 📢Note: If you don't remember the original path of the deleted pictures, switch to Scene Mode, where you can perform scans based on data loss situations, like Disk & Partition Recovery, Deletion Recovery, USB/Memory Card recovery, etc.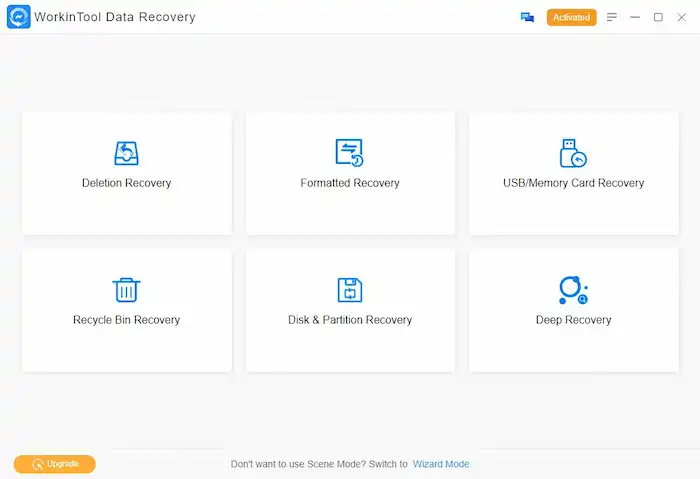 Step 2. Select a recovery method from quick, deep, or formatted scan and click Scan Now. The quick recovery mode suits recovering recently deleted pictures. The latter two are available to recover permanently deleted photos.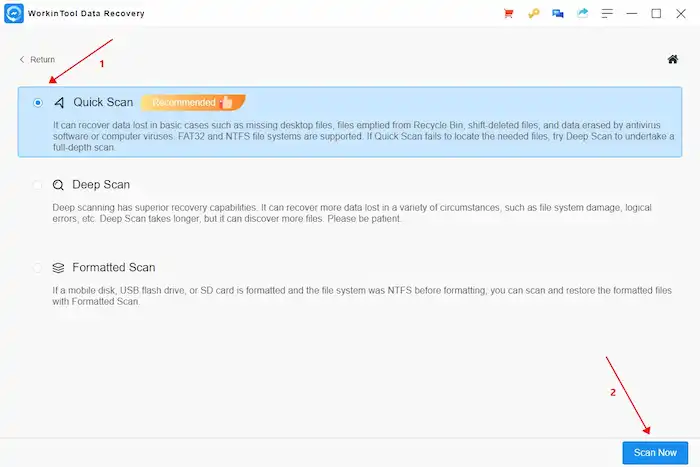 Step 3. Tap the Picture option in the left navigation pane or use the filter feature in the upper-right corner, then select the files you want to restore and click Recover to recover deleted photos from hard drive.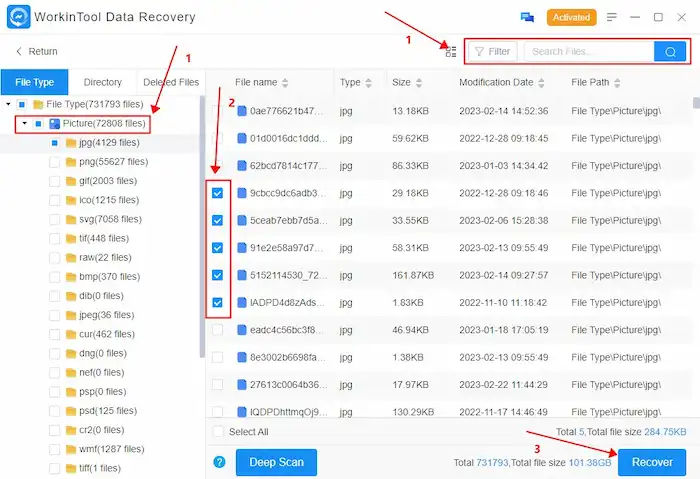 📢Note
Deep Scan is also available if you cannot find your lost pictures after a quick scanning. This feature can go deeper through your storage and see your desired data loss. However, it will take you more time to do that. Please be patient with the scanning results so that you can restore your precious photos.
As we said, WorkinTool Data Recovery is also available for external storage media like SD memory cards and USB flash drives. So you can also apply the same steps to undelete deleted photos on Android SD cards, external hard drives, etc.
---
How to Recover Deleted Pictures from Computer Hard Drive (Mac)
Suppose you are not a Windows user. Instead, a Mac is more like your thing. You can try to use the Time Machine feature to recover deleted pictures.
Time Machine is a built-in tool in Mac for users to back up and recover data once in the computer. If you enabled it to back up your files before, then there is still a chance for you to use it to retrieve the pictures from back then.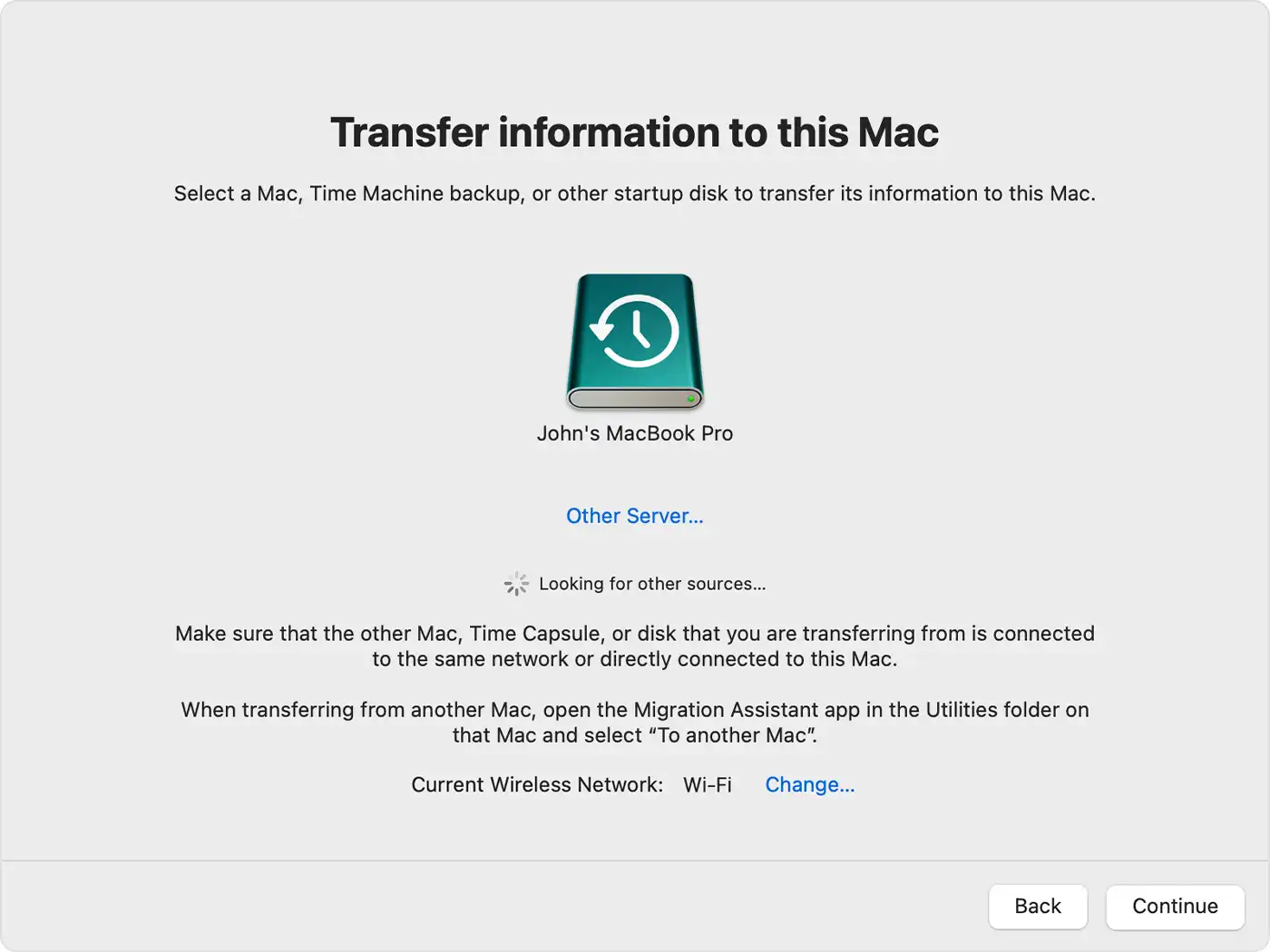 📝Steps for Recovering Deleted Photos Using Time Machine
Open the Finder window in the folder where the photos were lost.
Click on the clock icon on the menu bar and select Enter Time Machine.
Go to the backup file you want to use for recovery.
Tap Restore to restore the selected photos.
---
How to Recover Deleted Pictures on Phone
After talking about the desktop side of the recovery method, now let's look at how to retrieve deleted photos from Android and iPhone. For the most popular Android and iPhone, we will present the easiest and most accessible methods of image loss recovery on each device.
For Android
Every Android phone has a Recently Deleted feature that allows users to recover their pictures. It is very similar to the Recycle Bin on the desktop. And everyone knows how to restore deleted photos from gallery. You only need to open the gallery app and restore recently deleted photos from the trash folder. However, there is a time limit for recovery. Once time has passed, those pictures saved here will be permanently deleted for good.
Therefore, we will introduce three frequently-used methods to recover deleted pictures from Android phones.
📝Method 1. How to Recover Deleted Photos from Gallery Trash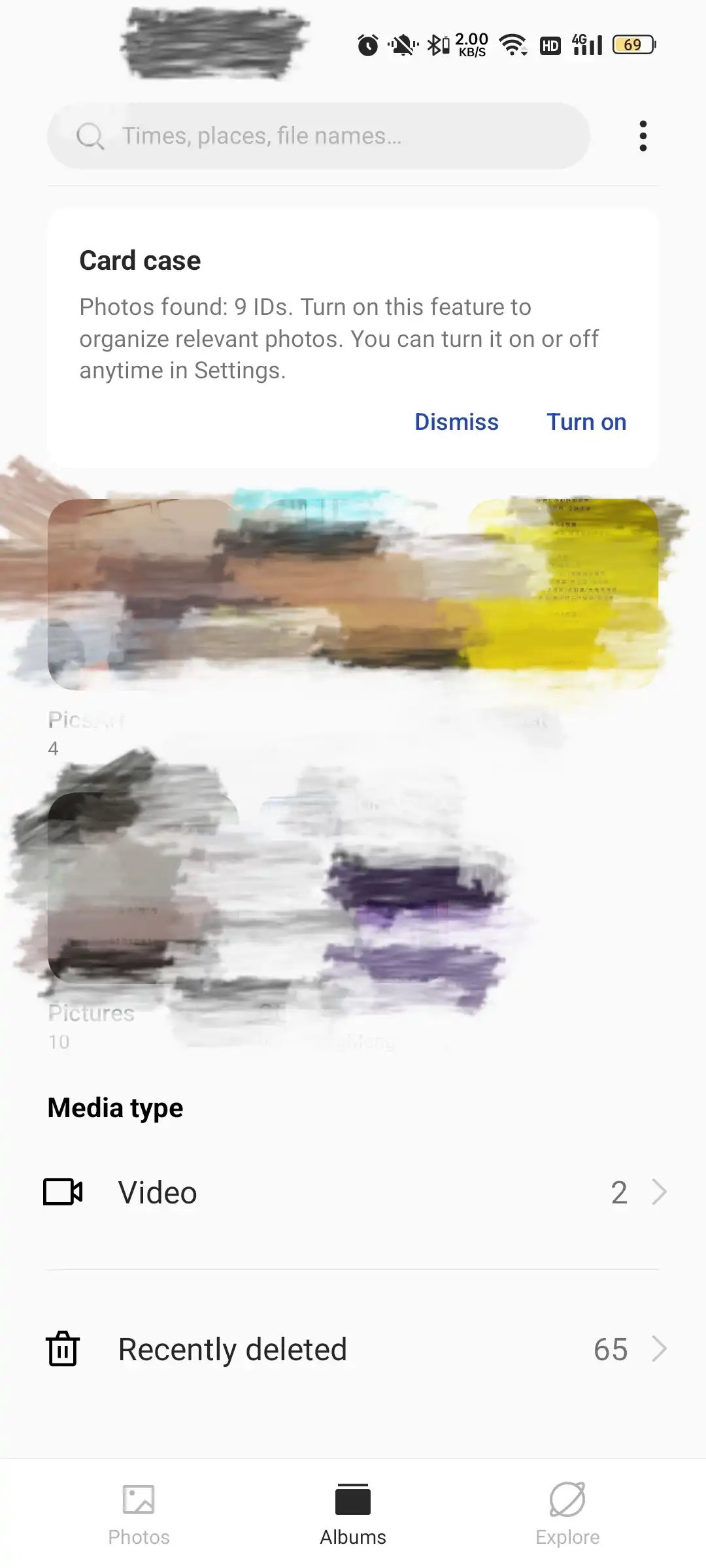 Launch the Photos app.
Scroll down to the Album, and there is the Recently Deleted option.
View these pictures, select the ones you want to restore, and click Recover.
📝Method 2. How to Recover Permanently Deleted Photos from Gallery without Backup
Two methods might be helpful if the deleted files disappear from the gallery trash folder. If you have a Google Photos backup, that will be useful. If not, you can try ejecting the SD card from your Android phone and using WorkinTool Data Recovery Software to help you recover the permanently deleted files. Let's focus on how to recover permanently deleted photos on Android from Google Photos here.
On your Android phone, go to Google Photos > Library > Trash.
Select the photos you want to restore.
Tap Restore to get them back.
📢Note: If the photos are not in the trash, you can try the data recovery tool we mentioned before. In the first section, we have already explained how to recover deleted photos on SD card drives.
---
For iPhone
If you want to recover iPhone files, there is an iCloud feature that may be helpful. iCloud is Apple's cloud service that allows users to store up to 5 GB of data for free. It will automatically store and access your files, including your photos, and wirelessly push them to all your settings. You can use it to restore previously saved pictures from it as well. Follow the below steps to learn how to recover deleted pictures from iCloud.
📝How to Recover Deleted Photos from iPhone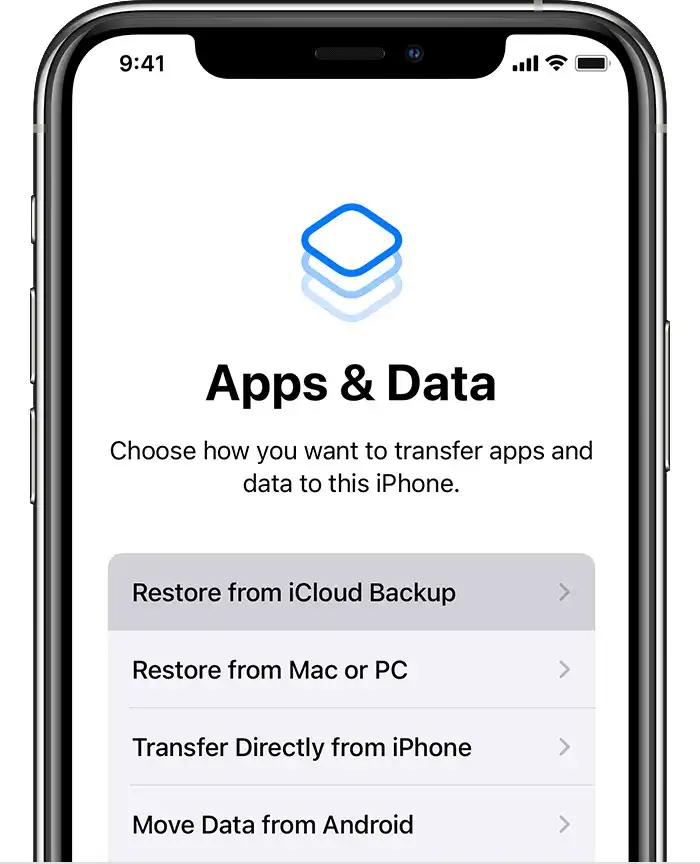 Go to Settings > General > Reset.
Select Erase All Content and Settings > Erase iPhone.
Confirm the setup screen and choose Restore from iCloud Backup.
---
Bottom Line
In this post, we have covered five different methods to help you solve the problem of how to recover deleted pictures on multiple devices, including Windows, Mac, Android, and iPhone. All our referred methods and tools are available through our test. For Windows users who want to recover their photos at the fastest speed, we highly recommend WorkinTool Data Recovery Software.
WorkinTool Data Recovery is cost-effective and professional in retrieving lost data for all sorts of reasons. Last but not least, the sooner you can deal with restoring your pictures, the more likely it is that you will be able to do so.