How to Recover Deleted Voice Memos for FREE on iPhone & PC
As one of the basic and built-in features of iPhone, audio recording or voice memo has been the most frequently used one since you may record fascinating film lines, favorite songs, and even important meetings in daily life. However, various reasons might result in the deletion or loss of your voice memos. Is it possible to get all of them back? Well, the answer is affirmative. Today, we will focus on how to recover deleted voice memos for FREE on iPhone with and without backup. The solutions are: recovery from the Recently Deleted folder, from the iCloud and with data recovery software (WorkinTool Data Recovery). Here, it is highly recommended to try the last method as it is:
1. 100% FREE without registration
2. Easy to use
3. Batch recovery available
4. Partition recovery possible
5. Multiple file formats optional
[2022 FREE Solutions] How to Recover Deleted Voice Memos on iPhone and PC
As one of the basic and built-in features, audio recording or voice memo has been the most frequently used one since you may record fascinating film lines, favorite songs, and even important meetings in daily life. You can use your iPhone or your computer to complete all these tasks. However, various reasons might result in the deletion or loss of your voice memos. Is it possible to get all of them back? Well, the answer is affirmative. Today, we will focus on how to recover deleted voice memos on iPhone and PC. Besides, all the solutions advised prove to be practical, simple and FREE.
Now, let's start our journey.
---
Words Before Deleted Voice Memos Recovery on iPhone & PC
📌How to record audio on iPhone?
To make a recording on iPhone, you need the tool-Voice Memos. It is easy to create a basic recording through it, and you just need to
Open Voice Memos and press the large red button at the bottom.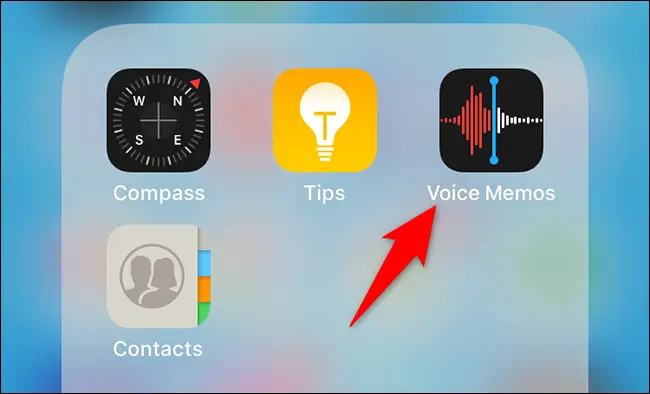 Tap the Pause button to temporarily stop the recording and the Stop button to terminate it.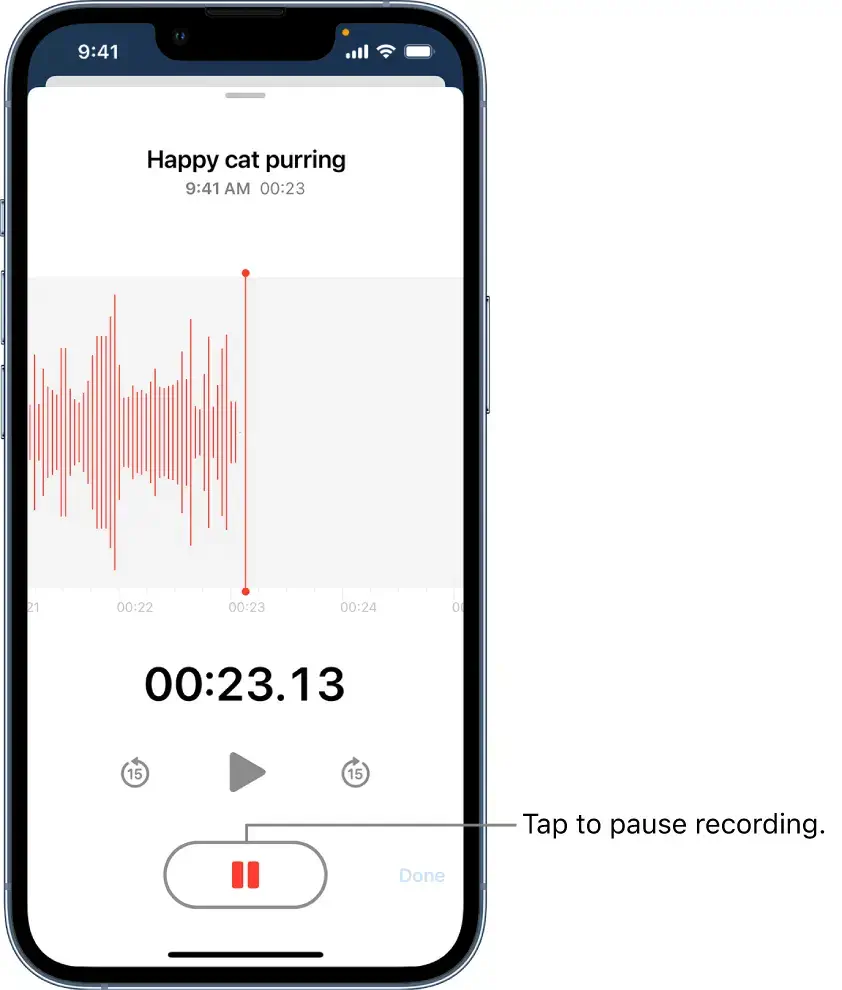 If you need a more specific tutorial, you can refer to Apple's official instructions on making a recording in Voice Memos on iPhone.
📌Why do you lose your voice memos on iPhone?
As mentioned above, a variety of reasons may give rise to the deletion or loss of your voice memos. Here are some common ones:
iOS Update
Factory Reset
Accidental Deletion
Jailbroken your iPhone
Damage or Broken iPhone
So when such a dire situation occurs, what should I do? Well, don't worry. Please read on to learn the specific approaches to recovering deleted voice memos for FREE from iPhone with and without backup.
---
How to Recover Deleted Voice Memos on iPhone 
If you back up your voice memos on your iPhone, it is beyond easy to retrieve your voice memos disappeared. There are two ways to fulfill this goal.
1. Restore Deleted Voice Memos on iPhone Using the Recently Deleted Folder
Usually, your recently deleted items will be moved to the Recently Deleted Folder and stay there for 30 days. Therefore, if your files are lost or accidentally deleted recently, this method will help you get your old voice memos back instantly and effortlessly. Here is the guidance:
Open Voice Memos on your iPhone.
Then select the Recently Deleted folder.
Pick the memo that you intend to recover.
Then tap on the Recover button.
Press the Recover Recording button to get it back.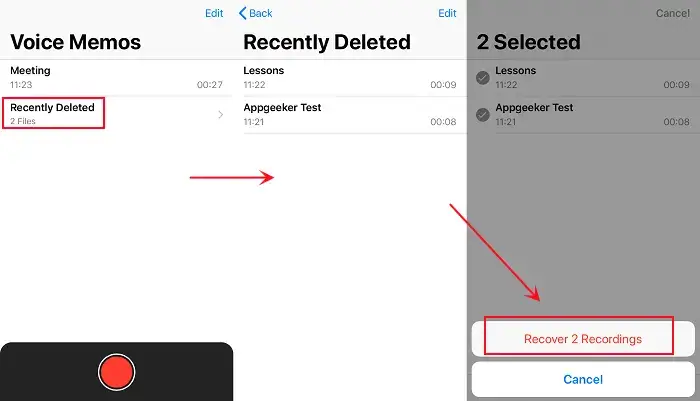 📣Attention:
This approach only works when the deadline for storing the deleted voice recordings (30 days) does not exceed.
2. Retrieve Lost Voice Messages on iPhone with iCloud.
iCloud is the official online drive developed by Apple Inc. and is a built-in app used to keep your most important information from photos, files and backups safe while keeping that information up-to-date and available on all your Apple devices. Therefore, if you turn your iCloud on and back up your iPhone with it, the files in the designated areas will always be stored on it automatically, which enables you to get them back at any time. Hence, this feature is applied to the recovery of deleted voice memos. Please read the following steps.
1). Open Settings > General > Reset and then choose Erase All Content and Settings.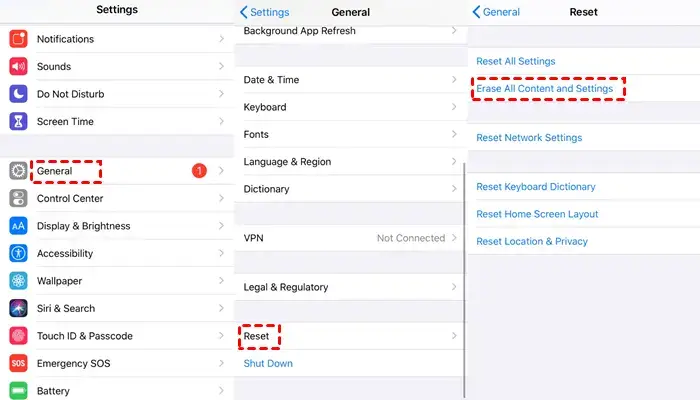 2). After your iPhone is reset, navigate to Apps & Data and then tap on Restore from iCloud Backup.
3). Sign in to your iCloud account and then choose the backup containing your accidentally deleted voice memos to restore.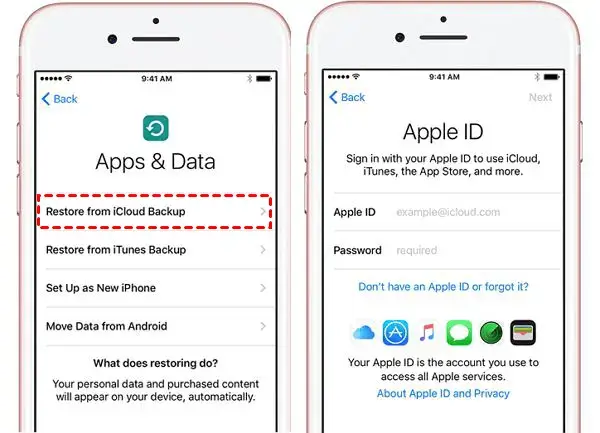 📢Note
According to Apple's official notification, permanently deleted voice memos and other formatted files can not be recovered on iCloud.
---
How to Recover Deleted Voice Memos on PC
Will the chance to bring back the disappeared voice memos on PC be extremely slim if I forget to back them up? Well. It doesn't have to be. A program like data recovery software will be of great help to get them back. Since the options vary in the current market, which will be an effective solution? Here, I will introduce you to WorkinTool Data Recovery.
WorkinTool Data Recovery is a new but crucial member of the WorkinTool product family. It captures the users' minds instantly through the following features:
Easy to Use: For most of its recovery features, WorkinTool takes you approximately five steps to recover all the desired files or data.
Multiple Formats: WorkinTool can bring back all the common files or data in your computer, including office documents, PDF files, audio, videos, E-mails, archives and other essential files.
Batch Recovery: WorkinTool allows you to recover unlimited data in batches, which effectively enhances your working efficiency.
Partition Recovery: As a piece of practical and free partition recovery software, it is simple for you to get back the deleted files as a result of missing disk partitions.
FREE and Green: All the features of WorkinTool Data Recovery are accessible without a license payment and compulsory registration. Meanwhile, though it is freeware, there will be no ads involved in your data recovery.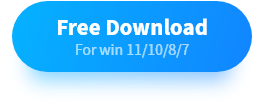 Please find the instruction on how to recover deleted voice memos on PC using WorkinTool Data Recovery.
Step 1. Open WorkinTool Data Recovery and then select a scene for recovery.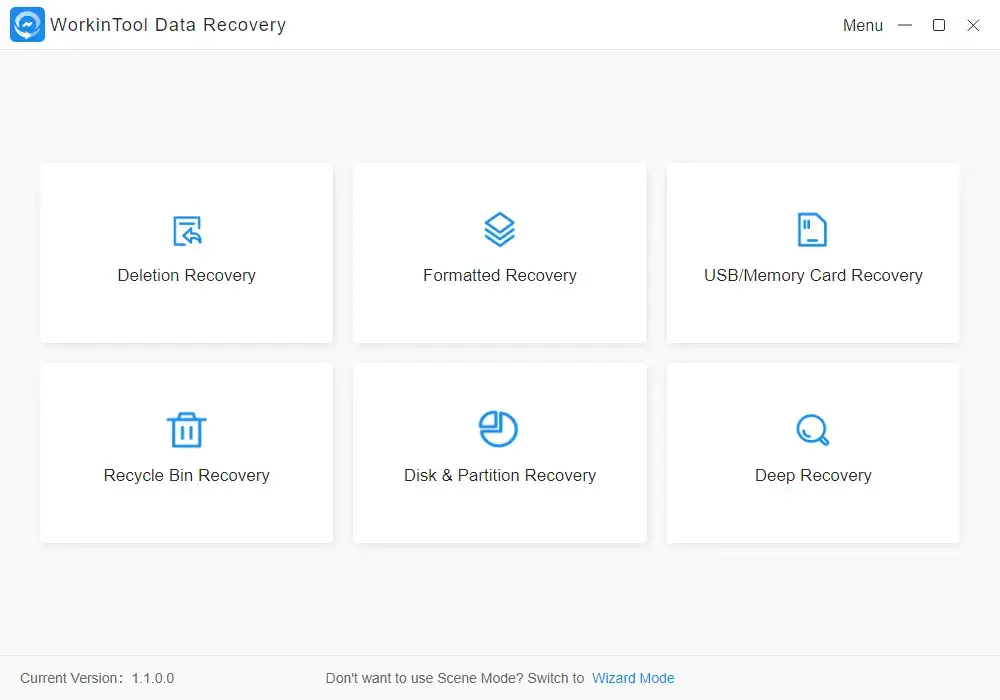 Deletion Recovery: It allows you to recover the voice memos deleted or lost on your iPhone. Format Recovery: It enables you to get back the formatted data from your iPhone, SD cards, disk partitions, etc.
USB/Memory Card Recovery: Bring back the disappeared voice memos from mobile devices like USB, HDD, memory card and more.
Recycle Bin Recovery: Quickly and precisely retrieve and retrieve voice memos deleted or cleared from the Recycle Bin.
Disk Partition Recovery: Repair voice recording file loss due to missing disk partitions.
Deep Recovery: A more complete and time-consuming search mode will be adopted to find the lost voice memos in order to maximize the recovered data. It is quite suitable for getting permanently deleted voice messages back.
Step 2. Choose the disk to retrieve your lost voice memos and then click Next.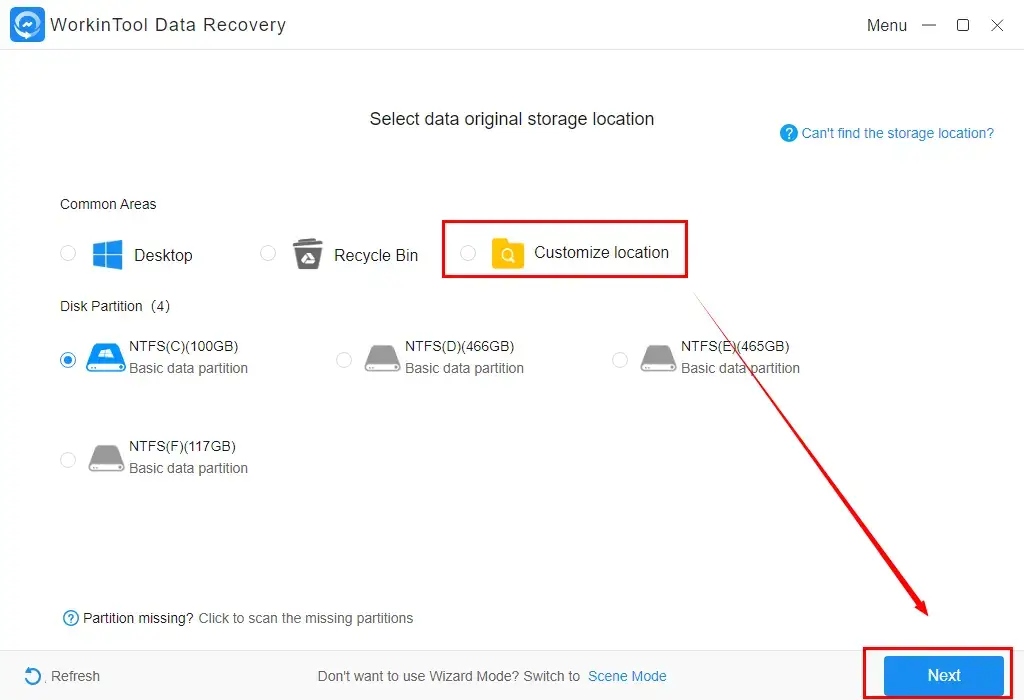 Step 4. Navigate to Filter > Audio or find Audio and tick it. Then click Sure.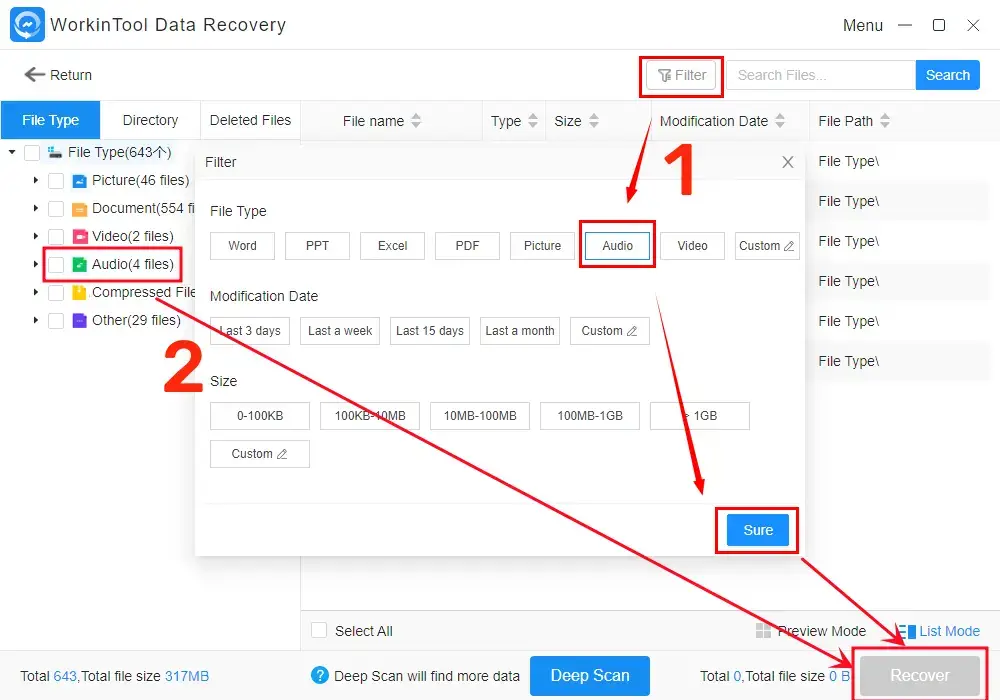 Step 5. Tick the voice recording files that you desire, click Recover, set the save path as you like and then press the Sure tab.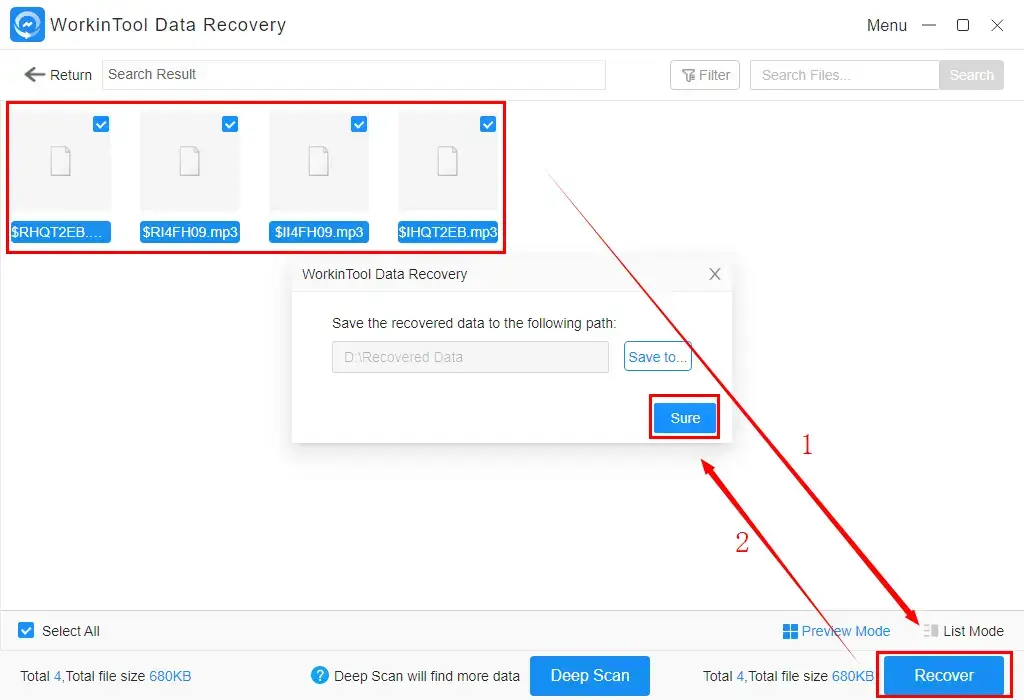 Deep scan is available if you are unsatisfied with the current outcomes. It is exceedingly suitable for retrieving and recovering permanently deleted voice memos on your PC. This mode will prompt the software to undertake a deeper scanning of your iPhone and bring back more voice recording files. However, it will be time-consuming, so please be patient.
Step 6. Then click Open to find the recovered voice memo from your iPhone.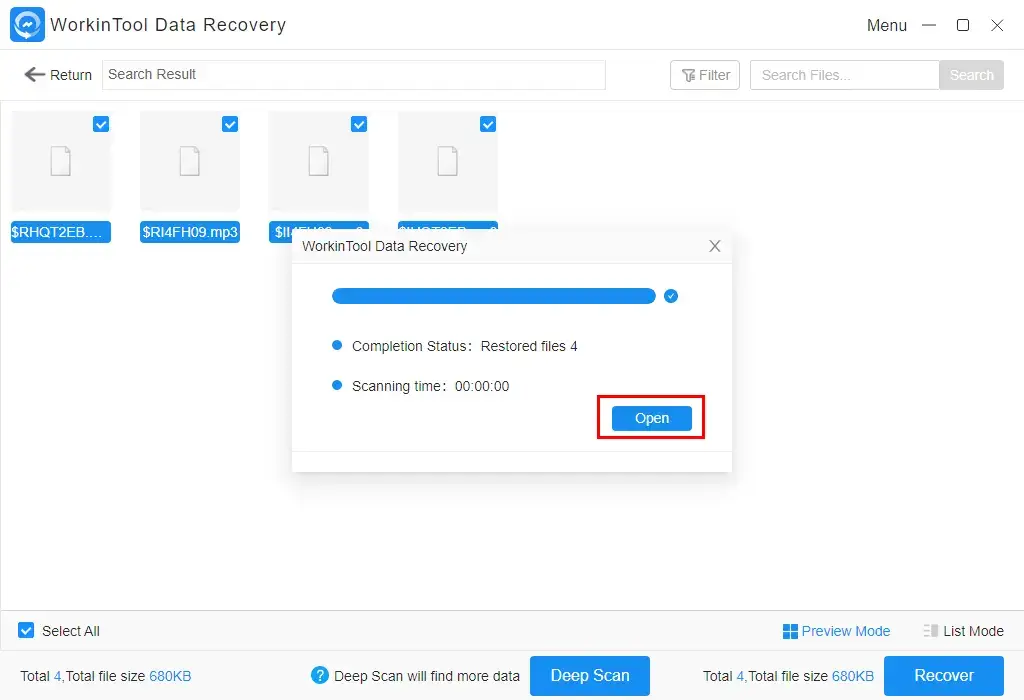 Please see the outcome.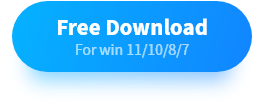 ---
Additional Words
📕What else can WorkinTool Data Recovery do?
WorkinTool Data Recovery is more than able to restore your lost voice memos on iPhone and PC, and it also can complete the tasks as follows:
---
Final Words
After finishing this article, you should have a clear picture of how to recover deleted voice memos on iPhone and PC. You are welcome to use all the methods recommended above. However, it is strongly advisable to give WorkinTool Data Recovery a try when it comes to voice memo recovery on PC.
Now, are you ready to get back your deleted voice memos on your iPhone?