How to Recover Excel File on Windows and Mac Easy & Fast
It is a breeze to recover deleted and unsaved Excel files using the detailed tutorials in this post. Whether Windows or Mac users can find efficient solutions to retrieve lost Excel files. Read on to:
1. Recover a deleted Excel from Recycle Bin or Trash
2. Restore permanently deleted Excel with free data recovery software
3. Perform unsaved Excel file recovery via the recent list on Windows&Mac
4. Set Auto-save in Microsoft Excel
5. Recover corrupted Excel files
How to Recover Excel File on Windows and Mac Easy & Fast
In daily work and study, we inevitably need to process several Excel files to record important information, analyze data, make spreadsheet programs, etc. However, sometimes we may delete critical Excel files by mistake. Or the Excel content that has been done is lost due to a computer crash, power off, or other unexpected problems. And we can't stop wondering, can an Excel spreadsheet be recovered?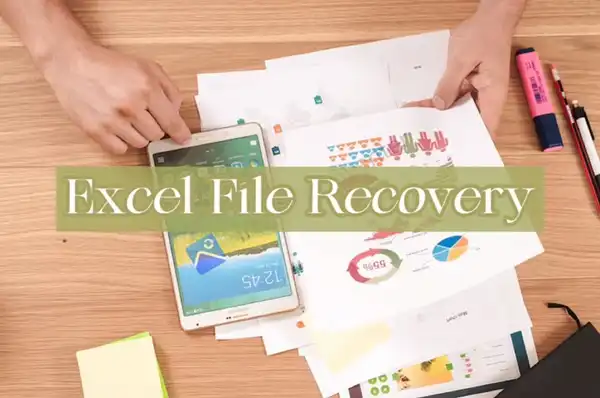 The answer is an absolute YES. So it is essential to learn how to recover Excel file that was deleted, unsaved, or corrupted after a crash. This post covers the following topics. Read on to get more info!
The easiest ways to restore a deleted Excel file on Windows and Mac.
Simple solutions for unsaved Excel file recovery on Windows and Mac
Some frequently asked questions about Excel spreadsheet recovery.
---
How to Recover a Deleted Excel File on a PC
Suppose you delete a critical Excel spreadsheet by accident and want to find it back; there are two ways to help you regain it. On the one hand, if you don't empty the recycle bin or trash folder on your computer, it is easy to recover deleted Excel files from it. On the other hand, if the Excel workbook is permanently deleted, you can retrieve it with professional data recovery software.
💡 Method 1. How to Recover a Deleted Excel File from the Recycle Bin or Trash
If you just deleted the file or have not yet cleaned up the Recycle Bin or the trash folder, you can get the file back immediately if it is not emptied there. See how to recover Excel file from the Recycle Bin or Trash in the following:
Windows
Mac

Open the Recycle Bin on your computer.
Search for the name of the file you just removed or browse through all the files to find it.
Pick the target file and right-click it, then click restore to recover it to your PC.

How to Recover an Excel File on Windows

Click the Trash icon in the dock.
Drag and drop the files you wish to recover to the desktop or another folder.

How to Recover an Excel File on Mac
💡 Method 2. Restore Permanently Deleted Excel with Free Data Recovery Software
Suppose your Excel file is cleaned up from your computer. Then you can rely on professional data recovery software to recover your Excel file. WorkinTool Data Recovery Software is a powerful and efficient file recovery tool for the Windows system. It helps you locate the file you want to recover in seconds. It divides the file location and file type to scan your computer quickly and further help you discover the target file precisely.
There are two interface modes. As for the scene mode, you can scan the file according to your needs, like recovering formatted data, recycle bin, USB, etc. As for the Wizard mode, you can quickly recover files by selecting different file locations. It also supports customizing selection. In comparison, the latter can help you find lost files faster if you remember where the files were saved.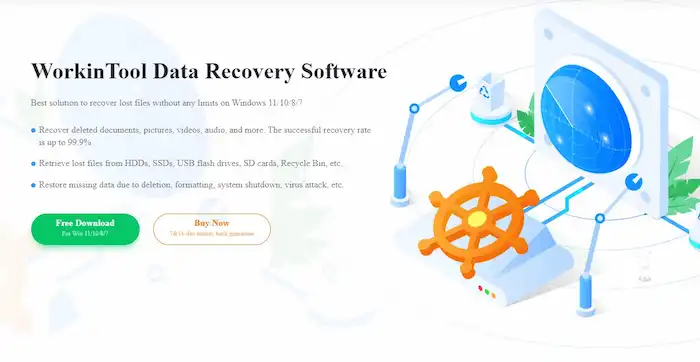 Main Features of WorkinTool Data Recovery
| | |
| --- | --- |
| Value for Money | WorkinTool is a relatively rare, all-around, and cost-effective data recovery software. Other data recovery services and tools in the field cost highly. New to the market, WorkinTool offers all its users cost-effective plans to retrieve deleted files. You can free download and use it to recover 500MB of data for free without limited features. The capacity is pretty enough to recover lost Excel files. |
| Scan & Recover Files in Seconds | It is feasible to scan your folders quickly, and the recovery process remains fast. It also fulfills batch recovery, helping you avoid repetitive operations and endless waiting. |
| Retrieve Files with Great Results | This file recovery software can lead to great results. With its quick scan feature, you can find nearly all lost files on your computer. It also gives you a deep scan option to scan your device further. |
| Quick Recovery | It allows you to customize the file location you want to search for so that it enables you to find the target file quickly. The built-in filter and search box features enable you to find desired files by type, size, name, and modified date. |

How to Recover Excel File on Windows that was Deleted with WorkinTool
Step 1: Select a partition or a specific area used to store your lost Excel tables in Wizard Mode. Or you can go to the Scene Mode to select a recovery scenario of how you lost your .xls or .xlsx files, like accidental deletion, drive formatting, disk crash, etc.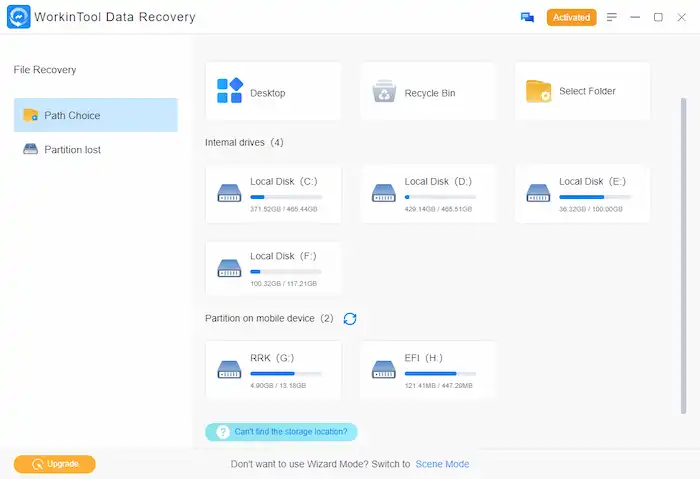 Step 2. Select a recovery method from Quick/Deep/Formatted Scan. Then press Scan Now to start file detection.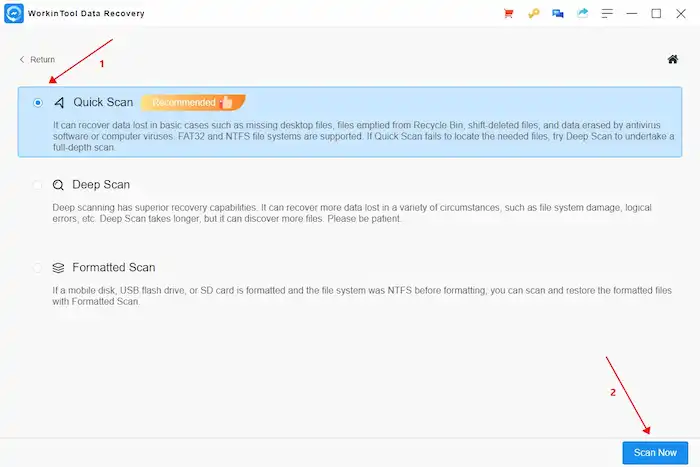 Step 3. Use the Filter feature or the left navigation pane to locate your Excel files. Select them and click Recover to save the desired files to a new path.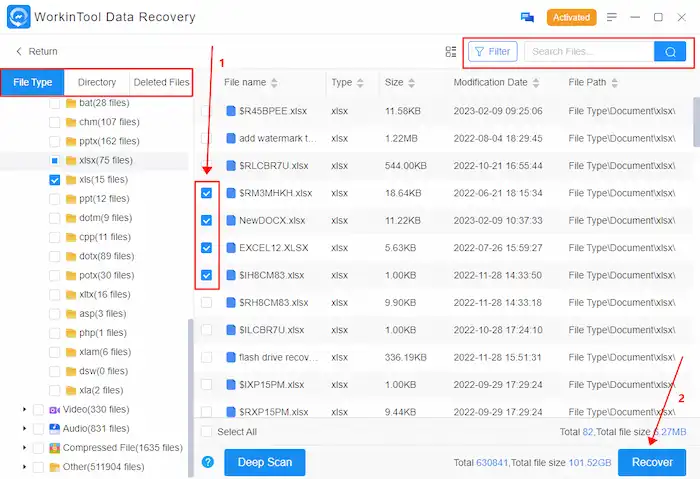 In addition to recovering deleted Excel files, you can also use WorkinTool Data Recovery Software to:
---
How to Perform Unsaved Excel File Recovery on Windows and Mac
If you lose an Excel file by accident, like misoperations, crashes, computer glitches, etc., you could use the temporary file folder of Excel to retrieve an Excel file that is not saved on Windows and Mac. It will keep the precious version of your workbook, and if you log in to your Microsoft Office account, you can open the auto-save button to preserve the file automatically. See how to perform unsaved Excel file recovery via Recent List in Microsoft Excel.
Windows
Mac

Click File > Open > Recent > Workbooks in Microsoft Excel to check the most recent files.
Press Recently unsaved workbooks at the bottom of the page.

(You will select files in the Excel temporary file location C:\Users\<username>\AppData\Roaming\Microsoft\Excel)

Open the unsaved file to recover. Press File> Save as to download the file to your folder.

How to Recover an Unsaved Excel File Windows 10

Launch Office Excel and go to File > Open Recent> More to find and open your unsaved file.
Then click File > Save/Save as to export the Excel file on mac.

How to Recover an Unsaved Excel File on Mac
📢Note: In this case, you can successfully recover a previous version of an Excel file that is unsaved. For more detailed tutorials on recovering office files, you can refer to Microsoft Support.
Bonus Tips: How to Set Auto-save in Microsoft Excel
Microsoft Excel has a built-in auto-save function. It allows you to set up the auto-save time. You can also upload the workbook to the cloud to avoid file loss. See how to set auto-save before creating forms in Microsoft Excel.
Step 1. Open Microsoft Excel and click File> Options> Save to customize how workbooks are saved.
Step 2. Set an auto-save period. Then set the autosave files to the cloud by default if you want to.
---
FAQs
🤍How to recover a corrupted Excel file?
Corrupted and damaged Excel files are not irreversible. You can adopt the following methods to try restoring corrupted Excel files. It is possible to rescue unreadable or inoperable files caused by power surges, system crashes, update errors, virus attacks, and hard disk problems. See how to recover Excel file that is corrupted below.
Restore the Excel file to its previous versions using the File History tool on Windows or the Time Machine tool on Mac.
Use the System Restore tool to repair them on Windows.
Use the CHKDSK command to recover them on Windows.
Repair a corrupted workbook in MS Excel itself.
💙How to recover overwritten Excel files?
Unfortunately, overwritten files are unrecoverable because new files replace all data structure and content.
---
Wrapping Up
This guide includes practical ways on how to recover Excel file on Windows and Mac, whether it is deleted, unsaved, or corrupted. Detailed tutorials on retrieving a deleted Excel file and regaining an unsaved Excel file are available here. You can get your crucial files by referring to the above steps. If you have trouble when using WorkinTool Data Recovery Software, please get in touch with us anytime.