How to Recover Micro SD Card for Free on Windows 2023
Want to read videos and photos stored on a micro SD card but find nothing there? If the panic about important data loss is overwhelming, you might need a reliable micro SD card recovery tool to help you out of that mess This post, therefore, shares one free data recovery software you can't miss. It has a good profile and wins popularity for the following features.
🏆 100% free with zero cost.
🏆 No special skills are required.
🏆 Cover a wide range of file formats.
🏆 Applicable to various devices.
🏆 Fast and comprehensive scan modes.
How to Recover Micro SD Card for Free on Windows 2023
Simple magic can make a large amount of data be stored on chips as large as your thumbnails. They are so tiny and convenient for a wide range of electronic devices. Those chips, called micro SD cards (TF/TransFlash cards, MicroSD cards), are often used as extensions of internal storage. They were first designed for cell phones but are now frequently used in other portable devices like small electronic devices, tablets, and cameras.
The current technology usually gives micro SD cards a lifespan of 10 years or more. However, many scenarios might cause MicroSD cards to be formatted, corrupted, or damaged, leading to severe data loss. Panic sets in when important files are deleted from those memory cards. But no worries! You don't need to resort to a nearby micro SD card recovery service. This post introduces how to recover data from micro SD cards for free with reliable SD card recovery software.
Recover Micro SD Card for Free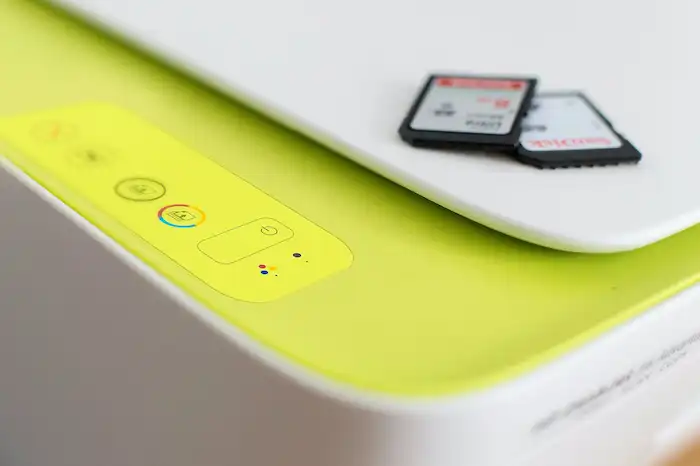 Data recovery software can recover Micro SD card data as long as all files remain in the same position, and new data does not overwrite them. With a wide range of micro SD card recovery software out there, picking a free, easy-to-use, and reliable one can be confusing. No worries! Even though a micro SD card is formatted, its data can still be rescued using our researched solution in the following. Without further ado, let's dive into the details.
WorkinTool Data Recovery
As the name shows, WorkinTool Data Recovery is a professional data recovery tool. It helps you retrieve deleted or lost data and files from microSD cards in no time. You can recover micro SD card data quickly without learning. In addition, you can also use it to perform SD card recovery, USB flash drive recovery, and external drive recovery for free without any obstacles. WorkinTool Data Recovery is definitely a tool you can't miss. Why do I say so? Look at its detailed features below.

How to Recover Micro SD Card with WorkinTool
Here are the steps of use for micro SD card data recovery in WorkinTool. It only takes you three simple steps.
1. Scan your TF card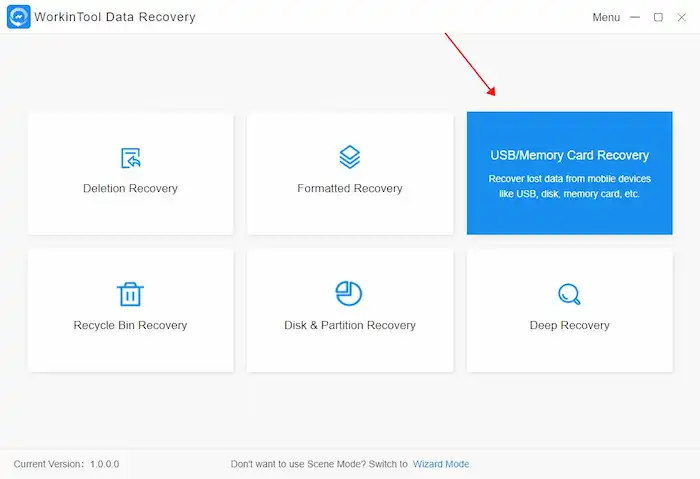 Plug your microSD card into a computer with a card reader. Then launch this freeware and select USB/Memory Card Recovery. This feature is suitable for every external storage device. Then a window will pop up, reminding you to choose your TF card and press Start scanning.
2. Select files on your TransFlash card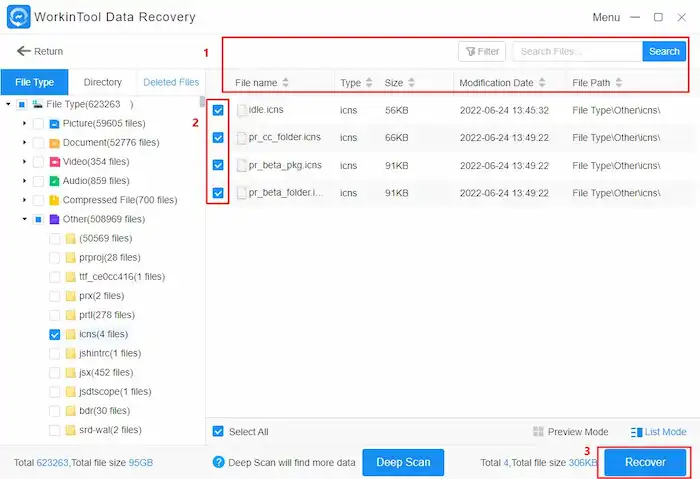 After scanning, you will step into a result page showing the detected files in three sections: File Type, File Directory, and Deleted Files. The last section shows all of the deleted and lost files. While The first two show all files existing on your device. You can look for the deleted data by file name, type, size, modification data, and file path. After finding those files, tick them and hit Recover to recover micro SD card data.
3. Search in deep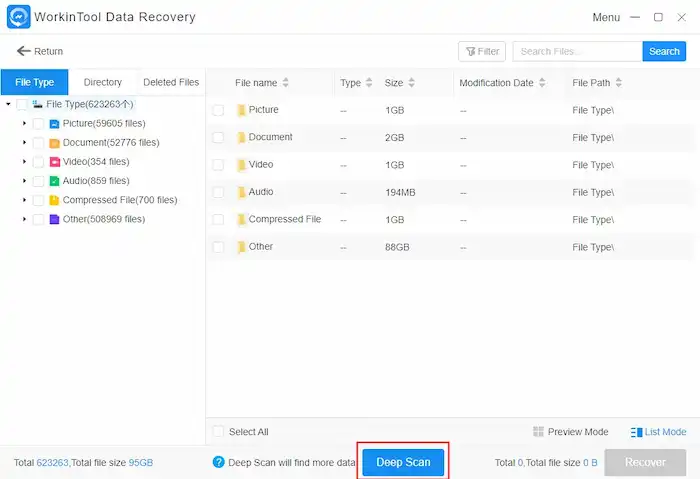 Suppose you failed to find the lost and deleted files through a quick scan. You can press the Deep Scan button at the bottom and perform a more comprehensive SD card detection, by which you will find more invisible files.
Discover Even More
FAQs about Micro SD Card Recovery
❌1. Micro SD Card vs. SD Card
MicroSD cards and SD cards, as tiny data storage devices, greatly facilitate our lives. But they also differ from each other in some aspects.
Appearance

: Size is the most significant difference between micro SD cards and SD cards. Usually, the standard size for micro SD cards is 

15mm x 11mm x 1mm

, while the measured size for SD cards is larger, 

32mm x 24mm x 1.4mm

.

Capacity

: The maximum storage capacity of TF cards is usually smaller than SD cards. The former's max capacity is 512GB due to the volume limitation, while the latter is up to 512GB and even 2TB.

Compatible devices

: Both of them are popular for portable devices. Micro SD cards are compatible with smaller devices like Android phones. But users can easily insert them into regular SD card slots with card adapters. In contrast, SD cards are available only on SD host devices.
2. Micro SD Card Not Detected
When you have inserted your microSD card into a computer, you might encounter an error that says "Micro SD Card Not Detected". In this case, you can try the following methods to recover micro SD card.
Try more times or USB slots to connect the card to the computer.

Change another card reader.

Inspect if your micro SD card has visible problems.

Check if the computer drivers run well.
❓3. TF Card Corrupted
A corrupted micro SD card makes itself inaccessible or empty. It is hard to recover by ordinary methods. But you can try the following ways of rescuing. Remember, immediately STOP USING if your micro SD cards and other storage devices become corrupted or lose files!
Change your devices. And see if the card reader, card adapter, or USB port has problems.

Check if the drivers for your micro SD card run well.

Type 

Disk Management

 in the search box of the Windows taskbar to modify the drive letter for your microSD card.

Go to 

This PC

 > Right-click the microSD card disk > 

Properties

 > 

Tools

 > 

Error checking

 > 

Check

 to check and repair your card.

Use the 

CHKDSK

 command to check file system errors.
Things become more complicated if your card is physically broken or damaged. In this case, you'd better search nearby micro SD card services to recover micro SD card.
Conclusion
This post shares how to recover data and files from a micro SD card with free SD card recovery software. If you are in similar trouble, download this freeware and try it. It won't let you down!