How to Restore Deleted WhatsApp Messages without Backup
In case you didn't back up messages on WhatsApp and deleted them by accident, you can check if the chat history is preserved on your device. Go to the File Manager and search for WhatsApp to get related files. If you fail to get them back, you can try data recovery software. WorkinTool Data Recovery is practical to restore deleted WhatsApp messages on a PC. It is:
1. 100% free to install and recover files
2. Scan and restore files in seconds
3. Easy for beginners to recover documents
4. Free of viruses and pop-ups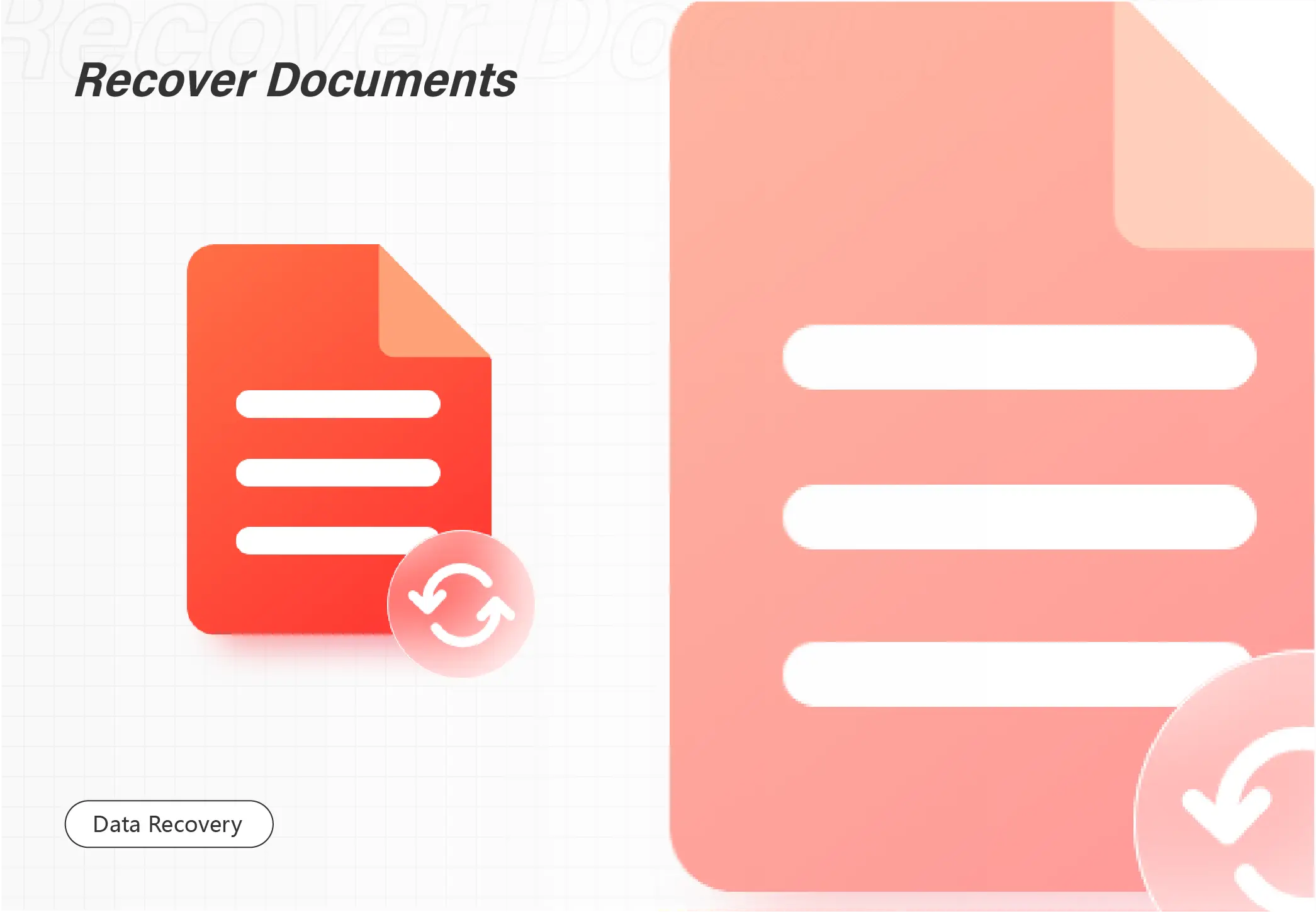 How to Restore Deleted WhatsApp Messages without Backup
WhatsApp is a free instant communication software that allows users to send messages and make voice and video calls simply by connecting via Wi-Fi. It is available in over 180 countries in 60 different languages. There are about 2 billion WhatsApp users worldwide. Users prefer to use it to chat with friends and families, transmit files, work on business exchanges, etc. WhatsApp allows users to send rich media messages such as photos, videos, GIFs, voice notes, and documents. Since WhatsApp may contain crucial messages, users may be severe about those accidentally deleted or lost messages on it. Here, we will thoroughly guide you on how to restore deleted WhatsApp messages without backup on your computer or mobile phone.
How to Restore Deleted WhatsApp Messages without backup on PC, iPhone, and Android
Is there a way to recover the messages, pictures, and videos on WhatsApp in case you didn't back them up? You can check the File Management tool on your device first. If it fails, the situation may be more complicated since the data is possibly permanently removed from the computer. But don't panic. Data recovery software and apps can help you. When you chat on WhatsApp on your device, it will automatically generate a local folder containing all the program's data.
📌 PC Solutions: Restore WhatsApp Messages with WorkinTool Data Recovery
This solution is suitable for those who use WhatsApp on desktops or the chat history needed to restore is generated on the computer.
WorkinTool Data Recovery is a versatile, free deletion file recovery software that is new to the field. As mentioned, it is free for users to access, whether for downloading or recovering. It offers two recovery modes: quick scan and deep scan. As for the former, it helps you scan all files on your computer within seconds. As for the deep scan, it is suitable for retrieving ancient files on your device. Since the software has just entered the market, it provides a long-term free trial to access all its features. Besides recovering deleted files, you can also use it to recover raw partition, recover Excel files, recover deleted emails in Outlook, etc. It is available on Windows. You can download it for free right now.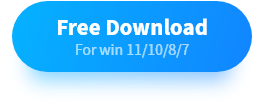 How to restore deleted WhatsApp messages without backup with WorkinTool Data Recovery
Step1. Run the software on your computer and select Deletion Recovery first. Pick the save path you installed WhatsApp to scan.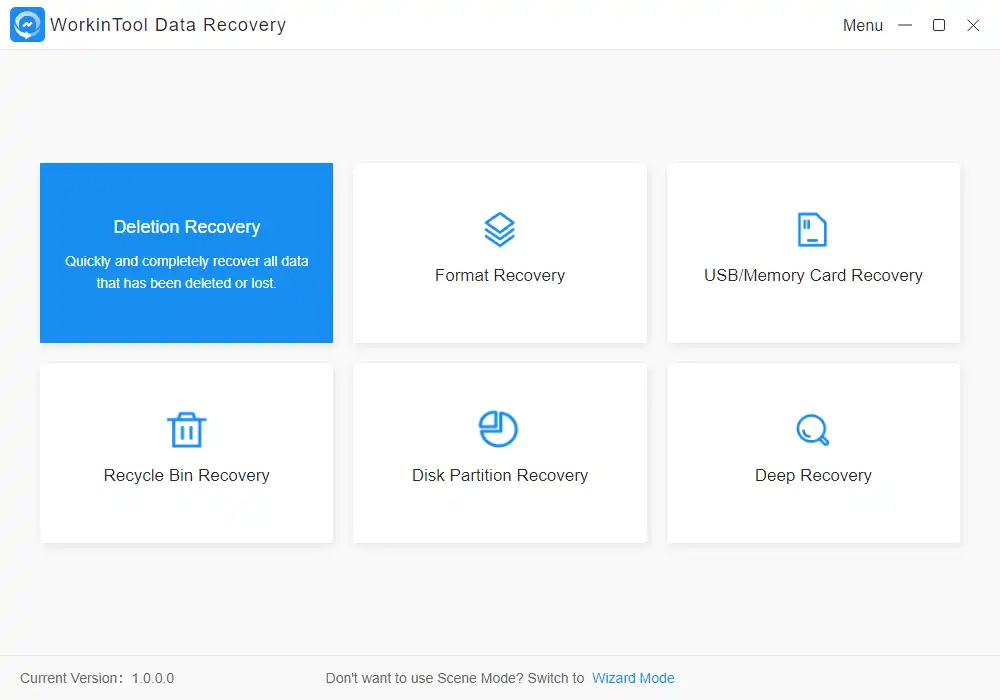 Step2. Navigate to the target message file by filtering the scanned files. You can filter by file format, name, size, and location. It is also feasible to search the file directly. Input WhatsApp on the search bar, then it will display all files related to WhatsApp. Suppose you don't find the target file, click Deep scan at the bottom to dig further.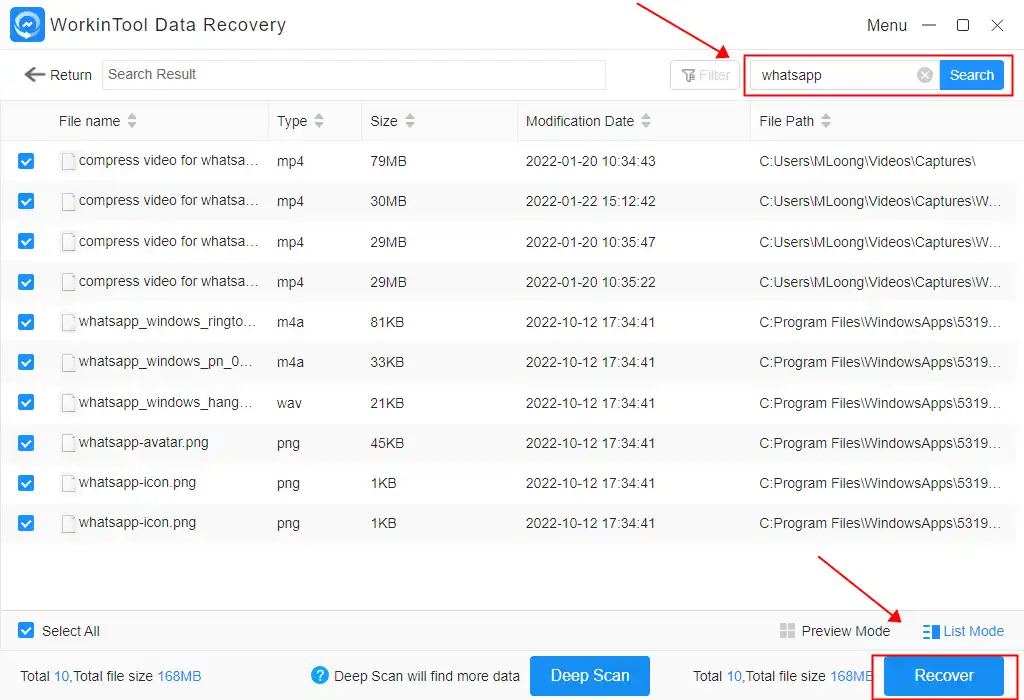 Step3. Select the App Data folder to find messages; press Recover, select a new save path, and then press Sure to save files to your local folder.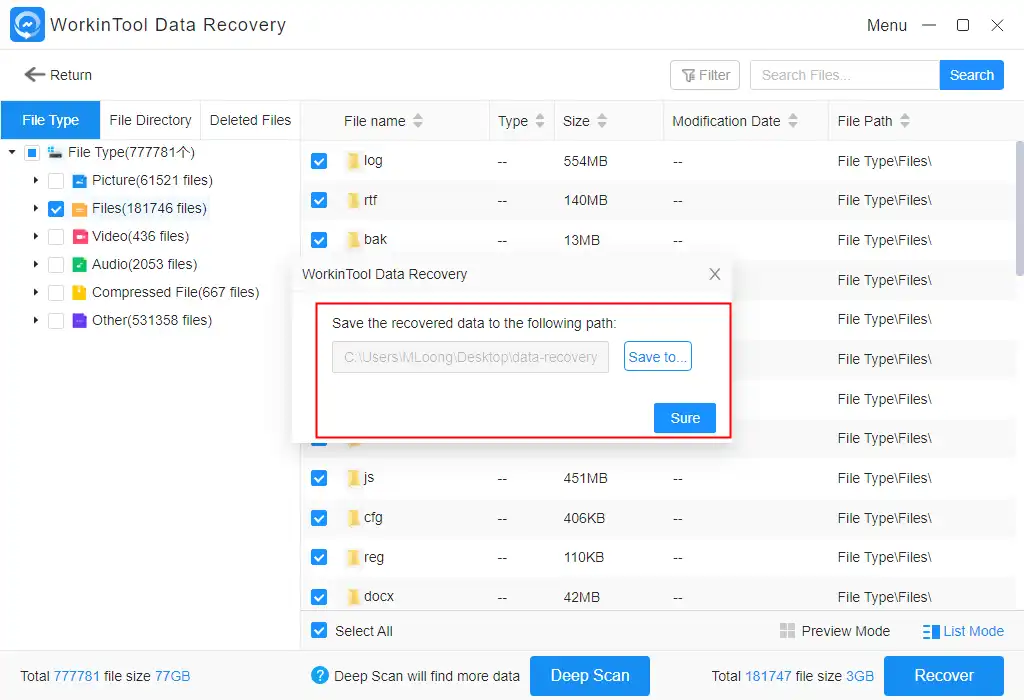 📌 iOS Solutions: Recover Chat History from WhatsApp with Tiger Data Recovery
Tiger Data Recovery is dedicated to retrieving deleted and lost files from iOS applications, such as WhatsApp, Photos, Line, Apple Notes, etc. It has an intuitive user interface. Within three steps, you can find deleted messages, photos, videos, and other documents on WhatsApp and restore them. This data recovery app is not entirely free to use. But thankfully, it provides a preview function; after scanning, you can check whether it helps find the file you need and then determine whether to pay for it.
How to restore deleted WhatsApp messages without backup on iPhone with Tiger Data Recovery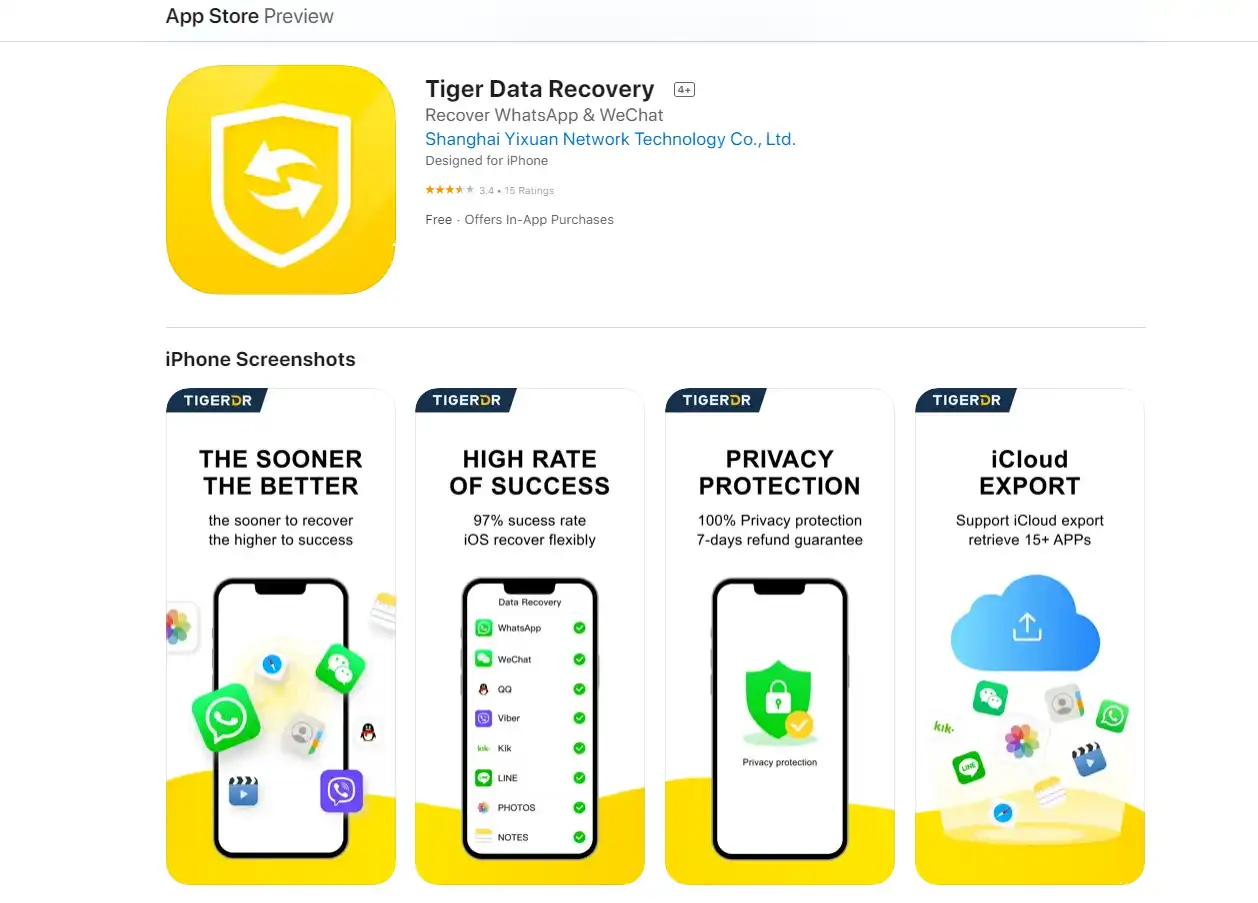 Step1. Download the program from the official channel, such as the Apple Store and the official website (to avoid viruses, malicious apps, etc.).
Step2. Open the App, then select the folder you want to scan. Search for files related to WhatsApp and preview whether there are messages you want to recover.
Step3. Click the recover button to save the deleted WhatsApp messages to your iPhone. It is feasible to select a new folder to preserve them.
📌 Android Solutions: Retrieve Deleted WhatsApp Messages with Dr. Fone
Dr. Fone is an effective data recovery tool for Android users. With this, you can effortlessly restore the files used on your Android phone. It provides a specialized feature for recovering deleted messages from applications and offers a detailed tutorial on recovering deleted messages on WhatsApp from its Account center. It is not free to recover files from your Android phone. But in comparison, it is cost-effective. The program is available on Google Play.
How to restore deleted WhatsApp messages without backup on Android Phones with Dr. Fone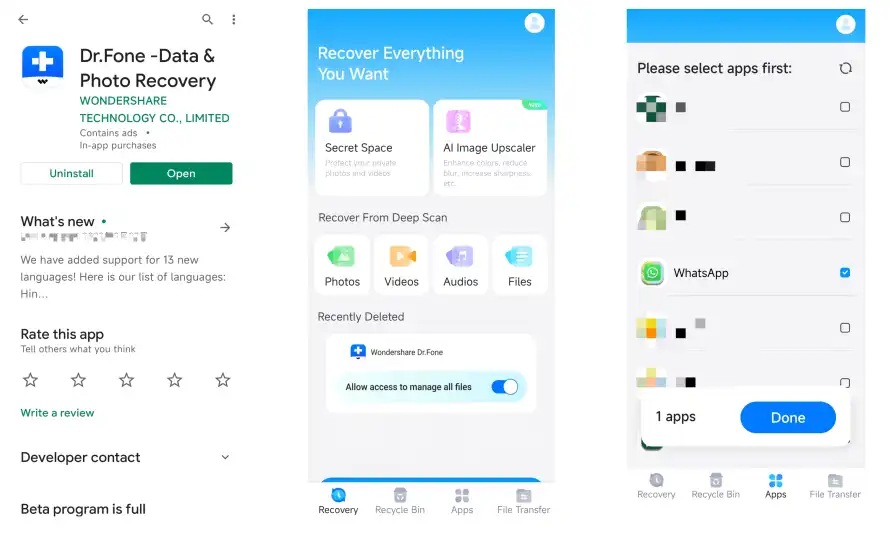 Step1. Install Dr.Fone from Google Play and launch it on your device.
Step2. Click App at the bottom operating toolbar. And select WhatsApp> Deleted Media to find the target file. Allow it to access and scan files.
Step3. Choose the message you want to restore and press Recover. To save the recovered files, you must pay to join its membership.
🧐 FAQs on Restore WhatsApp Messages
How to restore WhatsApp messages on a new phone?
If you have lost your phone and want to retrieve WhatsApp messages on that phone, you can check whether you have backed up messages on Google Drive, iTunes, iCloud, etc. If so, you can see messages and other media on them.
Can I recover 1-year-old WhatsApp messages without backup?
Only if the message file is created on your device, data recovery software can help you restore it whenever you delete the file. Therefore, using data recovery tools, you can recover one-year-old, even four-year-old, WhatsApp messages without backup.
How do I restore my chat history from WhatsApp Backup?
WhatsApp enables you to back up messages on its server. If you ever open this feature, you can restore the chat history from it. Just open WhatsApp and click More options> Settings> Chats> Chat Backup to check the backed-up files. 
Wrapping Up
This post targets how to restore deleted WhatsApp messages without backup. Data recovery tools are adequate for retrieving deleted messages. But there are few tools completely free to recover files. To avoid losing critical messages, you'd better backup files in WhatsApp. WorkinTool is free to use right now. Give it a try to solve your current problems.
Products Reviews:
TrustScore
4
|
323
reviews