How to Restore PS4 Game Saves | 4 Proven Ways
Have you ever lost data on a PS4 due to accidental deletion, formatting, or something else? Try the PS4 recovery solutions in this post to quickly recover deleted files on PS4. Follow the detailed tutorial below to restore disappeared games and saved data. These methods are also suitable for getting saved data back on PlayStation 5. A data recovery tool is also introduced for the following features.
💙 Recover lost or deleted files on any storage device: USB drives, memory cards, computer drives, etc.
🤍 Easy and quick to scan and perform data recovery.
💙 Recover multiple types of files: video clips, images, music files, game caches, and more.
🤍 Suitable for formatted or corrupted devices.
💙 Provide 500MB of free recovery capacity.
How to Restore PS4 Game Saves | 4 Proven Ways
When we are playing Dragon Ball Z Kakarot, Elden Ring, GTA 5, or Hogwarts Legacy, we enjoy the process and sometimes capture videos or screenshots of highlight moments. Yes, console gaming is more streamlined compared with PC gaming. However, the former is not immune to data loss. And that can't stop us from wondering:
🌊Can I recover deleted PS4 saves?
🎐How do I get my game progress back?
💦Where have my game videos and screenshots gone?
🦠How to restore deleted games on PS4? Need I rebuy the same games?
PS4 data loss often happens due to accidental deletion, power outage, hard drive formatting, etc. What will you do if you accidentally lose games or game data on your PlayStation 4? Let the deleted or lost game files disappear from your PlayStation 4 hard drives, or take a long time to redownload these games?
It must be hard to accept for PS4 game lovers to lose those precious game files. But recovering lost PS4 files without backups is a challenging thing. If you are one of these users, will you give up? Of course not! There still are effective solutions to restore PS4 game saves! Read on to find answers!
---
How to Restore PS4 Game Saves?
In this section, four proven ways are attainable. Each of them has a corresponding usage scenario. Here is a brief introduction to these methods.
| | |
| --- | --- |
| Workable Solutions | Suitable Scenarios |
| Fix 1. PS4 cloud save recovery | A PlayStation Plus subscription is required. |
| Fix 2. Redownload from PlayStation Store | The easiest way to recover deleted games. |
| Fix 3. Data recovery software | Suitable for exFAT file system storage devices. |
| Fix 4. Recover from USB drive backup | Restore the game and data from a USB storage device |
Fix 1. How to Restore PS4 Game Saves from Cloud
This method requires a PS4 Plus subscription. Apart from that, a manual or automatic game data backup should be available in the online cloud storage. In that case, you can recover saved data on PS4  regardless of the local data condition.
📝Follow the detailed steps below to get saved data back on PS4 with PS Plus: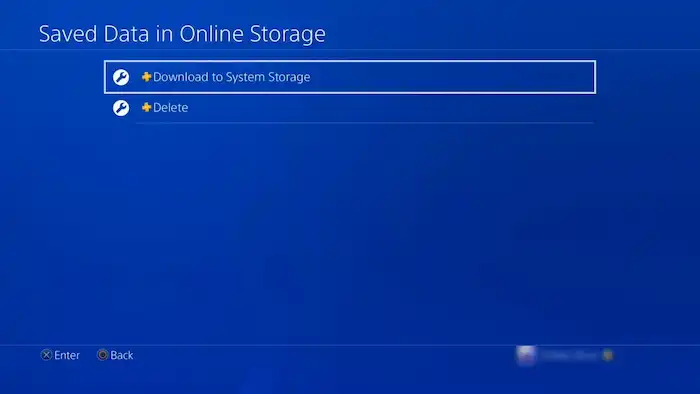 In the PlayStation Home menu, select Settings > Application Saved Data Management.
Tap Saved Data in Online Storage > Download to System Storage.
Select the backed-up game saves you want to get back and click Download.
📢Note: You may need to repeat the operation several times to get all the lost game saves back to your PlayStation 4.
---
Fix 2. How to Redownload a Game on PS4 in PS Store
If you want to download a game you previously removed, you can redownload it in the PS Store after logging into the previous PS4 account. In addition to recovering deleted games on PS4, redownloading deleted games in PS Store can also repair corrupted game files and fix games that failed to start for unknown reasons.
📝Here is how to restore PS4 game saves from PS Store:
Sign in to the PS4 account with the same username and password for the PlayStation Store.
Go to PlayStation Store > move to Library and find the Purchased list.
Redownload the deleted games to your PS4 local storage.
📢Note: You can also get deleted games back on PS4 with game CDs if you have.
---
Fix 3. How to Restore Saved Data on PS4 with USB Drive Backups
If you are using a USB drive to store game saves on your PlayStation 4, you can easily restore your PS4 console data from the USB backups, including the games, saved data, screenshots, video clips, etc.
📝To recover lost saved game data on PS4 from a USB drive: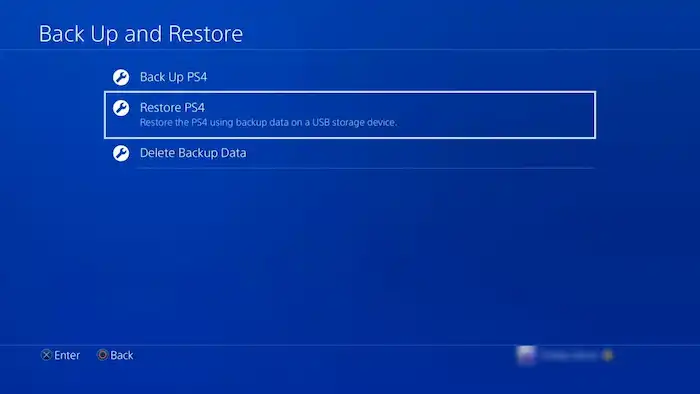 Connect the USB drive to your PS4.
Go to Settings > System > Backup and Restore > Restore PS4
Select the available file you want to use and restore it.
📢Note: After selecting Yes to confirm the process, all the existing files on your PS4 will be replaced with the selected backup file. Think twice before initiating the USB backup recovery.
---
Fix 4. How to Restore PS4 Game Saves with Data Recovery Software
If the USB drive you use to extend the PS4 storage uses the exFAT file system, which means the files are not encrypted, you can try data recovery software like WorkinTool Data Recovery for help. This software can recover lost game media file backups in USB and make them recognizable on your PS4 console and PC.
WorkinTool Data Recovery Software Free Download

Reliable PlayStation Recovery Application

            Recover PS4 Game Saves without PS Plus

Free recovery of up to 500MB of PS4 files.
Quickly find and recover deleted files in bulk.
Restore 500+ types of files: game caches, screenshots, video clips, installation packs, etc.
Easily retrieve files from PS4 hard drives, USB flash drives, SD memory cards, etc.
📝To recover deleted data on a PS4 USB drive with software.
1. Connect the USB drive to a Windows computer, launch WorkinTool Data Recovery, and select USB/Memory Card Recovery on the main page.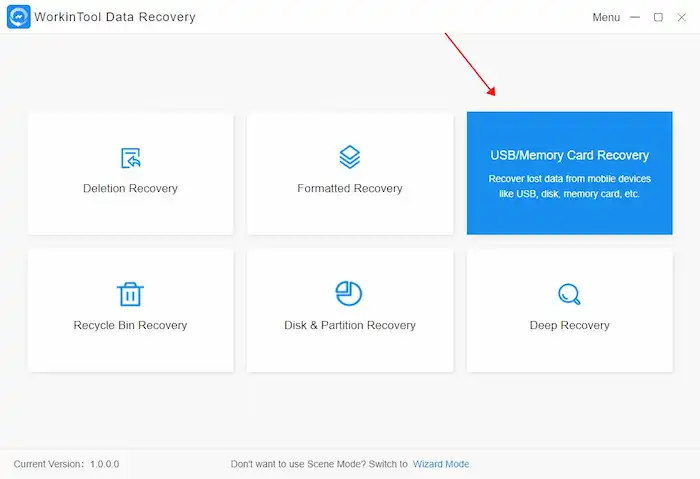 2. Select the USB drive and hit Start Scanning to initiate a quick scan.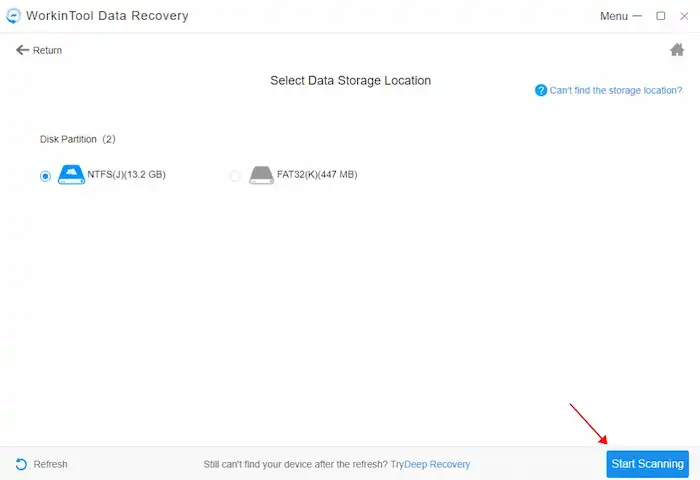 3. Select the detected files, press Recover, and select a new directory to save the to-be-recovered game saves.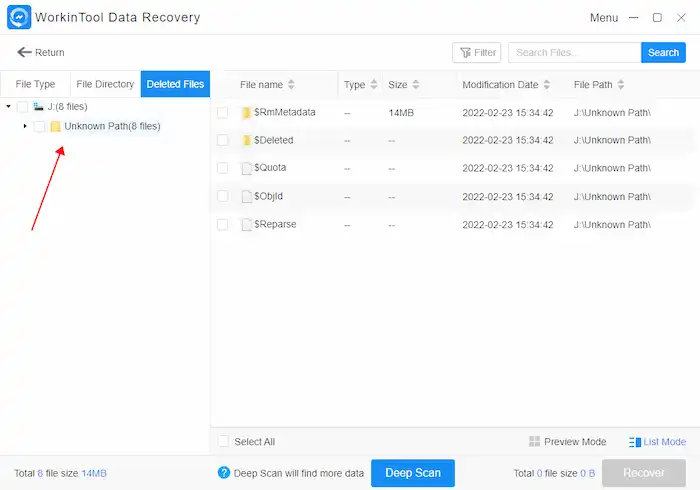 📢Note:
Don't connect a USB drive that uses Sony's proprietary and encrypted file format to your PC. Windows computers will not recognize the drive, and it will appear in RAW format.

Stop using the PS4 drive if data loss happens. It is not easy to recover overwritten file saves on PS4.
---
FAQs about PS4 Recovery
After learning how to restore PS4 game saves, you may still be interested in the following aspects.
How to restore backed-up saves on PS4?
There are four proven ways you can apply to get back deleted or lost game data on PS4. All of them have detailed introductions and tutorials in this post.
⚡Cloud backup recovery
☔PS Store redownloading
🌂Data recovery software
🌈USB drive backup recovery
How to restore my game saves to my newly purchased PS4?
If you have a PS Plus subscription, you can restore the PS4 data you saved in cloud storage to a new PS4.
Users can restore PS4 console data from the USB drive backup if they have. To do that, users must sign in to PSN (PlayStation Network) before backing up data.