How to Retrieve Google Backup Photos on PC and Phone
Cleaned up Google backup photos and how to retrieve them? Don't worry. If you use the online Google backup, check the Trash in Google Photos or Google Drive. If you use the desktop Google Drive, go to Recycle Bins or use the FREE WorkinTool data recovery software to retrieve those photos. It is:
1️⃣ Free to recover photos and save them to your device
2️⃣ Batch recover files simultaneously
3️⃣ Recover files maintaining file quality
4️⃣ Restore deleted or lost files within seconds
How to Retrieve Google Backup Photos on PC and Phone
Sometimes, we inevitably require coping with various photo files, such as taken photos, screenshots, downloaded pictures, and more. These photos always take up much storage space on our computers or mobile phones. The pressure on the local storage space is relieved thanks to the Google drive backup. However, the cloud storage space of Google backup is also limited. You can upload up to 15 GB of files for free. Since sometimes Google Drive will automatically back up the photos, you might clean it up from time to time. What to do if you accidentally clean up essential photos? This guide will explain how to retrieve google backup photos on a PC, iPhone, or Android phone. Keep reading if you need to solve this problem.
How to Retrieve Google Backup Photos on a PC
To recover deleted photos from Google backup, you can check the trash folder in the online Google drive or recover the photos deleted from the desktop Google Drive with recycle bin or data recovery software.
📍 1. Recover Backup Photos from Google Drive
Luckily, Google Drive will preserve your recently deleted photos within 30 days. You can easily retrieve Google backup photos from it. However, if it exceeds the deadline or if you clean up the trash folder, the photo will be removed from Google Drive. Check how to retrieve google backup photos from Google Drive using the following steps:
Step1. Go to the Google Drive webpage and log in to your Google account.
Step2. Click Trash on the left menu bar, pick the photo from it, right-click it, and press Restore. The photos will then be retrieved to Google Drive.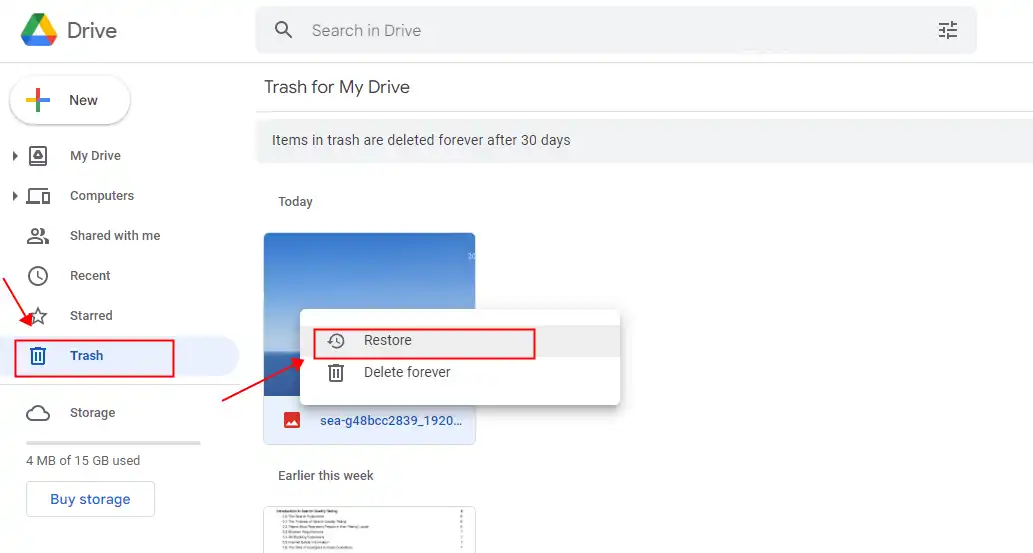 📍 2. Retrieve Backup Photos from Google Photos
Apart from Google Drive, Google Photos can also backup photos in the cloud. But Google Drive and Google Photos are not separated from each other. Each Google Account includes 15 GB of Google Backup storage, which is shared across Gmail, Google Drive, and Google Photos. If you used to back up photos on Google Photos, you can retrieve them through Google Photos.
Step1. Visit the Google Photos webpage on your computer and log into your Google Account.
Step2. Click the Trash button and pick the photo you need to restore. Click Restore to get it back to the Google Photos backup.

📍 3. Check the Recycle Bin on Windows
Suppose you also add the desktop Google drive to Windows; then you can find the google backup folders on your computer. It is similar to internal hard drives, providing storage space. If you delete photos from the desktop Google Drive, you could likely retrieve the picture from recycle bin.
Step1. Select the Recycle Bin icon on your desktop. If you don't add the Recycle bin desktop icon, press Win + E to launch the file explorer and type Recycle Bin in the quick access bar to check the deleted files.
Step2. Search for the photo on the search bar. Then right-click the photo you want to recover and press Restore. This way, you can retrieve deleted photos from your desktop Google Drive.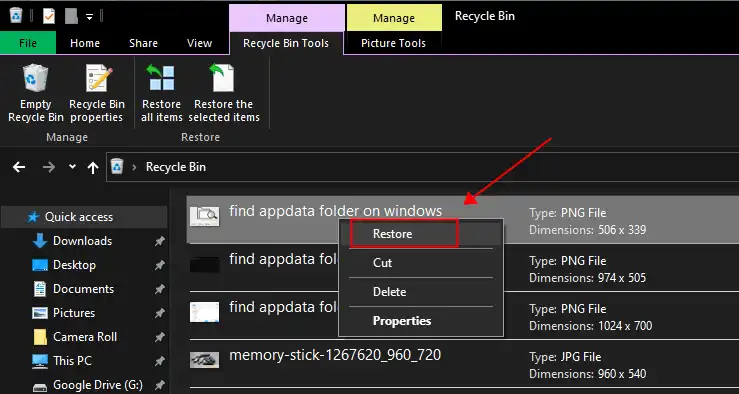 📍 4. Recover Permanently Deleted Google Photos with Data Recovery Software
WorkinTool Data Recovery software performs google backup photo recovery with excellent results. It allows you to directly scan the google drive on your computer and helps you find as many photos as possible. Batch photo recovery is also accessible in it. Fortunately, since it is new to the market, it provides 500MB of free recovery capacity. The whole google backup photo recovery process is simple and quick with no additional requirements or catches. With its straightforward navigation, you can recover deleted photos within seconds. The software is now compatible with Windows. If you are a Windows user, it is a great option to recover permanently deleted google backup photos.

How to retrieve deleted google backup photos with WorkinTool Data Recovery
Step1. Install WorkinTool Data Recovery software and launch it. Pick the Google drive on the dashboard.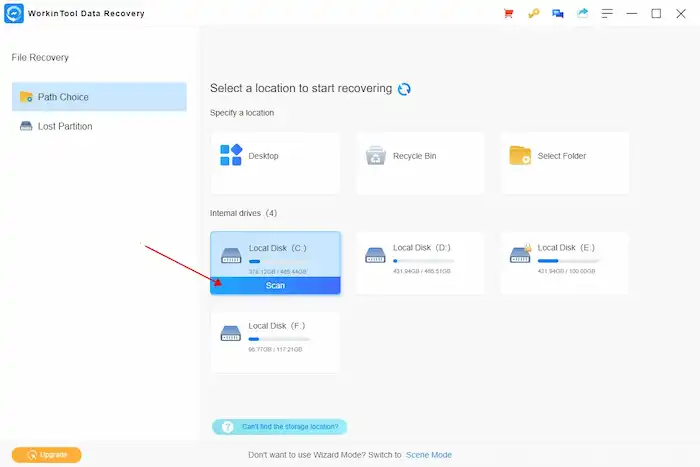 Step2. Select a scan method and press the Scan Now button to search for deleted files.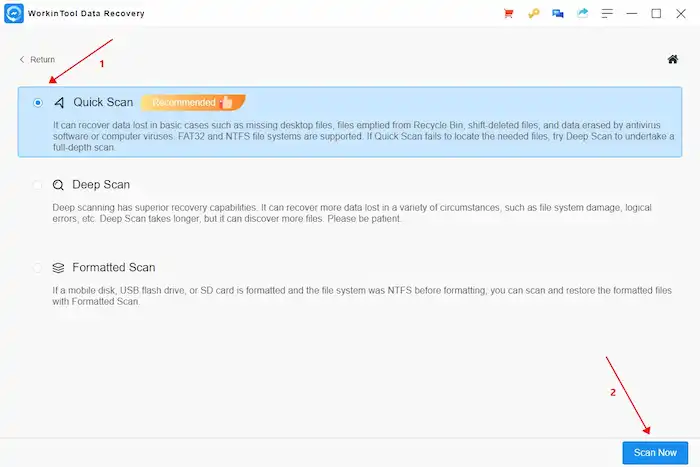 Step3. Check the scanned files and filter photos. Select the photo you need to retrieve and press the Recover button. After that, select a new folder and press Sure to save the recovered Google backup photo.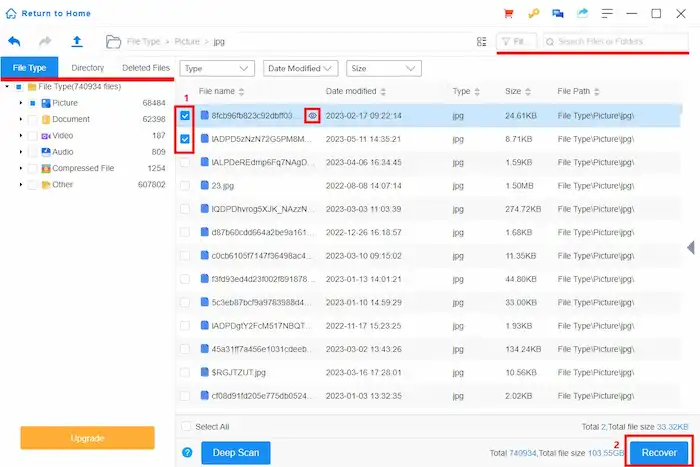 Other Solutions in WorkinTool Data Recovery 
How to Retrieve Google Backup Photos on Android and iOS
📍 1. Restore Photos using Google Drive or Google Photos
Checking the webpage Google backup is also an option to recover google backup photos on mobile phones. Go to the Google Drive or Photos page or open the app to check the trash folder and retrieve Google backup photos on your Android or iOS phones.
📍 2. Use Data Recovery App
If those photos are permanently removed from Google Backup, a data recovery app is a great solution under the premise that you use the Google Drive and Google Photos apps to back up photos. Among the various data recovery apps for mobile phones, Dr.fone is on the recommended list. It supports both iOS and Android. Relatively speaking, it is suitable for beginners. Within only three steps, you can recover the deleted google backup photos. However, this application is not 100% free to retrieve and download files. It allows you to preview the recovered image for free, but it costs if you need to save the recovered one. However, few data recovery apps are entirely free to use without any limits.
Check how to retrieve google backup photos on Android and iOS
Download Dr.fone from APP Store or Google Play and open it on your phone.
Select the photo as the file type you want to recover.
Preview the photo and press the Recover button to retrieve it.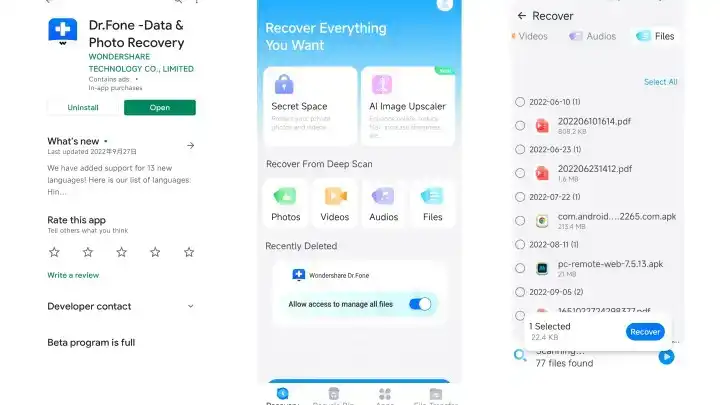 Bottom Line
Referring to the above-detailed tutorials, you can effortlessly retrieve google backup photos on Windows, Android, or iPhone. Backing up critical pictures in the Google cloud is necessary. However, free storage space is restricted. Sometimes, we have to clean the Google backup. Data recovery tools are helpful if you permanently delete backup photos from Google backup software or apps like Google Drive, Google Photos, etc. Install it to get the images back.