NAS Data Recovery – How to Recover NAS Data for Free
Don't worry if you delete or lose data from your NAS drive. WorkinTool NAS data recovery tool effectively retrieves deleted, missed, and formatted data from hard drives. The software performs well in many aspects:
🏆 The free trial is available
🏆 Easy and fast to retrieve data from NAS device
🏆 High data recovery success rate
🏆 No registration is required
🏆 No watermarks or other limits to downloading recovered data
NAS Data Recovery – How to Recover NAS Data for Free
NAS devices and network drives are gaining in popularity as a reliable option for sharing and storing data across the office and home networks because they provide a quick and easy way to increase available PC storage space. Lost data or deleted files by mistake from a NAS device? Don't be disheartened. Certainly, you can recover data from a NAS RAID device using a NAS Data Recovery tool. This guide will show you how to retrieve files from a NAS device on a PC with the best RAID-based NAS file recovery software.
🧐 What is NAS
NAS represents network-attached storage. It is normally a storage device that enables multiple users to share data together on the network. NAS enables distributed employees to access corporate or personal storage files through wireless routers. NAS devices are popular with distributed teams that require remote access or work in different time zones. Generally, NAS devices can store unstructured files, including Microsoft Office documents, audio, video, text files, sites, etc. If the NAS drive gets corrupted and you don't have automatic backups, these types of NAS can often be used with internal hard drives such as RAID. For more information about NAS, you can refer to TechTarget's definition of NAS.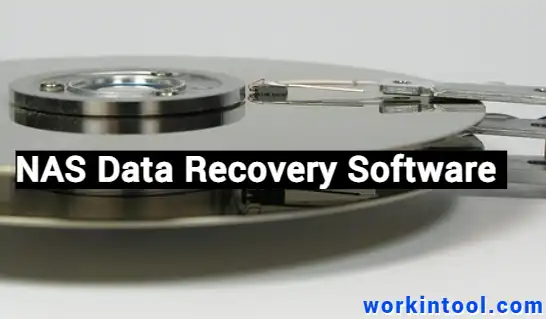 How to Recover NAS Data on a PC
A NAS device is convenient for storing and backing up data, but it also has some disadvantages, just like any other data storage device or drive. NAS hard drives frequently experience crashes, failures, etc. When your NAS device fails, you have almost no access to stored data. Drive failure can be due to different reasons such as power surge, simple human error, control board failure, system failure or crash, virus attack, etc. For beginners, recovering data from NAS storage sounds complicated. But you'll find things to be easier if you use NAS data recovery software. This kind of tool will help you directly scan the NAS device and recover data from it. After testing multiple data recovery software, we pick the best tool in the following for you to make reference.
✅ Best NAS Data Recovery Software
WorkinTool Data Recovery is a handy and practical NAS data recovery software available on the Windows system. It works well in recovering data from hard disks and partitions, whether for internal or external hard drives. Moreover, it is in favor of the recovery of nearly all file formats, such as office documents, videos, photos, audio files, zip files, emails, etc. Additionally, it can quickly scan the storage disk, no matter how large it is. The entire NAS data recovery process will be within seconds.
This software provides several plans for users to choose from. And its free version enables you to recover 500 MB of NAS data for free without any hidden catches. To recover more, you can also purchase its premium version, which is indeed more cost-efficient than most other data recovery software in the industry. It costs $29.99 per month and $39.99 per year. And most brilliantly, its lifetime version only costs $49.99.
What makes WorkinTool the best NAS data recovery software
Learn more product features of WorkinTool Data Recovery software in the following part.
Best NAS data recovery solutions for professionals and beginners

The free trial is available
Easy and fast to retrieve data from NAS device
High data recovery success rate
No registration is required
No watermarks or other limits to downloading recovered data
Free of ads and pop-ups
Reasonable prices and plans
How to Recover Data from a NAS Device Using WorkinTool Data Recovery
Step1. Download this data recovery software from the WorkinTool official website, then open the program. After that, select Disk & Partition Recovery from the navigational user interface.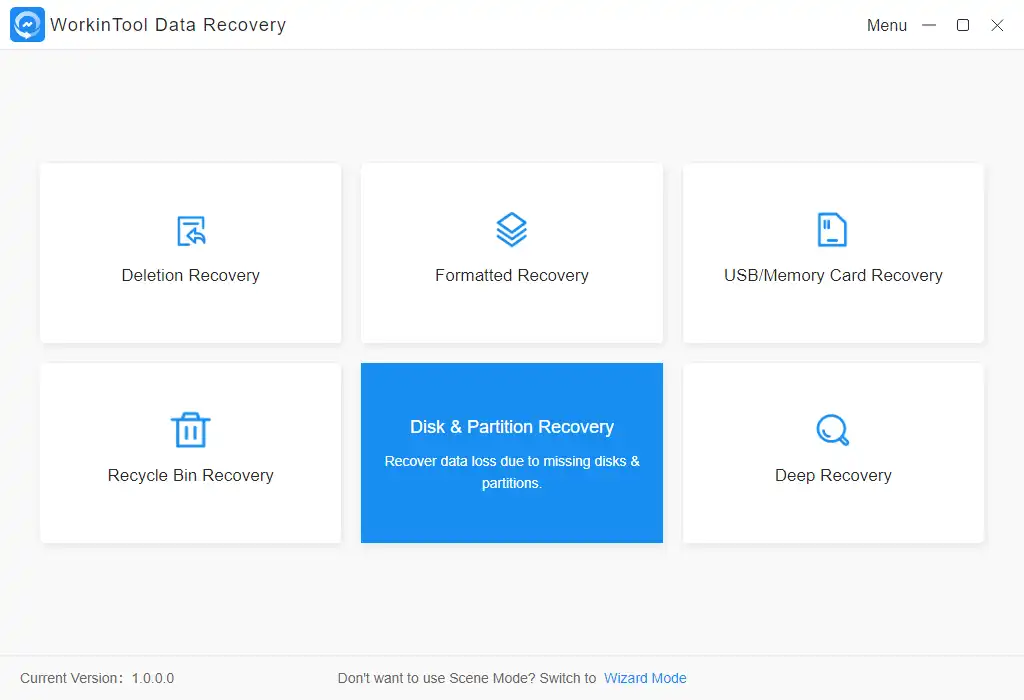 Step2. Pick a drive or storage device and click Find Partitions. Then click on the partition and press Scan Now.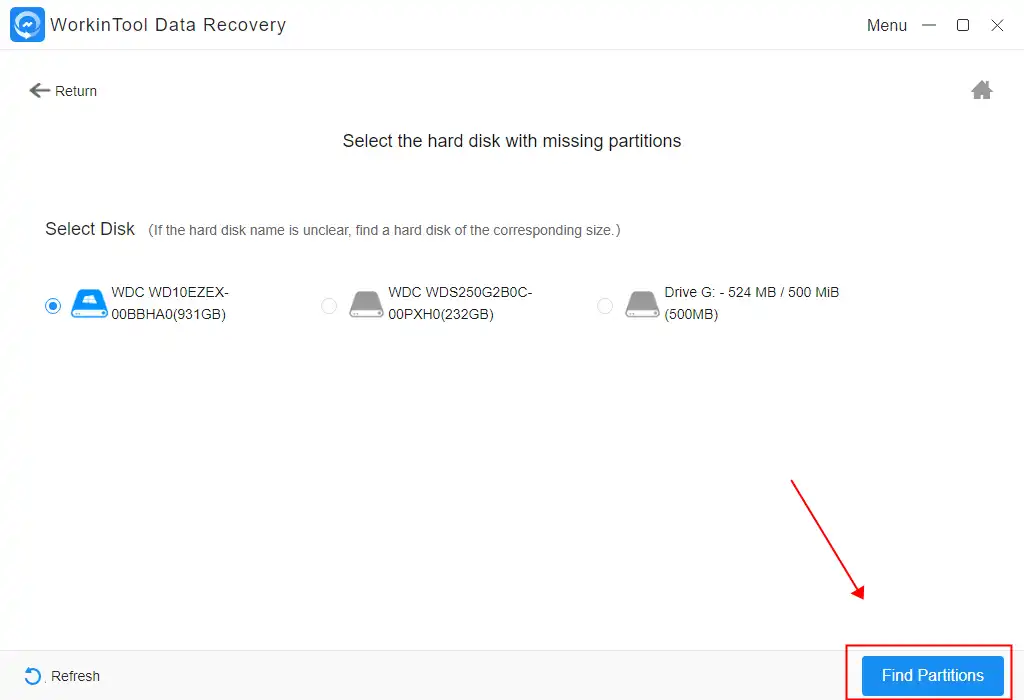 Step3. Filter the scanned data and select the files you want to restore. Press the blue Recover button in the bottom right corner. Then select a new save path to preserve those recovered NAS data.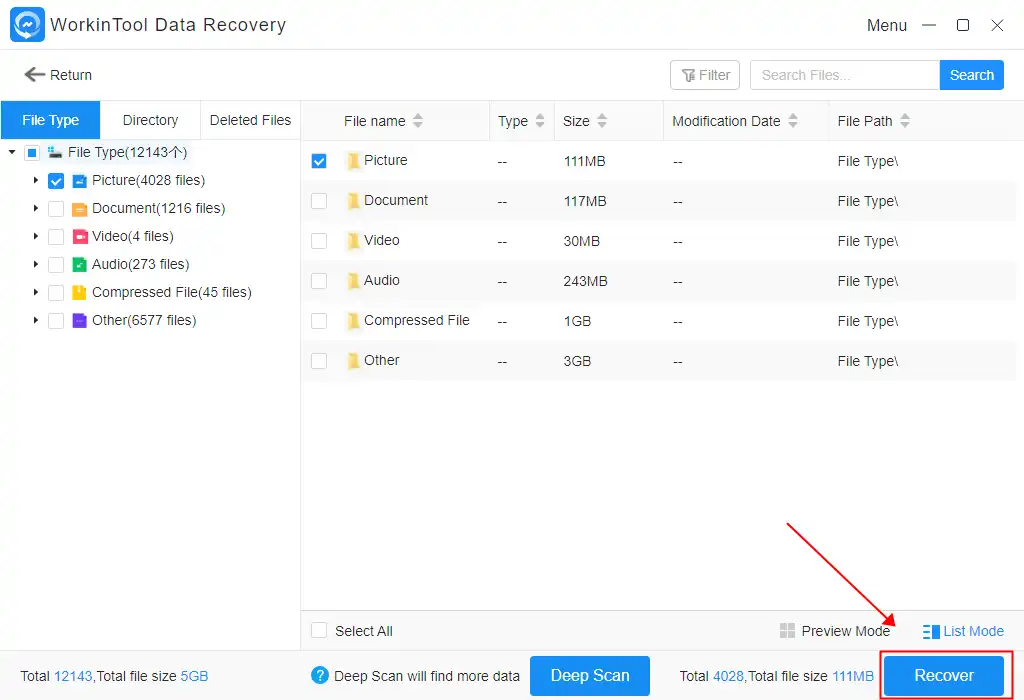 More Data Recovery Solutions in WorkinTool Data Recovery
📢 FAQs on NAS Data Recovery
📋 What is NAS recovery?
NAS recovery refers to Network attached storage data recovery. And it is the course for recovering data from a NAS drive. Normally, specific NAS data recovery software will help you recover deleted or lost data from a NAS device.
📋 What happens if my NAS fails?
The NAS drive may not work when a virus attack, improper operation, system failure occurs, etc. When it fails, you cannot obtain the data on it. You can try our professional data recovery software to retrieve critical data from NAS successfully.
📋 Can you recover deleted files from the NAS drive?
NAS file recovery tools, like WorkinTool, are able to recover deleted files from a NAS drive. Just install data recovery software and scan your NAS drive to recover deleted data from it. By the way, this software can also restore lost and formatted data from a NAS device.
📋 Why do you lose data in a NAS?
NAS devices are vulnerable to some attacks, such as logical failure of the operating system, the impact of viruses and malware, etc., resulting in various data loss.
Wrapping Up
In the above, we elaborate on NAS data recovery in detail. Using the best NAS file recovery software, WorkinTool, you can effortlessly retrieve deleted, formatted, and lost files from a NAS drive within seconds. The software offers a free trial version right now. Just download it and use it to find the RAID NAS data back.