OneDrive Recycle Bin: How to Recover OneDrive Files
Accidentally deleted a crucial file from OneDrive? Don't be concerned. The OneDrive Recycle Bin will preserve those deleted items for 60 days. If you missed the deadline or cleared the OneDrive Recycle Bin. You can try to recover it from your local OneDrive folder. WokinTool Data Recovery Software is helpful in recovering deleted, lost, and formatted data from your hard drive. It is:
100% FREE to recover and re-download files
✔ Quick and deep scan your hard drive
✔ Batch recover data simultaneously
✔ No limits on the total recovered data
✔ Free of ads, watermarks, and user log-in
OneDrive Recycle Bin: How to Recover Files from OneDrive
OneDrive is one of the best cloud storage services. It allows users to back up photos, videos, and office documents. It not only makes it easier to exchange documents but also relieves the storage pressure of your device. However, the online storage method is prone to file loss or accidental deletion. This guide will mainly introduce the OneDrive Recycle Bin feature to you. It will then show you how to recover deleted files from OneDrive in detail. Go on reading if you just deleted an essential document in OneDrive by mistake. 
What is OneDrive
OneDrive is a cloud storage service software launched by Microsoft for individual users. By using it, you can upload files in various formats to the cloud to achieve multi-terminal content synchronization. For enterprises, it also has a OneDrive for a Business version that can meet large-scale data storage needs. It is worth mentioning that Microsoft has deeply integrated OneDrive with the Windows system. So, it is more convenient to synchronize and back up data. OneDrive can automatically back up photo albums. In addition, by combining Office with OneDrive, you can also create online documents and save files in real-time.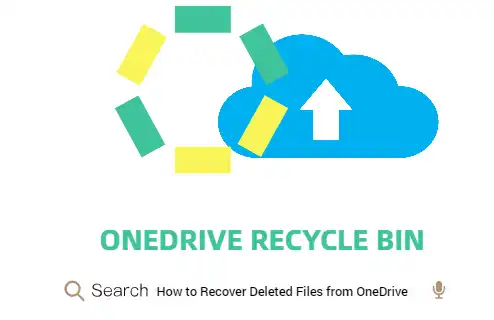 🧐 Where is OneDrive Recycle Bin
The recently deleted files will exist in the OneDrive Recycle Bin for the first time. The Recycle Bin will help you maintain the deleted items for 60 days. After this period, those deleted files will be permanently removed from your OneDrive. It is easy to navigate the Recycle Bin in OneDrive. Just go to the OneDrive website and log into your Microsoft account. On the left menu bar, there is a recycle bin folder that preserves your recently deleted items.
How to Recover Deleted Files from OneDrive
You can restore those deleted files from OneDrive with a few simple steps. However, you must pay attention that you may only recover those deleted items within 60 days. Also, if you have ever cleaned up the Recycle Bin, you cannot see the deleted files. If none of the above two situations occur, you can successfully recover deleted files from OneDrive. Just follow the below step-by-step tutorials:
How to recover deleted files from OneDrive Recycle Bin
Step1.

 Open the OneDrive online page and log in, then select Recycle Bin on the dashboard.

Step2.

 Search for the target file you want to recover. Then right-click the file and press Restore.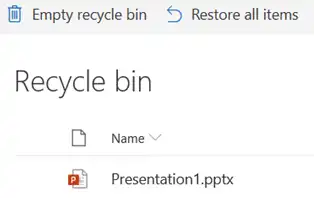 In this way, you can effortlessly recover deleted files from OneDrive. You can choose to download it to your local folder to back it up or maintain it as OneDrive.
🔎 Reference: Microsoft solutions for OneDrive Files Recovery.
How to Recover Permanently Deleted OneDrive Files, not in Recycle Bin
What if the deleted items in OneDrive Recycle Bin are permanently cleaned? Is there still a way to retrieve those files? Fortunately, there will be a local folder on your PC saving all of your OneDrive Files. You can try to recover OneDrive files on your computer. Here we provide two easy and fast methods to recover deleted OneDrive Files on your desktop.
🔸 Method 1. Recover Deleted OneDrive Files from Windows Recycle Bin
If you have synced OneDrive to your hard drive and deleted files from the cloud, your desktop files will also be deleted. But don't worry. The Recycle Bin on Windows will help you to preserve the deleted items without a time limit. Above all, search for the OneDrive backup files on your desktop computer. This solution allows you to find back OneDrive files without any effort. Within seconds, you can navigate to the OneDrive local folder on your computer.
Step1.

Click on the Recycle Bin icon on your computer. If not, press Win + R and search for the recycle bin in the quick access bar.  

Step2.

Search for OneDrive in the search tool. Then choose the OneDrive backup folder and pick the target file. Right-click the file and select Restore to recover it to your PC.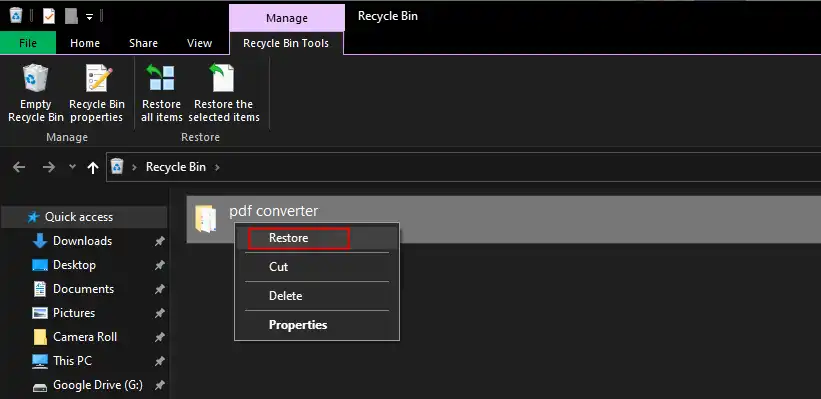 🔸 Method 2. Restore OneDrive Files with Data Recovery Software
Suppose you have also cleared the desktop to recycle bin or have yet to find the target OneDrive file in the local recycle bin. Data recovery software is another efficient option. You can try this FREE WorkinTool Data Recovery among the numerous data recovery tools available for Windows. It helps recover deleted, formatted, lost, and old files. Moreover, it can quickly scan your hard drive and allows you to locate the target file by a customizing filtering feature. Furthermore, it is currently free to use without any additional requirements or task quotas. Here, we list several reasons to pick it, among other data recovery software:
Free to recover files with no limit on data recovery

Quickly scan and recover data within seconds

Filter scanned files and locate the target one instantly 

Batch restore files with one click

Free of ads and user login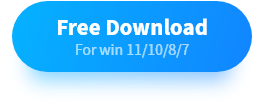 How to recover deleted files from OneDrive on your computer using WorkinTool
Step1.

Install WorkinTool Data Recovery on your computer, then launch it. Then select Deletion Recovery on the dashboard.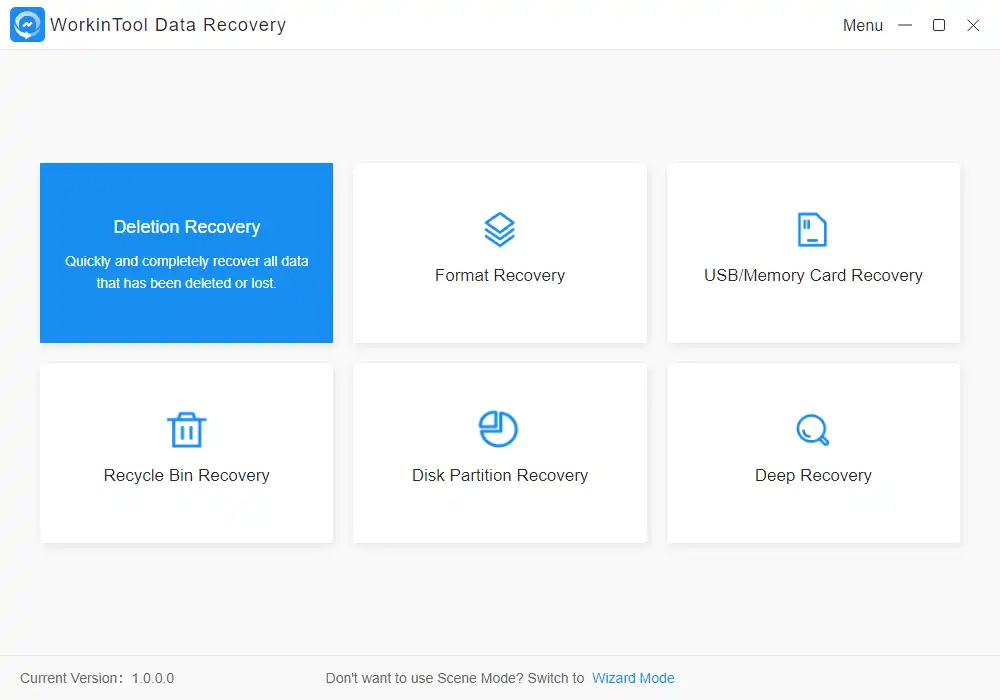 Step2.

 Choose the hard drive where the OneDrive folder is saved to scan. (It is saved in the Users folder on the central hard drive).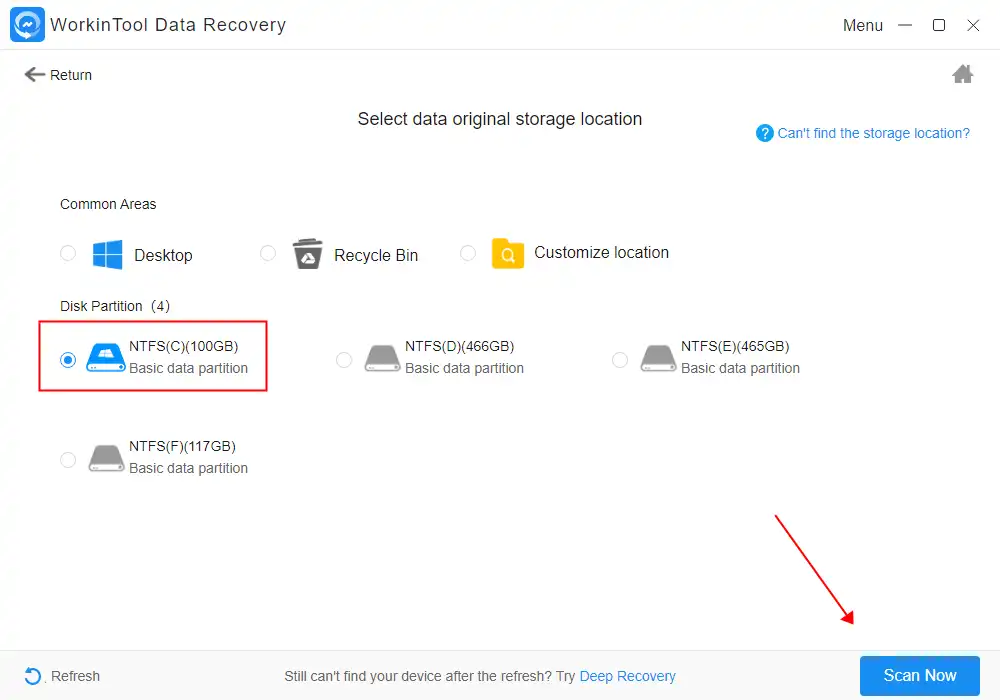 Step3.

Select the Deleted Files category. Then target the OneDrive folder and filter the scanned files. Then select the file, press the Recover button, and determine a new save path to download.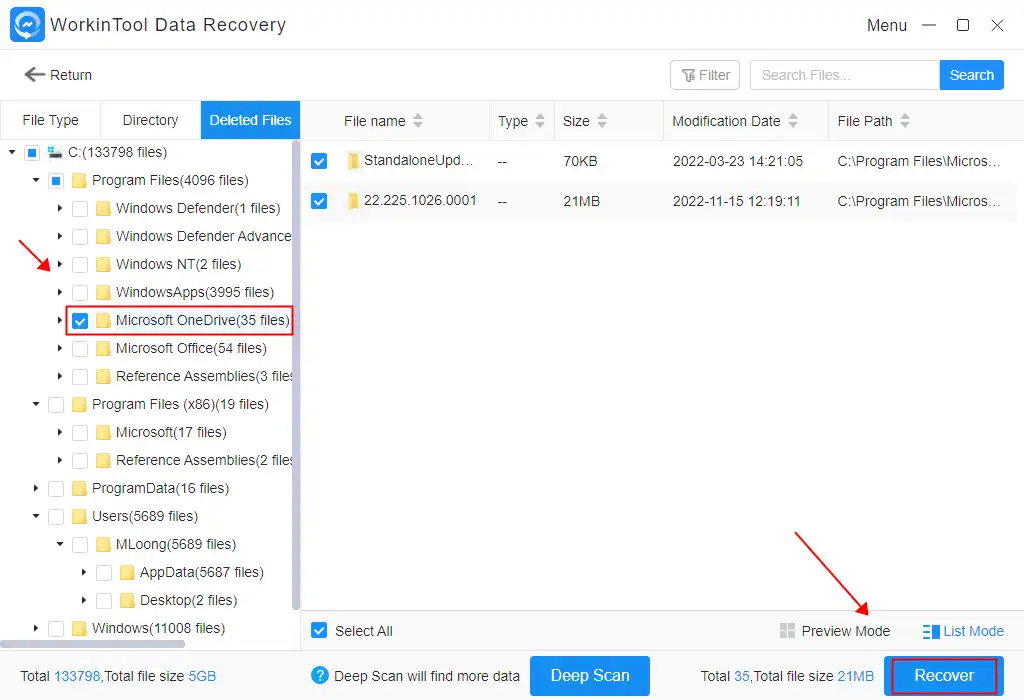 Other Data Recovery Instructions for WorkinTool Data Recovery 
FAQs on OneDrive Recycle Bin Recovery
💬 Are files permanently deleted from OneDrive?
The recently deleted items will be saved in the Recycle Bin folder within 60 days. After that, or if you empty the Recycle Bin, the files will be permanently deleted. 
💬 How long do files stay in OneDrive Recycle Bin?
Usually, the deleted files will stay in Recycle Bin for 60 days. Therefore, you have a great chance to restore them within the deadline. 
💬 Can I recover deleted items after OneDrive recycle bin has been emptied?
YES. Thankfully, there will also be a local folder preserving backed-up OneDrive files. You can check your local folder. If not, try to use data recovery software to recover deleted, formatted, and lost files over the years. 
Wrapping Up
Now you may know how to recover deleted files from the OneDrive Recycle Bin and restore permanently deleted OneDrive files to your computer. For those highly critical documents, you'd better back them up on both cloud and your local folders. WorkinTool Data Recovery gives you a high success rate of retrieving deleted, lost, old, and formatted data for free. Give it a try if you fail to recover OneDrive files.