Raid 0 Data Recovery – Easy Ways to Recover Data in Raid 0
Find your RAID 0 device failed? It is possible to fulfill RAID 0 recovery on your computer. WorkinTool Data Recovery is a handy and efficient RAID 0 data recovery software for Windows. It is :
🔸 Free to recover 500 MB of data
🔸 Quickly and deep scan hard drives
🔸 High RAID 0 data recovery success rate
🔸 100% safe to install and use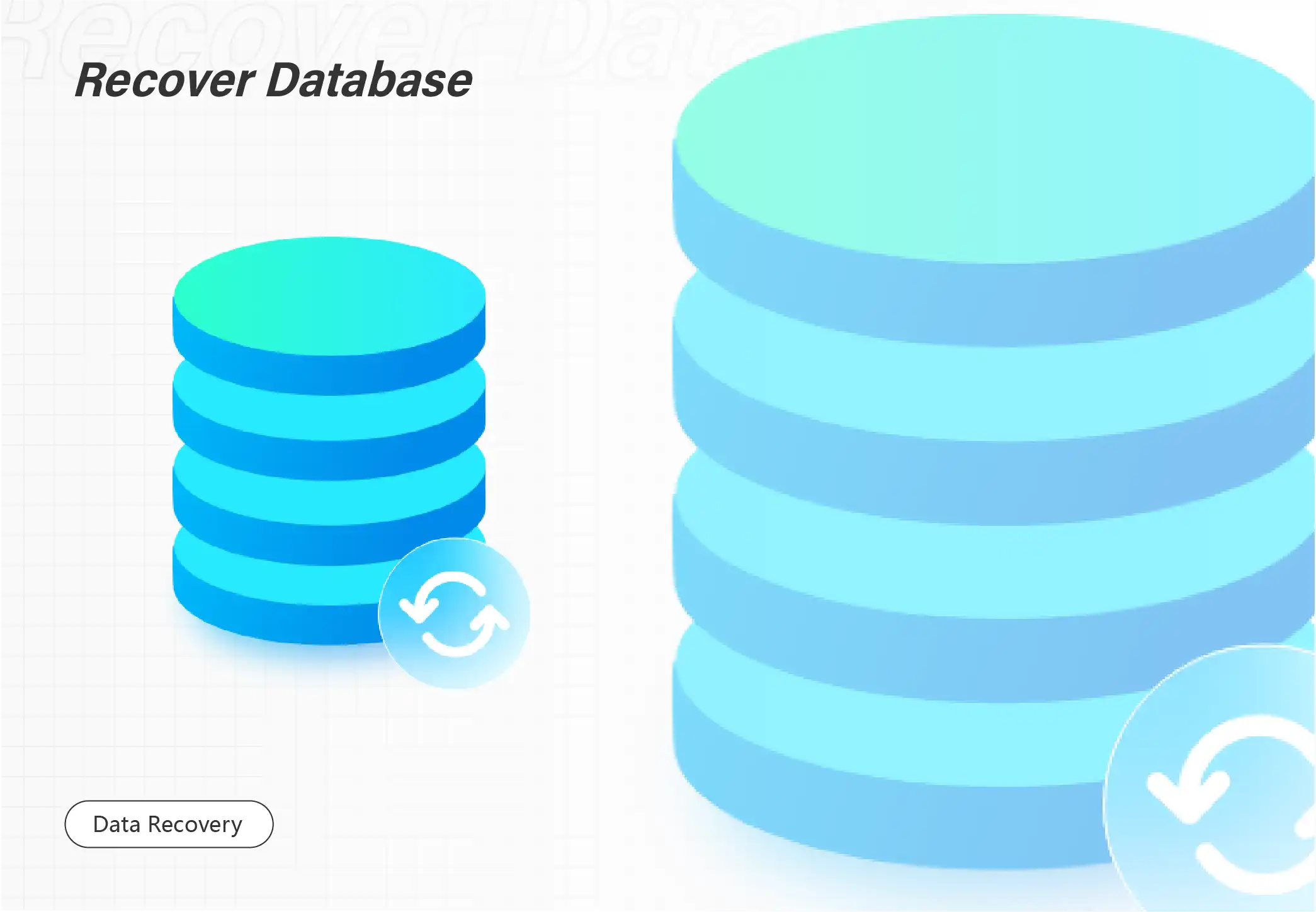 Raid 0 Data Recovery – Easy Ways to Recover Data in Raid 0
Found the RAID 0 storage device on your computer not working anymore? Take it easy if you preserve critical data in it. Here we will provide you with effective ways to manage to RAID 0 data recovery. With the professional and easy-to-use RAID recovery tool below, you can successfully and effortlessly recover data from a failed RAID 0.
🤔 What is RAID 0
RAID is the abbreviation of the Redundant Array of Independent Disks. It is a redundant array composed of multiple hard disks. Although RAID includes multiple hard disks, it appears as an independent large storage device under the operating system. RAID 0 is one of the RAID levels. Level 0 RAID has the best performance for requests with large amounts of data: the larger the amount of data, the better the performance. There are three main benefits of using RAID 0 technology in storage systems:
Provide disk spanning function by organizing multiple disks together as a logical volume
Divide data into multiple data blocks and write/read multiple disks in parallel to improve the speed of disk access
Provide fault tolerance through mirroring or verification operations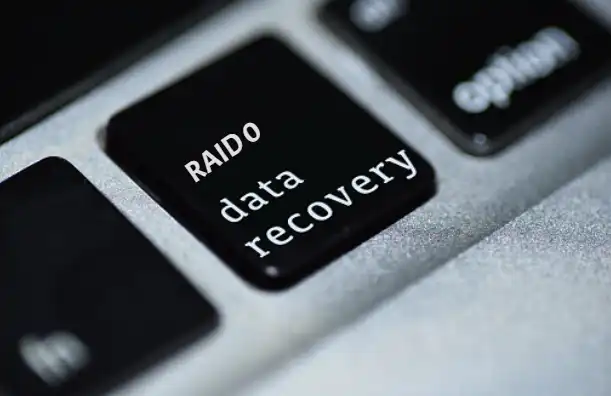 When Do We Need RAID 0 Data Recovery
The disadvantage of RAID 0 is that it does not provide data redundancy, so once user data is damaged, the damaged data cannot be directly recovered. When RAID0 is running, as long as any one of the hard disks has a problem, the entire data will fail. Many cases will cause a Raid 0 drive fail, such as inaccessible RAID 0 drives, hard drive failure, broken structure in a RAID 0 device, etc. When RAID 0 fails, we may lose critical data on it. Therefore, we must fulfill RAID 0 Recovery immediately to avoid data loss.
🎯 How to Recover Data from RAID 0
Actually, the specific RAID 0 recovery services are expensive and time-consuming. Data recovery software may be a better solution if you want to fix the failed RAID 0 and recover data from it at home at a relatively low expense. Among the various RAID 0 data recovery software, WorkinTool Data Recovery deserves your trust.
It is a powerful and simple-to-use data recovery software suitable for both professionals and beginners. With its clear navigation toolbars, new users without any data recovery experience can operate this software directly. In addition, it brings a great result in RAID 0 data recovery. It can fulfill nearly 99% of the data recovery success rate. Apart from that, WorkinTool also performs well in data recovery speed. Its quick scan feature can help you scan and recover hard drives within seconds. This software is now compatible with the Windows system. It is entirely safe to install and use. No viruses or malicious programs will occur during the downloading and installing courses. Moreover, to use the software, you don't have to log in with any account. Your personal data is guaranteed. If you are a Windows user, install it and give it a try.
Recover data from a failed RAID without effort

Free to recover 500 MB of data
Quickly and deep scan hard drives
High RAID 0 data recovery success rate
100% safe to install and use
Easy and friendly for beginners to use
No watermarks to export recovered data

💲 Pricing:

Free version to recover 500 MB of files
Pro version to retrieve unlimited data

$29.99/month, $39.99/year, $49.99 for lifetime use
How to fulfill RAID 0 data recovery with WorkinTool Data Recovery
Step1. Install RAID 0 data recovery software
Download the WorkinTool Data Recovery software and open it on your PC. Then pick Disk & Partition Recovery on its first user interface.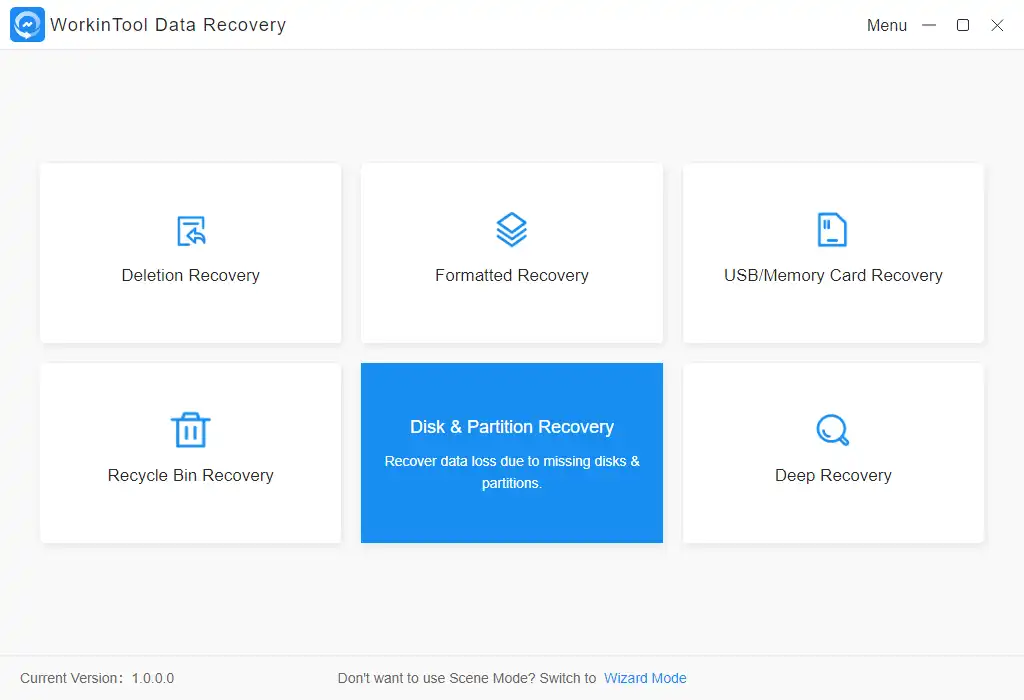 Step2. Scan data from the failed RAID 0
Select the failed drive and click Find Partition. Then pick the related drive to scan.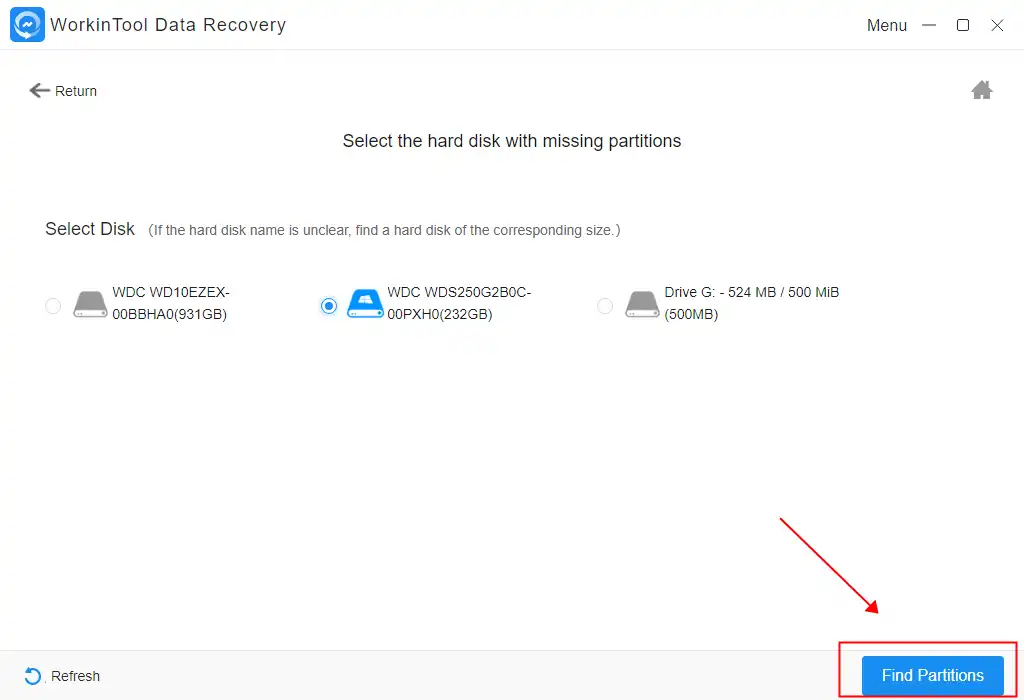 Step3. Recover Data from RAID 0
After seconds, you can get all the scanned files on the hard drive. Then select the critical data and press Recover. And then, select a new folder to save the recovered data to your PC.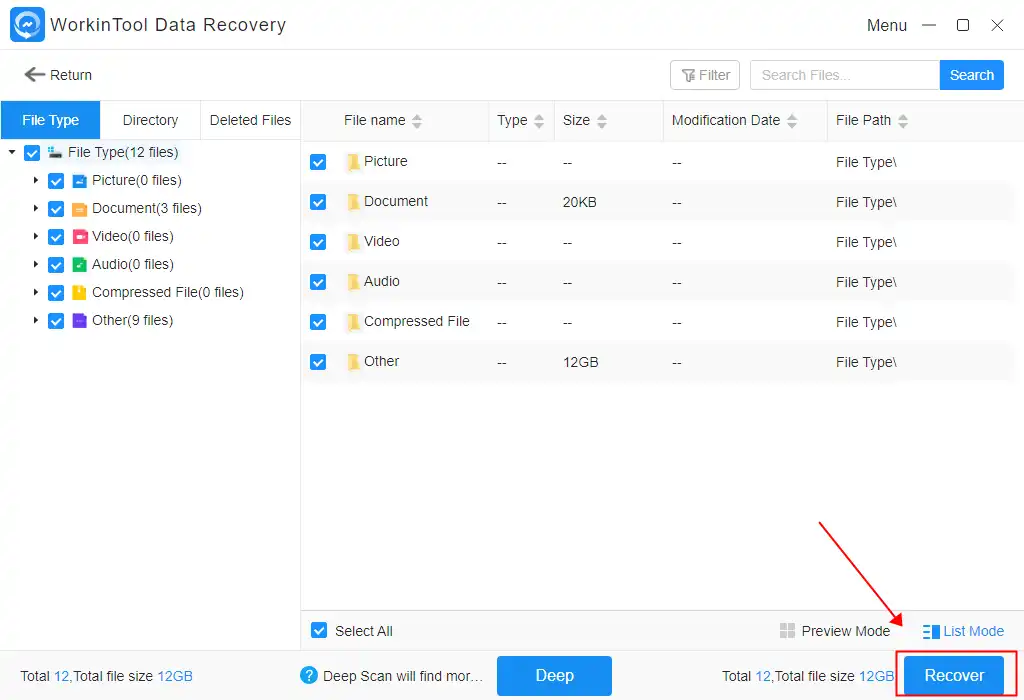 📋 Note: Suppose you want to fix the failed RAID directly, rebuild the RAID 0 drives, and then drag the recovered data to it again. In this way, you can succeed in RAID 0 recovery.
More Data Recovery Solutions in WorkinTool Data Recovery
💬 FAQs on RAID 0 Data Recovery
🚀 What happens if RAID 0 fails?
RAID 0 won't provide data protection features. It contains multiple drives to store data. Once a single disk fails, the entire RAID won't work as well. There is a risk of losing important data when RAID 0 fails.
🚀 Can RAID 0 data be recovered?
Yes. Data from a failed RAID 0 can be recovered with professional RAID 0 data recovery software. First, you need to use special data recovery software to restore and back up significant data; then, you must delete the disk array, replace the failed disk, and finally rebuild the disk array.
🚀 How to rebuild RAID 0 without losing data?
If RAID 0 fails, you are supposed to back up the data in it in the first place. Try using data recovery software to retrieve data from RAID 0 and save that data on your computer to avoid data loss. Then Prepare the array> Connect it to the Controller> Recover Array Parameters> Rebuild New Array> Write Data to New Array>Copy recovered Data Back to the RAID 0. This way, you can fix the failed RAID 0 without losing data.
Wrapping Up
RAID 0 is extremely vulnerable to corruption and loss of data. In addition, RAID 0 will not back up the saved data, which makes RAID 0 data recovery more difficult to achieve. But don't worry. Use professional data recovery software, such as WorkinTool, and you can recover data from a failed RAID as much as possible. The software now provides a free trial version to access. Have a try to recover essential data from your RAID 0 right now.