How to Recover Deleted Files from Antivirus in Windows
Nowadays, the installation of antivirus software is now an essential process. While scanning your computer or other devices and clearing the virus in it, your antivirus program will sometimes remove your virus-free files by mistake. What can you do when file loss happens after an antivirus scan? Please don't worry as you've found us. Today, we are here to help you by introducing you to how to recover deleted files from antivirus in Windows. We will present you with the methods with and without software. The software recommended here is WorkinTool Data Recovery since it is:
💖500MB of the free recovery capacity
🧡Temporarily and permanently deleted data recoverable
💛High recovery rate
💚Easy to use
💙Multiple file formats supported
💜Batch recovery available
💝Partition recovery possible
How to Recover Deleted Files from Antivirus in Windows [2022 FREE Solutions]
The installation of antivirus software is now an essential process since it is designed to prevent, search for, detect, and remove software viruses and other malicious software like worms, trojans, adware, and more. While scanning your computer, USB drive, SD card, external hard drive or other devices and clearing the virus in it, your antivirus program will sometimes remove your virus-free files by mistake as it detects that there is a threat there. What can you do when file loss happens after an antivirus scan? Please don't worry as you've found us. Today, we are here to help you by introducing you to how to recover deleted files from antivirus in Windows. All the solutions here prove to be practical and FREE.
Now, let's start our discussion.
---
Words Before File Recovery Following Antivirus Deletion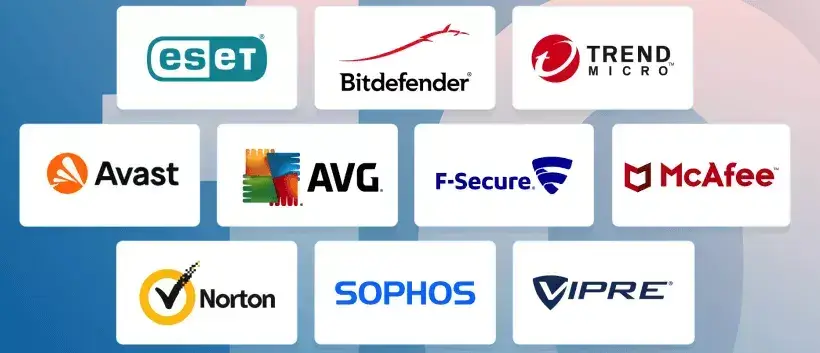 📌Why do you lose your files after an antivirus scan?
Antivirus software, however intelligent it may be, still uses machine recognition and a list of known data to determine whether your files are infected with a virus. Therefore, it will periodically scan your PC to detect any virus-related threat. Even if the algorithms it adopts are usually excellent, sometimes they mistakenly believe some of your folders or files are virus-infected.
This phenomenon is particularly true when files like .exe are downloaded. Although these files are actually virus-free, antivirus software might believe they are a type of cyber attack and aim to quarantine or delete the files.
Moreover, if your system has, in fact, been infected with a virus or other form of malware, the antivirus may inadvertently delete some personal files when eliminating the threat. This is especially common if the virus has tried to replicate itself in other programs and documents.
📌Is it possible to recover deleted files from antivirus?
The answer is affirmative. When the antivirus removes the files deemed virus-infected, the program will usually aim for one of two things: permanent deletion or temporary quarantine. If the files are subjected to quarantine, they are placed into a secure folder and can be restored easily.
However, even if your files are permanently erased, their data are virtually stored somewhere on your computer though they are invisible and inaccessible. They are waiting to be rewritten by the new data in your system. Therefore, when a permanent deletion occurs, you must stop using your computer to prevent it from overwriting and try all the methods mentioned below to get back your eliminated files.
Please read on to learn all the solutions with and without software.
---
How to Recover Deleted Files from Antivirus with Software
When your personal files are deleted by antivirus program, the easiest and most guaranteed way is to resort to data recovery software, which applies to the contexts of both temporary quarantine and permanent deletion. Also, most software is far from challenging to operate, so you don't have to be tech-savvy to try it. Today, we will present you with a useful and new tool like this–WorkinTool Data Recovery.

How to Recover Deleted Files from Antivirus Using WorkinTool Data Recovery?
Step 1. Open the program and select a scene for recovery.
(The default opening interface will be Wizard. However, you can switch it to Scene Mode by clicking the relevant button at the bottom.)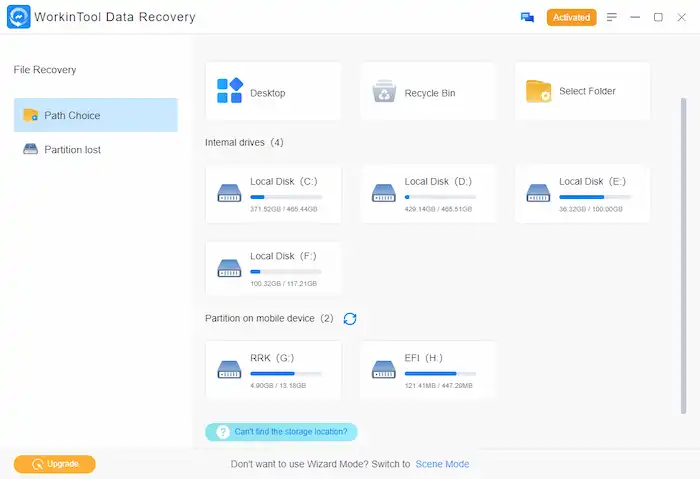 WorkinTool Recovery Scenarios
Deletion Recovery: It enables you to recover the files deleted by antivirus on your PC or laptop.
Format Recovery: It allows you to get back the files or folders formatted by antivirus from your computer, disk partitions, SD cards, etc.
USB/Memory Card Recovery: Bring back the disappeared file caused by antivirus from mobile devices like USB, HDD, memory card and more.
Recycle Bin Recovery: Quickly and precisely retrieve and recover the files erased or cleared from the Recycle Bin.
Disk Partition Recovery: Effectively repair file loss due to missing disk partitions.
Deep Recovery: A more complete and time-consuming search mode will be adopted to find the vanished files triggered by antivirus in order to maximize the recovered data. It is quite suitable for getting permanently deleted files from the antivirus back.
Step 2. Choose a location for recovery and then click Scan Now.
(Tick all the disks if you are unsure where they are missing.)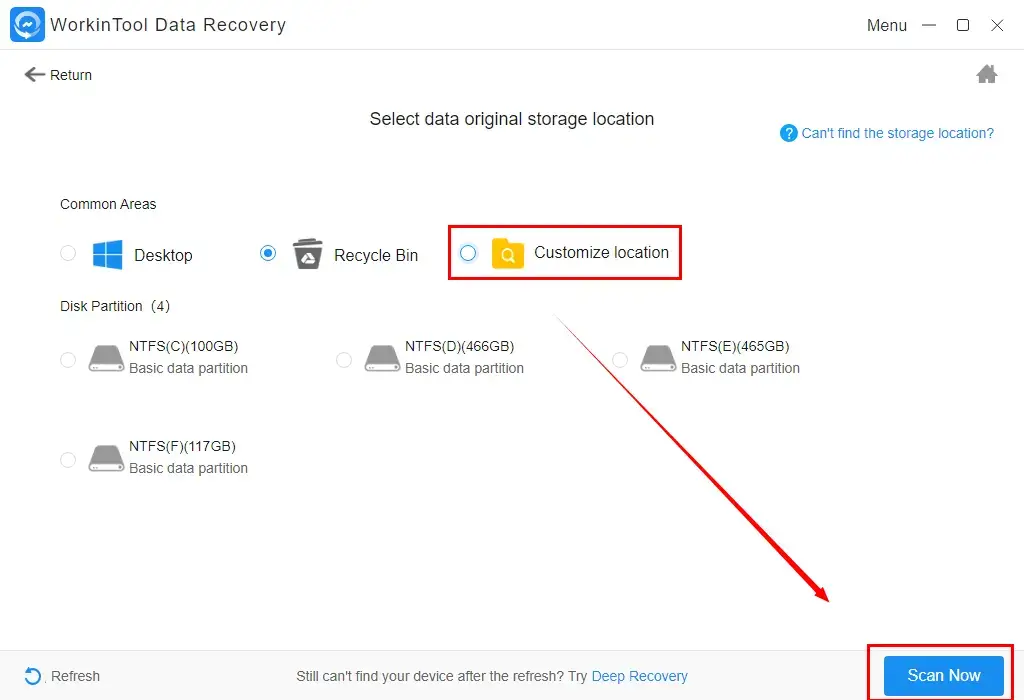 Step 3. Two methods are available for file recovery caused by antivirus:
Method 1: Find Deleted Files, tick all the folders or files in the chosen folder and then hit Recover.
Method 2: Navigate to Filter > the desired file type(s) > Sure > Recover.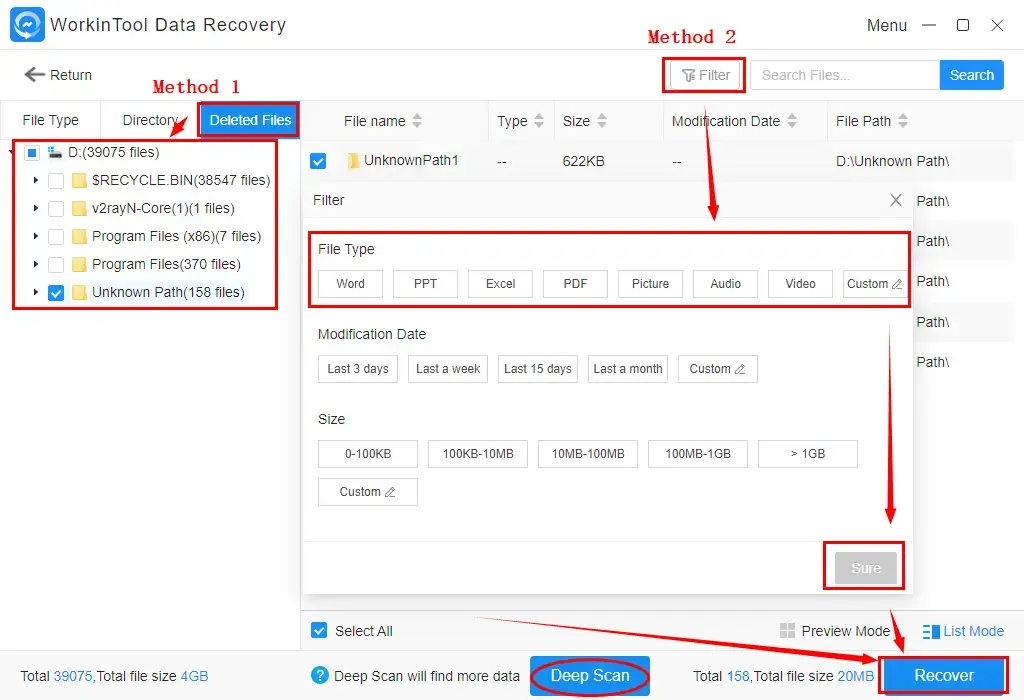 A deep scan is available if you are unsatisfied with the current outcomes. It is exceedingly suitable for retrieving permanently deleted files from the antivirus on your PC or laptop. This mode will prompt the software to scan your computer deeper and bring back more removed files. However, it will be time-consuming, so please be patient.
Step 4. Check all the options (a process required if you choose Method 2), set the save path as you like and then click Sure.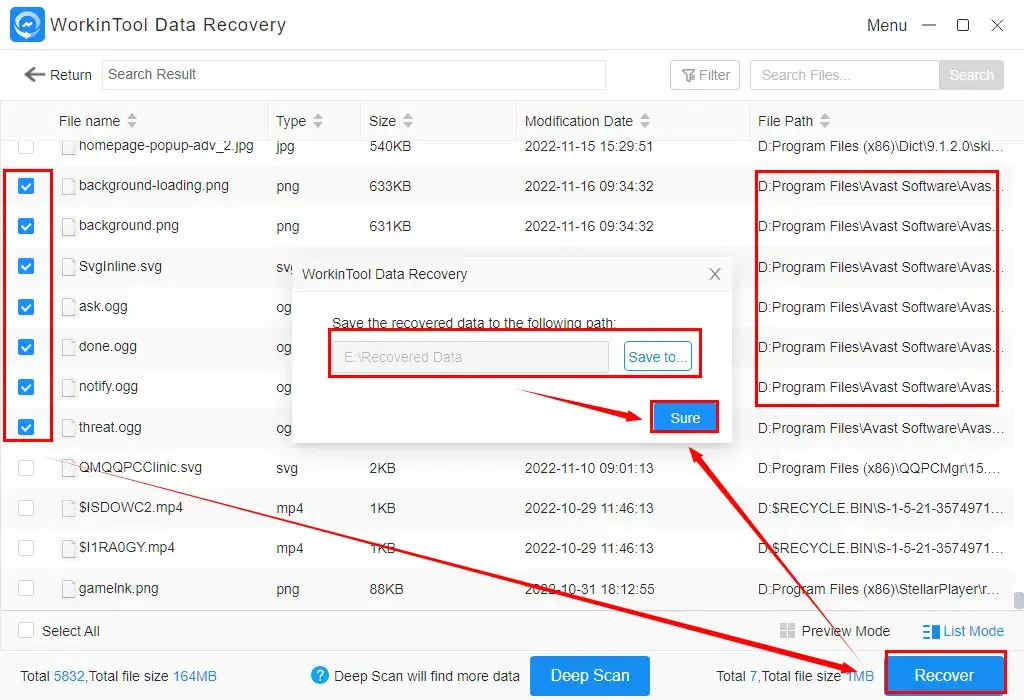 Step 5. Hit Open to lead you to the recovered files eliminated by the antivirus program.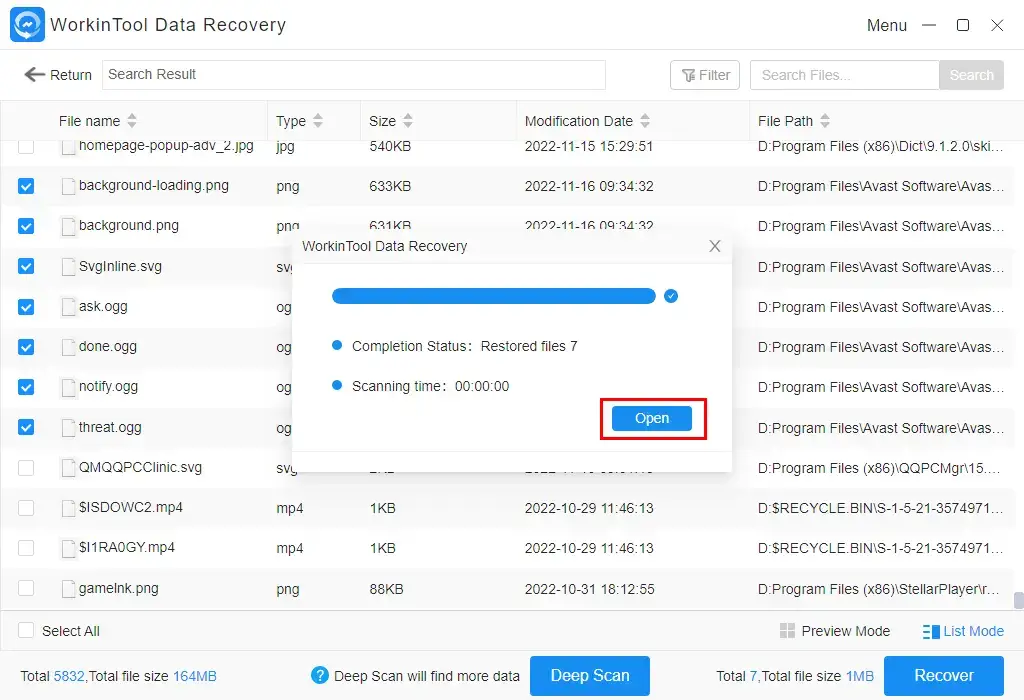 The Outcome

Something More to Say
💡Why should you choose WorkinTool Data Recovery?
WorkinTool Data Recovery is a new but crucial member of the WorkinTool product family. It captures the users' minds instantly through the following features:
Easy to use: For most of its recovery features, WorkinTool takes you approximately five steps to recover all the desired files or data.
Multiple Formats: WorkinTool can bring back all the common files or data in your computer, including office documents, PDF files, audio, videos, E-mails, archives and other essential files.
Batch Recovery: WorkinTool allows you to recover unlimited data in batches, effectively enhancing your working efficiency.
Partition Recovery: As a piece of free partition recovery software, it is simple to get back the deleted files as a result of missing disk partitions.
Cost-Effective: Users can restore 500MB of files for free. Moreover, its Pro plans are cost-effective for one-click unlock and unlimited recovery.

💡What types of files can WorkinTool Data Recovery recover from antivirus?
---
How to Retrieve Files Deleted by Antivirus Without Software
If it genuinely bothers you to download and install a third-party tool, you can turn to the following solutions for help.
1. Restore Files Removed by Antivirus with Command Prompt
Command Prompt is a built-in recovery programming service in Windows. You may find your erased files from the antivirus by way of this command. Here is what you need to do:
1). Type cmd in the search box at the bottom to activate Command Prompt.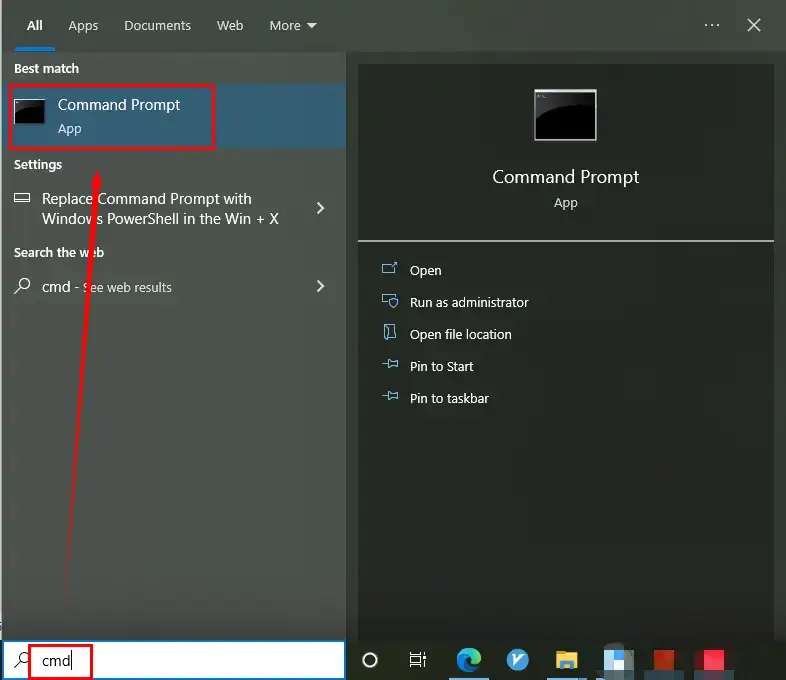 2). Enter the command: attrib -h -r -s /s /d DRIVELETTER:*.* into the pop-up window.
(For example, attrib -h -r -s /s /d E:*.* to retrieve lost files in drive E.)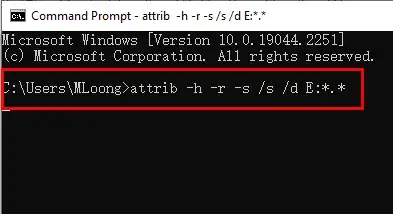 📣Reminder
Please STOP USING your computer to prevent new data from rewriting your old ones before using this method.
2. Retrieve Files Eliminated by Antivirus Using Quarantine Feature
Quarantine refers to the folder that every antivirus tool uses to isolate files infected with viruses. If some of your files are erased by your antivirus software, they may be placed in a secure folder for quarantine instead of suffering from actual deletion.
The methods for accessing these folders will be different based on the antivirus program in use. You can check the specific steps offered by the official documentation of your antivirus. Here, we take the globally popular product-Avast as an example.
1). Navigate to Protection > Quarantine.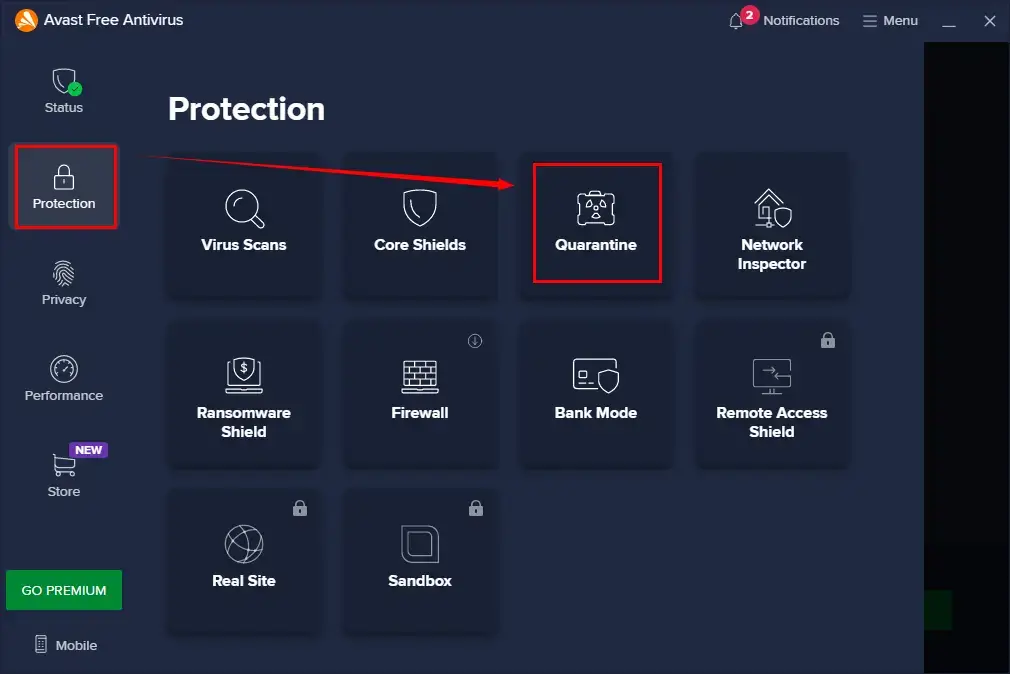 2). Locate the deleted file and then click the three-dot icon to open a pop-up menu.
3). Hit Restore to get it back.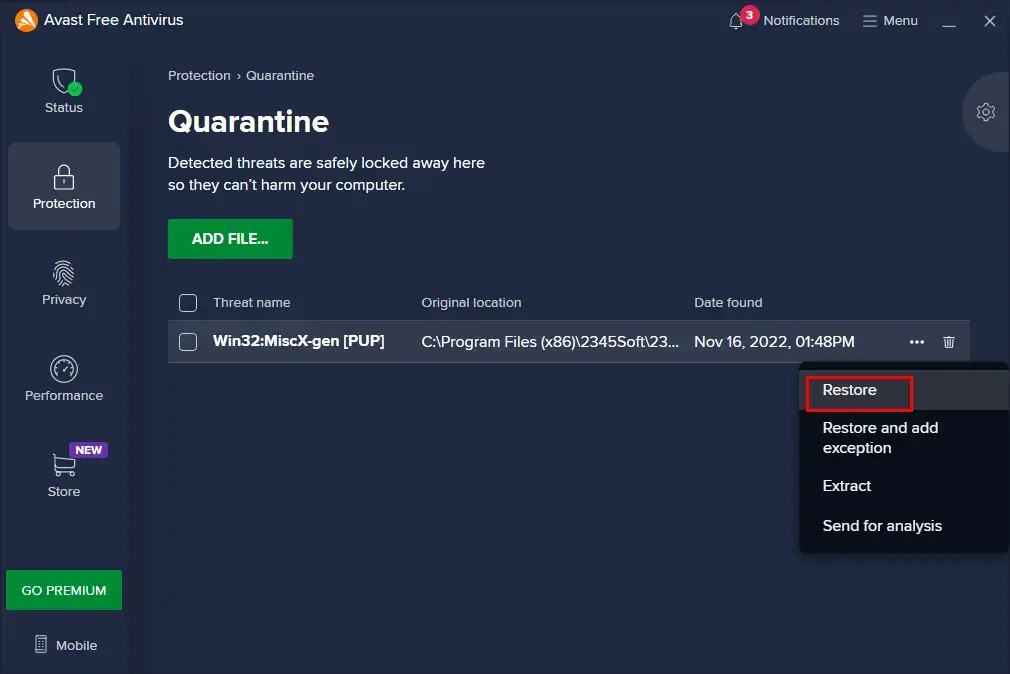 📢Attention
This method helps to bring back the deleted files in quarantine only.
---
Additional Words Beyond File Recovery Following Antivirus Deletion
📕Can I protect my computer from virus attacks without software in Windows?
Yes. The built-in feature is Microsoft Defender. You can turn on the virus protection feature in Windows by following the steps as follows:
1. Type Windows Security in the search box at the bottom to lead you to this feature.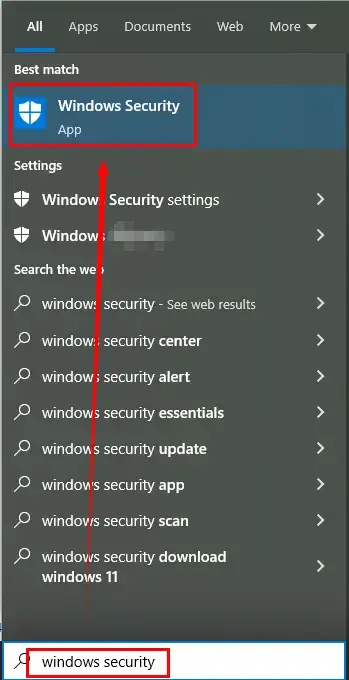 2. Find Virus & Threat Protection.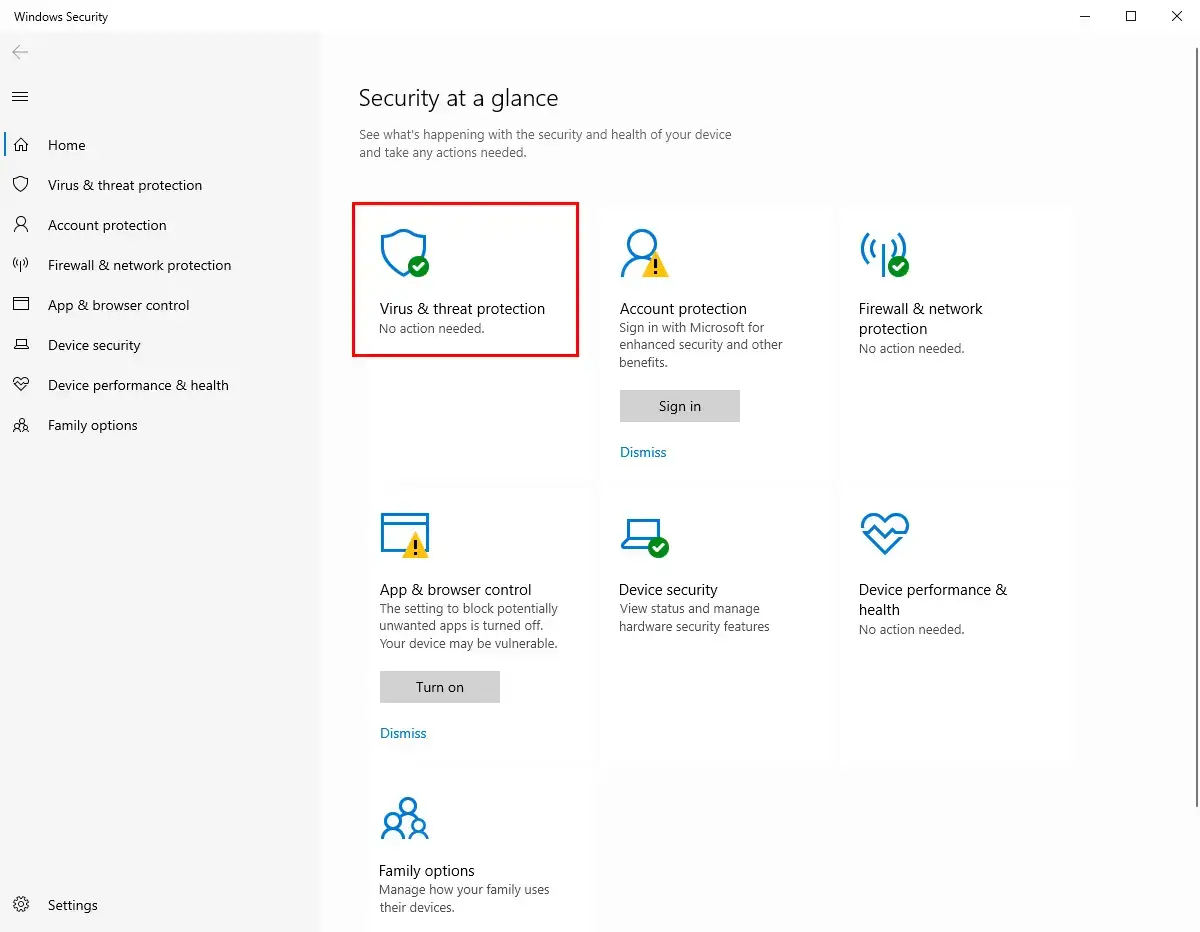 3. Locate Microsoft Defender and then click Turn on.

You can also restore quarantined files from Microsoft Defender.
---
Final Words
That is all about how to recover deleted files from antivirus in Windows. We sincerely hope that you can pinpoint an ideal solution. However, it is strongly advisable to try WorkinTool Data Recovery.
Now, are you ready to recover files deleted by antivirus?