How to Recover Deleted Files from Dropbox in Windows
It will be a pain in the neck without fail when all your important files vanish in your Dropbox. What should you do? Please don't worry because there is always a way to help you out. Today, we will discuss how to recover deleted files from Dropbox in Windows. All the solutions mentioned prove to be practical, effective and simple. You will read the following topics: How to Recover Temporarily Deleted Files from Dropbox in Windows (the Deleted files folder, the feature-Show deleted files and the paid feature-Dropbox Rewind) and how to Recover Permanently Deleted Files from Dropbox in Windows (Data recovery software-WorkinTool Data Recovery). It is strongly advisable to try the latter method as it is:
💖100% FREE and green
🧡Temporarily and permanently deleted data recoverable
💛99.9% recovery rate
💚Easy to use
💙Multiple file formats supported
💜Batch recovery available
💝Partition recovery possible
🤎 Temporary and permanent file deletion recoverable
How to Recover Deleted Files from Dropbox in Windows [2022 Proven Solutions]
Dropbox, as a file hosting service designed for cloud storage and file synchronization, has definitely been one of the most frequently used online drive services worldwide. Therefore, plenty of your important files, such as business proposals, work reports or school project presentations, if this is your chosen service. As a result, it will be a pain in the neck without fail when these files vanish in your Dropbox. What should you do? Please don't worry because there is always a way to help you out. Today, we will discuss how to recover deleted files from Dropbox in Windows. All the solutions mentioned prove to be practical, effective and simple.
Now, let's start our journey.
---
Before Your Deleted Dropbox File Recovery
📌Why do I lose my files in Dropbox?
Here are some common reasons for file loss in Dropbox:
Internet Connection Failure
Inadvertent Deletion
System Breakdown
Hard Drive Damage
Virus Attack
You can have a quick check first by yourself on basis of the reasons listed above.
📌How long does Dropbox keep my deleted files and information?
For Dropbox Basic, Plus, and Family users (free version), it will be 30 days.
For Dropbox Professional and Business users (paid service), it will be 180 days.
📌Is it possible to recover deleted files from Dropbox?
The answer is affirmative. When deletion takes place in Dropbox, your files will first be moved to its trash bin for 30 days so it will be easy for you to restore them. Even if they become invisible and inaccessible in it, their data are stored somewhere. With proper recovery approaches, your files can be recoverable. However, when file loss happens, you'd better STOP USING your computer anymore to avoid the further overwriting of your previous data. Or else your file recovery from Dropbox will be more challenging.
So how can I retrieve my deleted files in Dropbox? Please read on to learn the specific solutions introduced in the following topics:
How to Recover Temporarily Deleted Files from Dropbox in Windows?
How to Recover Permanently Deleted Files from Dropbox in Windows?
Now, let's move on to the main issue.
---
How to Recover Temporarily Deleted Files from Dropbox in Windows
In this chapter, we will present you with three proven ways to recover temporarily deleted files from Dropbox.
1. Restore Temporarily Removed Files from Dropbox in the Deleted files folder
As mentioned above, the first destination of all your lost files from Dropbox will be its version of the trash bin–Deleted files. Hence, the priority should be checking this folder when any file deletion occurs. Here is what you need to do:
Open Dropbox and find the Deleted files folder on the left sidebar.
Then locate and select all the files to recover.
Click Restore to get all your deleted files back.

📣Attention
This method only works when
You don't click the Permanently delete tab.
The 30-day deadline doesn't exceed.
2. Retrieve Temporarily Lost Files from Dropbox Through the Feature-Show Deleted Files
Another way to find and restore your lost files in Dropbox is to make them visible in its file list and search for them one by one. Please read the following guidance:
1). Open the drive and then click All files.
2). Navigate to the three-horizontal-dot icon > Show deleted files.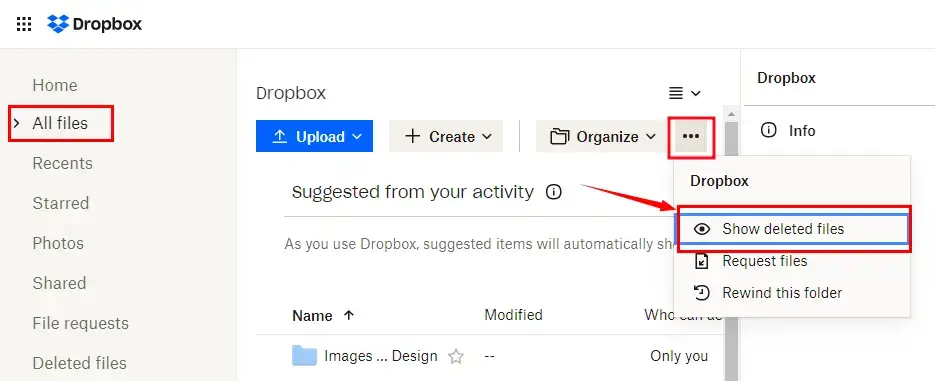 3). The deleted files will be visible in your file list or you can use the search box to locate them quickly.


4). Select the lost files and then hit Restore in the upper toolbar.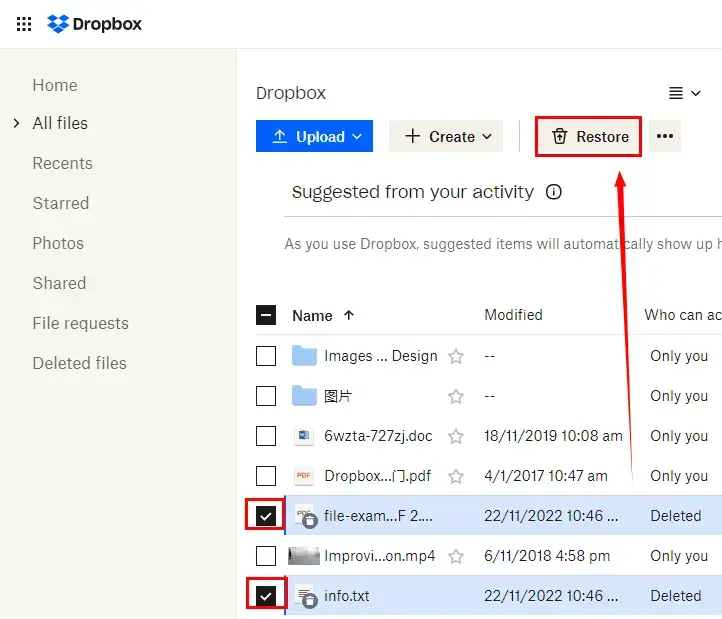 📢Reminder
The same rules of the first method apply to this one in order to make it work.
3. Recover Temporarily Erased Files from Dropbox using the feature-Rewind this folder
Dropbox is equipped with a feature called Rewind this folder, which is equivalent to a recovery tool since it reverses deletion action. This feature brings your folder or account back to a previous stage before you encountered data loss. It undoes the following things, such as recent file editing and name changing as well as any new addition to and any deletion from the folder. Rewind allows Dropbox to restore the folder to a previous version.
📣Important: Dropbox Rewind is unavailable to free users and now becomes a paid service open to service purchasers or Dropbox Plus, Professional, and Business subscribers only.
Here is the instruction:
Step 1. Open Dropbox and then press the All files tab.
Step 2. Click the three-horizontal-dot icon and then choose Rewind this folder.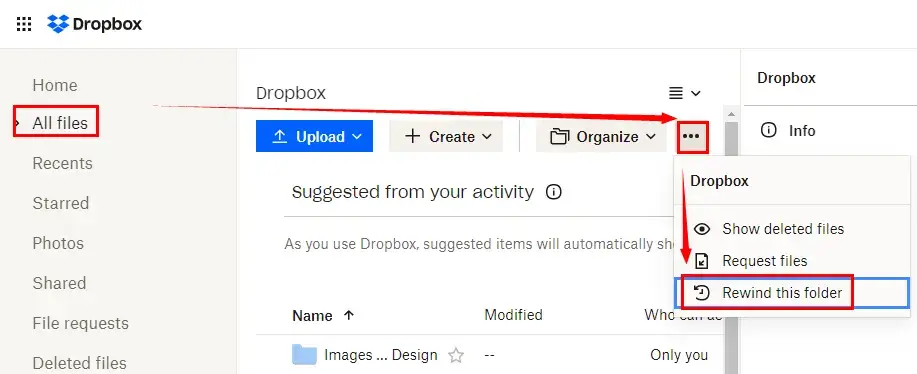 Step 3. Then hit the Get Rewind button on the right pop-up window.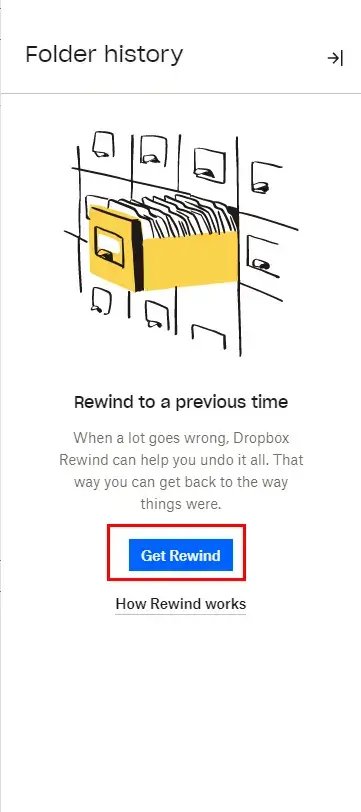 Step 4. Click on the graph to select a day and then hit Continue on a new screen opened after the above operation.
( It is recommended to pick a day prior to the unfortunate event taking place.)
Step 5. Locate the changes that you intend to undo from the Fine tune list and then click the blue line below it.
Step 6. Then hit Continue > Rewind.
(You will get an email once the rewind process gets completed.)
So how can I recover permanently deleted files from Dropbox for FREE in Windows? Please continue your reading to know the answer.
---
How to Recover Permanently Deleted Files from Dropbox in Windows
Data recovery software will be the most guaranteed way to restore a large number of your permanently eliminated files. Furthermore, you don't have to be tech-savvy to try a tool like this since it is easy to operate. Today, we will introduce you to a useful and helpful program–WorkinTool Data Recovery.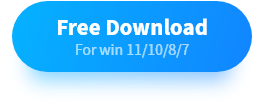 📕How to recover permanently deleted files from Dropbox with WorkinTool Data Recovery?
Step 1. Open WorkinTool Data Recovery and then pick a scene for recovery (Here, deep recovery is recommended.).
(The default opening interface will be Scene Mode and you can switch it to Wizard Mode by clicking the button at the bottom.)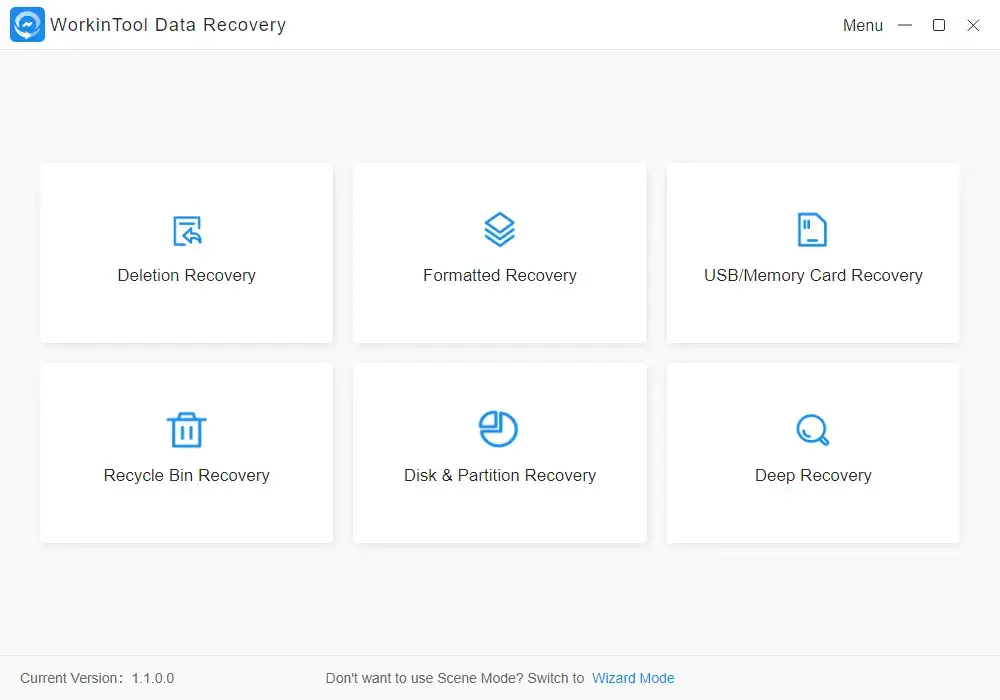 Deletion Recovery: It enables you to recover the Dropbox files deleted or lost on your PC or laptop.
Format Recovery: It allows you to get back the erased Dropbox files from your formatted PC folders, disk partitions, SD cards, etc.
USB/Memory Card Recovery: Bring back the disappeared Dropbox files from mobile devices like USB, HDD, memory card and more.
Recycle Bin Recovery: Quickly and precisely retrieve and recover the Dropbox files removed or cleared from the Recycle Bin.
Disk Partition Recovery: Effectively repair Dropbox file loss due to missing disk partitions.
Deep Recovery: A more complete and time-consuming search mode will be adopted to find the vanished Dropbox files in order to maximize the recovered data. It is quite suitable for getting permanently deleted files back.
Step 2. Choose the location where you think your Dropbox files are deleted and then click Scan Now.
(Tick the whole disk one by one if you are unsure of the exact location.)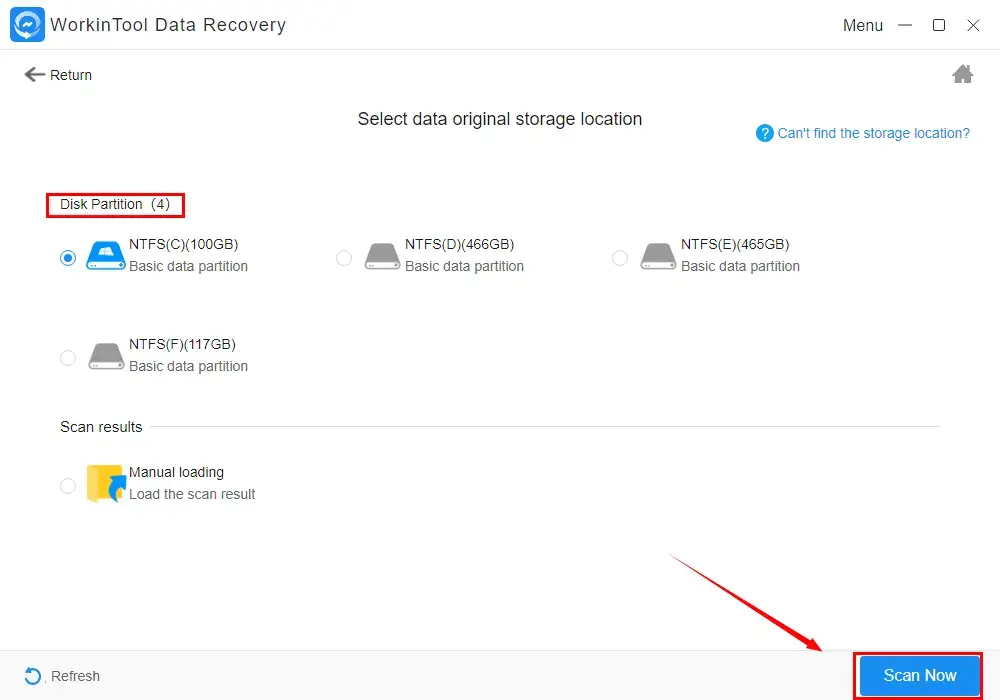 Step 3. Two methods are optional to retrieve your lost recording files:
Method 1. Navigate to Filter > the desired file format > Sure > Recover.
Method 2. Choose the folder that represents the wanted file type, tick all the choices that apply and then hit Recover.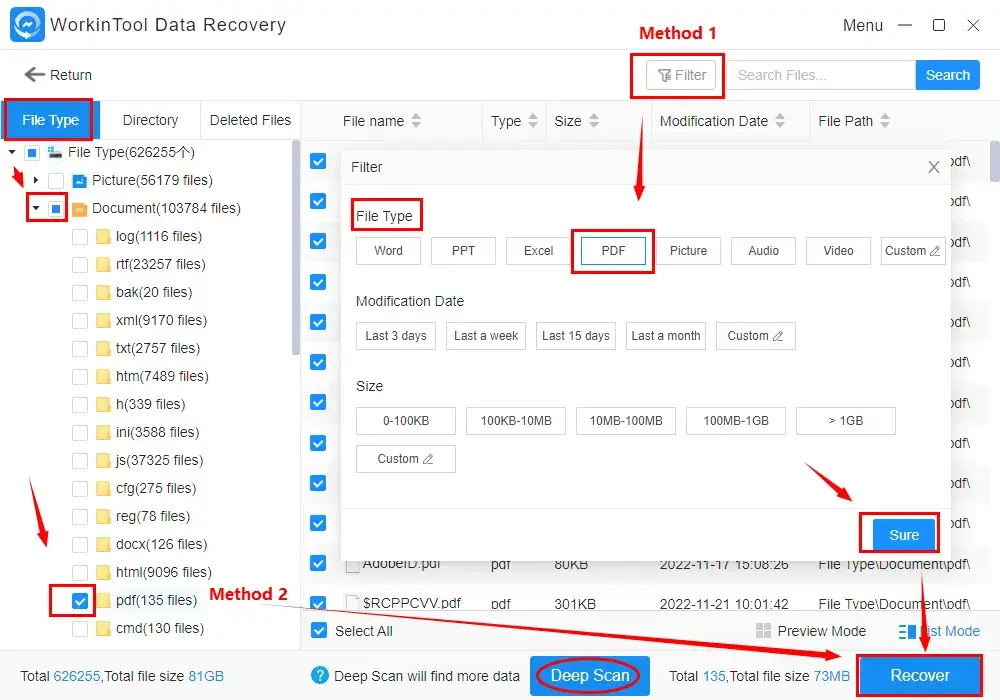 A deep scan is available if you are discontent with the current outcomes. It is exceedingly suitable for retrieving and recovering permanently deleted Dropbox files on your PC or laptop. This mode will prompt the software to scan your computer deeper and bring back more lost files. However, it will be time-consuming, so please be patient.
Step 4. Check all the options, click Recover, then set the save path and hit Sure.
(This step applies to method 1 only. For method 2, the small window that requires you to set up a save path will directly pop up when you click Recover.)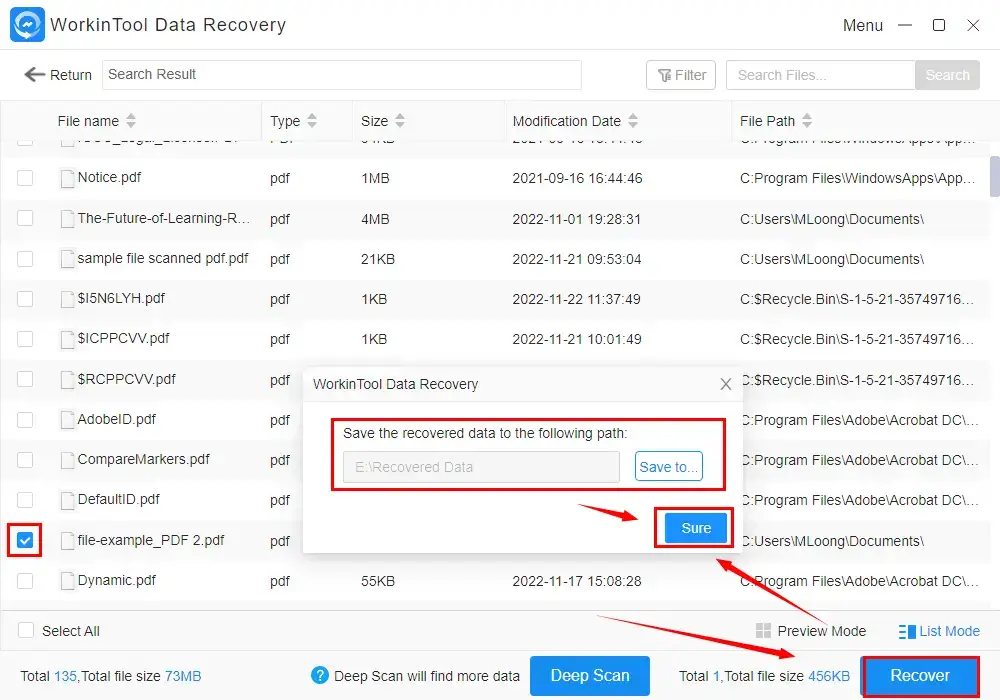 Step 5. Hit Open to get down to the folder containing your deleted Dropbox files.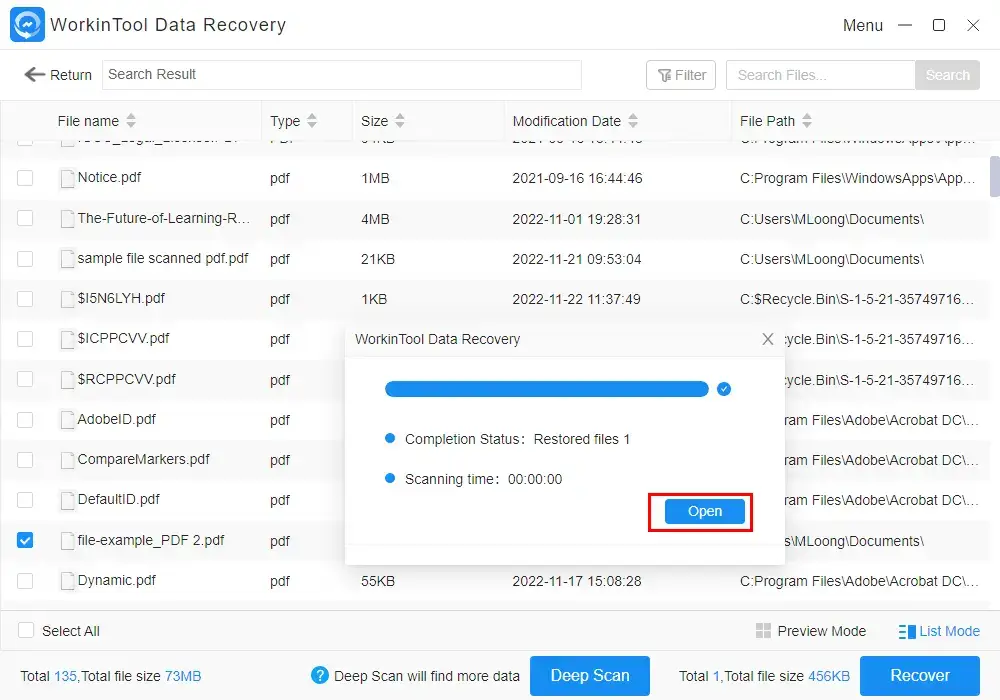 The Outcome

Something More to Say
📝Why should you choose WorkinTool Data Recovery?
WorkinTool Data Recovery is a new but crucial member of the WorkinTool product family. It captures the users' minds instantly through the following features:
Easy to use: For most of its recovery features, approximately five steps will be needed to recover all the desired files or data.
Multiple Formats: WorkinTool can bring back all the common files or data in your computer, including office documents (Word, Excel and PowerPoint), photos, PDF files, audio, videos, emails, ZIP files and other essential ones.
Batch Recovery: WorkinTool allows you to recover unlimited data in batches, effectively enhancing your working efficiency.
Partition Recovery: As a piece of free partition recovery software, it is simple to get back the deleted files as a result of missing disk partitions.
FREE and Green: All the features of WorkinTool Data Recovery are accessible without a license payment and compulsory registration. Meanwhile, though it is freeware, no ads will pop up in your data recovery.

📝What other data can WorkinTool Data Recovery retrieve from a drive or an app?
You can rely on WorkinTool Data Recovery to
---
Beyond Your Deleted Dropbox File Recovery
💡How to upload files to Dropbox?
It is now pretty easy to upload a file to Dropbox. Please follow these steps:
Step 1. Open Dropbox and log in to your account.
Step 2. Click Home and then find Upload to import your file(s) or folder(s).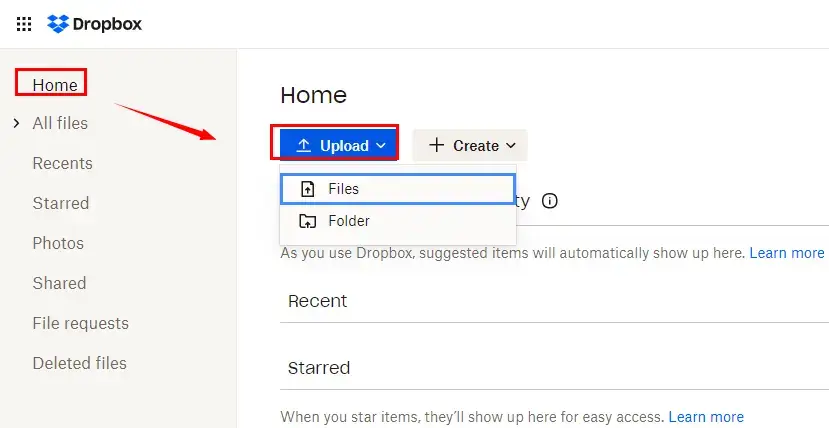 Step 3. Choose the folder in Dropbox to save your new file(s) or folder(s) and then hit Upload.
(They will be stored in the Dropbox interface directly if no folder is selected.)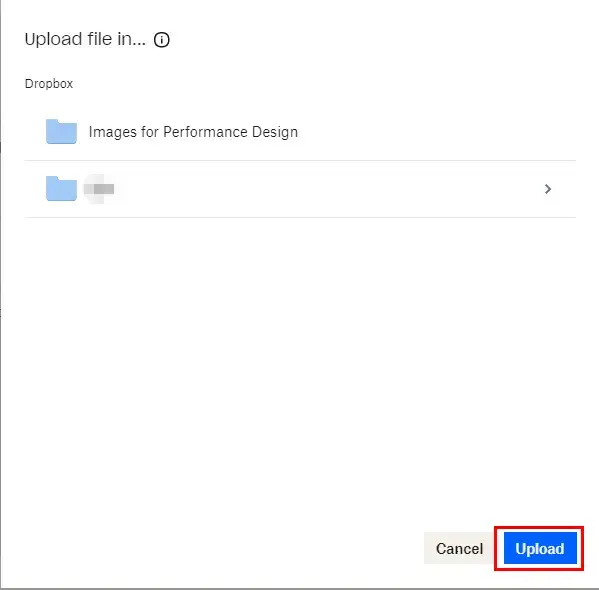 💡How to avoid file loss in Dropbox?
Here is some advice on the prevention of file deletion in Dropbox:
🔑Avoid accidental deletion.
Think before your leap. When deleting a file, you should ensure that you will need it no more.
🔑Don't empty your Deleted files folder too frequently.
Your files are subject to permanent loss if you frequently empty this folder, which adds complexity and difficulty to your Google Drive file recovery.
🔑Use additional backups regularly.
Always resort to a USB or a portable hard drive to back up your files. Also, you can use other online drives like Google Drive or OneDrive.
🔑Install Data Recovery Software.
It is always wise to have data recovery software on your PC to bring back most of your lost files. Here, WorkinTool Data Recovery will be a good choice.
---
Wrapping up
This is our discussion on how to recover deleted files from Dropbox in Windows. It will be as easy as ABC if you find a suitable solution, which is the main purpose of this article. However, it is strongly advisable to try WorkinTool Data Recovery.
Now, are you ready to recover your files deleted from Dropbox?