How to Recover Deleted Files from Google Drive in 2023
What should you do when you lose your files in Google Drive? Please don't worry and rest assured that there is always a way to solve this problem. Today, we will introduce you to five solutions to how to recover deleted files from Google Drive. You will learn how to recover temporarily deleted files from Google Drive–Trash Recovery and how to recover permanently deleted files from Google Drive–G Suite Google Admin Console, Manage Versions service, Google Drive desktop version and data recoverysoftware–WorkinTool Data Recovery. It is strongly advisable to try the last method because it is
💡100% FREE and green
💡Easy to use
💡Multiple file formats supported
💡Batch recovery available
💡Partition recovery possible
How to Recover Deleted Files from Google Drive in 2023 [5 Proven Solutions]
Google Drive, like Apple's iCloud, is an online service presented by Google to store or synchronize your files or data, including documents, images, audio files, videos, etc. The advent of the digital era prompts more people to use this service to keep or back up their files. Therefore, it would be painful if your files vanished in your Google Drive. Well, it is lucky for you to find us if you are looking for some methods of restoring erased files from Google Drive. Today, we will present you with this article that focuses on how to recover deleted files from Google Drive. All the solutions mentioned prove to be simple and effective.
Now, please read on to see our discussion.
---
Words Before Google Drive File Recovery
📌How to upload to Google Drive?
Usually, it takes you three steps to complete your file uploading through Google Drive:
💡Upload a file or a folder:
Open Google Drive.
Find New at the top left and then click File Upload or Folder Upload.
Select the file or folder to upload.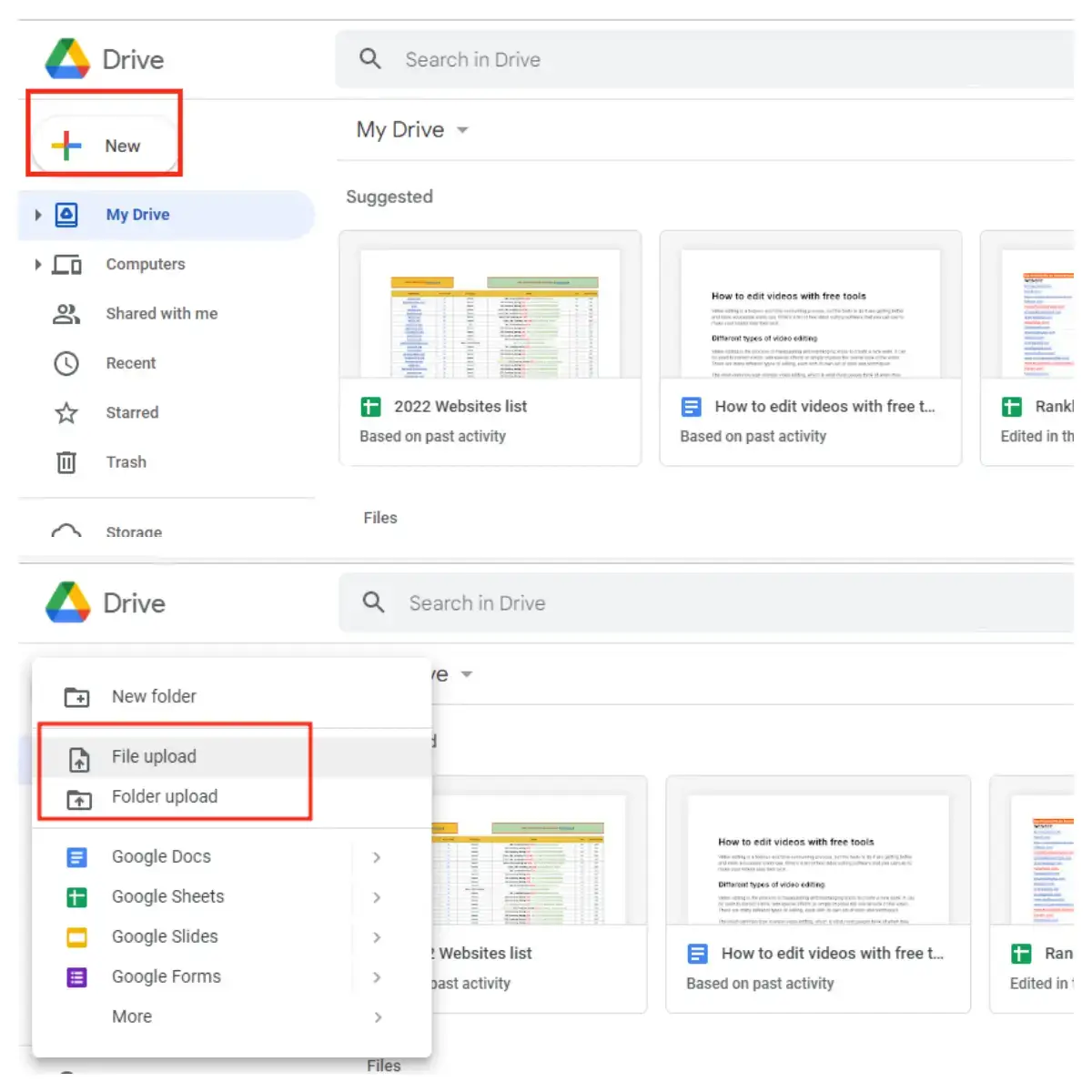 💡Drag a file or a folder to upload:
Follow the aforementioned first step.
Open or create a folder to store your files.
Drag the chosen files on your PC or laptop into the folder.
For more information, you can refer to Google Drive's official instruction-Upload files and folders to Google Drive.
📌Can I recover deleted files from Google Drive?
Well, the answer is affirmative. Generally, the files you deleted from Google Drive will not be removed directly. Trash will be the first destination of all the files you have deleted, which allows them to stay there for 30 days. Only when your files are erased from Trash or you empty it, they will be deleted from Google Drive permanently. Additionally. once a file or folder has been eliminated, it will remain in the Trash area until deleted or until 30 days have passed.
So what can I do when my files are deleted from Google Drive? Please don't worry, as we will recommend five ways to recover deleted files from Google Drive. They will be presented under the themes like:
How to Recover Temporarily Deleted Files from Google Drive?
How to Recover Permanently Deleted Files from Google Drive?
Please continue your reading to learn the specific solutions.
---
How to Recover Temporarily Deleted Files from Google Drive
As mentioned above, all the removed files will be moved to the Trash folder before being subjected to permanent deletion. Hence, it will be easy for you to retrieve your vanished files if this is the case. Here is the instruction.
Open Google Drive and sign in with your Google account.
Click Trash (or Bin in some countries) on the left menu and locate your deleted file(s) in the right column.
Right-click the desired file and then hit Restore.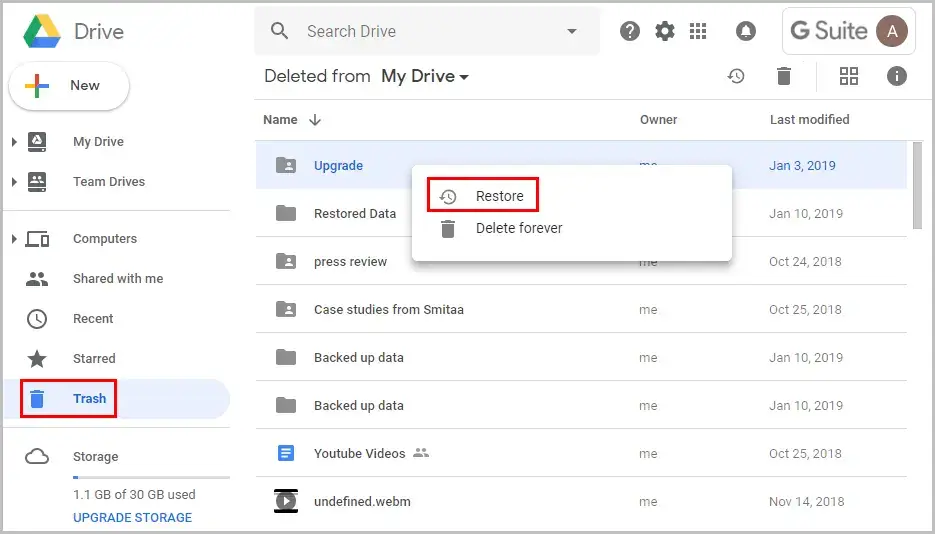 Then, your erased files will be moved to their original place(s). you can go back to have a check.
📣Attention
This method is only effective when
You don't empty your Trash or remove the files in it before its deadline.
The deadline for file storage in Trash–30 days does not exceed.
---
How to Recover Permanently Deleted Files from Google Drive
What if you think the files stored in Google Drive disappear for good? Please rest assured that there is always a way to pull you out of the mud. Here are four ways to recover permanently deleted files from Google Drive.
1. Restore permanently erased files from Google Drive by Google Admin Console
Your permanently lost files are still recoverable from Google Drive if you are a G suite user. Therefore, it means that you can still expect the return of your lost files even after the 30-day deadline for the Trash. Here is what you need to do:
1). Login into the Google Admin Console.
2). Find Users icon and click it.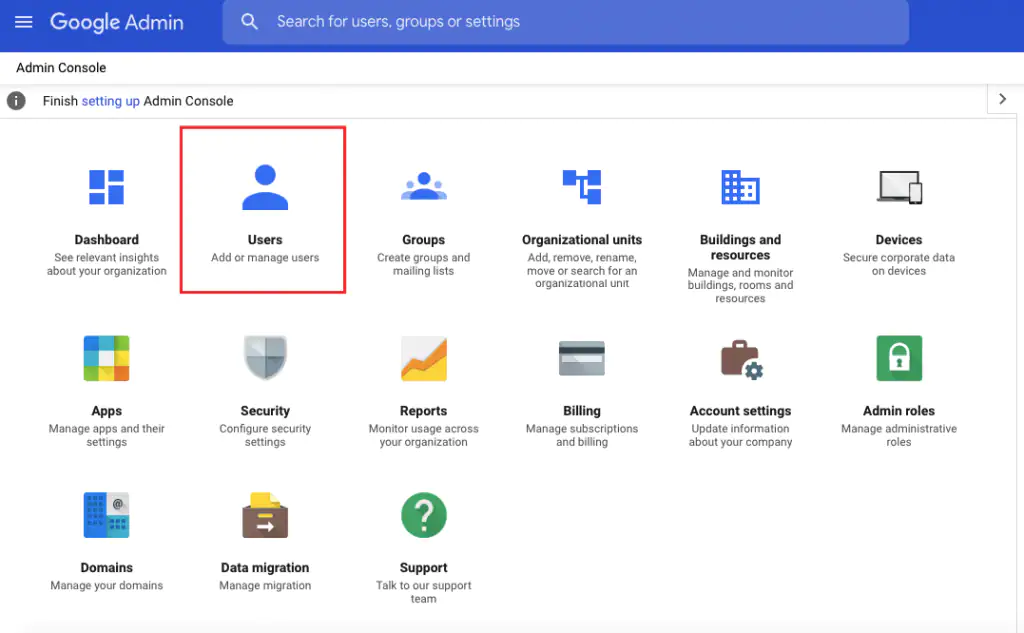 3). Choose the user for which you plan to restore your files.
4). Hit the horizontal-dot icon on the right side.
5). Select the RESTORE DATA option from the pop-up menu.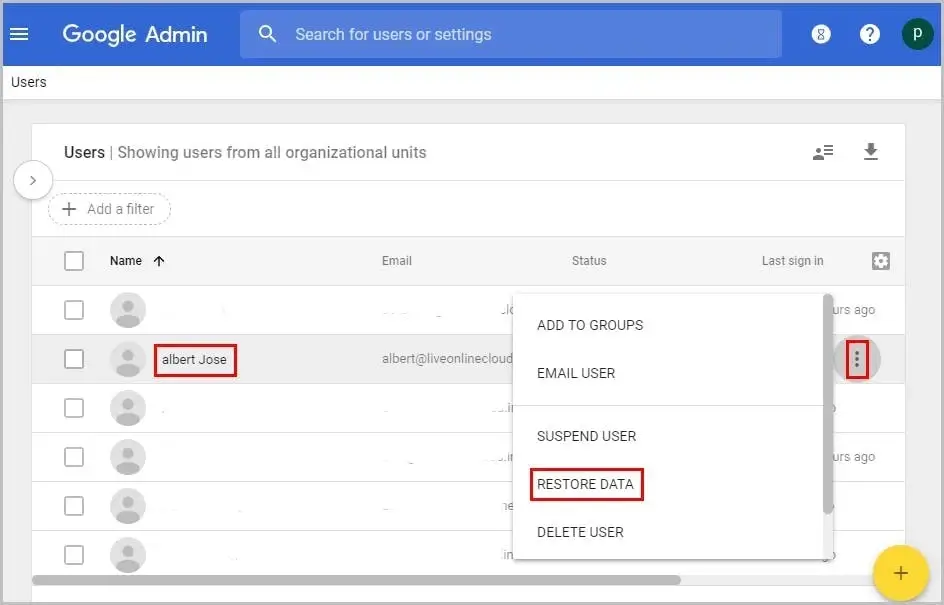 6). Fill in the date choice, choose Drive as the application and then press the Restore tab.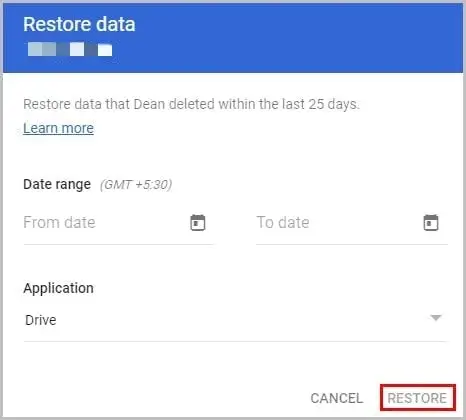 However, this applied to G suite users only.
2. Retrieve permanently lost files from Google Drive using the Manage Versions
Google Drive is equipped with another feature–Manage Versions to recover data that may have been overwritten. When you have an unintentional save operation of a wrong file, it will overwrite your data accidentally, which frequently happens in our daily and professional lives. Without saving a new version of the file, a Save operation overwrites the data that may have been changed or deleted before this operation is performed.
In this case, you may get back your removed Google Drive files. Please follow the steps below:
Sign in to your Google Drive account.
Right-click on the file to open the pop-up menu and find the Manage versions option.
Locate and select the version(s) that you feel like recovering.
Click on the three dots and then the Download option in the new menu.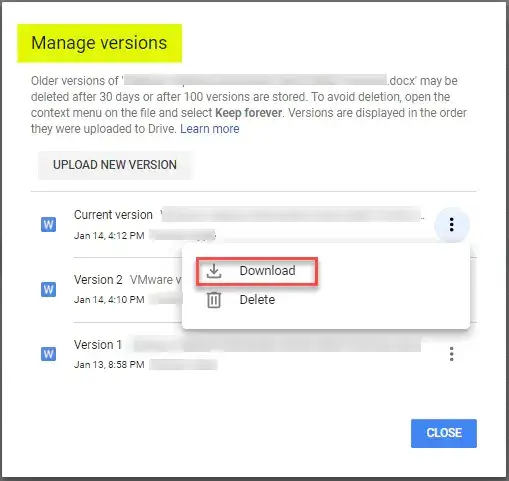 This approach may enable you to find the previous versions of your file or the one before being overwritten.
3. Bring back Permanently Removed Files from Google Drive from the Google Drive desktop version
Google Drive for desktop is a program designed to automatically synchronize your files from the specific folders you configure when it is installed. It gives you a chance to restore the deleted Google Drive files if you have this app on your PC.
1). Install and Launch Drive for desktop and you will arrive at the path Google Drive disk.

2). All the backup folders will be displayed in the panel.
3). Either find the files by viewing the large thumbnails or directly search the file name in the search box.

4. Recover Permanently Deleted Files from Google Drive with Data Recovery Software
Data recovery software will be the most guaranteed way to restore a large number of your lost files. Furthermore, you don't have to be tech-savvy to try a tool like this since it is easy to operate. Today, we will introduce you to a useful and practical program–WorkinTool Data Recovery.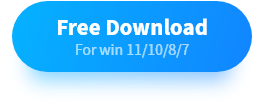 Please read the following guidance on how to recover permanently deleted files from Google Drive with WorkinTool Data Recovery:
Step 1. Open WorkinTool Data Recovery and pick a scene for recovery.
(The default opening interface will be Scene Mode and you can switch it to Wizard Mode by clicking the button at the bottom.)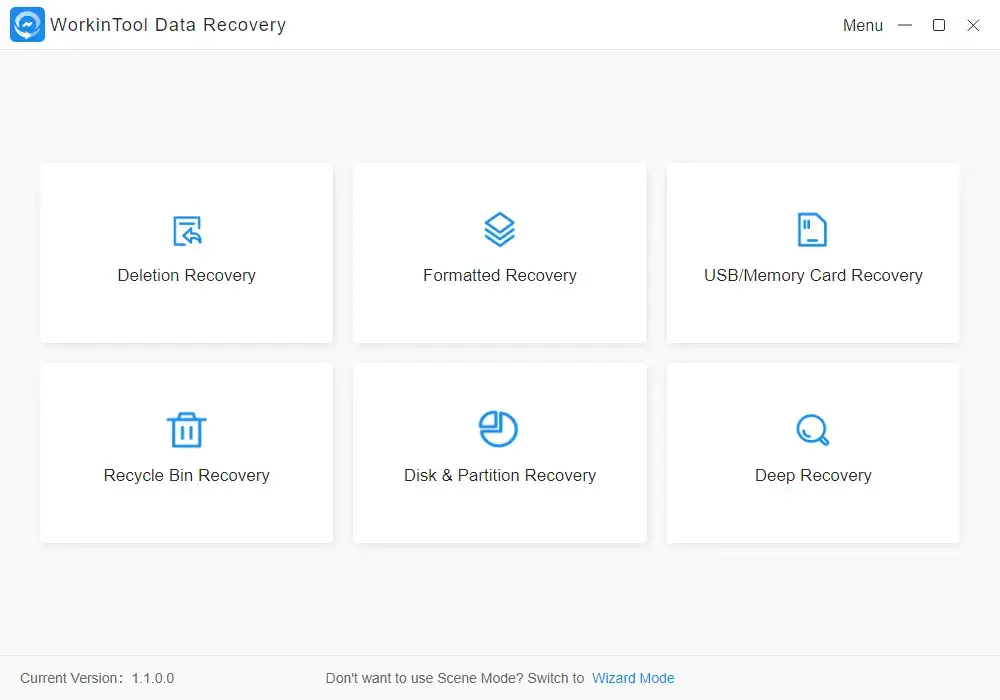 Deletion Recovery: It enables you to recover the Google Drive files deleted or lost on your PC or laptop.
Format Recovery: It allows you to get back the lost Google Drive files from your formatted PC folders, disk partitions, SD cards, etc.
USB/Memory Card Recovery: Bring back the disappeared Google Drive files from mobile devices like USB, HDD, memory card and more.
Recycle Bin Recovery: Quickly and precisely retrieve and recover the Google Drive files erased or cleared from the Recycle Bin.
Disk Partition Recovery: Effectively repair Google Drive file loss due to missing disk partitions.
Deep Recovery: A more complete and time-consuming search mode will be adopted to find the vanished Google Drive files in order to maximize the recovered data. It is quite suitable for getting permanently deleted voice recorder files back.
Step 2. Choose the location where you think your Google Drive files are deleted and then click Scan Now.
(Tick the whole disk one by one if you are unsure of the exact location.)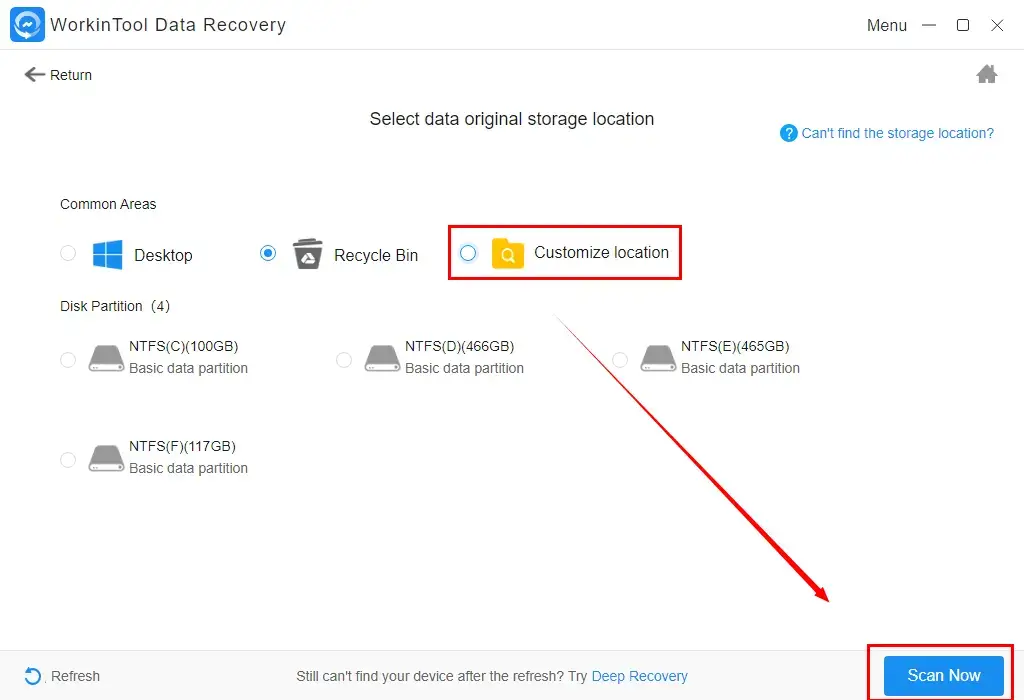 Step 3. Two methods are optional to retrieve your lost recording files:
Method 1. Navigate to Filter > the desired file format > Sure > Recover.
Method 2. Choose the folder that represents the wanted file type, tick all the choices that apply and then hit Recover.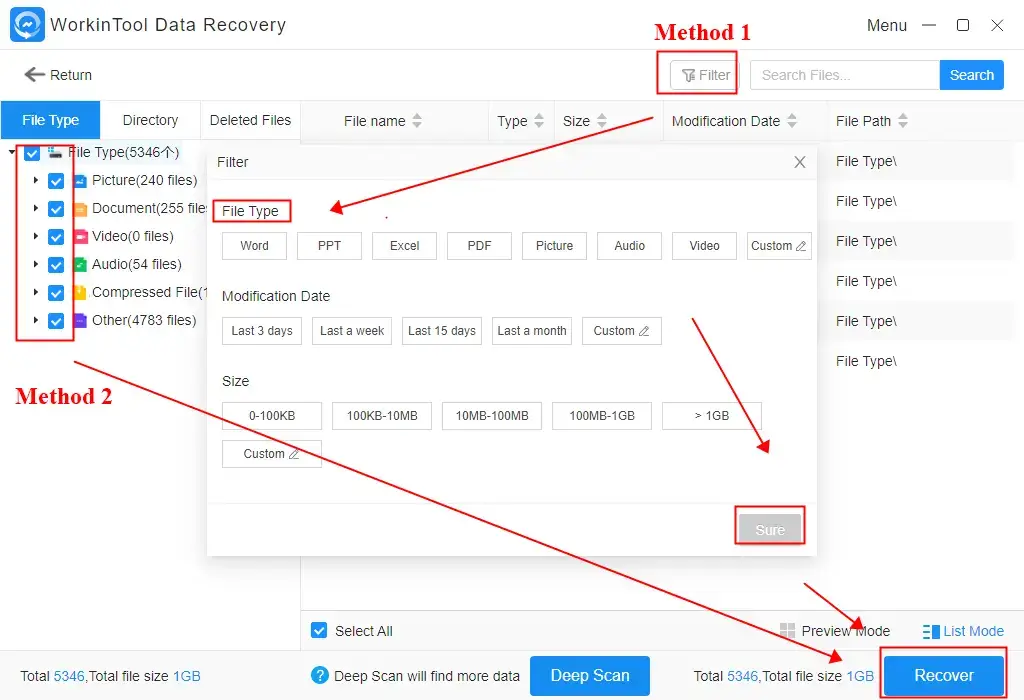 A deep scan is available if you are unsatisfied with the current outcomes. It is exceedingly suitable for retrieving and recovering permanently deleted Google Drive files on your PC or laptop. This mode will prompt the software to scan your computer deeper and bring back more lost files. However, it will be time-consuming, so please be patient.
Step 4. Check all the options, click Recover, then set the save path and hit Sure.
(This step applies to method 1 only. For method 2, the small window that requires you to set up save path will directly pop up when you click Recover.)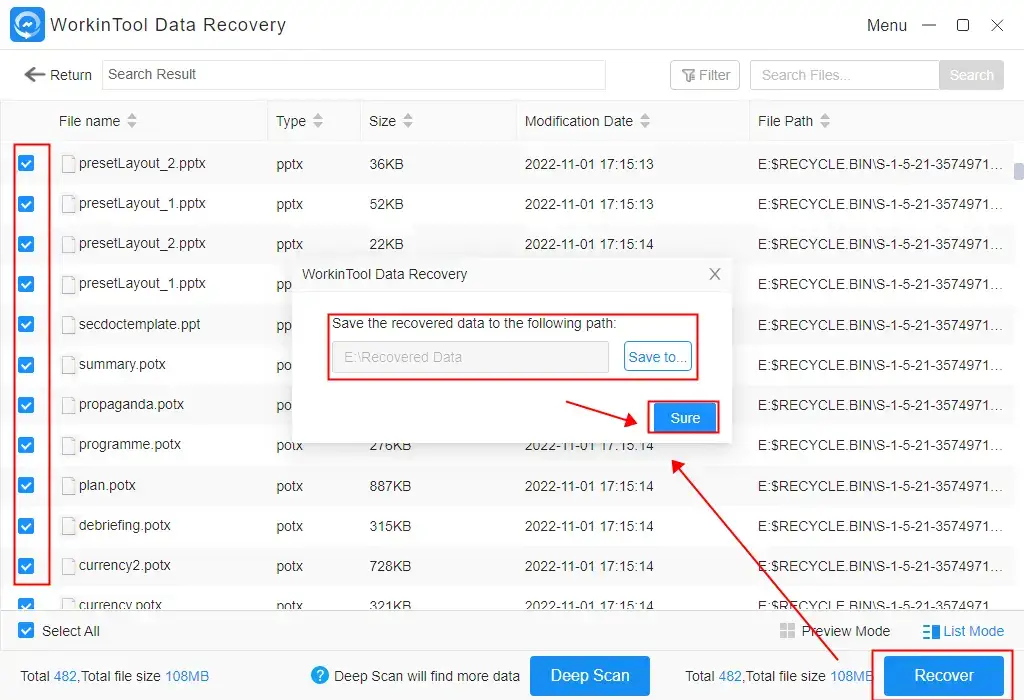 Step 5. Press the Open tab to get down to the folder containing your deleted Google Drive files.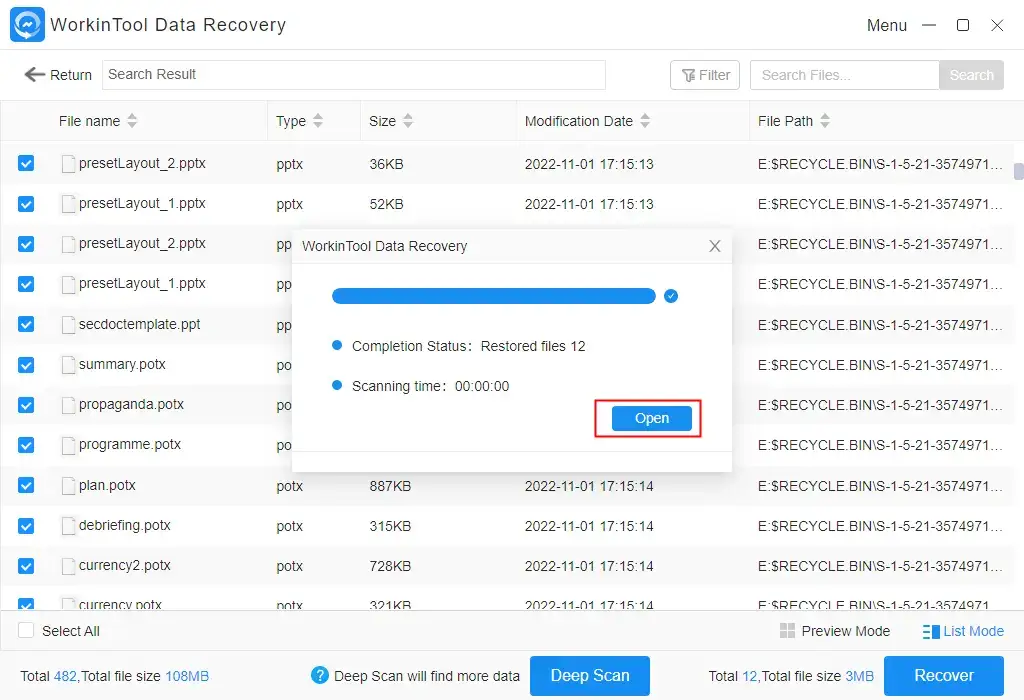 Something More to Say
🎯Why should you choose WorkinTool Data Recovery?
WorkinTool Data Recovery is a new but crucial member of the WorkinTool product family. It captures the users' minds instantly through the following features:
Easy to use: For most of its recovery features, WorkinTool takes you approximately five steps to recover all the desired files or data.
Multiple Formats: WorkinTool can bring back all the common files or data in your computer, including office documents, PDF files, audio, videos, E-mails, archives and other essential files.
Batch Recovery: WorkinTool allows you to recover unlimited data in batches, which effectively enhances your working efficiency.
Partition Recovery: As a piece of free partition recovery software, it is simple for you to get back the deleted files as a result of missing disk partitions.
FREE and Green: All the features of WorkinTool Data Recovery are accessible without a license payment and compulsory registration. Meanwhile, though it is freeware, there will be no ads involved in your data recovery.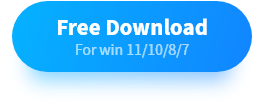 Additionally, it is an ideal solution to nearly all Google issues, for instance:
---
Additional Words for Deleted Google Drive File Recovery
🔑What should I do if all the solutions do not work for me?
You should turn to the official support provided by Google's specialist team if all the methods prove ineffective. This is definitely the last method of recovering permanently deleted files from Google Drive. Here comes the way to seek assistance from Google's official technical team.
Open the Google Drive web page and click on the ? icon.
Press the Send feedback tab to activate an enquire form.
Then fill in this form and submit it.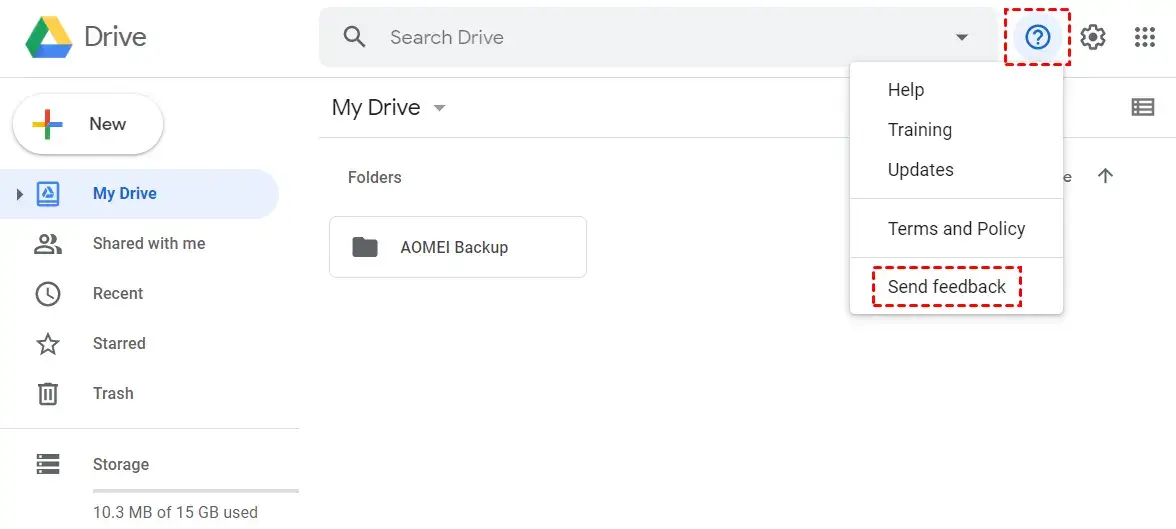 Wait patiently until a member of Google's support team contact you. Then, you can describe the files you long to recover and they will assist you in retrieving them.
🔑What need I do to prevent my files from being deleted from Google Drive?
📄Don't empty your Trash too frequently.
Your files are subject to permanent loss if you frequently empty the Trash, which adds complexity and difficulty to your Google Drive file recovery.
📄Avoid accidental deletion.
Think before your leap. When deleting a file, you should ensure that you will need it no more.
📄Use backups regularly.
Always resort to Google Backup and Sync to back up your files like photos, documents and videos. This feature is helpful to back up all these mentioned files and keep them safe in Google Drive.
📄Run an Antivirus.
Try an Antivirus to prevent your Google Drive from being attacked by viruses or hacking.
---
Final Thought
This is all about how to recover deleted files from Google Drive. We sincerely hope you can pinpoint your ideal solution after finishing this article. However, it is strongly advisable to try WorkinTool Data Recovery.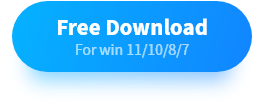 Now, are you ready to restore your lost Google Drive files?