How to Recover Deleted Files from OneNote in Windows
Sometimes, your document will be accidentally or permanently deleted from OneNote. What can you do when such an annoying situation happens? Please don't worry because you've found us. Today, we would like to show you how to recover deleted files from OneNote in Windows. All the solutions prove to be practical, simple and FREE. You will read the following topics: How to Restore Temporarily Deleted Files from OneNote in Windows? (Deleted Files bin, shortcut operation-Ctrl + Z, and local backups of the desktop version) and How to Recover Permanently Deleted Files from OneNote in Windows? (Data Recovery Software). It is strongly advisable to try the latter method as it is:
💖Free recovery capacity
🧡Temporarily and permanently deleted data recoverable
💛High recovery rate
💚Easy to use
💙Multiple file formats supported
💜Batch recovery available
💝Partition recovery possible
How to Recover Deleted Files from OneNote in Windows [4 FREE Solutions]
OneNote is a useful online note tool developed by Microsoft. Just like its Word program, it allows you to create and edit a document. However, it also supports synchronization, online editing and online sharing of your documents with your permission. Sometimes, your document will be accidentally or permanently deleted from OneNote, which may be a business proposal to be presented to a customer or a school report to be submitted to your teacher. What can you do when such an annoying situation happens? Please don't worry because you've found us. Today, we would like to show you how to recover deleted files from OneNote in Windows. All the solutions prove to be practical, simple and FREE.
Now, let's start our discussion.
---
Before Your Deleted OneNote File Recovery
📌Why are my OneNote files lost?
Well, the reasons for file loss in OneNote are various and here are some general ones:
Inadvertent Deletion: Sometimes, a user can be so careless that he or she mistakingly clicks Delete instead of Save when the project is finished. Admittedly, it is a mistake made by almost everyone.
Synchronization Issues: A good reason to choose OneNote is that its content will usually be automatically saved to your OneDrive account and synchronized between your devices. If you suffer from synchronization issues, your notes may be deleted or lost.
Hard Drive Failure: OneNote files are first stored locally on your hard drive before being saved to your OneDrive account. So they will be subject to corruption or loss if any hard drive failure occurs.
Virus Attack/Malware: Virus and malware can be significant reasons for data loss in OneNote as they will give rise to a system breakdown or the possibility of the attackers' infiltration into your OneDrive account to delete your notes.
📌Can I recover deleted files from OneNote?
Well, yes. The data of your files will not be erased immediately. Instead, they are stored on your PC, waiting to be overwritten. When you find a OneNote file is lost, you'd better stop using your computer and resort to the following solutions to help you get it back.
In the next chapters, you will read the following topics:
How to Restore Temporarily Deleted Files from OneNote in Windows?
How to Recover Permanently Deleted Files from OneNote in Windows?
Please read on to learn the specific solutions.
---
How to Restore Temporarily Deleted Files from OneNote in Windows
We will introduce you to three effective methods to bring back your files temporarily lost from OneNote in Windows.
1. Restore Temporarily Deleted Files from OneNote in Deleted Notes
As the Deleted Notes bin will always be the first destination for your deleted files, the first thing that you should do is to check your OneNote Deleted Notes bin when any deletion takes place. Here is what you need to do:
Navigate to View > Deleted Notes > Delete Pages.
Then locate the deleted file and right-click it to open a new menu.
Click Restore to and re-save it in the chosen folder.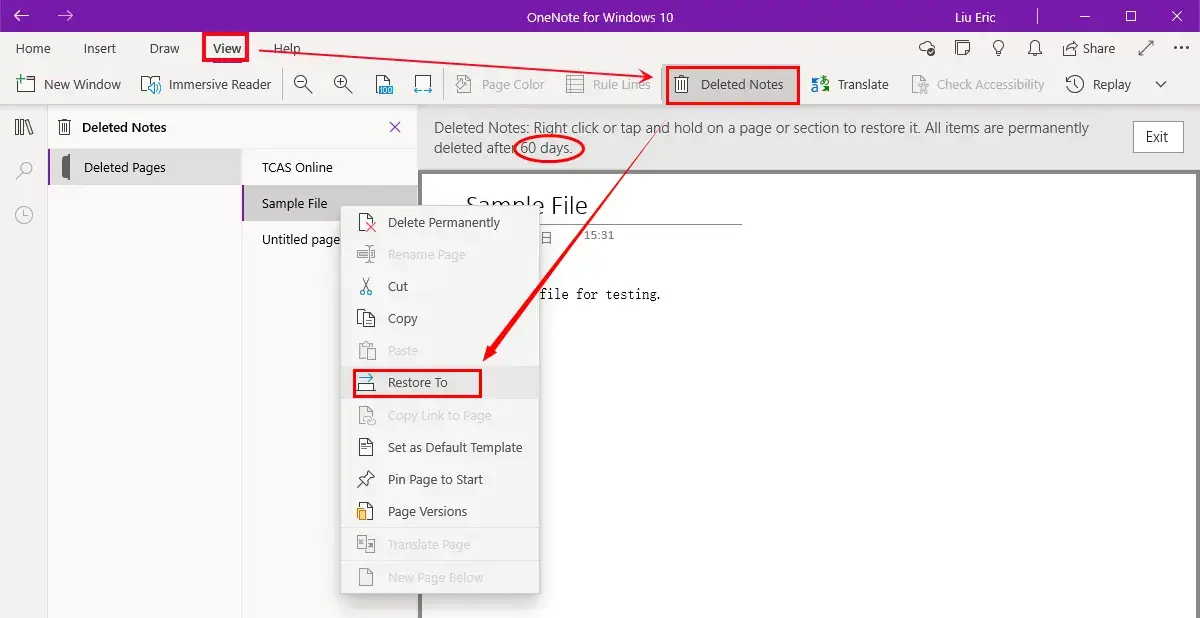 📣Attention
The files stored in Deleted File will stay there for 60 days and all of them shall be permanently deleted after this deadline.
2. Retrieve Temporarily Lost Files from OneNote by Undo Operation
You can make use of the shortcut operation–Ctrl + Z to undo your last action in OneNote. This will be useful if deletion just happened and no further action was operated in your OneNote.
📢Note
Press Command + Z if you are using a macOS-powered PC.
This method is able to cancel your last action only in OneNote.
3. Recover Temporarily Removed Files from OneNote by Local Backups
If you are using the OneNote desktop version to create, edit and view your notes, local backups will be stored on your hard drive. Therefore, you can find your notes that are invisible or inaccessible on this or your other device. Please read the following guidance:
Open OneNote and find File > Info > Open Backups.
Double-click the notebook folder you intend to open.
Choose the notebook section backup file you long to open, and then select Open.
Pinpoint your desired files, right-click the section tab or individual page tab that you'd like to restore, and then use the Move or Copy command to put the notes back in their original location.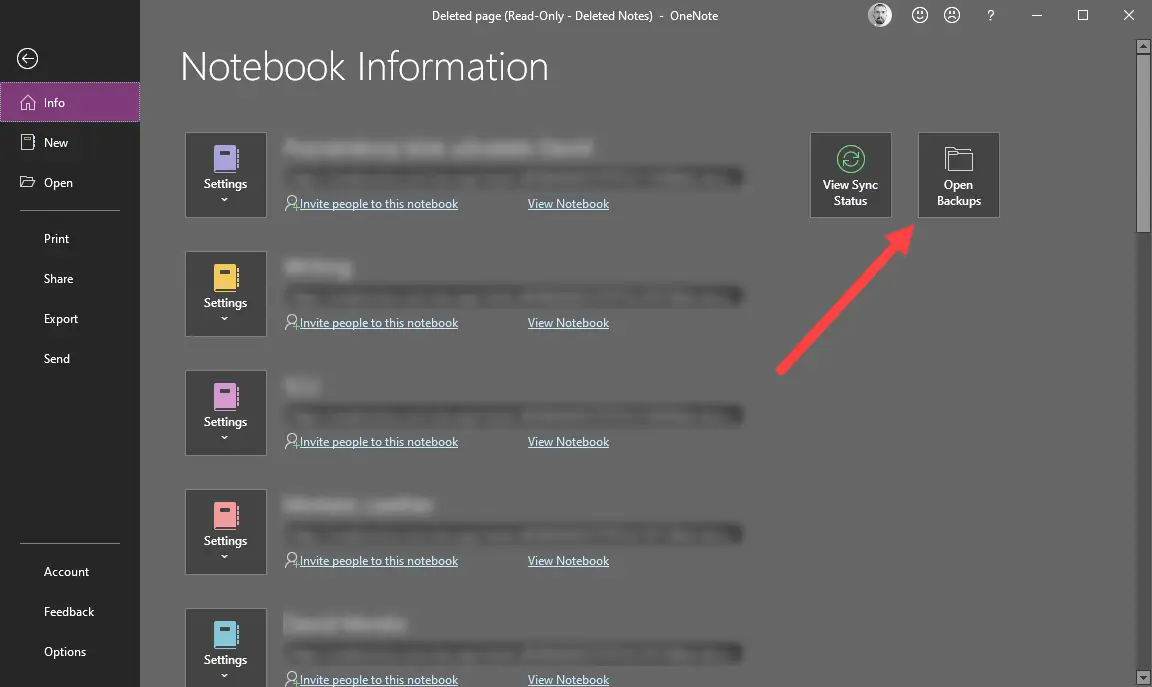 📝Reminder
This approach will be ineffective if the files are erased from your OneNote for good.
Then how can I recover the files permanently deleted from OneNote? Please continue your reading to know the answer.
---
How to Recover Permanently Deleted Files from OneNote in Windows
Undoubtedly, data recovery software is the most guaranteed way to recover your deleted notes from your OneNote. Most of the tools developed are easy to use, so you don't have to be tech-savvy to get your lost notes back. Here, we would like to present you with a tool like this–WorkinTool Data Recovery.

How to Recover Deleted OneNote Files Through WorkinTool Data Recovery?
Step 1. Click open WorkinTool Data Recovery and then choose a scene for recovery.
(The default opening interface is Scene Mode and you can switch it to Wizard Mode by clicking the relevant notice at the bottom.)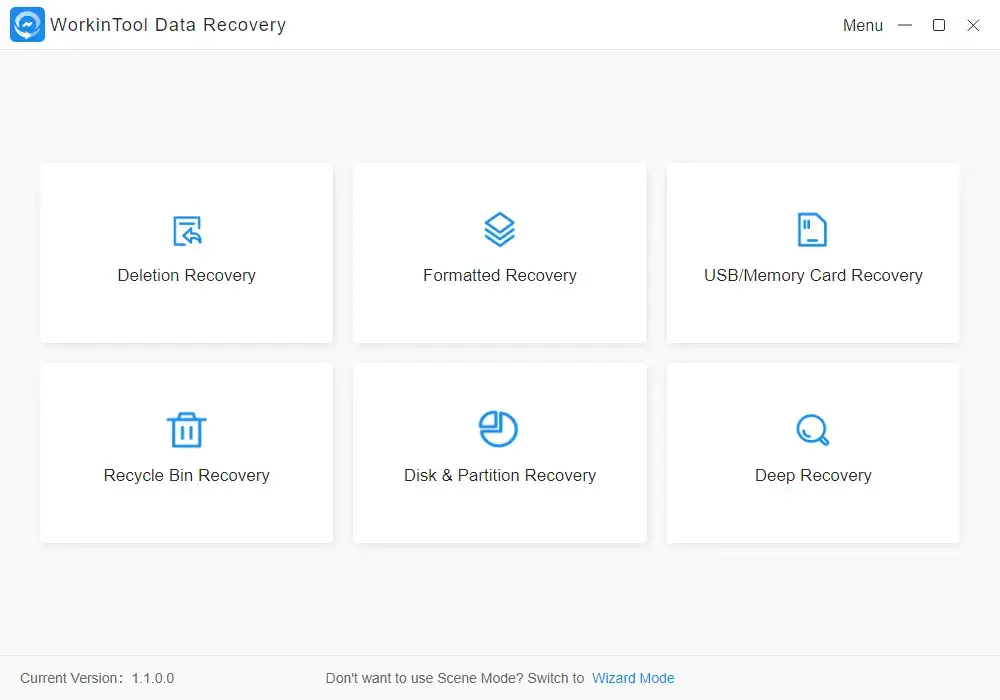 Deletion Recovery: It enables you to recover the OneNote files deleted or lost on your PC or laptop.
Format Recovery: It allows you to get back the formatted notes from your PC folders, disk partitions, SD cards, etc.
USB/Memory Card Recovery: Bring back the disappeared OneNote files from mobile devices like USB, HDD, memory card and more.
Recycle Bin Recovery: Quickly and precisely retrieve and recover the notes erased or cleared from the Recycle Bin.
Disk Partition Recovery: Effectively repair file loss due to missing disk partitions.
Deep Recovery: A more complete and time-consuming search mode will be adopted to find the vanished OneNote files in order to maximize the recovered data. It is quite suitable for getting permanently deleted notes back.
Step 2. Select the disk from which your OneNote files are lost and then click Scan Now.
(Tick the whole disk if you are unsure where they are missing.)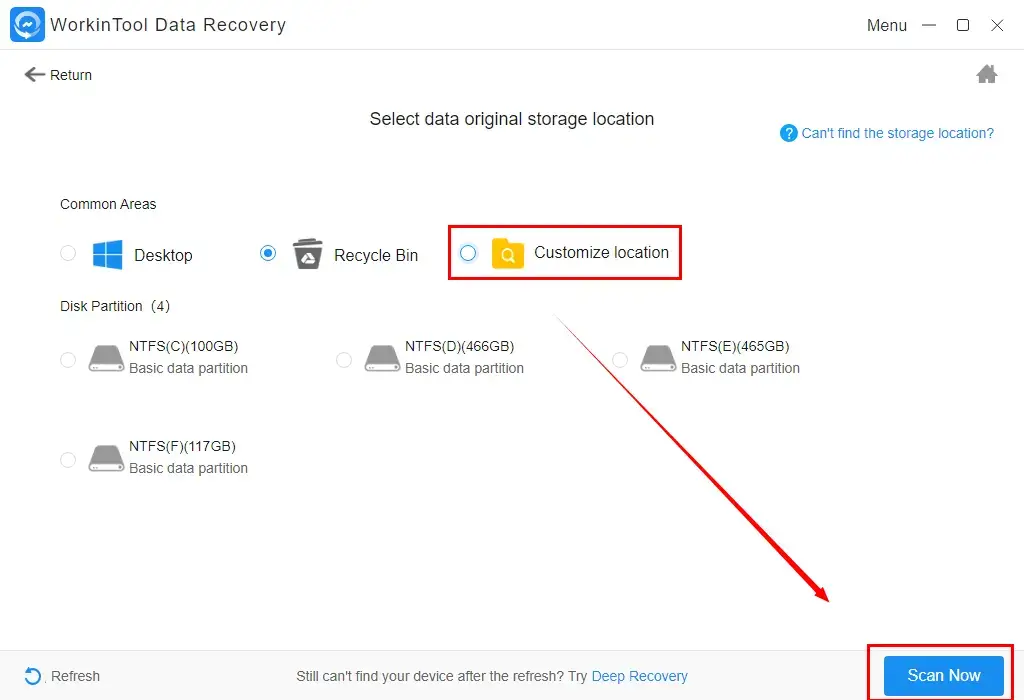 Step 3. Two methods are available in this step:
Method 1: Navigate to Filter > Word and PDF > Sure > Recover.
Method 2: Find File Type > Document, tick all the options that apply under this folder and then press the Recover tab.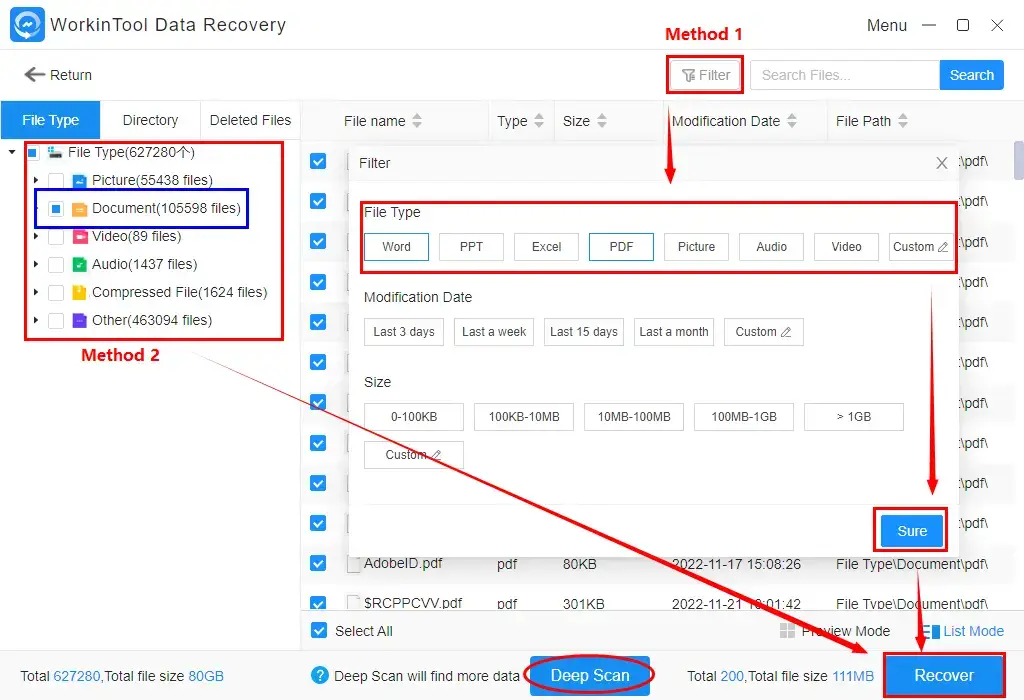 The file formats exported by OneNote are usually .doc, .docx and .pdf.
A deep scan is available if you are discontent with the current outcomes. It is exceedingly suitable for retrieving and recovering permanently deleted OneNote files on your PC or laptop. This mode will prompt the software to scan your computer deeper and bring back more vanished notes. However, it will be time-consuming, so please be patient.
Step 4. Check all the choices (a process required if you choose Method 1), set the save path as you like and then click Sure.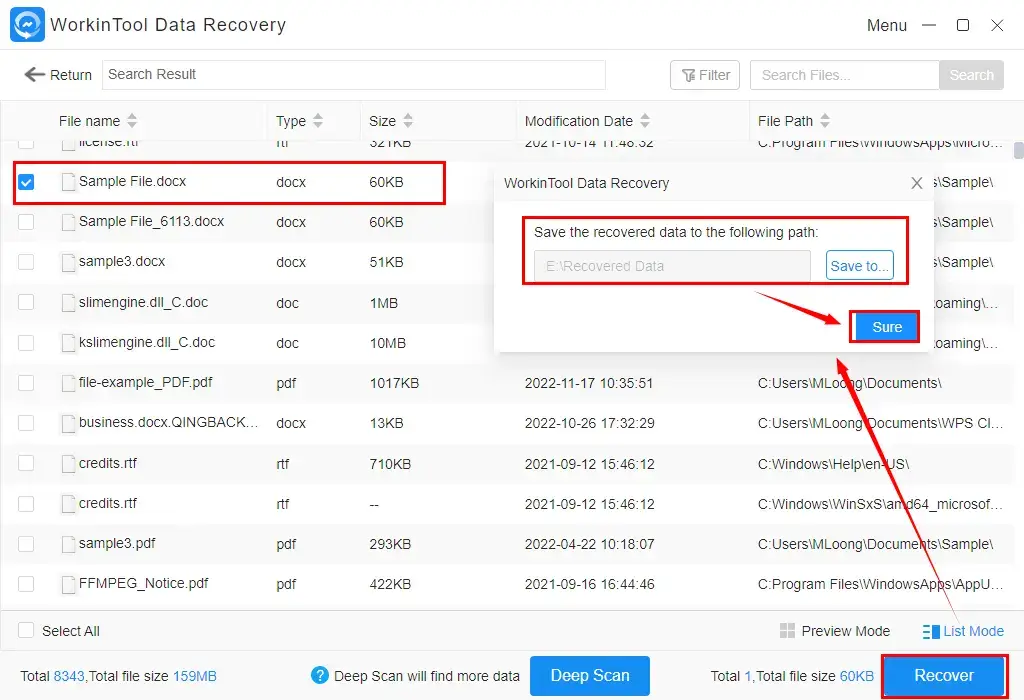 Step 5. Hit Open to lead you to the recovered OneNote files.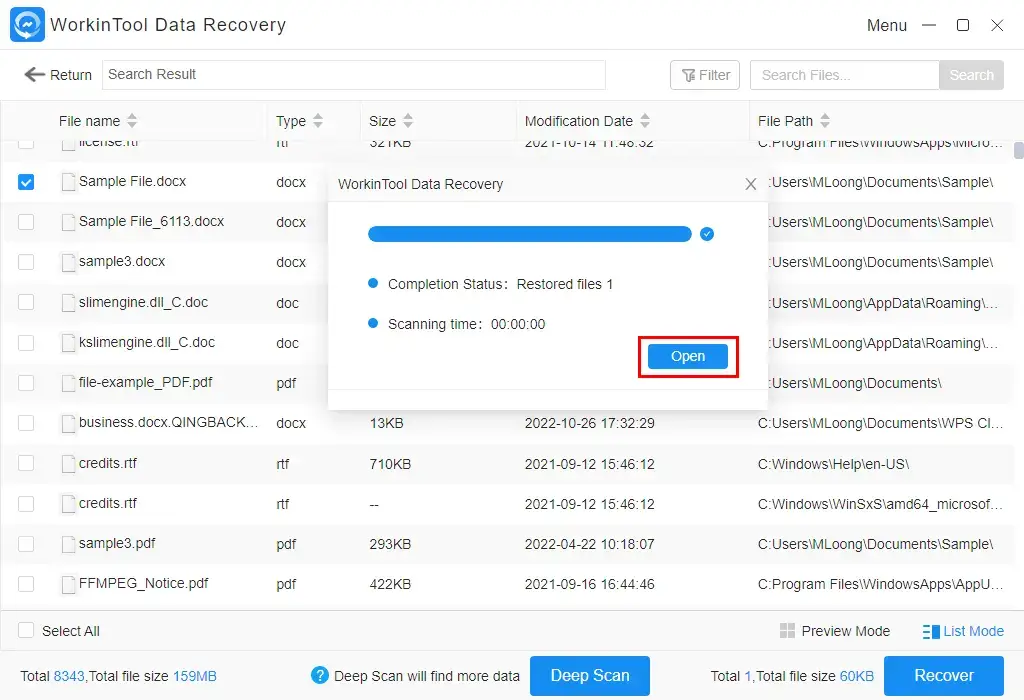 The Outcome

Something More to Say
📕Why should you choose WorkinTool Data Recovery?
WorkinTool Data Recovery is a new but crucial member of the WorkinTool product family. It captures the users' minds instantly through the following features:
Easy to operate: For most of its recovery features, WorkinTool takes you approximately five steps to recover all the desired files or data.
Multiple Formats: Apart from OneNote notes, WorkinTool can bring back all the common files or data in your computer, including office Excel worksheets, PowerPoint slideshows, audio files, videos, Emails, ZIP files and other essential files.
Batch Recovery: WorkinTool allows you to recover unlimited data in batches, effectively enhancing your working efficiency.
Partition Recovery: As a piece of free partition recovery software, it is simple to get back the deleted files as a result of missing disk partitions.
Cost-Effective: Users can restore 500MB of data for free. Moreover, its Pro plans are cost-effective for one-click unlock and unlimited recovery.

📕What other documents can WorkinTool Data Recovery restore?
You can use WorkinTool Data Recovery to
---
After Deleted OneNote File Recovery
💡How to Avoid File Deletion in OneNote?
🔑Think Before You Leap
Always ensure that the file to delete is indeed the one you truly intend to remove. Meanwhile, please make sure the tab you choose is Save rather than Delete when you want to save your note.
🔑Turn on the feature-Sync your notebooks
Microsoft OneNote boasts an extremely helpful feature-Sync your notebooks. It assists you in synchronizing your notebooks to the cloud to keep them updated. So when your notes disappear, you can turn to this option to retrieve them using method 3 in the third chapter.
How to activate the feature-Sync your notebooks in OneNote?
1). Open OneNote, find the three-dot icon and then click Settings.


2). Then choose Options.


3). Locate Sync your notebooks and switch to on under the notification-Sync notebooks automatically.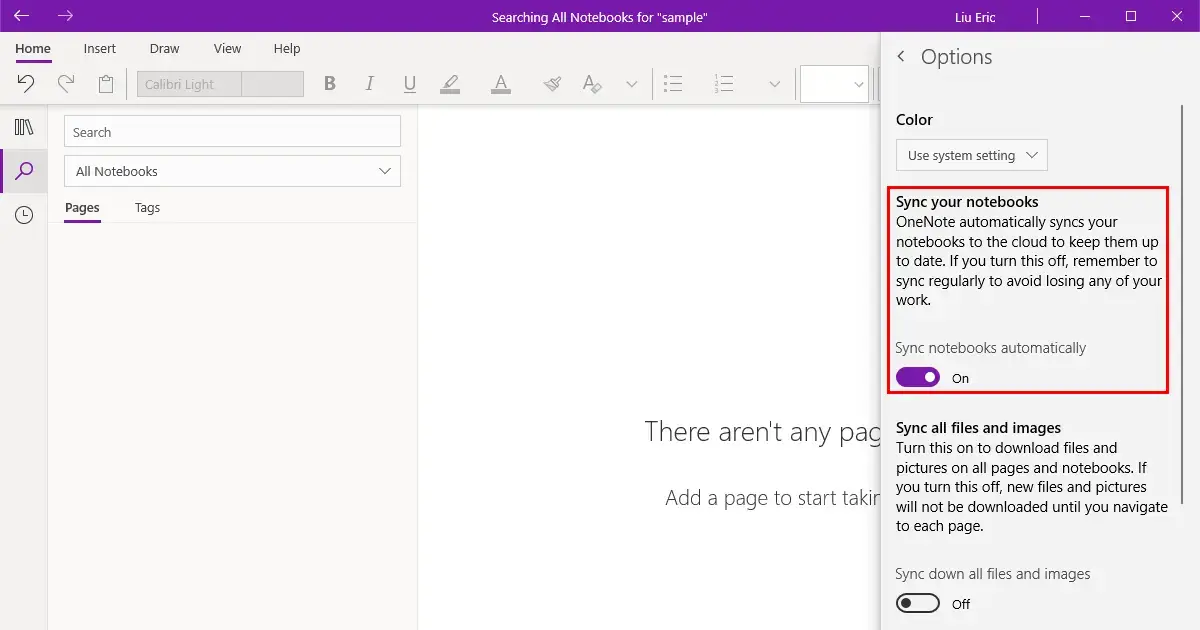 🔑Increase The Number of Backup Copies
You can increase the number of backups stored on your hard drive to at least three since OneNote files are typically tiny.
🔑Manually Back up Your Notebooks Offsite
It would be better to manually back up your OneNote notebooks offsite if the one you are working on is exceedingly important. You can save it on your PC or resort to cloud storage services like OneDrive.
---
Final Thoughts
This is our discussion about how to recover deleted files from OneNote in Windows. We sincerely hope that you find an ideal solution after finishing this article. However, it is strongly advisable to try WorkinTool Data Recovery since it is capable of retrieving both temporarily and permanently deleted OneNote notes for you.
Now, are you ready to restore the files deleted from OneNote?