How to Recover Deleted Files Windows 10/11 for Free
Suppose you delete critical files by accident, you can install WorkinTool Data Recovery to find them back. Generally, it can help you:
1. Restore any files for free. 2. Unlimited data recovery size 3. Quickly scan & recover deleted files. 4. Allows you to search for the target file name 5. multiple file scanning modes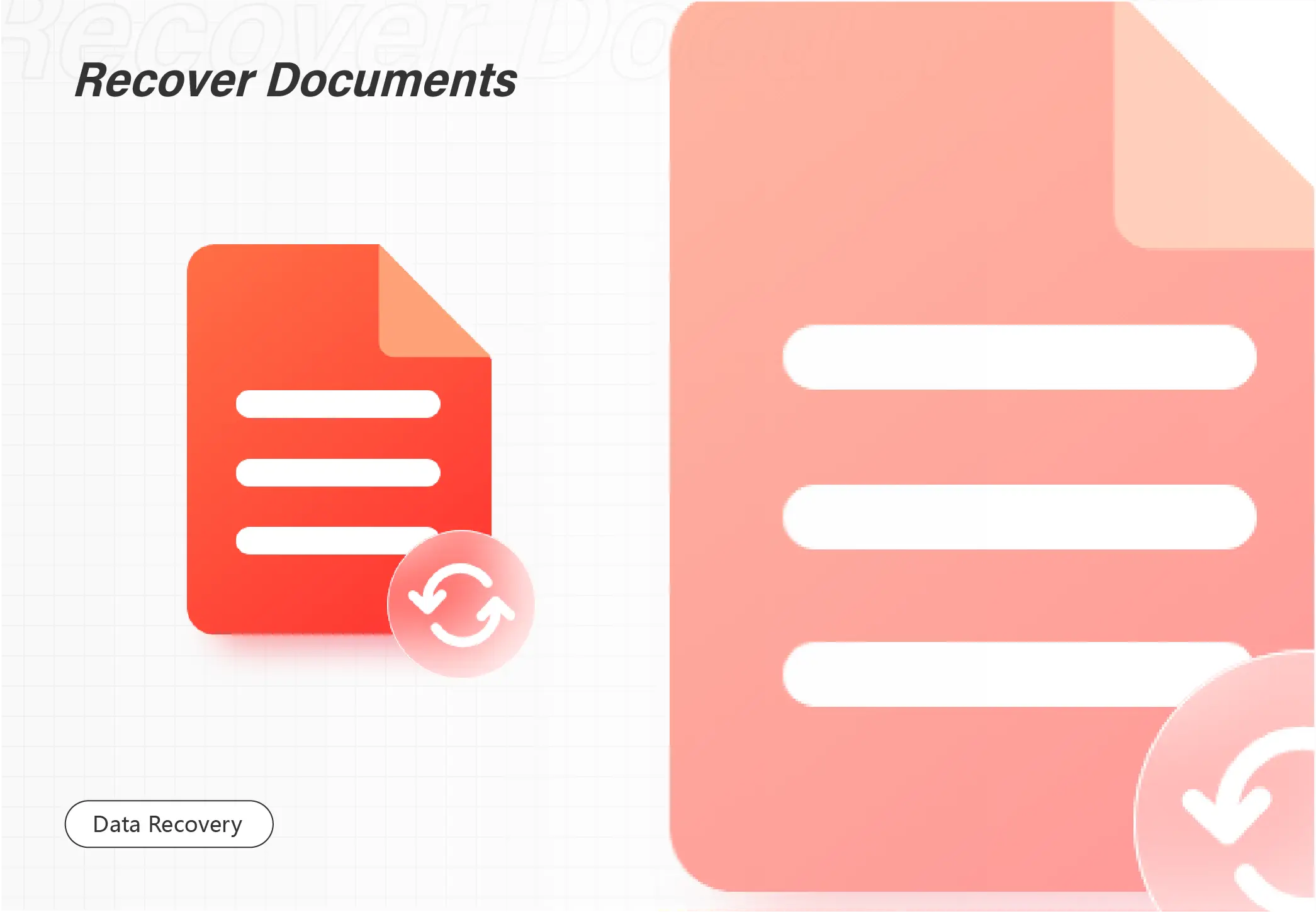 How to Recover Deleted Files in Windows 10/11 for Free in 2022
Since the limited storage space of the computer and the continuous increase of our work output in our daily office life, we may often need to clean up some unnecessary junk files on our PC constantly. But many times, when we delete files, we may have forgotten that some files are what we need, so we regret it after we delete them. So how can we retrieve the files that were accidentally deleted by hand? In this post, I'll elaborate on effective and free ways to recover deleted files in Windows 10 (or 11). Solutions with and without third-party software will be discussed in the following:
📌 How to Recover Deleted Files in Windows 10/11 For Free with Software
Sometimes a deleted file is tricky to retrieve, especially for permanently deleted files. If you fail to find the target file anywhere on your PC, you can ask professional data recovery software for assistance. WorkinTool Data Recovery is a free and efficient file retrieval tool dedicated to restoring deleted files like photos, Word documents, Excel, videos, audio, PPT files, etc. It is compatible with the Windows system, like Windows 11/10/8/7. Explored by an experienced company, WorkinTool, it is reliable and safe to install and use. Its privacy policy promises not to leak any user's data to others. To use it, you don't need to log into a personal account or provide private information.
WorkinTool provides you with two modes to recover deleted files in Windows 10/11. As for quick scanning, it will scan your computer at an extremely hard speed. Within seconds, you can regain numerous deleted files. As for deep scanning, it allows you to deeply scan your internal or external hard drives. You can try a time-saving quick scan first and select deep scan if you don't see the target files.
Reasons to choose WorkinTool Data Recovery to recover deleted files in Windows 10:
Free to scan and recover any files
Unlimited data recovery
Batch restore deleted files without limits
Fast scanning and recovery speed
Safe to install and use
Free of ads throughout the usage process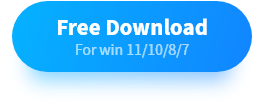 How to Recover Deleted Files for Free on Windows 10 and More with WorkinTool
Step1. Download the program from WorkinTool official website and install it. Launch the software, then click Switch to Wizard Mode to select the file position you want to scan. Then press Scan Now.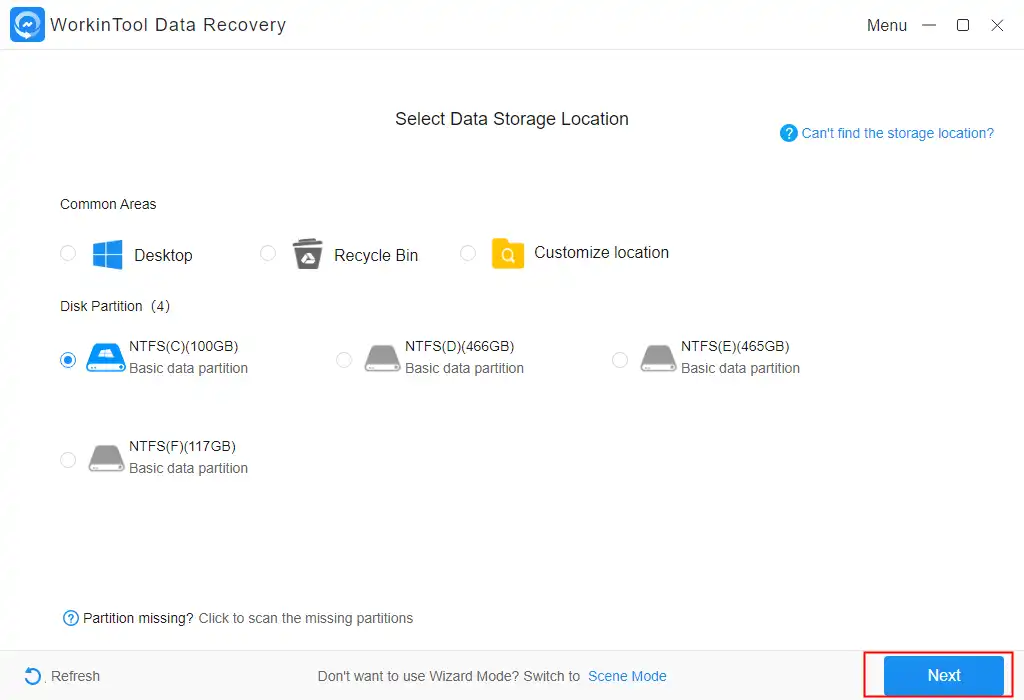 Step2. After scanning, filter the file by selecting the file type, folder, status, etc. Then select the files you want to restore and press Recover.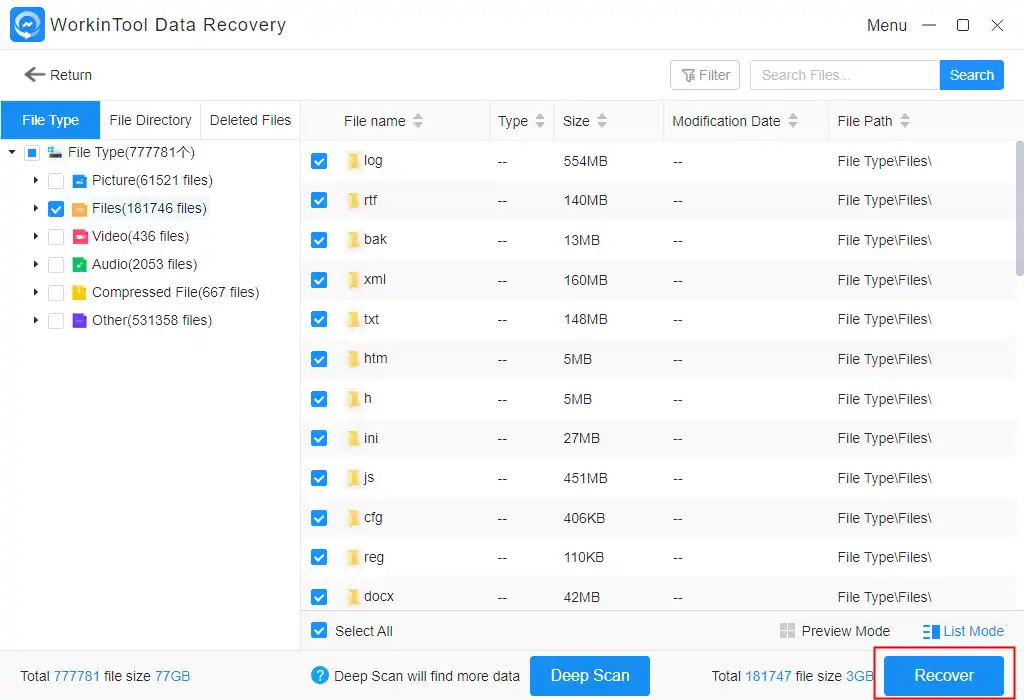 Step3. Select the folder you need to put on the recovered files and press Sure. Then it will directly recover the deleted files and folders to the specified location.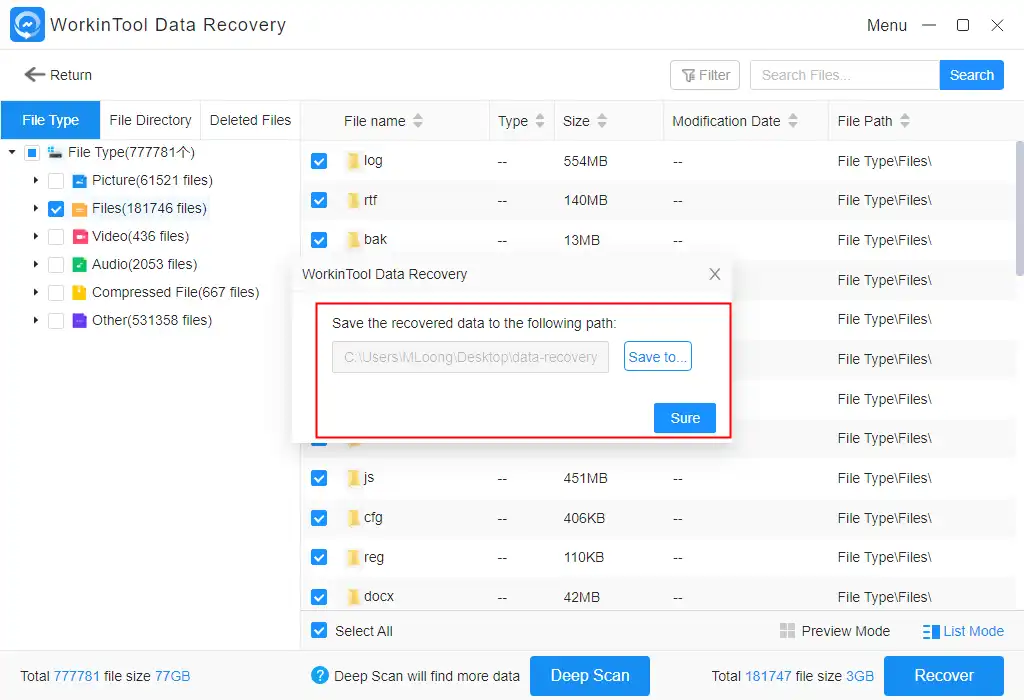 Other Detailed Tutorials for WorkinTool Data Recovery
📌 How to Recover Deleted Files on Windows 10/11 without software
There are still other effective ways that can help you recover deleted files in Windows 10/11 without software. Suppose you haven't yet cleaned up the recycle bin on your PC, then there is a high chance of recovering files from the Recycle Bin. Moreover, if you have backed up your files, like a Word document, PPT, Excel, etc., in MS Office, then you can recover them from the Microsoft software.
How to Recover Deleted Files in Windows 10 from Recycle Bin
If you delete a file from a desktop or other folders, the file won't be removed permanently from your PC. Generally, you can find it in the Recycle Bin. However, it should be noted that this method only works when we are not doing disk cleanup or emptying the Recycle Bin. So once we do a garbage cleanup after deleting a file, nothing we can find in the recycle bin. You'd better first make sure whether you can restore it from the Recycle Bin or not.
To recover deleted files from Recycle Bin, first, you need to check whether the target file still exists in the Recycle Bin. Open Recycle Bin on your computer, then search for the file name to check. If the file is still preserved in the Recycle Bin, pick it up and right-click it. Lastly, press Restore to recover it to your computer.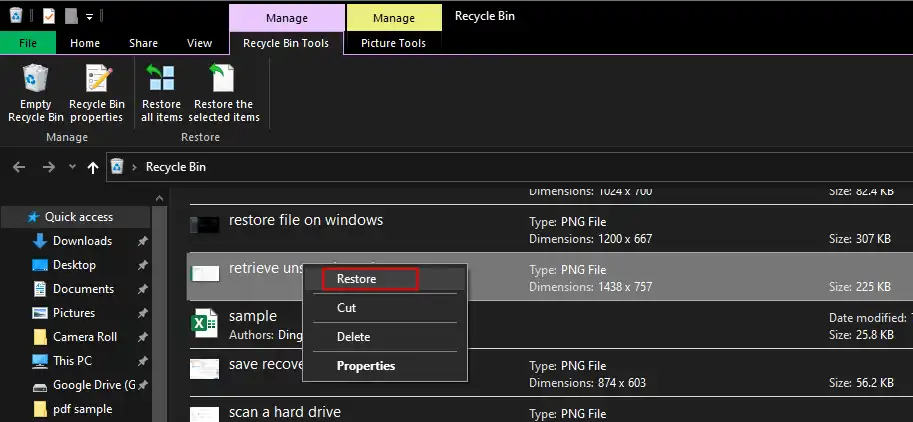 How to Retrieve Deleted Files/Folders in Windows 10 Using MS One Drive
If you are signed in to OneDrive using Microsoft Office Software, it is possible to find deleted files in the Cloud. But not all files can be found in it. If you sign into a personal account, OneDrive will preserve deleted items for 30 days. Meanwhile, if you signed in with a word or school account, then it will save deleted files for 93 days.
Step1. Go to the Microsoft One Drive website and log in to your Microsoft Office account.
Step2. Select Recycle Bin on the side toolbar. Click Restore all items or pick one of the deleted files to recover.

Comparison with Three Methods
| | | | |
| --- | --- | --- | --- |
| Features / Tools | WorkinTool Data Recovery | Recycle Bin on Computer | Microsoft OneDrive |
| | 100% Free | Free | Free |
| | Permanently deleted files | Recently deleted files and not removed from Recycle Bin | Files uploaded to OneDrive |
| | Easy to use for beginners | Quickly recover without installing software | Need to log into your Microsoft account |
| | Pictures, videos, audio, office files, etc. | All file formats on your computer | Only Microsoft file formats like Word, Excel, PPT |
| | Excellent; batch recovery is feasible | Great for files not being cleaned | Adequate for office files that are backed up |
Final Words
Admittedly, the case of critical files being deleted by mistake frequently happens in the office. In this post, I've talked about effective ways to recover deleted files on Windows 10/11. Based on different file statuses, you can select various tools. In comparison, it is troublesome if your files are permanently deleted from your computer. However, with this powerful WorkinTool Data Recovery software, you can effortlessly retrieve these files. It is 100% free to recover files with no additional requirements. Have a trial of it to find back crucial files.
Products Reviews:
TrustScore
4
|
323
reviews