How to Recover Deleted Photos from Google Photos
Since Google Photos contains all your treasured images and clips if you choose it as your primary backup service, it will be painful when you find the files all vanish one day. Well, it is lucky for you to find us. Please spare a few minutes to read this article on how to recover deleted photos from Google Photos in Windows. You will read the following topics:
💡How to Restore Recently Removed Photos from Google Photos–Trash
💡How to Recover Permanently Deleted Photos from Google Photos–Data Recovery Software (WorkinTool Data Recovery) and Google Support Team.
However, it is highly recommended to try WokrinTool Data Recovery since it is
💖FREE trial plan to recover 500-MB files
🧡Temporarily and permanently deleted data recoverable
💛High recovery rate
💚Easy to use and green
💙Multiple file formats supported
💜Batch recovery available
💝Partition recovery possible
💕Cheaper license price
then How to Recover Deleted Photos from Google Photos in Windows
Google Photos is a cloud-based tool to upload, store, manage and share photos and videos. Also, it wins wide recognition by its ability to automatically back up these files across all your devices, including smartphones and tablets. Since it contains all your treasured images and clips if you choose it as your primary backup service, it will be painful when you find the files all vanish one day. Well, it is lucky for you to find us. Please spare a few minutes to read this article on how to recover deleted photos from Google Photos in Windows.
Now, let's begin our discussion.
---
Words Before Deleted Photo Recovery from Google Photos
📌How long will deleted photos stay in the Trash?
Usually, the inadvertently removed photos will stay in your Trash for 60 days. After this deadline, they will be subjected to permanent deletion.
📌Is it possible to recover deleted photos from Google Photos?
It is definitely possible to retrieve accidentally lost or recently deleted photos. If your photos are permanently deleted, their data might store on your computer or phone until they are overwritten by new data. Therefore, when you detect any deletion, you should STOP USING your device to prevent your previous data from being rewritten. Also, a third-party tool can be effective in restoring your erased photos.
So how can I recover deleted photos from Google Photos. Please read on to learn the specific solutions in the following topics:
How to Restore Recently Removed Photos from Google Photos
How to Recover Permanently Deleted Photos from Google Photos
Now, let's move on to the central theme.
---
How to Restore Recently Removed Photos from Google Photos in Windows
Trash will be the first destination of your accidentally or recently removed photos, so always check it when any deletion in your Google Photos happens.
How to Retrieve Recently Deleted Photos from Google Photos in Trash?
1). Open Google Photos and then locate Trash.


2). Mark the photo(s) you want and then click Restore.

📢Attention
Please restore your photos as quickly as possible as a store deadline of Trash applies-60 days.
---
How to Recover Permanently Deleted Photos from Google Photos in Windows
If you can't find your eliminated photos in the Trash, then they must be permanently lost. In this chapter, we will inform you of two ways to retrieve permanently deleted photos from Google Photos in Windows.
1. Recover Permanently Deleted Photos from Google Photos through Data Recovery Software
The best way to bring back permanently removed photos from Google Photos is to use data recovery software since it is helpful to find as much data as it can. Here, we will introduce you to a handy and easy-to-operate tool–WorkinTool Data Recovery. In addition to the deleted photo recovery, you can use it to recover deleted files from Google Drive.

How to Recover Permanently Deleted Photos from Google Photos Using WorkinTool Data Recovery?
Step 1. Activate the tool and then choose a recovery scene—Deep Recovery (recommended here).
(Click the command at the bottom to switch to Scene Mode if your opening interface is Wizard Mode.)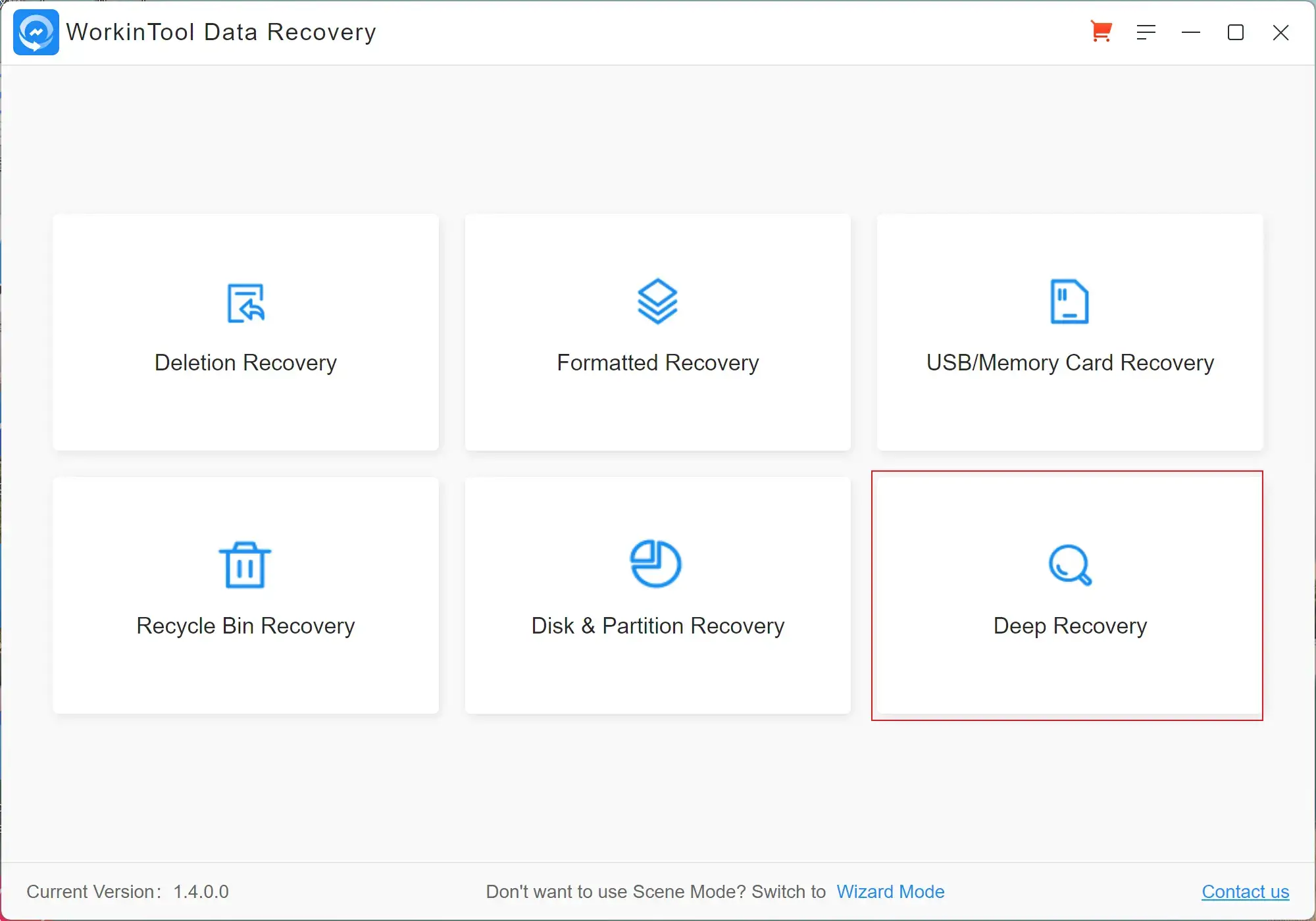 Deletion Recovery: It helps to recover the vanished photos from where they were deleted or lost.
Format Recovery: It aims to retrieve removed photos from formatted disks or devices like a USB drive or an SD card.
USB/Memory Card Recovery: It enables you to regain disappeared photos from mobile devices like external hard drives, pen drives, memory cards, etc.
Recycle Bin Recovery: Precisely and instantly restore your files cleared in the Recycle Bin.
Disk Partition Recovery: Repair file loss as a consequence of missing disk partitions.
Deep Recovery: A more complete and time-consuming scanning mode to maximize the recovery effect, which is extremely suitable for the retrieval of permanently deleted files.
Step 2. Select a location and then hit Scan Now.
(Usually, the data is stored in disk C.)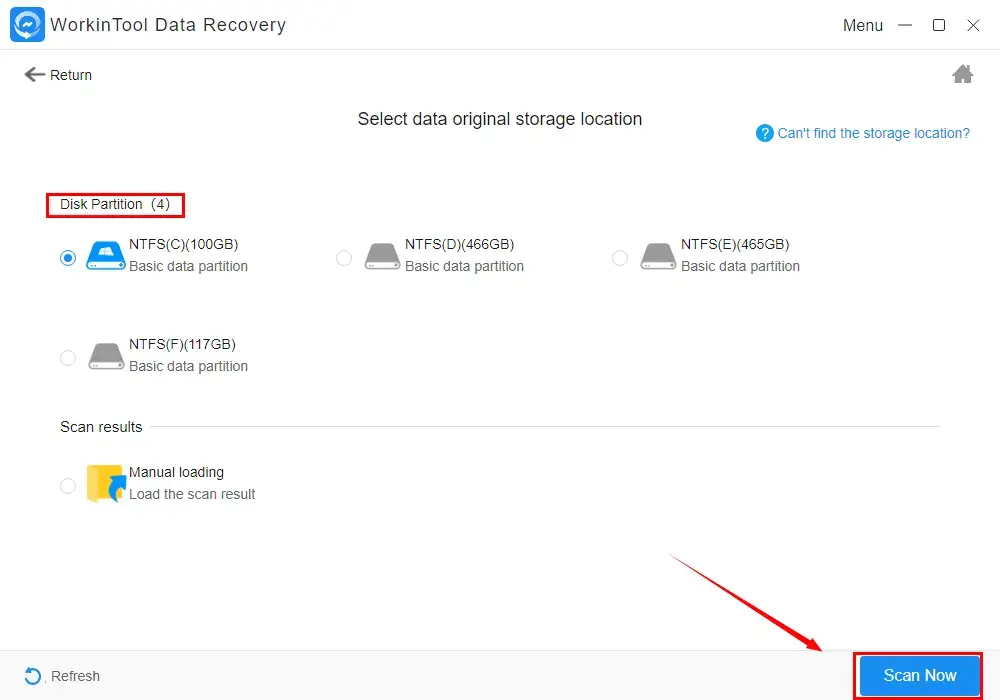 Step 3. Two methods are optional for you
Method 1: Navigate to Filter > Picture > Sure > Recover.
Method 2: Find File Type > Picture > Recover.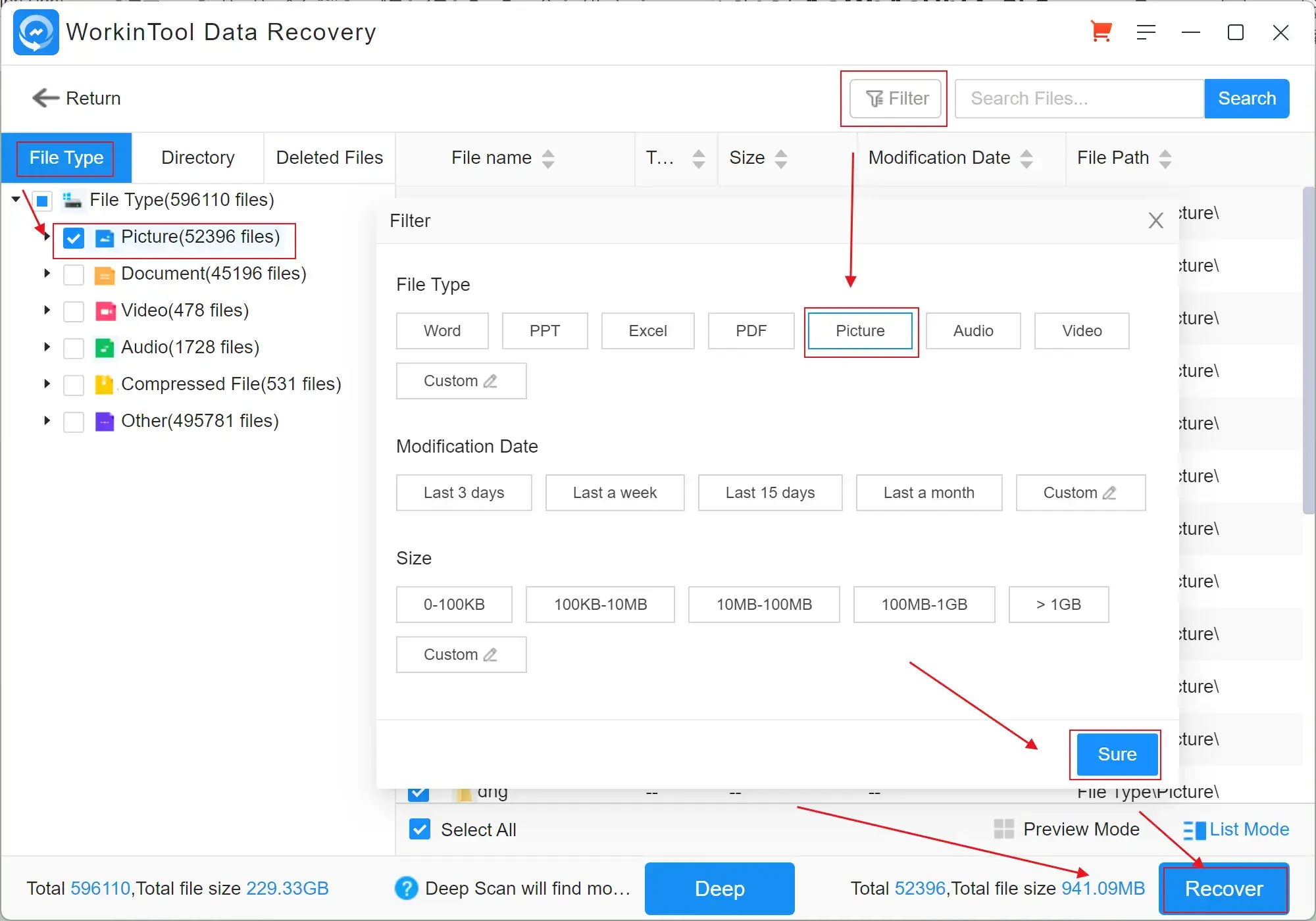 Step 4. Mark all the desired photos (a step required for method 1), hit Recover, set your save path and then click Sure.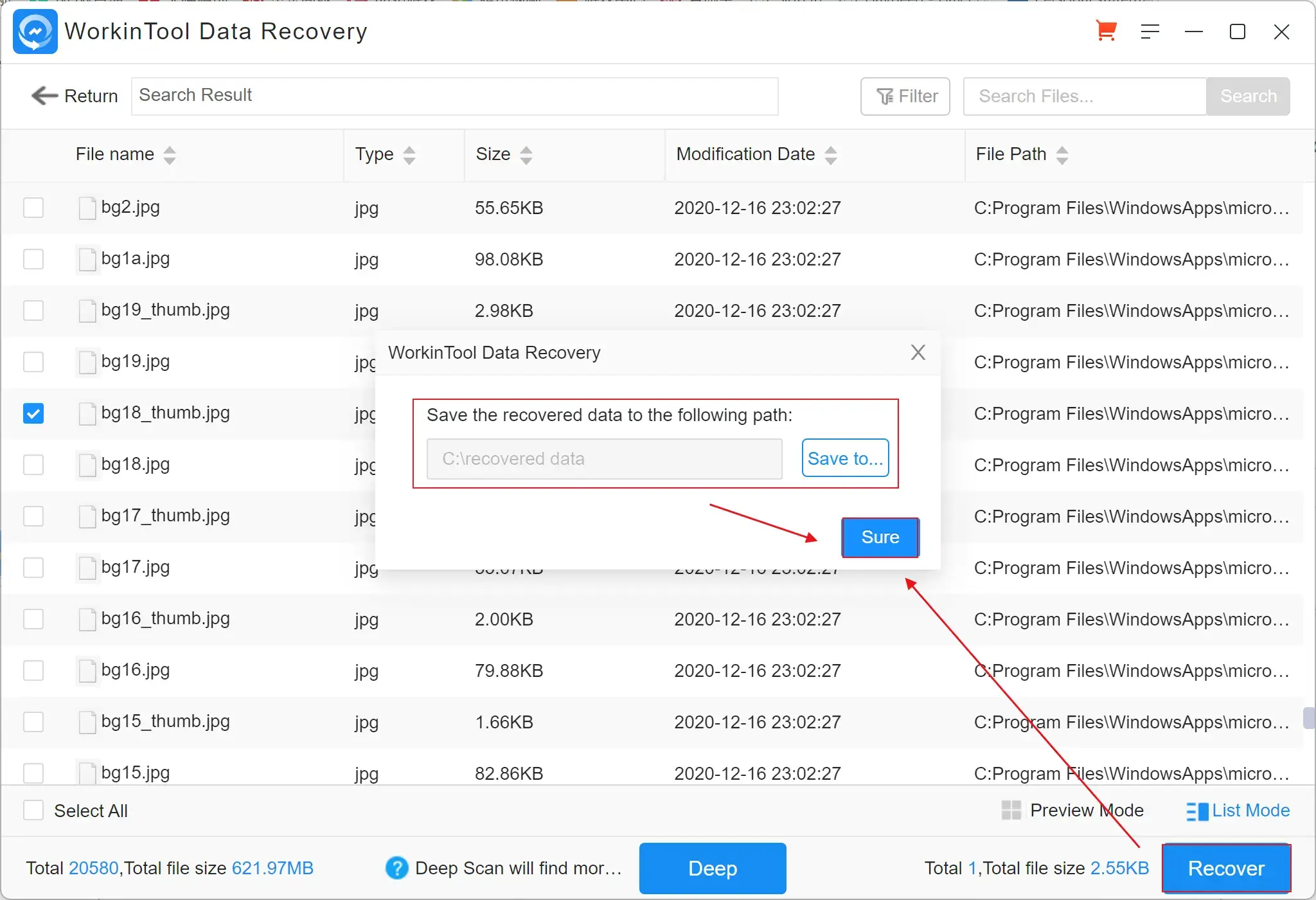 Step 5. Then click Open to get down to the folder that contains your recovered images.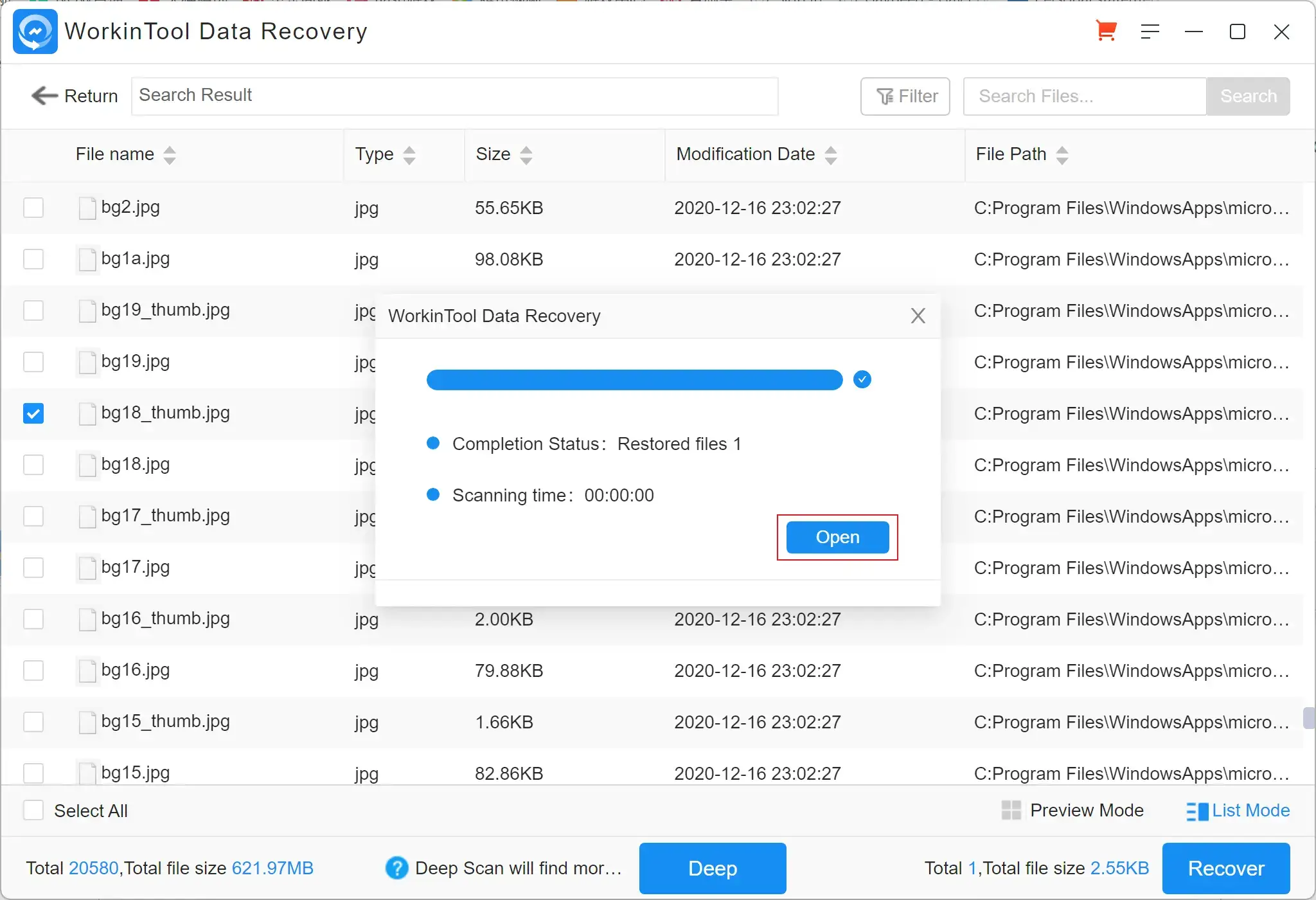 Additional Words
🎯Why should you choose WorkinTool Data Recovery?
WorkinTool Data Recovery, belonging to the WorkinTool product family, captures the users' minds instantly through the following features:
Easy to Use: For most of its recovery features, approximately five steps are needed to complete your deleted file recovery.
Multiple Formats: WorkinTool aims at the recovery of all the common files or data on your computer, including office documents, photos, PDF files, audio, videos, emails, ZIP files and other essential ones.
Batch Recovery: WorkinTool allows you to retrieve unlimited data in batches, effectively enhancing your work efficiency.
Partition Recovery: As a piece of free partition recovery software, it is helpful to get back deleted files due to missing disk partitions.
Reasonable FREE Trial: Up to 500-MB files are recoverable within its free-trial plan and no compulsory registration is needed to use all its features.
Cheaper Price: You will spend less to enjoy the same experience offered by other tools in the market.
Green: No ads will pop up in your data recovery, whether a free trial or premium plan is chosen.

🎯What other scenarios can WorkinTool Data Recovery be used for?
WorkinTool Data Recovery is here to help you
2. Retrieve Permanently Lost Pictures from Google Photos via Google Support
Another way to get back your deleted pictures after 60 days in Google Photos is to seek assistance from Google's official support team. So you ought to contact the Google Support team to submit a request that you need to have your lost photos back. However, you should attach a genuine reason to your submission. If your request is approved, then your photos will be retrieved from Google Photos. Here is what you should do:
1). Go to Google Help and type the keyword missing to find the topic: Missing or Deleted Files.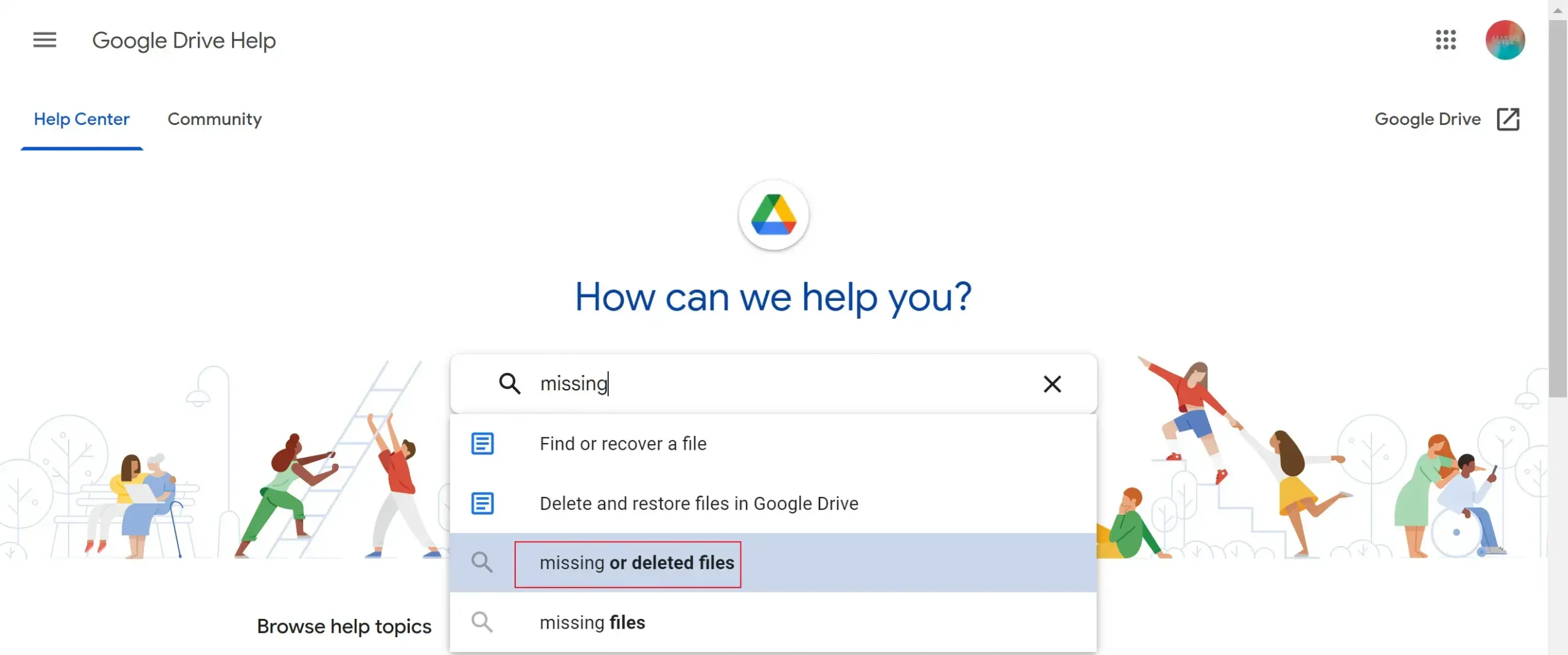 2). Scroll through the Q & A to find a wanted answer or click Contact us at the bottom of this page.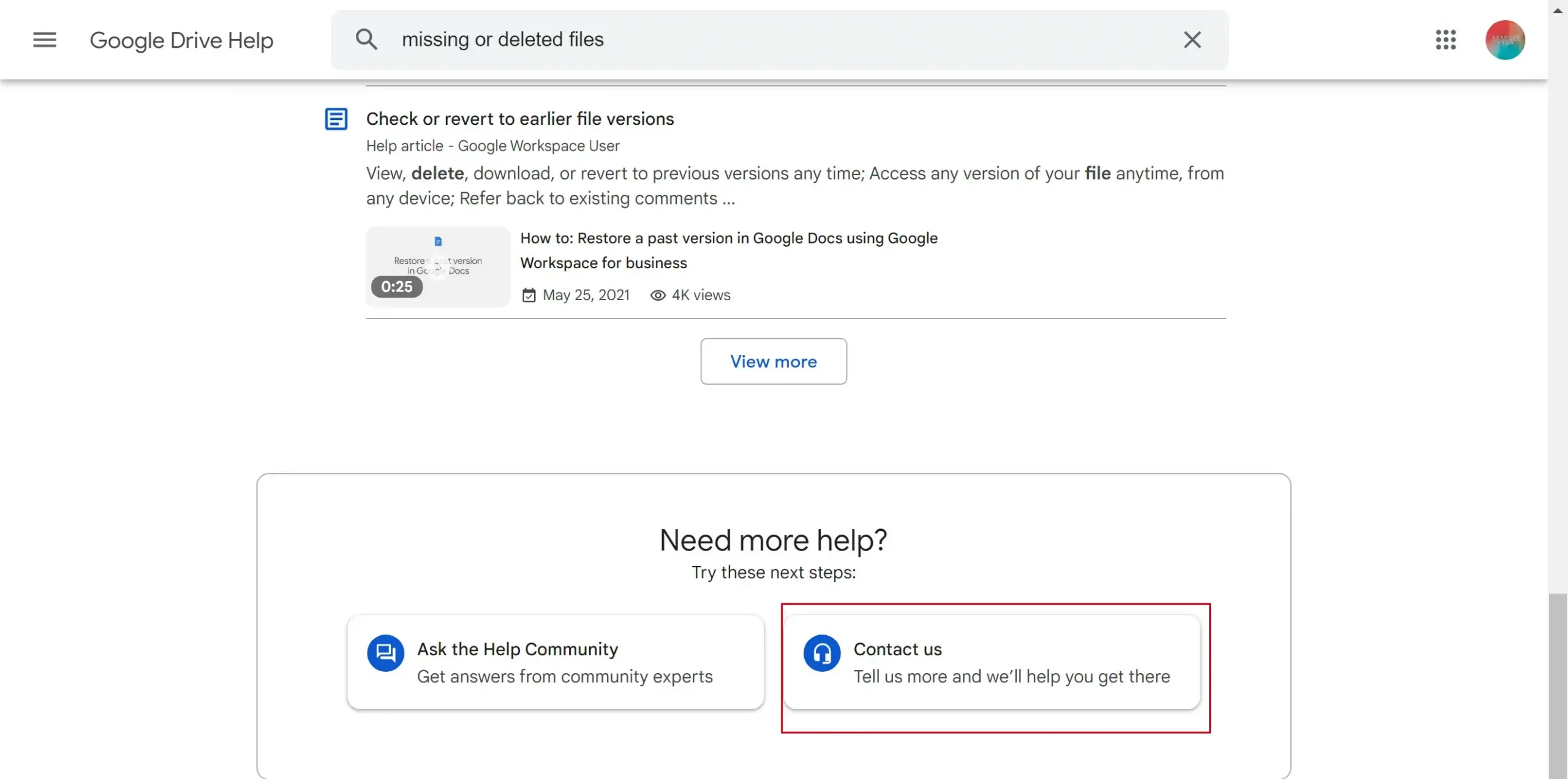 3). Complete every step and then hit Email to send an email to submit your request.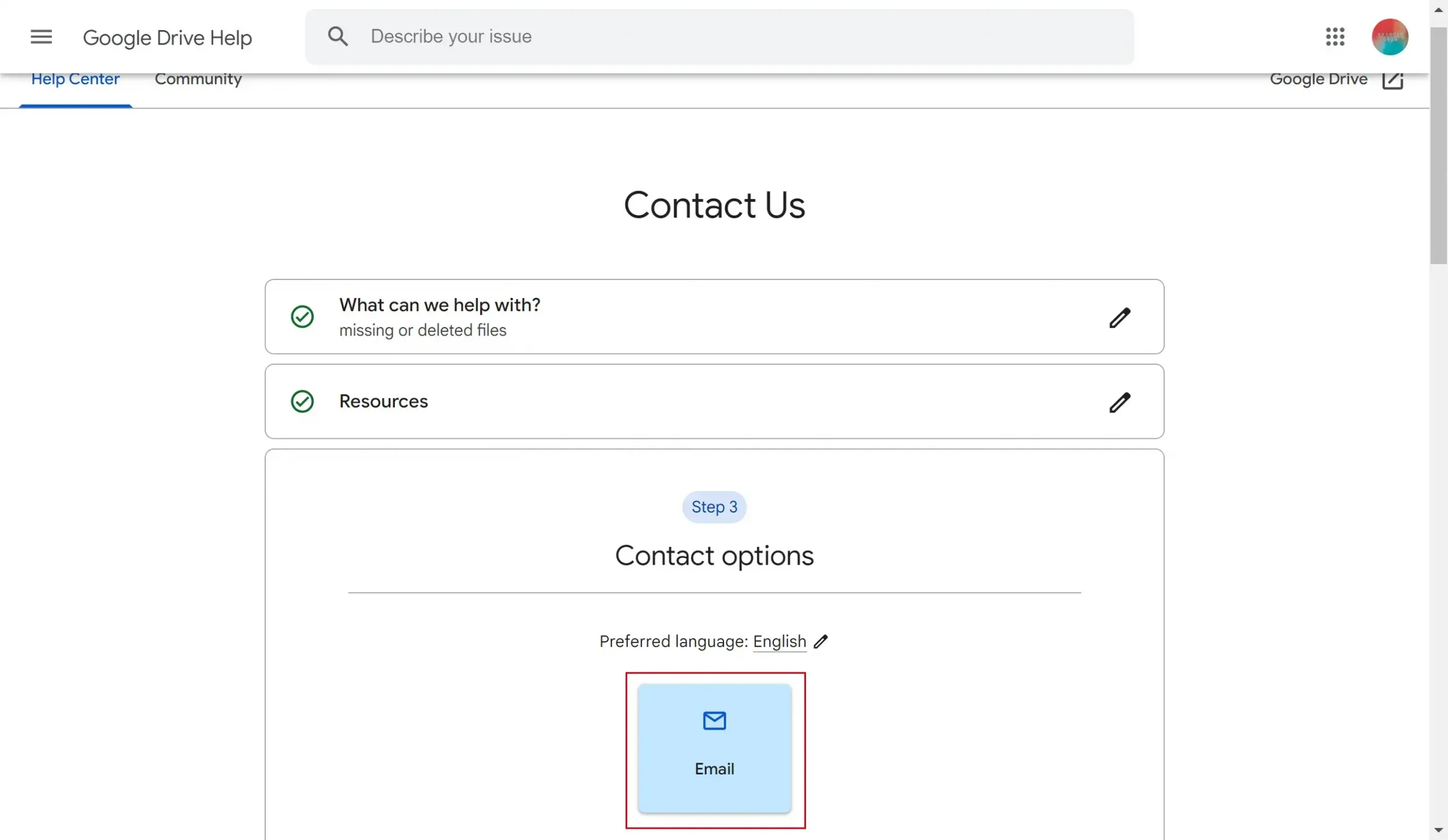 ---
Bonus Tip
💡How to download photos from Google Photos?
Open Google Photos and tick the photos you want.
Click the three-dot icon at the right corner.
Then hit Download or use the shortcut operation-Shift + D.

---
Final Words
We hope that you will find it less challenging to recover deleted photos from Google Photos in Windows. You are welcome to try all the aforementioned solutions to resolve your relevant issues. However, it is strongly advisable to try WorkinTool Data Recovery.
Now, are you ready to retrieve your lost photos from Google Photos?