How to Recover Deleted Skype Messages in Windows
it will be a headache if some important messages, such as a crucial meeting summary, go missing. What do you need to do if such an unexpected situation happens? Please spare a few minutes to read this article that discusses how to recover deleted Skype messages in Windows. You will read the following topics:
💡How to Recover Deleted Skype Messages — main.db file and restore previous versions
💡How to Recover Old Skype Messages — %AppData% and Skype search column
💡The Most Guaranteed Way to Recover Deleted Skype Messages — Data Recovery Software (WorkinTool Data Recovery)
It is highly recommended to try the last method since it is
💖FREE trial plan to recover 500-MB files
🧡Temporarily and permanently deleted data recoverable
💛99.9% recovery rate
💚Easy to use and green
💙Multiple file formats supported
💜Batch recovery available
💝Partition recovery possible
💕Cheaper license price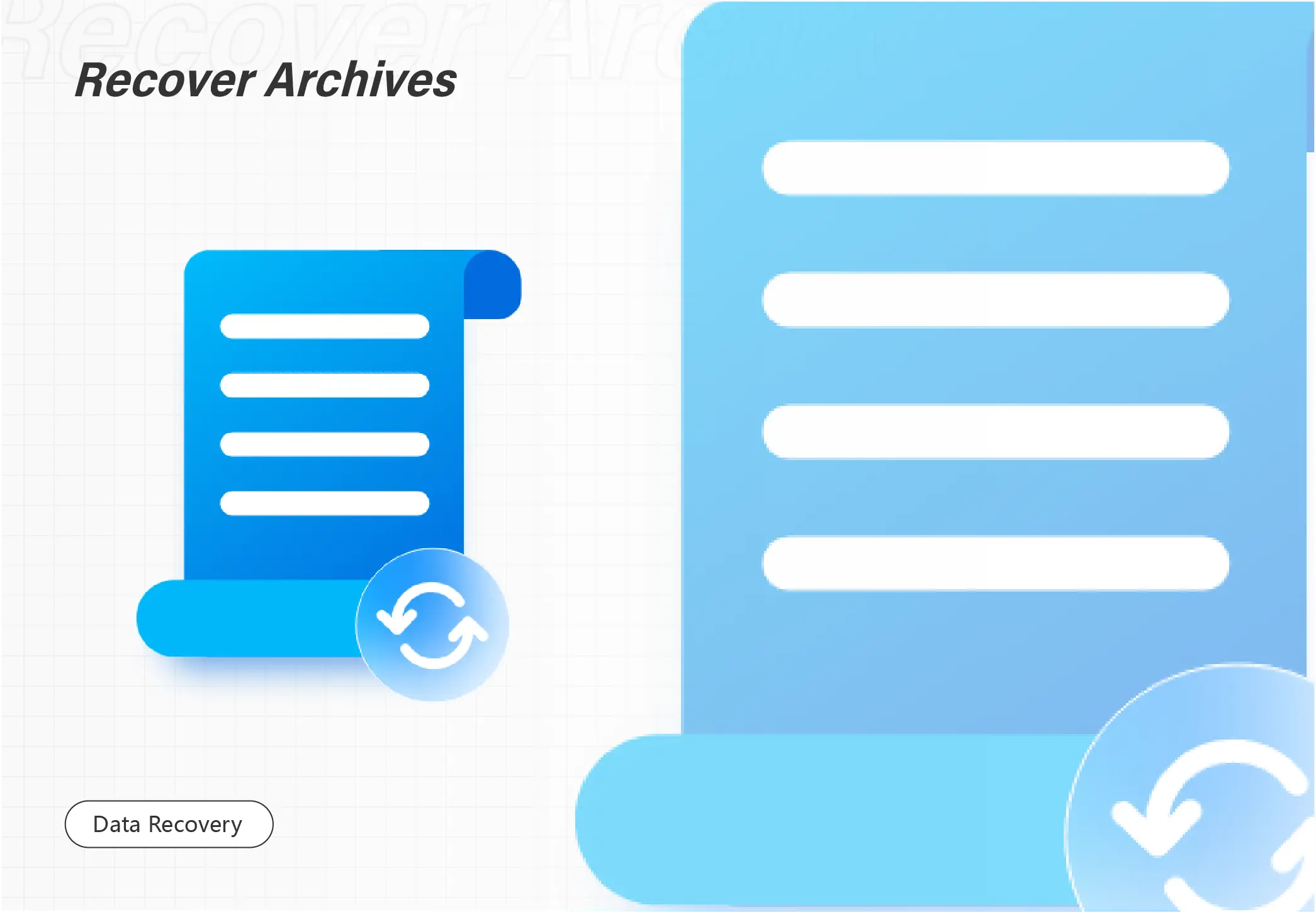 How to Recover Deleted Skype Messages in Windows [2023 Proven Solutions]
Skype has definitely been one of the most frequently used communication tools worldwide, especially in an era typical of remote work. Therefore, it will be a headache if some important messages, such as a crucial meeting summary, go missing. What do you need to do if such an unexpected situation happens? Please spare a few minutes to read this article that discusses how to recover deleted Skype messages in Windows.
Now, let's fasten our belts and start the journey.
---
Before Deleted Skype Message Recovery
📌What is Skype?
Skype is an online communication service that enables people to send and receive instant text messages as well as make and receive free voice and video calls over the internet with a computer, web browser, or mobile phone. It can be used as a chat messenger, online meeting room or international call dialer.
📌Can I recover deleted Skype Messages?
Usually, the messages or chat history of Skype will be stored on your computer. Hence, you can have them back even if they become unavailable on your Skype. However, the traditional method may fail if your operating system undergoes an update to overwrite all your old data.
So how can I effectively retrieve my lost Skype messages in Windows? Please read on to learn the specific solutions in the following topics:
How to Recover Deleted Skype Messages?
How to Recover Old Skype Messages?
The Most Guaranteed Way to Recover Deleted Skype Messages
---
How to Recover Deleted Skype Messages
This chapter will inform you of two methods of restoring removed Skype messages.
1. Retrieve Erased Skype Messages from The main.db File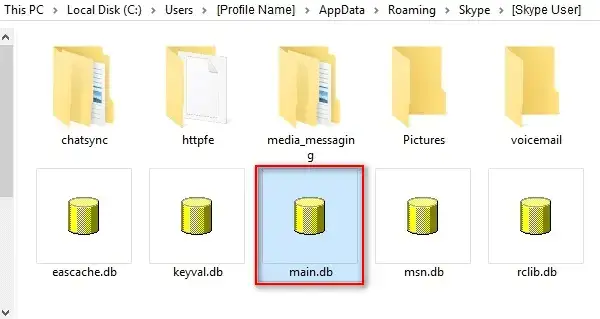 As mentioned above, your messages or chat history remain on your computer even though they are deleted from your Skype. Their records will not be removed from the database of this software, which is called main .db. There is a chance to bring them back from it as it contains your Skype logs, calls, messages, documents, videos, voicemails, transferred files and other information. You can resort to tools like SkypeLogView to recover both Skype messages and chat history from this database file on your Windows PC. Here is what you ought to do:
Download and install SkypeLogView and then open it.
Open the main.db file located in the following directory to store your Skype messages or chat history: C:\Users\YourWindowsUsername\AppData\Roaming\Skype\YourSkypeUsername.
Use the Skype browser to pinpoint the conversation that involves deleted messages.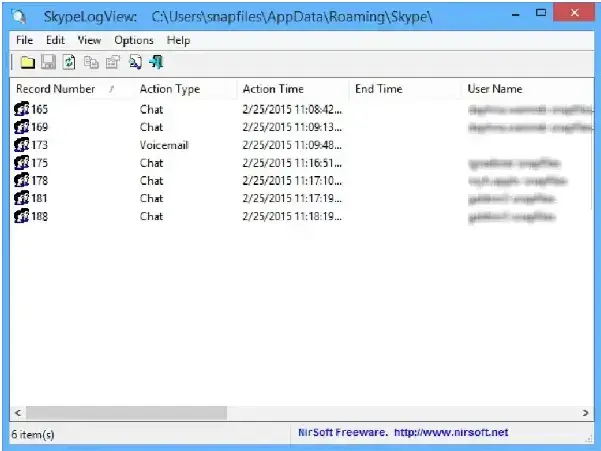 2. Regain Eliminated Skype Messages with Restore Previous Versions
Restore previous versions is a built-in Windows feature that aims to bring back older versions of your files. Hence, it is possible to find your lost Skype messages back. Please read the following instructions:
Navigate to the pathway: C:\Users\YourWindowsUsername\AppData\Roaming\Skype\YourSkypeUsername.
Right-click the file or folder to open a new menu and find Restore previous versions.
Locate the wanted files or folders and then hit Restore > OK.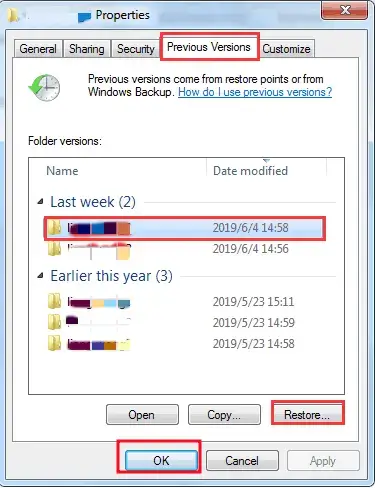 📣Attention
This approach will only work when you turn on the File History feature in the Control Panel of your Windows OS.
What can I do to restore Skype messages from a long time ago? Please continue reading to know the answer.
---
How to Recover Old Skype Messages
In this chapter, we will introduce you to two ways to retrieve previously deleted Skype messages.
1. Retrieve Old Skype Messages by %AppData%
%AppData% is a folder that contains all the temporary files of your programs installed on your computer. Therefore, you are likely to get back your vanished Skype messages through this approach. However, it may not work if you close the app or restart your computer. Thus, please STOP any further operations if you plan to rely on this method. Please follow the steps below:
Step 1. Click open This PC and then Type %AppData% in the highlighted column.


Step 2. Locate and open your Skype folder or type main in the search column to find main.db file.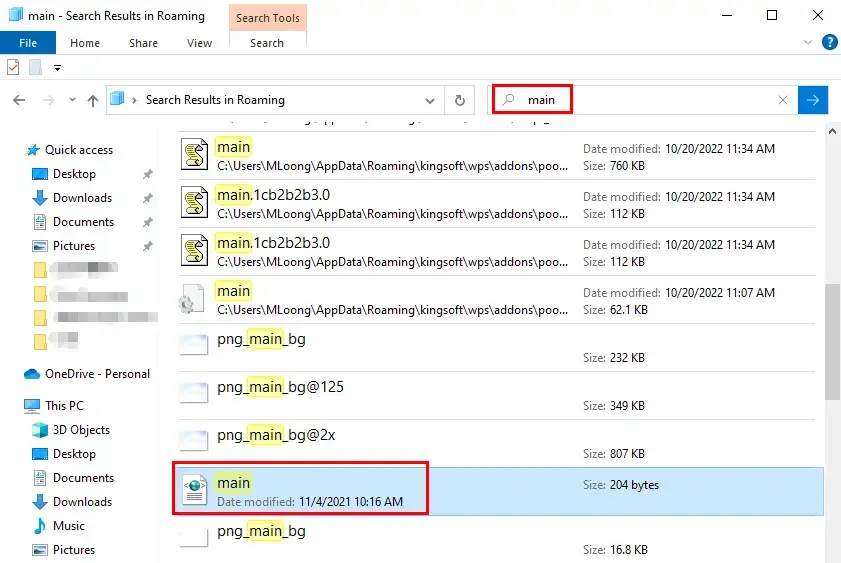 Step 3. Use SkypeLogView to regain the contents of this file to access old text messages.
2. Restore Old Skype Messages Using the Search Column
A search column is equipped in the latest version of Skype. It will be useful to assist you in finding your old Skype messages. You just need to:
1). Launch your Skype.
2). Find the search column below your Skype username.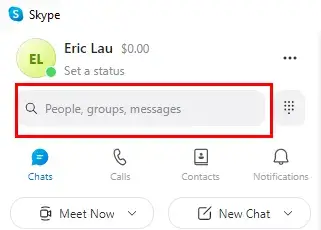 3). Type the keywords of the information you want and then click Messages.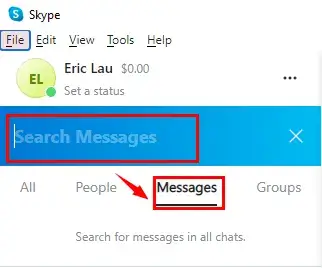 Then you will see a list of all the messages related to the keywords typed in. So you can locate the ones that you are longing for.
However, is there a simple and practical way to recover deleted or old Skype messages? The answer is affirmative. Please go on reading this blog post to unlock the mystery.
---
The Most Guaranteed Way to Recover Deleted Skype Messages
What is the most guaranteed way to retrieve lost Skype messages? The answer is data recovery software. This sort of tool is helpful to make it highly possible to recover your deleted Skype messages. Most of them are so easy to operate that you don't need to be tech-savvy. Today, we will present you with a handy program like this–WorkinTool Data Recovery.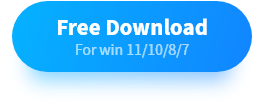 🎯How to recover deleted Skype Messages via WorkinTool Data Recovery?
Step 1. Launch WorkinTool Data Recovery and then pick a recovery scene.
(Please switch to Scene Mode by hitting the command at the bottom if Wizard Mode is your opening interface.)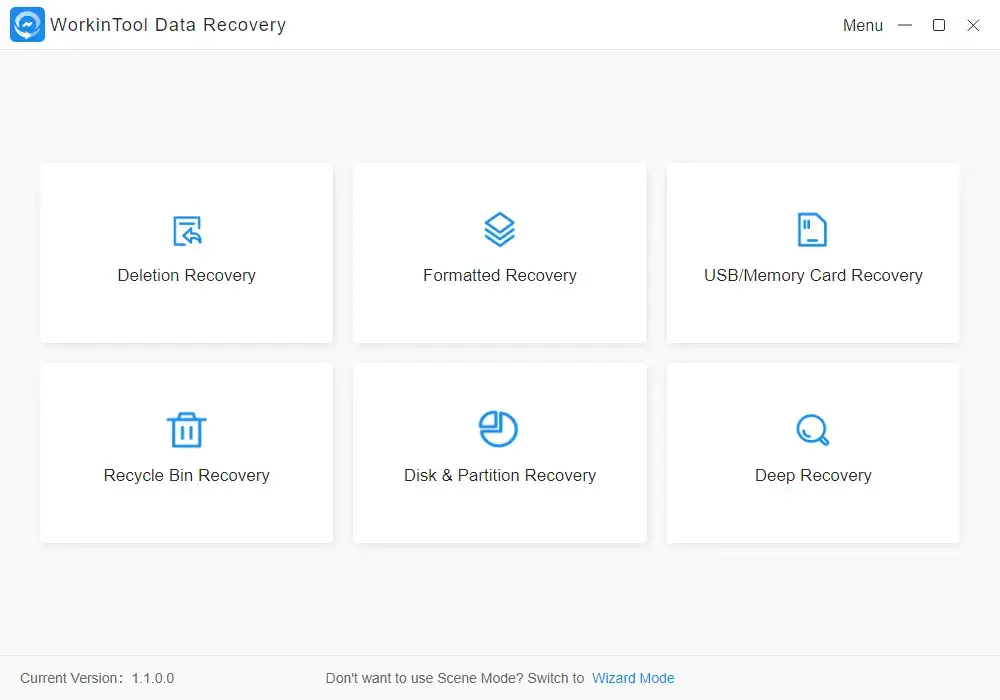 Deletion Recovery: It aims to recover the vanished files from the location where they were deleted or lost.
Format Recovery: It targets the recovery of erased files from formatted disks or devices like a USB drive or an SD card.
USB/Memory Card Recovery: It allows you to regain disappeared files from mobile devices like external hard drives, pen drives, memory cards, etc.
Recycle Bin Recovery: Precisely and instantly restore your files emptied in the Recycle Bin.
Disk Partition Recovery: Revert file loss as a consequence of missing disk partitions.
Deep Recovery: A more complete and time-consuming scanning mode to bring back as many files as possible, which is extremely suitable for the retrieval of permanently deleted files.
Step 2. Choose your location and then click Scan Now.
(Usually, the .db files are stored in Disk C.)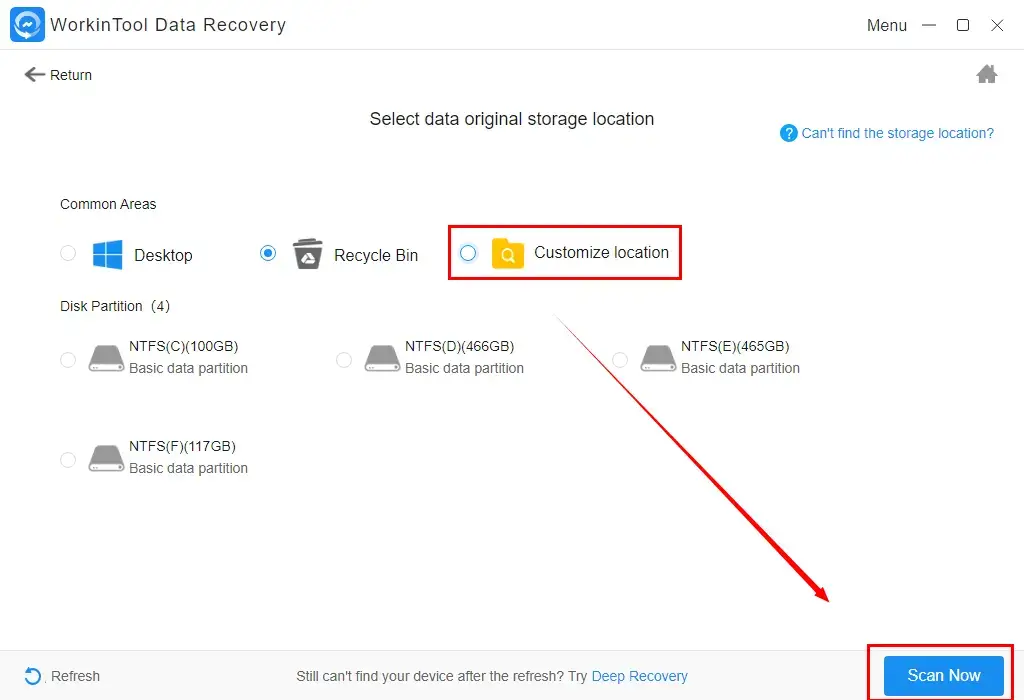 Step 3. Type .db in the search column and then hit Search.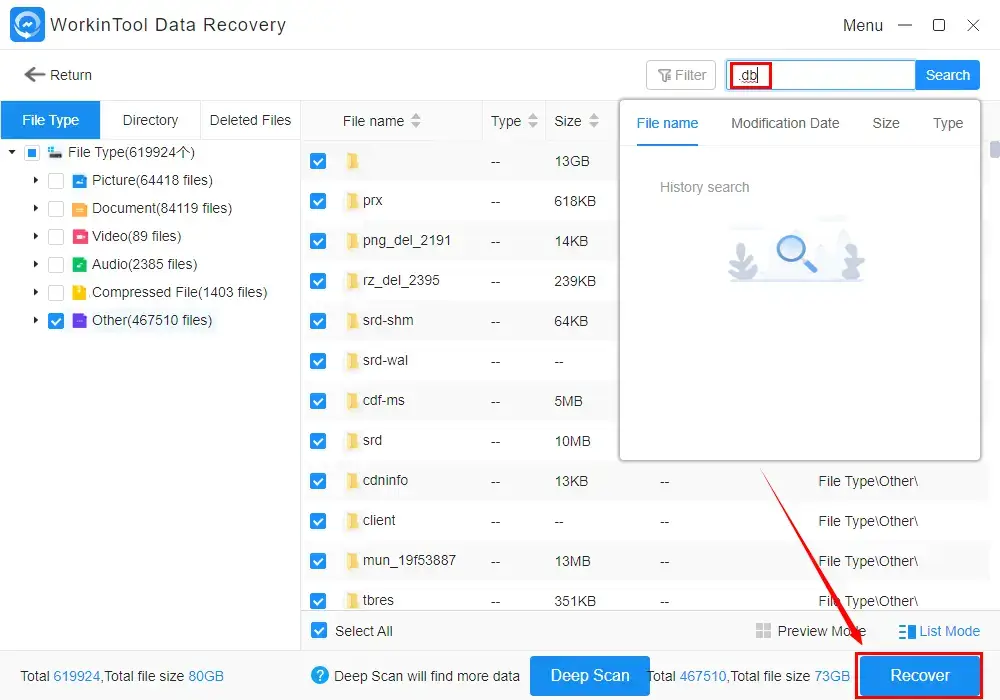 Step 4. Select the wanted file, hit Recover, set your save path and then click Sure.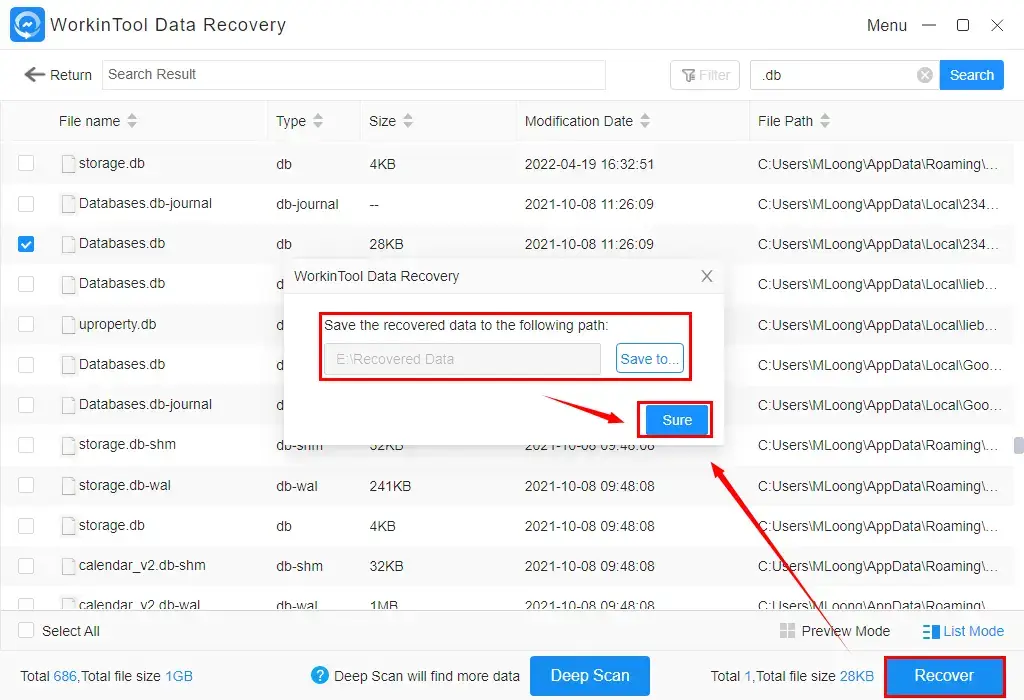 A deep scan is optional if you are discontent with the current results. This mode will allow the software to scan your computer deeper and get back more lost data. However, please be patient as it will be time-consuming.
Step 5. Press Open to find your recovered .db files.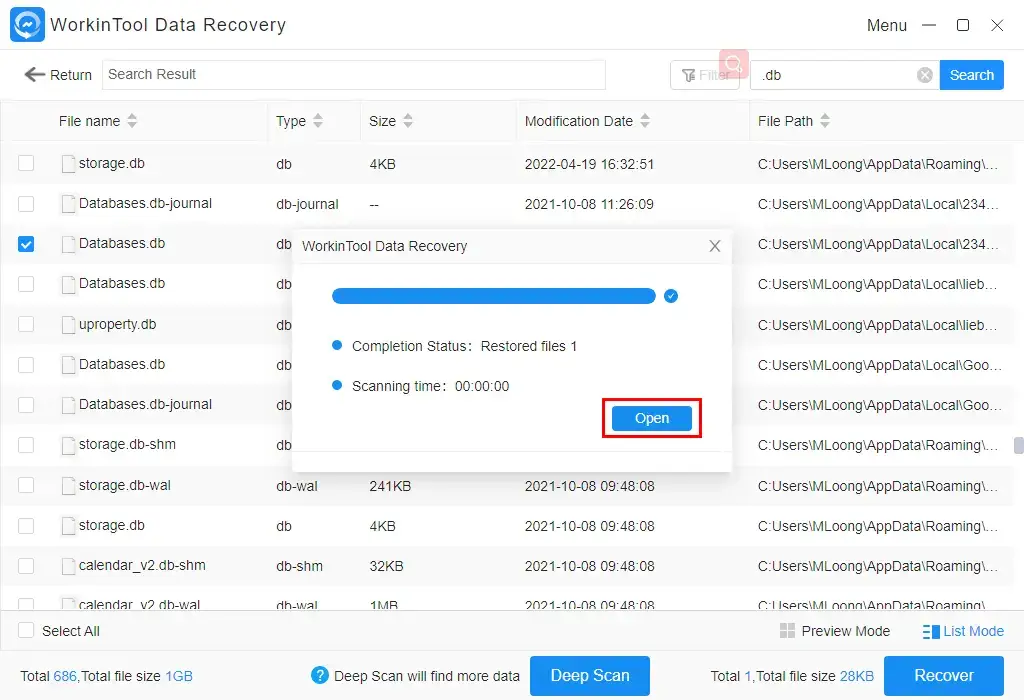 More to Share About WorkinTool Data Recovery
📝Why is WorkinTool Data Recovery an ideal option?
WorkinTool Data Recovery is another crucial member of the WorkinTool product family. It draws the users' attention instantly through the following features:
Easy to Use: For most of its recovery features, it takes approximately five steps to complete your deleted file recovery.
Multiple Formats: WorkinTool is designed to recover all the common files or data on your computer, including office documents, photos, PDF files, audio, videos, emails, ZIP files and other essential ones.
Batch Recovery: WorkinTool helps you retrieve unlimited data in batches, effectively enhancing your work efficiency.
Partition Recovery: As a piece of free partition recovery software, it enables you to get back deleted files due to missing disk partitions.
Reasonable FREE Trial: Up to 500-MB files are recoverable within its free-trial plan and no compulsory registration is needed to use all its features.
Cheaper Price: You will spend less to enjoy the same experience offered by other tools in the market.
Green: There will be no ads in your data recovery, whether a free trial or premium plan is chosen.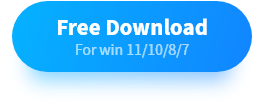 📝What other messages or files can WorkinTool Data Recovery retrieve?
WorkinTool Data Recovery is here to help you
---
After Deleted Skype Message Recovery
💡How to Export Skype Chat History?
Enter this URL: https://secure.Skype.com/en/data-export into your browser.
Then log in to your Skype account.
Mark Conversations in the interface of Skype file and chat history export.
Click on Submit Request at the bottom.
Press the Continue tab.
Hit Download when the chat history is arranged for you.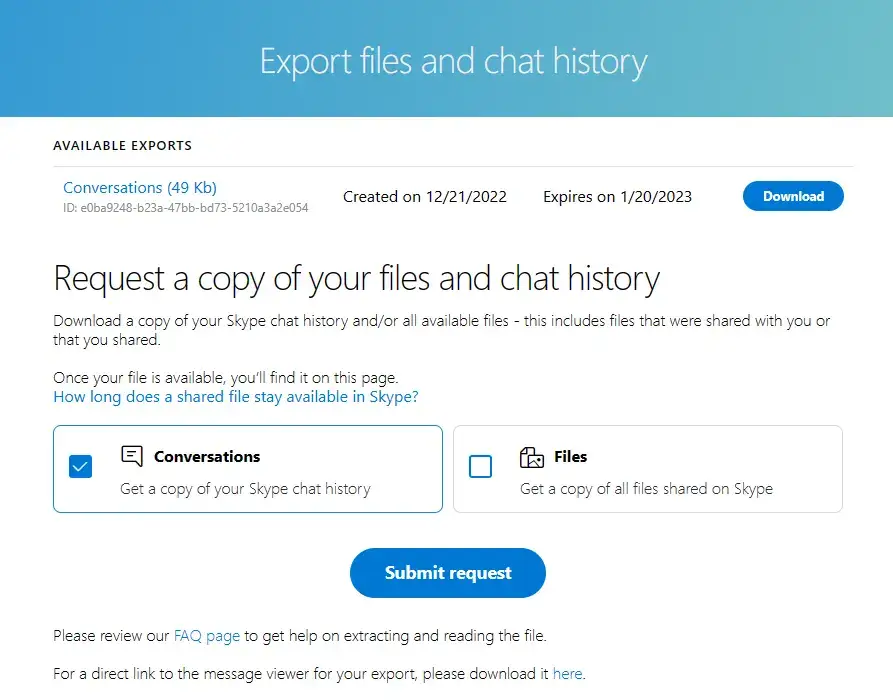 ---
Final Thought
We believe that it will be less challenging to recover deleted Skype messages after you finish this post. If you find them missing, please worry not and try all the aforementioned solutions to bring them back. However, it is strongly advisable to use WorkinTool Data Recovery as it proves effective and helpful.
Now, are you ready to retrieve your deleted and old Skype messages?