How to Recover Large Permanently Deleted Files in Windows
Have you ever faced a situation like this? When you accidentally remove an HD anniversary video, it will be directly eliminated from your PC, even though the shortcut operation-Shift + Delete is not performed. Why does it happen? Well, one of the main reasons is that your file is so large that it can't be placed in the Recycle Bin and should be subjected to permanent deletion. So what can I do when I intend to get it back? Please don't worry. Today, we will present you with this article to discuss how to recover large permanently deleted files in Windows in the following topics:
💡How to Retrieve Large Permanently Erased Files Without Software–File History and Restore previous versions
💡How to Recover Large Permanently Deleted Files with Software–Data recovery software (WorkinTool Data Recovery)
It is strongly advisable to try the second method since it is:
💖FREE trial plan to recover 500-MB files
🧡Temporarily and permanently deleted data recoverable
💛99.9% recovery rate
💚Easy to use and green
💙Multiple file formats supported
💜Batch recovery available
💝Partition recovery possible
How to Recover Large Permanently Deleted Files in Windows [Proven Ways in 2023]
Have you ever faced a situation like this? When you accidentally remove an HD anniversary video, it will be directly eliminated from your PC, even though the shortcut operation-Shift + Delete is not performed. Why does it happen? Well, one of the main reasons is that your file is so large that it can't be placed in the Recycle Bin and should be subjected to permanent deletion. So what can I do when I intend to get it back? Please don't worry. Today, we will present you with this article to discuss how to recover large permanently deleted files in Windows. All the solutions here prove to be effective, handy and simple.
Now, let's begin our journey.
---
Words Before Your Large Deleted File Recovery
📌Is there a file size limit for Recycle Bin?
Yes. A file size LIMIT does apply to the Recycle Bin. According to Microsoft's official notice, the default maximum size of a Recycle Bin location is about 5% of the overall space of each disk.
You can know the exact file size limit by following these steps:
Right-click your Recycle Bin and find Properties in the pop-up menu.
Hit Properties to see the default file size limit for each PC partition.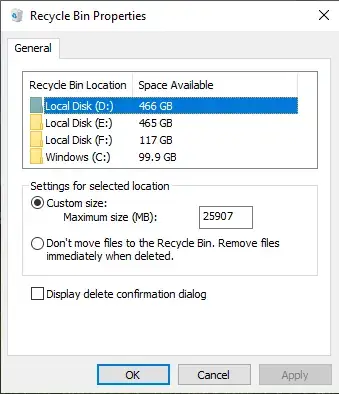 📌Is there a deadline for file storage in Recycle Bin?
Also, yes. The files moved to the Recycle Bin will generally stay there for 30 days. When the size limit of your Recycle Bin is exceeded, your files stored there will be permanently deleted, making it impossible to recover files from Recycle Bin directly.
📌Is it possible to recover large permanently deleted files from Recycle Bin?
The answer is affirmative. Much as the files are invisible and inaccessible on your computer, their data will stay for a while and wait to be overwritten. When new data arrives to overwrite the old ones, they will vanish for good. So your large permanently deleted files can be recoverable before the overwriting of their data. Hence, please remember: the first thing you should do is to STOP USING your computer when a deletion happens.
So how can I effectively retrieve my large permanently removed files in Windows? Please read on to learn the specific solutions in the following topics:
How to Retrieve Large Permanently Erased Files Without Software?

How to Recover Large Permanently Deleted Files with Software?
Now, let's continue our discussion.
---
How to Retrieve Large Permanently Erased Files Without Software?
This chapter will instruct me in restoring your large permanently removed files with the help of some built-in features in Windows. Again, These approaches will be effective only when you PAUSE your operation on your PC to prevent further overwriting of your data.
1. Restore Large Permanently Removed Files by File History
File History is a useful built-in backup feature in Windows. When activating it, you can expect it to bring back some of your files cleared on your PC for good before the disk is re-written. Here is what you should do:
Step 1. Open File History.
Method 1: Type File History in the bottom search box and find Restore your files with File History.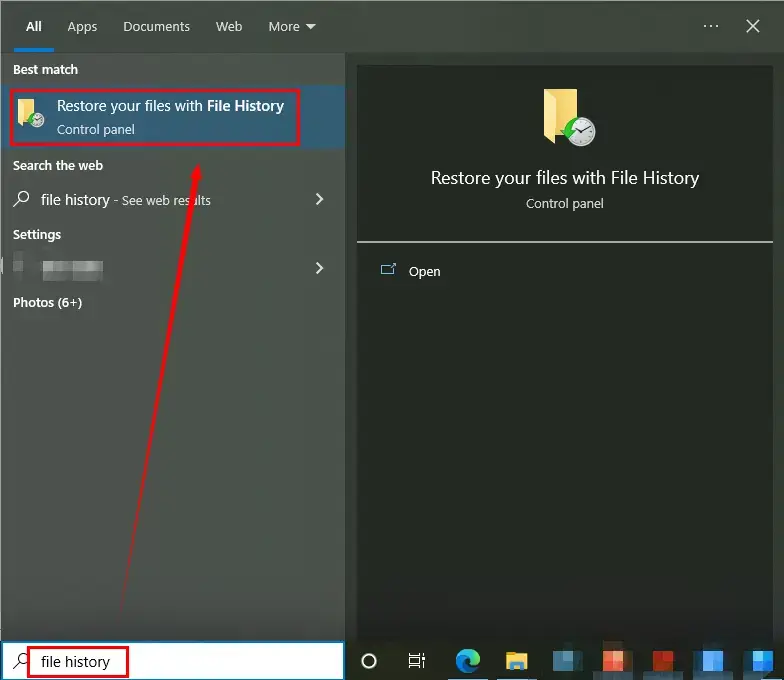 Method 2: Click Control Panel > System and Security > File History > Restore your files with File History.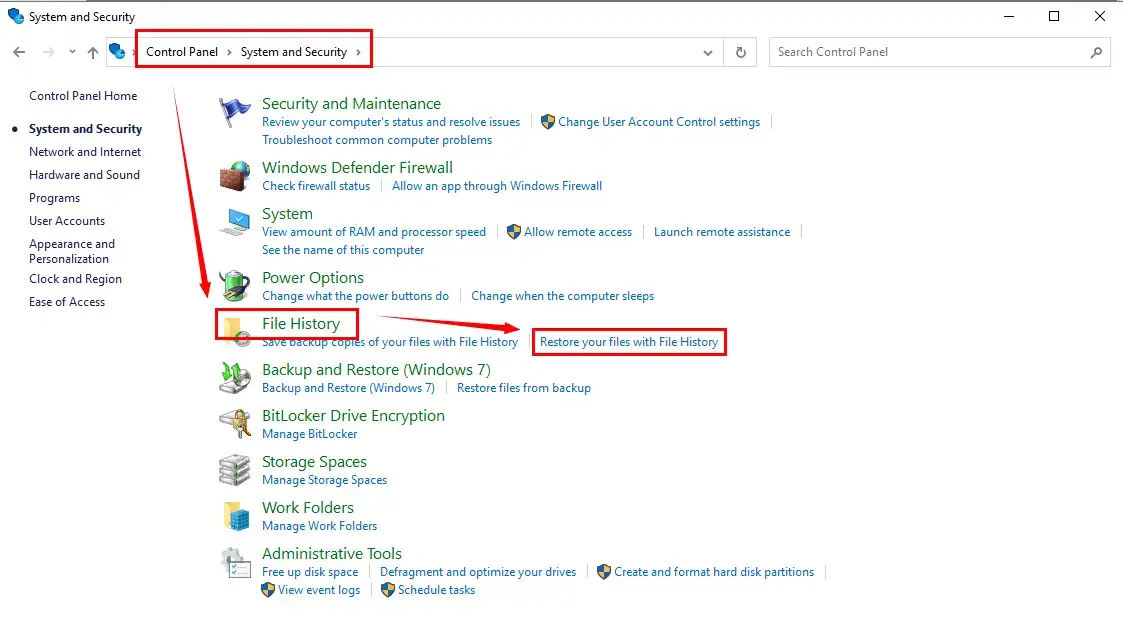 Step 2. Locate the desired file(s) in the pop-up window or the folder in it.
Step 3. Press the green button to retrieve the chosen file(s).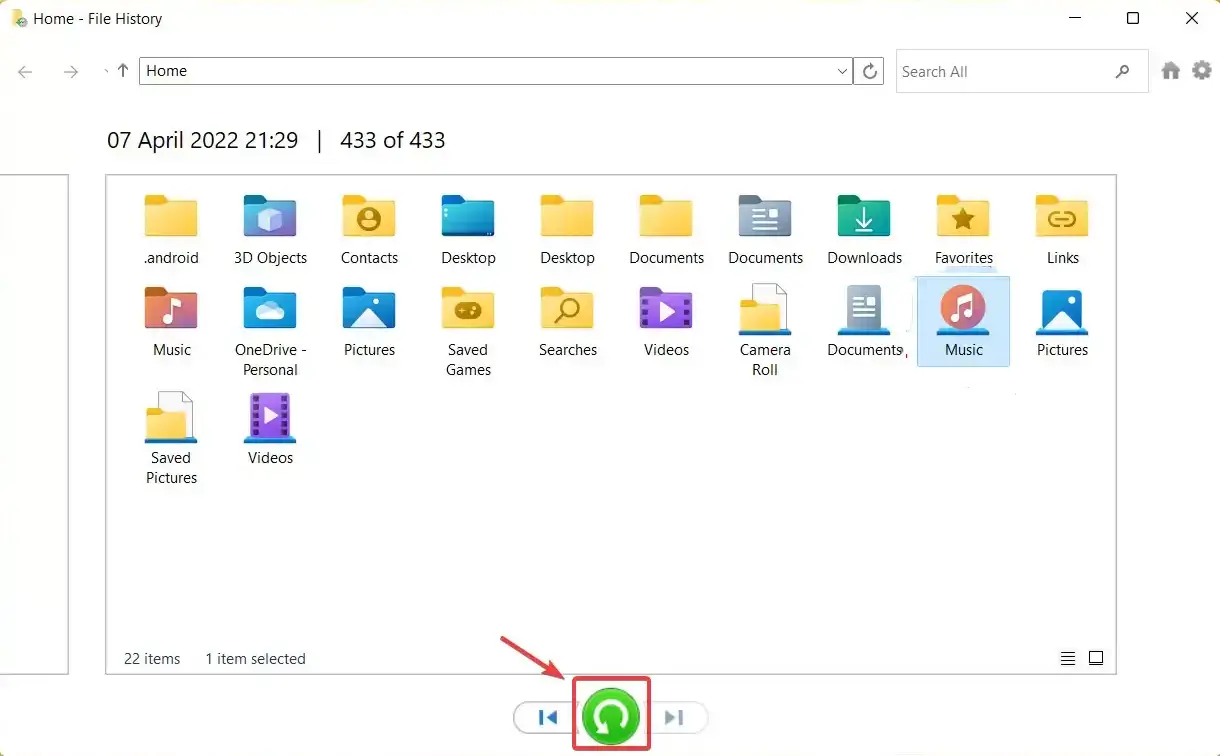 📣Attention: This method only works when you turn on this feature on your PC.
2. Retrieve Large Permanently Cleared Files by Previous Versions
Restore previous versions is a feature designed to find the older versions of your files with different modification dates on your computer. Therefore, it makes the recovery of some of your disappeared large-sized files possible. Please do as follows:
1). Right-click the folder or the disk where you think your file(s) vanished.
2). Find Restore previous versions in the new menu.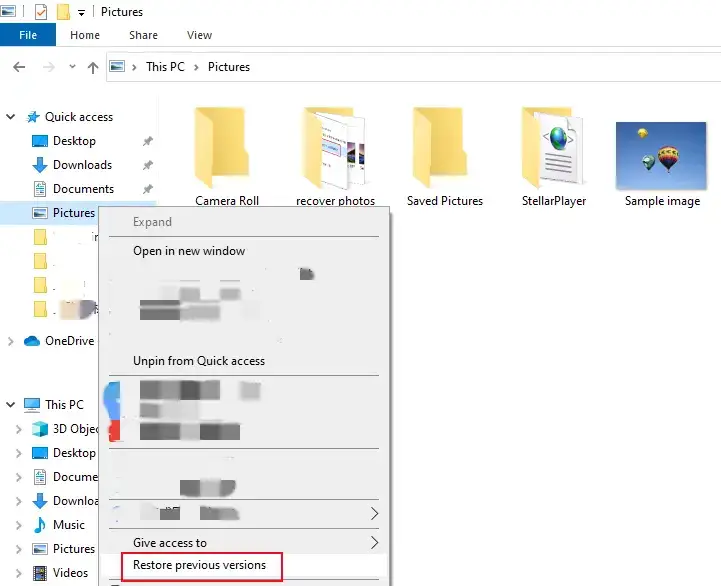 3). Select the wanted file(s) and then click Restore > OK.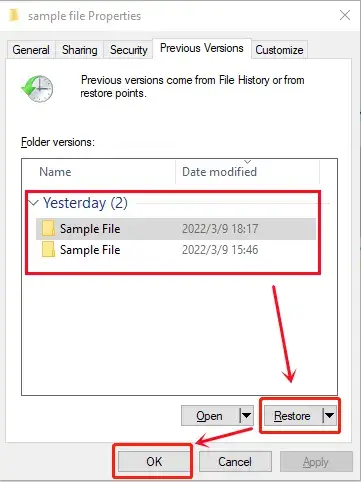 So is there an effortless way to expect a recovery rate of more than 90% when I plan to retrieve my large permanently deleted files? Yes. Please continue your reading to know the answer.
---
How to Recover Large Permanently Deleted Files with Software
The most guaranteed way to bring back nearly all your large permanently deleted files should be using data recovery software. The swift technological advancement has made most options in the market easy to operate, so you don't have to be tech-savvy to use them. Here, we would like to show you a handy tool like this–WorkinTool Data Recovery.

📕How to Recover Large Permanently Deleted Files Through WorkinTool Data Recovery?
Step 1. Activate the tool and pick a recovery scene.
(You can switch to Scene Mode if your opening interface is Wizard Mode.)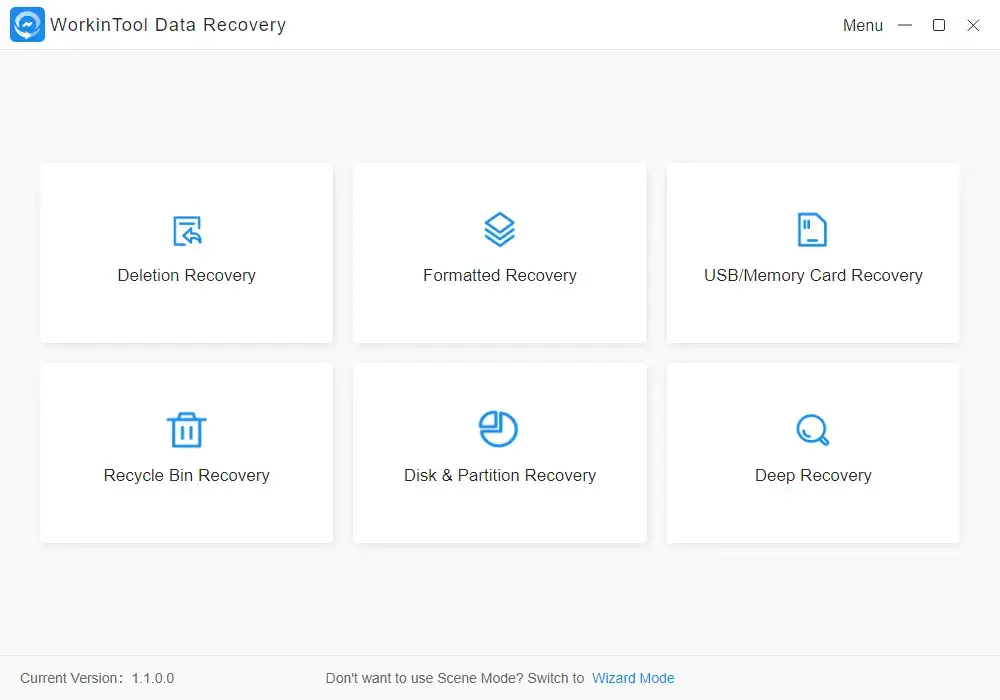 Deletion Recovery: It is designed to recover large files deleted or lost on your PC or laptop.
Format Recovery: It aims to get back the vanished files from formatted disks or devices.
USB/Memory Card Recovery: It helps to bring back the disappeared large files from mobile devices like USB, HDD, memory cards and more.
Recycle Bin Recovery: It allows you to easily and instantly retrieve files permanently erased or cleared from the Recycle Bin.
Disk Partition Recovery: Effectively repair file loss due to missing disk partitions.
Deep Recovery: A more complete and time-consuming scanning mode will be adopted to find the large vanished files in order to maximize the recovery effect. It is pretty suitable for getting large permanently deleted files back.
Step 2. Choose the location for recovery and then click Scan Now.
(Tick the whole disk if you have no idea where you lost your files.)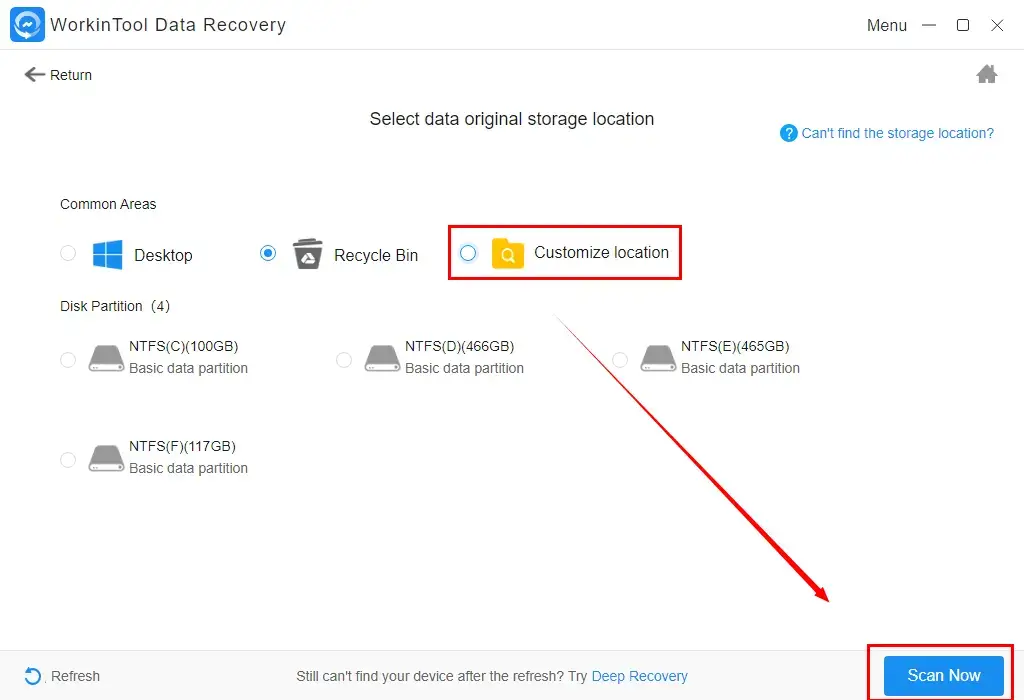 Step 3. Navigate to Filter > Size > Sure > Recover.
(You can tick the option >1GB or customize the file size in the Custom column.)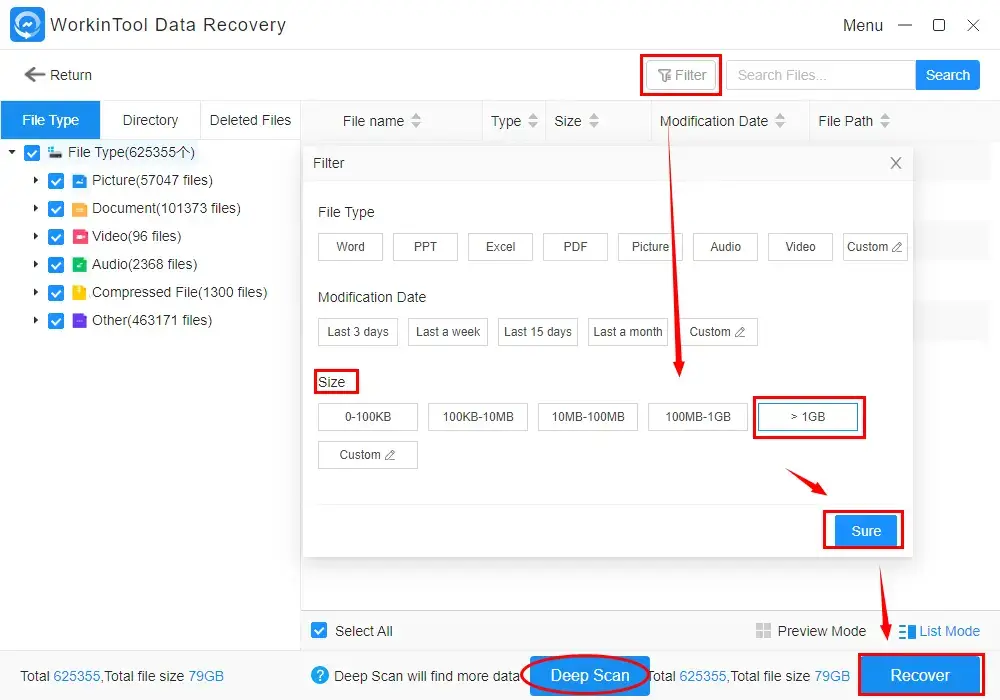 📢Notes: A deep scan is here for you if you are discontent with the current outcomes. This mode will prompt the software to scan your computer deeper and get back more lost files. However, it will be time-consuming, so please be patient.
Step 4. Select all the files for recovery, hit Recover, decide your save path and then press Sure.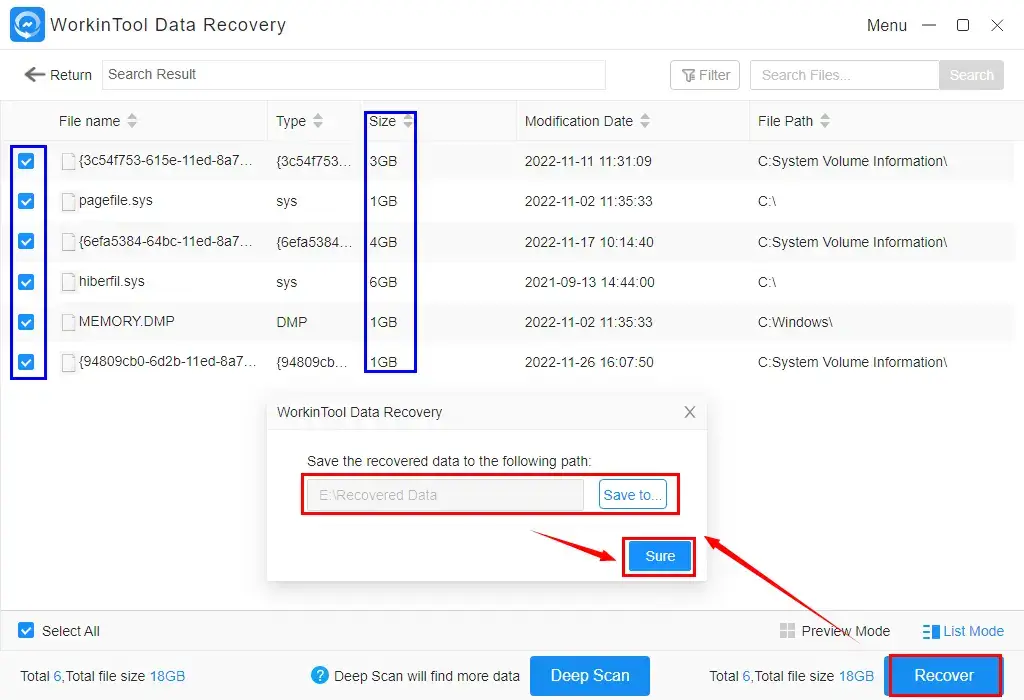 Step 5. Click Open to take you to the recovered files.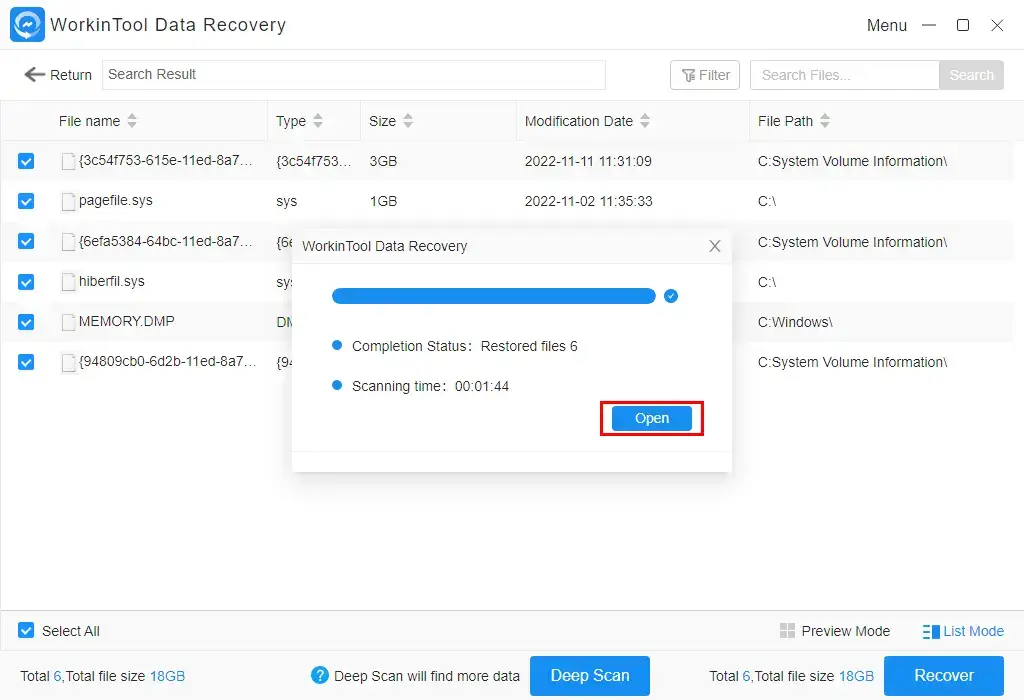 The Outcome

🔑PS:
The folders and sub-folders which contain your deleted files can be recoverable via WorkinTool Data Recovery.
You can also recover deleted files by date with WorkinTool Data Recovery.
Something More to Say
🎯Why should you pick WorkinTool Data Recovery?
WorkinTool Data Recovery is another crucial member of the WorkinTool product family. It grips the users' attention instantly through the following features:
Easy to Use: For most of its recovery features, it takes approximately five steps to recover all the deleted files or data.
Multiple Formats: WorkinTool aims to retrieve all the common files or data in your computer, including office documents (Word, Excel and PowerPoint), photos, PDF files, audio, videos, emails, ZIP files and other essential ones.
Batch Recovery: WorkinTool brings back unlimited data in batches, effectively enhancing your working efficiency.
Partition Recovery: As a piece of free partition recovery software, it is simple to get back the deleted files as a result of missing disk partitions.
Currently FREE: 500-MB files are recoverable within its free-trial plan and no compulsory registration is required to enjoy its features.
Green: No ads will pop up in your data recovery though it is freeware.

---
Additional Words
💡How to change the maximum size of the Recycle Bin?
It is possible to customize the size of your Recycle Bin. Here are the instructions:
Right-click your Recycle Bin icon to activate the pop-up menu.
Select the disk for size customization and then type the desired size number in the column beside Customize Size.
Press the OK tab.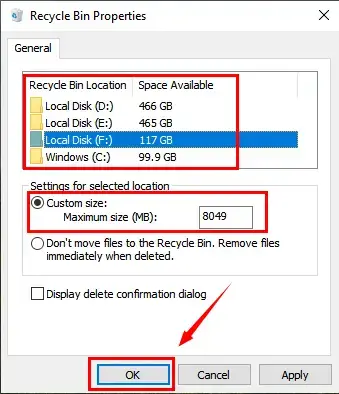 💡What additional files can WorkinTool Data Recovery recover?
You can depend on WorkinTool Data Recovery to
---
Final Words
We sincerely hope you can pinpoint an ideal solution to recover large permanently deleted files in Windows. We will remind you again to halt any operation on your PC when a deletion occurs in order to get as many files as possible.
Now, are you ready to restore your large permanently deleted files?