FREE Toshiba HDD Recovery – Recover Data from Toshiba HDD
Performing a Toshiba HDD Recovery cannot be easier with WorkinTool data recovery software. Download and enjoy it right now.
1. 100% FREE to use all the features with NO ads.
2. Easy interface for users to recover in THREE STEPS.
3. Quick scan and recover files the same as the original.
4. Cover all file types of pictures, documents, videos, audio, etc.
5. Available for all external storage devices like USB flash drives and SD cards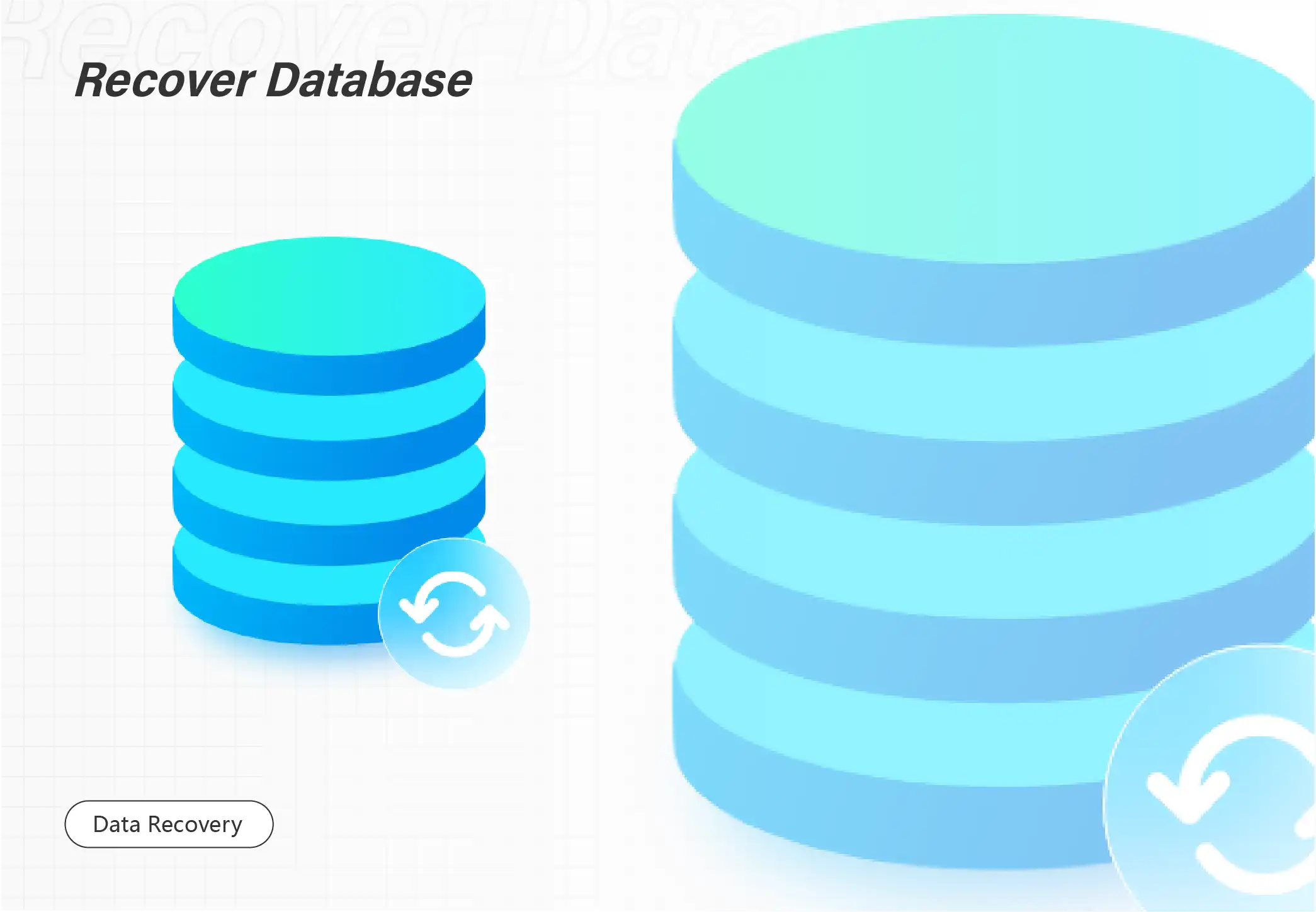 FREE Toshiba HDD Recovery – Recover Data from Toshiba HDD
Many of you must be familiar with hard drives. They are the dominant computer device for storing data like pictures, videos, documents, and more. They provide a more secure and convenient way to keep your data. As one of the most famous hard drive manufacturers, Toshiba Corporation has made its place on the market. Because they made HDD with the fastest transmission speed and highest security, many users would choose this brand to be their top choice of HDDs. However, nothing is perfect. Even though storing data on Toshiba HDD is as easy as it seems, there could still be situations like data loss on the hard drives. So, do you know how to save your lost data from hard drives and perform Toshiba HDD Recovery?
Common Reasons for Data Loss from Toshiba HDD
Not only in personal computers, many PCs used in offices and factories are also equipped with Toshiba HDDs. It doesn't mean those HDDs are immune to error. Unfortunately, due to some unforeseen situations, you can still lose your data from Toshiba hard drives. Here are the most common reasons for data loss: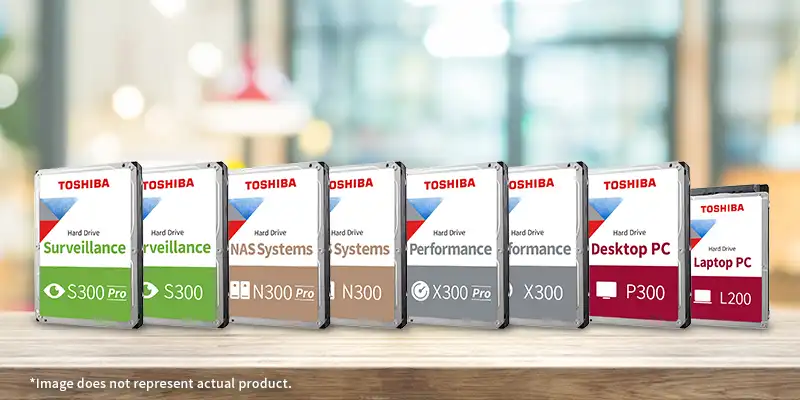 Accidentally deleting the drive data/ shift + delete keys

System crash/inaccessible data

Careless hard drive formatting

Virus attacks/hackers stealing

Power failure/ Application failure
I know this seems to be very frustrating that you lost your valuable data. We can only say to avoid those potential problems as much as possible. But what is the best solution to make a Toshiba HDD recovery? Well, don't worry. There are still ways to save your lost files. Other than that, Toshiba has its own recommended Toshiba recovery service you can seek help from. Here in this post, we will also offer you two FREE data recovery methods to perform Toshiba HDD recovery. If you want to use the least time and money to get your files back, we suggest you use WorkinTool Data Recovery Software. It is the most convenient and easiest way to recover your files.
---
How to Recover Data from Toshiba HDD
1. Use the Data Recovery Tool to get Toshiba HDD Recovery.
Suppose your hard drive has external damage or mechanical failure that cannot be connected to a local computer. In that case, you need professional technical personnel to carry out testing and maintenance. However, suppose there is data loss due to issues like deletion and formatting partitions. In that case, you can try using WorkinTool data recovery software to resolve these problems and get your data back in seconds.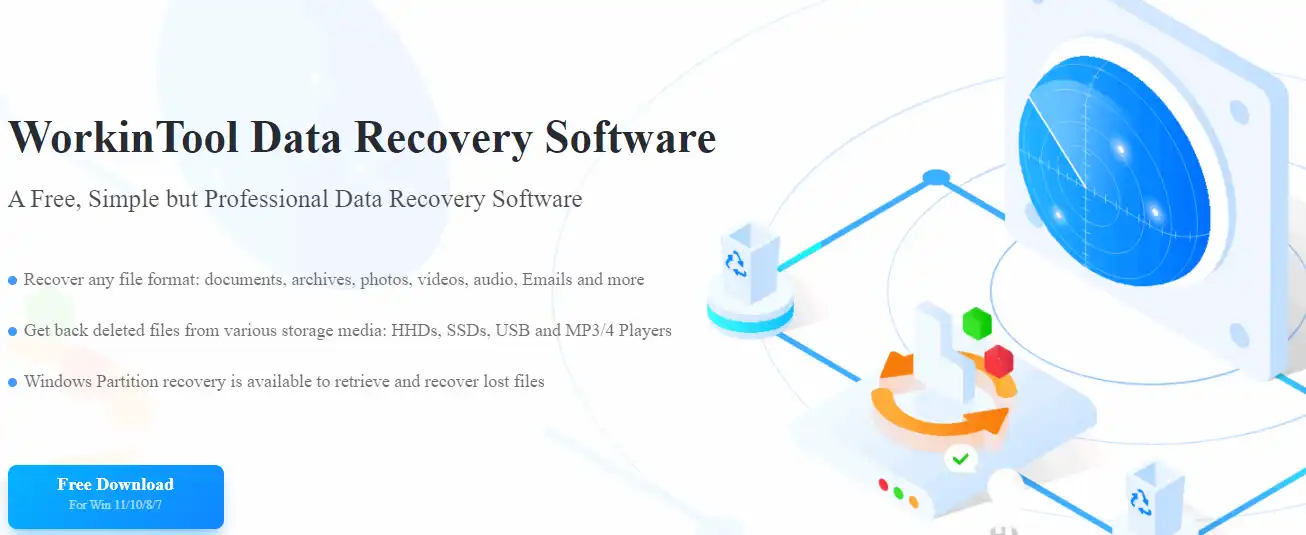 WorkinTool Data Recovery Software is a professional data recovery tool that can help users retrieve any lost files. With a straightforward and user-friendly interface, users can make a Toshiba HDD recovery in three steps. Except for the outstanding scanning and restoring speed, six categories that handle various data loss situations. So no matter if you have any experience in recovering data, this convenient tool will help you find the best solution to make file recovery. And most importantly, all users can use it for 100% FREE without any ads and limits.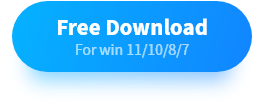 See how WorkinTool data recovery software works:
1. Launch WorkinTool Data Recovery and select Deletion Recovery. You can choose a different mode based on the reason you lost your files. (If you don't know how you lost your data, you can try to use Wizard Mode, it will take you to scan everything on your hard drive directly.)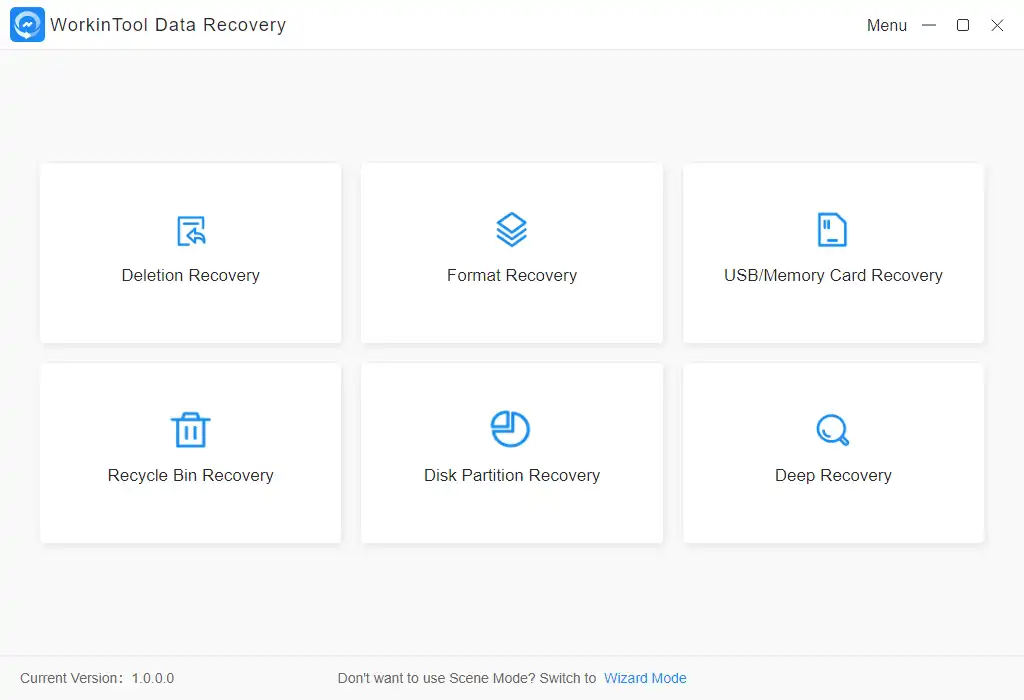 2. Select the partition where your data used to be and click Scan Now.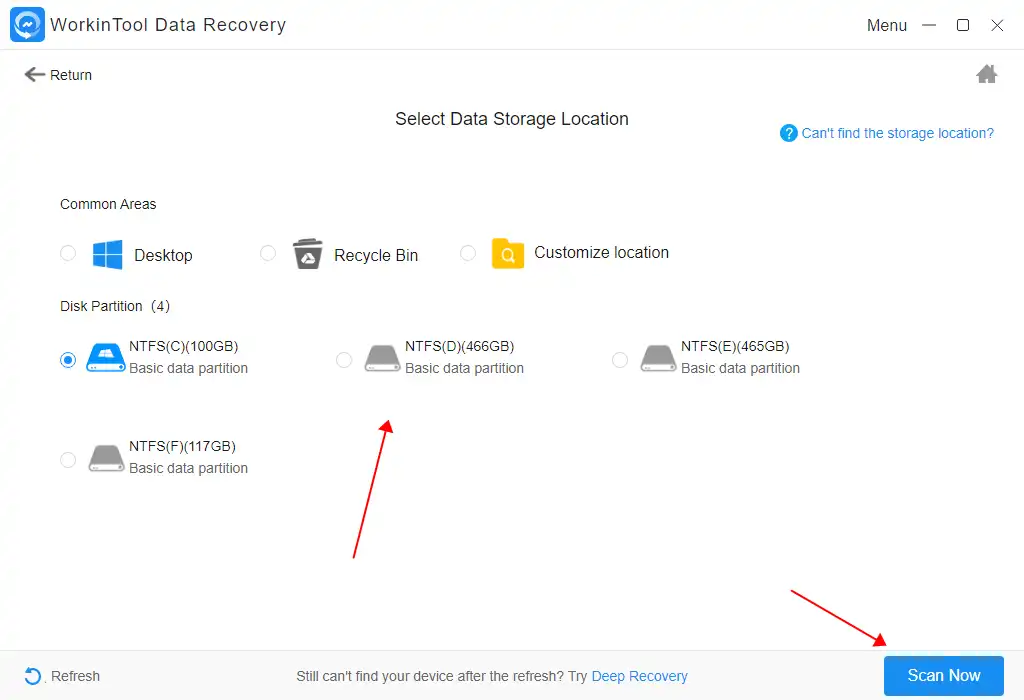 3. The final step: To locate where your desired file is, tap Recover and set your saved location. Then you can start to recover it.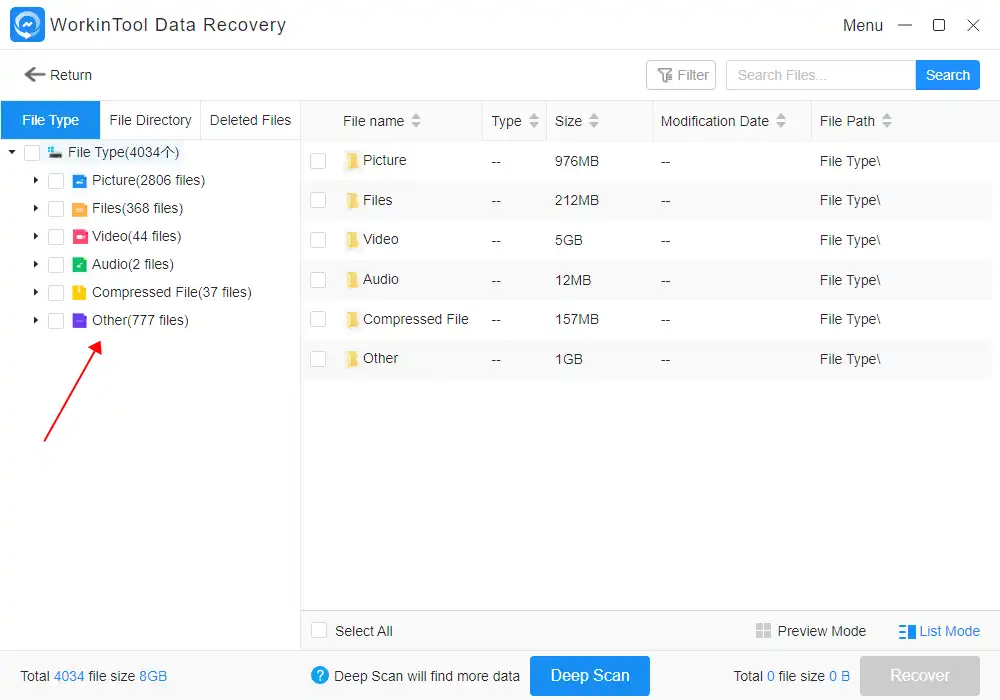 ---
2. Find Lost Data Back Using CMD Command
There is a method that doesn't require you to install any software to recover your lost data. But it is better if you know a little bit of computer knowledge. Actually, on every Windows computer, tons of cmd commands can help users solve challenging problems. Here you can use the CMD command to make a Toshiba HDD recovery. Regardless if your data is deleted, corrupted, or formatted, you can use it to recover your files for FREE. If you don't mind, it is a little bit tricky, then follow our method.
Steps to find lost data using the CMD command: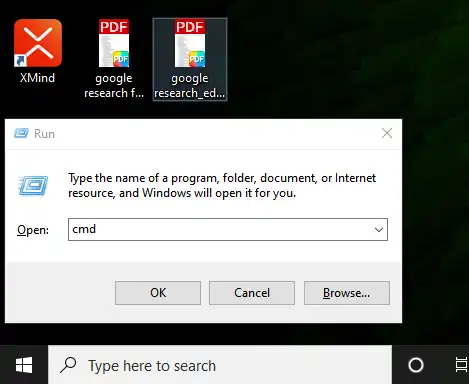 Connect your USB flash drive to your computer.
Press Windows + R to bring out Windows Explorer.
Enter "CMD" and click Enter the search box.
Input chkdsk E: /f and hit Enter. (Replace E with your hard drive letter)
Type in attrib -h -r -s /s /d e:\*.* and hit Enter.
Please wait for the process to finish.
After the process, you will find all your recovered files in the new folder created on the Toshiba hard drive.
Another thing you should know is that the last extension name of restored files is likely to be .chk. But it won't affect the actual file. If needed, you can manually change the extension name back to its original form and save it to another location. It is still the same thing as the file you lost.
📌 Advice:
You need to note several things before making Toshiba HDD Recovery if you want to increase the successful recovery rate.
1. Don't make any changes to your Toshiba HDD once you see something is missing. Because when you lose data in the hard drive and put new things into the same drive, it is like the new data will overwrite the old ones and replace them. You won't be able to use data recovery software to help you restore.

2. It is best to connect the HDD to another computer for the data recovery process. It is the same reason for overwriting protection.

3. You should change the savings location once you complete the data recovery process. Also, you'd better use antivirus software to clean the entire hard drive when you finish the whole operation. This way, you can prevent the same situation of data loss from happening again.

4. Find yourself a reliable data recovery tool. There are too many products on the market, and you cannot randomly use software to make data recovery. Many of them cannot help you restore the file you need and, even worse, steal your personal information from it. So, be careful. That is also why we recommend WorkinTool Data Recovery software. It is fully functional to recover data, free without ads, and easy to use for all users.
---
Bottom Line
We can relate to the frustration of someone losing data files from their hard drive and desperately wanting to get them back. So, here comes the savior. If you would like to restore your lost files without much hassle and do it right away, use WorkinTool Data Recovery Software. On the other hand, if you don't mind spending more time studying the inner knowledge of computers, you can try the CMD command method. However, if the Toshiba HDD is damaged and cannot be read from a computer, you can only seek help from a professional supplier.
Anyhow, we hope this post can do you some good and get you what you want. If you have any suggestions or have any troubles, please feel free to contact us.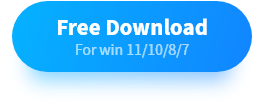 Products Reviews:
TrustScore
4
|
323
reviews