Methods to Compress PowerPoint to a Smaller Size
You may get troubled with the slow sending speed of huge PowerPoint files, and even fail to mail them. Compressing them is always the best choice, but do you know how to compress a PowerPoint? Except for compressing PowerPoint with the built-in tool in Office, there's also an alternative for you to achieve this compression, which is using WorkinTool File Compressor. It can satisfy all your needs for compressing files in a variety of formats. Just download it now and use it for real!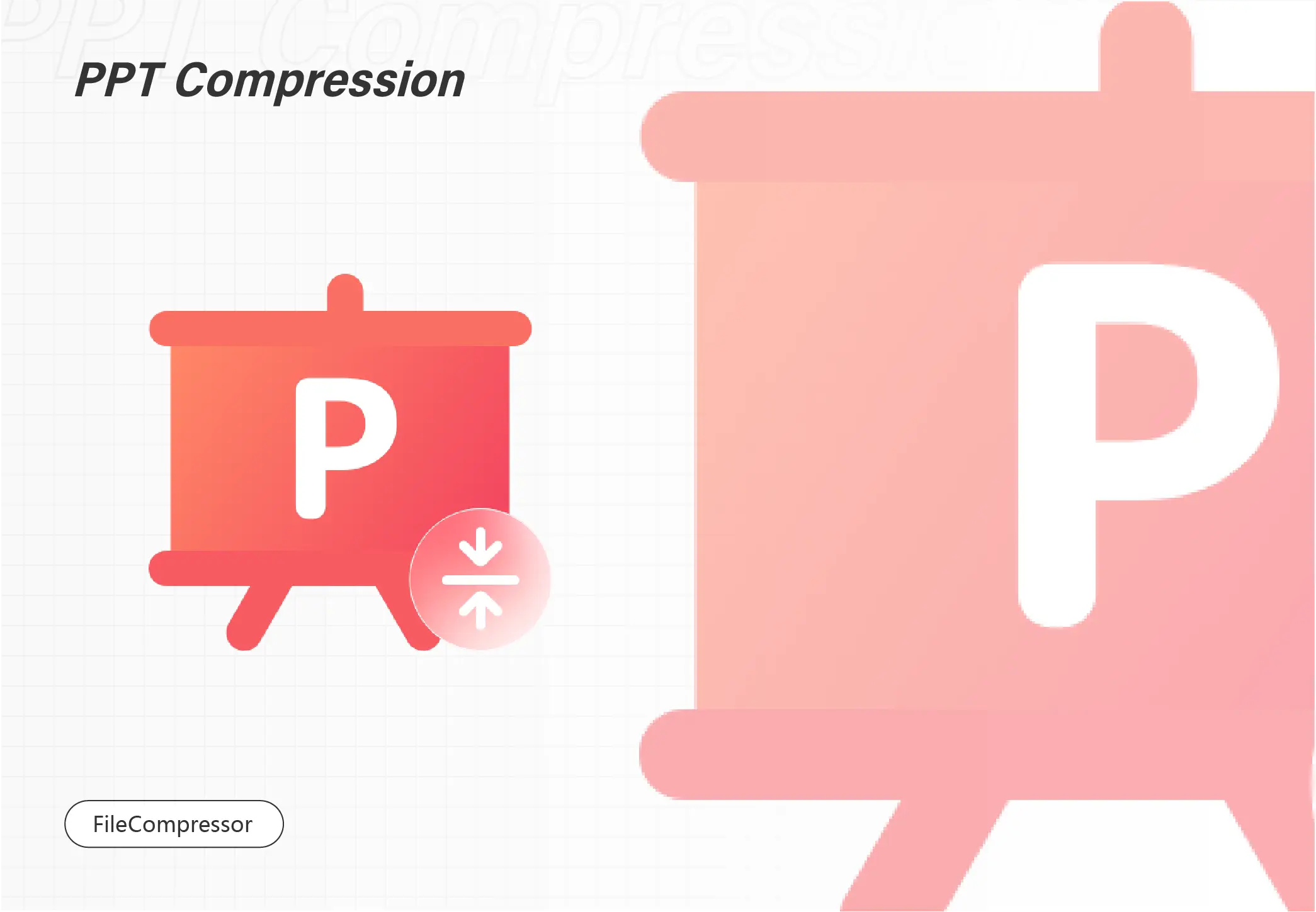 When you are giving a presentation with slides, PowerPoint is definitely the first tool that hits you. Most of the time, the files are often too large because they carry many images and videos, which makes the transformation between different devices much more difficult. When you send it to others or view it on another device, a large file will cost more time and cause pressure to the bandwidth. So, you may be wondering: is there any way to easily compress PowerPoint?
Actually, it's not that easy to compress PowerPoint files to a smaller size while guaranteeing the quality of videos and pictures. Much of the compression is done at the cost of reduced resolution, which makes your images difficult to distinguish. Is there any way to strike a balance between the two? The good news is that it's not that difficult. Instead, there are enough simple solutions to figure this out.
Compress PowerPoint With Its Built-in Tools
Quick Click to Compress Images
You must know that PowerPoint supports users' ability to compress images within the software itself. When you're opening the target file and ready to compress, be sure to make a copy of the original file to prevent special cases. After saving a copy, follow the steps below:
Step 1: Select one image in your file and click the Picture Format at the top. There's a new pop-up navigation bar that covers all the settings for pictures.

Step 2: Press "Compress Pictures" inside the Picture Format tab. A new checkbox for you to choose compression options and resolution is displayed accordingly.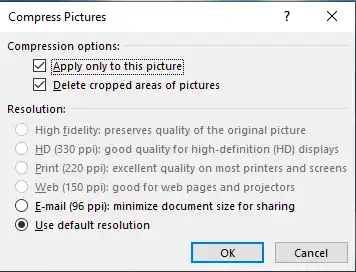 Apply only to this picture: It means that all your options now will only apply to the picture you have selected at present. And your changes to the next images in your slides will not have any effect on this one. This option is super helpful because different pictures have different requirements regarding the resolution.
Delete cropped areas of pictures: This option offers users a choice to have their picture cropped automatically by the system. But if you keep this option unselected, your images will reserve the cropped-out area in case you want to return them to the original. For this reason, it is highly recommended that you leave this option open.
At the bottom of these two options, there's a clear description of different resolutions. You can select the most appropriate one according to your requirements.
Step 3: Choose OK after you finish all the details. Now the image got compressed as you wish.
Guide to Compressing Videos
As for compressing images, there's a built-in video compression tool in PowerPoint, which is really easy to use as the Picture Format command. First and foremost, you need to make sure that there are videos or other media in the target file. Because a slide with only text and images will not call out the media compression button.
Click the File button in the upper left corner, and find Info to access Compress Media options.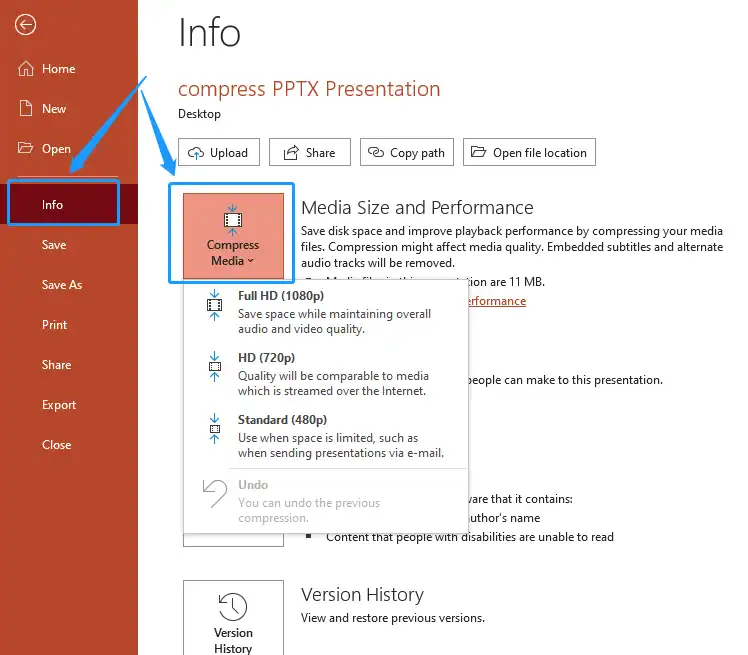 You have three options for the video resolution; that's Full HD (1080p), HD (720p), and Standard (480p). In my opinion, I recommend Full HD most, which is suitable for most occasions. You may also notice that there is an undo option under the media options for withdrawing your previous compression.
By the way, if you just need to mail or send a file that only contains text and images, it's more convenient for you to convert them to PDF. And there are two ways for you to achieve this conversion. One is that you select PDF after clicking "Set as". The other is to try WorkinTool PDF Converter, which allows you to convert almost all the formats you will use during your work.
WorkinTool – Best Way to Compress PowerPoint
I would like to introduce you to a full-featured compression tool, WorkinTool File Compressor, with which you can achieve image, video, PDF, Word, and PPT compression in one go. Although not like the specific function for compressing pictures and videos, the PPT compression function of WorkinTool File Compressor is able to slim the entire file with high definition. What's more, this software offers users clear steps to follow, with no ads or fees. All you need to do is download it and start transferring.
First, download and install WorkinTool File Compressor. Choose the PPT Compression function.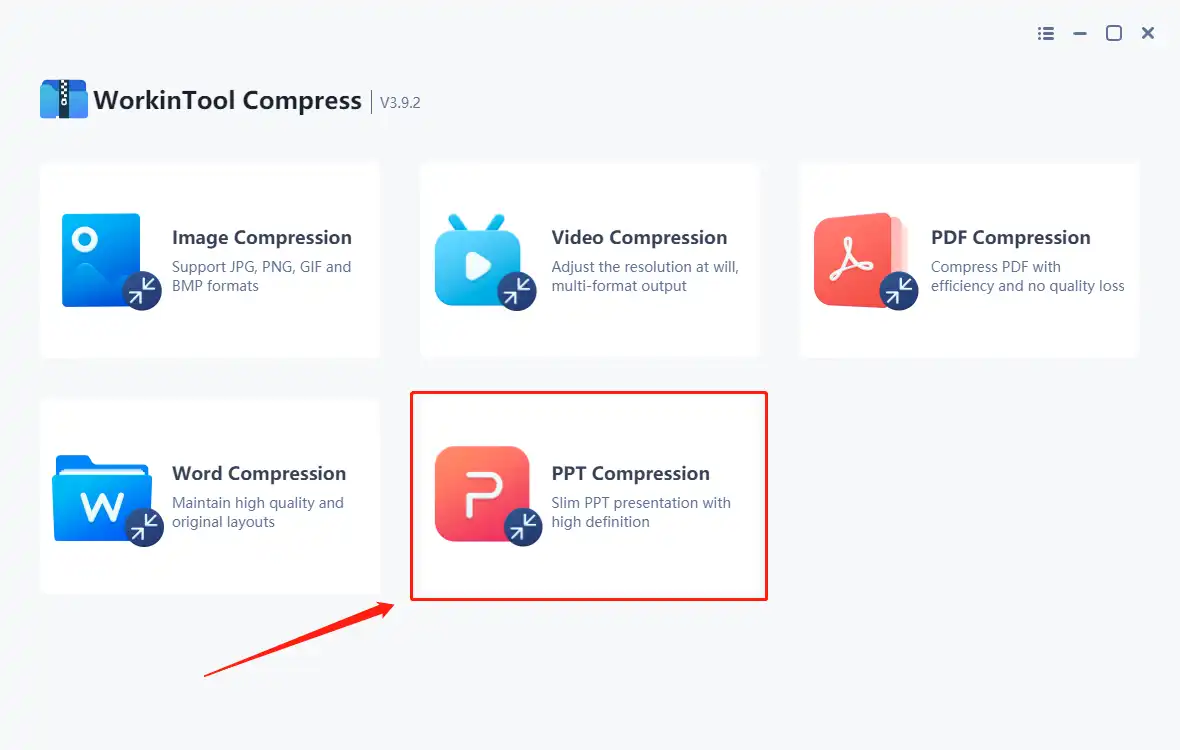 Then, click "Add file" or drag the target file to the space.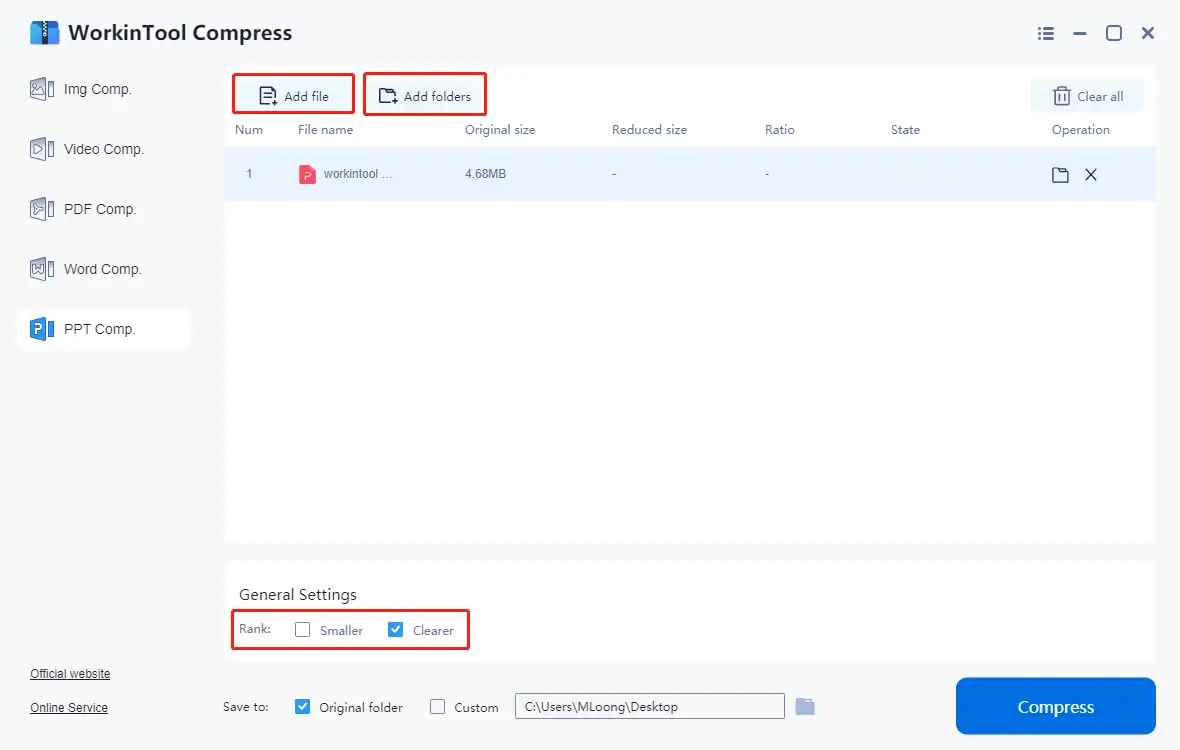 Finally, set the rank you need and decide where to save the finished file. Then you can start to compress.
There are only three steps for you to finish the compression. Another good thing about WorkinTool File Compressor is that it supports batch compression, which saves a lot of time for users.
Why Choose WorkinTool File Compressor?
Instant Delivery. All the compression can be finished in a few seconds. Fast processing speed with excellent results.
Comprehensive Functions. Though I only mentioned PPT compression in this article, it actually supports more, like image, video, PDF, and Word compression.
Batch Compression. You can process multiple files simultaneously in this tool by adding folders to the operation interface, which saves you time in selecting the target files one by one.
Free of Charge. No distinction is made between regular and pro versions, and no fees are charged to users. People who download it can use its functions directly. There's no need to worry about any expiration or limitation.
The Bottom Line
Learning how to compress a PowerPoint has a great effect on us. It solves many problems at work and offers many conveniences, which gives us the ability to hang out the daily issues easily. I hope that the methods in this article will give you enough assistance to compress PowerPoint. Microsoft Office does have a powerful system that you can use to meet almost all of your needs for documents. Besides, do not forget to have a try on WorkinTool File Compressor; after all, it works really well. You can almost handle all your issues with WorkinTool because it is super familiar with office software and also extremely experienced in making great products.
Products Reviews:
TrustScore
4
|
323
reviews