How to Compress a Video for Email Free on Windows
If you are finding an effective tool to compress video for email for free on Windows, this post will offer you some helpful tips. I'll recommend a professional and easy-to-operate desktop tool – WorkinTool File Compressor. It is an all-in-one file compressor, which supports video, image, Word, PPT, and PDF compression. I'll show you how to compress a video for an email, with a detailed step-by-step tutorial of it. Hope it can help you figure your trouble out.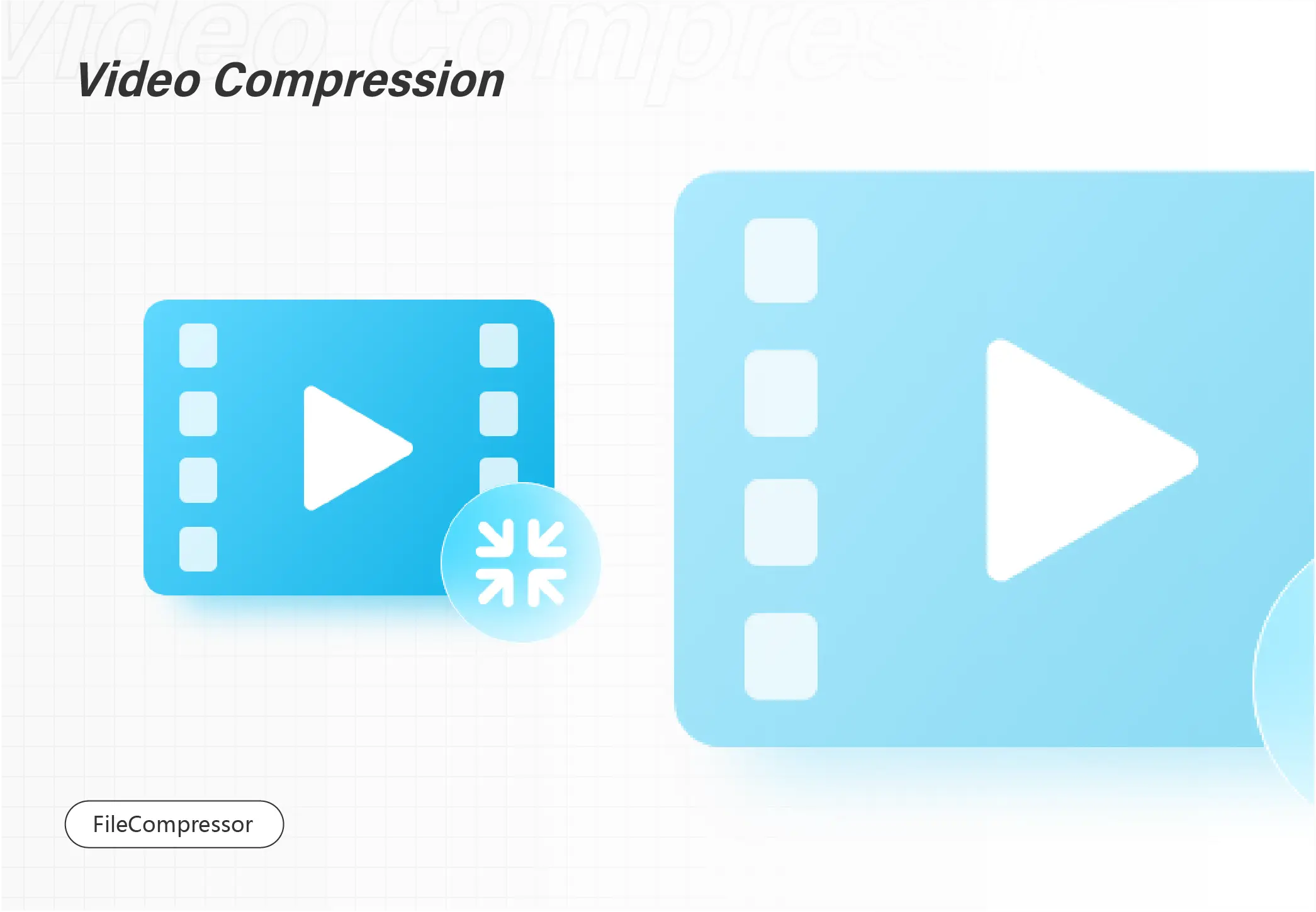 How to Compress a Video for Email Free on Windows
You will agree with me that a large video file is sometimes a hassle when you send emails to others. If you are troubled with how to compress a video for email FREE on Windows, this post will give you some aid by introducing an effective and free file compressor – WorkinTool File Compressor. I will expound on the steps of how to zip videos with it. Hope you can benefit from it.
👀 Why Compress Video for Email?
Email can not only provide users with the function of sending e-mails, but also automatically receive files for users, and also store the received and sent emails. Although in recent years, there are numerous social media platforms in favor of transmitting messages and files, email is still the preference in daily work and study. If you want to send large files like videos through email, you can add video attachments to emails. However, there are size limits for videos. Take Gmail as an example, the maximum attachment size you can send is 25 MB. If you are sending multiple attachments, the total size of these attachments cannot exceed 25 MB. To send a large file that exceeds the size limit, you have to reduce it.
🧐 How to Compress Video for Email with WorkinTool?
WorkinTool File Compressor is an all-around, professional file size reducer that is new to the market. You have access to it to compress videos, images, Word, PPT, PDF, etc. It is utterly free for all usages. What's more, its operation is quite friendly to new users. Just upload your file, then compress it. Batch compressing is feasible as well. That means you can zip multiple files with just one click. Its convenience makes it prominent among numerous file compressors in the market. It also guarantees your data privacy and information security. It won't save any of your files' information. As for video compression, it supports various mainstream video formats like MP4, WMV, AVI, and FLV, and allows you to choose an outcome in the MP4 or the original format. Most importantly, it can output a reduced video without losing the quality of the original one.
📌 How to Use It
Now, let's have a look at how to compress a video for email with WorkinTool File Compressor.
Step1. Launch it, then select video compression in the operating column. Add videos you want to compress by clicking Add file/ Add folders or dragging directly.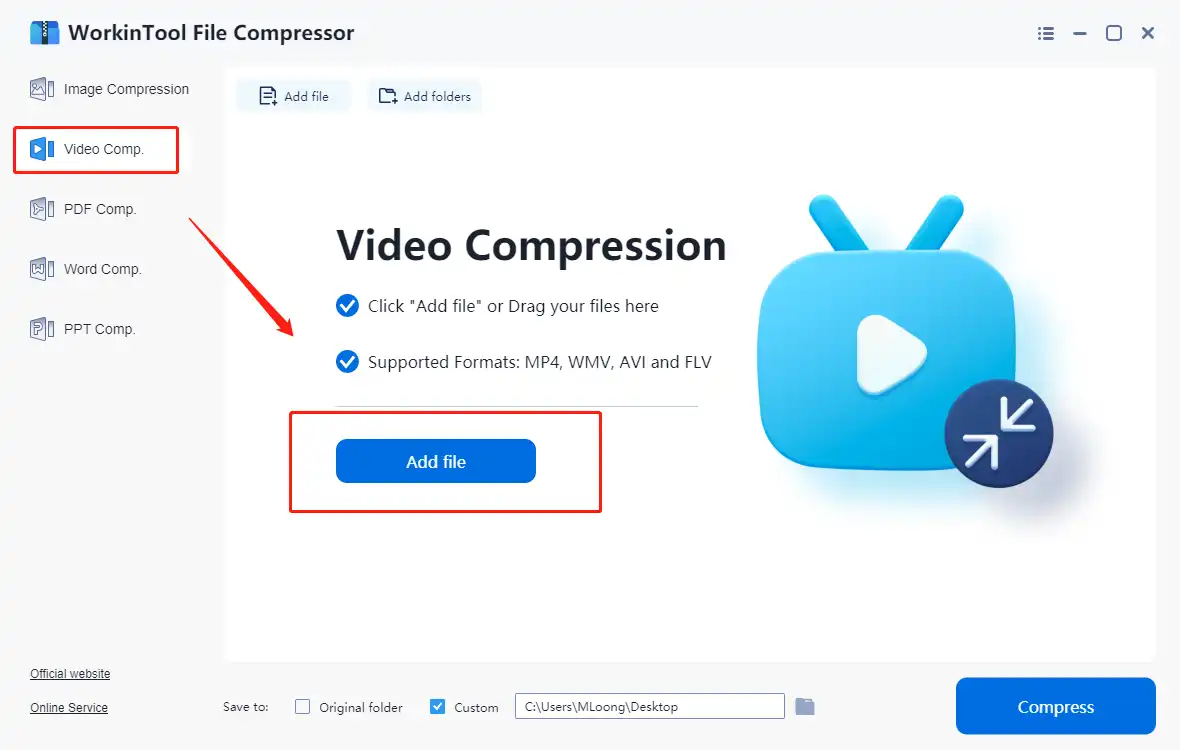 Step2. Set the mode and format of the new video, change the save path of the new video if you want, then press the Compress button.
As for the general settings, it provides you with default modes. It is available to determine the output quality as smaller size and clear output. In addition, you can alter the file format into MP4, or maintain the original one. If you are proficient in video parameters, you can design by choosing the additional settings.
💡 Tips: It is in favor of batch compressing, just click Add file or Add folders to upload more videos. The number of videos won't affect the compressing speed. No matter how many the files are, it will remain fast and can zip them in several seconds.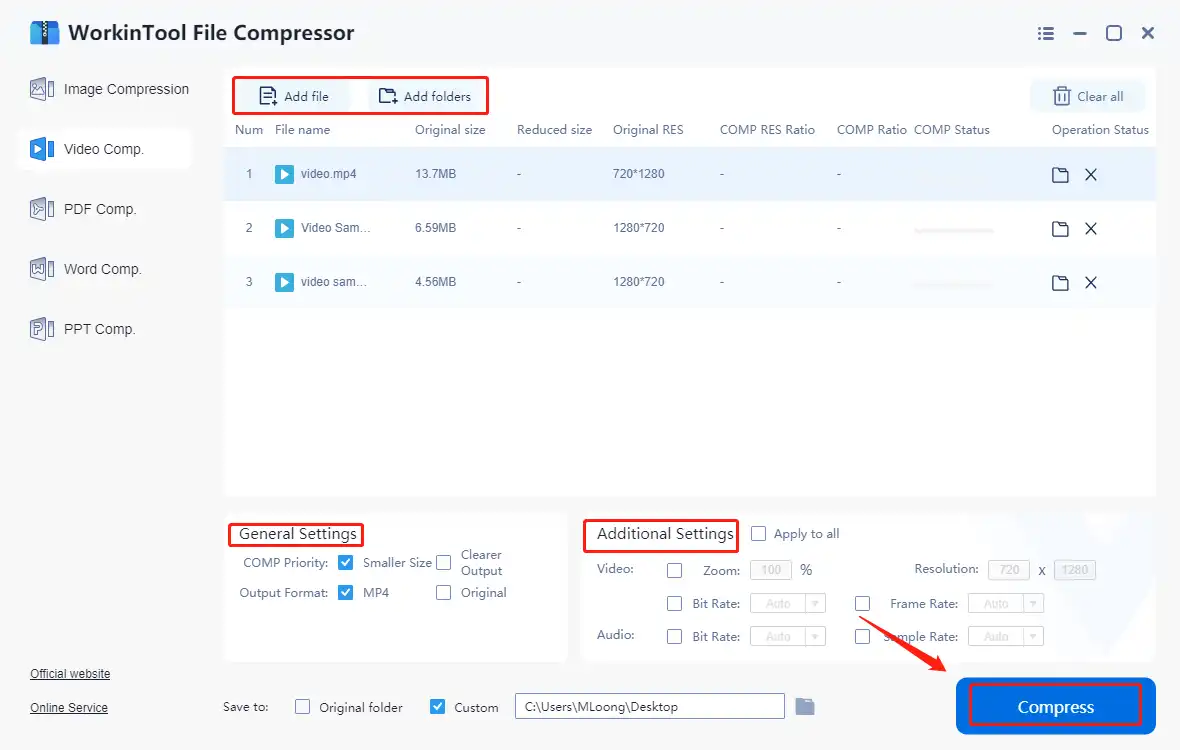 Step3. After compression, check if the result is available to email. If not, you can compress it again. It will be saved directly to your folder.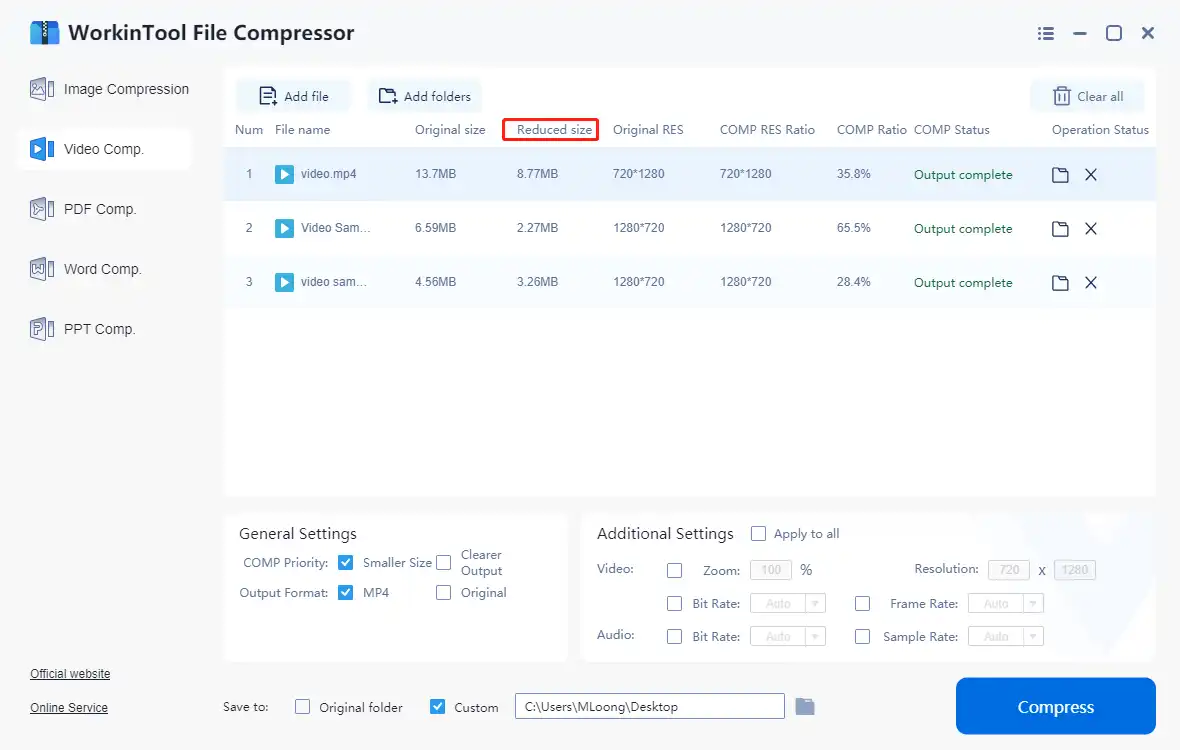 🌟 Merits of It
| | |
| --- | --- |
| | It is costless for all its functions, and there are no limits as well. |
| | Its operation is quite easy, and the conversion speed is fast. |
| | It produced a reduced-size video without losing quality. |
| | Your data information and personal privacy are safe. You don't have to log in or create an account as well. |
| | There are no ads on its interface and no viruses on its program. |
| | It is designed for file compressing by an expertise company. |
🧐 Alternative Ways
In this part, I'll elaborate on how to compress a video for an email in alternative ways. In addition to compressing video to reduce its size, there are other effective ways to make it available for email, such as altering video to link and trimming unnecessary parts of a video, etc. Here are some tips for you.
How to change videos to links
Many platforms have limits on the size of the video. To send it without any changes, you can alter the video to a link. You can add the video to your YouTube channel and set it to only visible to yourself. Then share it so you can get the link to the video.
WorkinTool also provides you with an effective tool to trim videos – WorkinTool Watermark Eraser. Although designed to remove watermarks from videos, it can also deal with video editing problems like resizing videos, trimming videos, etc. You just need to upload the video, then drag the cutting bar on both sides to trim the unimportant part.
🎉 Wrapping Up
Now you may have found out how to compress a video for email free on Windows. With WorkinTool File Compressor,  you can compress the video into high quality in only a few steps. Just add it, then set the mode of the new file, and lastly press compress. It has a long-term free trial, so don't worry about the cost. You can rely on it, for it is an effective and efficient file compressor launched by a professional company, which has over 10 years of experience in working software exploration. Except for compressing videos, it can also fulfill images, Word, PPT, and PDF conversions. If you don't want to compress videos, you can also take other options that I have mentioned, trimming videos or turning videos into links. To obtain more effective office desktop tools, you can visit WorkinTool.
Products Reviews:
TrustScore
4
|
323
reviews