How to Compress Word Document on Windows in 2023
Microsoft Word has definitely been the most frequently-used file format in the workplace and at school. Sometimes it will end up being too large if there are too many images inserted in it. Therefore, it is essential for you to know how to compress word document on Windows in 2023. Through reading this article, you will understand some approaches to Word document compression, including the easiest way–using WorkinTool File Compressor and other ones to realize this goal by using Microsoft Word. Please start your reading.
How to Compress Word Document on Windows in 2023
Microsoft Word has definitely been the most frequently-used file format in the workplace and at school. Sometimes it will end up being too large if there are too many images inserted in it. For example, your summary report for a project will be extremely slow or even unsuccessful to upload in your assignment system if it is extremely large. Or it may be pretty time-consuming to enclose your large-sized business proposal in your E-mail attachment.
So how can I compress Word document with minimal effort? Today, we are going to introduce you to a very simple way to realize this goal.
In this article, you will read the following topics:
The Easiest Way to Compress Word Document on Windows in 2023
How to Compress Word Document in Alternative Ways
Something More to Say
OK. Here we go😎.
---
The Easiest Way to Compress Word Document on Windows in 2023
It is undoubtedly that using a desktop tool will make it simple to reduce your Word file size since only a few clicks will take you to a compressed document. So which one is an ideal solution as there are now so many options in the market? Here I would like to present you with a practical tool–WorkinTool File Compressor.
What is WorkinTool File Compressor?

WorkinTool File Compressor is a piece of useful software to reduce the sizes of multi-formatted files. As a lightweight, offline tool, it is designed with an easy-to-use interface with clear navigation. With the help of the section–Word Compressor, you can effortlessly and instantly optimize the size of your Word files. More importantly, it provides a free trial for Windows users to compress a Word file below 200 KB.
How to Shrink Word File Size Through WorkinTool File Compressor?
It will only take a few steps to complete the compression of your .doc and .docx files.
1. Open the tool and find Word Compression.
2. Click Add file or drag your file to this section to upload it.
3. Adjust the settings and save path if you want to and then click Compress to get your reduced file.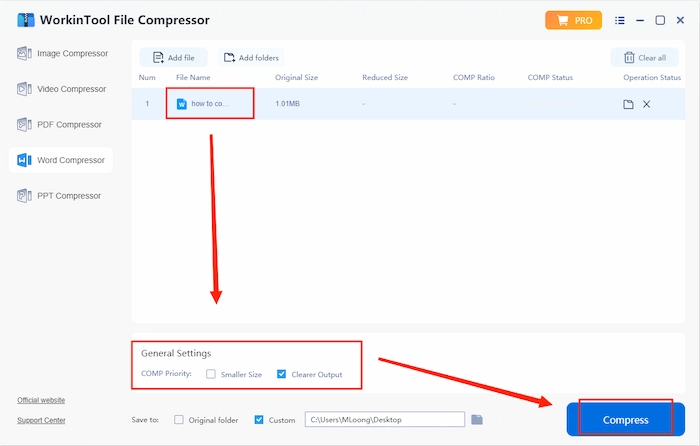 📢Notes:
💡You can prioritize your choice for compression in General Settings.
Smaller Size: It will export your file with a size as small as possible under the circumstance of maintaining its original quality.
Clearer Output: You will expect a compressed file without losing quality.
💡In addition to its fast-speeding compression, WorkinTool File Compressor will never mess with the original formatting and lower the original quality.
---
How to Compress Word Document in Alternative Ways
There are definitely other approaches to Word compressor. As the main reason for an enlarged Word file size is the images in it, the most common way is to reduce the image size in your Word document.
Thanks to its upgrading, you can now compress all the images in Microsoft Word in one go.
✔A tutorial on Word size reduction via Microsoft Word.
1. Click an image in your file and then find Picture Format.

2. Click Compress Pictures to open a new window.
3. Change the options in this dialogue to make your images smaller.
4. Click OK.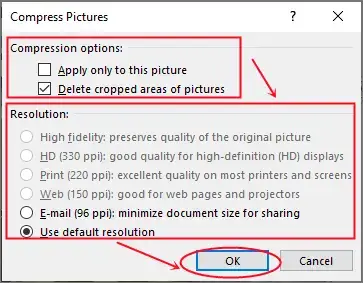 As you can see, the Word document size is successfully reduced when the image sizes are compressed.

Please find some specific information below for your reference.
💖Advantages
💔Disadvantages

No Third-party tools involved
Batch image size adjustment possible
Clear instruction for different compression purposes

A little complex for beginners
Unstable compression results
✔Save your .doc file as .docx format.
Compared with a .doc file, the .docx format will witness a size equivalent to that of a ZIP file by compressing the contents of the document automatically. Therefore, you will expect a smaller Word document by simply converting a .doc file to a .docx one.
It is simple by doing so. You find File, then click Save as and choose .docx file in the drop-down box.
Here is a comparison of a .doc file size and the .docx format size.

📣Notice: You will have no control over how much size your file can be reduced by choosing this option.
✔Cancel the Thumbnail option in Microsoft Word.
A thumbnail image of the document enables you to preview it in File Explorer. It was necessary in the past; however, File Explorer can do this on its own and requires no help from Microsoft Word these days. But unfortunately, the option is still there in your document, which might increase its size. Hence, All you need to do is to turn off the Thumbnail option to export a compressed Word document.
You'll find this setting at File–Info–Properties–Advanced Properties.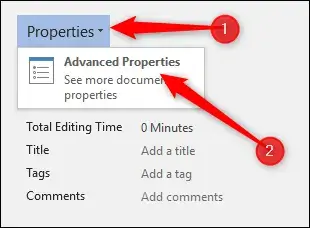 Cancel the "Save thumbnails for all Word documents" checkbox and click "OK."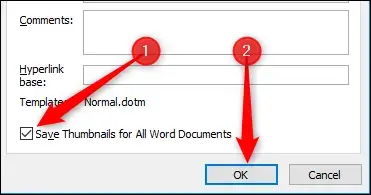 📢Note: Even though it says "all Word documents" to imply that it is a one-to-go cancellation, it actually applies to the file currently opened after our several trials. So you need to open each file and cancel this option one by one if there are multiple ones to deal with.
You can also turn this setting off in the "Save As" window and uncheck the choice of "Save thumbnail."

Also, if you are interested in this topic, you can refer to the page of Reduce the file size of your Word documents released by Microsoft.
---
Something More to Say
A Third-Party Tool VS Microsoft Word
Suppose it truly bothers you to install a third-party tool and you have some essential knowledge of computer science. In that case, you can resort to Microsoft Word to resolve all your issues concerning Word document.
If simplicity and convenience are what you are looking for (especially as a beginner), then there is no doubt that a third-party tool is ideal for you. Normally, it will take you only a few clicks to expect a file with reduced size but high quality. All the settings in it will be easy to understand and help you with your customized compression. Here, it is strongly recommended that you give WorkinTool File Compressor a try.
Why should you choose WorkinTool File Compressor instead of another product?
WorkinTool File Compressor, new in the market, is designed to resolve nearly all your common issues on file compression in various formats.
These are the specific reasons for making this option:
Professional: WorkinTool File Compressor is developed by Shanghai Hudun-Tech Group, a recognized Hi-Tech company specializing in SaaS solutions for more than eight years. We are exceptionally professional when it comes to office tools that aim for working efficiency improvement.
Powerful: WorkinTool File Compressor is a highly practical multi-formatted file compression resolver. In addition to Word document compressor, it allows you to reduce the sizes of the following files, including images, videos, PDFs and PowerPoint slideshows, without any hassle. Hence, it proves to be a great help in your daily life, school, or the workplace.
Secure: Your safety is our priority. Therefore, we will spare no effort to protect your data privacy and information security.
User-Oriented: Your voice matters. We will listen carefully to what our customers say, doing our utmost to satisfy all their needs and upgrade our products accordingly.
FREE Trial: You can enjoy a long-term free trial to compress Word files within 200 KB.
---
Wrapping up
Compressing Word document won't be complicated and cumbersome if you have tried all the means advised in this article. However, we sincerely hope you take WorkinTool File Compressor into account.
Please leave a comment to share your experience with all the methods mentioned or the other ones you invariably use.
Looking forward to your reply.