Four Best Free Image Compressor – 2023 Guide
There are hundreds of solutions to deal with the problem of reducing image size. But not every method can work or is the one that suits you best. Some of them might be too hard to operate, some might be easy but need you to put some investments. However, for this reason, I have listed the best free image compressor for reference. Among them, I highly recommend the tool – WorkinTool File Compressor. With its fresh interface and clear navigation, you can simply make a proper compression with a few clicks. What's more, you can use it for free. Go and experience it yourself right now.
Four Best Free Image Compressor – 2023 Guide
Nowadays, more and more people tend to share their life photos on the Internet social media. You can see many cute pets and family unions and travel journeys on Instagram and TikTok. However, I believe that you must have the same experience when you are about to share an image, but the platform notices that your image size might be too big for the platform requirement. I know basically, no one will concentrate on reading those rules of platforms. Like Instagram, it is directly written in the guidepost. But normal in the case that people can only notice the limited uploading image size after they have been warned. But it isn't fair just because of these rules, people have to give up putting their heart and soul into somewhere they want to share. Therefore, the need to find a free image compressor comes with it.
For this reason, after thoroughly selecting and comparison of the products on the Internet, I am here to introduce to you the Four Best Image Compressor for this year. Every tool has its features and shortcomings. There are two desktop software and two online methods. But among all, WorkinTool File Compressor is the one I personally recommend the most. It owns the easiest operation and user-friendly interface for users to make a proper image compression.
Now, follow me and find out what they are.
💖 WorkinTool File Compressor
💙 Pixillion Image Converter
🧡 Squoosh
💛 TinyPNG
---
Top 4 Free Image Compressor – Desktop Version

Works on: Windows 11/10/8.1/8/7/Vista/XP, macOS, or later.
The first tool I want to recommend is the WorkinTool File Compressor. The reason I put it on the top of the list of the best free image compressor is that it is basically an all-in-one compressor. Including JPG, PNG, GIF, BMP, and WebP, all the popular image formats can be compressed by this simple software. What's more, there are uncountable customized compressing options for users to apply. For example, you can set three different compression levels according to your need. And the clarity, file size, and resolution can also be altered by your desire. How amazing is that? It also supports multiple image file compression. You can even upload a whole folder to shrink. For that, you can easily make your image file compressed. Though the output file format can only be JPG or the original one. Moreover, it can compress videos and other official documents as well.
Let's see how to make it work.
Firstly, open this incredible tool and choose "Image Compressor".
Secondly, put your target image into the processing window.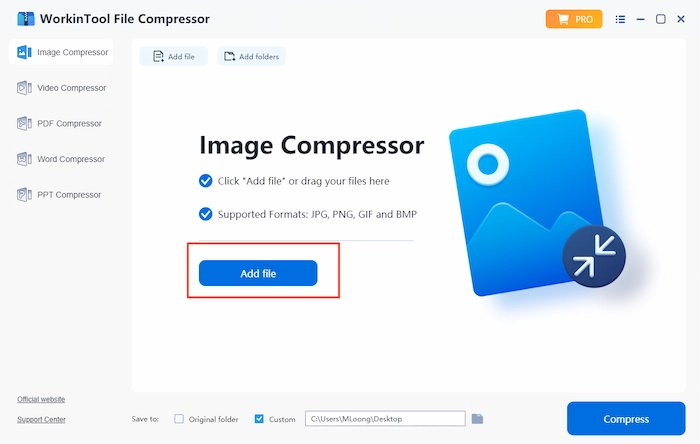 Then, from here you need to decide how exactly the size you want your image to compress, and customize all of these in the process window.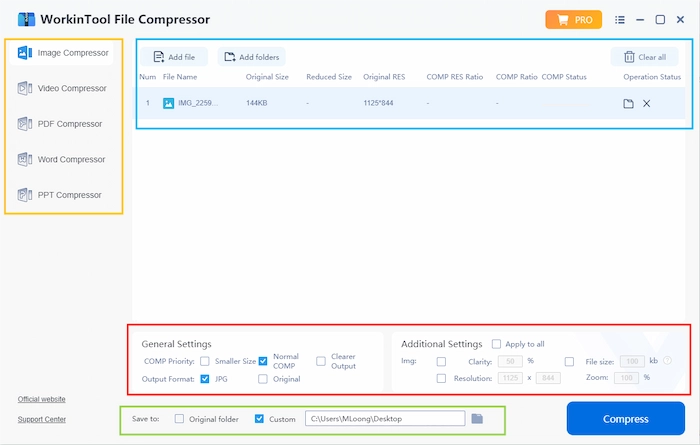 Last, hit compress to export your image and check it in your save folder.
In the More Settings button, you can manually set the compressed file size. Whether you want to compress to 200kb,100kb, or 50kb, you can all get a satisfactory result by entering the desired size.
😍Pros:
Supports multiple image formats.
Easy to operate.
100% free for Mac users and a free trial for Windows.
No Internet is required.
Real-time compressed state.
😢Cons:
Lack of exporting format options.
---

Works on: Windows 11/10/8.1/8/7/Vista/XP,  macOS, or later.
The next software that can reduce image size is Pixillion. It is a truly comprehensive image compression software. In fact, It is not so much a free image compressor as an all-purpose image processor. You can resize, crop, flip, rotate the image with this easy tool. You can use it to compress a variety of image formats, besides those common formats, there are also ICO, SVG, TGA, TIF, PGF, RAW formats for support. And it provides batch compression as well, so don't worry about the problem of unnecessary working time waste.
However, it is 100% free to use. Some functions are limited to premium users. And the interface design is a little bit old.
The following steps are: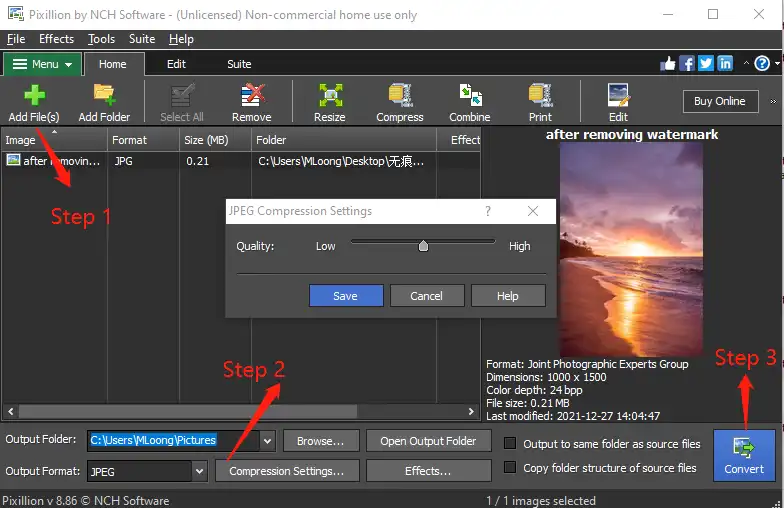 You need to open it and add your image by the button "Add File".
Then you can see the image on the right canvas, press "Compression Settings" to make a suitable quality.
After making sure this is what you want, click "Convert" to finish this.
😍Pros:
Supports multiple image formats.
various functions to edit images.
Real-time preview on canvas.
😢Cons:
Old-fashioned interface design.
Limited functions for premium users.
Unclear section distribution.
---
Top 4 Free Image Compressor – Online Version

After introducing the desktop version of free image compressors, let's talk about what online methods you can use to reduce the image size. The first website is Squoosh. It is a great image compression web app that allows users to take all the advanced features into an image. And that includes compressing. Except for the original format, you can select another eight different formats as the output format. and what surprises me is that it even provides a lossless mode, which allows users to keep the clarity and texture of the image to a maximum.
Let me "squeeze" an image for example.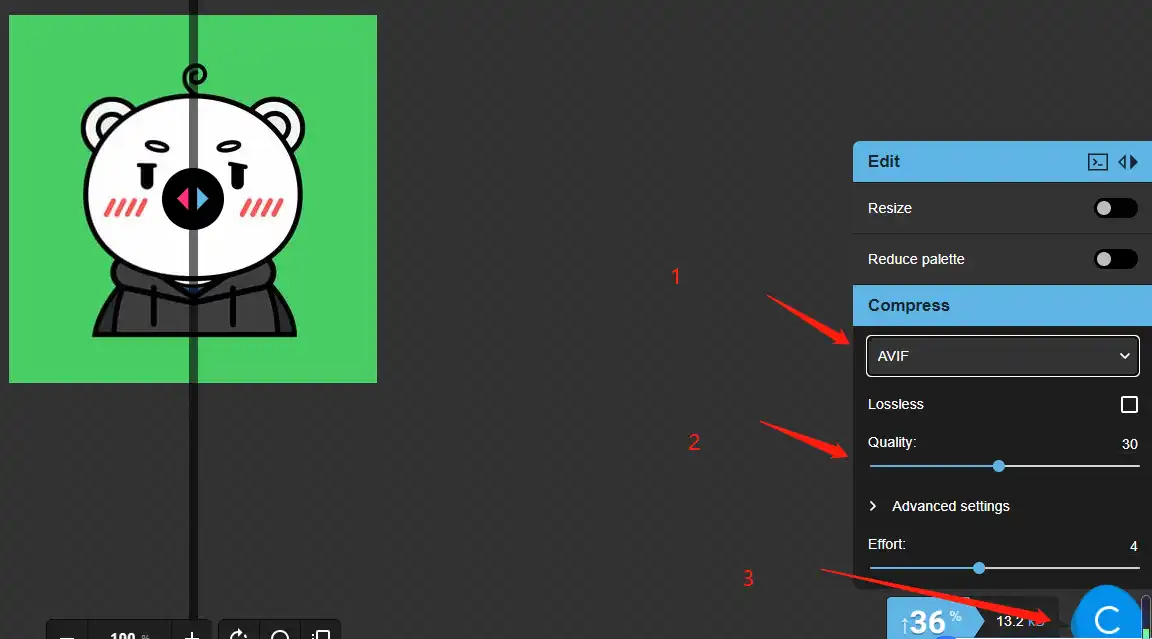 Firstly, open this website and upload your image.
Then, adjust the image by the options in the right operation bar.
Finally, hit the "Compress" button to save your processed image on the computer.
😍Pros:
Easily operate on the Internet.
Clear navigation and interface.
Offers a before and after image contrast.
😢Cons:
Two operation bars have the same effect.
There is no introduction to any options.
---

The last method to compress image size that I want to introduce is TinyPNG. You can call it a very useful image compression website. Even though the name is Tiny PNG, you can still use it to compress other formats of images. It will use smart lossy compression tech to reduce the file size and shrink them for your apps and sites. So that you can use less bandwidth and load faster.
This is how you use it.
Open this website and put your image on it.
It will automatically compress your image, click "Download all" to check it.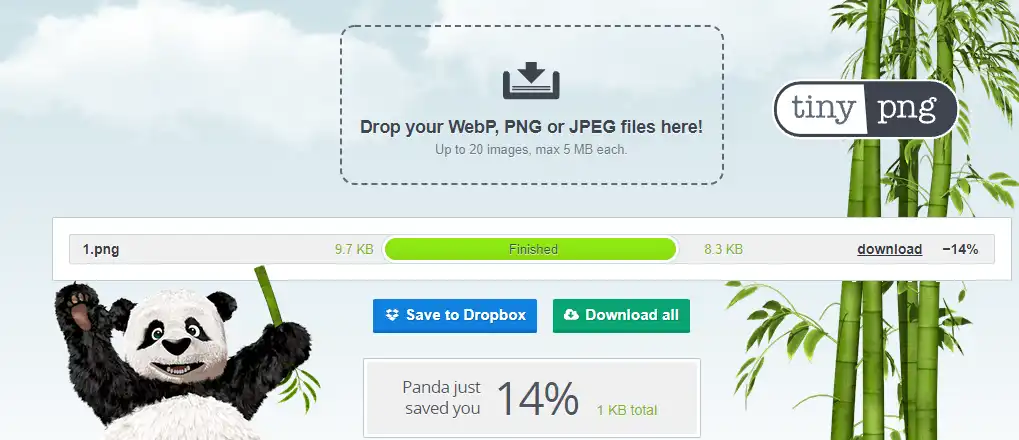 😍Pros:
Easy operation.
Clear interface.
Supports batch compression.
😢Cons:
Not many customized options.
Only the basic compression is free to use.
---
More to Share About Free Image Compressor
At last, after all these introductions I have mentioned the best free image compressor, I bet you have acknowledged some information about which one to choose. However, I have to say this one more time. WorkinTool File Compressor is really the handiest compressing tool for all the possibilities. Except for images, you can even use it to convert videos, office files like Word, PPT, and PDF. One tool can solve five problems, what can you expect more? Besides, it is free to use. So, don't wait any longer and experience it yourself. I promise that you won't regret it.