The Best Free PDF Compressor for Windows in 2023 [Top 3]
PDF is the most popular office format for document sharing and information transfer. However, if your PDF file contains quite an amount of images and graphics, the size is also too large to transfer. In order to solve this problem, I am here to introduce to you a free PDF compressor – WorkinTool File Compressor. It is a professional compressor. It provides three customized compression levels for users to select. And your PDF won't lose format or get stolen after using it. So don't worry about any safety issues. Plus, it provides a free trial to use right now, go and experience it yourself. I promise you won't regret it.
The Best Free PDF Compressor for Windows in 2023 [Top 3]
The best free PDF compressor can simplify the whole process of compressing the size of large PDF files into smaller ones.
PDF was first created by Adobe, it was made to apply to more devices for information transfer. And of course, it works. For now, it has become the most ideal and reliable file format for document sharing and information collaboration. It is safer compared to other office formats like word since it is not supported to edit and works on most platforms. However, large PDF files can still be a pain in the neck when it comes to sharing, especially if you add images and graphics to PDFs. No matter you are using a computer, sending PDF documents by email, or some platform, the only way to avoid it is to reduce the file size.
Lucky you, this is a very easy problem with PDF compressor software. In this article, we will cover the top three best free PDF compressors. Each compression tool is carefully matched and selected by us on the web. You can use any single to reduce your PDF document. I guarantee you that all of these tools will give you the same fabulous compression result.
💖 WorkinTool File Compressor
💛 WorkinTool PDF Converter
💜 WPS
---
The Best Free PDF Compressor

Works on: Windows 11/10/8.1/8/7/Vista/XP, macOS, or later.
For the top place of the best free PDF converter, I want to give it to WorkinTool File Compressor. The reason why I highly recommend it is that this tool is not just a normal PDF compressor, it is also an Image compressor, a video compressor. It can compress all the popular files in office format. And man, I can tell you, the result can not be more satisfying.
When speaking of PDF compression, it offers three compressing levels for users to experience. They are "Smaller Size", "Normal Compression", and "Clearer Output". Under ordinary circumstances, a Normal Compression is far more enough for your PDF sharing and transfer. However, a Smaller Size is for a PDF file with only lots of text and characters. Because this mode is about to compress your PDF to the smallest, if your documents contain pictures, they might be damaged. And the Clearer output is to compress files with quality assurance, which means if you care that the images in PDF will be altered or damaged, you can use this mode to compress your PDF file. So the software can intelligently compress it to the appropriate size for your own PDF size. Selecting a Smaller Size is possible to make it 300kb, 200kb, or 100Kb.
Although it is not perfect. If your PDF file is small enough, or it has already been compressed. Then this PDF converter won't be working if you want to compress it again.
Now, let me show you how to make it work.
Firstly, open this amazing tool on your computer and select "PDF Compressor".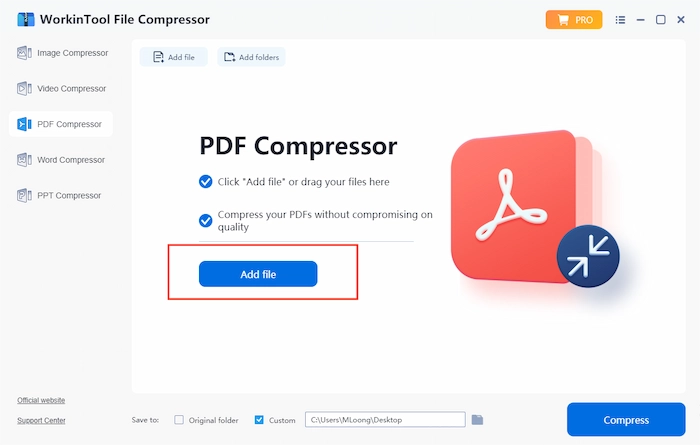 Secondly, put your target PDF in it and decide which compression level you might need.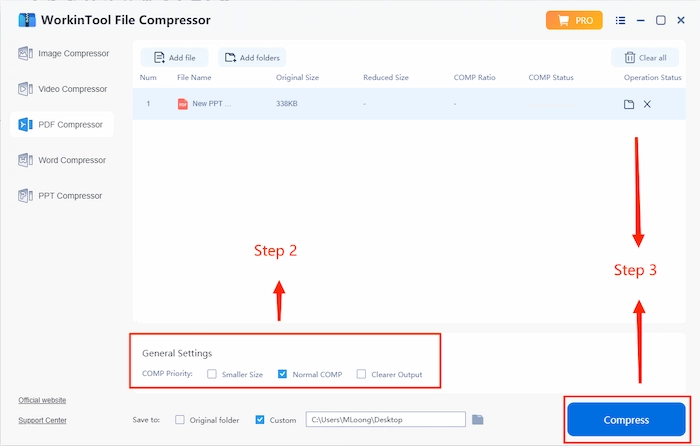 Last, hit "Compress" and check your result in the saving folder.
😍Pros:
Compression without losing format.
Easy to operate.
Long-term free trial.
No Internet is required.
Supports batch compression.
😢Cons:
Owns a compression size limit.
---

Works on: Windows 11/10/8.1/8/7/Vista/XP,  or later.
The next tool that I am going to introduce still comes from WorkinTool. It is the WorkinTool PDF Converter. As the name tells you, it is basically an all-in-one PDF management software. With this tool, you can do all the PDF operations that you can think of. For example, you can edit, convert it to other office formats, merge or set a password. And surely, you can also use it to compress your PDF. So, if you are constantly working with files like PDF format, I really suggest you try this incredible PDF converter. I mean lightweight software like this can solve all the PDF problems. How convenient is that?
But compared with the Special File Compressor, you may find out that it has only two compression levels. If you want to secure the PDF quality, you can only choose to use basic compression.6
Follow these three steps to make a clean compression.
At first, like any desktop software, you need to download and install it on your computer. Then open it and find "Compress PDF".
Next, put your PDF in it and select which compression mode that works the best.
Finally, hit "Convert" and check your PDF result after the system notices you it is finished.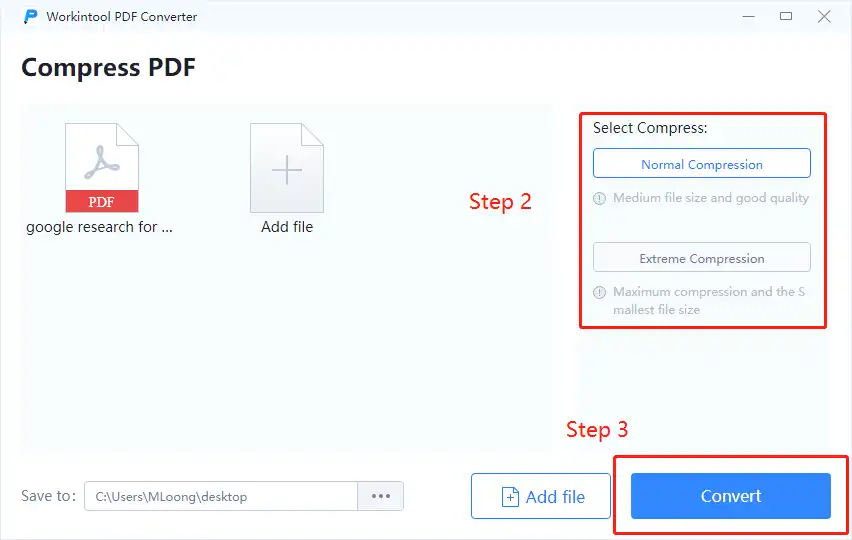 😍Pros:
Friendly interface and easy navigation.
Long-term free trial.
Network disconnected to protect files.
Batch conversion is supported.
All-in-one PDF management tool.
😢Cons:
Compression selections aren't enough.
---

Works on: Windows 10/8.1/8/7/Vista/XP, macOS & Linux or later.
When speaking of PDF compressing, you cannot miss WPS Office. Just like Adobe, WPS Office is also well-known office software. But for the price reason, I still put WPS as the third of the best free PDF compressor. After years of market research and experience, this company knows exactly what users want and what users need. So you can find all the possibilities on this famous software.
But in order to support the R & D team, you can't expect all of these functions to be free. Without logging in to your account, you can't use editing and converting. And for compressing option, you need to apply for a free trial.
Take a look at how to use it to reduce PDF size by WPS.
Open your PDF file with WPS and find the "Compress" option in the "Tools" navigation bar.
Then, select a compression level and click "Compress" in the process window.
Last, check if the file size is changed in your saving folder.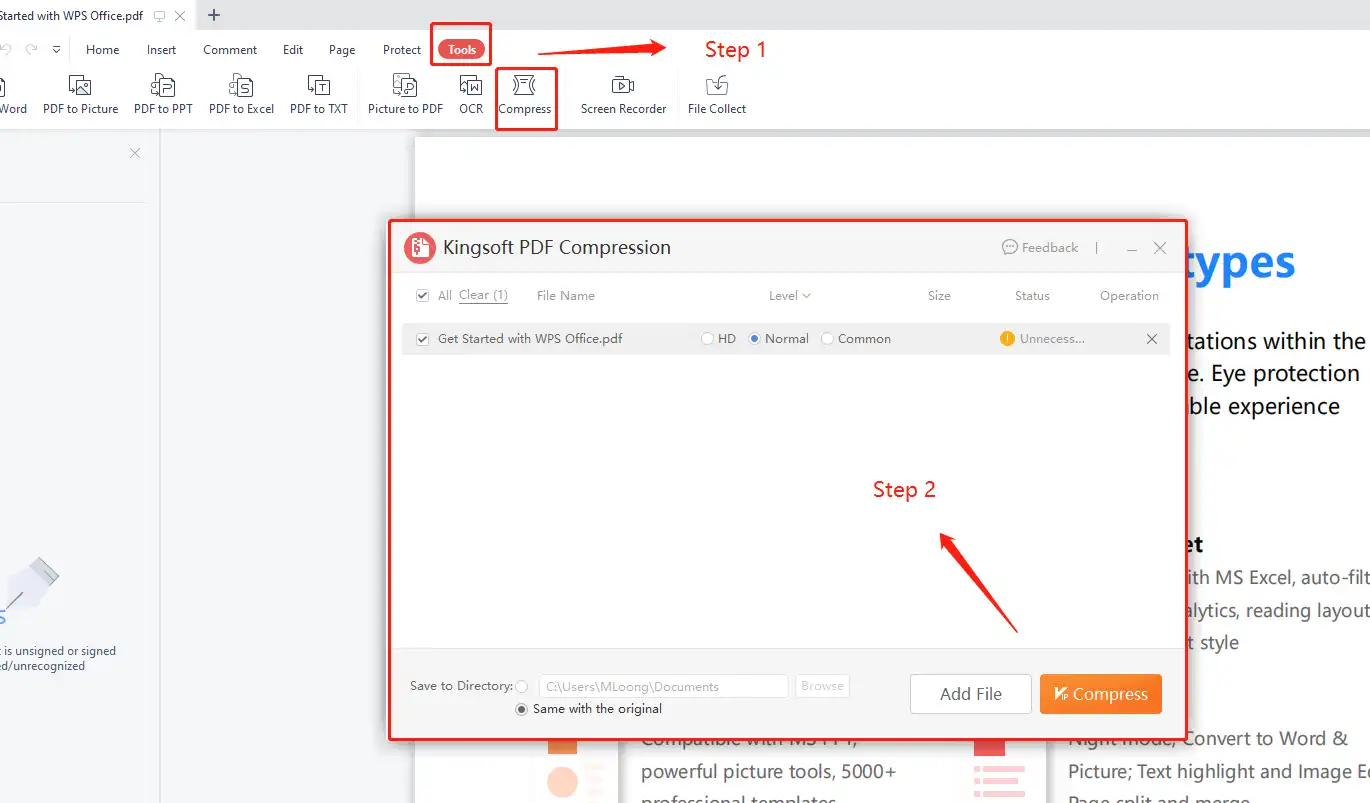 😍Pros:
Multiple PDF management options.
Suitable for all users to use.
Real-time canvas to check the PDF file.
😢Cons:
Require premium to unlock some functions.
Its plug-ins are difficult to delete.
---
More to Share About Free PDF Compressor
As you can see above all these three PDF compressors, each tool has its advantages and shortcomings. Among all, WorkinTool File Compressor works the best. For a free PDF compressor like this, It is professional enough. Moreover, you can use it to compress other commonly used files. And it provides a free trial to use now. But I promise no matter in the end you choose which tool, you will get a great compression experience.
Hope you can find the one PDF compressor that suits you best. If you have any suggestions or questions, feel free to contact us at any time.