How to Lower Video Resolution for Better Experience
I know a higher video resolution means a clearer and sharper visual experience. But there are also a group of people trying to find a way to lower video resolution. Maybe it is for uploading to an online website, or for recreating the vintage video feeling. No matter why you want to do it, here comes the solution to reduce it, my friend. I recommend you this powerful video compressing tool – WorkinTool File Compressor. With this amazing software, you can easily customize the video resolution all by yourself. And it is adaptive, you only need to enter the height and the matched width will magically show in the box. Moreover, this tool provides a long-term free trial for all Windows users. So, don't wait and go to experience it now.
Though with the rapid development of technology, the video resolution has evolved to 2k and 4k or even 8k. People always pursue a higher video resolution, since it symbolizes a clearer and sharper visual experience. Just like the history of computer development, it came as a giant iron cube, and then it slowly becomes a tablet format for mobility reasons. We all get that. However, in some cases, things are not always going like that. There are still occasions that require a lower resolution. So, in this article, I am going to introduce why we still need a low resolution and how to lower video resolution. Let's check this out.
---
Why Lower Video Resolution
Higher Resolutions Are Not Always Best
As we all know, video resolution affects the size of a video. Let me take it, for example, if you were creating a logo for your own company website, there is no chance you would like to waste extra space on saving enormous images just for a higher resolution, considering it costs a big load of unnecessary money. The same reason goes for videos. I know people always shoot videos in high definition. They might shoot in 2k video resolution or even 8k if the device allows. Not to mention how much space 8k videos will take, there is no need to use this high resolution if your video doesn't need to be quite that detailed. Besides, many video websites like YouTube only have a max HD video resolution of 1080P. Therefore, high-resolution videos can only cause necessary difficulties if you are about to upload them.
Recreate vintage videos
Because in the past the film shooting equipment is limited, then the film is generally low-resolution. However, The vague quality of the film is also a generation of memories. People always say that fashion is a circle. The movie is the same. Even though the resolution is leveling up, there is still a very group of people trying to find a feeling of the old movies. Recreating vintage videos is not something new. In over to make their videos look more like from the last century, they need to lower video resolution from the modern device creations, just like some vintage filters on TikTok, though a little bit fake.
---
How to Choose the Right Resolution
Since we have gone to this step of choosing the right resolution for your video, before that, you have to ask yourself a few questions first.
Number one: What is the video for?
Are you going to share it on your social media account? For smartphones or other mobile devices, a 360P resolution is enough since they only use less data. But it may appear a bit blurry on larger screens.
Number two: How much detail are you going to show on your video?
Just like I said, the more you want to show in front of the camera, the higher the resolution you might need to use on your video. 480P is regularly used in the old DVD time. If you are trying to make a video like that, 480P cannot be perfect.
Number three: Do you want to put it on a bigger screen for displaying?
If you want to make a vivid video like many other YouTubers, maybe next time you can directly use a 1080P resolution to shoot your video. 1080P is considered to be the most common resolution on screens like computers and TV. And most video sites provide a download function with a resolution of 1080P, you can see how popular it is.
---
How to Lower Video Resolution
In order to lower video resolution, finding great video editing software or using a video compressor can be a good solution. A powerful compressor will provide you with functions to select video files, decide the format and how big you want this video size to be. Or in some scenarios, you may still want to save the original video as a backup file for situations like failed compression and a do-over possibility.
So here I recommend you the best video compressor software – WorkinTool File Compressor. It is an all-in-one compression tool to reduce file size. As the name says, not only videos, you can also compress images, office format files like Word, PDF, and PowerPoint. For video compressor, it allows you to set the output format, customize the audio bit rate, video bit rate, and of course, the resolution. All of these choices and decisions are delivered to you.
Here, let me show you how to lower video resolution by WorkinTool.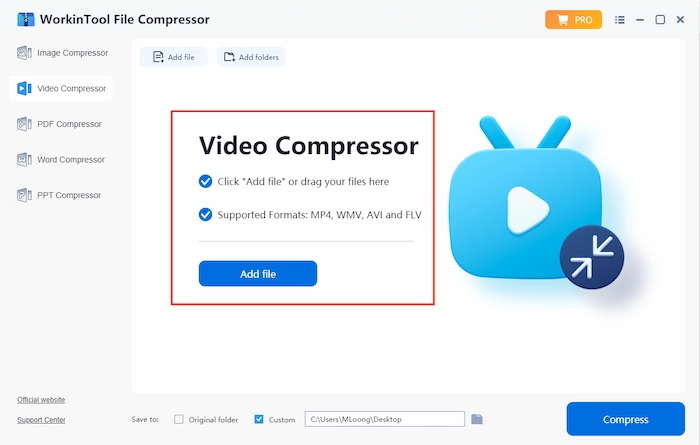 Then you can see the process window, there is a resolution option in the "More Settings" section you can use.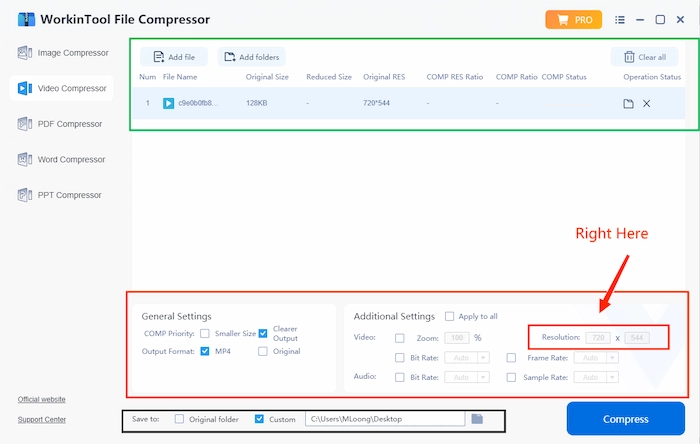 Last, hit "Compress" to export it out and check the result in the saving folder.
🚨 Notice:
The video resolution setting has an adaptive function, which means you only need to enter the heights, and the width will automatically appear accordingly. Besides this, you can still see many other options in this window. In order to satisfy the needs of users, WorkinTool has thoughtfully put audio settings and video states to customize. What's more, you can take a deep breath and release it if you consider the safety issues. I guarantee that none of your personal information nor your video files will be uploaded to the servers. All of your operations can only be found on your local computer.
---
More to Share
After this article, I bet you have required quite a knowledge about video resolution and how to reduce it. However, I still want to add that WorkinTool File Compressor can be a great helper when it comes to lower video resolution. Only a few clicks can make a proper video with a suitable resolution, I mean what's more to expect? More to say, this software is totally free to use all the functions right now. There is not a single restriction nor limits, So, don't hesitate and go to experience yourself.