Three Simple Methods to Add Text to Pictures – 2022 Free Guide
No matter you are an online influencer or an article writer, you must have encountered situations like the need to add text to pictures in a hurry. Even though social media platforms like Instagram and TikTok supports text functions, there is a chance you need more than what it offers. Therefore, I am here to recommend this amazing image tool – WorkinTool Image Converter. It is a very easy image editing tool. With its powerful functions, you can directly enter your own creative text into photos. Moreover, it is completely free to use. So go download and experience it yourself now.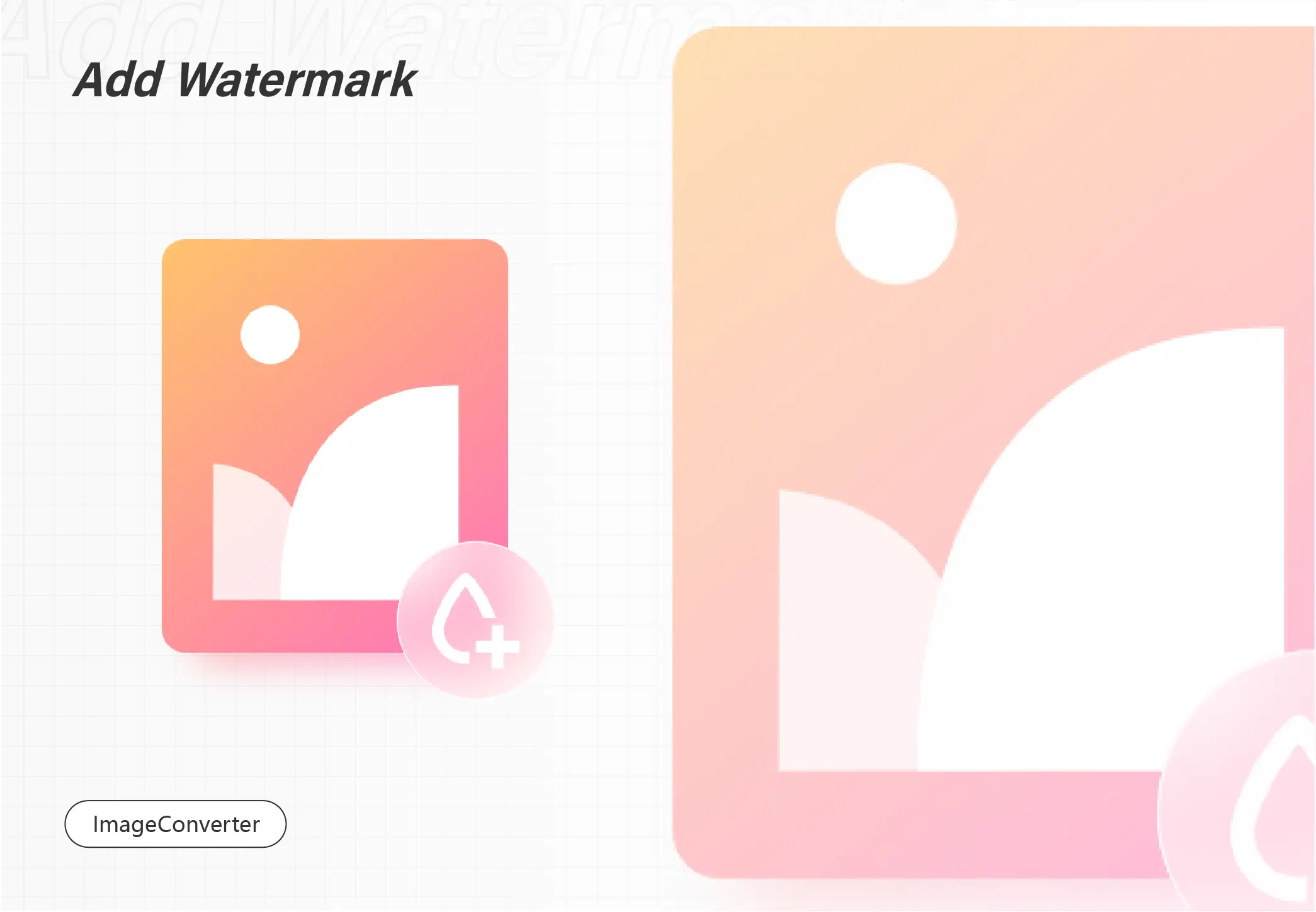 There are a variety of reasons why you might want to type a paragraph into a picture. Maybe you're a blogger or an article writer. Add text to pictures can be a great help to express your idea. It is a very fast and simple way to create a unique and hyper-communicative channel. You can directly use the Window's built-in Paint tool to add words to your images. For social media like TikTok and Instagram, adding text to your favorite pictures can make them more fun and interactive. And of course, It is also desirable to add quotes to make images more rational.
If you are a writer, you must know that text on photos and pictures can be an effective way to add extra explanations and meanings to your work. And if you are a blogger, it is even more often to apply text on pictures, since half of an article contains pictures. So, no matter what job you might work on, or what the reason you might have, once the need to add text to pictures exists, you need to do it as fast and easy as you can. It is much better if you can do it free.
Well, fortunately here in this post I am going to introduce to you the simplest ways to add text to pictures. After this article, you will longer need to worry about the problem of text in pictures.
---
Add Text to Pictures – By Editing Function
We know that Instagram and TikTok can add text to images directly through the built-in function. on the one hand, it is convenient for people who film and upload a picture or a short film once they are done. However, it can be a little bit troublesome if their pictures and photos are on computers. And those photos need to be processed. For that reason, if you can have a professional desktop tool that contains editing and adjusting image functions, you can save a bunch of time and energy on something else.
That is why my friend, I strongly suggest you try this amazing software – WorkinTool Image Converter. It is a newly published image tool. But don't underestimate it just because it's new. Small as it is, the sparrow has all the vital organs. You can do all the image-related operations with this software. Editing photos and image conversion are the basic functions you can find in it. Meanwhile, you can also do a lot of fun staff by using it. For example, turning yourself into a cartoon character is available on this software. Moreover, unlike Photoshop, which is expensive and time-consuming, this image tool is totally free to use all the functions and easy enough for a 70-year-old to handle.
Let's see how to add text to pictures by its editing function
Well, surely the first thing you need to do is to download and install this incredible software on your computer.
After installing, you can open it, find "Edit Images" and put your target photo in it.
Click the capital "A" icon to add text to pictures.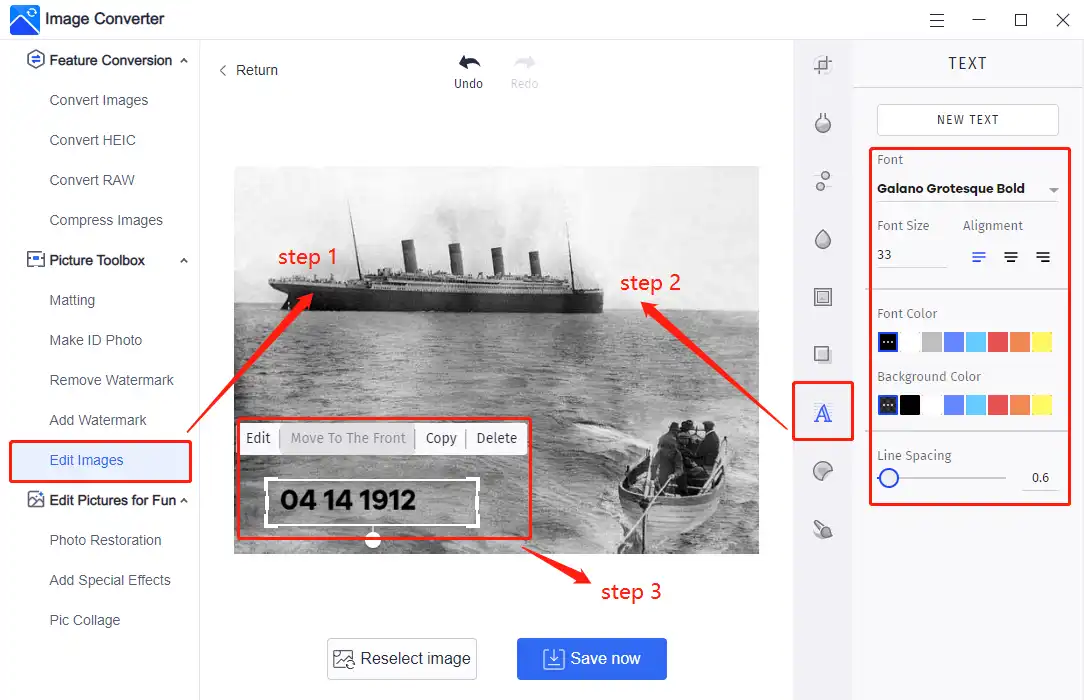 From here you can customize your text now. Hit "Edit" to enter words into the box. You drag this box to adjust the font size and line spacing. Or directly modify those functions on the right toolbar. There are thirty different fonts are for users to decide on. and eight colors to change the style of your text. If you want to add multiple parts of the text in a different place on the picture, "New Text" can help you create more text boxes.
Last, if the image is set, you can hit"Save now" to keep this modified picture on your computer for later usage.
---
Add Text to Pictures – Watermark Works
If you have several photos waiting to be added to text, or you need more choice on colors and fonts, maybe you can consider another function of this image editing software – Watermark.  For adding text to pictures, you can 100% trust this watermarking feature.
you can add text to multiple photos at the same time as long as the text format is consistent. Here you can find all the fonts that exist in your computer system. Even more, you can add fonts that you like. And for color choice, you can directly pick your favorite color on the color palette, which to a great extent gives users a greater degree of free creation, rich in diversity.
Check how it is done by the watermark feature.
Same as before, you need to have it on your computer. And then open it.
Then, as the picture below tells you, hit "Add Water" and insert your picture.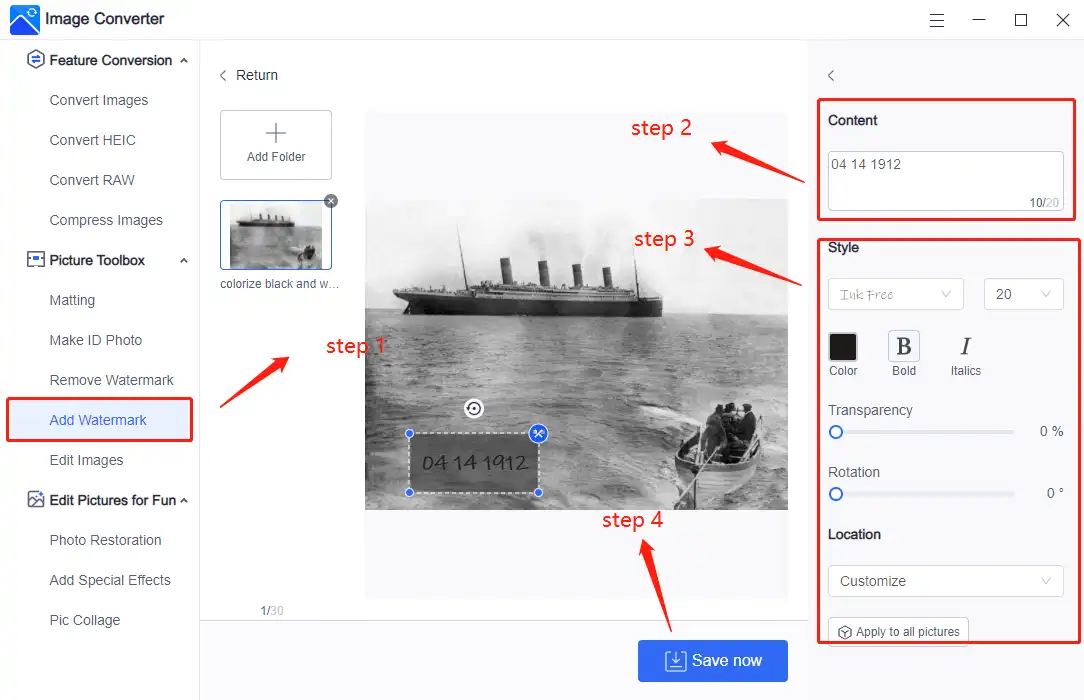 So, from here you need to create your text in the picture now. Enter content in the upper right box. Adjusting the text can be done by the toolbar as well. You can find all the font, size, color, bold, and transparency here, basically all the text-related functions you can imagine.
---
Do It with Windows Paint
However, if you don't really want to download free image processing software to your computer, and you're wondering if there's any way to add text to your images. Actually, there is one. And that is to add text to pictures by Windows Paint, which is the primitive way.
In this way, you only need to have a Windows system computer and photos that need to add text. And you are all set. If you only want to add text, then it is more than qualified. With it, you can pick a specific font that you like out of more than ninety different kinds. And the font size and color are also for users to shift if they need to. But since it is very basic, you can change the transparency or line space here.
Take a look at these steps for making one picture with text.
First, right-click your target picture and open it with the function Paint.
Then find "Text" in the Tools of the Home section.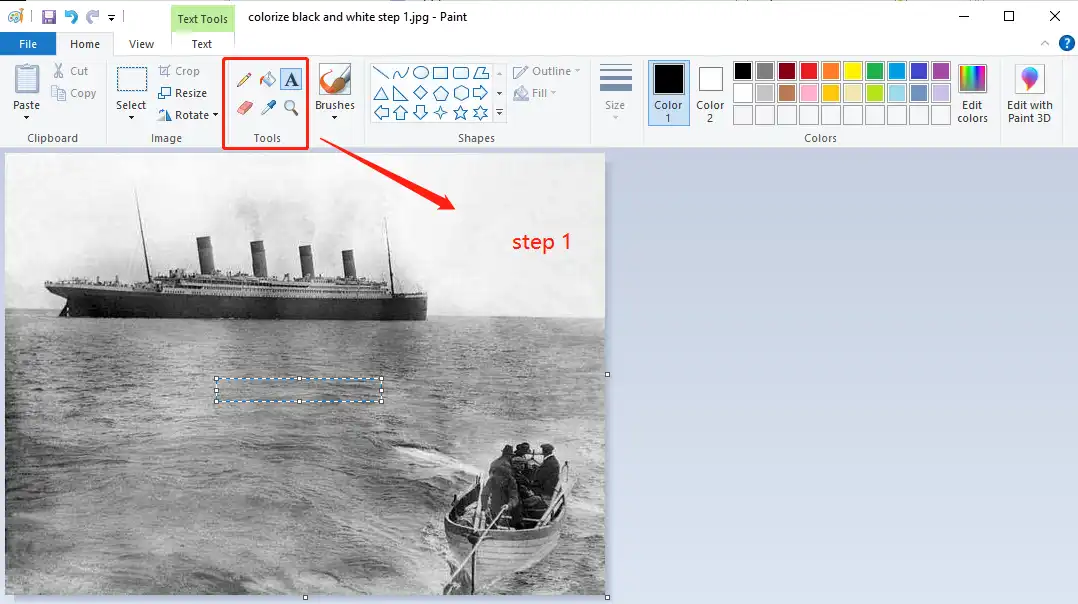 You can see there is a toolbar appearing once you insert the text.
There, you can customize the text in the picture. Same as the methods above, here you can adjust the font, size, style, and color.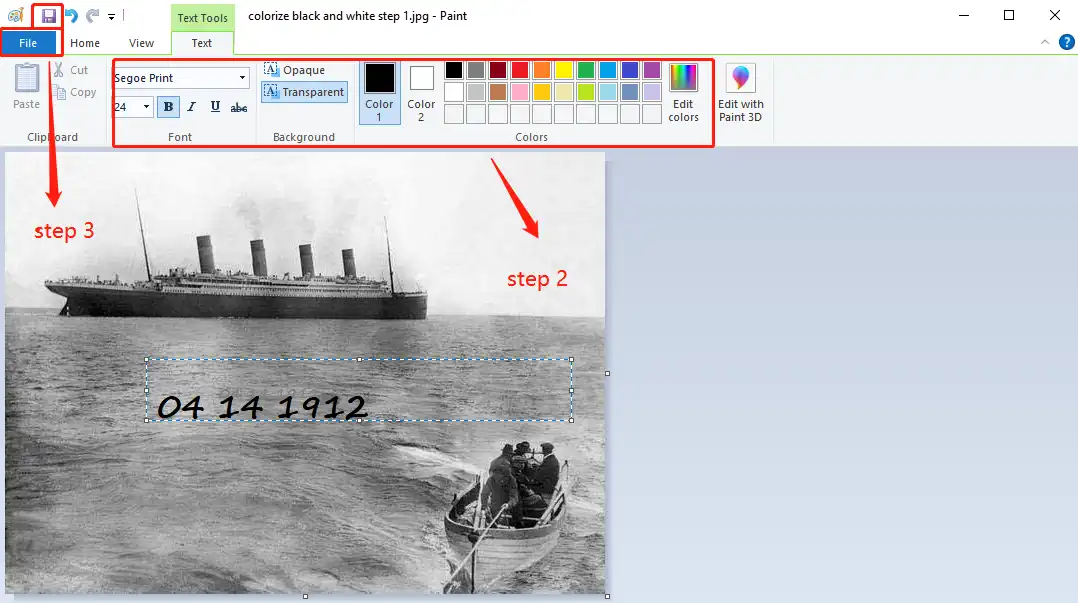 After you have set the text right, you can tap the save button to keep the image on your computer.
---
More to Share
Now you have known three different but equally available methods to add text to pictures, I'm sure you already have the perfect way in your mind. Never mind which way you will pick in the last, I have to mention it one more time. WorkinTool Image Converter can really help you with most image issues. Converting format, editing content, compressing picture size, and removing background can all realize on this all-in-one software. What's more to hesitate? Go to download and experience all the magic yourself right now.
Products Reviews:
TrustScore
4
|
323
reviews