Simple Ways to Change Picture Background For Free
Sometimes if you want to change picture background and you don't have the right tool to do it. It can be really bothering. Even though Photoshop is completely capable of this, the price and the heavy operating procedures are also shutting people out. So, here I am going to introduce two easy ways to change the background. And one of them is to use the newly published image tool – WorkinTool Image Converter. With its powerful AI matting and various templates for picture backgrounds, you no longer need to worry about similar issues. Moreover, it is totally free to use. So download it and explore the magic yourself.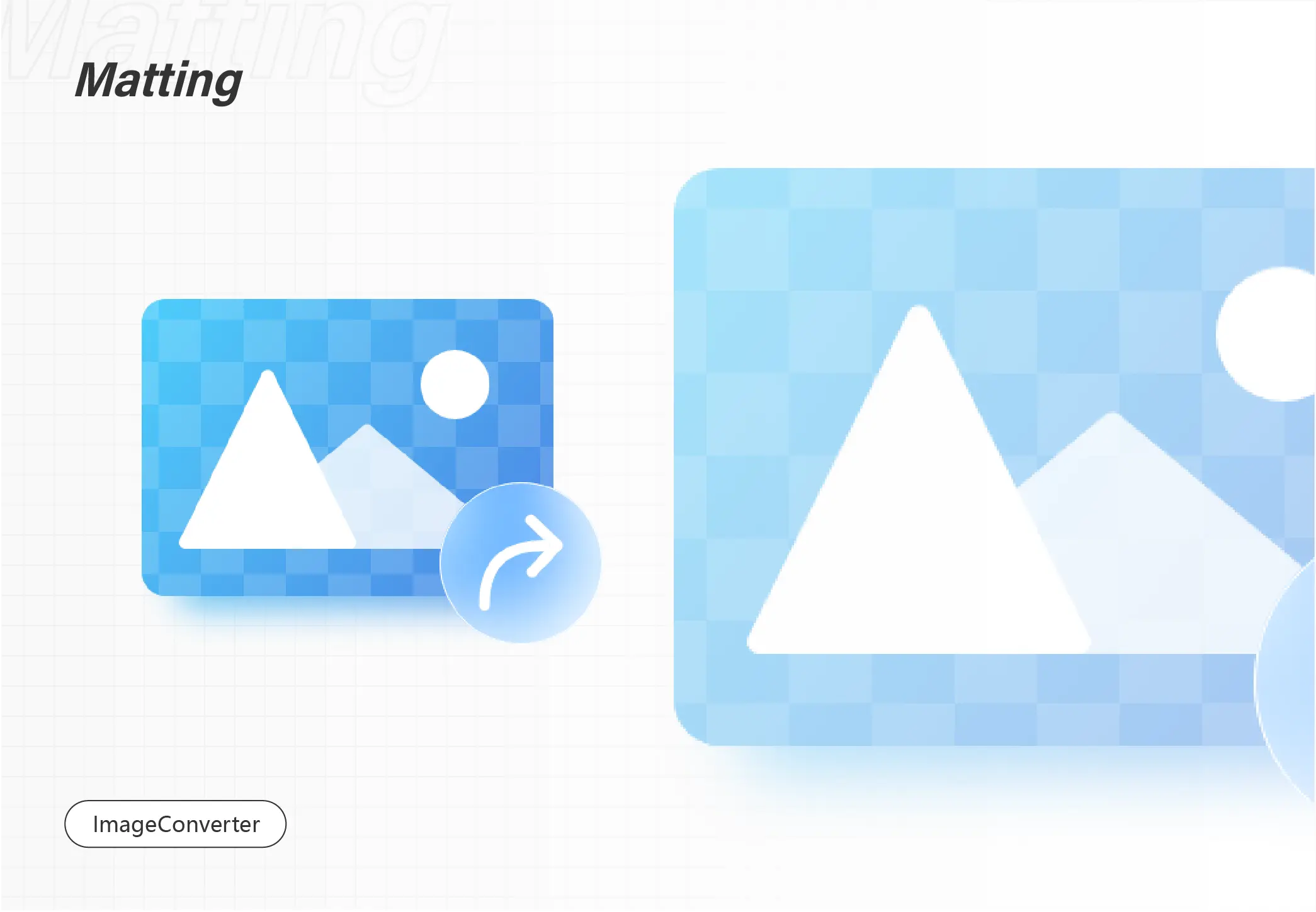 10 years ago, people are slowly starting to use the matting feature more often to replace unwanted background images with other content. Nowadays, with so many image editing software on the Internet, people tend to use them to change picture background for posting on social media like Instagram and TikTok. Let's imagine this together. You have a photo that is pretty enough. However, the background is hard to look at. If you only want to keep it in your phone's media library, it is definitely fine. But, if you want to post it on your personal Instagram account. You might want to change picture background to another one. Otherwise, other people might concentrate on other background objects instead of you.
Normally, when speaking of changing picture background, the first tool that comes to our mind is Adobe Photoshop. Sure thing, it is the most professional and the most time-tested image editing software. But that's also the problem. To skillfully use its functions, which includes the matting function, there is a certain threshold. Actually, there are lessons to learn about how to use Photoshop. So, it is not that easy to master. Plus, this specific tool will cost users 20 dollars a month, which is not worthy if you don't use it often enough.
So here comes the question. How exactly can we change picture background for free? Well, lucky you. I am going to introduce two easy ways for you to replace unwanted backgrounds. One is to use third-party desktop software, and another is to make it in PowerPoint. Let's take a look.
---
How to Replace Picture Background With WorkinTool
The first option I am here offering is to try a newly published image editing software – WorkinTool Image Converter. With its powerful matting function, you can perfectly take out any unwanted objects and keep the main subject on the canvas without any hassle. And then replace the background with any image you like. Besides that, you can directly change the image size with it. This function is built-in into the "Matting" button as well.
Technically speaking,  WorkinTool Image Converter is an all-in-one image editing tool. Except you can use it to change the background of your photo, there are more functions waiting for you to explore. For the basic part, editing photos is definitely available. Since it is called a converter, all the popular image format conversions are supported as well. Even you can convert it to PDF format. What's more, you can use it to do more fun transformations as well, such as making yourself a cartoon character.
But what really wins other image software is that It doesn't require any payment. So, basically say that you can enjoy all these functions without any limitation. Now, let me show you how to use it.
Take out Unwanted Background
Once you have downloaded and installed this amazing tool, open it and you will see two options specialized for portraits and items. It will be based on the characteristics of people and objects intelligent recognition matting, accurate access to the required drawings. It supports AI matting and manual mode. So, you can still select what part you want or what part you don't want by your hand. The brush size and effect can be adjusted by you entirely, but normally in the case that the AI matting will help you finish selecting.
First, open it and choose whether you want to change the background of the portrait or an item. And put your image into this tool.
Wait for a moment until the AI matting has helped you process selecting the part of the image that will be kept. If you are unsatisfied with the AI matting, you can manually select the part in the picture that you want to keep.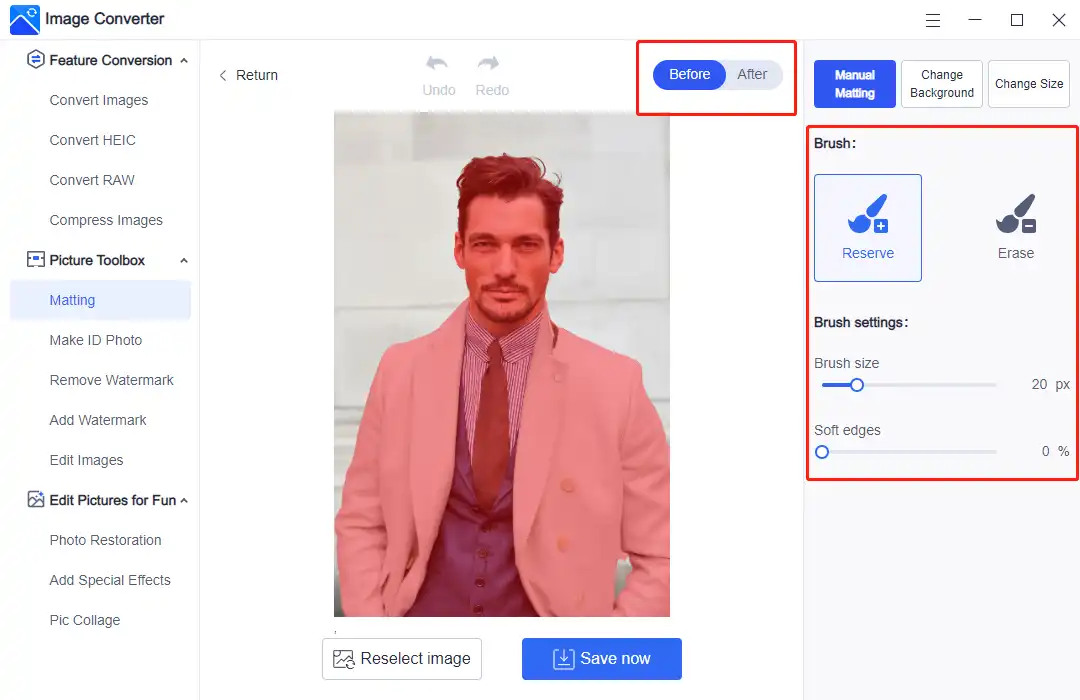 Pick A Better Image for Background
After you have removed the background, then you can decide what background you want it to have now. This tool provides three options. You can replace it with pure color as the background. Or, use a template that this tool offers. PS. There are more than ninety different templates for users to pick. If there is nothing that you are happy with, you can try the third way, which is to upload your own image as background. Any one of these three methods is available.
Click "Change Background" after selecting the subject.
The first one in "Color" is the transparent effect. All you need to do is to pick the desired background.
Last, hit "Save now" to keep the processed picture to your computer for later posting or collecting.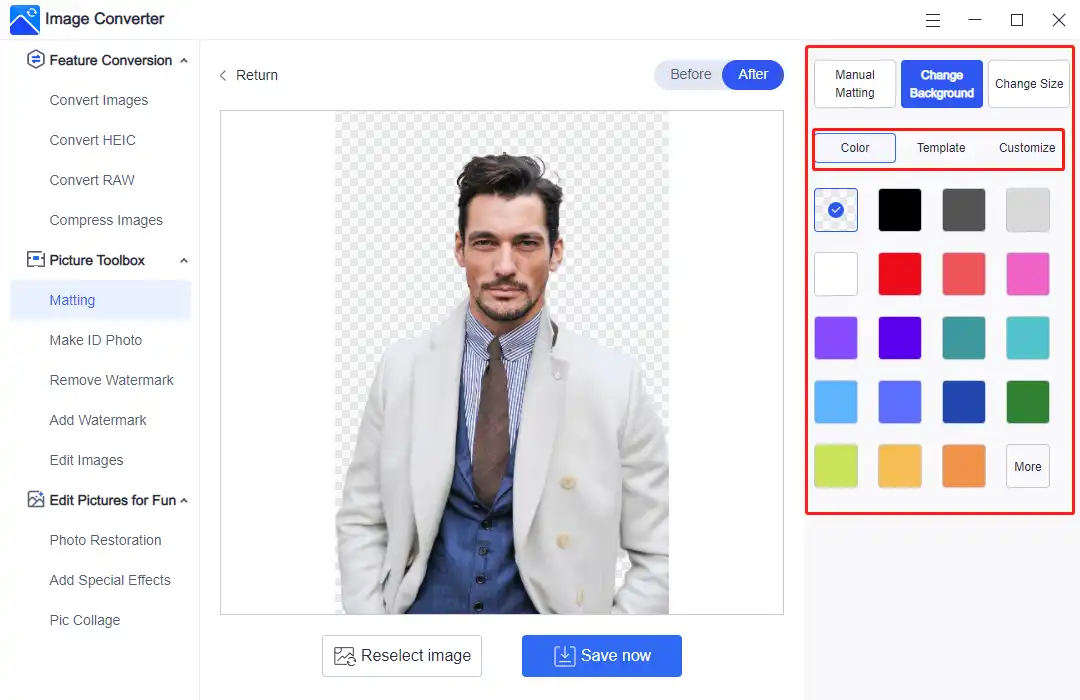 ---
How to Change Picture Background in PowerPoint
If you really don't want to download anything and don't want to spend any money, you can try it the Microsoft way. Which is to use PowerPoint. However, Microsoft has told us how to change picture background in PowerPoint. After I have tried it. I can only say that it works. But it isn't that convenient. First, you need to make sure you have Microsoft PowerPoint on your computer. Then the automatic matting cannot properly select the main subject and the brush doesn't work well. And if you want to change a background, You can only set the image to transparent, and then add a new image to the back of the stack up to change picture background.
Create Transparent Cutout Backgrounds
You need to open a PowerPoint slide and insert a picture first and hit"Remove Background" on the head banner.
Then, you will see the window pictured below. As you can see, the auto matting isn't quite accurate. So you need to click the "Matting area to keep" to redo the selecting operation. After you have done this. See the right box. Choose "Solid fill" and set "Transparency" to 100%. Only in this way will your image be a transparent background.
Last, "Keep changes" will help you save this transparent background picture.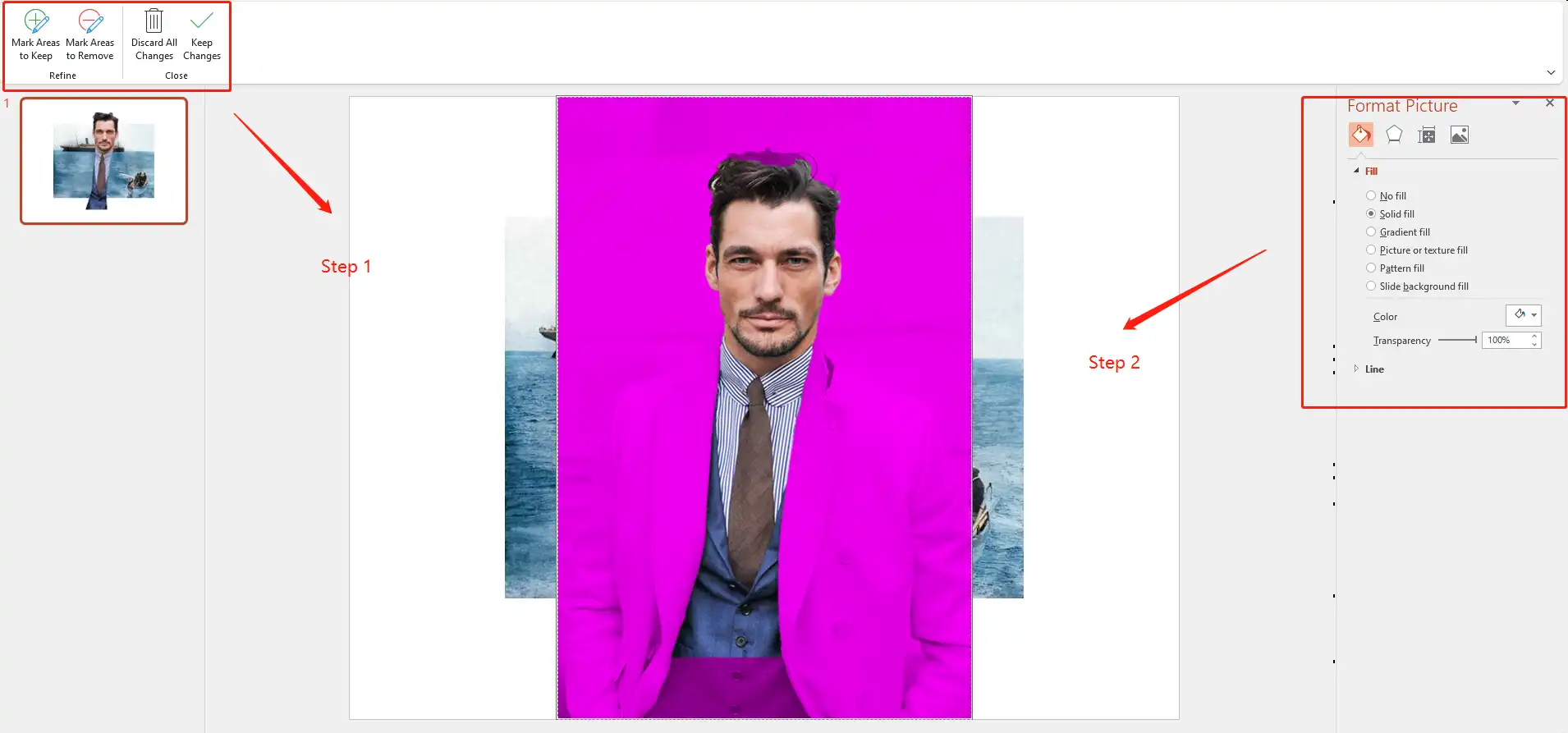 Fill A New Picture as The Background
After getting the cutout picture, then insert the desired image as the background.
You need to set the sequence of the pictures so that you can get the right background picture as you are satisfied.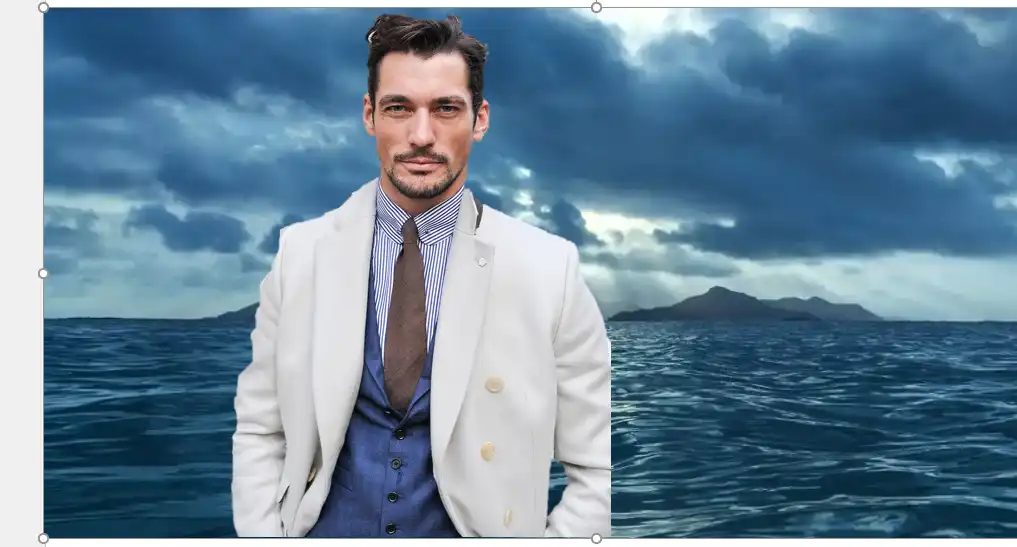 ---
More to Share
If you don't have much patience to draw the corners of the picture in detail, then I suggest you use WorkinTool.  Like what you have seen, unlike PowerPoint, the WorkinTool Image Converter can directly remove the unwanted background of the picture, whether it is a human or an item. It is much smarter compared with Microsoft. And it is more convenient for you to change the background as well. Other than that, it is totally free. So, what's left you to hesitate now? Download it and try all the magic yourself.
Products Reviews:
TrustScore
4
|
323
reviews