Learn The Best Way to Colorize Black and White Photos
Nowadays, nostalgia becomes a craze. And one way to do it is to colorize black and white photos. Photoshop, as we all know, it is too professional and expensive for newbies. So, in order to satisfy those needs of ordinary people like you and me. Here I highly recommend a very practical image tool – WorkinTool Image Converter. It is very easy. Without any unnecessary operation, you only need to put your target picture into this software and it will do all the coloring for you. Moreover, it is totally free to use right now. So don't hesitate and go to experience the magic yourself.
You have to admit that black-and-white photos will always be epic and timeless. I mean it is a symbol of the times. However, learning how to colorize black and white photos can give you a sense of accomplishment. Now is the greatest time to master this technique of coloring your old black and white photos. Whether it is for a family union photo or a historical record, you can get all the benefits from it. Especially when in a time like this global outbreak, and your beloved are in isolation, letting them see those sealed memories back to life could be a great surprise.
Making those happen can never be easier now, thanks to a wild range of applications on the phone, online work, and surely, software on PC. When speaking of image editing, basically Photoshop is the first tool that comes to mind. But at the same time, due to the high entry-level infrastructure and expensive software costs discourage non-professional users who are not just in demand. If you only need photos for social media, then there are tons of other ways to colorize black and white photos. You don't have to limit yourself to this specific Photoshop. For this reason, in the article, I will cover the best tool to color those antique pictures. Whatever your skill level is, the option I offer is for everyone. Let's find out together.
---
How to Colorize Black and White Photos
For most of us amateurs, Photoshop is too hard to handle. And spending that money buying software that I rarely use is a little waste. So, here I am going to recommend a very practical tool – WorkinTool Image Converter. It is an all-in-one image management tool on PC. With this lightweight software in hand, you can convert images to other formats, compress images, edit photos and remove background. It basically has all the features you can think of for image manipulation. All of these features you can use are efficient, and the quality of the output picture is guaranteed.
Here we are talking about colonizing black and white photos right? It is equally as powerful as other functions. With the reasonable color distribution, the picture after coloring is very authentic. You cannot tell if it is the product after the picture processing of the later period. The system automatically adds colors to the images based on their basic style. So you don't have to worry about color mismatches. Instead, it makes your images richer, at the same time the system has a powerful automatic beautification function to handle the light of the picture. All you need to do is click a few times.
Now let me show you how to bring the old memory back to life now.
Then, find "Color antique pictures" in the Photo Restoration. Add your target photo to the process window.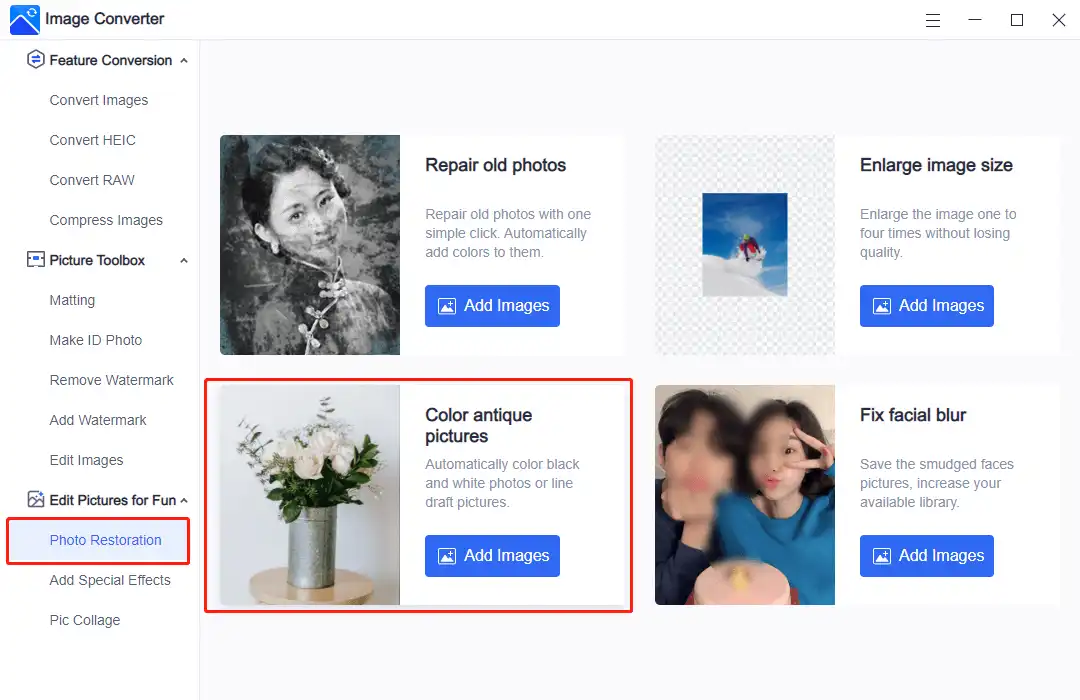 After that, you need to wait for a couple of minutes and the resulting effect will be displayed on the canvas for reference.
Lastly, if you are satisfied with the after picture, you can save it on your computer for later use then.

Heads up
As you can see, the colored effect is stunning. It does not just put some related color on the right spots. The software system can automatically pick the most suitable color based on the algorithm. And it doesn't require you to know anything about color matching or photography. You just need a piece of software to put in your image and wait a few seconds to get a masterpiece.
---
Why Colorize Old Photos
In the past 18-19th century, literally, all the photos you might see were black and white. If they want to have colored pictures, then they have to do it by hand. That is the only way to make those photos look lively before going into the digital world.  Back that day, people dream to have photos that can one hundred percent restore the original color. They want to save exactly what the good old day looks like, not only in black and white but also in all the colors a person can see. However, the tables have been turned.
Nowadays, in order to achieve a certain photographic purpose, some photographers will deliberately take black and white photos. Because it can remove color interference and only black and white can get your attention to light and shadow interaction. Moreover, it can emphasize emotional expression and highlight shapes, lines, and patterns. But all of this is based on today's sophisticated equipment and technology.
There are many classic or monumental photographs in history, mostly in monochrome black and white because of the limitations of the original photography. Luckily, thanks to artificial intelligence, manually colorizing a photo isn't the only option. As the technology improves, you can go straight back to the time when they took the shot, to relive that moment. Just like the Titanic, it is also a reenactment of the past, a reminder of the future, and a remembrance of the past.

---
More to Share
Lastly, I am sure you must know a thing or two about how to colorize black and white photos. Compared with Photoshop, WorkinTool Image Converter is more suitable for people like you and me. We don't have the skill to one layer after another to adjust the color, but we want to restore the good old days. It's easy enough, simple enough, and qualitatively enough to be worth a try. Moreover, it has all other functions that you can try without any payment. I don't see any problem that could stop you from experiencing it yourself. So hurry up and make those photos in the family album vivid again.