How to Enlarge a Picture on Windows in 2022
Why are your photos downloaded from the internet unsuitable for printing? The primary reason should be their DPI are too low to print. Therefore, it is advisable that you should enlarge your pictures. In this article, you will be informed what DPI is and how to check it by yourself. More importantly, you will learn the specific ways to enlarge a picture, including using WorkinTool Image Converter, Paint and Adobe Photoshop. All of them are free, simple and practical. Please start your reading now.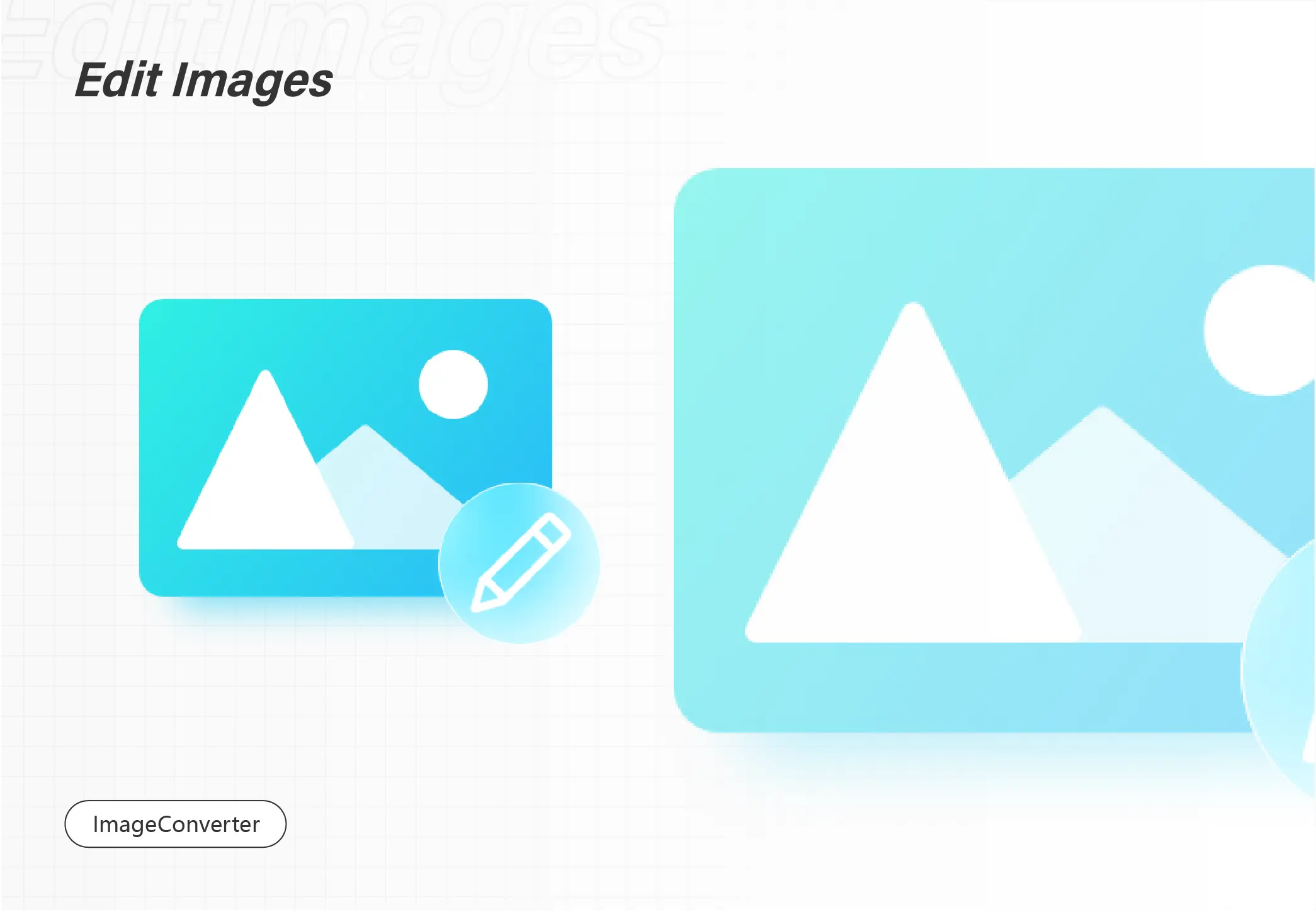 How to Enlarge a Picture on Windows in 2022
Admittedly, social media have been the primary platforms for us to share our lives at present. Therefore, plenty of significant events are chronicled on them, such as our birthday parties, graduation ceremonies, joyful moments during a trip and so on. However, you may be annoyed by their low qualities when you intend to print some of these images for memorial purposes.
Hence, we hear you and the fact that the low-resolution pictures ruin your memory symbols is the last thing that we want to see. Here, we would like to provide you with some effective instructions on how to enlarge a picture on Windows in 2022. More importantly, all the methods recommended are simple and you don't have to be tech-savvy to try them.
Now, let's unroll the scroll.
---
Something to Know Before Your Photo Enlargements
📝Why are my pictures unsuitable for printing?
Well, to know the exact reason for this question, you should first acquaint yourself with one important concept–DPI. Standing for dots per inch, DPI typically is the measure of the number of dots that can be placed in a line across one inch or 2.54 centimeters. To put it simpler, it is a measure of the resolution of a printed document or digital scan. The higher the dot density, the higher the resolution of the print or scan.
If you download pictures from the internet, you will most likely expect them at 72 DPI. However, the industry standard for a high-resolution image is 300 DPI. So virtually, printing any images lower than this will present you with less high-quality outcomes, while any pictures lower than 150 DPI will be considered low-resolution photos. At this point, it is highly recommended to enlarge your picture.
📝How do I check the DPI of my images?
There are two ways to check the DPI of your pictures:
📌The first approach is to right-click your mouse to find Properties and then choose Details to see the DPI.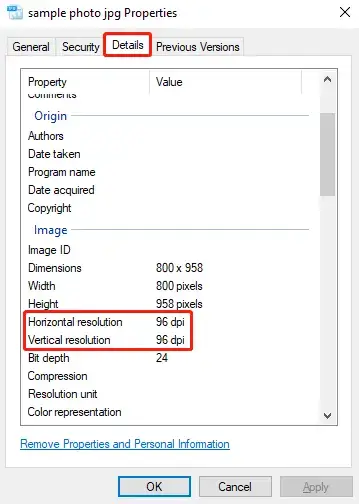 📌The alternative way is to open your image with Adobe Photoshop, click Image, choose Image Size and then find the Resolution column.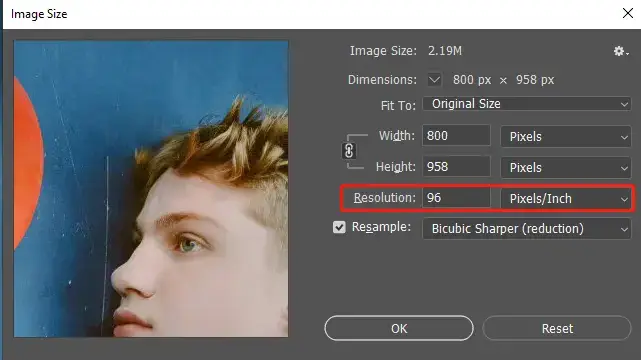 ---
Enlarge a Picture on Windows–The Easiest Way
Making a picture bigger will be beyond easy if you have a practical and helpful desktop tool at hand. Today, we will introduce you to a piece of handy software like this–WorkinTool Image Converter.
WorkinTool Image Converter is a useful offline tool designed for image resolution. Inspired by lightweight ideas, it boasts an easy-to-use interface with clear navigation. Additionally, its multiple valuable features are able to resolve your various image-related problems. When it comes to photo enlargements, WorkinTool Image Converter allows you to export the outcome without losing quality within three steps. More importantly, WorkinTool Image Converter is utterly FREE to use currently. So you are entitled to all the features without any license payment.
📕How to change the pixel size of a picture through WorkinTool?
1. Find Photo Restoration>Enlarge image size, and then click Add Images to upload your photo.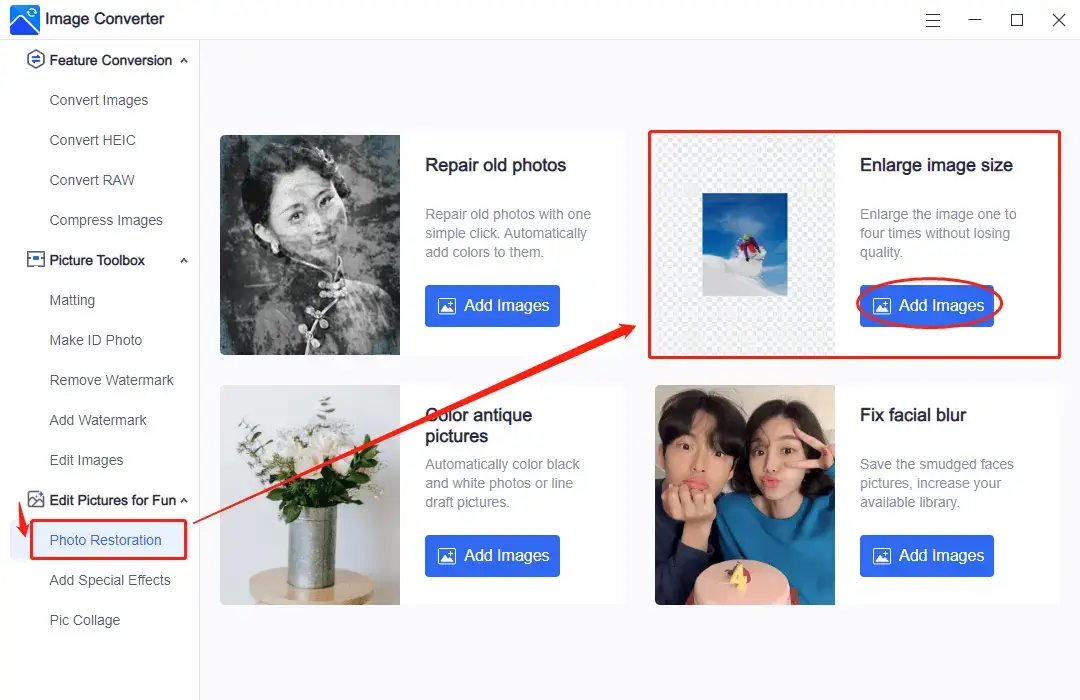 2. Choose the magnification factor to enlarge your picture.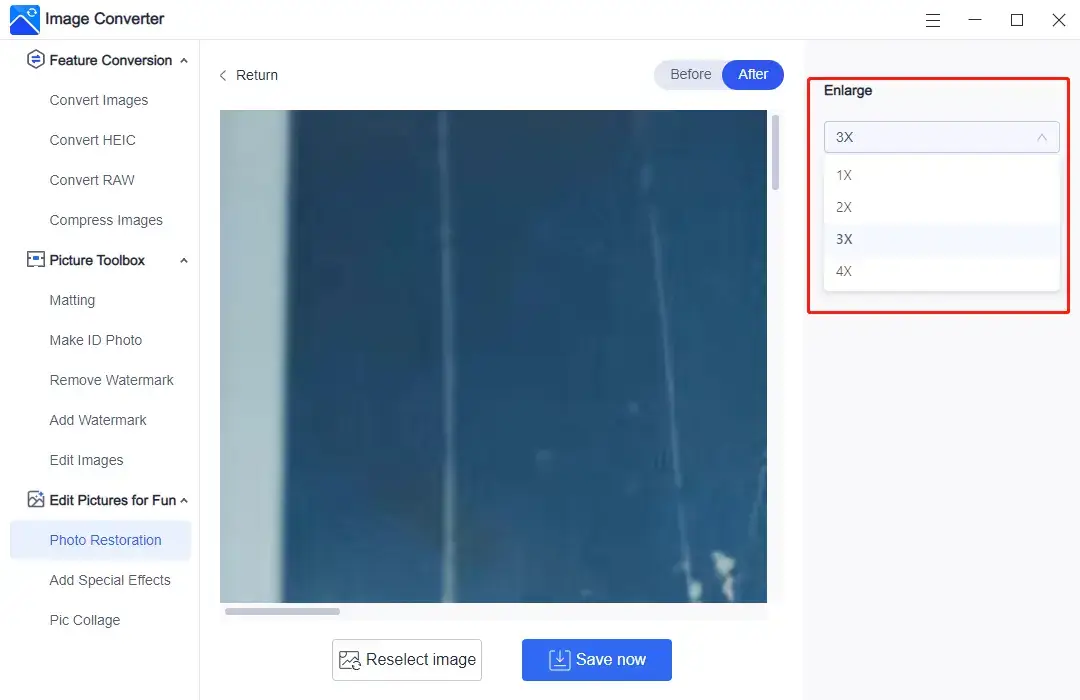 3. Check the enlarged resolution and then click Save now.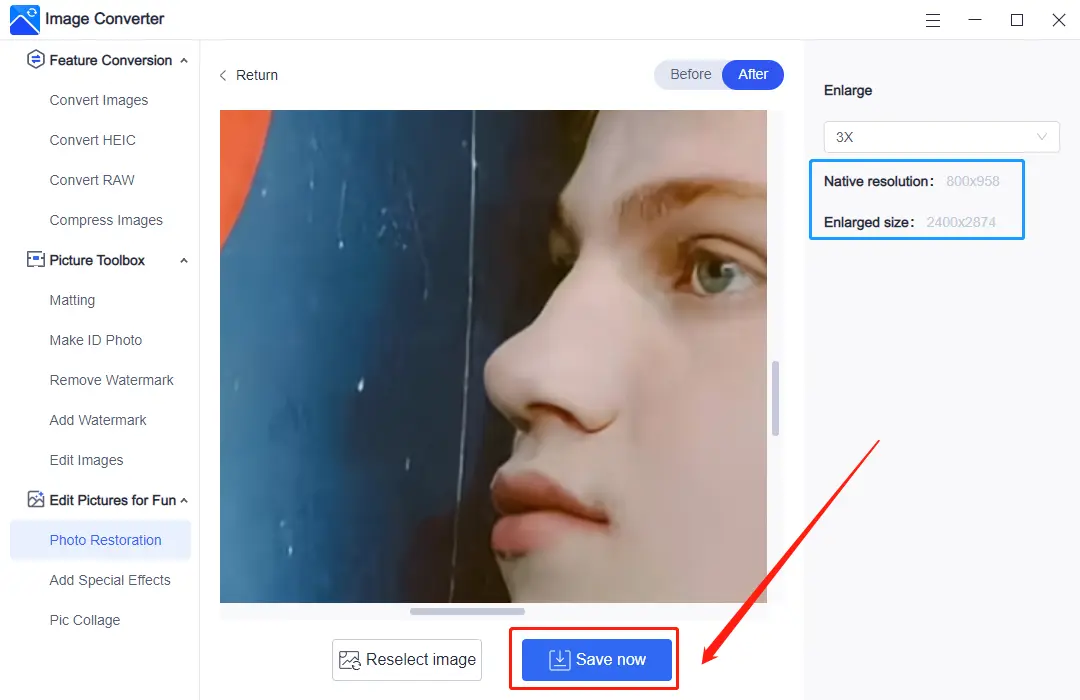 📢Notes: You can opt for four factors (1-4) and decide which one is suitable for you by previewing it after making a choice.
Here is a comparison of the image sizes.

Here is a comparison of the image qualities.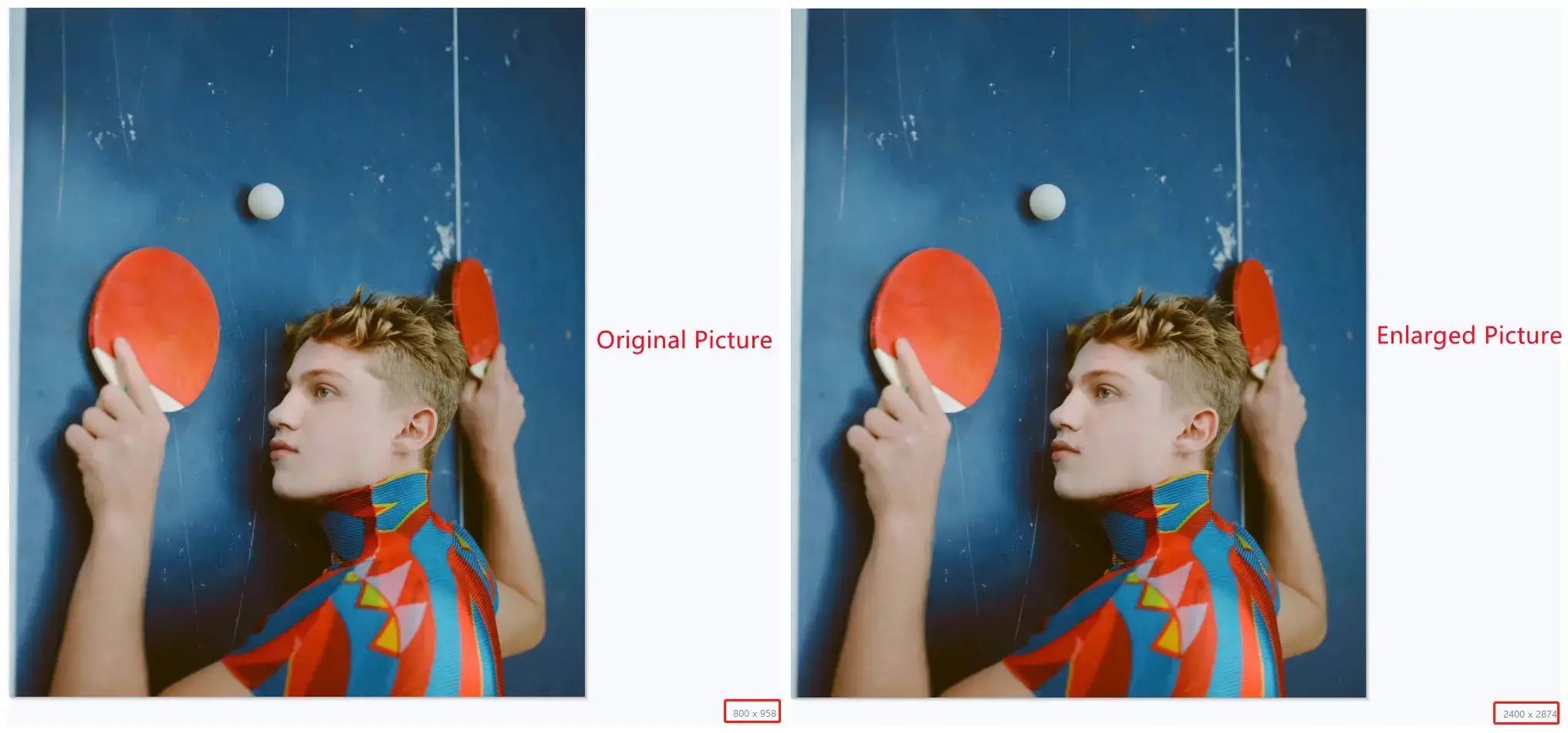 ---
Enlarge a Picture on Windows in Alternative Ways
There are certainly other methods of resizing an image. Here they come.
1. Enlarge a picture via Paint.
Paint is a convenient built-in program on Windows. In addition to digital drawing, you can use it to resize your pictures. Here is the tutorial:
1). Open your photo with Paint by right-clicking the file and choosing Open with.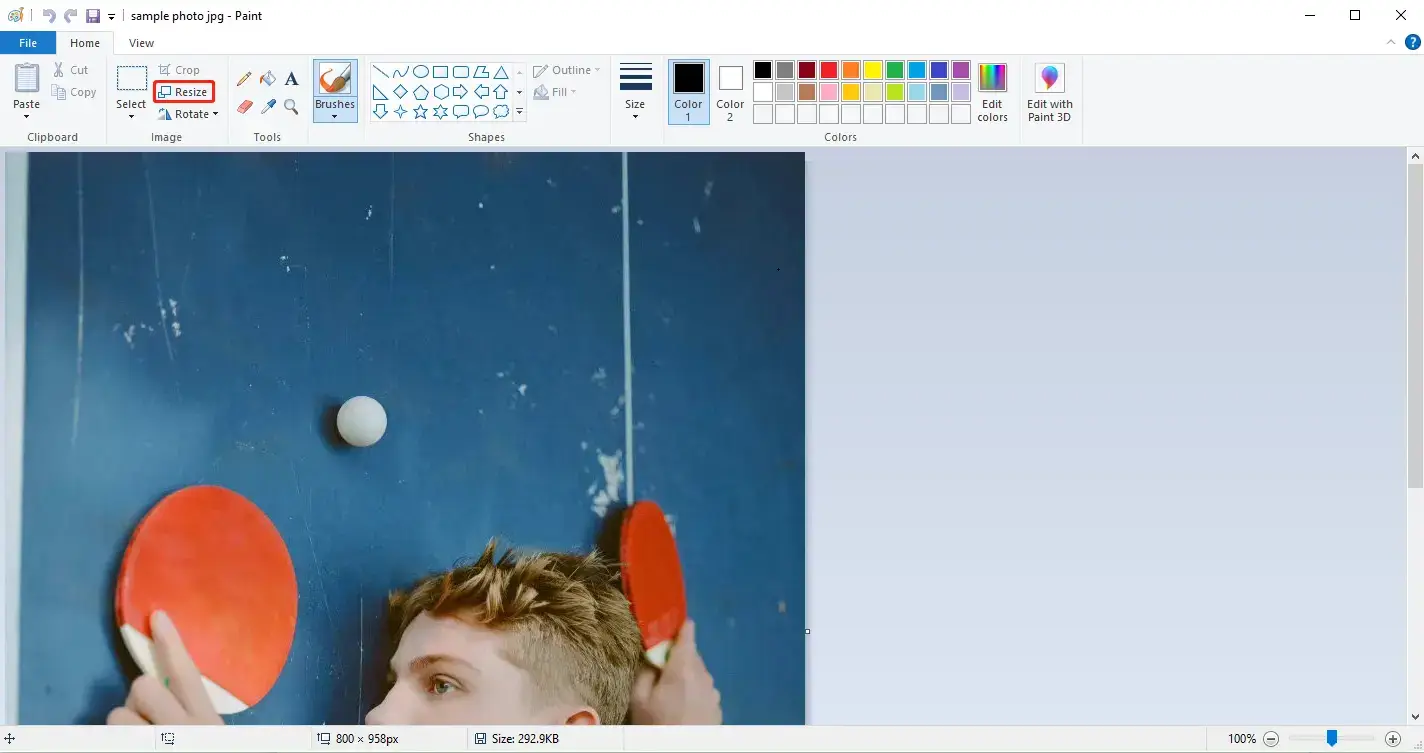 2). Find Resize, change the parameters in the pop-up window and then click OK.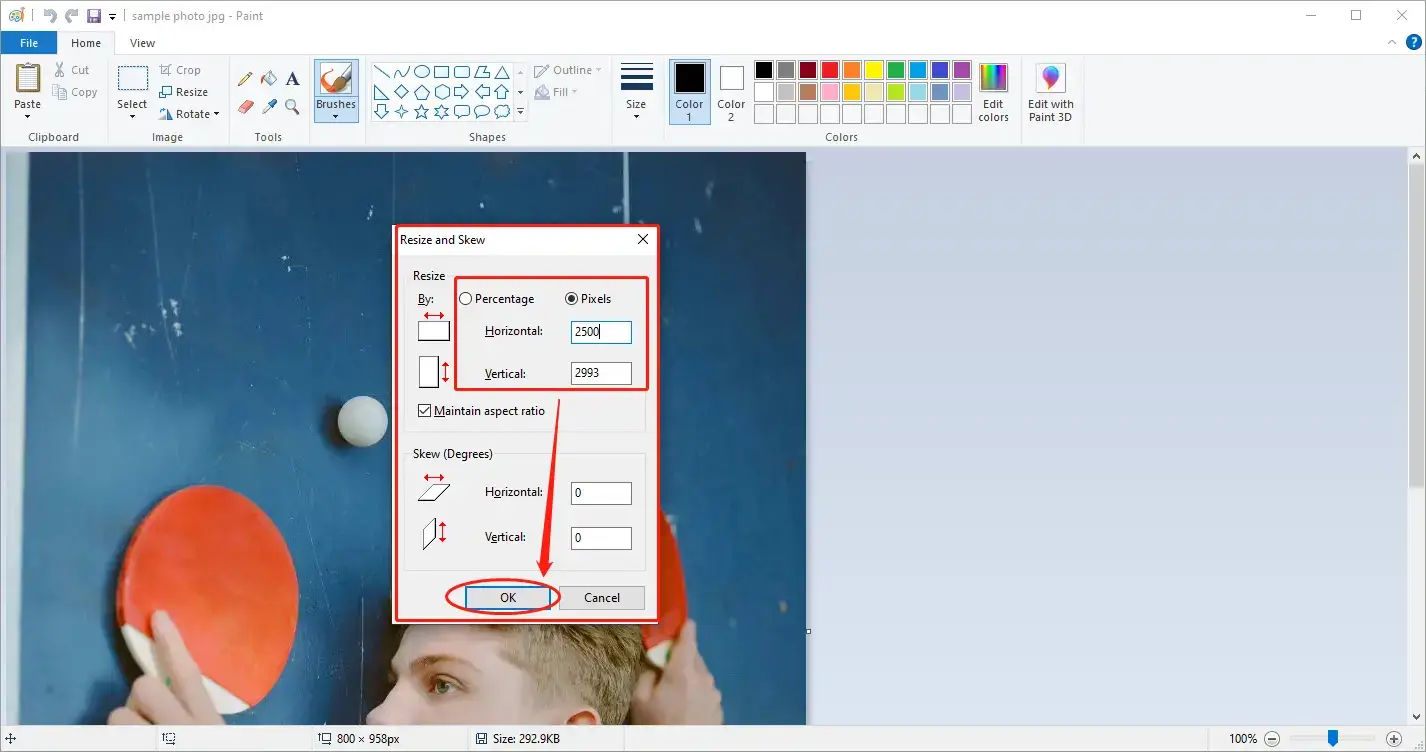 3). Press the Save icon on the top.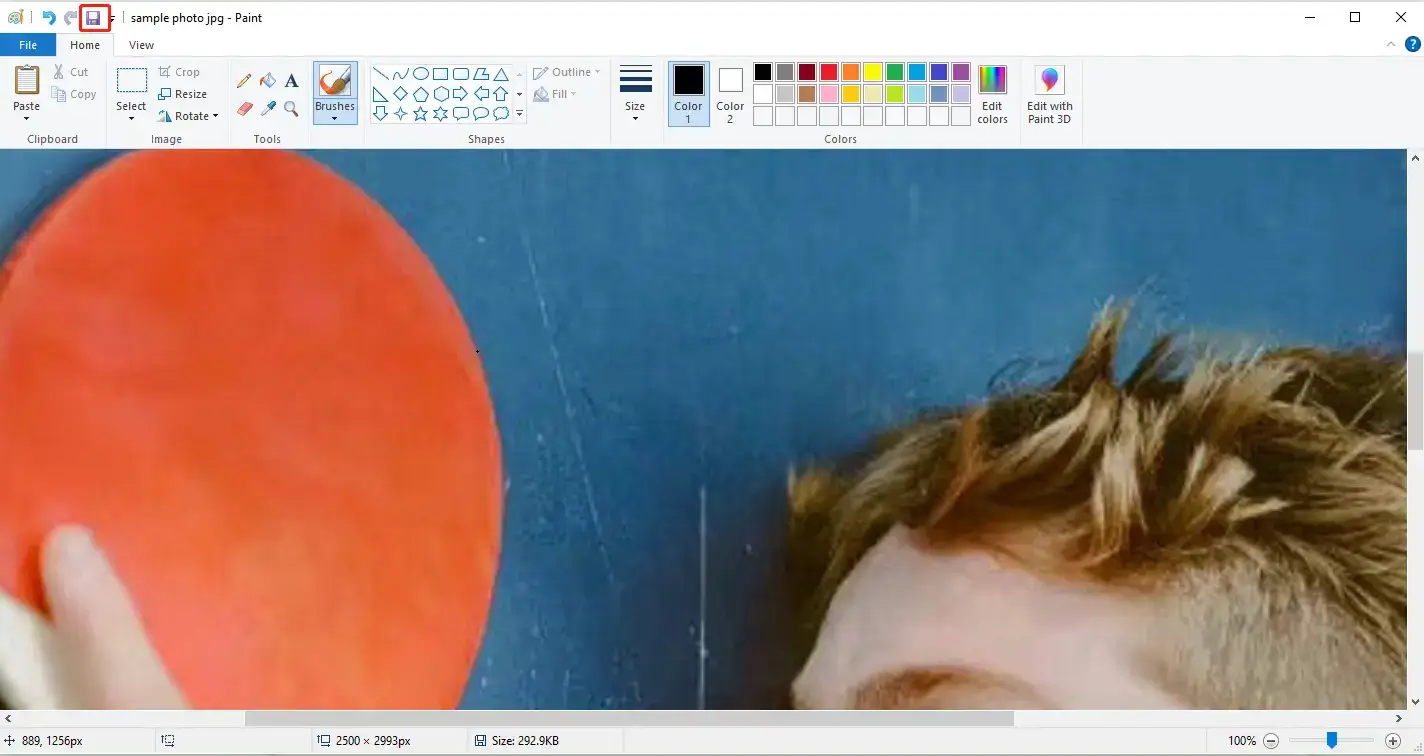 📢Notes:
It would be better to set your parameters in the unit of pixels.
You have to calculate the parameters suitable for printing by yourself before photo enlargements.
As can be seen in the preview, the quality will be slightly affected by this method.
2. Change the size of a picture by Adobe Photoshop.
Adobe Photoshop will be the first software appearing on people's minds at the mention of image processing. Indeed, with its various professional functions, you can edit your pictures for a range of contexts. Please see the guide for photo enlargements in Adobe Photoshop below:
1). Open your picture with Adobe Photoshop.
2). Find Image and then choose Image Size.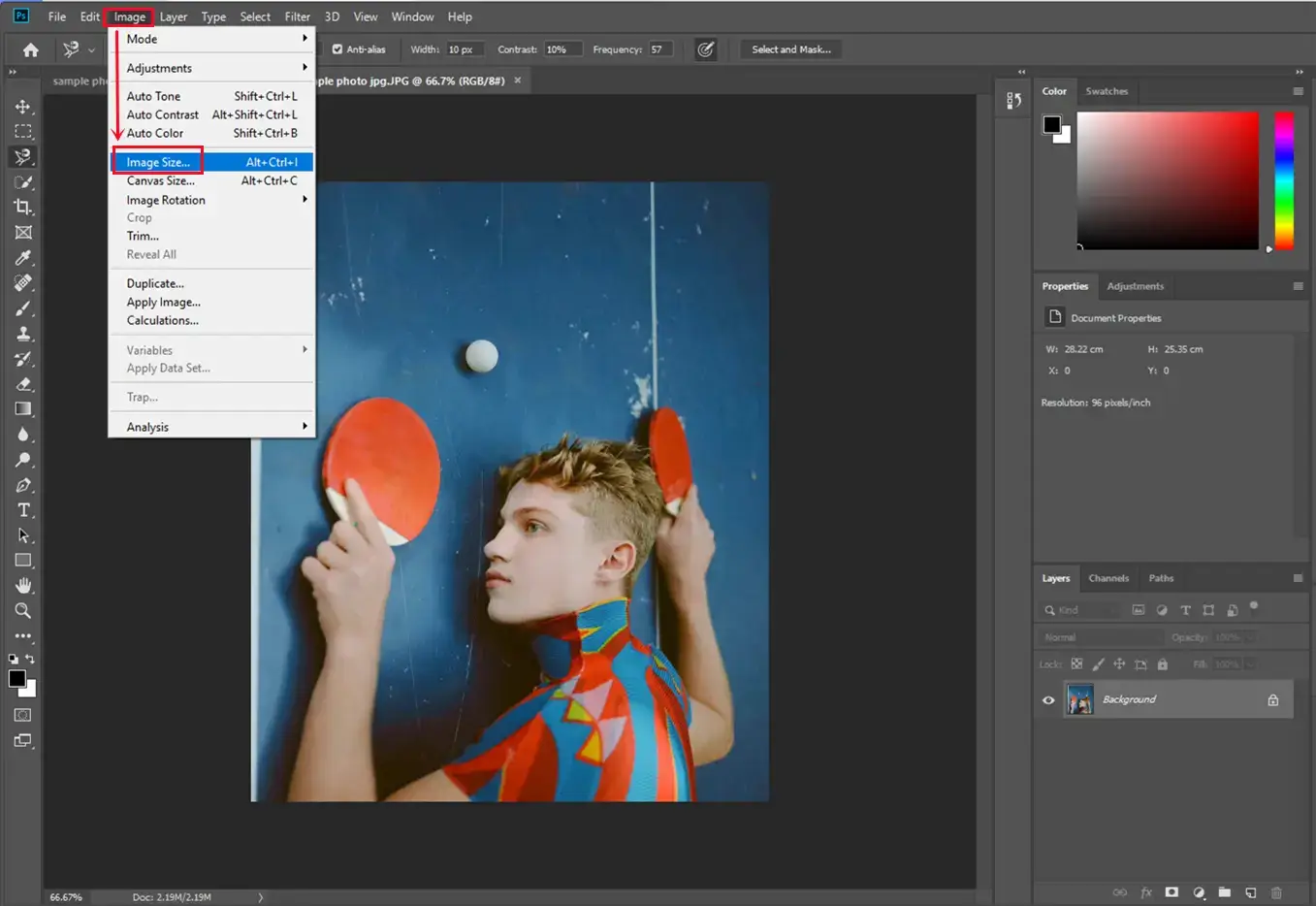 3). Change the resolution in the new window highlighted and click OK.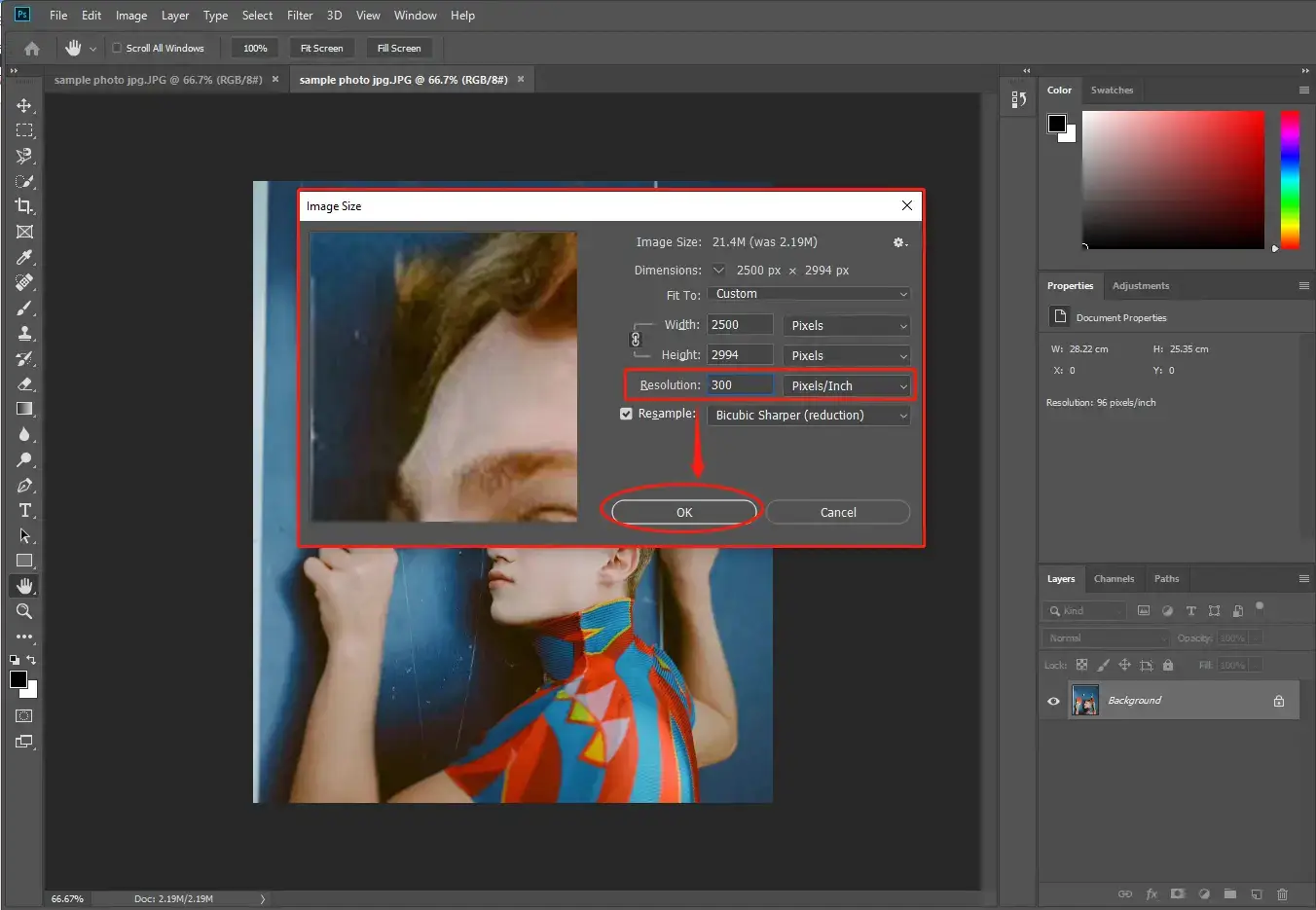 4). Click Save in the File section.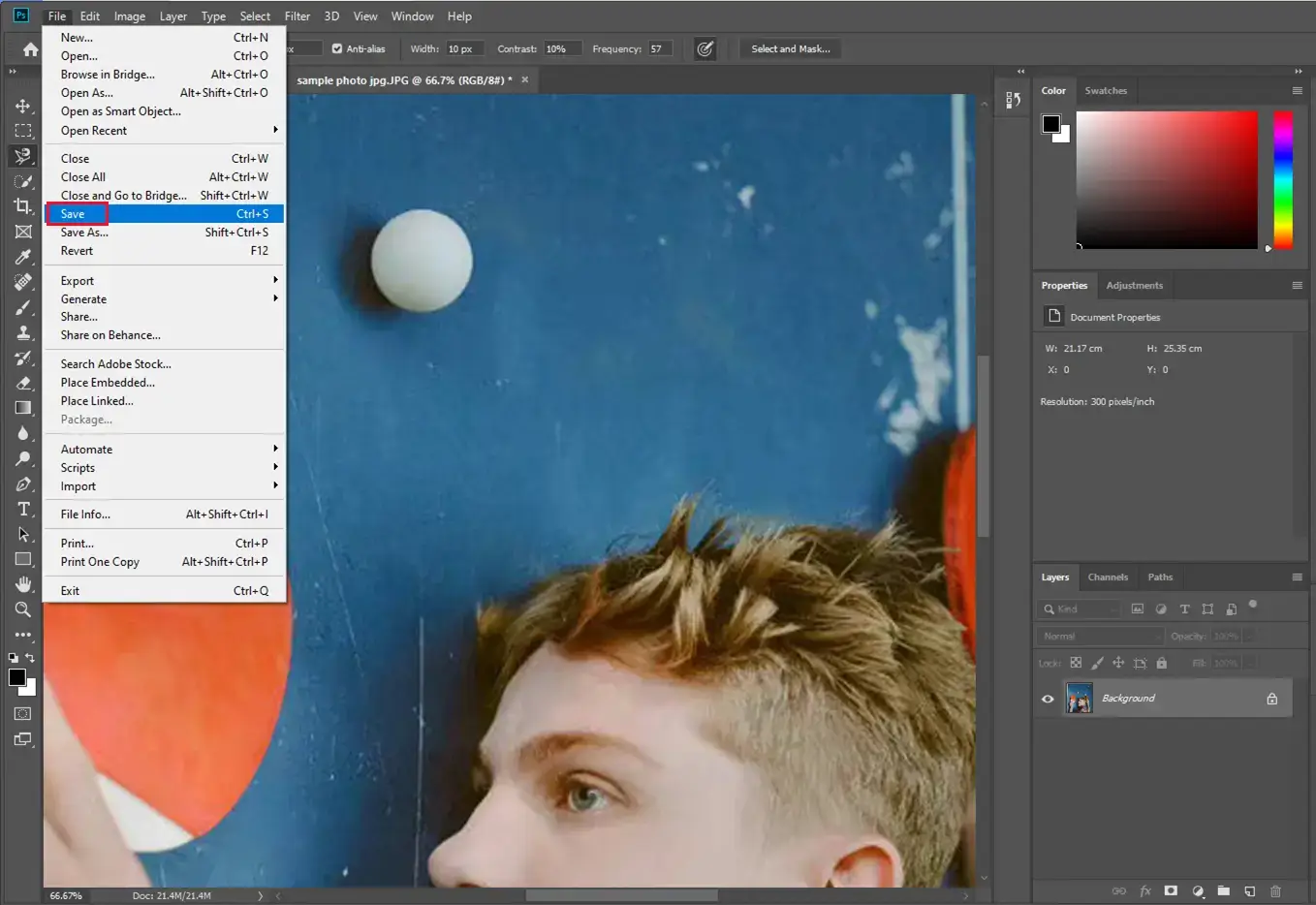 📣Notice:
It provides great convenience since you can adjust the resolution directly in Adobe Photoshop.
Its interface will be too complex for a beginner and you have to make a costly license payment to continue enjoying all these features when its expiry date comes.
Just like Paint, the sharpness of the photo is under the moderate influence by using this approach.
---
Something More to Say
📌Why should I choose WorkinTool Image Converter rather than another product?
More than just an image enlarger, WorkinTool Image Converter, a new all-around image conversion tool in the market, is designed to resolve all your common and even some advanced issues on image conversion and editing in various contexts.
These are the specific reasons for making this option:
💡Simple And Convenient
WorkinTool Image Converter is a lightweight desktop tool designed with a simple interface. Since there is a brief tutorial on each feature page, beginners will find it effortless to operate.
💡Powerful And Useful
WorkinTool Image Converter is endowed with many useful and recreational features to convert or edit your images. For its conversion function, you can change your pictures of any format to other 100+ types with ease, including JPG, PNG, BMP, GIF, HEIC and RAW. Furthermore, batch processing is available. For its editing features, it enables you to compress, remove the background of, resize, insert watermark to and remove watermark from your images. Meanwhile, it provides you with the opportunities to edit your pictures for fun, including colorizing old photos, converting images to black and white, fixing facial blur, adding filters or special effects and making a picture collage. Hence, it proves to be a great help in your daily life, school or the workplace.
💡Zero Ads And Intrusive Watermark
Completely FREE as it is currently, WorkinTool Image Converter will never force you to watch any advertisement or generate an intrusive watermark on your exported file. Also, no license payment will be required to enjoy all its features currently.
💡Secure and User-Oriented
Your safety is our priority. Therefore, we will spare no effort to protect your data privacy and information security. Please rest assured to try WorkinTool Image Converter.
Your voice matters. We will listen carefully to what our customers say, doing our utmost to satisfy all their needs and upgrade our products accordingly. Hence, WorkinTool Image Converter will never cease surprising you with some new features.
---
Wrapping up
We sincerely hope that you can figure out why your photos are unsuitable for printing and how this problem can be solved at the completion of your reading. However, it is strongly recommended that you give WorkinTool Image Converter a try.
So are you ready to enlarge your pictures now?
Please leave a comment to share your experience with photo enlargements.
Looking forward to your reply.
Products Reviews:
TrustScore
4
|
323
reviews