How to Brighten a Picture on Different Devices
Everyone has taken underexposed photos and wants to brighten them up for clear vision. That is why we have offered four quick and easy ways in this guide to solve this problem. For the Windows system, we highly suggest that you use the WorkinTool Image Converter. It is an all-in-one professional image editor with a user-friendly interface. Most importantly, it is totally free. Don't wait up, go download and experience the magic.
😍 1. FREE to enjoy all the picture editing features right now.
🤩 3. Easy interface for users to edit with THREE STEPS.
😎 4. Support more than 100 different image formats to operate.
🥳 5. Cover all the features that you can on the market and interesting filters.
😊 6. Available for image conversion, compression, matting, watermark, and more.
How to Brighten a Picture on Different Devices
Photographs are the witness of a person's life. They recorded everything from the first picture taken at birth to the last one taken when leaving. But whether you take pictures purely as a hobby or as a career, I'm sure there will be situations to shoot underexposed photos and make them too dark. The best way to optimize your photos is to use natural light to adjust the exposure. You should know that it is much easier to make the image brighter than to fix the overexposure in the post-editing process. But do you know how to brighten a picture without losing quality?
It's actually pretty easy to get perfect pictures like those on Instagram. All you need to do is find an image editor to help adjust the brightness in the photo. This guide will walk you through the most effective and free ways to brighten up your images on different devices. After you finish reading this article, you can do the image editing work like a professional photographer.
---
How to Brighten a Picture Without Losing Quality
On PC Windows, if you want an excellent effect to adjust the brightness of a photo, then you'd better use a photo editor to help you solve this problem. Of course, you can use the famous Photoshop, and we will discuss how to use it later. But there are many reliable image editing software on the market that are cheaper and easier to use than Photoshop. All things considered, we have picked out the best tool to help you brighten your dark pictures.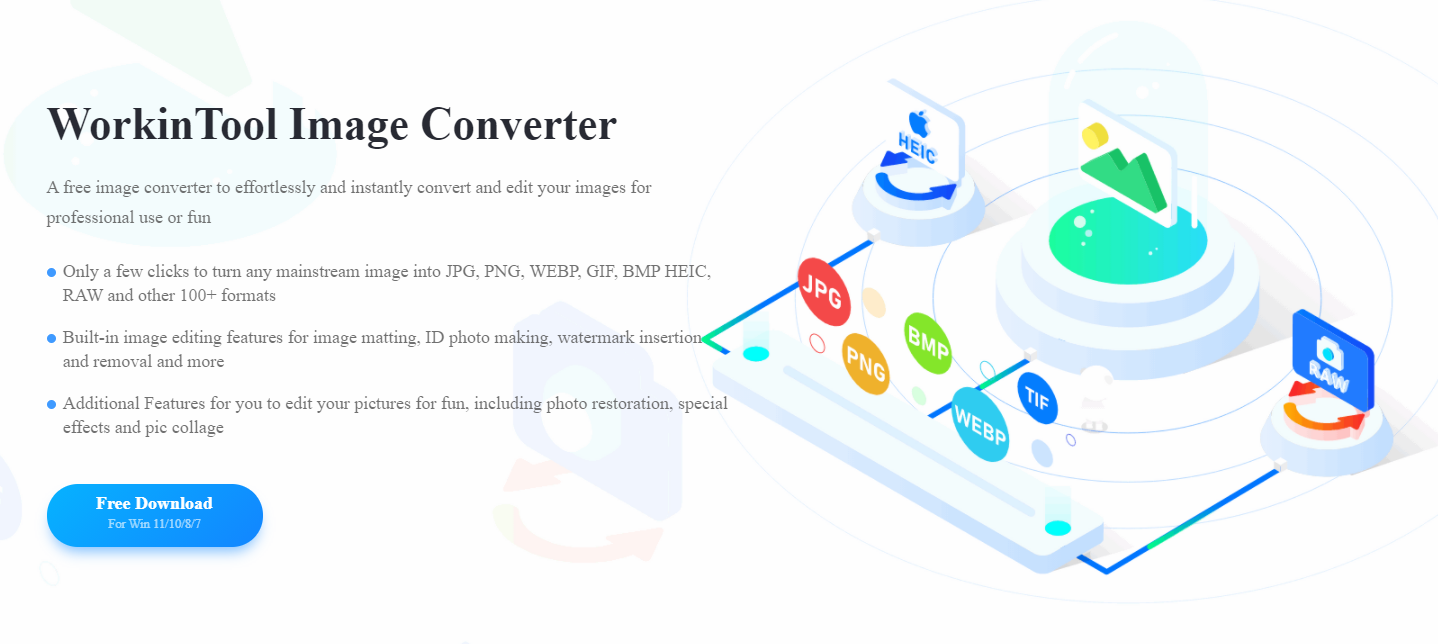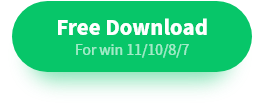 WorkinTool Image Converter is a professional image editing software that helps users solve all their picture needs. It contains all the editing functions. You can enjoy the features from the image format conversion to various picture filters. It supports more than 100 image formats, so batch processing is not a problem. In the picture brightness adjustment, the software provides a number of parameters to customize the adjustment. You can adjust the brightness, contrast, saturation, and other factors that may modify the image's brightness to achieve the desired effect.
The most important thing is that the software has straightforward navigation for each function and a clear navigation interface. Even beginners in image processing don't have to worry about not being able to use it. In addition, it is 100% free of all features. You can enjoy a variety of image editing capabilities without worrying about export restrictions or watermarks.
Steps on how to brighten a picture using WorkinTool:
1: Open this tool and click Edit Images to input your target image.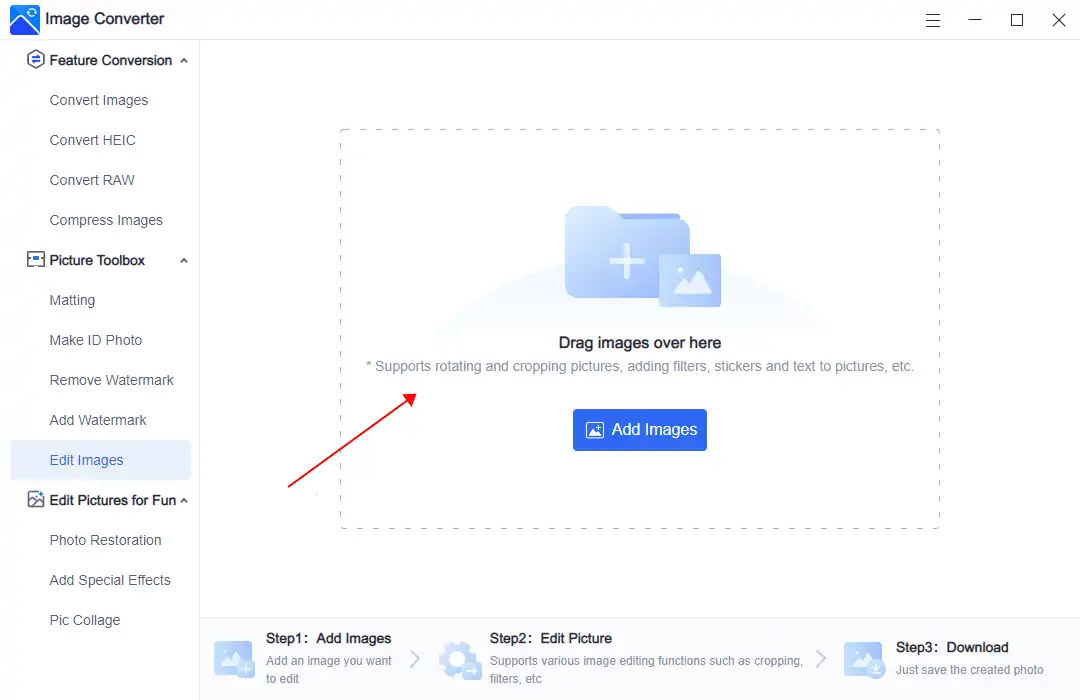 2: Find the third icon on the right side of the menu bar.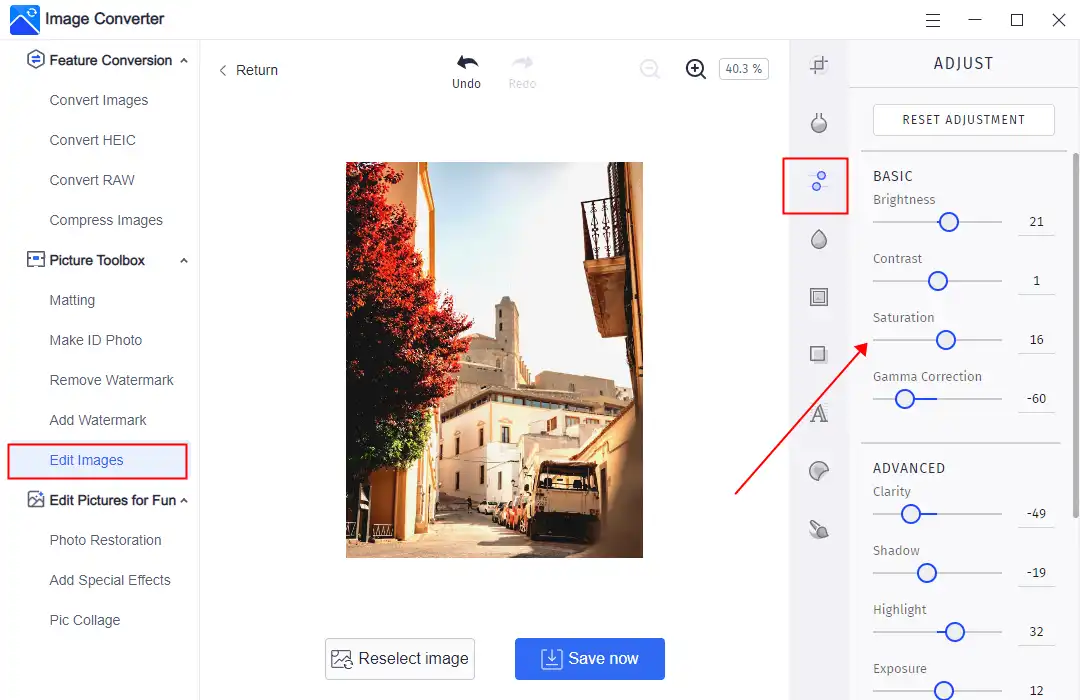 3: Customize those image parameters to brighten your picture. Normally, you only need to adjust Brighten and Contrast. Of course, you can also change other parameters to control the image effect.
4: Once you are done, you can tap Save now to keep the edited picture on your computer.
💖 Additional WorkinTool Image features 💖
---
Make a Picture Brighter using MS Word
You may be wondering if there is a way to deal with image brightness on Windows without downloading software. In fact, there are ways to do this, as long as you're not too particular about the details. First, let me answer a frequently asked question: Can I use Windows Paint or Paint 3D to brighten up my images? Unfortunately, no. The only similar method is to use paint 3D to adjust the overall canvas color temperature, but this is not to brighten the image. As for other Windows applications, you probably couldn't do it with Microsoft Word or PowerPoint.
Take MS Word, for example. It's the same thing in PowerPoint. After creating a new Word file, you can insert the image you need to adjust the brightness. A Picture Format option appears after insertion. There are many details you can adjust about the picture. All we need is the Corrections button. It provides about 25 templates to change the brightness of your images. The user can directly select the most suitable one to apply to the picture. The only downside is that it's a static template, and you can't adjust the details.
Steps below on how to brighten a picture:
1. Insert the picture into a new Word file.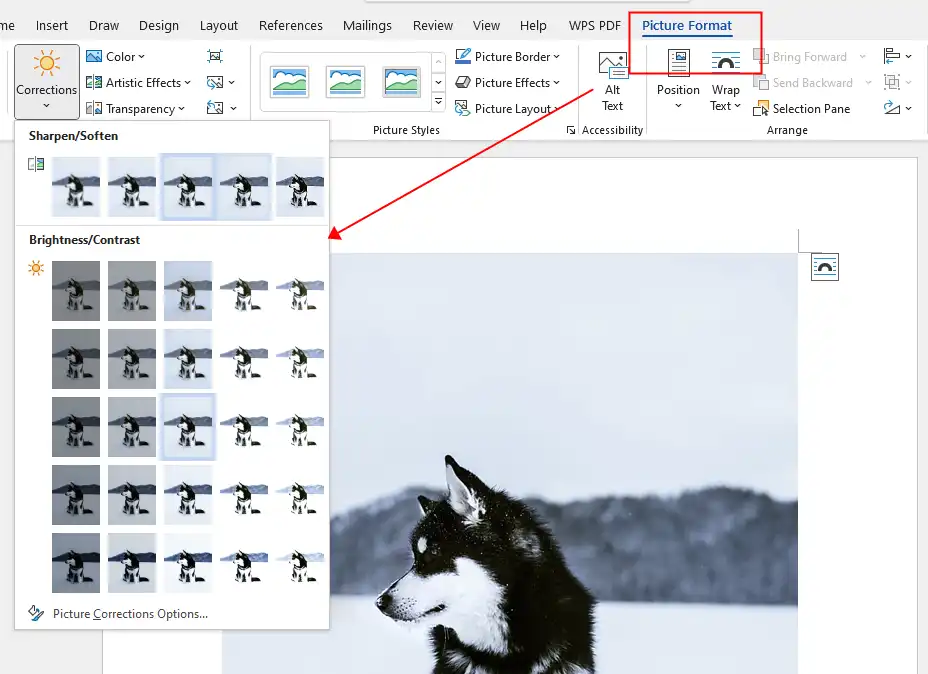 2. On the Picture Format tab, click Corrections in the Adjust group.
Then, there will be two main sections for color corrections:
3. After picking one good effect, then you can save the picture on your computer now.
---
Use Adobe Photoshop to Do the Trick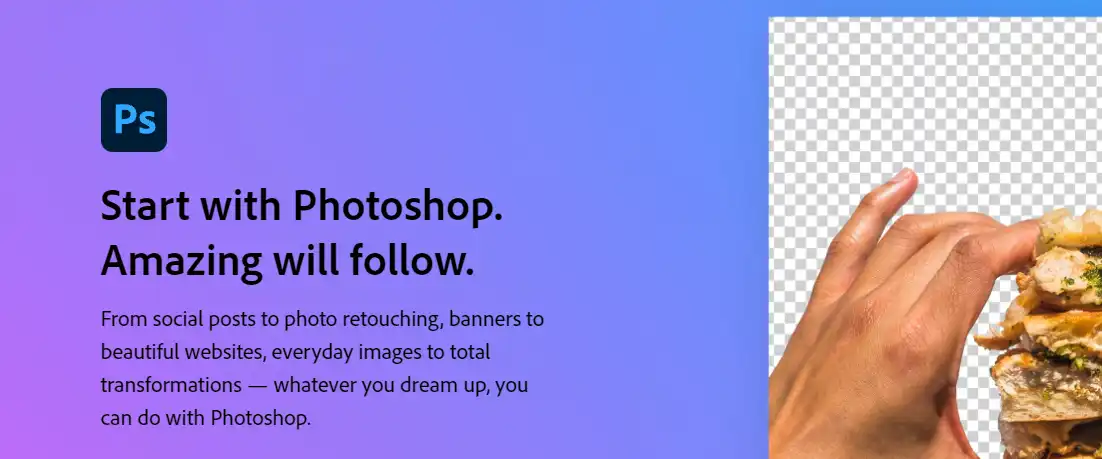 As the most famous image editing software, I don't need to make any recommendations for Photoshop. After all, it's still the first choice for professional photo editors. Now on the market, a lot of other image editing software is also based on the existing functions of Photoshop to develop their own innovations. However, it is also known for over-charged product prices and highly professional image editing functions, which will cost a lot of time and money to master. Try another image tool if you are not taking photography as a career.
Here are a few ways to brighten your photos using Photoshop:
1. Curves way:
Open the target picture in Photoshop.
Go Image > Adjustments > Curves.
In order to brighten your image, drag the curve line slightly higher. You don't have to drag it too far to see the result.
When dragging it to your favorite brightness, you can click "OK" to seal the deal.
2. Brightness adjustment method:
Open the target picture in Photoshop.
Go Image > Adjustments > Brightness/Contrast.
Then, pull the Brightness scale to the right to adjust the effect.
Once you have made it to the right place, you can save it now.
---
💖 Bonus: How to Brighten Photos on Your Phone
For young people, if it is not the need for work, usually do not deliberately open the computer to edit images. Mobile phones are already enough to meet people's daily needs. Only when you have taken underexposed photos and made them too dark to view do you need to adjust the brightness of the image to make it clear again. Not only that, most of us will use our iPhone or Android phone to adjust details before posting images to social media like Instagram. And when it comes to the question of how to brighten a picture, there are also built-in apps that can easily make the adjustments.
Since the process for the iPhone is the same as for Android, I'll use Android as an example for you.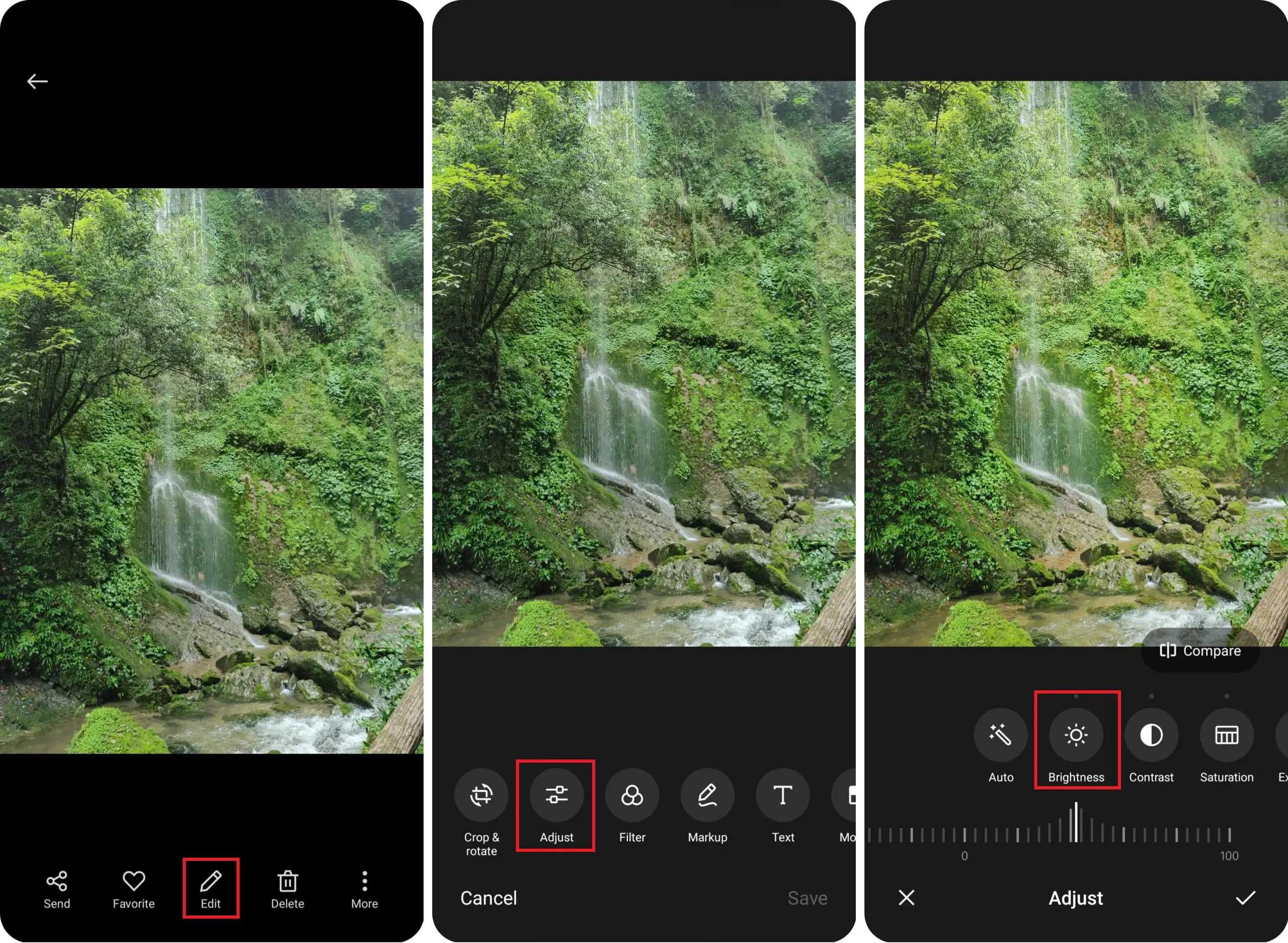 First, open the 

Photos

 app and find the target picture.

Go 

Edit

 > 

Adjust

.

Then feel free to customize those image parameters. The first option is brightness.

After adjusting the image, you can save it to your phone.
---
More to Share
In conclusion, we have covered four different methods to help you deal with the problem of how to brighten a picture. As you can see, it is not so hard. You can easily make a good image editor and get a satisfactory result as long as you follow our instructions. All the methods that we mentioned above are through our testing and have proven to be available right now. You can pick any of them according to your current device.
If you have any good advice or encounter any troubles, please feel welcome to contact us.