How to Brighten a Picture on Different Devices
Image editing can be such a boring job. However, most of you would still choose to make some adjustments before posting images on social media like Instagram. Some of you might ask a question: how to brighten a picture in a faster way? Well, in the post, we have covered the four fastest and easiest ways to help you with that problem. For the Windows system, we highly suggest that you use the WorkinTool Image Converter. It is an all-in-one professional image editor with a user-friendly interface. Most importantly, it is totally free. Don't wait up, go download and experience the magic.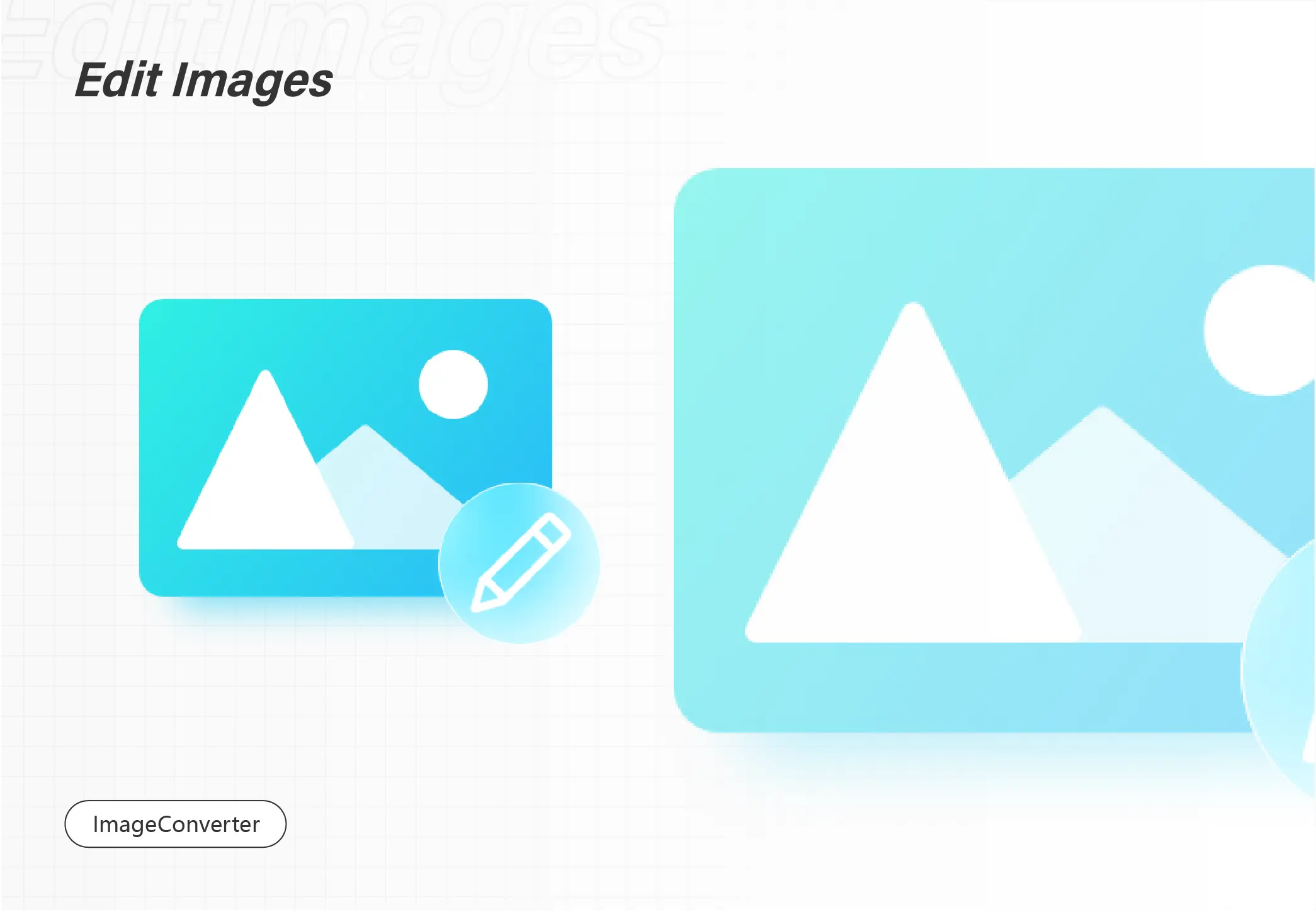 How to Brighten a Picture on Different Devices
Modern photographs can be taken almost throughout a person's life, from the first picture taken at birth to the last one taken when leaving, and can be said to record the details of life. No matter if you take photos purely as a hobby or have already made it your career, the best way to optimize the photo when capturing one is always to use natural light to adjust the exposure. Because as we know, it is much easier to make a photo brighter than fix the over-expose effect in the later editing process. But how to brighten a picture without losing quality yourself?
Well, actually you don't have to wonder how to do it. It's not that hard to get a perfect Instagram image post like others. All you need to do is to find an image editor that can help you brighten a photo. Here in this article, we will be covering the most effective and free methods of how to brighten a picture on different devices. After reading this, you can do these image editing jobs like a professional photographer.
How to Brighten a Picture on Windows
First, let me answer a question I often see on Google Search and various forums: Can I use Windows Paint or Paint 3D to brighten my images? Well, unfortunately, no. Paint 3D only has an Effect feature to adjust the overall canvas color temperature. But it is not even close to the image brightening function. As for the Window Paint app, it has been upgraded for a long time. So, no. if you want to brighten a Picture using windows software, then I suggest you try Microsoft Office tools like Word or PowerPoint.
Though Microsoft Office 365 is like other default Windows apps, it comes with Windows computers when on sale. They will provide a key number to activate Microsoft 365. In a sense, Microsoft Word and PowerPoint are available for free as long as you buy a Windows PC through the proper channels. And then you can use it to simply process the brightness of your pictures.
We use Word as an example:
Insert the picture into a new Word file.
On the Picture Format tab, click Corrections in the Adjust group.
Then, there will be two main sections for color corrections:

Sharpen/Soften: from left to right, the picture color will become more and more sharpener.

Brightness/Contrast, from left to right, the picture color will become brighter and brighter.

After picking one bright effect, then you can save the picture on your computer now.
---
How to Brighten a Picture Without Losing Quality
However, if you want a greater effect to brighten your photos. Windows built-in apps are definitely not enough. You will need a professional image editor to help you deal with that. Of course, except for the well-known Photoshop, there is still accountable image processing software on the market. Here, Considering convenience and price, we have found the best tool for adjusting the brightness of your images.
WorkinTool Image Converter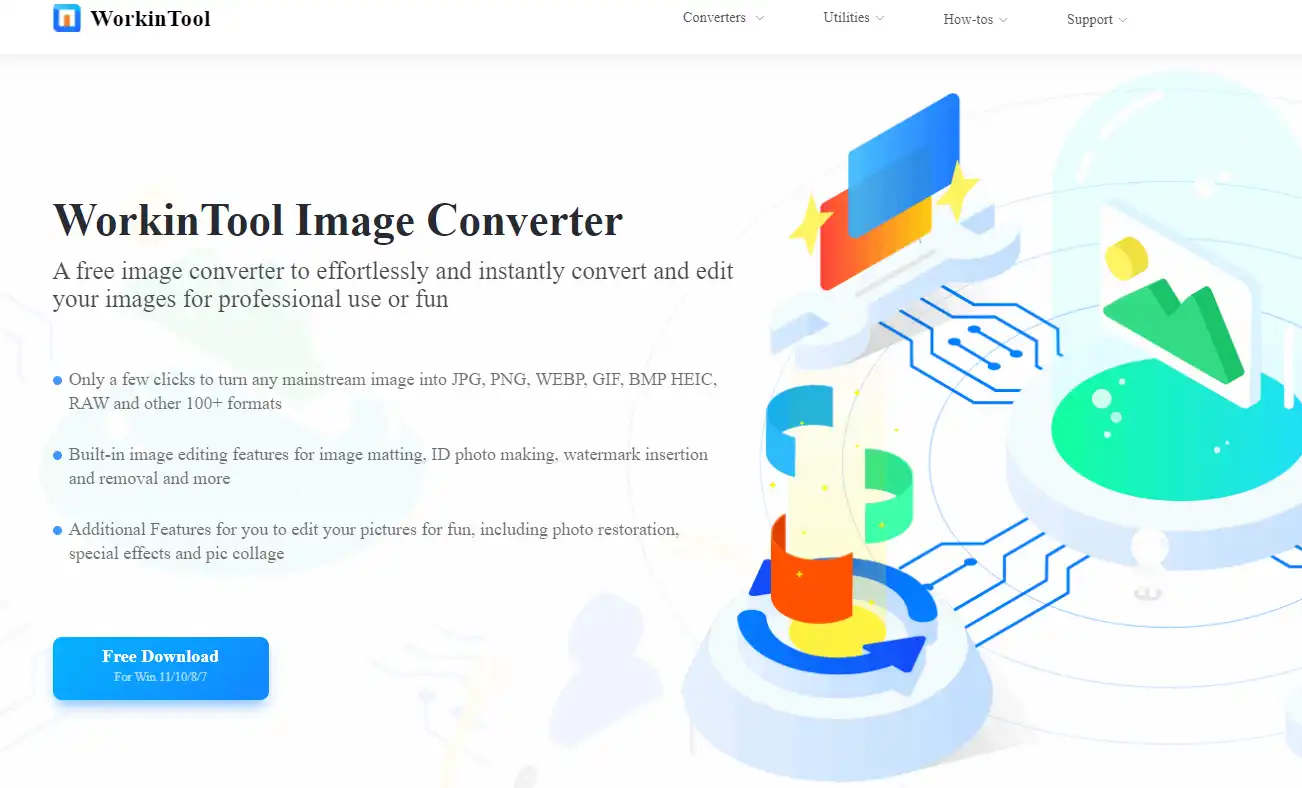 WorkinTool Image Converter is an all-in-one professional picture editor software. From image format conversion to old image restoration, it provides all the image editing functions that you can find on the market. And for the navigation interface and operating procedure, this image tool is designed to be extremely easy to use and suitable for all aged customers. Moreover, it is 100 percent free of price for all the functions. You can enjoy various image editing features without worrying about export limits or watermark issues.
In terms of Image brightness, WorkinTool Image Converter offers users the option to customize image parameters. With WorkinTool, you can configure these parameters, including brightness, contrast, saturation, and other factors that may affect the image brightness.
Here are the detailed instructions on how to brighten a picture using WorkinTool Image Converter: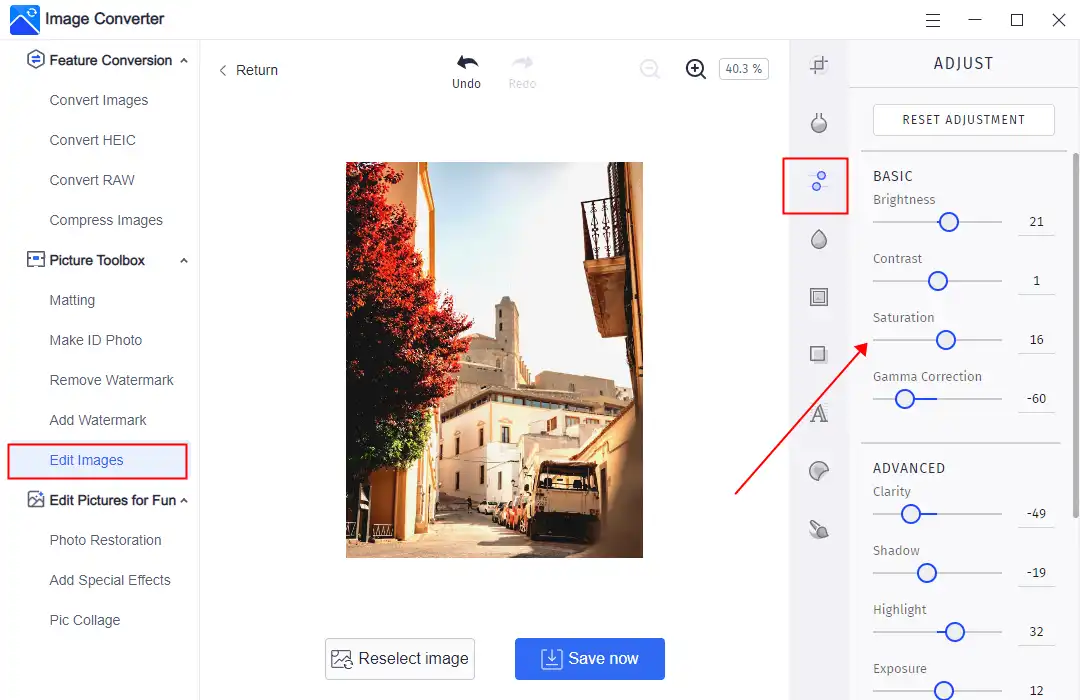 Open this tool and click Edit Images to input your target image.
Find the third icon on the right side of the option bar.
Here you can customize all the image parameters. The first one is what you want: Brightness. Of course, you can also adjust other parameters to control the image effect.
Once you are done, you can tap Save now to keep the edited picture on your computer.
💖 Additional WorkinTool Image features 💖
---
Adobe Photoshop
As the most famous image editing software, I don't think I need to make any recommendations for Photoshop. Basically, all image processing jobs will require this tool to participate. However, it is also known for over-charged product prices and extremely professional image editing functions, which will cost a lot of time and money to master. If you are not taking photography for a career, I sincerely suggest you try another image tool.
Here are a few ways to brighten your photos using Photoshop:
1. Curves way:
Open the target picture in Photoshop.
Go Image > Adjustments > Curves.
In order to brighten your image, drag the curve line slightly higher. You don't have to drag it too far to see the result.
When dragging it to your favorite brightness, you can click "OK" to seal the deal.
2. Brightness adjustment method:
Open the target picture in Photoshop.
Go Image > Adjustments > Brightness/Contrast.
Then, pull the Brightness scale to the right to adjust the effect.
Once you have made it to the right place, you can save it now.
---
💖 Bonus: How to Brighten Photos on Your Phone
Well, after the brightness methods on the PC device, let's not forget the most used mobile photos. Let's face it. Now, hardly anyone would open a computer to make image modifications if all these can be done with a phone. Most of us will choose to use our phone, whether an iPhone or Android, to adjust some details before posting images to social media like Instagram. And when it comes to the question of how to brighten a picture, there are also built-in apps that can easily make the adjustments.
Since the process for the iPhone is pretty much the same as for Android, I'll use Android as a demo.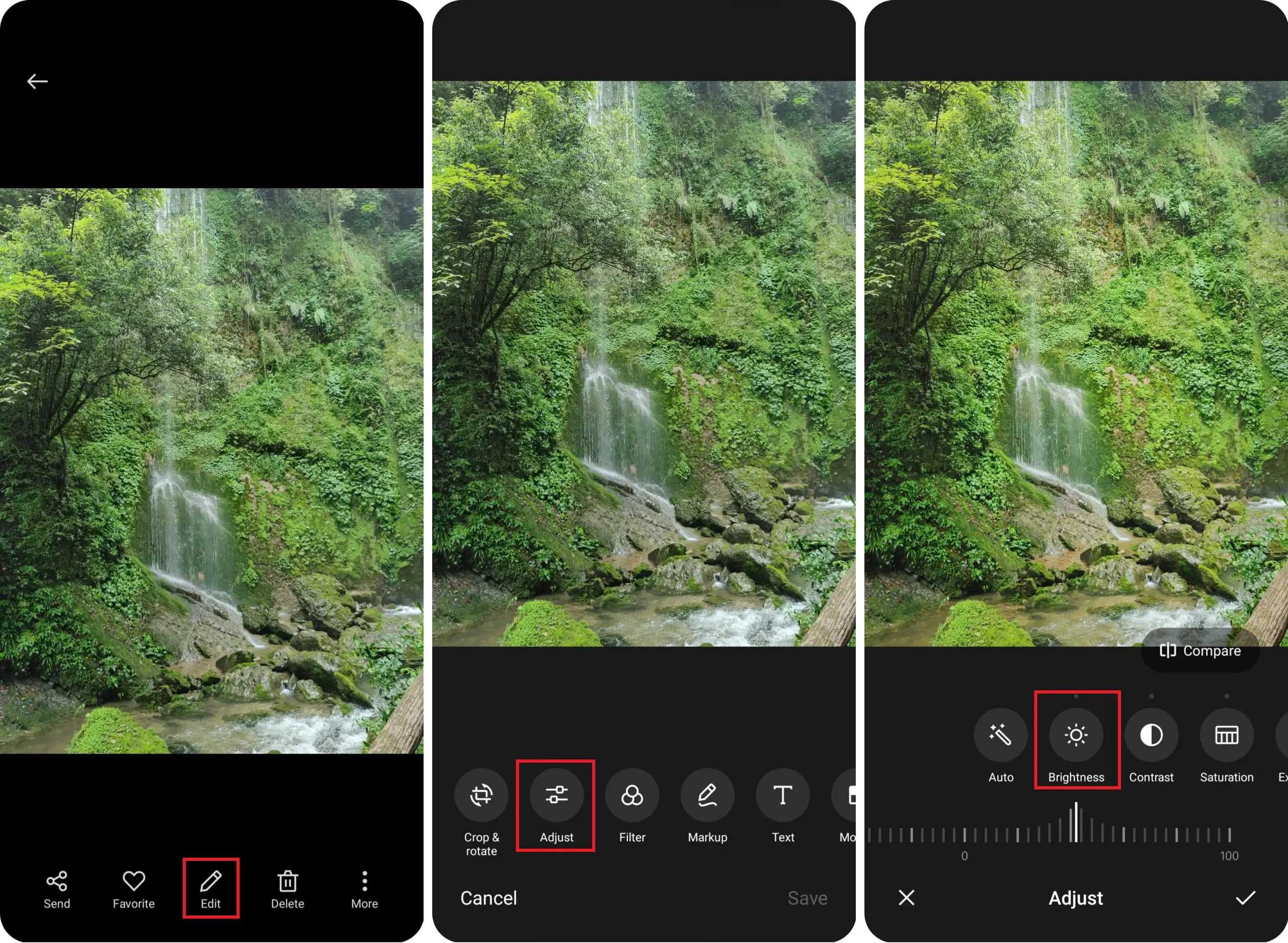 First, open the Photos app and find the target picture.
Go Edit > Adjust.
Then feel free to customize those image parameters. The first option is brightness.
After adjusting the image, you can save it to your phone.
More to Share
In conclusion, we have covered four different methods to help you deal with the problem of how to brighten a picture. As you can see, it is not so hard. You can easily make a proper image edit and get a satisfactory result as long as you follow our instructions. All the methods that we mentioned above are through our testing and have proven to be available right now. You can pick any of them according to your current device.
If you have any good advice or encounter any troubles, please feel welcome to contact us.
Products Reviews:
TrustScore
4
|
323
reviews