How to Convert JPG to PDF on Windows 10 and Mac for FREE
Although the Windows system has its own way to convert JPG to PDF, it doesn't support converting images in bulk. It would be inefficient and time-wasting if you have to manually operate uncountable images one by one. For these reasons, I am here to introduce the best image tool to convert – WorkinTool Image Converter. With this easy and fresh interface, you can master it in a very short time. Come explore the magical tool yourself!
1. It supports more than 40 kinds of image formats to use and convert, PDF and JPG are, of course, included.
2. it is totally FREE to use all the functions without any limit right now.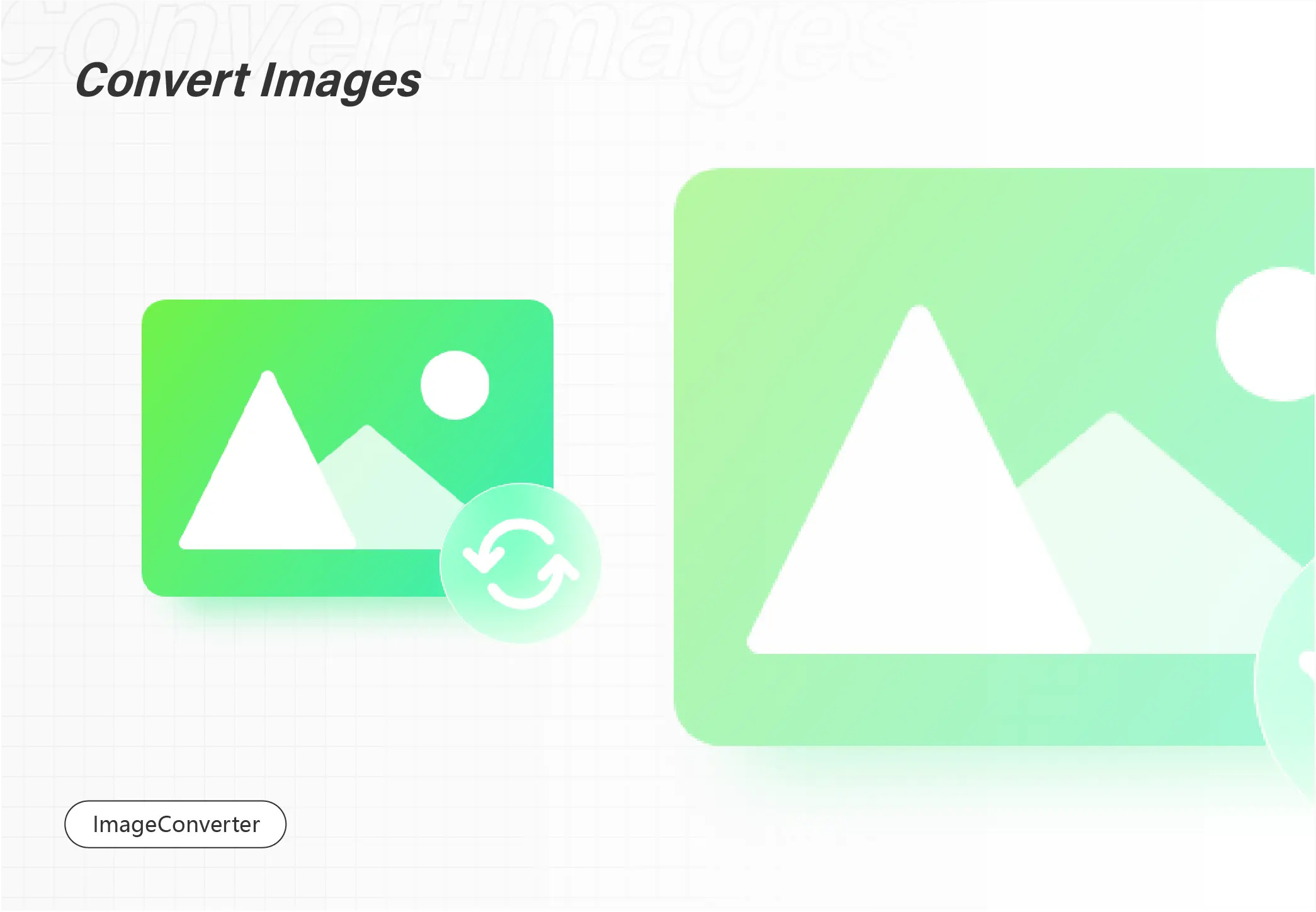 How to Convert JPG to PDF on Windows 10 and Mac for FREE
Let me know if I am wrong. There are always cases when you save a picture to your smartphone or a computer, and the image format is basically fixed to be JPG or PNG. These most popular and widely used image formats, typically on occasion, are suitable. However, now and then, you might need to convert JPG to PDF. Maybe it is for your clients to show the wedding album collection display or to prove your idea at a school debate. Putting your images into a PDF file can be inefficient and troublesome. You can use the "Print" function in the Photo of Windows system to make that happen. But there are chances that you might fail to do this. This way, you can't realize a batch conversion. Therefore you need to find a feasible and stable way to solve how to convert JPG to PDF on Windows 10.
For these reasons, in this article, I will introduce three different free and available methods to make JPG become PDF files in no time. All the methods and tools we will mention below are equally accessible and 100% feasible without any abs. Of course, they support the function of converting PDF format in bulk. Come and check out how exactly they make the magical conversion.
---
How to Convert JPG to PDF on Windows 10
Method 1: Image Converter to Convert JPG to PDF
The first method I highly recommend to make it happen is the WorkinTool Image Converter. But it's more appropriate to call it an image management tool. It offers users more than fifteen practical functions, including format conversion, picture matting, restoring old photos, etc. Let's take the conversion function, for example. Except for the JPG format, it also supports PNG, BMP, TIF, WEBP, and GIF formats to make an excellent transformation export. Don't worry. Even if you are a rookie and new to this image conversion field, it has the most straightforward interface and most effortless operation to guide all the users to operate this very image editing software in a relatively short time.
Moreover, you can put several pictures to convert at the same time. Suppose you consider that it still wastes a lot of time manually inputting images, you can directly throw a picture folder into this tool, and it will automatically identify image formats and pick them out to make conversions individually. Totally trouble-free.
Now, let's see how to convert JPG to PDF with this image converter.
First, you need to 

download and install this software

 and find "

Convert Images

."

Then, put your target JPG image into this handy tool. You can also drag a folder of pictures and straightly drop it into here. It will work.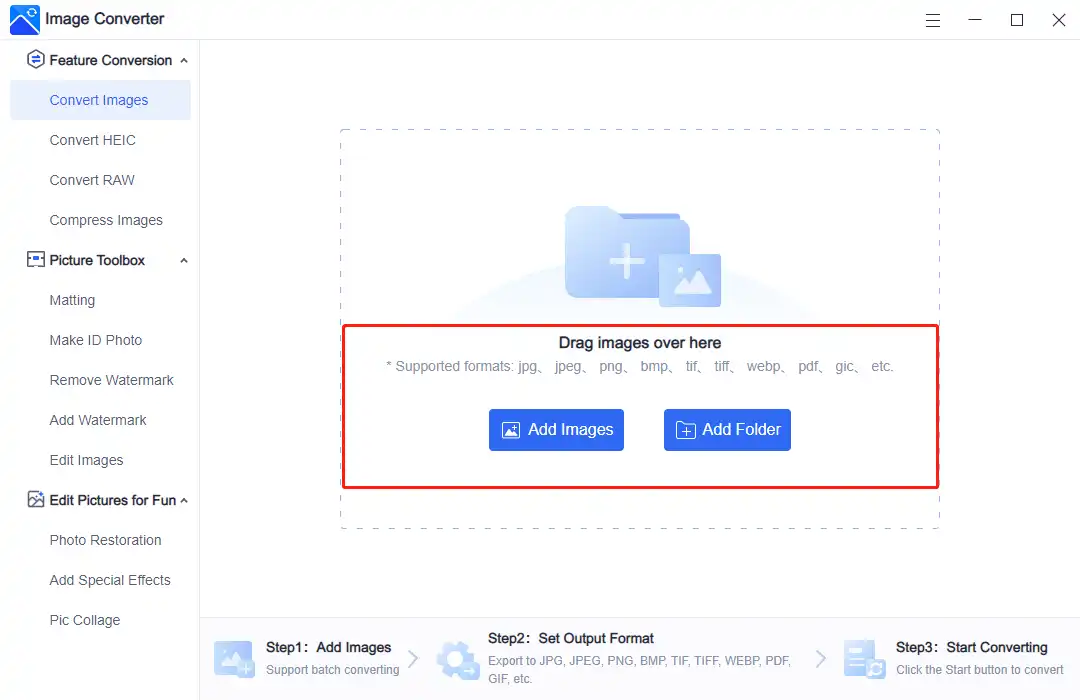 After that, you need to adjust some customized options. Here, choose PDF in the Output Format selection menu.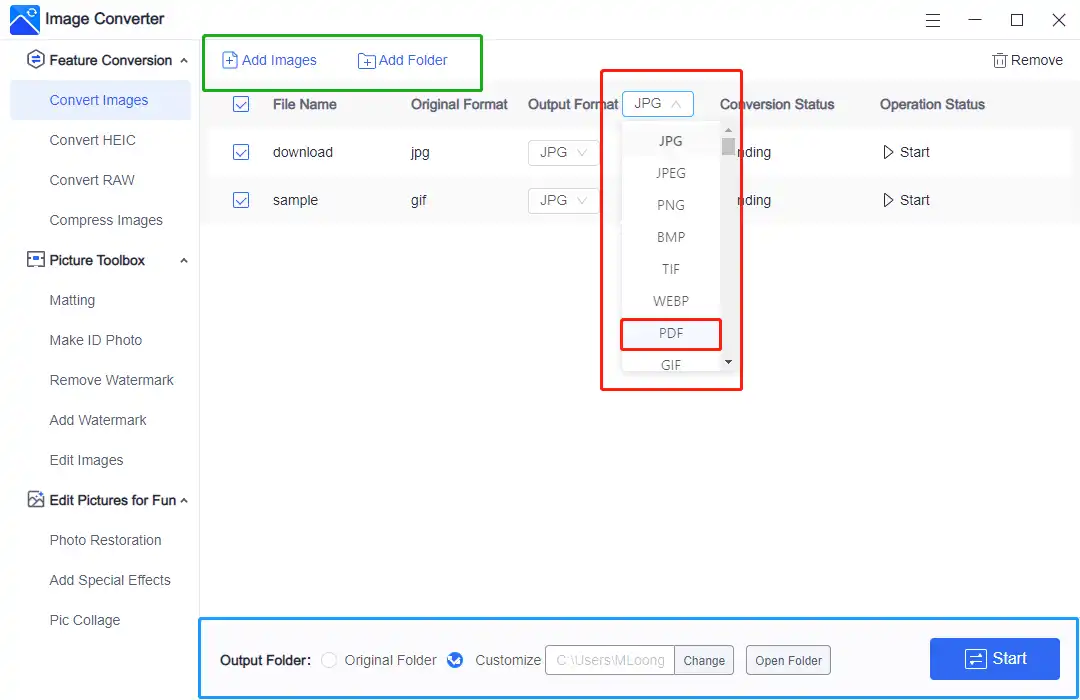 Lastly, hit 

Start

 to finish this conversion. You can check the results in the savings location.
📢 Heads up
As you can see, there are operational steps for reference in the home conversion window. You can modify the format through the "Output Format" option. If you have more than five images ready to be transformed, I suggest you pick the PDF in the box right next to Output Format so that all your image export formats will automatically become PDF. Furthermore, you may customize your computer's saving path as a user. So that you won't worry that you can't find the PDF after you have finished the conversion.
---
Method 2: Use PDF Converter to Transform It
You know how they say you have to look the other way. Just now, we started from the angle of image conversion, so let's look at it from a different angle. WorkinTool PDF Converter can also complete the same task of making JPG become PDF format. And it can spark your eyes just like fireworks. It is a professional PDF software that deals with all PDF-related problems. JPG to PDF is also on the list. With this simple-operated PDF tool, you can convert PDF to any Office file format like Word or excel, even PPT. The toolbox supports PDF rotation, PDF protection, and watermarking.
The "Image to PDF" button can find more customized options. The PDF format can be modified according to your desire if you want to. You can adjust the conversion window's page size, orientation, and margin. The default setting is in basic PDF format. So basically, we won't recommend you alter them.
Furthermore, there are two buttons for you to add different JPGs to process together. You can drag the images to make the correct conversion order. It won't affect the result.
Enough talking and more displaying, right? Let me show you how to use it.
First, as before, you need to get this PDF converter on your computer and open it.

Then, find 

Image to PDF 

and put your images into this converting window.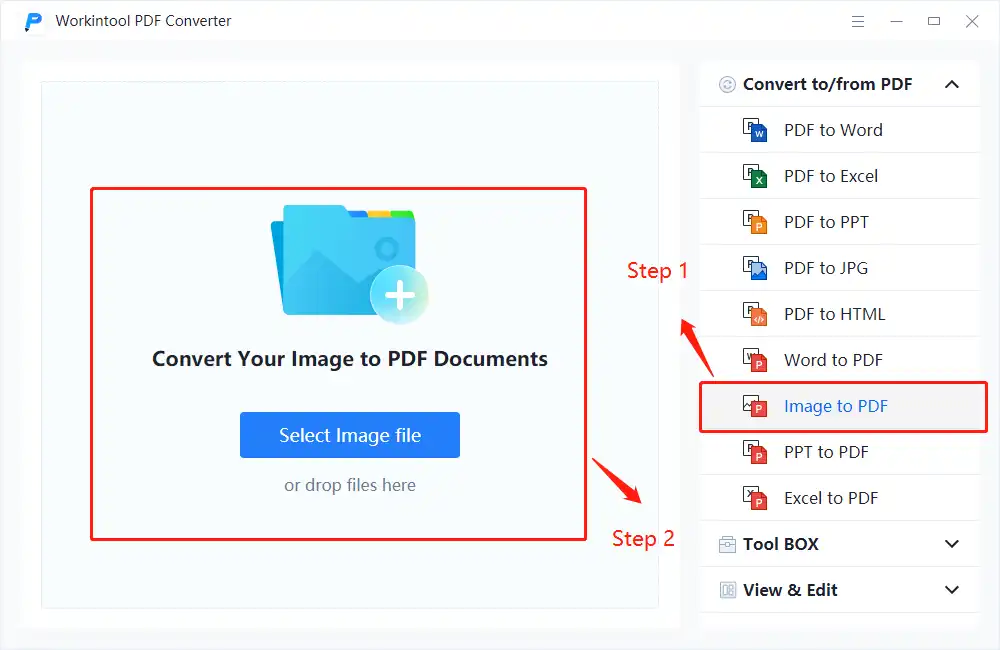 The next step requires you to set a personal preference for the PDF format.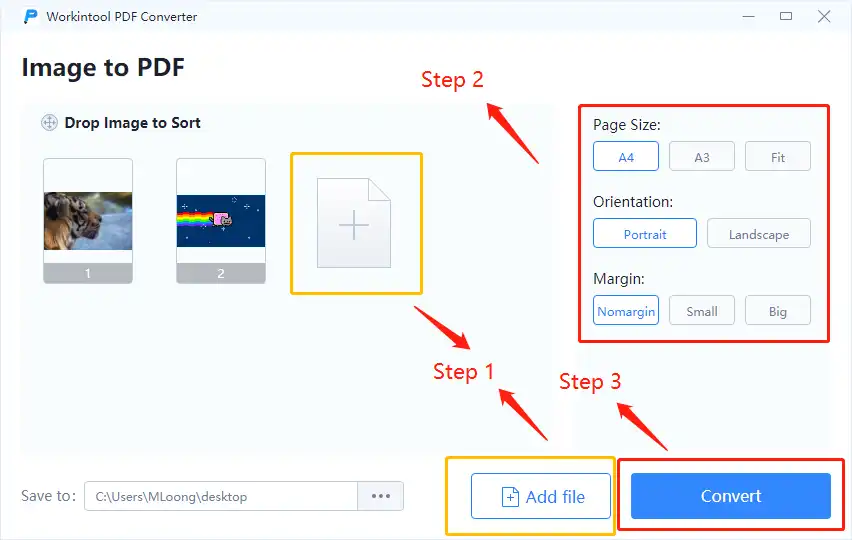 Finally, clip "Convert" to seal the deal.
---
How to Convert JPG to PDF on Mac
If you are not a Windows user, and Mac is more like your thing, then that desktop software may not work on your computer. If that, how about trying an online converting tool instead? WorkinTool JPG to PDF online page can help you to do it anywhere anytime without the limit of devices.
You can simply see it as an image JPG to PDF conversion tool, just like the one PDF converter. However, this one is online. The good news is that it works on a browser page, so users no longer have to download any software. And there are no device restrictions. Whether using Windows or Mac, even if you log into the online conversion page from your phone, you can use it in real-time. There is only one little problem. It supports batch conversion, but you can only upload four files to convert at a time. And the maximum size of each uploaded file is 50 MB.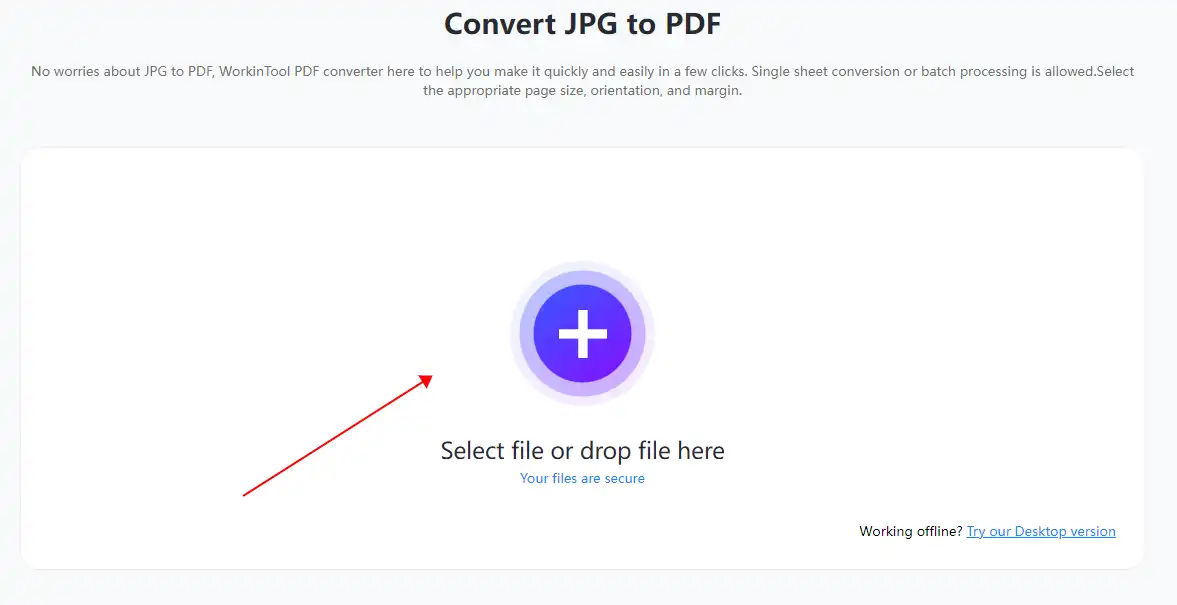 Go to the 

WorkinTool JPG to PDF online

 page and input your target JPG images.

You can adjust the converted PDF page size, orientation, and margin according to your needs.

Click Convert and then wait for the conversion to complete.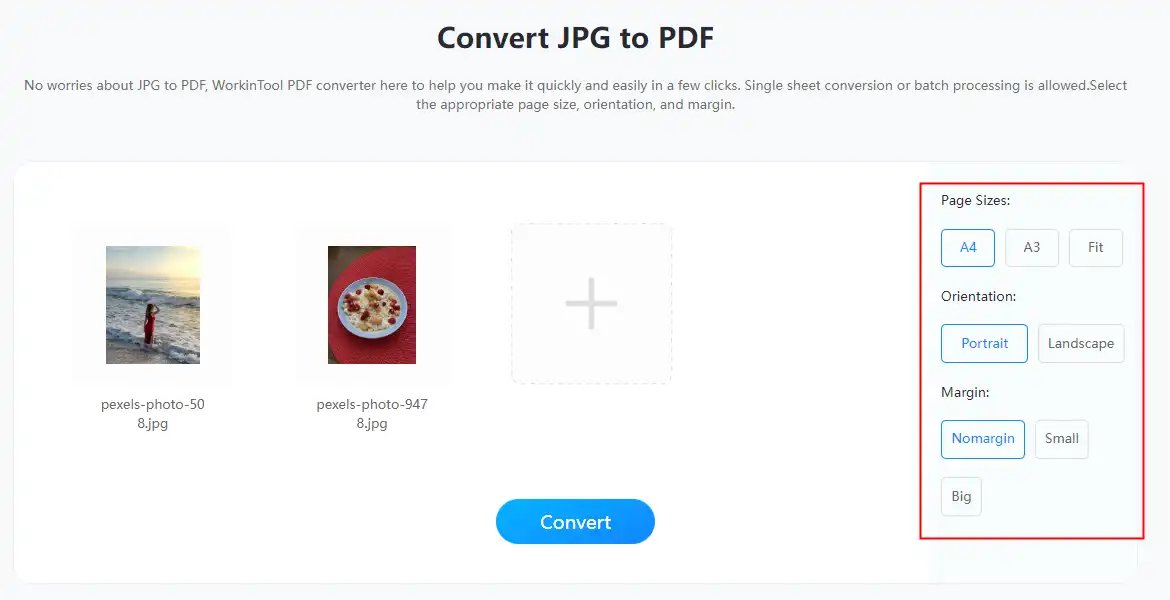 ---
More to Share
In this article above, we have mentioned three WorkinTool incredible converters and online services that can solve the JPG to PDF problem at your fingertips. We have step-by-step introduced how to use them to convert JPG to PDF format. All these software and online tools are totally FREE and available to use. You can pick any one of them, depending on your situation. Whichever device you finally choose to apply, I hope you can get the dream result you want.
 If you have any questions or suggestions, please contact us.
Products Reviews:
TrustScore
4
|
323
reviews