How to Edit Instagram Posts on PC, iPhone, and Android 2023
You may have issues like posting the wrong pictures, tagging the wrong person, or having typos in the caption. If that happens, you may want to edit Instagram posts. Here we offer you the easiest way to edit them and the best way to avoid them and make your picture more delicate. Try WorkinTool Image Converter and use it to edit your post to the most perfect before posting.
😍 1. Up to FREE 5 image batch conversions and compression try-out.
🤩 3. Easy interface for users to edit with 3 STEPS.
😎 4. Support more than 100 different image formats to operate.
🥳 5. Cover all the features that you can on the market and interesting filters.
😊 6. Available for image conversion, compression, matting, watermark, and more.
How to Edit Instagram Posts on PC, iPhone, and Android
How to Post on Instagram from PC, iPhone, and Android.
Method 1: Post a Picture from the PC
Method 2: Post on Instagram on iPhone and Android
Alternative Way: Optimize Pictures Before Posting by WorkinTool Image Converter
How to Edit Instagram Posts on PC and Smartphones.
How to Edit Instagram Posts after Posting
Before TikTok, Instagram is the most popular social media photo-sharing platform. And people worldwide still use it today to share their lives with others. It also brings ordinary people closer to the life of superstars and celebrities. Governments and businesses also use it to share photos for propaganda purposes. However, when it is your turn to do it, it also makes a lot of jokes because of posting Instagram pictures, like posting the wrong photos, writing inaccurate content, etc. Do you want to know how to post unique content as others do and how to download Instagram videos? If you have already posted, you will start to wonder how to edit Instagram posts.
It isn't hard to edit Instagram posts. In this guide, we will focus on how to edit your posts correctly and avoid all possible mistakes. Other than that, we will also walk you through the various ways to post on Instagram and how to make them look better in order to reduce the possibility of creating issues, leading to second post-editing. Now, follow my steps and see how we can make your Instagram account more artistic and appealing.
---
How to Post on Instagram from PC, iPhone, and Android
Before discussing how to edit Instagram posts, do you know all the methods to post photos or stories on Instagram? Most users are definitely using their phones to take and upload images directly to Instagram. But what would you do if you wanted to upload pictures from your local computer? If you can grab all the methods to post, then the chances of you making mistakes will be highly reduced. That's why, before we get into how to correct an error, we need to figure out the best way to avoid it. The following section will cover three approaches to posting on Instagram. Check this out.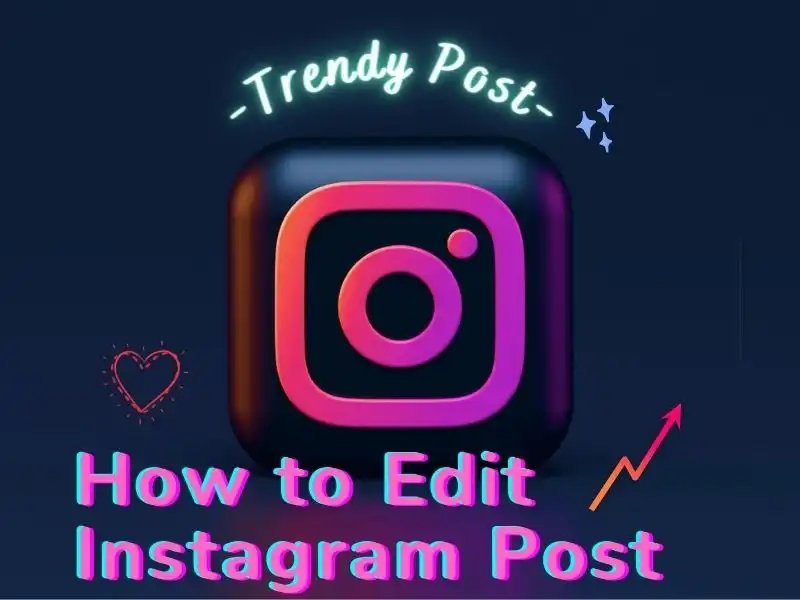 Method 1: Post a Picture from the PC
As the time has come to 2023, Instagram has already provided a function to let users post pictures and videos from PC devices.
1. First, go to log in on the Instagram website.
2. Click the + icon on the top right option to create a new post.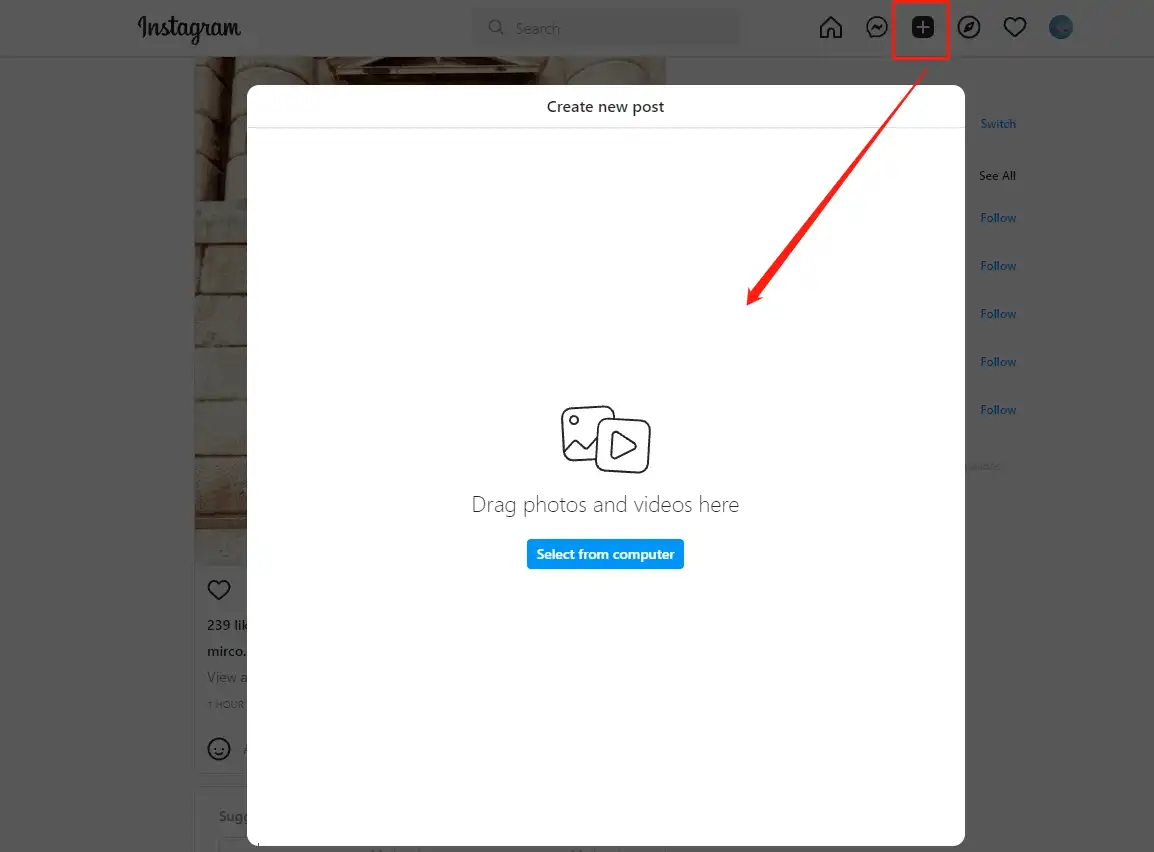 3. Select your pictures or videos from your PC device.
4. Then, you can follow the steps to make it better. Crop the picture if you need it. You can also add more photos to the post together.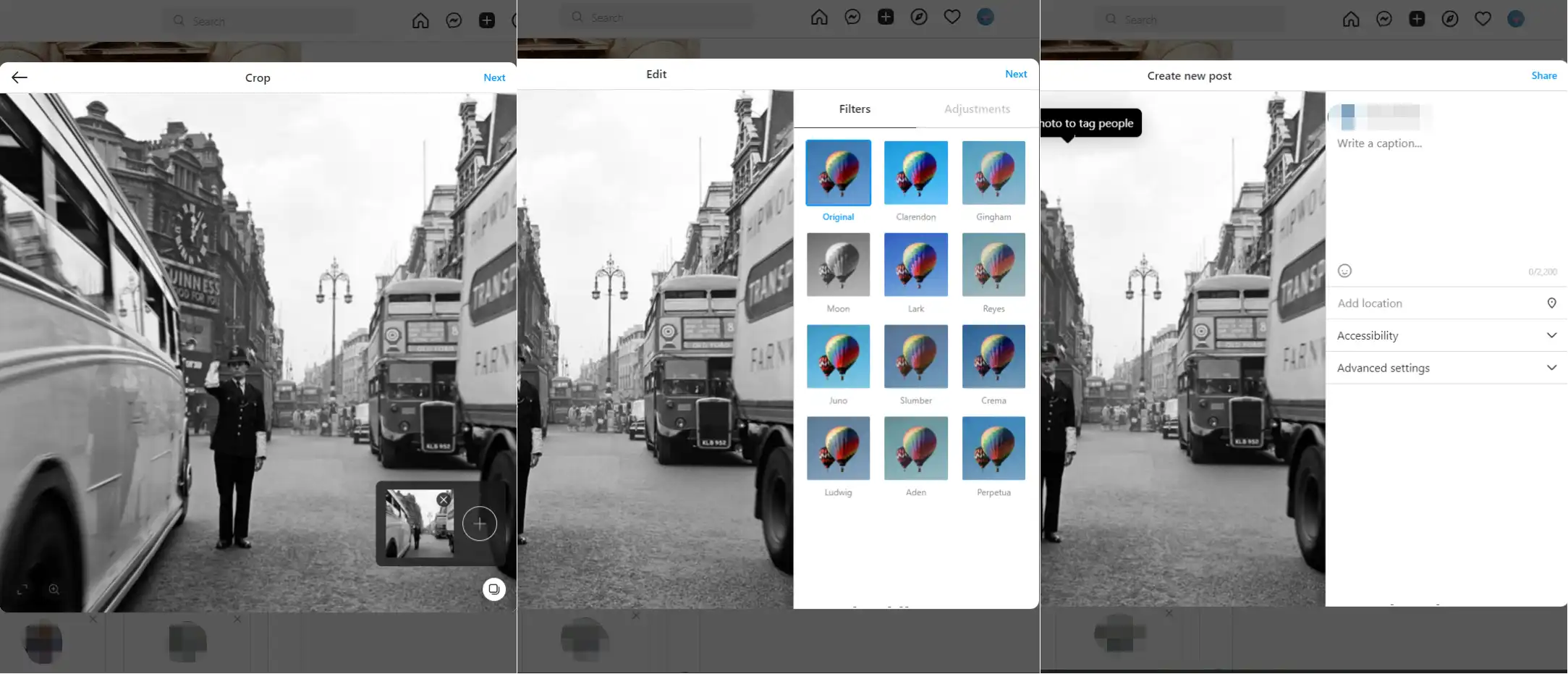 5. Edit the photo as needed. Here you are provided with 12 preset filters, and you can adjust other semesters manually, like brightness and contrast.
6. Lastly, before you officially post it, you still need to write some content, such as your caption and location, or see if you want to add alt text if necessary. Then feel free to post this photo to Instagram.
Method 2: Post on Instagram on iPhone and Android
Of course, the most common way to upload images is via the Instagram app on your phone. If you don't want to edit it again after posting, you must be familiar with this part from your heart, so let's quickly go over the steps. Since uploading an Instagram image on an android phone is similar to an iPhone, I will use an android phone as a demonstration to show you the exact instructions.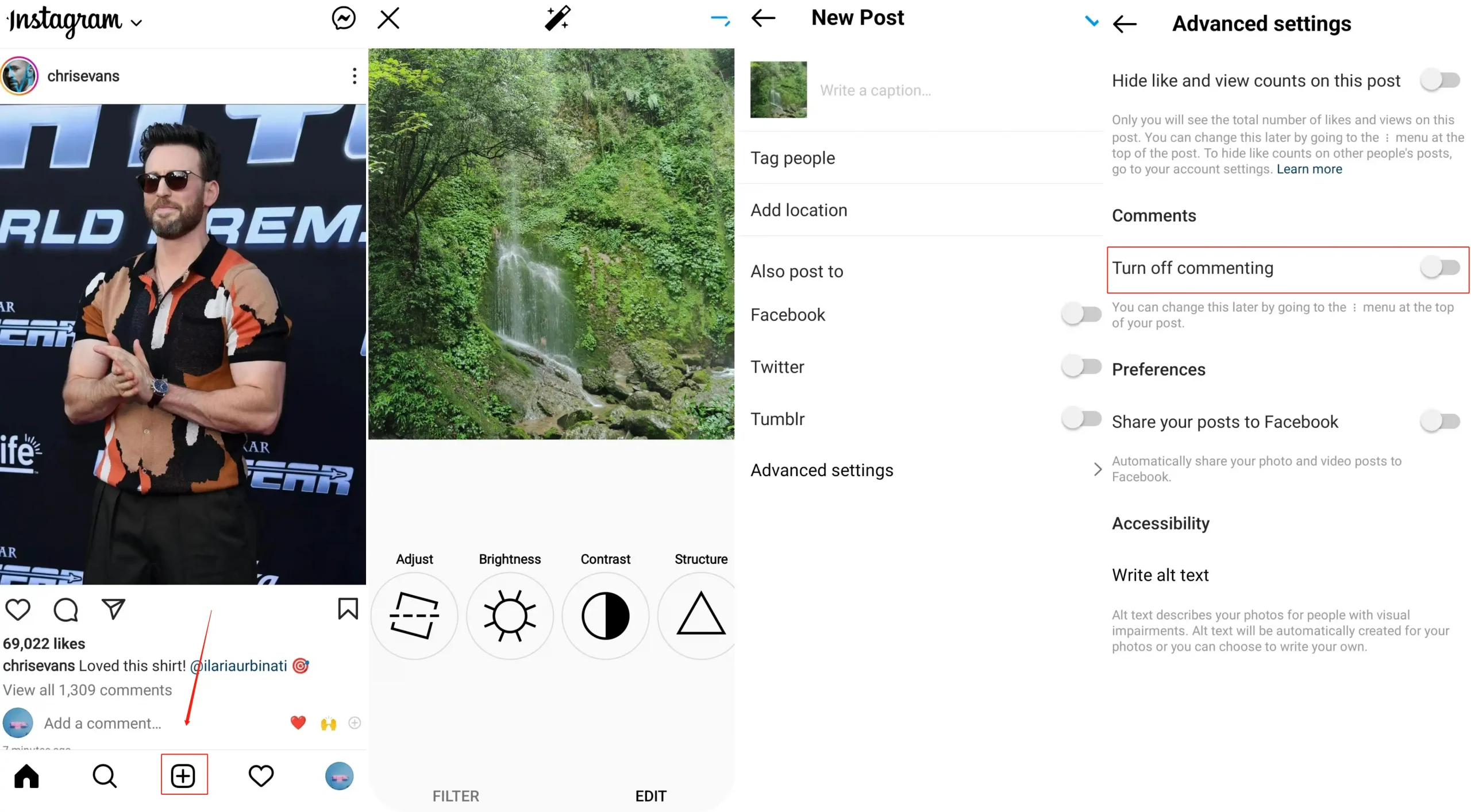 Open Instagram on your phone and click the

 + button.

Select photos you want to post and edit them with 

filters

 and 

semester settings

.

Then, add more information to this photo. 

Tag

 people and add a 

location

 and a 

caption

. It is now ready to be posted on Instagram.

If you have advanced needs, go to the 

Advanced settings. 

Here, you are provided with the commenting settings and preference settings.
Optimize Pictures Before Posting by WorkinTool Image Converter
While it's true that editing posts on Instagram are the most straightforward way, the problem is that everyone uses different editing features. People will get the same results with all the filters and underlying settings used on posts. You don't want your photos to be very similar to others. If so, I recommend that you use image-editing software to work on the image before posting it on Instagram.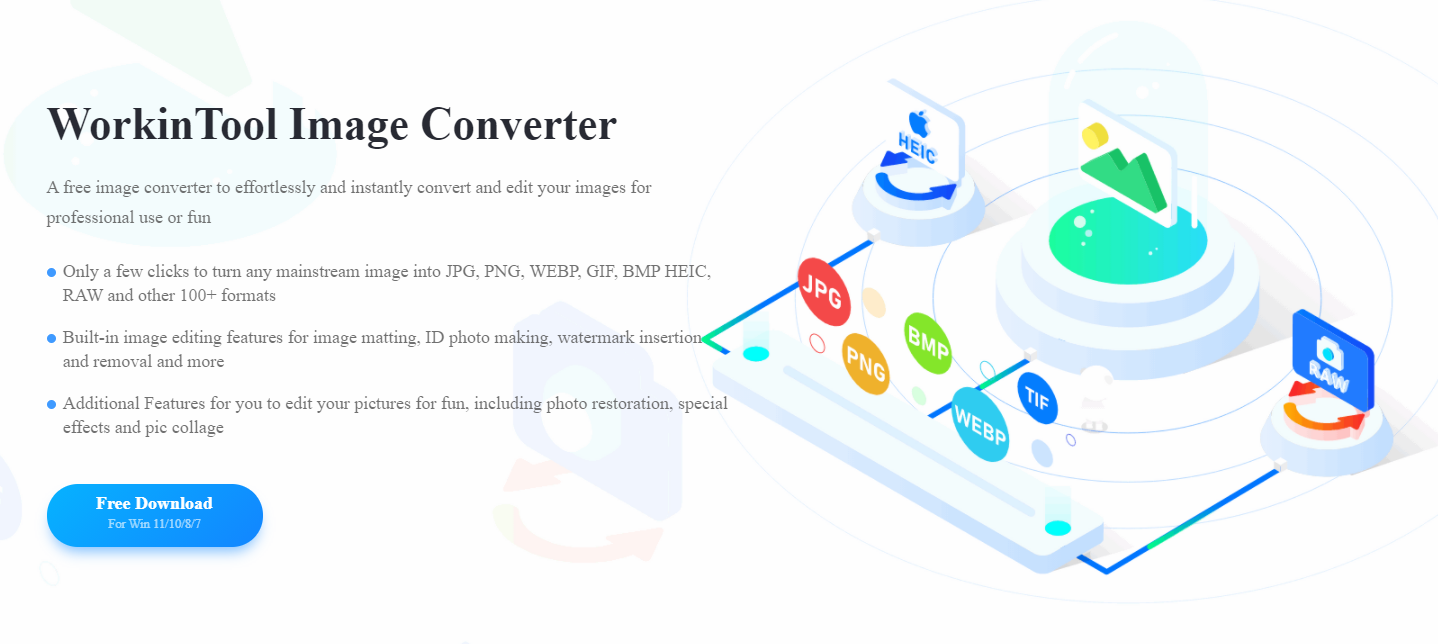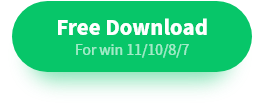 WorkinTool Image Converter is a perfect fit for this concept. It is a comprehensive image-processing solution. With all the built-in features like image conversion, photo editing, watermark removal, and picture restoration, it still remains to be a lightweight tool for users to save storage space. With its super user-friendly interface, you can download and use it without any learning curve. You can truly make a one-of-a-kind Instagram picture of your own.
100 +image formats conversion available

Customize to enlarge or compress images

Add or remove photo watermarks

Change or remove the image background

More than 65 image filters to apply
This is how you do it:
1. First, open it and click Edit Images to add your Instagram photo,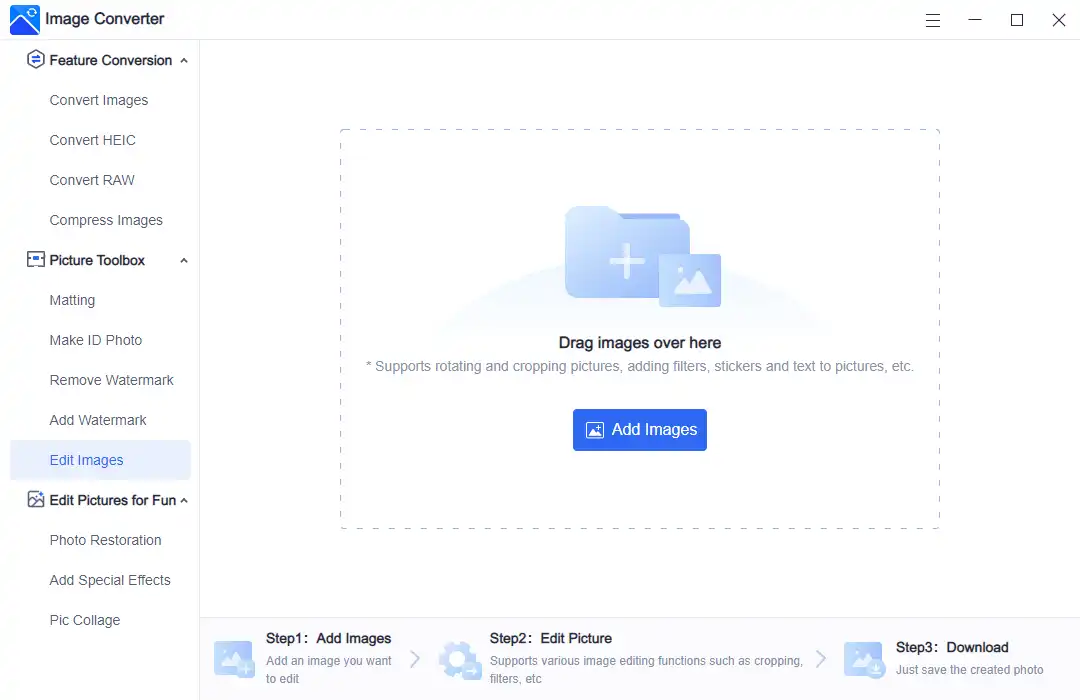 2. Then, you can start to edit your photos:
 Cropping may come as the first step. Due to the effect, you want it to be, select a different ratio to display this picture. You can also maintain the resolution while changing its picture size.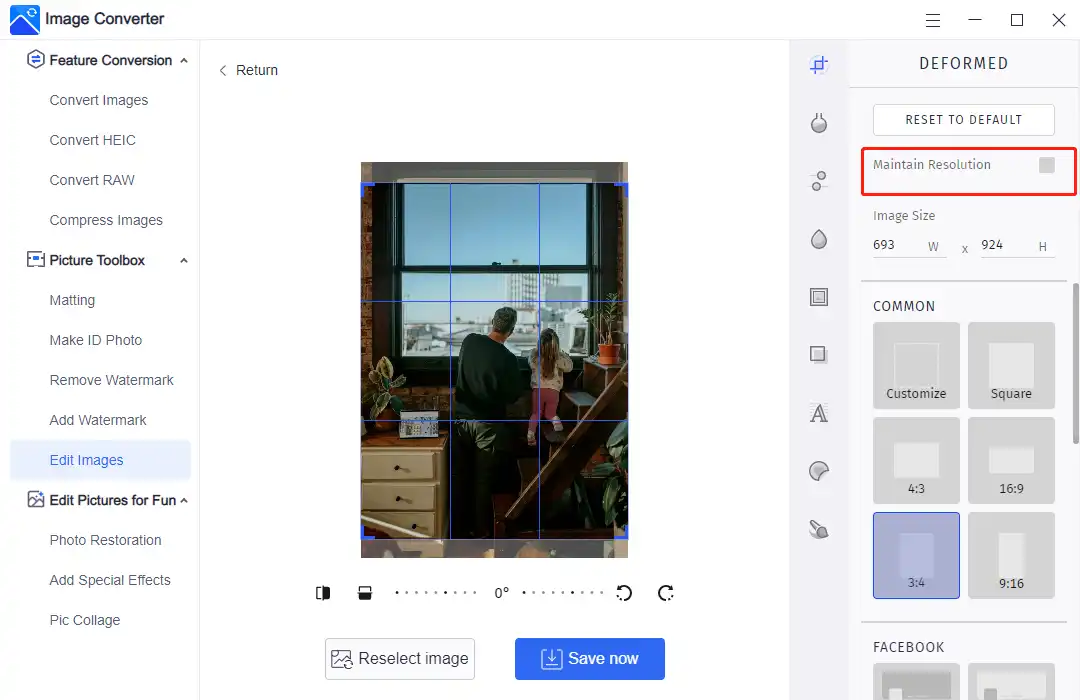 3. There are many more editing functions you cannot find in Instagram postings. Alone with the semester settings, you are offered to adjust 12 locations that can affect the photo. You can also change or add a unique filter, blur partial areas, and add frames, text, and stickers…..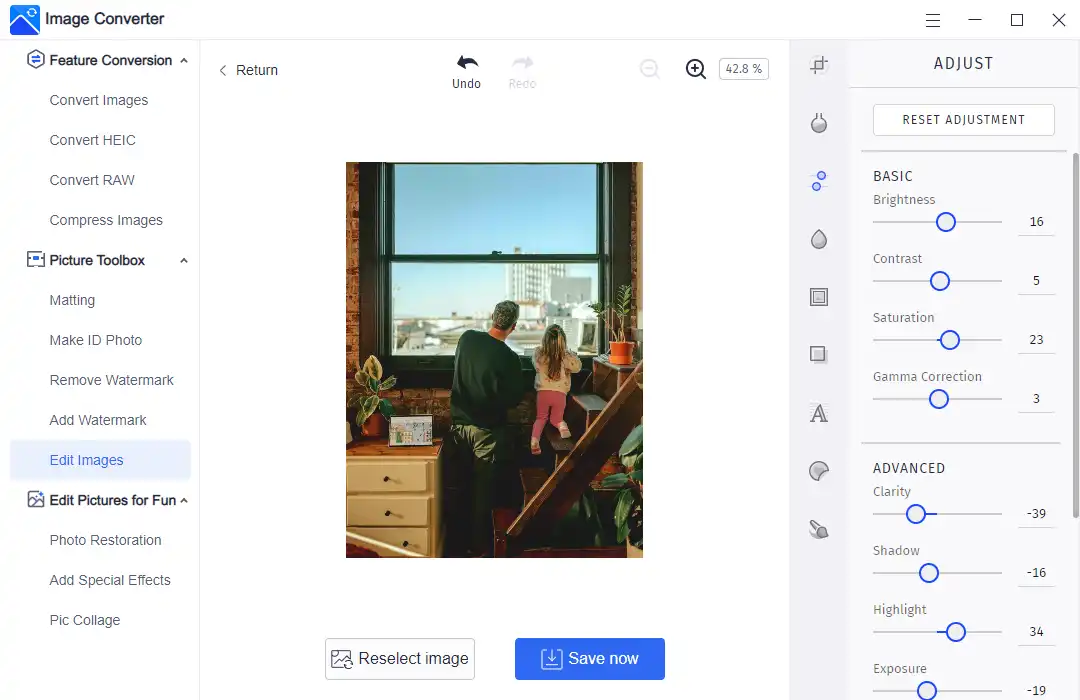 4. Once you have edited the photo to t
he most ideal, you are ready to export it and post it on Instagram. And this is for the regular pictures. If you are looking for more exciting postings, then try the Edit Picture for Fun function. Here you can do many other fun edits.
🎉 More Amazing Feature Tutorials for WorkinTool Image Converter 🎉
---
How to Edit Instagram Posts on PC and Smartphones.
People will notice that there are some mistakes after posting on Instagram. But don't worry. When you post something on it, you still get the chance to regret what you posted. You can delete it and repost it. However, this could also lead to all the likes and comments disappearing together. If you only want to change the caption, location, or alt text that accompanies the photo, you can still edit your Instagram pictures right on it.
Notice: After posting, what's on the photo content can only be edited again if you post another picture. This method only helps you change captions, tags, locations, and alt text.
How to Edit Instagram Posts after Posting
Method 1: Correct Photos on PC
1. Find the photo that you want to edit and click the three dots > Edit.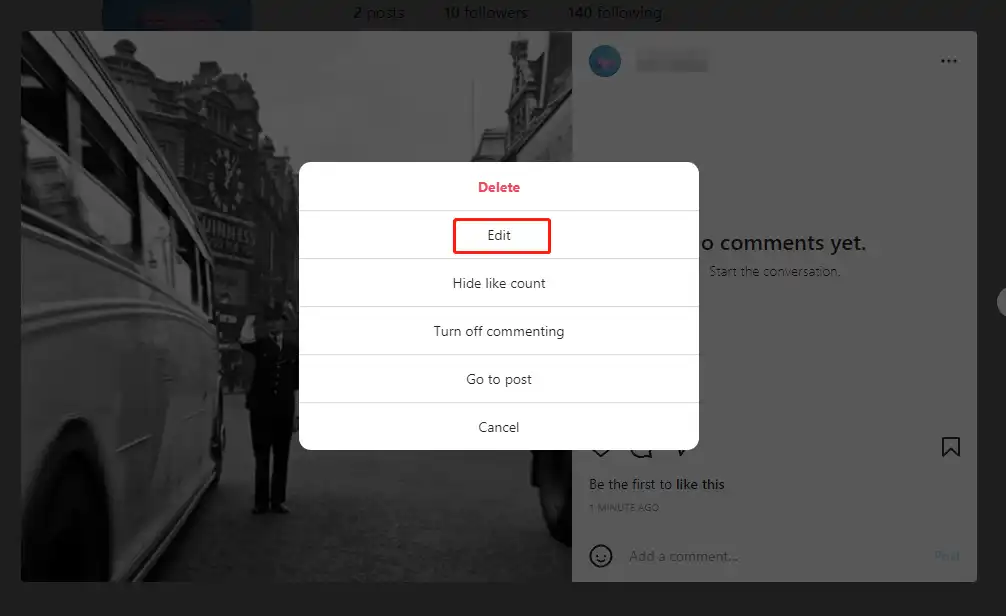 2. Then, you can rewrite the captions, add a new location, or tap people directly on the picture.
Furthermore, you are allowed to set accessibility for viewing and commenting.
3. Once you have made the right, click Done to finish editing.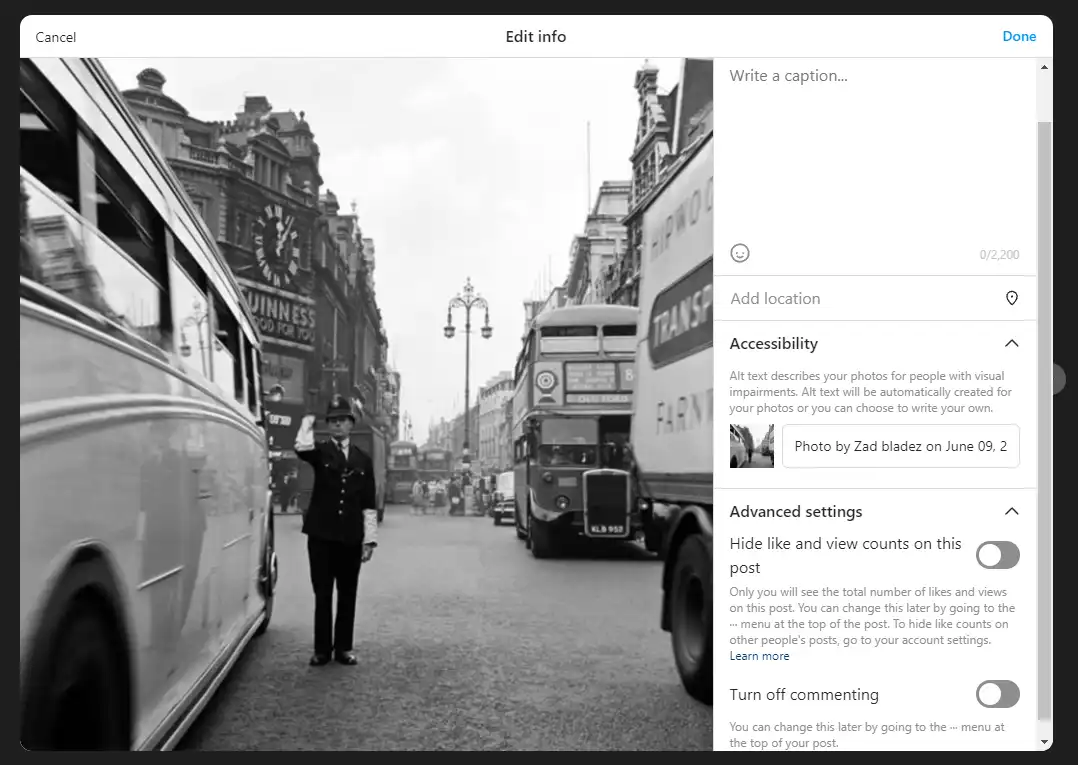 Method 2: Change the Posted Pictures on iPhone and Android
The exact steps are similar on both smartphones. I will use iPhone as an example.
1.

 Open Instagram and go to the photo you want to edit. Click on the 

three-dots

 icon and the Find the 

Edit

 button.

2. 

Start rewriting captions and altering text and location. Whatever you decide to change, it is totally your call.

3.

 Once you finish this, tap 

Done

 on the top right to seal the deal.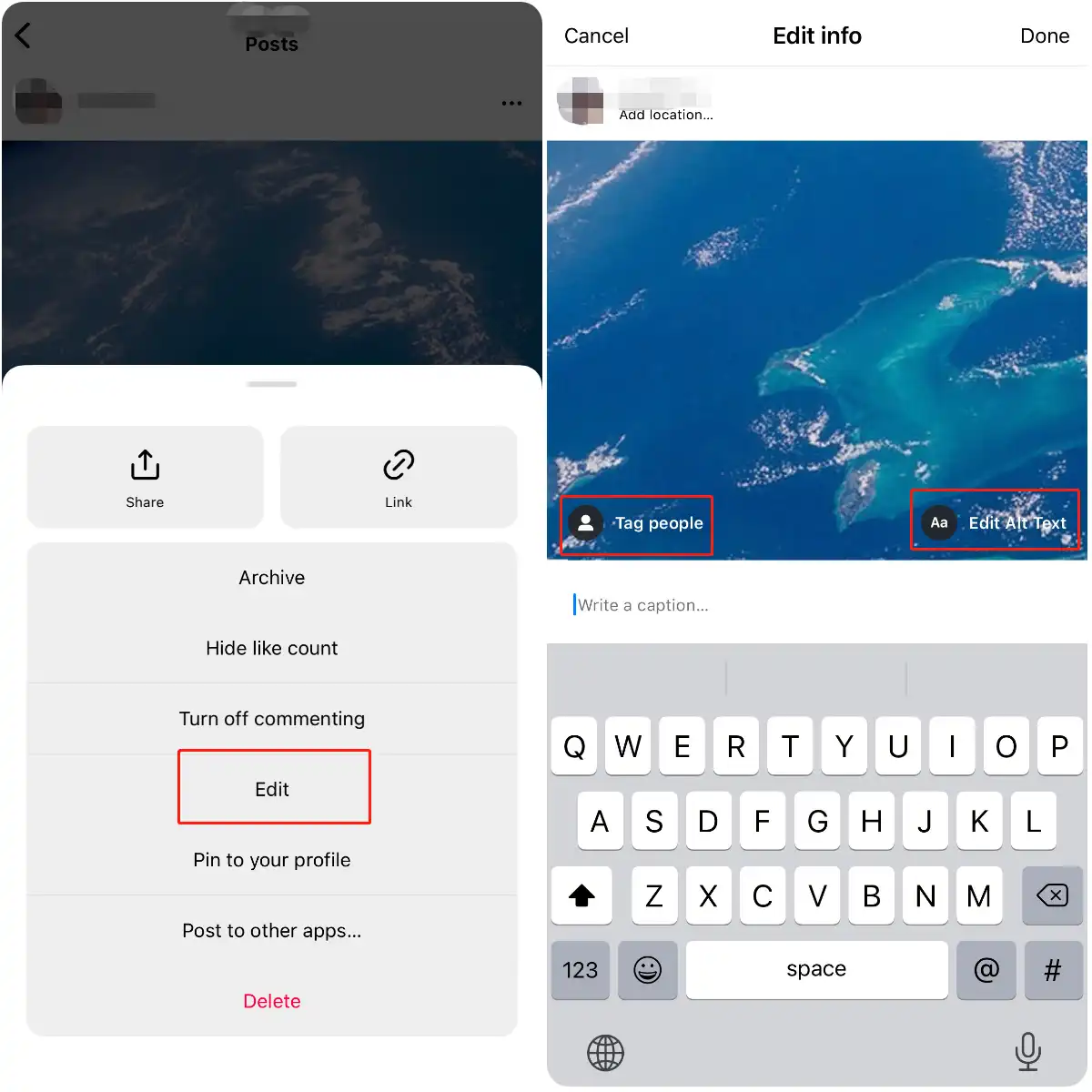 ---
More to Share
In conclusion, editing pictures is easier than you think. In the article content above, we have mentioned four methods to edit Instagram photos, including before posting and after. If you want an advanced and better image effect to get more likes, you can use WorkinTool Image Converter to optimize these images before publishing. And for some Instagram editing questions, we have the answers for you: