How to Edit Photos Like A Pro in Simple Steps For 2022
Editing photos for later posting on Instagram and TikTok has been a route for online users. However, there are some functions that cannot be realized on the built-in apps. And the professional image editing software is too expensive for amateur users. So here I seriously advise you to try this incredible tool – WorkinTool Image Converter. With its powerful editing function, you can easily crop, add filters, adjust the details, and others. All these features are suitable for every social media website and application. Moreover, it is totally free to use. Come download it now and try it yourself.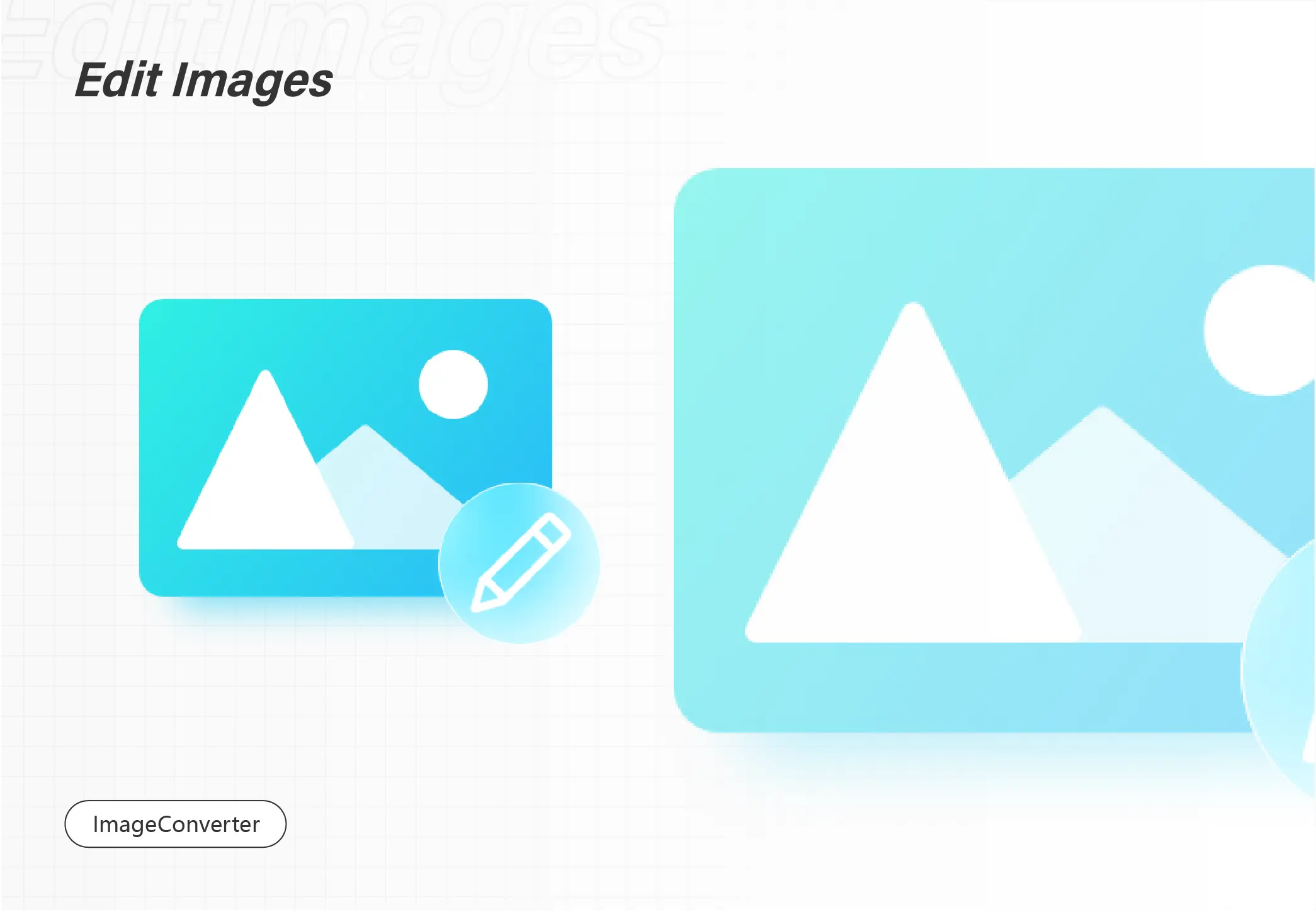 How to Edit Photos Like A Pro
Today's digital media technology exposes your life entirely to the outside world. People post their life on social media like Instagram and TikTok every day. So, the quality of their photos has generally become their primary concern. And only the raw images that come out of the camera are not far enough. Maybe you need to grab some tricks on how to edit photos. Therefore, taking a picture is just half of the photo-making process. The other half is the editing one. So, if you want to get the same effect as every influencer has on their photography account, it's a good idea to find a way to learn a little about photo editing.
---
Simple Steps on How to Edit Photos
All the photos from online websites or galleries have been professionally edited by digital technology, except for some actual antique paintings. Some have been entirely changed to achieve some futuristic vibe or surrealism. But most of these photos only need to fix some errors to make them look better in others' eyes.
Here in this article, I will show you the full tutorial on editing your photos to make them look more professional. After this, I am sure you can get more likes on your social media website.
First – Begin With A Nice Photo And Thought
Before you start editing a photo, you must ensure you have the best image possible. See, if you pick a picture that is not in good condition, for example, the light is not correct or too blurry, it will be even more difficult for you to make them right during the editing. That is also why all the photographers need to use so much equipment though they can adjust with a computer. And also in the case that you can't make a great photo out of anything. So, choose wisely before the middle to start over.
The first thing you need to do is to know what you are after. It would help if you had a nice photo and a clear head to know what effect you want to get. If you are starting this photo post-processing, there is a chance that you might not know exactly how your photos look or should look. In this scenario, you can check other professional photographers' work to see if you like it. Then look at your pictures and see what you want to improve.
💡 Hot tips:
If you don't know what picture you want to edit, or should I say you could edit, I suggest you go to Instagram and find your favorite influencer and see if you have a photo that resembles the composition of their shots. You don't need to look at the light or the color scheme immediately. Because composition is the skeleton of the image, it's easy to edit a photo if your composition is in the right spot. This is the first and most important step you will want to take to learn how to edit images.
---
Second – Find A Photo Editing Software
After deciding on your photo and what you want it to be like, you need the tool.
Which app is best for photo editing? Here I strongly recommend you try the newly published image editing software – WorkinTool Image Converter. It is an all-in-one desktop version of the software, specifically for people with photo editing needs. With this fantastic tool, you can easily shape your photos, pick incredible filters, and add text and eraser unwanted parts except for these essential photo editing functions. You can also use it to convert your image format to others, change the background of your image or colorize black and white photos.
Can I edit photos for free?
Well, of course, you can. Unlike Adobe Photoshop, which charges you 21 dollars a month, this image editing software is free to use all the functions. And you don't need to worry about the watermark issues. I guarantee it is watermark-free unless you want to make one of your own. You can edit your photos for free without limits.
---
Third – Start to Edit Your Photos
Once you have found your desired image and the appropriate image processing tool, we will start the actual operation of picture editing.
📌

Crop The Scene
First, I have to say that cropping a photo is the fastest way you can get to improve a photo's quality.
Especially with WorkinTool Image Converter, you can sharpen your photos any way you want. Let me show you how it works. Here I will use an image of an oil painting, for example.
Find the button to edit images; the first icon is for users to crop. WorkinTool has thoughtfully presented more than 15 cropping options for users to decide on. You can directly edit your photos for Instagram, TikTok, or Twitter. It is also available if you want to set the cropping ratio manually. If you like, entering the height and width or dragging the selection box will do the trick.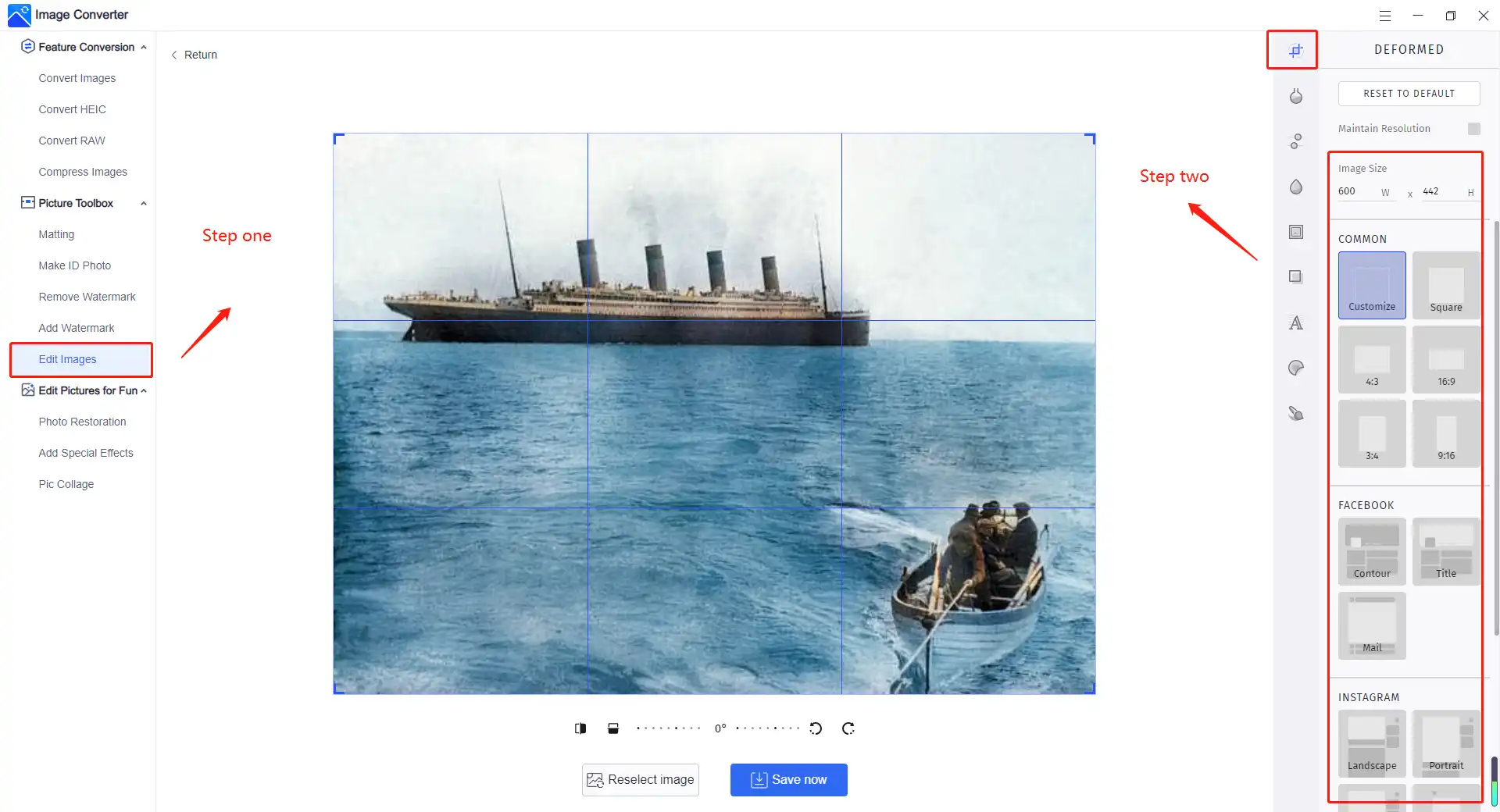 📌

Choose a Filter or Superimpose
Then you need to find the desired filter or superimpose that you have in mind. Luckily for you, WorkinTool Image Converter offers more than 200 different kinds of filters to satisfy users' needs. Let's see. Here I have an oil painting of the Titanic ship. I want this photo to have an old photo vibe. It'd be better to have an old newspaper that's worn out.
Here I find the filter "Classic" in the Heritage. It gives my image a little bit antique vibe.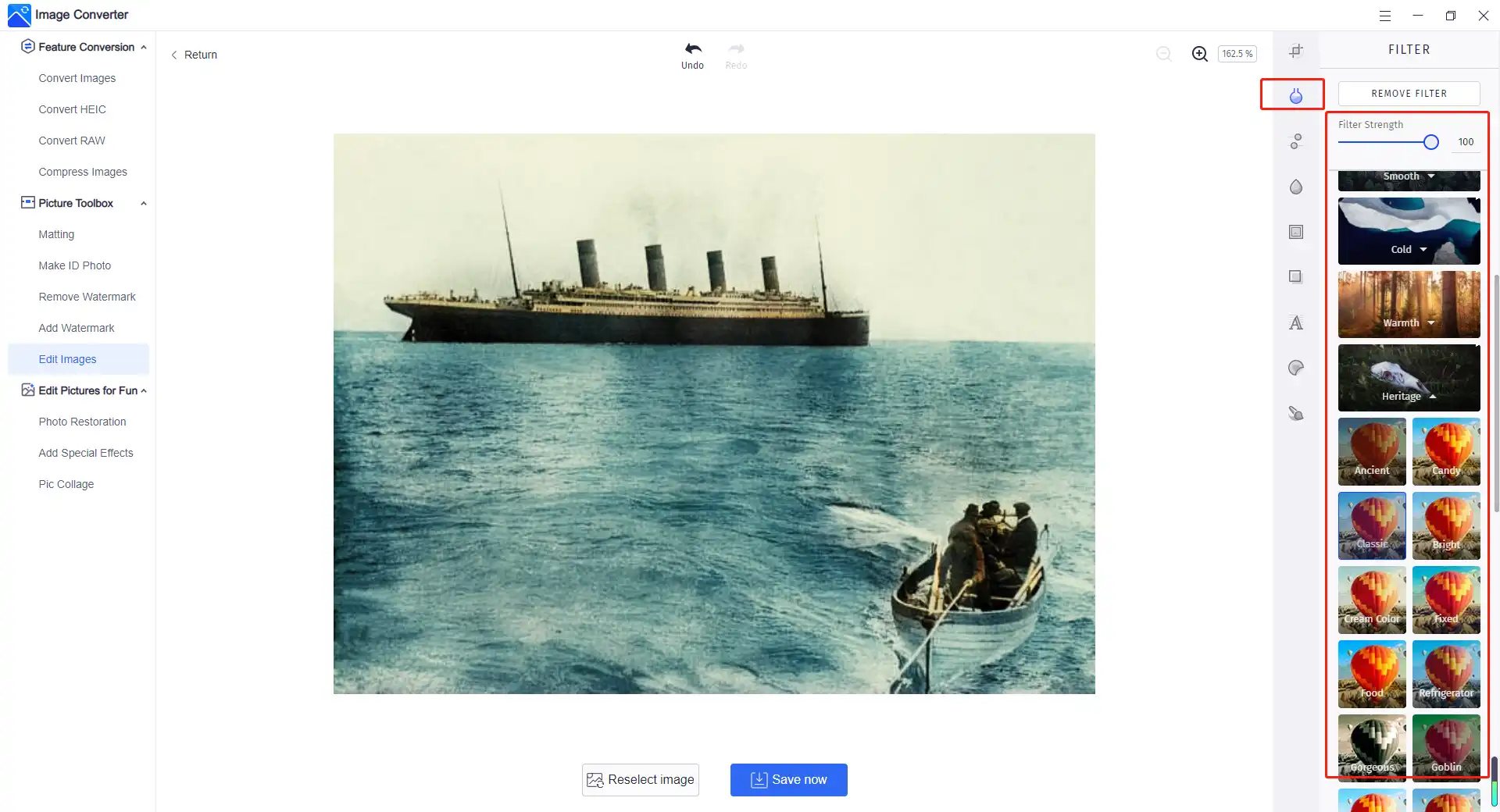 Then to make it look like an old newspaper cutout, I went to "Paper" and set the transparency as 42 to make it look more authentic.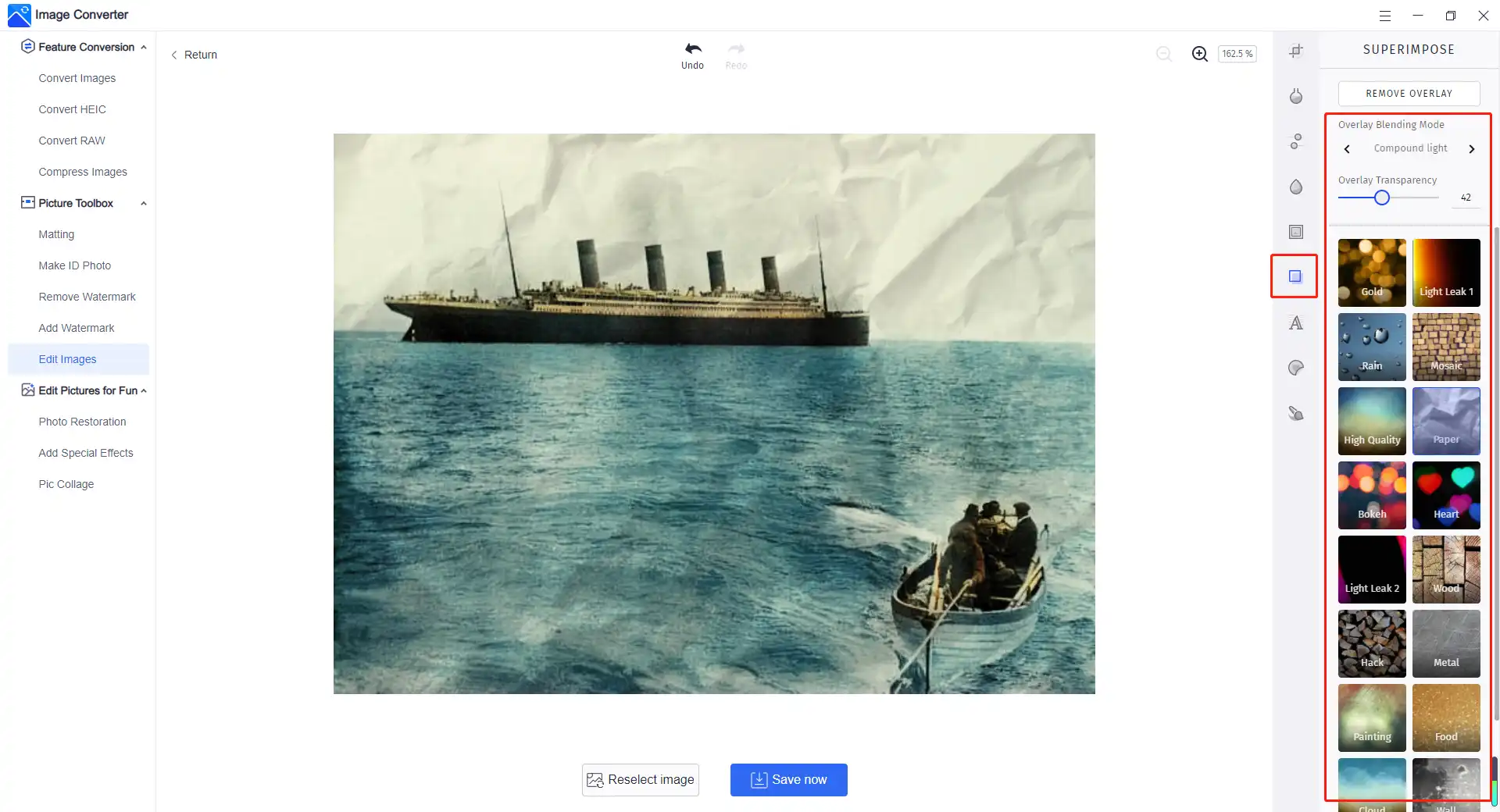 📌

Adjust Details of Your Photos
As we all know, brightness and saturation are two essential elements of the final effect of a picture. Here, you can manually adjust these primary image indexes to make the image look more like what you want it to look like.
Because I have this Titanic ship painting. I want it to be more like a product that has been years. So it can't be too bright. The clarity should be reduced appropriately. The contrast should not be too strong, and the graininess should be adjusted to give the oil painting effect. These tweaks can make your image look how you want it to look. This technique is also used by most internet celebrities on Instagram and TikTok when learning how to edit photos.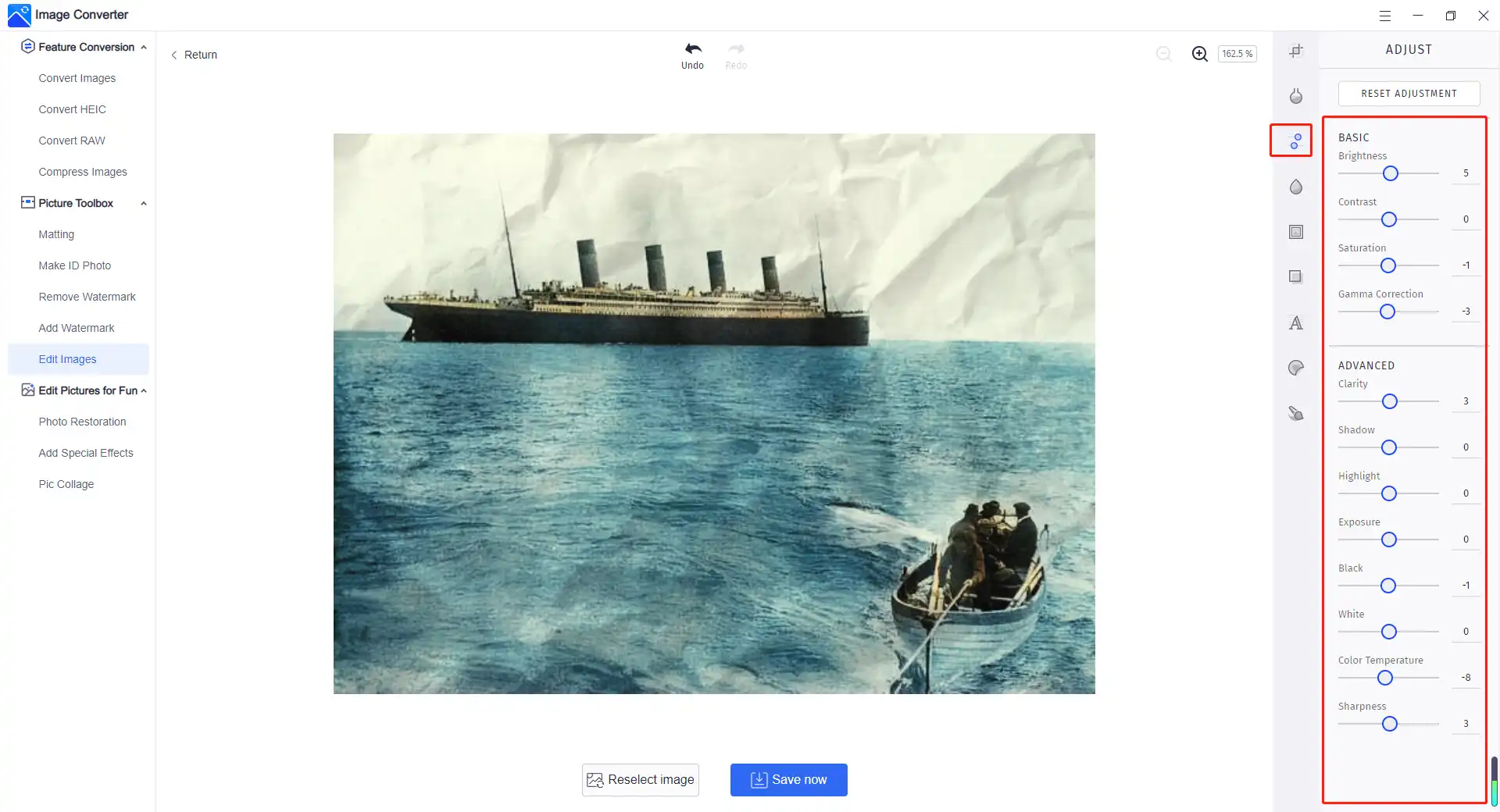 📌

Remove Spots and Clutter
See if you have taken a series of pictures at a perfect spot; the photos are gorgeous. However, sometimes you might find some people get caught in the frame, or there's something on the screen that shouldn't be there, and it's too out of line for a photo, and you want to get rid of it. It is also available in that case.
You can directly use the brush function to erase unwanted parts. The result can be surprising for you, trust me.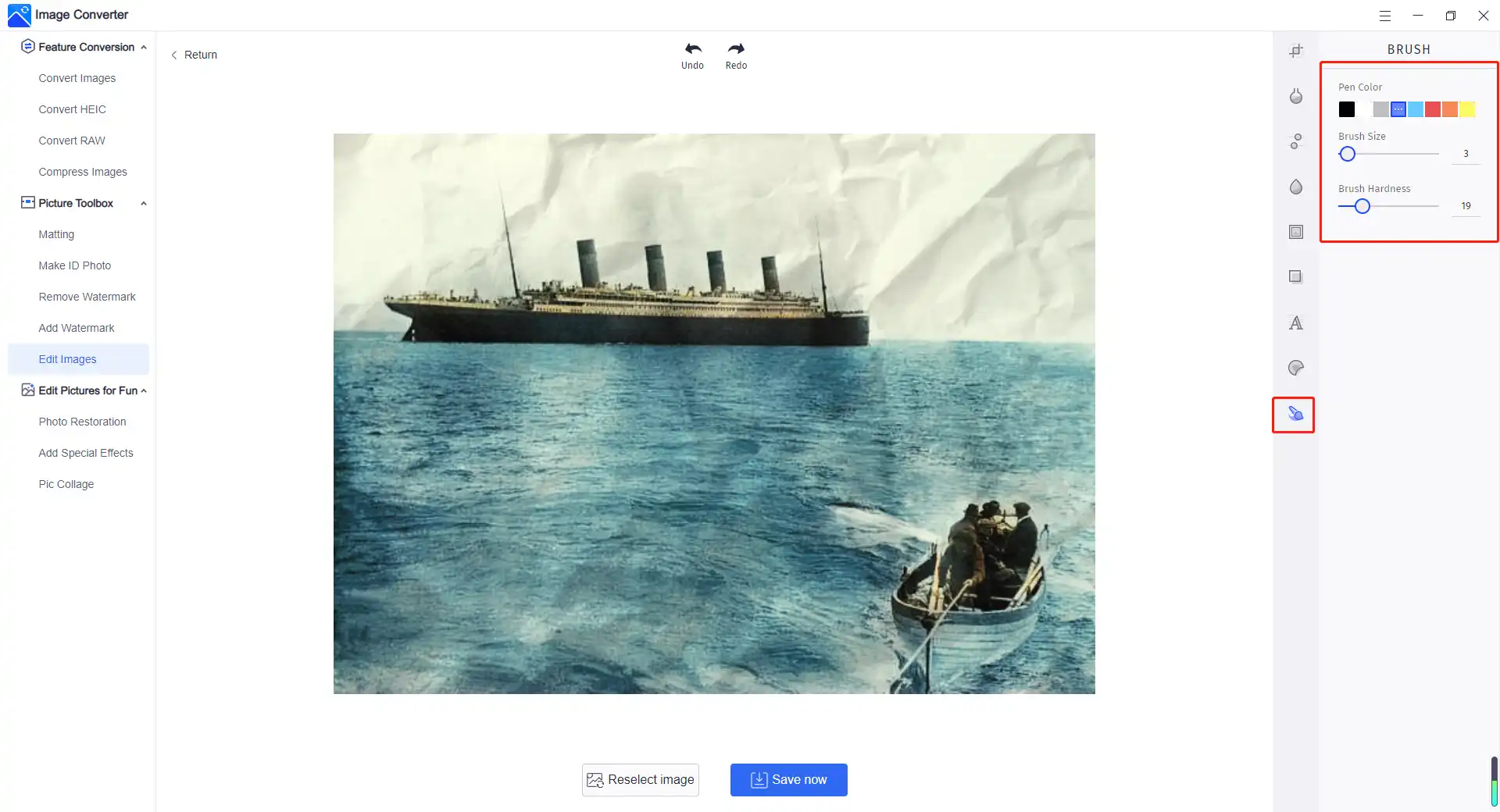 ---
Last – Export Your Photo
Now that you have done all the easy steps to edit your photos. It's time for you to export it to your computer. Click the blue button to "Save Now." You can check the results on your computer.
---
More to Share About How to Edit Photos
As you can see, I have covered the whole process of how to edit photos using WorkinTool Image Converter. Whether you want to edit for Instagram posting or collecting, this extraordinary image editor can perfectly solve all your potential needs. Moreover, you can experience all these special functions without any payments. Don't hesitate any further. Try it yourself right now.
Products Reviews:
TrustScore
4
|
323
reviews