How to Make a Logo Transparent with(out) PhotoShop FREE [5 Workable Fixes]
There are always white or blank backgrounds on your logo designs. How to make a logo transparent? WorkinTool Image Converter will be your best tool to remove the white background and make logo transparent. More importantly, you can use all the features for free without limitation. Just download it and instantly make transparent logos for free!   
⭐ 100% free without limitations
⭐ Various photo formats supported
⭐ An advanced AI-powered engine 
⭐ High quality without watermarks
⭐ Support batch process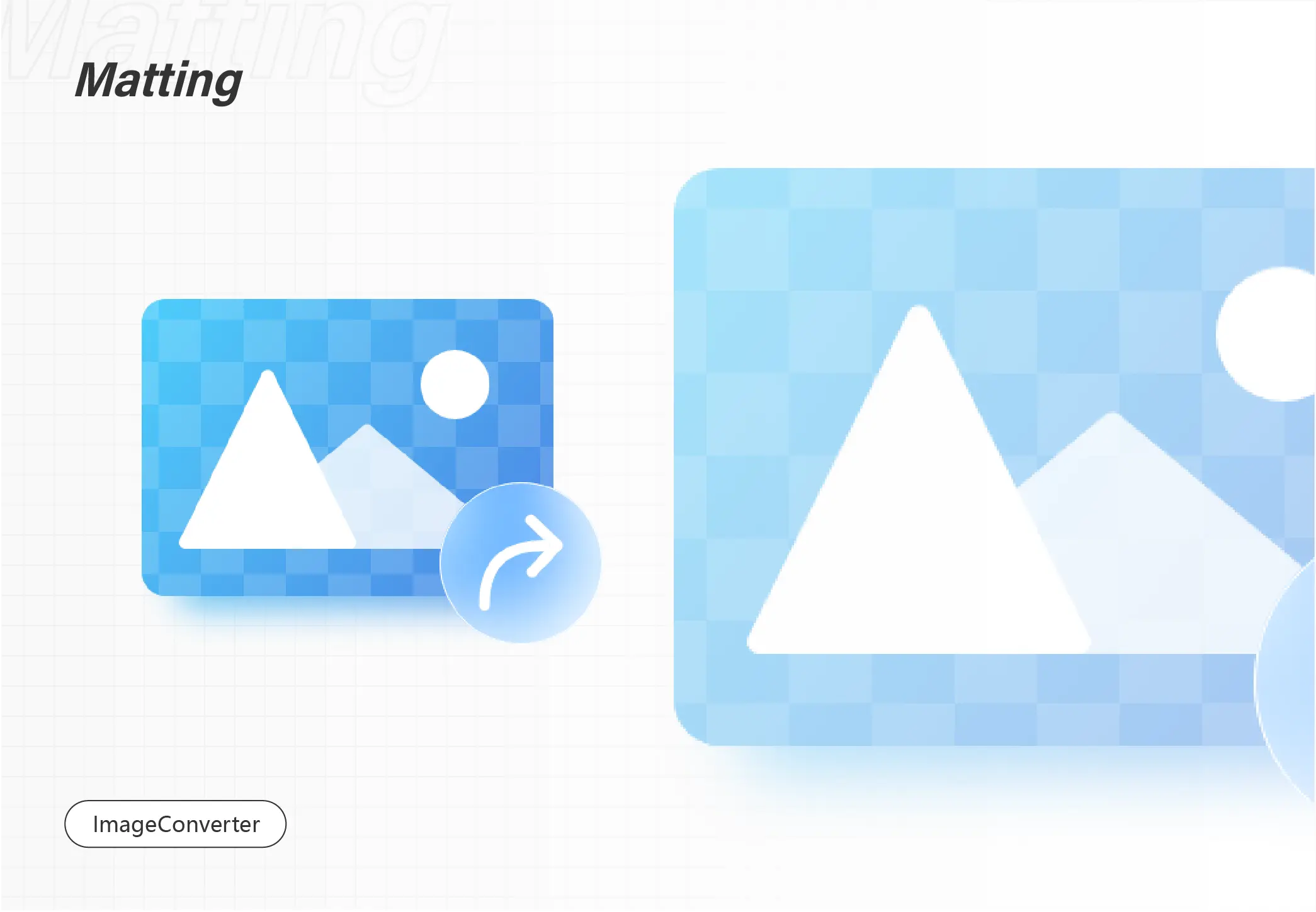 How to Make a Logo Transparent with(out) PhotoShop FREE [5 Workable Fixes]
A logo can be a copyright or symbol of a company or person. Therefore you can see logos on Coca-Cola, restaurants, posters, etc. More surprisingly, you even can create a unique logo by yourself. However, there are always white or blank backgrounds on your logo designs. And it's obvious and destroys the original photo's beauty when you add the logo with white background into your photo works. How to make a logo transparent? Luckily, this post will introduce five workable fixes to help you make your logo background transparent with or without Photoshop. If you want to create logos with no background, just keep on reading and pick one method!
🕵️‍♀️ Table of Contents
Part 1. How to Make a Transparent Logo in PhotoShop

Part 2. How to Make a Logo Transparent without PhotoShop

Using WorkinTool

FREE

 

[HOT]

🔥
Exerting Canva
Using PowerPoint
Using Word
Part 1. How to Make a Transparent Logo in PhotoShop
📺 Make Logo Background Transparent with PhotoShop
🤩 Recommended Rate: ⭐⭐ ✨Effect: Excellent 🎢 Level: Tough 💲 Cost: 7-day free trial or $31.49-239.88
If you have downloaded PhotoShop and want to learn the guide to making logos with transparent backgrounds, you're at the right place, and the following part will teach you how to do step by step. However, if you don't hear of PhotoShop, you maybe want to use it after reading the guide. In fact, PhotoShop is a professional and versatile photo editing software developed by Adobe company. It provides various practicable and specialized tools to help you create designs and make transparent PNG logos. Moreover, it can convert image formats, remove backgrounds, add filters to your logos, etc. Nonetheless, you can only enjoy a 7-day free trial with PhotoShop. After that, you will pay at least $31.49 per month.
📝 Quick Guide to Solve Logo Transparency with PhotoShop
Step 1.

Copy a Channel.
Launch PhotoShop and click File > Open. Then select your logo image, and your file will automatically open with PhotoShop. Then click Channels, where you can see the component channels of your logo file. And drag down the channel with the highest contrast between the background and foreground to duplicate a new channel. (If your logo only has one channel, just copy it.)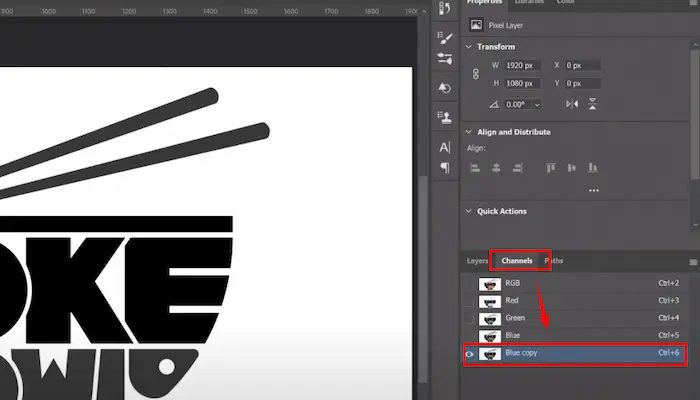 Step 2.

Make the Channel into a Layer Mask.
Click Image > Apply Image on the top toolbar. Then set Layer as Merged, Channel as copied one, and Blending as Multiply. Next, tap on OK to confirm. Secondly, click on the copied channel and hit Ctrl + L on Windows and Command + L on Mac to convert it into a Layer Mask. Then long press Ctrl on Windows, Command on Mac, and then click the channel copy, which will appear as a thumbnail, and select the logo automatically. Then click the first image channel and click the Layers button.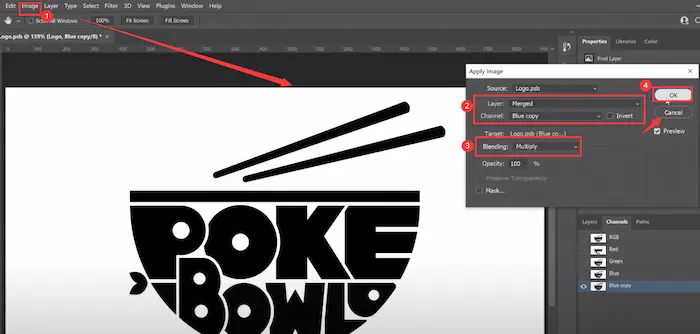 Step 3.

Create a Solid Color Fill Layer.
Select the fourth icon at the bottom and click the Solid Color. Then choose the blank color and click OK to continue. This step will make the selected logo without a dotted frame. Thirdly, press Ctrl + J on Windows and Command + J on Mac to copy this layer. Followingly, fill the original color in this layer.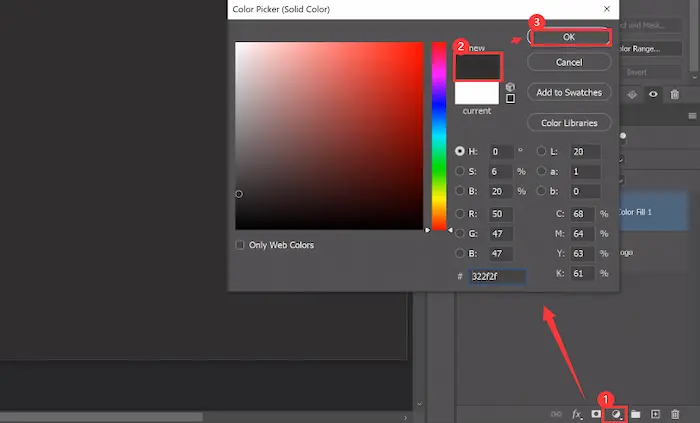 Step 4.

Delete the Unwanted Areas.
Choose the Polygonal Lasso tool on the left bar and select the black parts of the logo. And click the first layer mask to set the color as black. Lastly, you can export your transparent logo by clicking File > Export.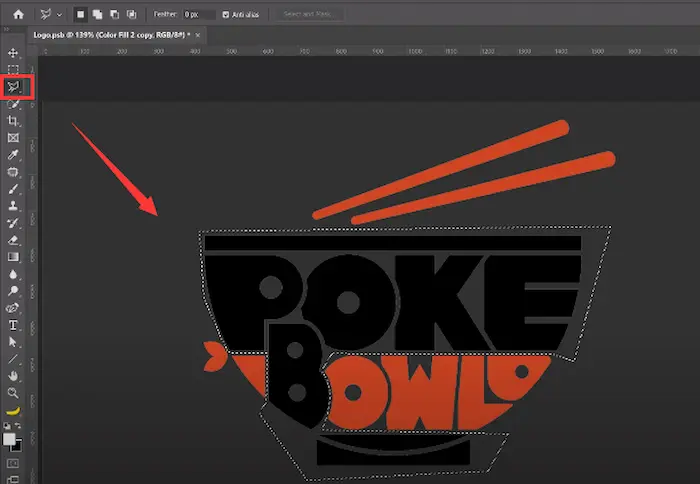 Part 2. How to Make a Logo Transparent without PhotoShop
📺 Fix 1.  Using Professional Image Editor – WorkinTool

[HOT]

🔥
🤩 Recommended Rate: ⭐⭐⭐⭐ ✨Effect: Excellent 🎢 Level: Super Easy 💲 Cost: 100% free without limit
If you are a novice without a good command of PhotoShop, you can use WorkinTool Image Converter to solve the logo transparency problem. It is a 100% free and user-friendly transparent logo maker compatible with all Windows systems. With it, you can easily make the white logo background transparent without a steep learning course. With an advanced AI-powered engine, WorkinTool can automatically detect items and remove unwanted backgrounds. Therefore, it can make the logo background transparent without a trace.
Additionally, to optimize your workflow, WorkinTool allows users to process logo files in batches without size limits. Moreover, you can convert images, make photo restoration, add/remove watermarks, and more in WorkinTool for free. Whatever you want in image editing can find a solution in WorkinTool.

📝 Steps to Make Transparent Logo Background for Free
Step 1. Download and open WorkinTool Image Converter. Go to Picture Toolbox > Matting. Then click Add in bulk or Add just one in the Item Matting box.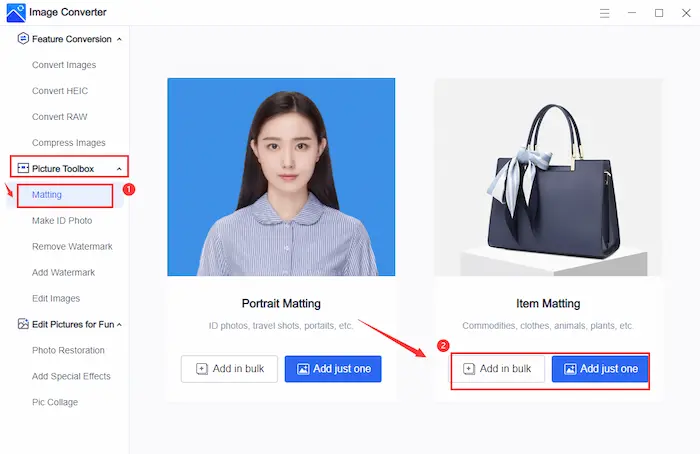 Step 2. Within seconds, WorkinTool will remove the unwanted background automatically. If unsatisfied with the matting result, you can click the Manual Matting to refine the edges. Moreover, you can use the Change Background and Change Size features to modify your logo.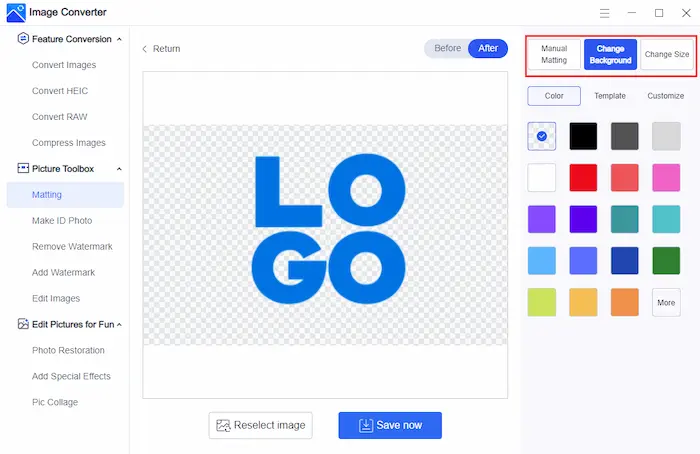 Step 3. After finishing all modifications, just click Save now to keep the transparent logo on your device.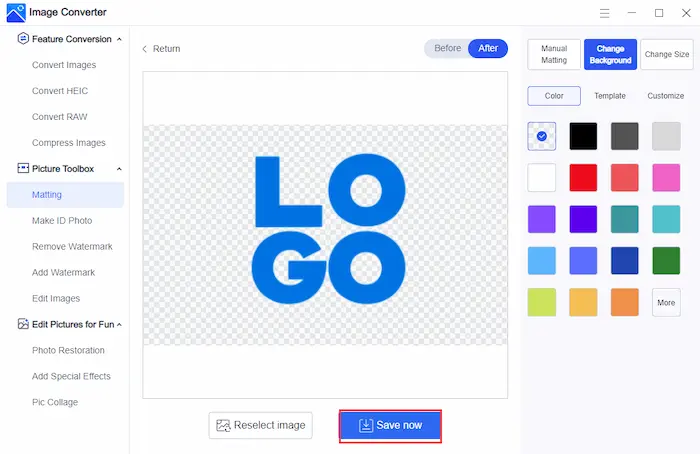 More Related Tutorials You Probably Like
Fix 2. Exerting a Graphic Design Tool –

Canva
🤩 Recommended Rate: ⭐⭐⭐ ✨Effect: Excellent 🎢 Level: Easy 💲 Cost: Free version or 30-day free trial & $119.99
If you are searching for a tool to make transparent logo backgrounds online, Canva is suitable for you. It is one of the most famous graphic design tools for millions of users to create their posters, logos, presentations, and more for free online. There are various templates for you to create an exclusive logo design. However, if you want to enjoy more advanced image editing tools and make logo backgrounds transparent, you have to upgrade to premium. And you enjoy a 30-day free trial to experience all Pro features before buying the Canva Pro.
📝 Guide to

Making a Logo with Transparent Background

with Canva
Step 1. Go into Canva and sign up. Then click Create a design in the top right corner. Enter the logo in the search box and choose the desired mode.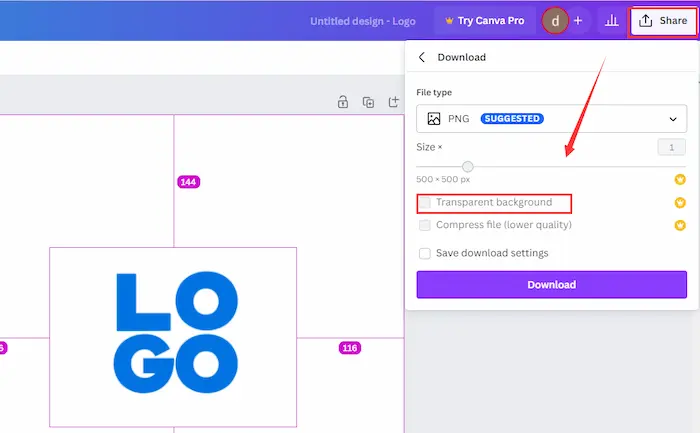 Step 2. Tap on Uploads and drag your logo file into the uploaded area. Next, drop your file into the right canva.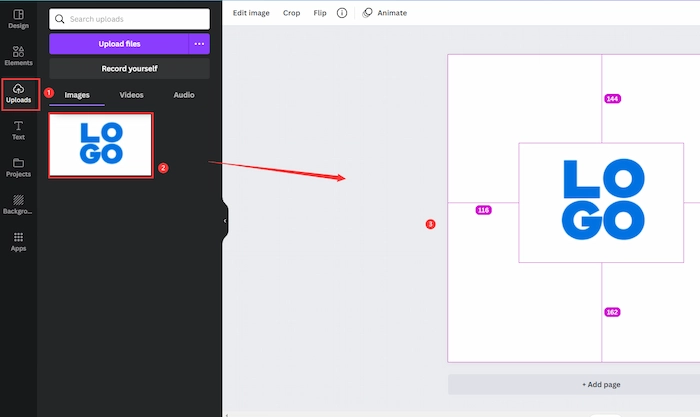 Step 3. You can click the Transparency tool in the top right to make the whole logo picture transparent in degrees. If you want to make the logo background transparent, just click the Share > Transparent background. However, this option is only available for Pro users.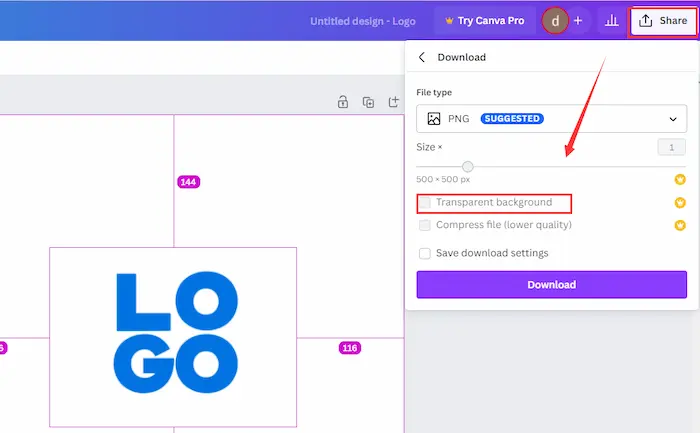 📺 Fix 3. Using Microsoft Tool – PowerPoint
🤩 Recommended Rate: ⭐⭐⭐ ✨Effect: Average 🎢 Level: Easy 💲 Cost: Utterly free
Microsoft PowerPoint can not only make presentations but also remove the logo background for free. This tool can easily remove the original background and cut out the icon, which can tracklessly merge into PowerPoint. It's one of the best solutions to how to make a logo transparent for free. However, the matting effect is not good as that in professional software. Anyway, let's check the steps together.
Step 1. Open PowerPoint and insert the logo file into a new slider.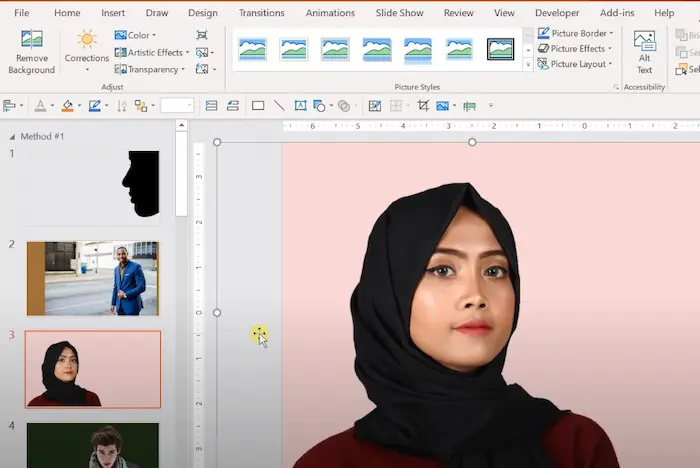 Step 2. Tap on the image file again, and then it will automatically locate Picture Tools on the top bar. Next, click Format > Remove Background.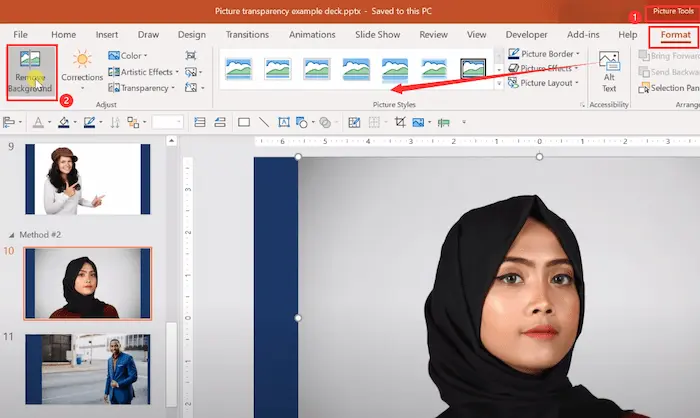 Step 3. Once it will automatically recognize the background with pink color, you can modify the cutout effect by using Mark Areas to Keep and Mark Areas to Remove. Lastly, hit Keep Changes, and your logo will look perfect with a transparent background.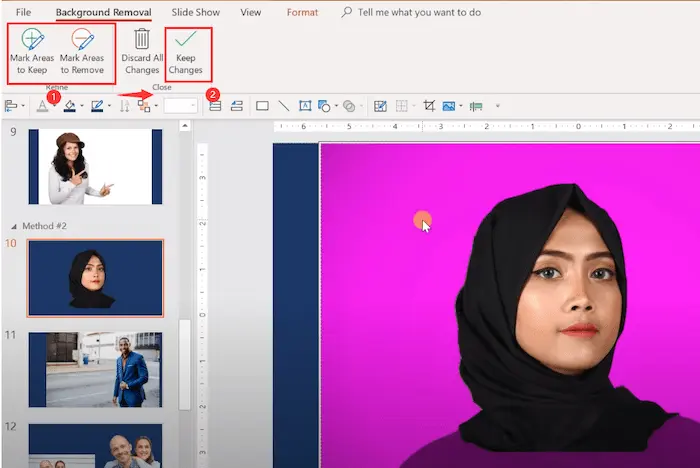 ⛔ Note:

This method doesn't work when your logos are vector photo files, like SVGs, WMs, DRWs, etc.
Fix 4.

Using Microsoft Tool –

Word
🤩 Recommended Rate: ⭐⭐⭐ ✨Effect: Average 🎢 Level: Easy 💲 Cost: Utterly free
Microsoft Word has the same background removal tool as PowerPoint. Hence, you can use the tool to remove the white or black background from logo easily. Moreover, It's super easy to make the image background transparent with Word. Let's check the steps together.
Step 1.

Create and open a new Microsoft Word. Then click Insert > Picture > Picture from File. Next, select your logo file to insert into Word.

Step 2.

Click Format > Remove Background. Then Word will automatically put a pink mask on the unwanted logo's background. And you can refine the area edge by exerting the Mark Areas to Keep or Mark Areas to Remove.

Step 3.

Click on Keep Changes. Lastly, right-click on the logo with no background and select Save as Picture.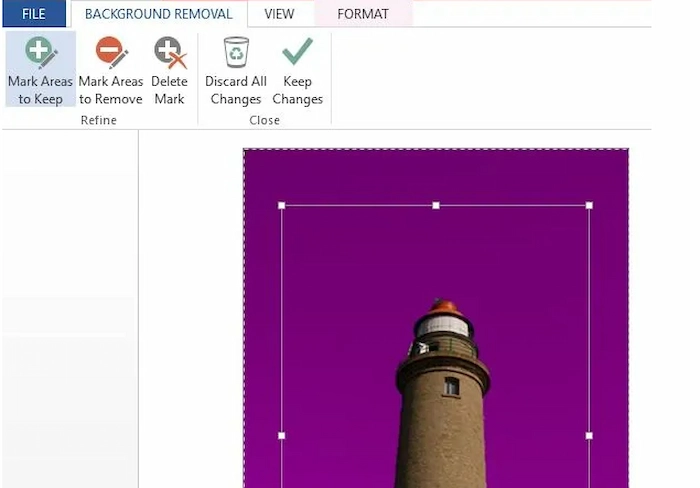 FAQs – How to Make a Logo Transparent
1️⃣ What is a transparent logo?
A transparent logo is a picture in PNG or vector formats with a distinctive transparency feature. In other words, the backgrounds of these logo files are invisible or transparent. Hence, they easily merge into a picture without traces.
2️⃣ How to make a white background transparent?
It's pretty easy to make a white/blank background transparent with WorkinTool Image Converter for free. Step 1. Launch WorkinTool and select the Matting mode. Step 2. Add your logo photos into WorkinTool. And it will automatically remove the white/black background. Step 3. Click Save Now to download the files to your device. 
3️⃣ How to make png transparent?
If you want to make PNG transparent, WorkinTool Image Converter is your handy and 100% free transparent PNG maker. Just download WorkinTool, and use the Matting tool, which will automatically remove solid background and make PNG images transparent with advanced AI technology.

Summing up
A logo with a transparent background makes your design more perfect and allows you to create more beautiful posters. However, it's tough to precisely remove the background and make the logo transparent. Luckily, this post has explained workable 5 fixes to tell you how to make a logo transparent with or without PhotoShop. By contrast, WorkinTool Image Converter is the easiest and most effective way to remove the logo background. Just download it and instantly make transparent logos for free!