How to Rotate an Image on Windows For FREE 2023
Even though there are a lot of tutorials and software already providing image rotation functions, learning how to rotate an image can still be a problem for some people. So after thoroughly collecting about the best rotating methods on the internet, here I give you the easiest ways to rotate images. Among these three solutions, I recommend WorkinTool Watermark Eraser the best. With it, you can turn the image however you want. Moreover, it is totally free to use all the functions. You can think it as a free version of Adobe. Just go experience it now.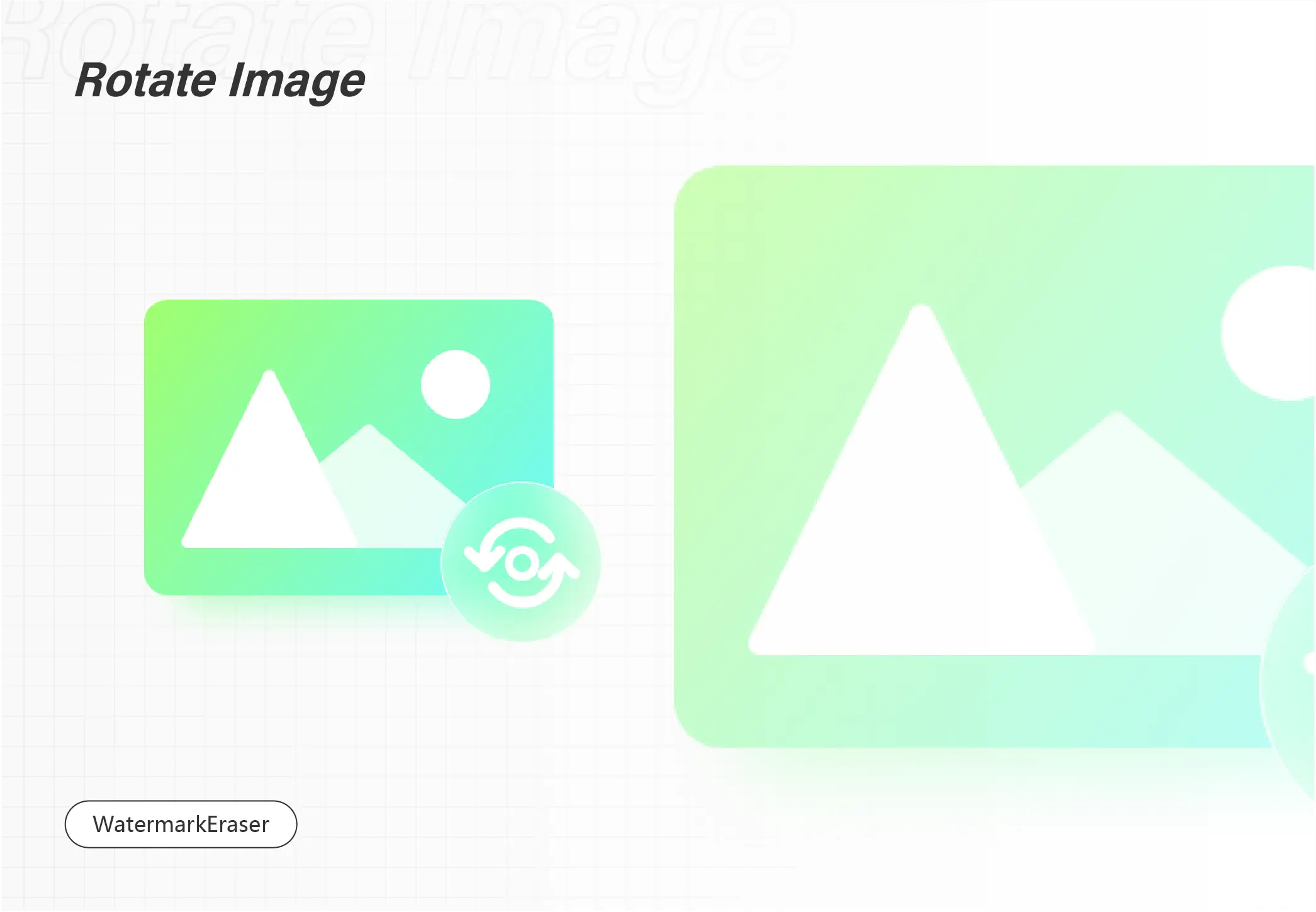 Tell me if I'm wrong that, have you ever encountered a situation that the company needed you to scan some document files to computers so that they can be modified. But for some reason, you scanned the image file in the wrong direction. This resulted in the possibility of disorientation during the scan. If there weren't many files, it's not a big deal. We just needed to do another scan. But what if it's a large number of image files that have been scanned and found to be incorrect. The Way to start over at this point might be a little awkward. Therefore, you see, it is important to learn how to rotate an image on the computer.
So, in order to solve all your problems of image rotation with one post, here in this article you will see the easiest three methods of how to rotate an image. In general, it provides three basic ways for any image to twirl in a counterclockwise or clockwise direction. More specifically, it will show you in detail how to use Windows Photos, Microsoft Word, and WorkinTool Watermark Eraser to orient an image.
If you can master any of the three methods after reading, you will no longer have to worry about rotating the picture in your work. Then the question simply comes to how can you do it faster and better.
---
✨ How to Rotate an Image By WorkinTool Watermark Eraser
Adobe is arguably the most professional office software on a computer that spans both Windows and Mac. Areas covered include PDF editing, image manipulation, and creative photography. Of course, rotating the image is not difficult for it. If you're already a member, I wouldn't hesitate to recommend it. However, if not. Then don't waste your money on this smart function. You can have the same rotating effect with zero charges if you try this newly published software – WorkinTool Watermark Eraser.
WorkinTool Watermark Eraser is a very powerful watermark software. But don't you be fooled by the name, it can do more than that. Except for the basic function to remove unwanted watermarks from images, remove logos from videos, You can also add your own mark and logos to videos. Resizing videos and doing some trimming to movies are equally available in the list of its features.
Now the new version supports users to rotate their images and edit them at the same time. It can provide more than just a left-to-right rotation. In addition to 90 degrees clockwise and counterclockwise rotation, it also allows you to mirror the rotation. 360 degrees to the left, 360 degrees to the right, the custom selection is what users want. And it has them all. Here's how to use it.
🥇
Rotate a Picture at 90-Degree Increments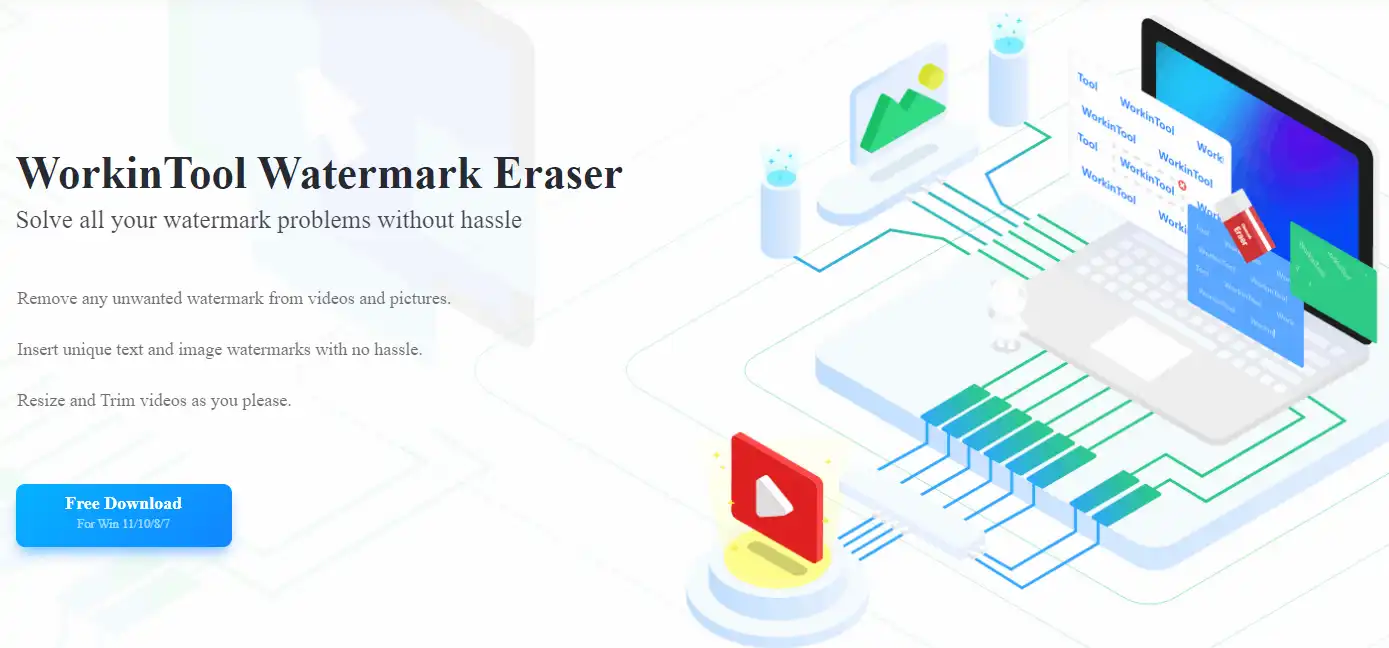 Open it, and you will see "Rotate Image" on the button of these eight functions.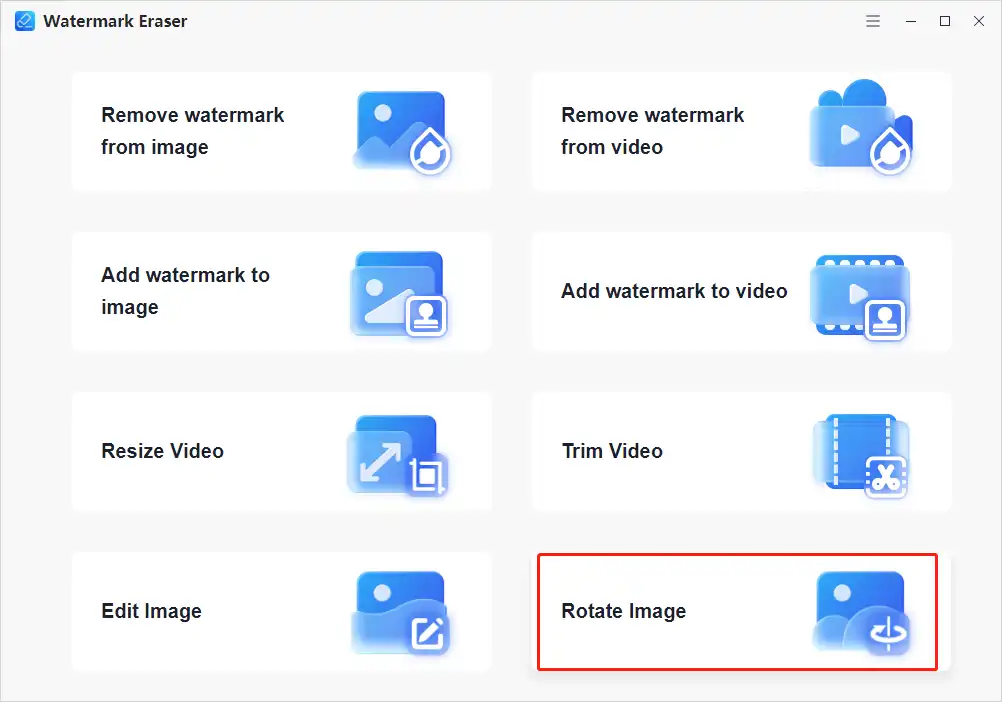 Then here you need to put your desired picture in this rotating function. Your image will be shown on the canvas. On the right section, you will see several options for users to decide if they want to apply which way to rotate it.
The top two are the simplest and most practical. With them, you can rotate your image ninety degrees left counterclockwise or ninety degrees right clockwise.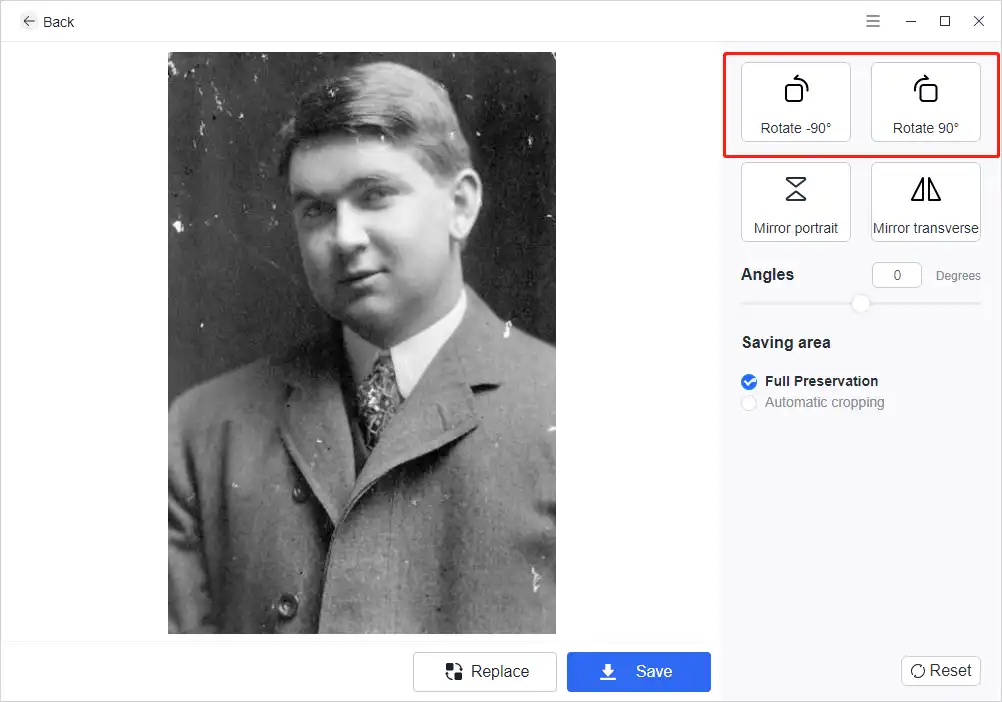 ---
🥈
Mirror Flip a Photo
Or you can use the mirror reflection to flip your photos.
The two buttons between provides you with more options to rotate your photos. This time, you can turn around the median line of the image, so that you can see the photo with a mirror effect.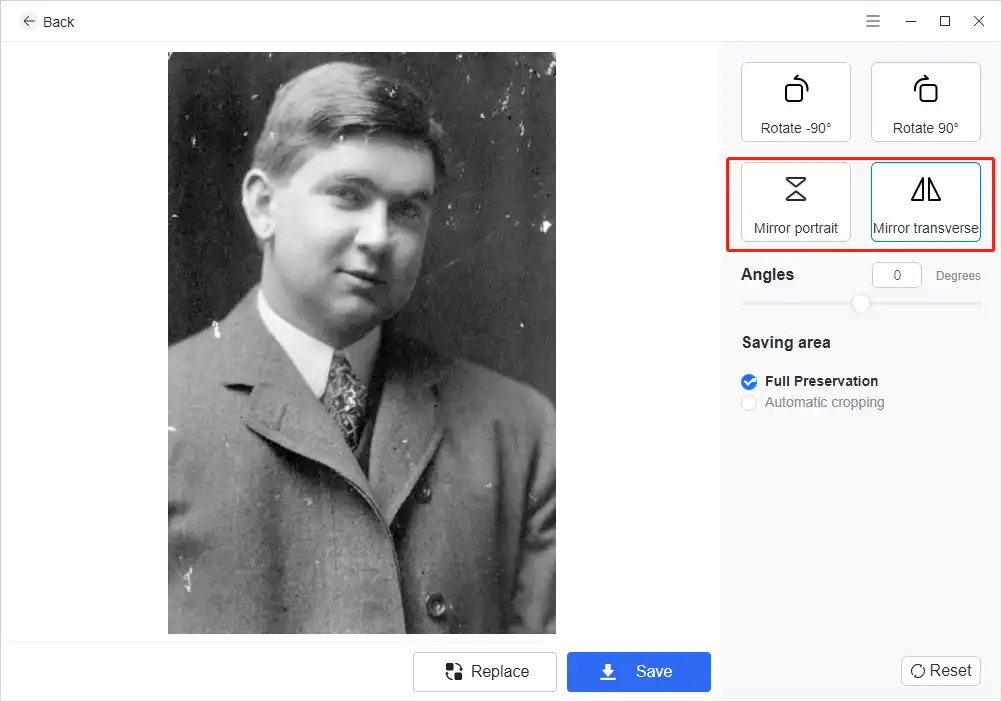 ---
🥉
Rotate an Image at a Custom Angle
If those two rotating options can not satisfy your need. Maybe this customized function will do.
You can modify the image angles all by yourself. The only thing you need to do is simply move the middle button like below.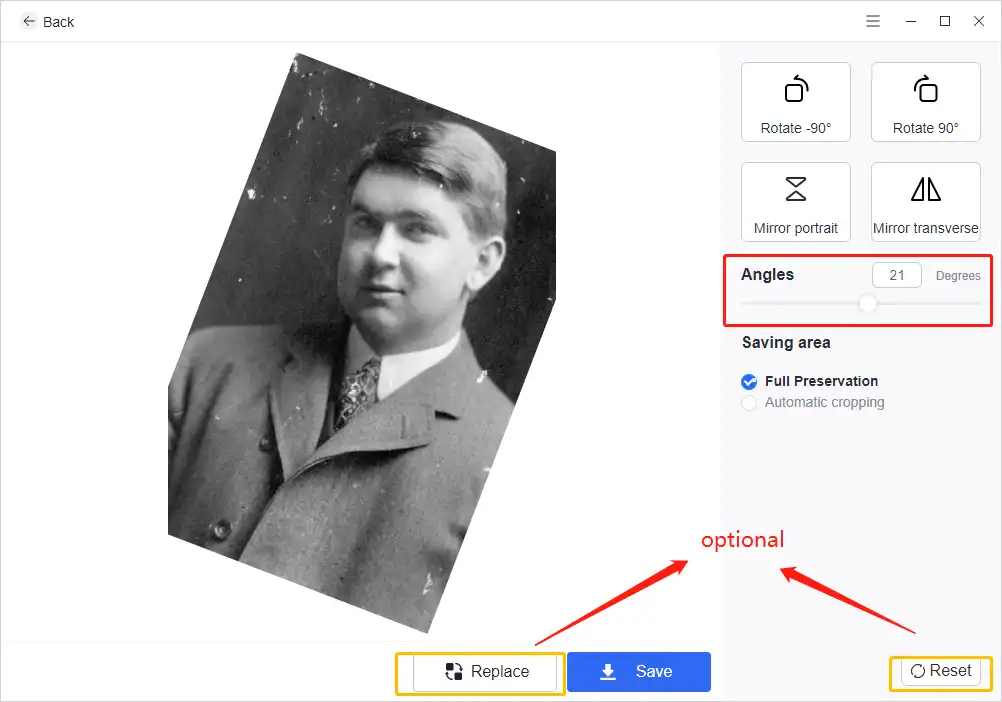 WorkinTool also offers a service to help you save your image. You can choose the option of automatic cropping. If you want to start over, "Replace" lets you pick another picture, and "Reset" will restore your image.
---
🎉 How to Rotate an Image in Photos Function
Of course, the Photos feature in Windows will also help you rotate your photos if you don't want to download any software at all. But before I show you how, I have to notice you that, since it is called "Photos", some image formats won't work in this function. For example, during my test, images in WEBP cannot be opened with the Photos.
Step 1: Right-click your image > Open with > Photos.
Step 2: Here is a semicircular image that you can rotate clockwise, or you can click Edit & Create > Edit.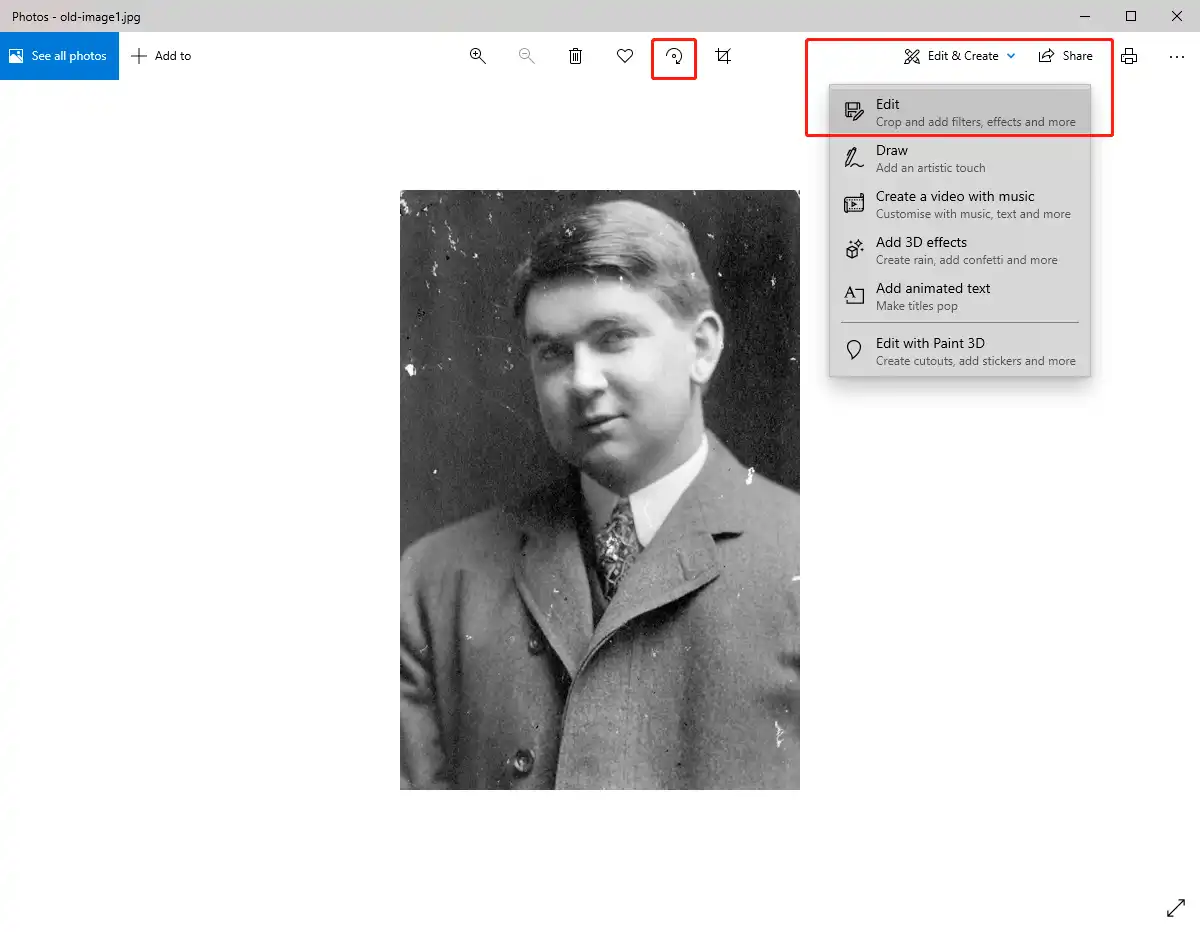 Last Step: Adjust the right buttons to turn the image into the right angle you want. After modifying this image, just click the "Save a copy" to save it to your computer. The original image will remain untouched.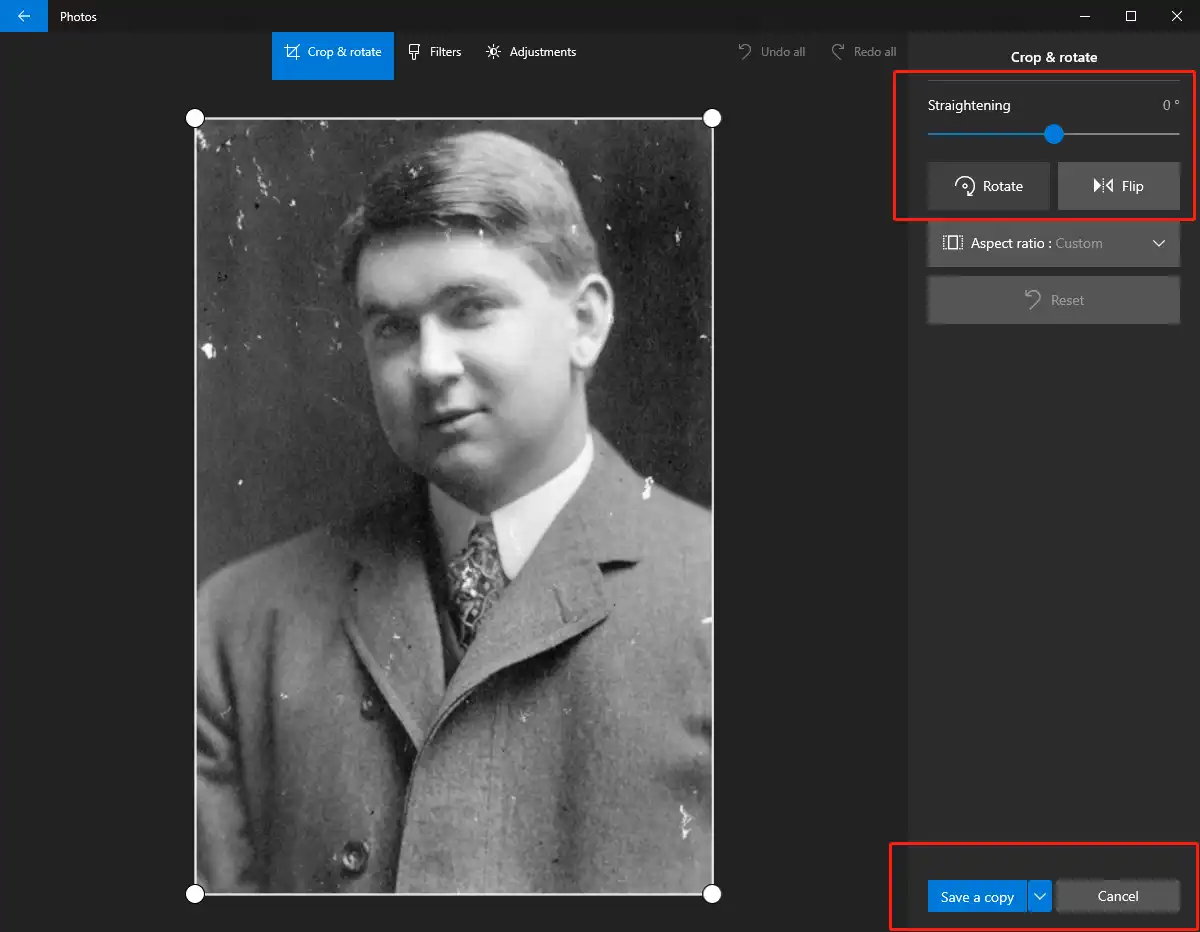 ---
🎊 How to Turn a Picture in Microsoft Word
The third option of rotating an image I am going to offer is to use Microsoft Word. Although that would be a little trickier than the other two, if you use Word a lot, this method is also very useful. Let's see how it works.
First, open a blank Word document on your computer.
Insert > Picture > From this device put your image in Word. Then you will see the image showing on the middle part with a twirling icon. Drag the icon to rotate the picture.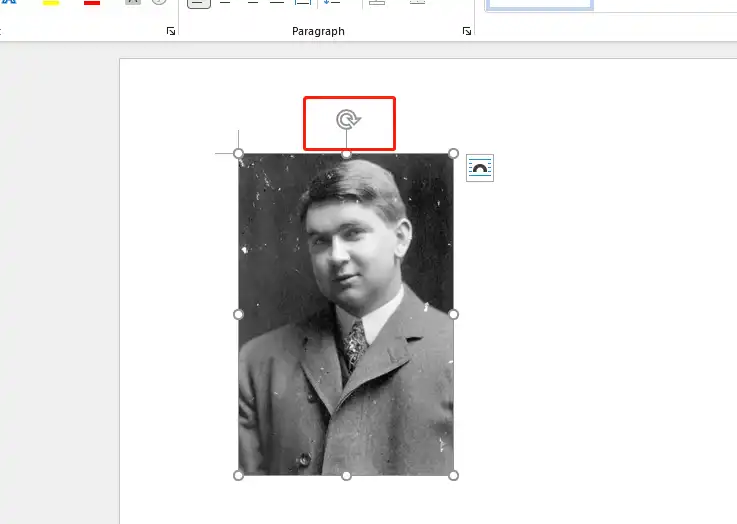 If you go to the top ribbon, there is a Rotate option to provide more choice to turn the image. You can find more possibilities here.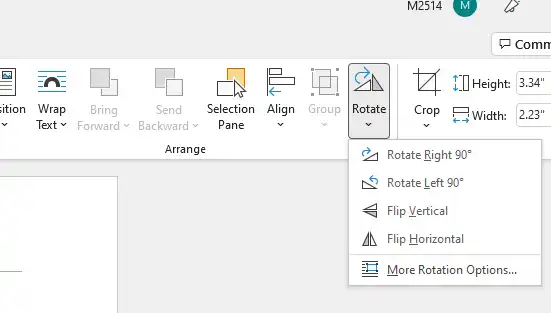 ---
More to Share
Now that I've detailed three different ways to rotate the image, I'm sure it doesn't take much for users to figure out a way to do it for themselves. Just one, WorkinTool Watermark Eraser can do a lot more than just rotate images. You can simply think of it as the free version of Adobe. Why are you hesitating? Just download it and experience its wonders right now.