How to Convert PNG to PDF on Windows 10 Free
This is a handy guide on how to convert any PNG file into PDF on Windows 10. The tutorial includes a method to change PNG files into Microsoft Print to PDF via a virtual printer on Windows 10. For files not compatible or requirement on multiple conversions, we provide an accessible approach applying WorkinTool PDF converter to transfer PNG files into PDF.
Read our article for more information in about 3.5 minutes.
How to Convert PNG to PDF on Windows 10 Free
This tutorial is about how to convert PNG to PDF on Windows 10. We provide a solution within Windows 10 operating system as well as a method via a third-party PDF converter. Windows 10 is much more powerful than you can imagine. This guide provides tips on transferring PNG to PDF via Windows 10 Photos. There will also be an alternative method to turn PNG into PDF with WorkinTool PDF converter for users who are not accessible to Windows 10.
How to Convert PNG to PDF on Windows 10
From Window 10, it is easy and quick to save PNG as PDF using the Windows 10 image viewer. It only takes you a few clicks to do the magic. Before you start transforming PNG to PDF through Windows 10 Photos, check your Windows Features and see whether your Microsoft Print to PDF is on or not.
To do the check, first open your Windows Features, find the Microsoft Print to PDF option and tap it OK.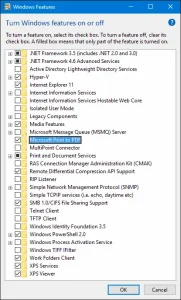 Learn what is Microsoft Print to PDF: a virtual printer that allows making a Word document as well as other formats become a PDF file without any other tool.
How to Convert PNG to PDF as Microsoft Print to PDF
Now follow the steps below to convert PNG to PDF on Windows 10:
Open your PNG file with Windows Photos. Note that if your default image viewer is not Windows 10 Photos, you have to right-click your image and choose Open with Photos.
Click the printer icon on the top or press Ctrl+P to open the Print dialog.
Select Microsoft Print to PDF for Printer. You can also change orientation, paper size, photo size, page margins and fit as you prefer.
Click Print to save the PNG image to PDF.
If this method is not working for your system, try to reinstall the function by turning off Microsoft Print to PDF in Windows Features and turning on it again.
After the conversion, you can open the PDF document with any PDF reader that supports this format. Be aware that Microsoft Edge is the default PDF reader by this method. If you have any preference, for instance, Adobe reader, WorkinTool PDF reader or others, don't forget to change the default settings.
You should also be aware that there might be some unpredictable conditions if you are not opening it with Microsoft Edge, due to compatibility. In this condition, you may have to convert your image via another approach.
Can I Convert Multiple PNG to PDF on Windows 10?
Of course, it is available in this method, we can help you combine PNG to PDF efficiently. It seems not hard to repeat the steps above to make several conversions. But it can be time-wasting and energy-taking if the conversion involves dozens of images. If your niche is about pictures, this could be worse, as you may deal with them all day.
In this circumstance, it is highly recommended that you apply another approach to make the conversion. With the help of a third-party PDF transformer, you can work more effectively and efficiently.
How to Convert PNG to PDF with WorkinTool
So far, we can draw a short conclusion about Microsoft Print to PDF. Although it is easy and quick, there could be some concerns:
intermittent lost efficacy and demanding a reinstalling
issues of compatibility
underperformance in multiple converting
Therefore, you may rely on a PDF converter to achieve better performance. There are many PDF converters you can trust, for example, Adobe, WorkinTool, etc. This tutorial takes WorkinTool desktop converter as an example. There's also a free WorkinTool online PDF converter if you are interested.
Effective and Efficient Conversion with WorkinTool PDF Converter
This PDF exporter not only supports conversion from PNG to PDF, but also all other image formats. You can try any other formats in the same process below.
To convert PNG to PDF:
Download WorkinTool PDF converter (Windows and Mac desktop).
Open it > Click Convert to/from PDF > Click JPG to PDF.
Drag your files into the platform or select files from any file folder.
Choose your preference about page size, orientation, and margin on the right side.
Change the save path if needed. The default save path is to the desktop.
You can add more documents at any time by dragging them, or click Add file.
Click Convert.
If you are transferring multiple documents, they will be merged into one PDF but different pages by default. This default function can be convenient for those who want to exhibit their photos in one PDF and send it to customers, for example, designers, etc.
This doesn't mean you have to repeat the conversion for many times if you want to transfer multiple pictures and get separate outcomes. Just follow the process above. After the conversion, go back to the homepage > find Split PDF in Tool BOX > select all pages > click Convert. We also have a detailed tutorial on how to split PDF if you require more information.
You Can Do More on WorkinTool PDF Converter
In a nutshell, this converter can help you improve working performance.
If you work with original images, like a designer or a photographer, you probably demand a protection of your copyright. You can simply add watermark into your files or create an e-signature to highlight your originality.
If you deal with confidential documents, build up a password-protection for your PDF files, so only people who know the exact password can read the files.
You can also find more magics on WorkinTool PDF converter by yourself.
Why Choose WorkinTool
WorkinTool is one of the most prominent software service suppliers, devoting all our efforts to improve your office skills.
Powerful features: We provide multiple magic working tools to help you work more effective and efficient. We endeavor to achieve all your expectations about office tools. Our ultimate aim is to equip you with powerful arm fires in the workplace.
Professional Services: We are sophisticated in working tools, with 8-year experience as a professional SaaS provider.
Security First: We make great efforts to protect our users' privacy. Private information protection is our priority.
Unlimited Times: Every user can use all the powerful functions in WorkinTool for unlimited times.
User-oriented: We try our best to satisfy all needs that our users expect and aim to provide user-friendly products.
Safe and Sound Purchase: The entire payment process is encrypted with SSL.