How to Extract Image from PDF Free Download | 3 Easy Methods
Here's a three-way guide on how to extract image from PDF for free and offline. You can learn how to take a screenshot of a PDF image and how to extract all images in a PDF with professional PDF editing software, WorkinTool PDF Converter, and Adobe Acrobat. In comparison, WorkinTool is a good option to do that without losing the original image formatting and quality. It is a software with the following qualities:
✅ 100% free to convert and edit PDFs
✅ All PDF editing solutions accessible
✅ Best PDF processing software for novices
✅ Free of ads, watermarks, registrations, and more.
How to Extract Image from PDF | Three Free and Quick Methods
We inevitably need to receive and cope with several PDF files in daily office and life. This guide targets how to extract image from PDF for free. Three practical approaches will be mentioned in the following. Come and see how to fulfill that easily. 
👀 Why Extract Pictures from PDF 
There are many chances you need to extract image from PDF to JPG. For instance:
You can pull out any attractive photo while viewing a PDF file. Save them from PDF to JPG for any other further purposes.

In many niches like online business, there may be a need for a commercial exhibition. Extract product-related images from PDF files and merge them into a photo album to make a commodity list and display all your merchandise.

Many information providers, like travel agencies, send PDF files containing images to convey concise information in their contents. Just read these pictures to acquire distilled pictorial messages and save time.
How to Extract Image from PDF for Free
Specifically, you can use inbuilt snipping tools or apply a PDF image extractor to extract images from PDF files. Fortunately, there are inbuilt snipping tools for various systems, so you don't need to rely on third-party screenshot software. Sometimes, you can directly screenshot the photos you want from a PDF document, but it may lose the original image parameter. If you mind that, we also recommend another way to save an image from PDF: use practical PDF editor software. The detailed tutorials for the authoritative Adobe and the handy WorkinTool PDF Converter will be discussed. 
📌 Method 1. Extract Images from PDF with WorkinTool PDF Converter (for Windows)
Many PDF tools provide PDF editing and converting solutions. Herein, we will use WorkinTool PDF Converter to extract image from PDF documents, for it has a specific image extractor feature. WorkinTool is one of the most prominent software service suppliers, devoting all our efforts to improving your office PDF processing skills.
✅ Free to access

: All PDF editing features are free to use with no hidden restrictions. There is no purchase entrance in it. 

✨ Powerful features

: It provides multiple magic PDF editing tools to help you work more effectively and efficiently. It endeavors to achieve all your expectations about office tools. The ultimate aim is to equip you with powerful arm fires in the workplace.

👑 Professional Services

: It is sophisticated in PDF processing, with 8-year experience as a professional SaaS provider.

💻 Security first

: It greatly protects users' privacy. User registration is not required.

💬 Technical help

: It provides 24/7 customer service support via email and deals with urgent issues via call.

🧡 User-oriented

: The user interface and operations are user-friendly. Beginners can operate it without effort.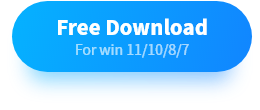 How to extract image from PDF on Windows with WorkinTool:
1️⃣ Download WorkinTool PDF converter and open it. Choose PDF to JPG under Convert to/from PDF.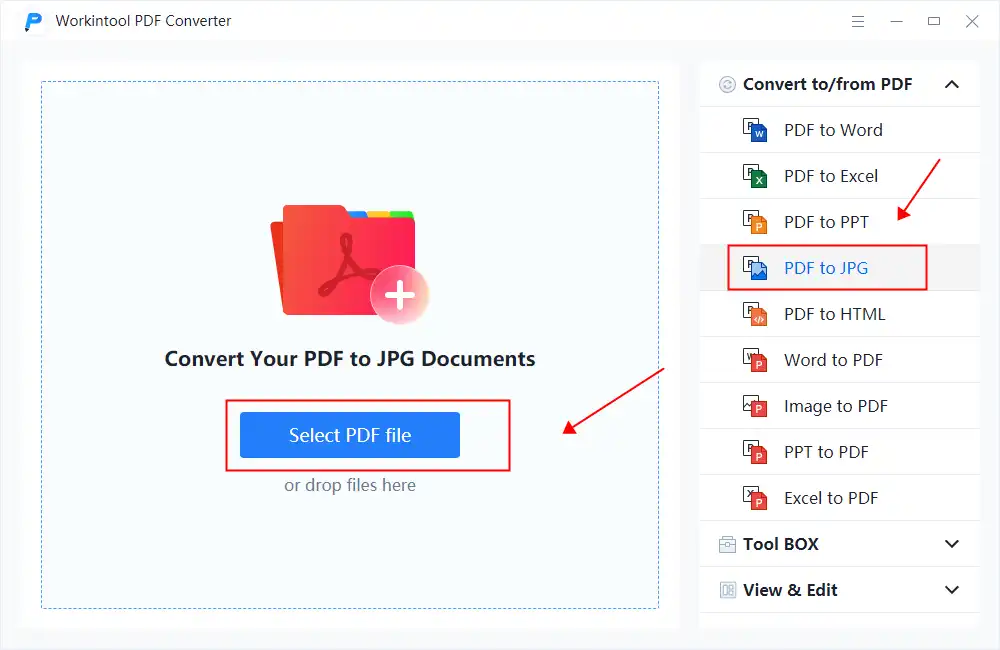 2️⃣ Drag your PDF files into the platform or select PDF from file. In this window, choose Extract JPG. You can also add more files to do multiple extractions.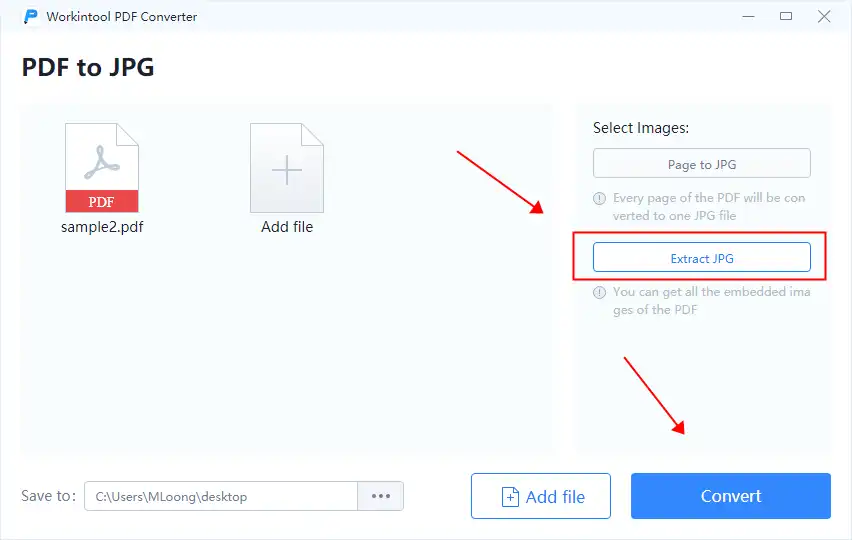 3️⃣ Click Convert to export the image to your local folder.
In conclusion, this method allows quick and easy access to extract multiple images from different PDF files within a few clicks.
 More Solutions in WorkinTool PDF Converter 
📌 Method 2. Extract Image from PDF in Adobe (for Windows and Mac)
Adobe Acrobat is one of the most sophisticated PDF editors in the field. Using it, you can easily copy an image file from a PDF document. Many Adobe users may know that it is not free or open-source software. Fortunately, extracting an image from a PDF is free to access in Adobe Acrobat. You can download Adobe Acrobat from the official website to avoid viruses and malicious programs. 
How to extract image from PDF on Windows/Mac in Adobe Acrobat:
1️⃣ Download Adobe Acrobat on your computer. Click File> Open to import the PDF document.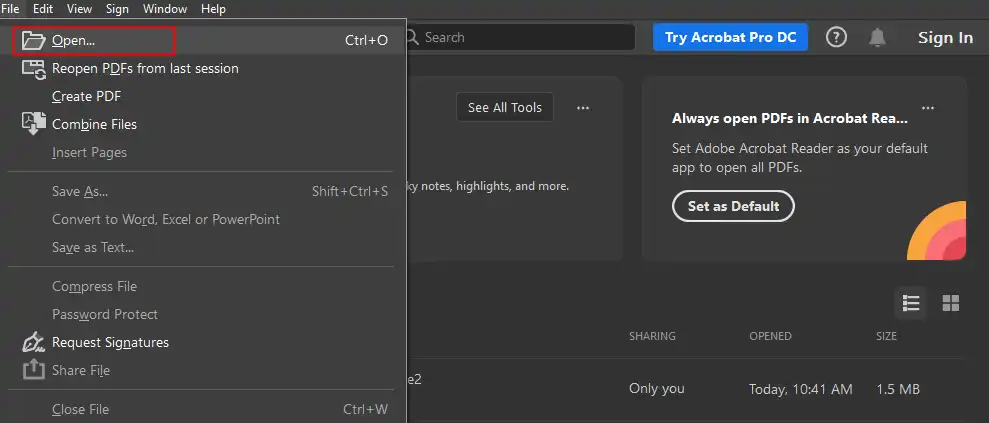 2️⃣ Left-click the page with the image you want to extract. Right-click it and hit Copy Image.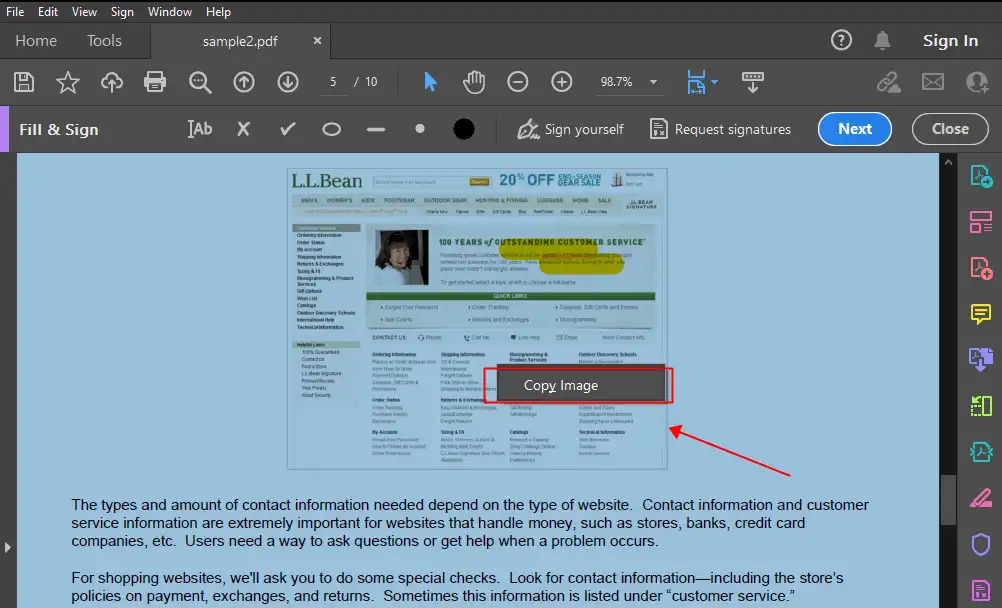 3️⃣ Paste the copied image to where you want to edit it, like a Word document, PPT, social account, etc. 
📌 Method 3. Screenshot Pictures from PDF 
You can apply the inbuilt snipping tool to save just one or a few images in a PDF file. On your Mac, you can press Shift-Command-5 to take a screenshot. Up to Windows 10, the previous snipping tool has been updated and has a new name, Snip & Sketch. So, we will introduce how to use this feature to extract images from PDF documents from the screenshot on Windows 10. Instead of this inbuilt snipping tool, you can also rely on any other tool for screenshots to pull out images from the PDF.

How to extract image from PDF by screenshotting:
Open 

Snip & Sketch

 in the menu. If you can't find it, use the Search feature. (If you don't have this tool, 

go to Microsoft Store and get Snip & Sketch

.)

Click 

Settings

 in the hidden sidebar, set 

Auto copy to clipboard,

 and 

Save snips

.                                

Open the PDF file and locate the images you want to extract.

Press 

Shift + Windows + S

 to open the screen capture bar. Select the area you want to cut or use a window screenshot or full-screen snip.

You can quickly paste the snip to any editing window by 

Ctrl + V

 or save it wherever you like.

It also provides editing tools. Do whatever you need to the image.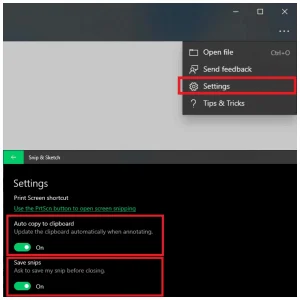 In general, this method is super easy to extract an image from PDF for free. However, when it comes to extract multiple images from different PDF files, there may be many things that could be improved using this method.
The Final Words
The guide here mainly focuses on how to extract image from PDF. The three free and effective tools can help you easily save images embedded in a PDF document. Suppose you need to deal with PDF documents frequently; we'd like to prioritize the free WorkinTool PDF Converter. It is a free and efficient one-stop PDF professor for you.