How to Insert PDF into PowerPoint Presentation in 5 Ways
Want to insert PDF files into PPT presentations but need to know how? Don't worry! This post offers five easy and practical ways that enable you to open PDF files in PPT presentations. Each method has its pros and cons. You can read through to learn which is the best for you. The five methods include:
1. Add PDF pages as screenshots
2. Convert PDF to PPT (recommend)
3. Insert PDF as a link
4. Embed PDF as an object
5. Add PDF to PPT in Google Slides
How to Insert PDF into PowerPoint Presentation in 5 Ways
Preparing a delicate presentation might be time-consuming. Sometimes you may need to open a PDF in a PowerPoint to enrich your presentation or keep it as a support document. Well, importing a single page in a PDF document into a PPT presentation is super easy. But if you need to embed a whole PDF file in a PPT as an object that you can open with a single click during your presentation, what would you do?
You don't need to add extra hassle to it. Inserting a PDF into a PowerPoint only takes a few seconds. Suppose you need to add a PDF to a PowerPoint presentation but need to figure out how. You are on the right page. We'll introduce five easy ways to do it. You can take a screenshot of the PDF file to show part of the content in a PPT, directly open the whole file as a link or object, or directly convert the entire PDF to PPT for edits. Read further to learn how to get started.
---
How to Insert PDF into PowerPoint with a Single Page
🤍Method 1: Insert as a Picture
This method is suitable for those who only want to insert part of the content in a PDF file into a PowerPoint presentation. You can use the Snipping Tool (Snip& Sketch) preinstalled on your computer to take a screenshot and add it to the PowerPoint file, or use the built-in screenshot function in PowerPoint to insert sections of your file quickly. The text below is how you add screenshots to a PPT.
Snipping Tool (Snip & Sketch) on Windows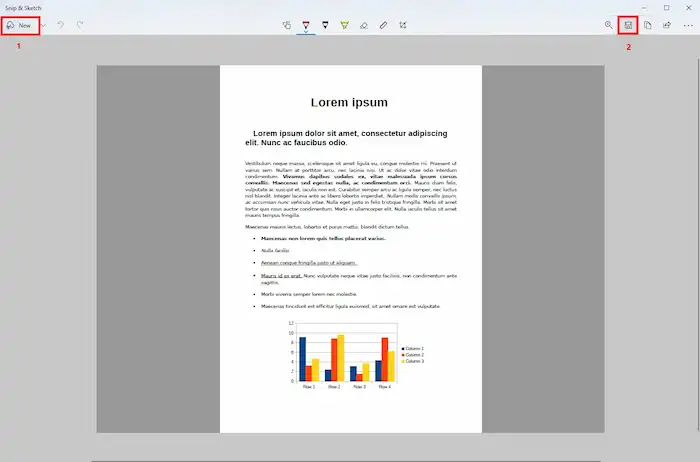 Open the PDF file you want to take a screenshot of.

Type 

Snipping Tool

 or

 Snip & Sketch

 in the Windows search field and open it.

Click New in the top left to take a screenshot. You can take rectangular, freeform, window, or fullscreen snips as desired.

Save the screenshot to your local place by clicking on the 

Save

 icon in the top right.

Navigate to 

PowerPoint

 > 

Insert

 >

 Pictures

 to add it to your presentation.
📢 Note: How to Insert PDF into PowerPoint with shortcut keys? 
You can try the shortcut Windows logo key +Shift + S to take a screenshot and press Ctrl+V in PowerPoint to paste the picture. In this case, you can add a PDF to a PPT without saving a screenshot to your local folder.
PowerPoint's Built-in Screenshot Function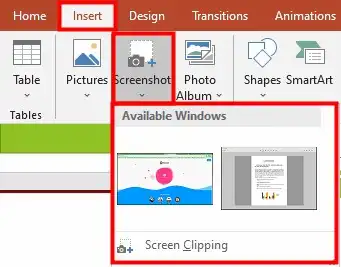 Open the PDF file you need to take a picture of, and switch to PowerPoint. (Make sure the content you want to capture is fully visible in your PDF file. And do not minimize the window or open other programs before switching to PowerPoint.)

In PowerPoint, select a slide to which you want to add a PDF page. Then navigate to 

Insert 

> 

Images

 > 

Screenshot

.

You can choose a thumbnail image in the 

Available Windows

 or select 

Screen Clipping

 to manually take a screenshot.

The picture you captured will automatically appear on the PPT slide.
---
How to Insert PDF into PowerPoint as a Whole
When you need to insert a multi-page PDF into PowerPoint, method 1 becomes troublesome. You might get bored of repeating on taking screenshots. In addition, a screenshot of a PDF may decrease in quality, especially after being cropped and resized. Therefore, We recommend the following methods to reduce your workload when you need to import multi-page PDF files to PPT presentations. Try the following four ways and add PDF to PowerPoint without losing quality.
🧡Method 2: Convert PDF to PPT
If you want to put and directly open a PDF file in a presentation as slides, you have to convert PDF to PPT and then add the converted file to the existing PPT presentation. This method is highly recommended because it is time-saving to insert multi-page PDF files, and you can open the inserted PDF file on any device without losing quality. Follow the steps below to learn how to convert PDF files into PPTs and how to insert PDF into PowerPoint with WorkinTool PDF Converter.
1. Download WorkinTool PDF Converter and go to Convert to/from PDF > PDF to PPT to launch the PDF to PowerPoint tool.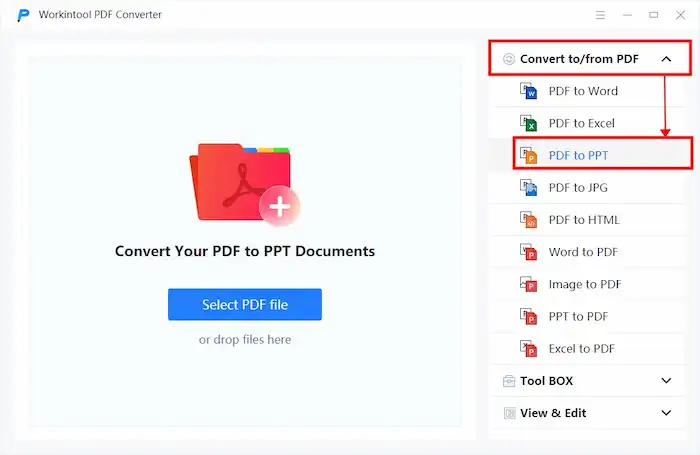 2. Upload your PDF file(s) and press Convert. Wait a while for the process to finish.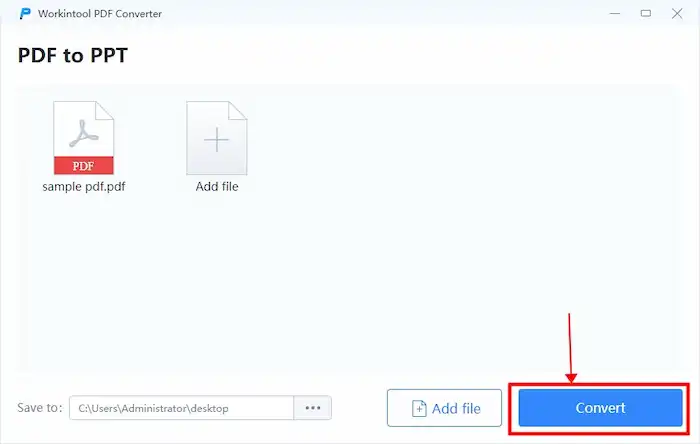 3. After converting, click Open file to locate the auto-saved PPT file in your computer folder.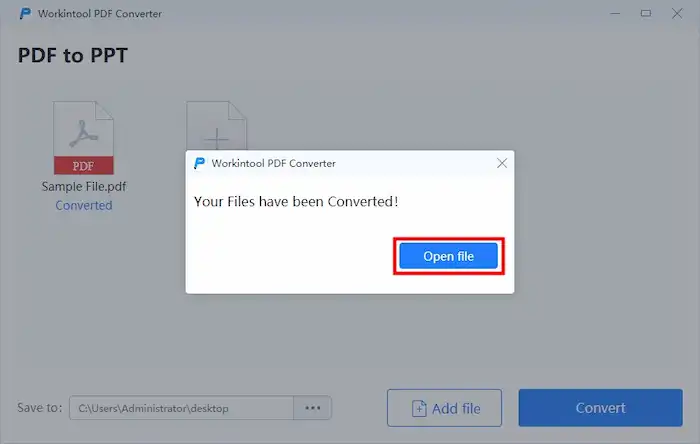 4. Navigate to PowerPoint > Home > New Slide > Reuse Slides to locate and import the converted PDF file to the PPT as slides.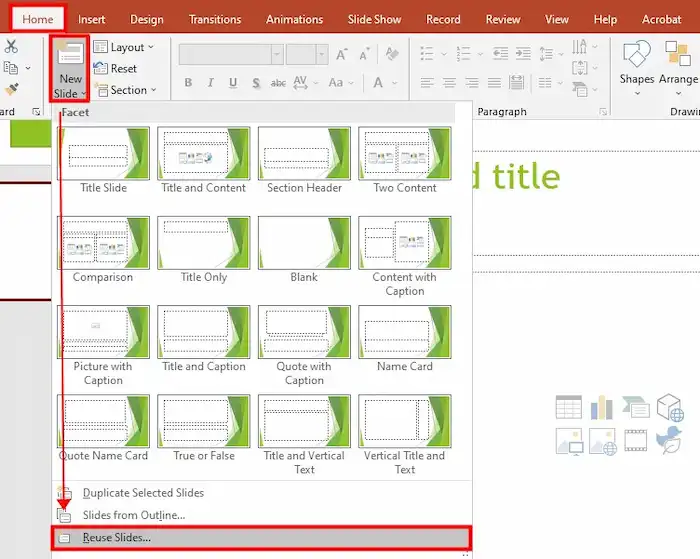 📢 Note: What is WorkinTool PDF Converter?
WorkinTool PDF Converter is an easy to use PDF tool for all Windows users. This software doesn't require registration and contains no ads or locked features. You can download it to your computer in case of future use. In addition to a PDF converter, it also works as a PDF reader and editor, which includes versatile features that people usually use. You can regard it as the best Adobe alternative.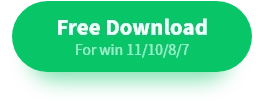 Explore More You Can Do with WorkinTool PDF Converter
💙Method 3: Insert as a Link
Users can insert a link into a PPT presentation to access the PDF file in the local folder. The anchor could be words, images, shapes, icons, etc. Make sure the PDF file that you link remains in the same place on your computer, or you might fail to open it on other devices. Here is how to insert PDF as a link in PPT.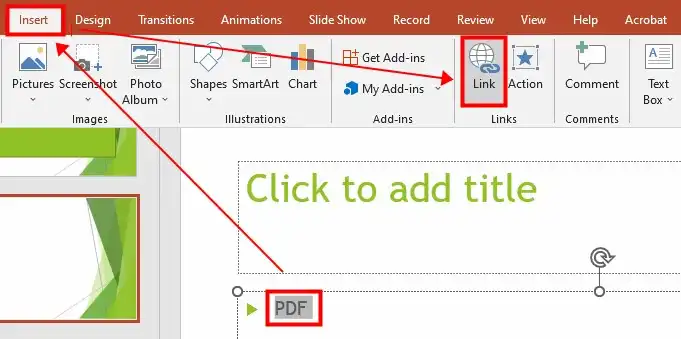 Enter something that will serve as an anchor to the PDF file in your presentation.

Go to 

Insert

 >

 Link

 to insert a link.

Enter the address of your linked file, and press 

OK

 to save the link.

When you use 

Ctrl + Click

 on the anchor, your PDF document will open in a PDF reader.
💛Method 4: Insert as an Object
This method is also only feasible on your computer. It will insert your PDF file into PowerPoint as an icon. When you send the PPT presentation to others or open it on another device, you can't successfully open it. Here is how to insert PDF into PowerPoint as an object.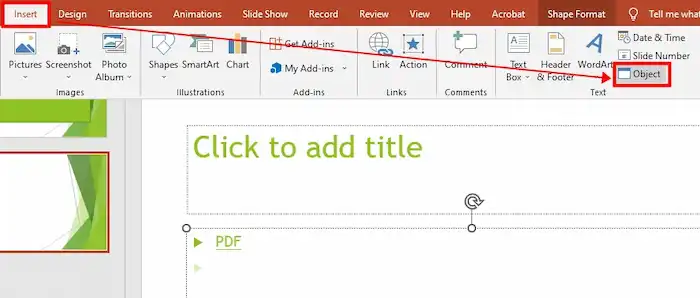 Make sure you don't have the PDF file open when inserting it into a PPT as an object.

In PowerPoint, select a slide in which you want to embed a PDF, and then click 

Insert

 > 

Text

 > 

Object

.

Go to the 

Insert Object

 window > select 

Create from file > 

enter or press 

Browse

 the PDF file location > press 

OK

.

The PDF file is embedded in your PPT presentation.
How to Open the Embedded PDF Object in a Slideshow?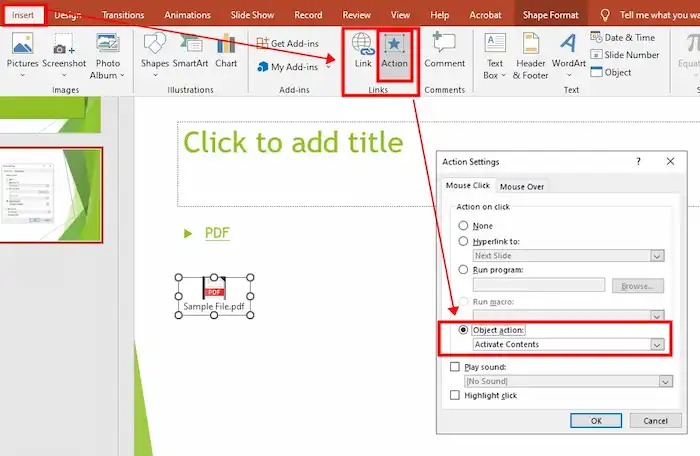 Click the PDF object icon in your PPT presentation, and then go to 

Insert 

> 

Links

 > 

Action

.

Select the 

Mouse Click

 tab if you want to click the PDF icon to open it or the 

Mouse Over

 tab if you want it to open when you hover the pointer on the PDF file icon.

Select 

Object action

 > 

Activate Contents

 > 

OK

 to save the changes.
💜Method 5: Insert PDF into Google Slides Online
You can also insert PDFs into Google Slides online. In this case, wherever you log into your Google account, you can directly open a PDF file as a link in Google Slides. To do that, you must upload PDF files to Google Drive and copy the URL. Here is how to insert PDF into PowerPoint using Google Slides.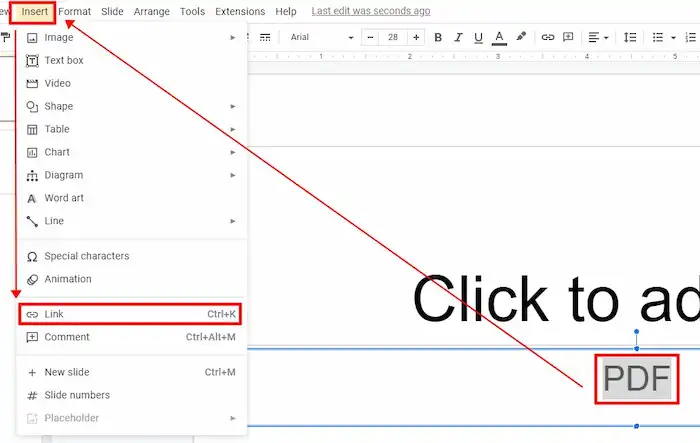 Open Google Drive and upload your PDF and PPT files.

Right-click the PDF file > 

Get link

 > 

General access

 > 

Anyone with the link

 > 

Copy link

.

Go to the presentation, select an anchor, and click 

Insert

 > 

Link 

> paste the link you just copied > 

Apply

.

Now everybody who can see the presentation can access your PDF document.
---
Conclusion
Can you insert a PDF into PowerPoint now? Adding PDF to PPT is not convoluted as many people think. This post explains how to import a PDF to a PPT as a whole or put part of PDF screenshots in PPT separately. You can also embed PDF documents in PPT as links and objects. Follow the steps above, and you can successfully open a PDF in a PPT presentation.