How to Make a PDF Editable for Free | 3 Proven Ways
PDF can present information in an uncluttered layout and is one of the most secure formats for exchanging files. However, it is also a little complicated to make a PDF editable due to its security and well formatting. No worries! Three easy, free, and reliable PDF editors are collected in this post. And you can stick to the first one for the following advantages.
🤍 100% free to edit and read PDF files without limitations.
💙 Free to process single file within 0.5MB in Convert to/from PDF and Tool Box.
🤍 An modern and straightforward interface.
💙 It covers versatile features.
🤍 Users can edit a PDF file without losing formatting.
💙 No watermarks, ads, or malicious attacks.
How to Make a PDF Editable for Free | 3 Proven Ways
As a commonly used carrier of files, PDF usually equips with high security to protect the included information. The PDF file format is easy and reliable to present and exchange files regardless of software or operating system. However, it also prevents users from correcting errors or modifying inappropriate content, especially scanned and read-only PDFs. What would you do when you need to add text, refresh a chart, or change a picture in a PDF file?
It is essential for us to make editable PDF files. However, many people don't know how to make a PDF with editable fields. So we collect 3 free methods of making a PDF editable and fillable on Windows, Mac, and online. At the end of this article, we also present a Q&A part, in which you can find nearly everything you want to learn about editable PDFs. If you need to change the structure, layout, format, and other items in PDF documents, stay put and read the following parts for full details.
---
How to Make a PDF Editable for For Free without Adobe
We all know that Adobe is the creator of the PDF file format. It is easy to make a PDF file document editable with the built-in tools of Adobe Acrobat Pro. But this software persuades many people due to its price. How to make an editable PDF, therefore, becomes a thrown problem.
Although there are many PDF editors in the market, finding a cheap and reliable one is challenging. Luckily, after trying numerous PDF editing software, we finally found the one you can't miss—WorkinTool PDF Converter. As advertised, this PDF converter offers all the items for free if users upload single file within 0.5MB. If you are eager to process without limits, you need to pay $10.95/Mon, $29.95/Year or $39.95/Lifetime.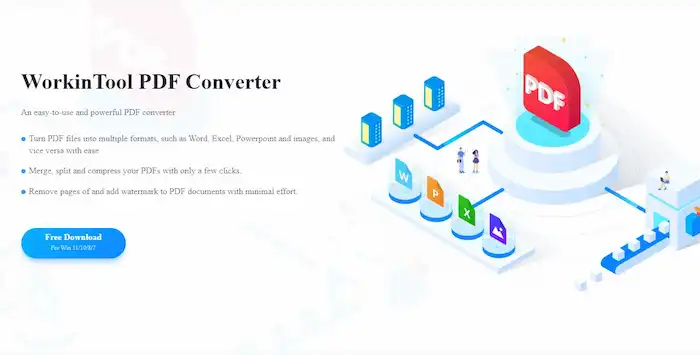 Speaking of making a PDF file/form editable, it is not the same as the Edit feature in Adobe Acrobat that creates a bounding box around the editable items in a PDF file. Instead, you need to convert a PDF file to other formats like Word, PPT, or Excel as you like and edit the text, picture, layout, and other items in the converted file. After editing, you can convert the file back to PDF format for transferring.
💎More Features💎
Apart from that, WorkinTool PDF Converter is also well-known for the following features.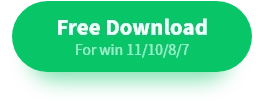 📝How to Make a PDF Editable for Free with WorkinTool
Step 1

: Click the button above to download WorkinTool PDF Converter on your computer. Install and launch it, then go to 

Convert to/from PDF

 > 

PDF to PPT 

(Word/Excel) to upload your PDF file(s).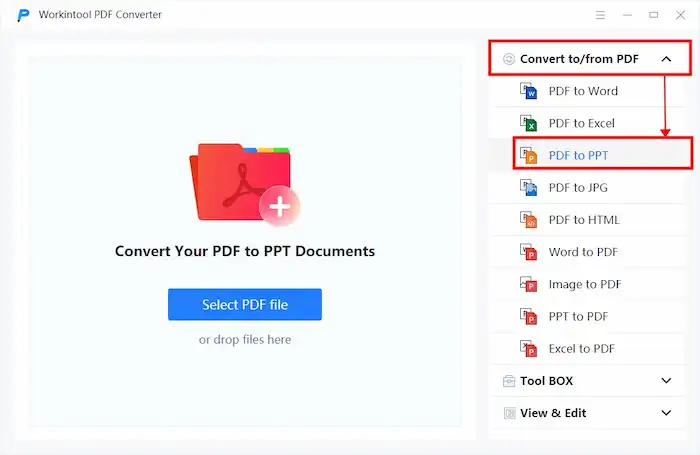 📢Note: Taking PPT as the converted file form is mainly recommended. Because it can precisely recognize the layout and the content in charts, shapes, and tables. You can easily make a PDF editable without losing formatting.
Step 2

: Click the 

Convert

 button to transform your PDF file into PPT. Then modify the content in the editable PPT file.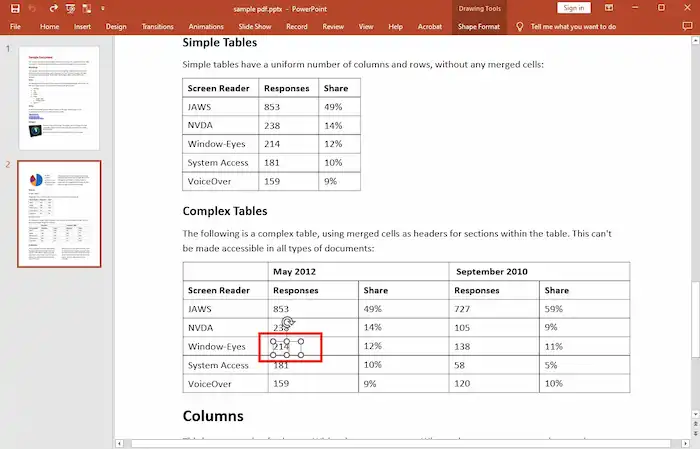 Step 3

: In PowerPoint, go to 

File

 > 

Save As

 to save the edited PPT as PDF. Or you can navigate to WorkinTool PDF Converter> 

Convert to/from PDF 

>

PPT to PDF

. In WorkinTool PDF Converter, you can make more free edits.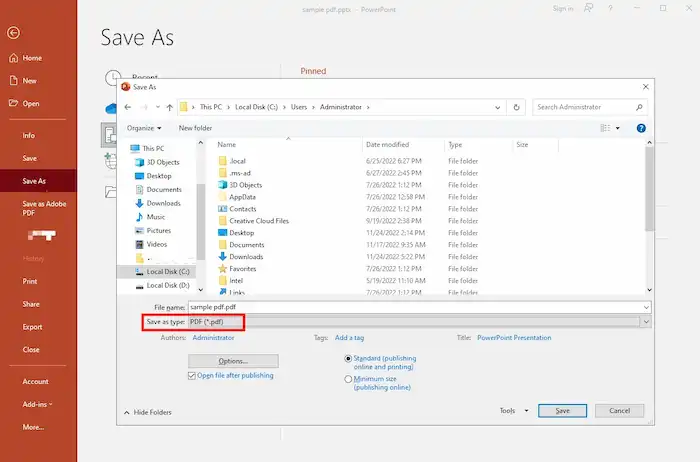 💎Read More💎
---
Convert PDF to Editable PDF with Adobe
Compared to editing PDF files after conversions, directly changing the text, font, picture, layout, and other big-ticket items in a PDF file is much easier. Adobe Acrobat Pro (not Adobe Reader) allows users to edit a PDF file directly with its built-in tools. You can pay for its advanced plan or enjoy a 7-day free trial after registering to edit your PDF files. Launch this software now and follow the detailed steps if you are in the free trial period of Adobe Acrobat Pro.
📝How to Make a PDF Fillable in Adobe Free Trial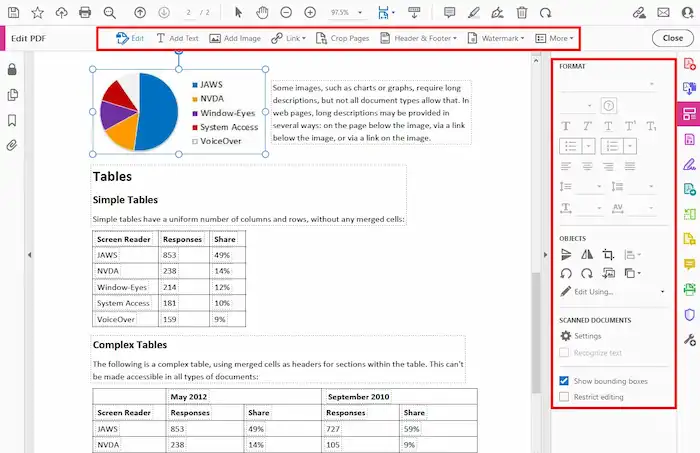 Step 1

: Navigate to Acrobat Pro > 

Tools

 > 

Edit PDF

 to upload a PDF file.

Step 2

: Use the tools on the right-hand panel to change the format and objects. Or use the upper toolbar to add text, images, links, etc.

Step 3

: Go to 

File

 > 

Save As

 to save the edited file.
---
How to Make a PDF Editable for Free Online 
If you don't want to install any 3rd-party software on your computer, then online PDF editors are of great assistance. WorkinTool also develops an online version to help users convert and edit PDF files regardless of software and operating systems. WorkinTool PDF Converter online allows users to do PDF conversion in a couple of minutes as long as there is a good network status. It also equips with OCR technology that allows you to convert scanned PDF files.
📝How to Make an Editable PDF Online with WorkinTool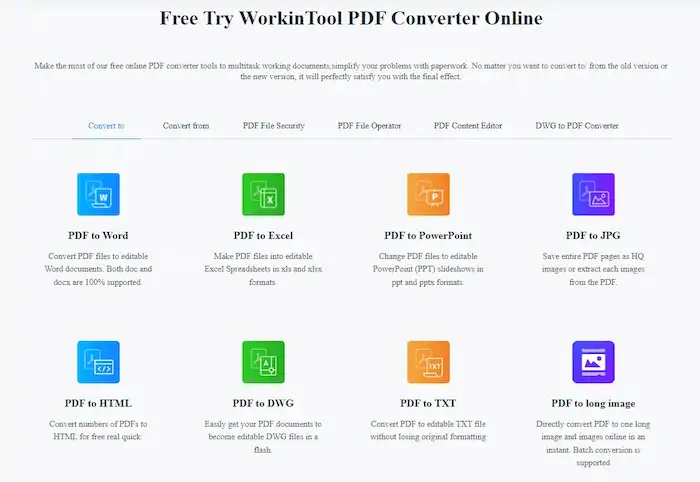 📢 Note: There are 30+ free online PDF editing tools. You can convert PDF formats, write on PDF files, scan PDF pages through the OCR technology, convert ebooks to PDF, etc. Some features set limitations on file size. But users can get rid of these limitations in the desktop software.
Step 2

: Change the content as desired.

Step 3

: Download the edited PDF file to your computer.
FAQs
😃How to make a PDF editable in Google Docs?
Google Docs will remove all the images and not keep the original formatting when opening a PDF file. Therefore, we recommend WorkinTool or Adobe to edit a PDF file if the formatting is essential.
😀How to make a PDF editable on Mac?
You can try WorkinTool PDF Converter online to convert PDF files to editable PPT/Word/Excel documents without losing formatting. And then, turn the edited files back to PDF format.

Or download Adobe Acrobat Pro to make a PDF editable using its built-in tools.
😄How to make a fillable PDF in Word?
This question is similar to "Can I convert a PDF to an editable DOC?". The short answer is Yes! But suppose you want to open a PDF file in Word without losing formatting. In that case, it is better to convert PDF files to Word documents with professional software like WorkinTool PDF Converter (100% free) or Adobe Acrobat (7-day free trial).
😁How do I make a PDF editable when locked?
Editing a locked/read-only PDF file is impossible unless you know the password. You should contact the author of the password before using the methods above to transform PDF into editable formats.
📢Note: A PDF file may contain two different passwords, an open password or a permission password that prevents opening or editing. Make sure you know both before editing it.