How to Use WorkinTool PDF Converter to Optimize PDF
Our WorkinTool PDF converter contains all functions in this one software such as compressing PDF, Add Watermarks to PDF files, and also, converting PDF to other formats. With this tool, you can compress those PDF files to a chosen size without losing their quality. You can put a customized watermark to prevent any possibility of plagiarism. Surely, the powerful converting function can turn PDF into Word, PowerPoint, Excel, JPEG format and turn them back to original PDF format. All of these operations won't change any layout and format. So, Why wait? Try this amazing PDF Optimizer right now.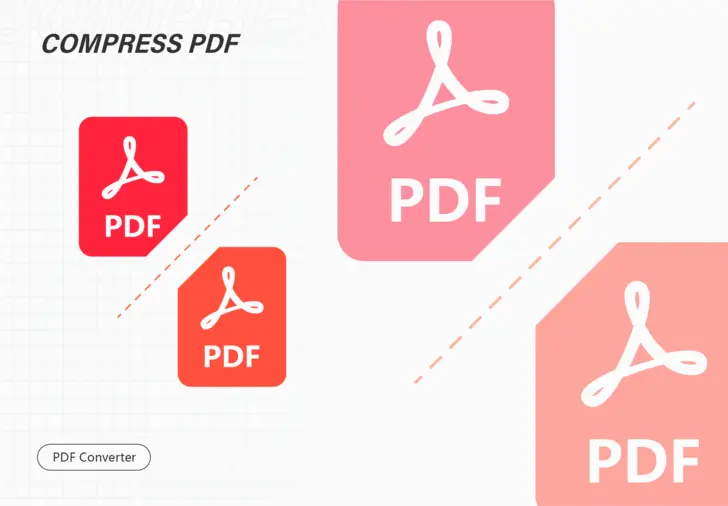 Have you imagined that a PDF that you have worked so hard to make is not available to display on a web browser? I can't picture how embarrassed and humiliated it must be if this is for a meeting with company coworkers and leaders. Lucky you, my friend, there is a recent PDF tool that just come out. It combines all that people commonly used functions in the user-friendly interface. This easy-to-use software can optimize PDF files in just a few seconds. All you need to do is to put your wanted PDF file right into this PDF tool and change it by your wishes. 
Don't mention how frustrating it may be if your PDF doesn't come the way you want after a long day of work. Especially after you have put in a company meeting and found out it doesn't work. With this WorkinTool PDF Converter, you can reduce the PDF files into a perfect size to display on any web browser without worrying the incompatibility issues. How cool is that!
Except for that, if you want to optimize PDF files to another level, you are gonna have to use more functions. This practical tool allows users to insert watermarks in PDF files, including text messages and image icons. More importantly, you can convert PDF files into all editable formats to change their content and layout anytime, anywhere. Managing a PDF document has never been this easy. Plus, it is totally free to use for everyone to try.
 🧡

Compress PDF
 💛 Watermark PDF
 💖 Convert PDF
---
When Do We Need to Optimize PDF?
There are scenarios that need you to reset the PDF size, otherwise, it won't open on some web browsers due to their unique requirement. So you have to make your documents become smaller but keep all the content. With this tool, compressing PDF won't ever be a problem for you. Two different compress modes give you possibilities to choose depending on every individual situation.
Nobody is perfect. Every now and then people make mistakes, not a big deal. But how to minimize the time cost of correcting errors? Now, here is where you need this PDF optimizer to make magic. You can turn PDF documents into an editable format. For example, you can export a PDF into Word first, and change the content in it, including text, images, and layouts. After everything is checked to be absolutely right, make it back to PDF format. Or you can just keep it that way, your call. See? how easy is that?
---
Optimize PDF Methods
Now WorkinTool PDF Converter provides you the easiest option to optimize your PDF documents into the best condition. Reducing PDF into a chosen size without losing its quality is the basic function this PDF tool can do. This is the time to show you how to make a PDF that can be properly used and don't need to worry about plagiarism :
1: Reduce The Size
The first optimization for PDF files is to reduce the size so they can be easier to open and transfer.
Follow the steps below and make a perfect PDF:
Open this tool and go to the "Compress PDF" button in the Box bar section.
Then drag your targeted PDF file into the box and decide which compressing mode suit you best.
Hit "Convert" to finish the process.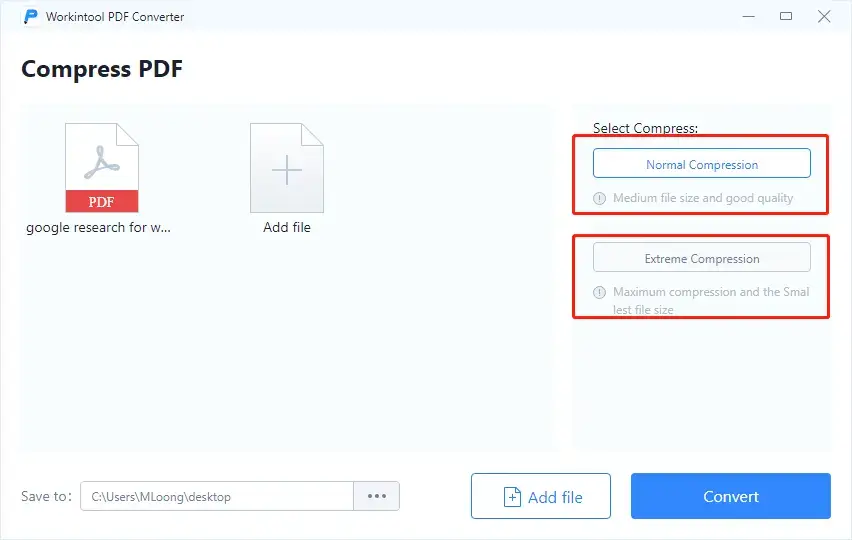 🚨 Notice:
Normal Compression is suitable for most cases, like displaying in a meeting and a course. In this mode, your PDF will only be compressed into a medium-size file and keep the original quality in the meantime. This is something similar software can compare with.
However, Extreme Compression is more badass. It can minimize your PDF file to the smallest, very fittable for transferring. Even a whole library can be transferred in a few seconds after compression.
2: Insert a Watermark
PDF safety is another issue many users focus on. Of course, This PDF Converter also concludes this function. To insert a watermark on your PDF is to put a security lock on your important file. This is one way to optimize your PDF file.
Open this tool and find the "Add Watermark" icon.
Get your PDF into this window and then you can customize your watermark.
After you have decided how you want your watermark on the PDF file pages, you can tap the final button to finish the last step.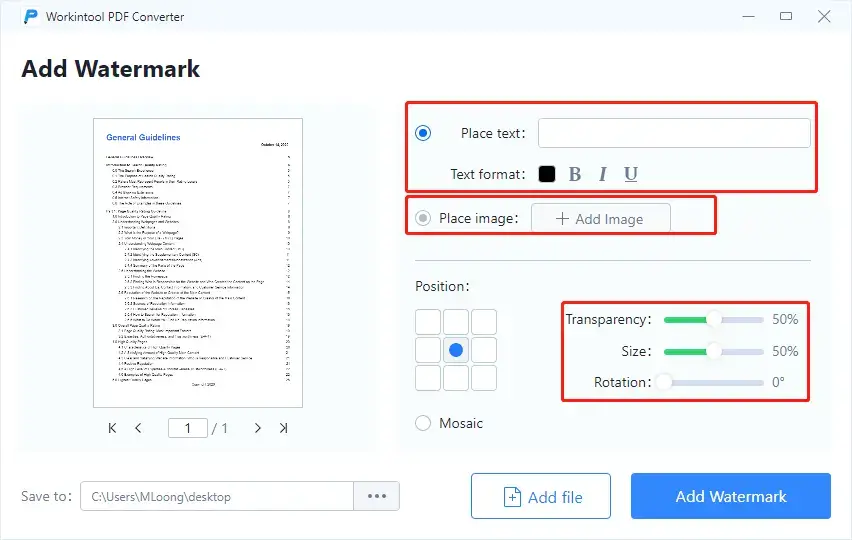 By adding the watermarks function, you can choose to add text or an image. For the watermark, you can change the text font, the color, make it italic and, underline it. Surely, basic watermark settings such as transparency, size, and rotation are also available here. More to mention, all functions of this tool including this "Add Watermark" support multiple files operation, which means that you can add watermarks to as many PDF documents as you like. And the effect will stay the same on every file.
3: Convert The Format
Since it is a PDF converter, the converting function has to be the best optimization for the PDF format. You can use this tool to transform PDF format to any other editable format to modify everything in it. After converting, you won't be worried about problems like losing the layouts and formats. All the content in it will be kept exactly the same as the original.
Here I will use "PDF to Word" as an example to demonstrate how to do it. But be aware, all the converting functions are suitable.
First, Open WorkinTool PDF Converter and click the "PDF to Word" button.
Then select or drag your PDF file into this box. (no matter you choose to select or drag, the ultimate effect will stay the same)
You can decide your saving path and add more files to convert together. After having set them all, tap "Convert" to get your final documents.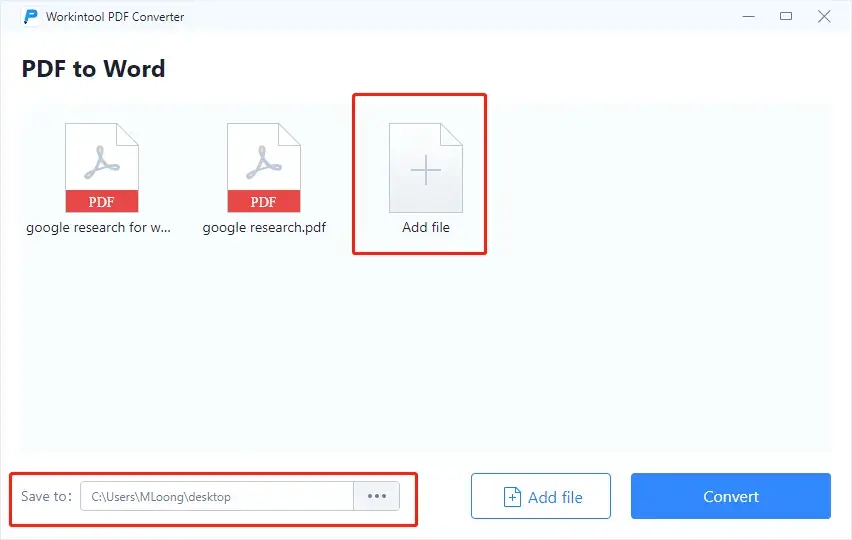 ---
More to Share
Users matter to us. This slogan sucks I know, but it is for real. As a newly published PDF software, I admit that we have a lot to improve. we keep following up with users to make sure they can get the best service. We have launched a lot of features according to user needs. For instance, based on users' office requirements, we have posted an article about how to effectively organize your PDF pages and how to lock your PDF files from editing and copying.
In the future, we will continue to make the best of us to offer the ultimate service to every user. In the meantime, if you have any suggestions, please contact us at any time.
Products Reviews:
TrustScore
4
|
323
reviews