How to Insert Watermarks into PDFs with WorkinTool
For digital assets, copyrights and intellectual property rights are the most important evidence of individuals and companies. If adding a copyright watermark is what are you searching for, check out this amazing post about how to insert watermarks into PDFs. Except for inserting text and images, adjusting the format and position including size and transparency are also available in our tool just to serve users.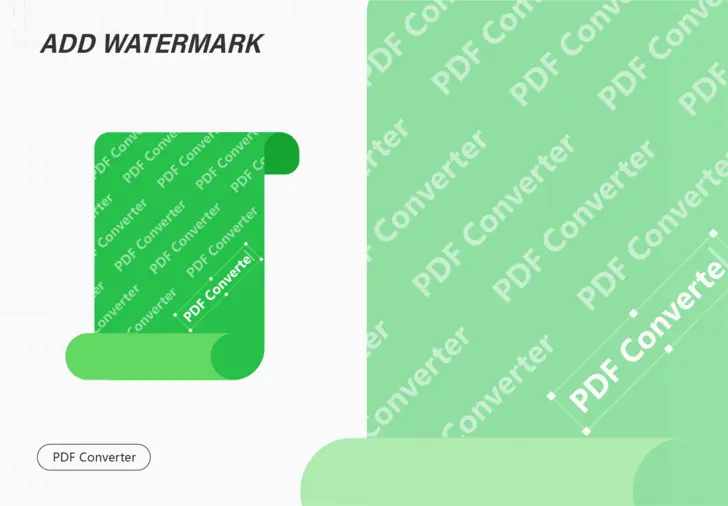 PDF format has been widely used in people's lives since it was invented by Adobe. Because of its reliability and readability, PDF always appears in legal documents and real estate files when the demands are clarified. However, it is still difficult to properly use PDF by ordinary people, and ensuring the security of the PDF file can take a lot of effort. Just as every book has its name on it, your files also need the right measure to protect them from being changed or tampered with during sending out to others. So, Why don't you try to insert watermarks into PDFs?
The main problem is to eliminate PDF theft and copyright problems.
---
Watermark Secure the Legal Right
What is Watermark?
To say from the beginning, what is a watermark?  A watermark is to place a logo, image, or text into the page of your PDF files. Normally the watermark is transparent in the middle of the PDF pages. It makes sure that people can see the watermark while it won't affect the content reading.
Why Should I Insert Watermarks into PDFs?
There are a couple of sound reasons that you might actually consider adding waterworks into PDF documents.
For one reason, people use watermarks as a brand advertising strategy. Just like every book has its writer's name on it, to watermark on PDF pages is another method to put the company's brand out. In this way, you can build ventures' credibility and exposure to the outside world.
Another reason is that watermarking offers users the ability to protect the copyright of every file and document, to ensure it cannot be misused or altered by people who access your files but don't have your permission. Without watermarks, your valuable intellectual property can be easily stolen by content burglars and illegal users.
Content plagiarism
When your digital files have been put or posted on the internet, others can easily make the content of those files become theirs just simply by copy-and-paste clicking. No matter where they are or who they are. When they do that, they might have another unauthorized copy of yours.
Original content often doesn't come cheap. Without any digital protection, individuals and companies that have put a lot of time and effort into their work result files are risking their careers to potential competitors if they have managed to steal the unprotected original PDF files. Watermarks can prevent this act of plagiarism.
Illegal Use
In many law firms and large financial companies, for example, letters like "classified" or "confidential" are printed under specific documents to notice that only certain people can view the content in it. And that is what we call "unauthorized" files.
If someone that doesn't have good intentions misused those confidential files, the result can be devastating. At best, it just ruins your reputation. Or worse, leaking the information of the clients leads you to bear the consequences of the lawsuit. Watermarks can clarify the importance of certain files which are not for sharing.
---
Insert Watermarks into PDFs via WorkinTool
After the introduction about the importance of a watermark, you must know what an indispensable role it is in PDF files.  Not only does it serve as the guarantee of file security, but also advertises the company's brand at the same time. Therefore, you also notice that it is a common act for companies to insert watermarks into PDFs. The following post will show you how to add a PDF watermark with the WorkinTool PDF Converter.
Open the software and go to "Add Watermark" in the right "Tool Box", drag or "Select PDF file" into the area.
Type in your watermark text (or you can choose an image from the computer), then customize the watermark by adjusting the text format and other features(position like transparency, size, rotation, and mosaic).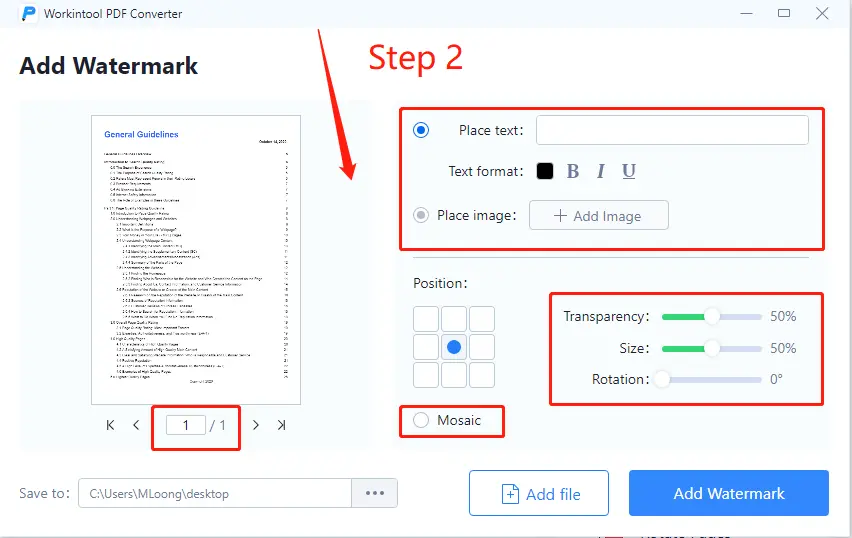 Decide your saving path and add more files to insert watermarks together if you want to. Hit "Add Watermark".
Wait for the process to complete and then you can open your file to check the final watermark effect.
There, your PDF file with inserted watermark is really to use now.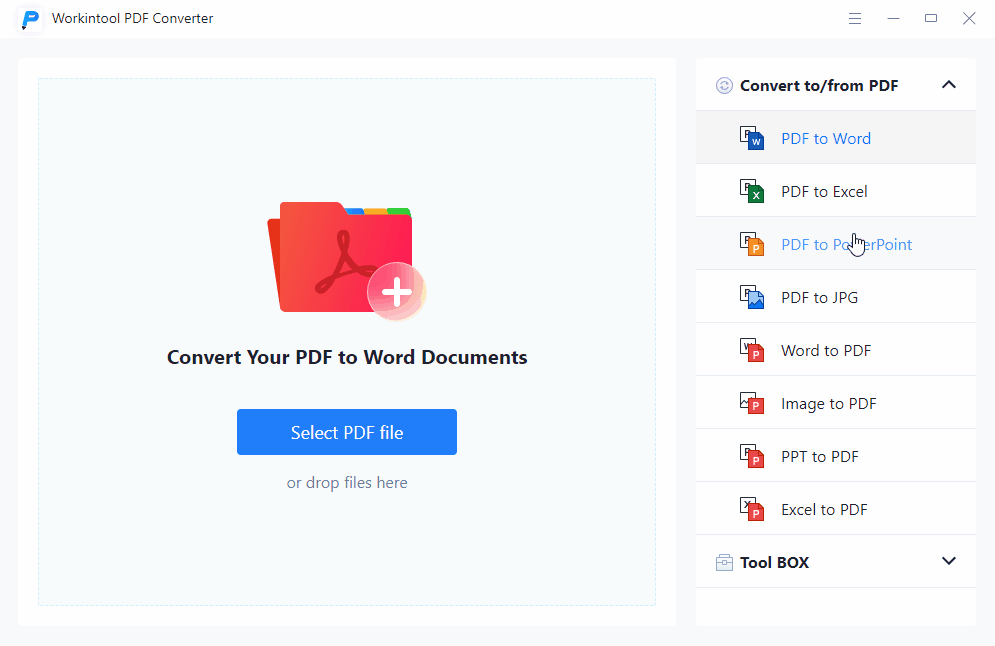 Notice:
Text format: to change the color of the watermark text. see if you want to make the text bold, italic, or underline it.
Transparency: to adjust how clear you want the watermark to show on your PDF page.
Size: to alter the size of the watermark you want on the page.
Rotation: to modify if you want to rotate the watermark in the PDF file or not.
Mosaic: to put the watermarks all over the page.
---
What We Wanna Say
There are still a number of online and desktop version tools that can help you to insert watermarks into PDFs. We hope you can pick the one that attracts you the most or suits you the most. But we sincerely wish you can put the elements below into your consideration: Converting speed, the interface operation, final conversion quality, security of PDF files. Every factor leads to your later PDF file effect. So, be wise when selecting PDF tools.
As you can see, this newly published tool supports watermarking text and images into PDF files. With remarkable functions like transparency, position, and rotation, users can adjust the watermark by their own wishes. WorkinTool PDF Converter prevents illegal motives to copy your contents. It ensures consistent quality support, making watermarking a handy and speedy procedure.
Except that, our tool also provides other practical functions to simplify everybody's office routine:
Since it is called WorkinTool PDF Converter,  you can convert Word, Excel, PPT, or other document types into PDF or the other way round.
Watermark is not the only way to protect PDFs. You can also set a password for the PDF, so others won't be able to read the content in it.
If your work only needs a certain size of PDF files, you can always resize your documents by the compressing button.
If you have any thoughts to share, please contact us at any time. We'd like to hear your precious suggestions.
Products Reviews:
TrustScore
4
|
323
reviews