3 Quick Ways Guide You How to Save Word as PDF on Windows
WorkinTool PDF Converter is a free tool to make your Word documents into high-quality PDF files. It exports your Word documents to PDF files will be easy as ABC. With clear navigation, your files will be ready within four steps. Also, batch processing is available in our converter. There is no PDF file size limit in WorkinTool. Also, your data privacy and information security are ensured. Why don't you download it and experience it yourself with zero cost now?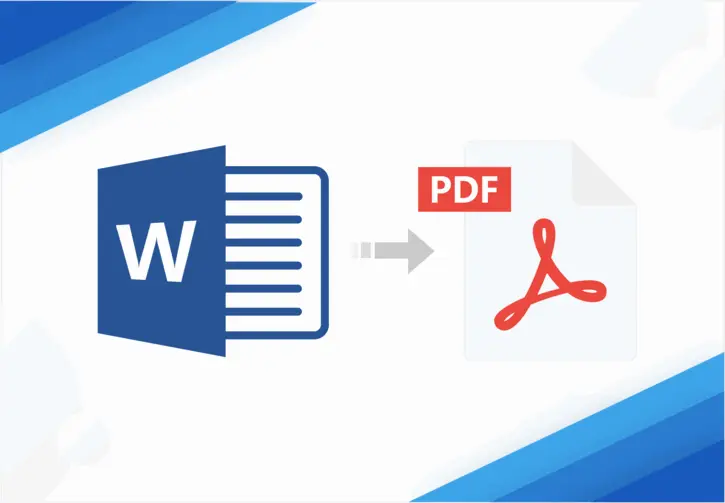 Genuinely, with smaller file sizes and official-preferred communication, PDF has been the most commonly used format in people's daily life. It's much handier between different operating systems and great for preventing editing to the file unless using specific editing software. Here in this guide, we will give you 3 quick ways how to save Word as PDF on Windows.
Except that Microsoft Word provides its built-in methods of turning Word documents into PDF files, you can also convert Word to PDF format by using third-party software.
---
Save Word as PDF via Using WorkinTool PDF Converter
Even though Microsoft has its way to transform a Word document into PDF format. However, not everyone has access to the costly software. Well, in that case, WorkinTool PDF Converter would be the perfect PDF tool for you. Check out how you can instantly convert your DOCX files to PDF format for free, within seconds. It'll let you turn the whole Word into a PDF file. And of course, it also offers the same way to convert PDF to Word as well.
Open WorkinTool PDF Converter.
Go to the right List of Toolbar and find "Word to PDF".
"Select Word file" lets you put the converting Word file on your computer.
You can also drag and drop your targeted file into the window.
Then you can choose to add more files and change the saving location from the window below.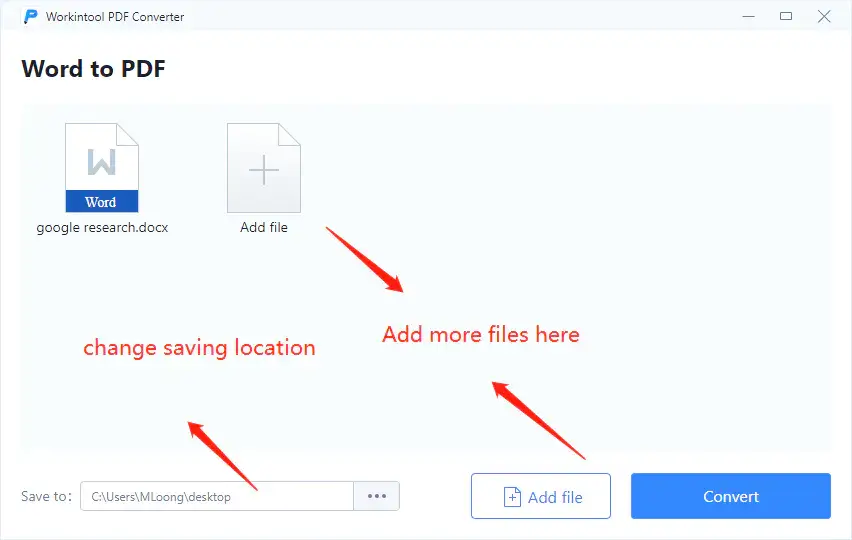 Click "Convert" and wait patiently for the result page to show you success.
not only just simple as Word to PDF, but the WorkinTool PDF converter also provides other practical options for users. Including PowerPoint, Excel, and Image format exchange, our platform can add watermark and remove your unnecessary pages after export.
---
Save Word as PDF via Using Microsoft Word
"Save As" Option
Therefore, if you already have your way to access Microsoft Word, you may try this method of saving Word as a PDF. That is to say, you use the built-in "Save as" option to change your word format to PDF. You can also decide to save a copy of an existing Word document under a new name, to a different location, or using a different file type. You will also want to save periodically when you're creating and editing a doc file to prevent any loss of work.
Go to the "File" option on the left ribbon.
Note: Don't click the "Saving" icon, that won't change your World doc file to PDF format.

Click the "Save as" button and find PDF format from the drop-down menu.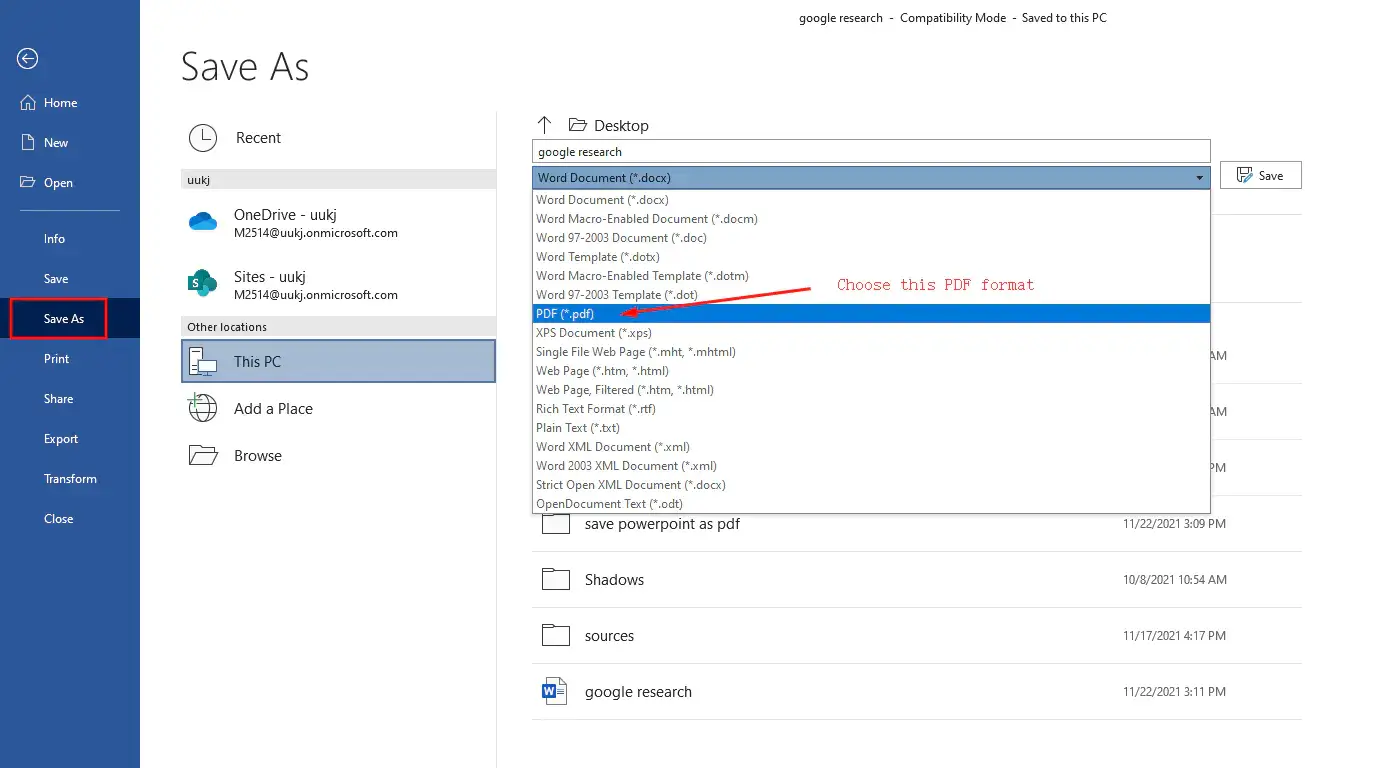 At this move, you can click "Save" to make your Word document turn into a readable PDF file.
Or you can pick "More options" to make a customized PDF.

In this window, you can rename your saving PDF file. And you can also optimize it for two more versions.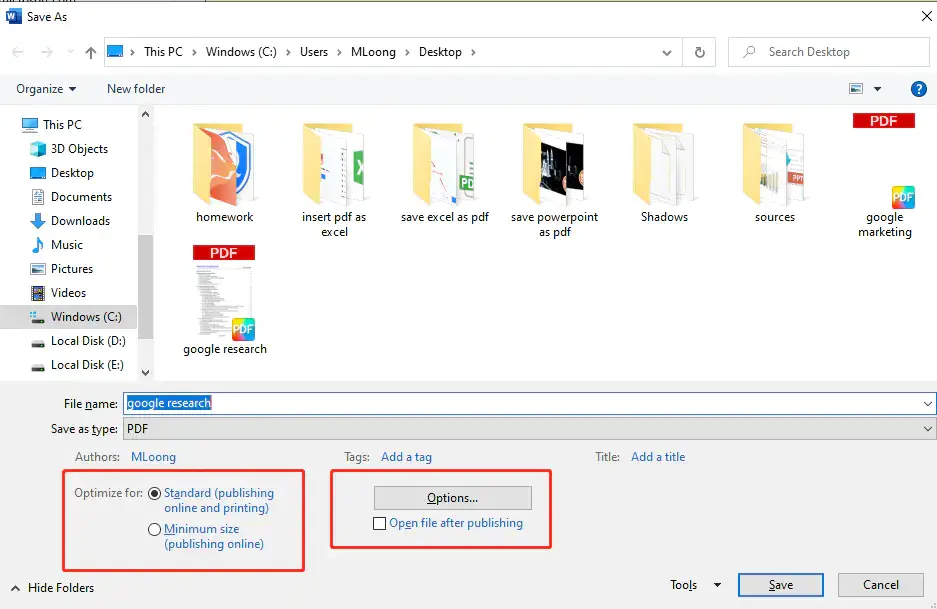 Standard: High-quality version of the document, suitable for publishing online or printing out.
Minimum Size: Lower-quality version of the document. Also, suitable for publishing online, but ideal for when you need to send the document as an email attachment, as it reduces the size of the PDF file.
The "Options…" button offers you more advanced changes to your exported PDF file.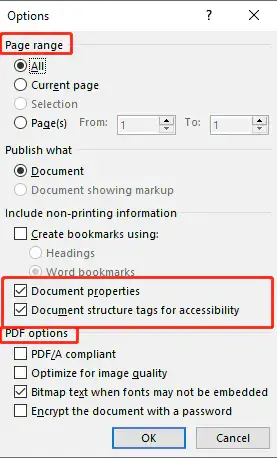 You can always decide your final PDF format and content by selecting these options according to your needs.
---
Convert Word to PDF via Using Microsoft Word
"Export" Option
There are other shortcut options for users to transform a Word doc into a PDF file. It is also a built-in function in Microsoft Word. It is specialized to export PDF or XPS documents.
Go to the "File" list on the left ribbon → "Export" button.
Click "Create PDF/XPS Document" from this window to move to the next step.
Note: If your window shows you the yellow frame like this, it means your Word file is in an older format with limited functionality. In order to make this document an accessible PDF, tab "Investigate Accessibility" to follow those steps. (It is not a have-to step. If not shows up, ignore this).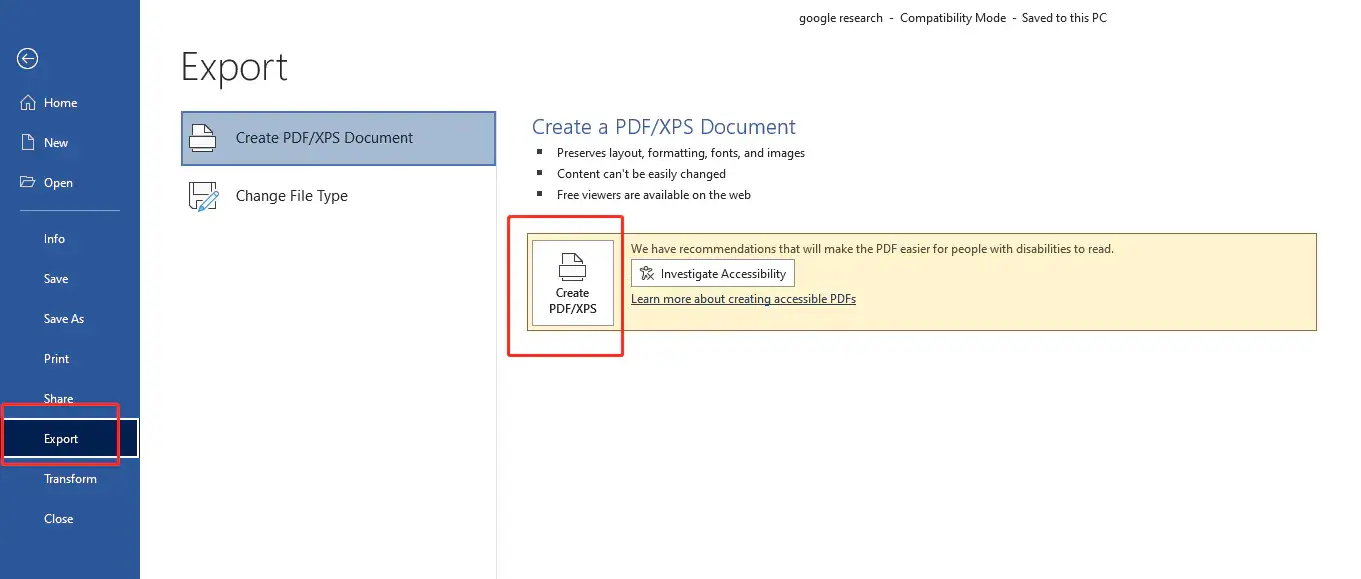 Last, "Options…" gives you more possibilities to optimize your output PDF document.
There, after deciding what your PDF file should contain, you can click "OK" to export the Word file to PDF.
Tips:
Normally, the default option is "All" pages convert. But, if you only want to save the current slide as a PDF, choose the Current slide.
Or if you want to save specific slides as PDF, range in From and To boxes in slides(s).
You can include your document's properties and structure tags in your content.
For PDF format, you may change the compliant or optimize for image quality. Even if you want to encrypt your file PDF file just to be safe, just outline the corresponding option and it will help you to make it happen.
---
FAQs for Saving Word as PDF
What should I do if I want to change the way to open PDF files?
If you happen to see the "How do you want to open this file?" pop-up box. By default, your Windows computer will pick to use the Edge browser. However, you can change from other compatible browsers to install on your PC, as well. If you want to continue using the same browser to open PDF format in the future, check the "Always use this app to open PDF files" option.
What is the difference between Save and Save As commands?
Save is a command in the File menu in Microsoft Word to store data and maintain the same format as the original file. In the meantime, Save As is another command in the File menu in Microsoft Word, mainly used for changing the saving format and location on the computer.
Why does Microsoft Word not let me use the "Save As" button?
Sometimes you may encounter problems like saving permissions in your Word while you want to store your file. In most cases that is caused by your antivirus software, so you need to check out your software settings or just disable it while saving your Word documents as other practical formats.