How to Easily Split PDF into Multiple Pages
Do you want to learn how to split PDF pages into multiple pages? You can find the answer in this blog. After reading it, you will know both online and offline approaches to PDF splitting, especially with the help of a desktop tool new in the market this year–WorkinTool PDF converter. Also, we have made a summary concerning the advantages and disadvantages of a desktop tool and an online converter for your reference. So let's start our journey.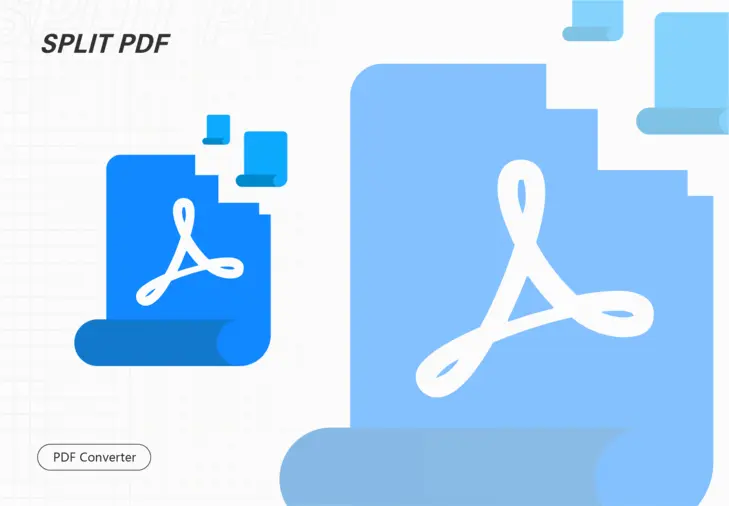 How to Easily Split PDF into Multiple Pages Offline and Online
Splitting PDF into multiple pages is now an important skill since PDF (Portable Document Format) has been frequently used in various industries. So how do I achieve this goal? Are there any easy and fast solutions to this problem? Well, here it comes. You can learn to easily split PDF into multiple pages by following the guides recommended by this blog. We also made a list of the 5 best PDF splitters of this year for reference.
In this blog, these topics will be covered below:
How to Easily Split PDF into Multiple Pages Offline
How to Easily Split PDF into Multiple Pages Online
Should You Use a Desktop Tool or an Online Converter to Split PDF Pages
Ok. Let's begin!
---
How to Easily Split PDF into Multiple Pages Offline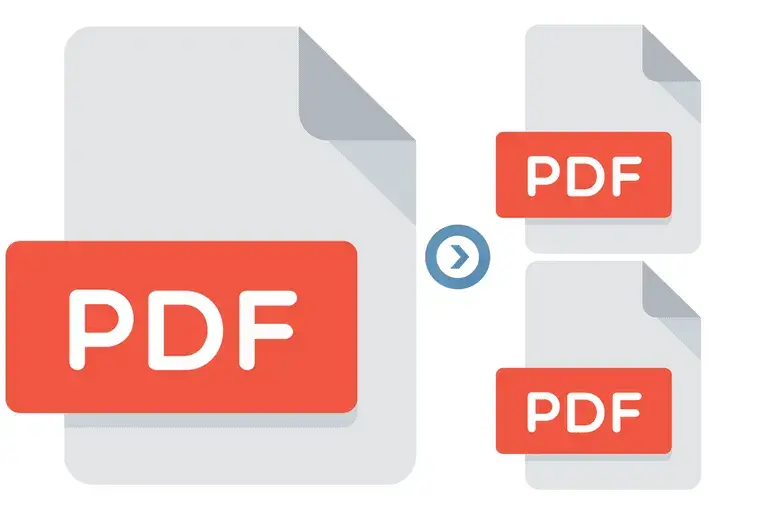 It will be definitely painful if you choose the traditional approach that you take a screenshot of every page and turn each of them into PDF respectively.
To take each page out of your PDF as multiple files, you undoubtedly need to install a desktop tool, which is the easiest way to attain such a goal. However, you probably want to know which software I should choose since there are so many options. Today, I would like to introduce you to a practical one–WorkinTool.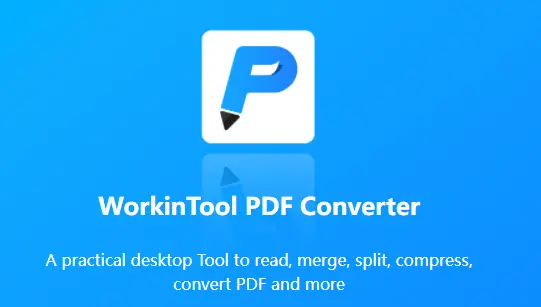 WorkinTool is a powerful and useful all-in-one PDF converter that allows you to easily, instantly and safely break your PDF file and save it as separate pages that preserve the original formats. Not only can you split your PDF with it, but also you can use it to merge PDF. But here, let's focus on extracting PDF pages into multiple documents.
To break the pages of your PDF into separate ones, you only need a few clicks through Workintool.
Step 1. Open the tool, find Tool Box, then choose Split PDF and click on Select PDF file or just drop your files to that area.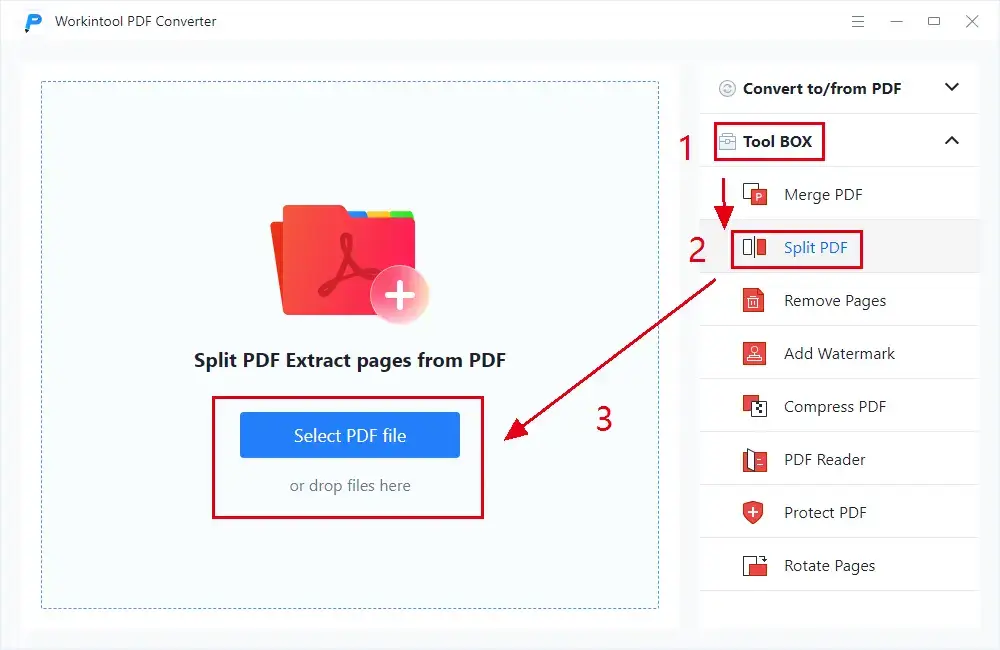 Step 2. To divide your PDF into several single pages, check the small empty circle beside the notice that Every page of the PDF will be converted to one PDF file.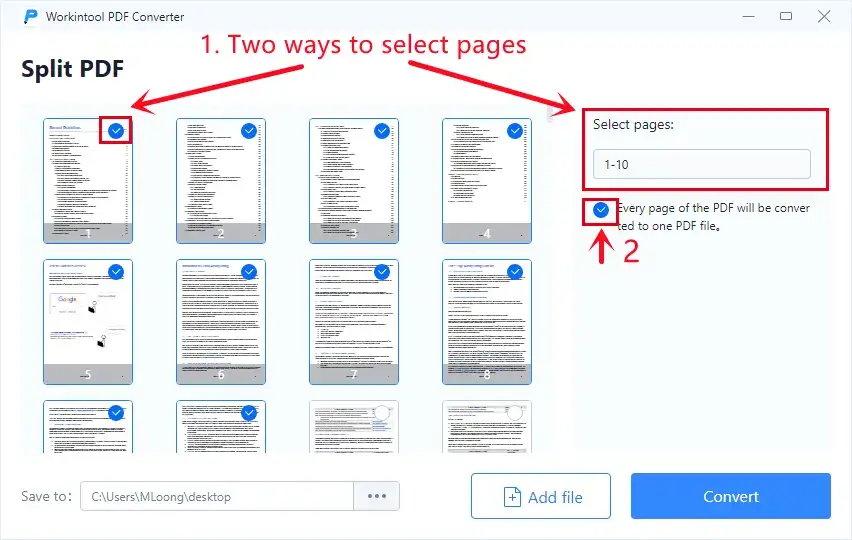 Step 3. Click on Convert after you alter your save path if you want to.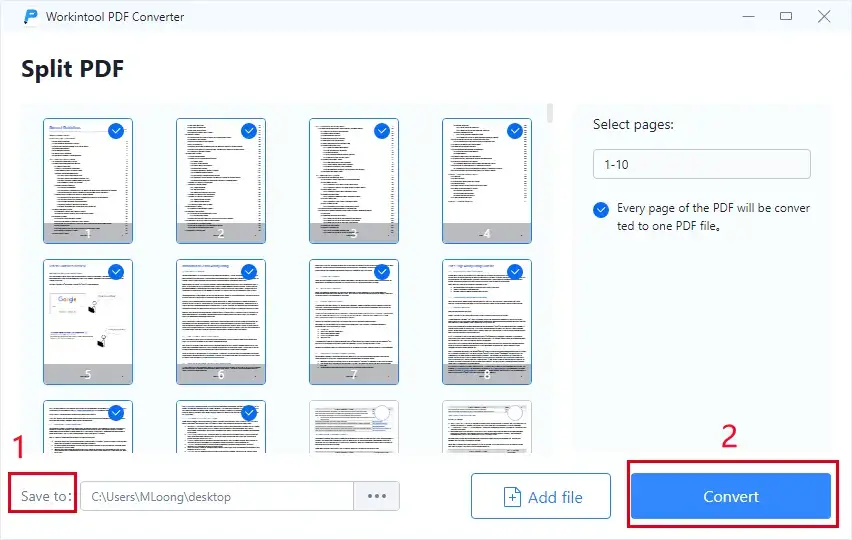 Step 4. Click on Open file to find your split documents when seeing a pop-up window notifying that your files have been converted.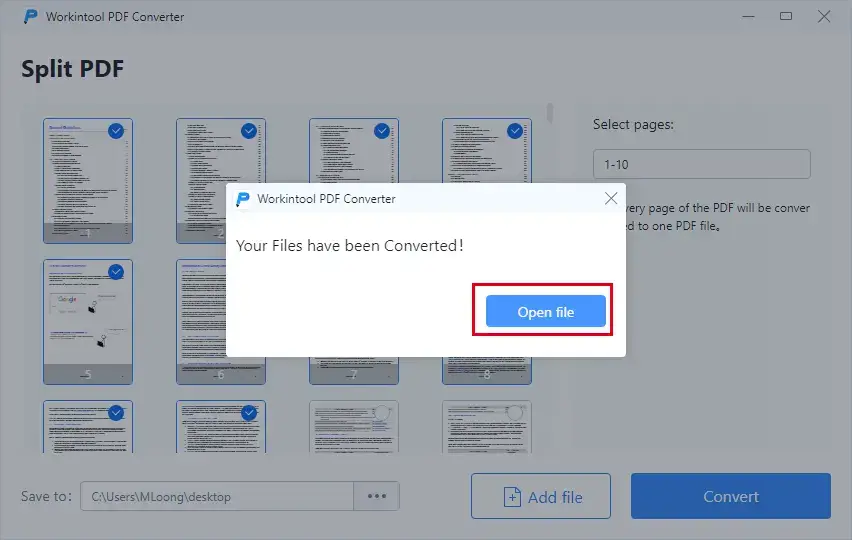 Here is the result.
The outcome is displayed as a folder containing the split pages in PDF version.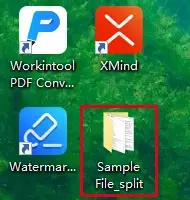 The whole PDF is cut into individual high-quality files preserving their formats.

---
How to Easily Split PDF into Multiple Pages Online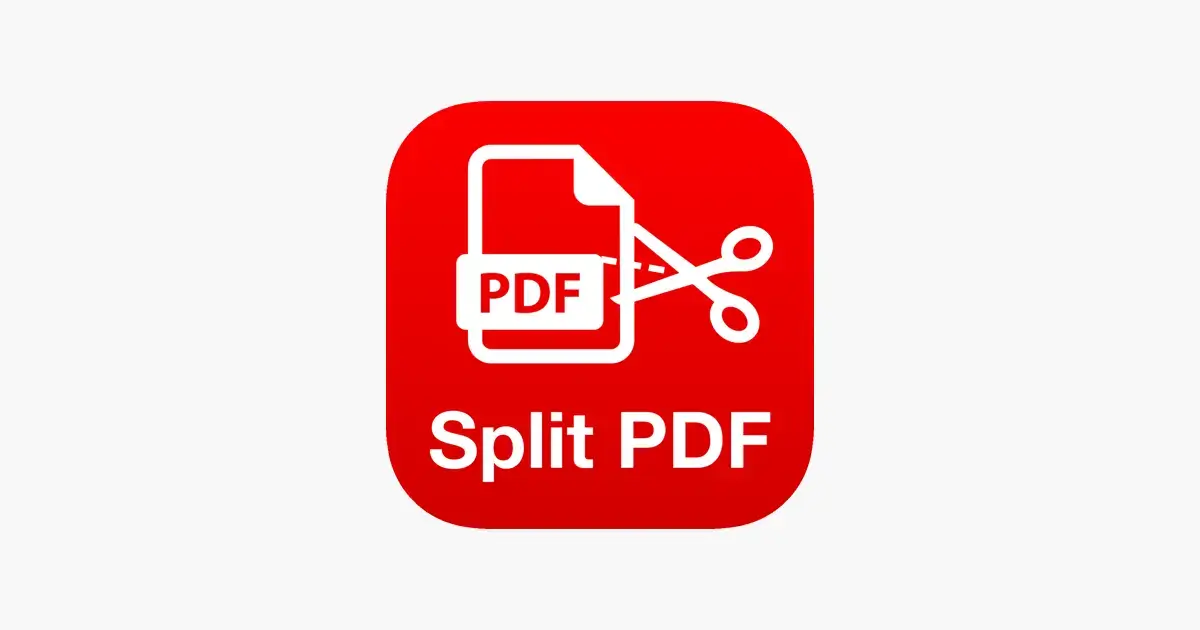 If it truly bothers you to download and install a desktop tool in terms of PDF splitting, you can also resort to some highly-acclaimed online converters. It is fast and easy to separate each page from your PDF file.
The options are great in numbers and it is up to you to decide which one suits you the most. Here, it is advisable that you try Sejda PDF.
It is also easy to make your PDF to multiple-page files through this useful online tool. There are only a few steps involved:
Step 1. Open the Sejda PDF page, choose Split and upload your file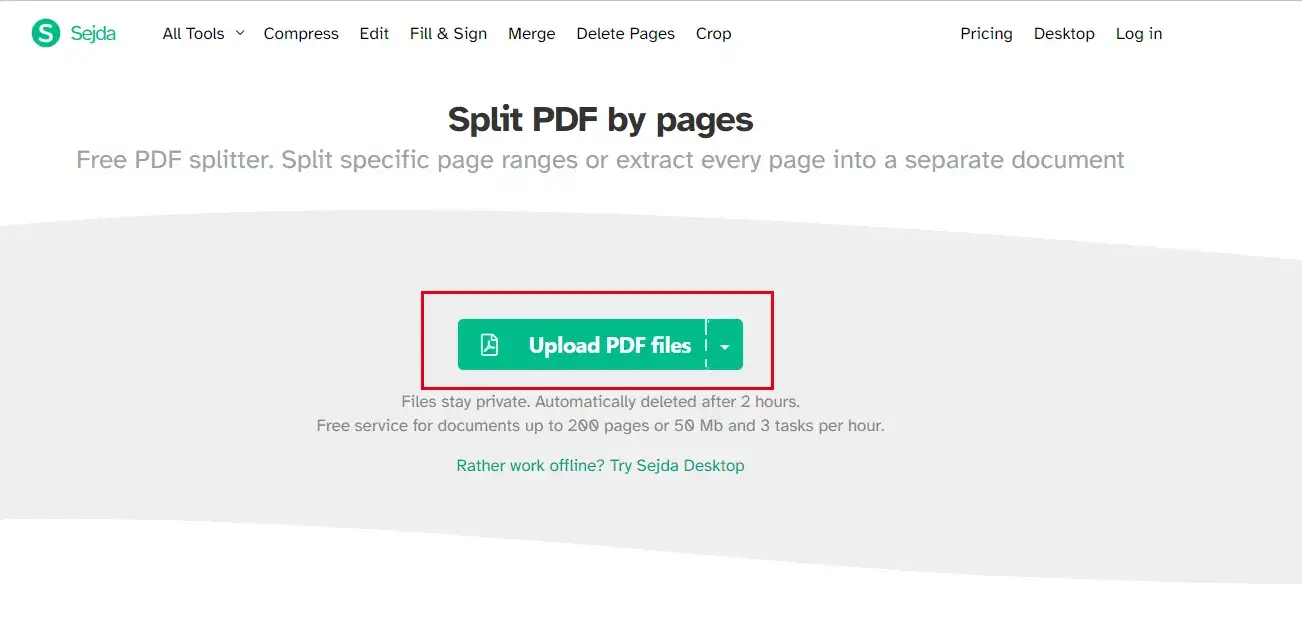 Step 2. Select Extract every page into a PDF and then click on Continue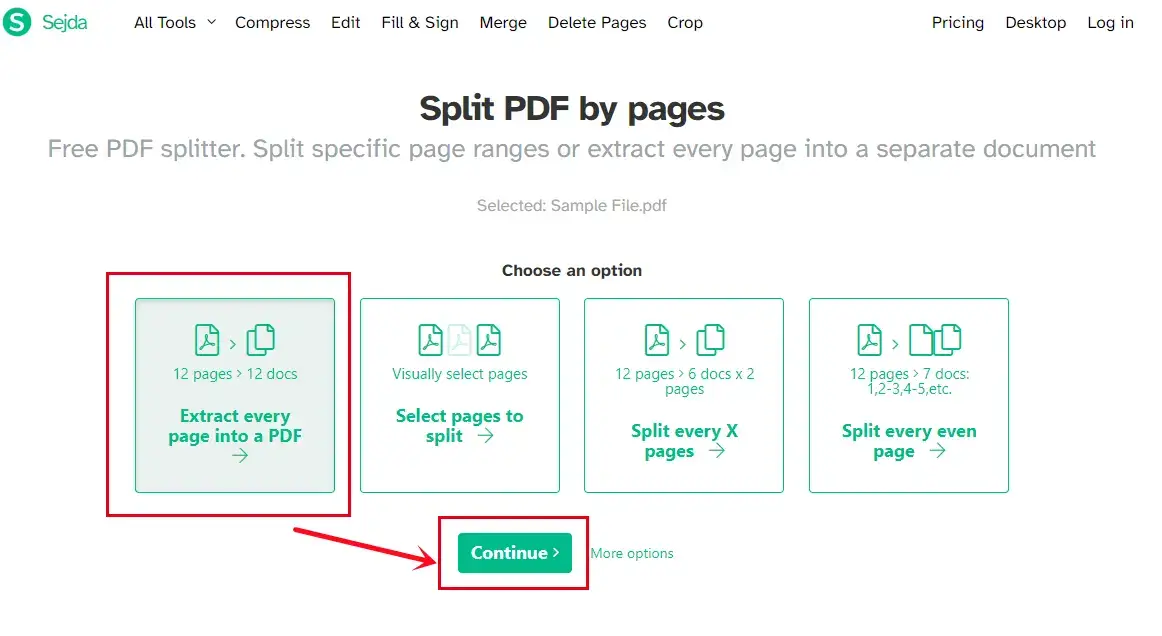 Step 3. Click on Download when your files are ready
The outcome is demonstrated as a zip file.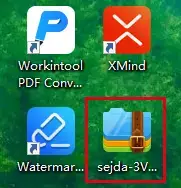 You should unzip it to see the extracted pages.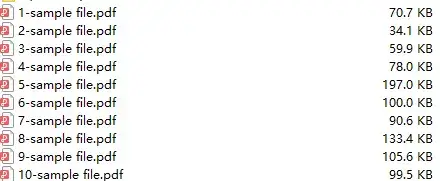 ---
Should You Use a Desktop Tool or an Online Converter to Split PDF Pages
Before splitting your PDF into multiple pages, you may wonder whether you should use a desktop tool or an online converter.
Here is a comparative study of them so as to help you with your final judgment
Tools
Pros
Cons
Summary
A Desktop Tool

No internet access required
Data privacy and information security are ensured
Faster conversion speed and better quality outcome
No ads involved
Traceable conversion records

Downloading and installation process involved
PC space occupation (Not Applicable to WorkinTool)
Strong likeliness of required personal registration (Not Applicable to WorkinTool currently)
Inability to use after free-trial periods (Not Applicable to WorkinTool currently)

A desktop tool, though downloading and installation are required, is able to meet any of your converting requirements easily, quickly and safely without disturbance of ads and internet access. Also, it will be simple for you to trace the files.
An Online Converter

No software downloading and installation process involved
Fast and convenient
No registration required

Internet access is compulsory
Possible risks of data privacy and information safety
Unstable conversion speed and outcome quality
Annoying commercials in and/or after your conversion
Inability to advanced features without license payment
Conversion limits apply
More steps to get an outcome
Untraceable conversion records without registration

An online tool is absolutely fast and convenient to use since you can skip downloading and installation. However, it only works with internet access and would pose possible threats to your data privacy and information safety if no data safety measures are guaranteed. Also, commercial may be an essential element unlikely to avoid in or after your conversion and there is a daily conversion limit applied to each PC. Furthermore, you will be unable to track your files without personal registration.
---
Wrapping Up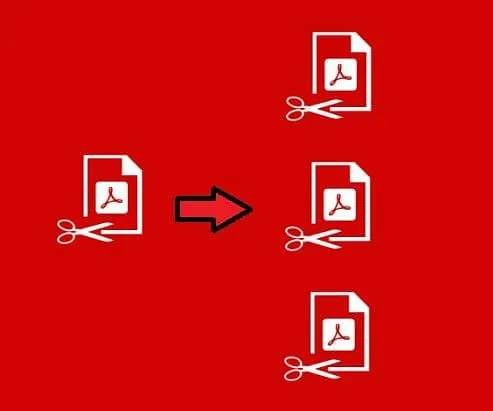 Learning to split PDF pages will be quite helpful in the current era typical of digital working and education. The mastery of the expertise will enable you to easily take every page directly as PDFs out of a multiple-page file, especially with the help of an effective tool, be it offline or online.
So please start your splitting today with our WorkinTool desktop tool (strongly recommended), and please leave your comments to share your opinions with us.
Looking forward to hearing your voice.
Products Reviews:
TrustScore
4
|
323
reviews